Whether you call it a playsuit or a romper, this ultra lightweight and super stylish summer statement simply cannot be ignored. Nowadays, this shorter sister of the jumpsuit isn't just for the kids and it definitely is no longer just for lounging poolside or walking on a beach summer. There are now so many choices to style in more structured shapes, smart designs, and dressier fabrics, making this a very wearable city staple for day or night, from daywear to work, even from summer to winter.
Not only does the playsuit ensure fabulous looks for various different occasions, its style is extremely easy, saving you fussing about choosing separates as it's an all-over cover-up; just pop it on and choose your shoes. Not to mention, the endless variations mean there's something for all shapes and sizes.
Here are some quick, easy tips and style inspirations on how to style a playsuit:
How to Choose Your Playsuit
– Pick the right length: If your playsuit is meant to be tailored and formal, it's important to find the fit in the rise (crotch). But if you are going for something looser, casual and a bit more oversized, then a drop crotch is acceptable. As for petite ladies, stick to fitted pieces only since the oversized ones will only overwhelm your frame.
– Style for your shape: Pick the style that's right for you. Whether you are top or bottom heavy, pear, apple, or hourglass shape, picking the right playsuit is all about how to choose the right well fitting top and shorts at the same time.
For example, big boobs will benefit from a V neck, strapless with great support, or a shirt-style top worn with the first few buttons undone, while pear shape looks great with volume or embellishment around the neckline and shoulders. Check out these links for general fashion tips
Plus Size Fashion Tips : How to Find the Best and Most Flattering Neckline
Knowing the Right Necklines for Your Face and Body Shape
How to Choose Clothes and Fashionably Hide Specific Body Parts
Finding the Most Flattering Shorts to Camouflage Problem Areas
How to Wear Shorts best for Your Body Type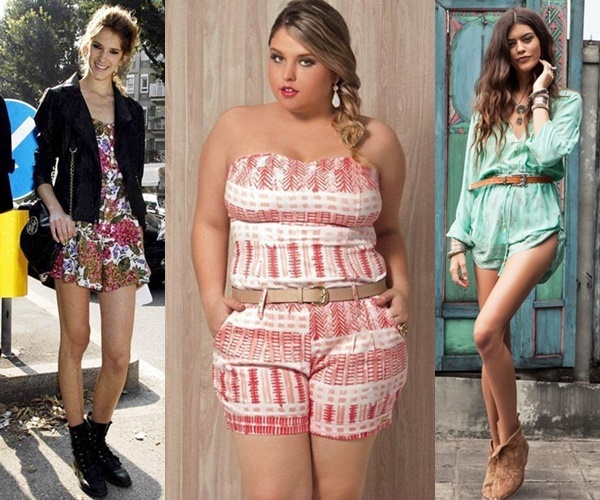 – Accessories, fabrics, colors and prints: To take a simple playsuit from day to night, it's all about what you put with it. For the office, for example, make it smart with a structured blazer, simple jewelry, neutral color, and classic footwear.
For the weekend, make lounging look stylish with bright and breezy playsuit paired with canvas sneakers or cute summer sandals, as well as some chic and bold jewelries. For evening, spark the night up with blings such as sequins or lace rompers, or pair your smart rompers with glam pieces like a pair of statement heels, a contrasting belt and a great evening clutch. See how the same playsuit can be styled for different occasion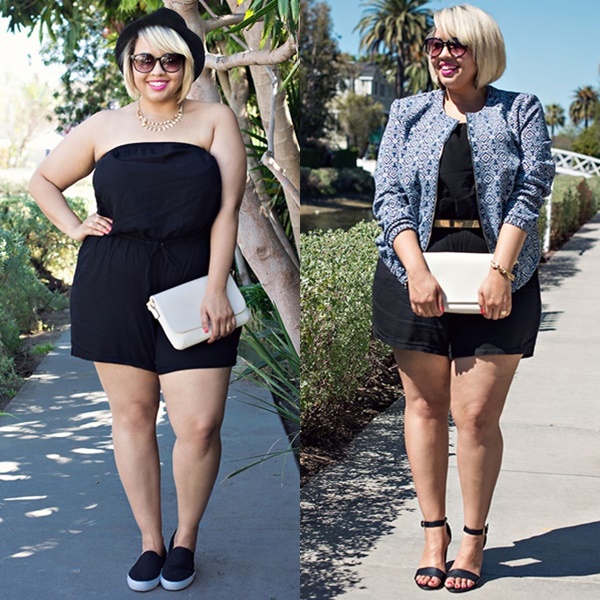 Shoes to Wear with Playsuit
Although it's pretty simple to choose the best footwear for a playsuit, but it is essential to know the perfect shoes to pull together a great look with it, because the wrong style can completely ruin the simplicity of your outfit. Like a flirty dress basically, a romper is all about knowing styles, designs, colors, patterns, and occasions, which from those you could pair the right shoes for it.
Go with flat gladiator sandals – or even flip flops – for a summer-y breezy mood, or pair it with Oxfords and blazer to make the look more elegant. Or why not a pair of ballet flats, sneakers, even booties for when you're in the city. When it comes to a formal look, for the office for example, pick a pair of classic shoes such as court heels, while at the party you can go with the festive and glamour ones.
Playsuit for Casual Wearing
Want to stay super casual? All you need to do is add chic and comfortable accessories and have fun with the mixing and matching in moderate way.  Add a cute fedora, dainty necklace and crop cardigan then belt your rompers for a perfectly simple summer look. Or you can go super simple only with dainty jewelries and summer sandals.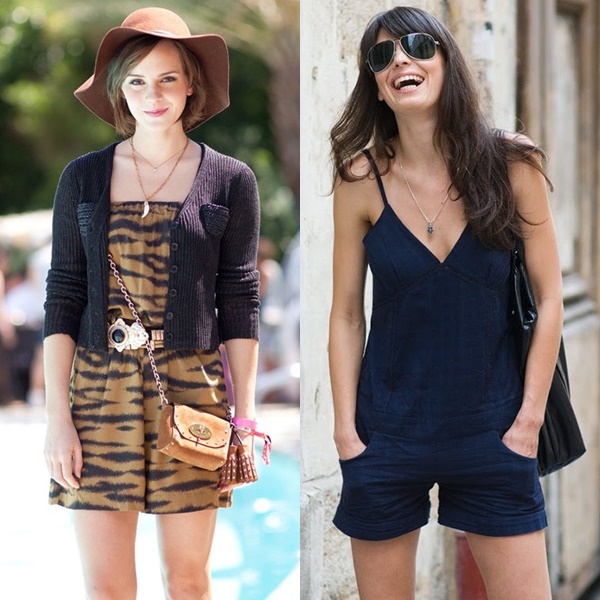 When it comes to portraying different looks, spaghetti strapped or strapless rompers are very versatile for that casual elegant style, and it even looks sexier with heels and dainty accessories.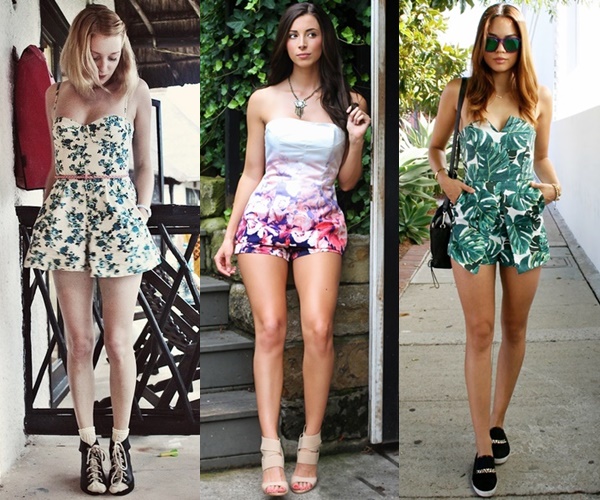 You can wear the same romper in many different ways, just by adding/taking away accessories. You can wear a cute tropical romper with loafers for casual approach, and at night you can wear the same romper with a black blazer, pumps and a sleek belt and look sexy for a night on the town.
An easy tip: Although these are so fun and flirty, great for any body type, a strapless playsuit can sometimes be tricky to wear, especially if you are large breasted ladies, since the strapless part usually don't provide enough support for your chest. You don't want your romper falling down while you're dancing with your friends, and you also don't want to be pulling up the top of your romper every five minutes. One good way to solve this problem is to purchase fashion tape such as Hollywood Fashion Double Sided Tape. This product works in a way that attaches the dress to your skin so you don't have to worry about any mishaps.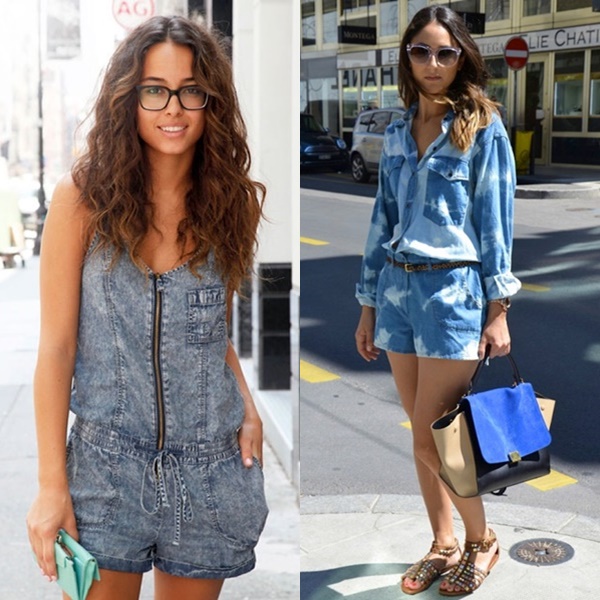 As denim becomes one of the most iconic staple to embrace that stylish and casual style, a piece of denim playsuit can give an instant all-in-one casual outfit for your day-to-day wear. If you want to dress it up a little bit, because denim rompers are so minimalist, you need to add a little extra with accessories such as beaded summer sandals and a colored bag to give some cool pop of color. Or you may pick a romper with stylish design, cut, or detail.
Wear it with Layer and Accessories

To take a simple playsuit from day to night, it's all about what you put with it. Whether it's a vest, tailored blazer, or parka coat, layering them can help to transform the look, while providing an extra layer of warmth. As for other elements such as accessories and shoes, if it is to be worn during the day, a pair of sandals or wedges will complement the garment. To dress up a playsuit for evening wear, women can add an elegant pair of high heels and jewelry, such as a necklace.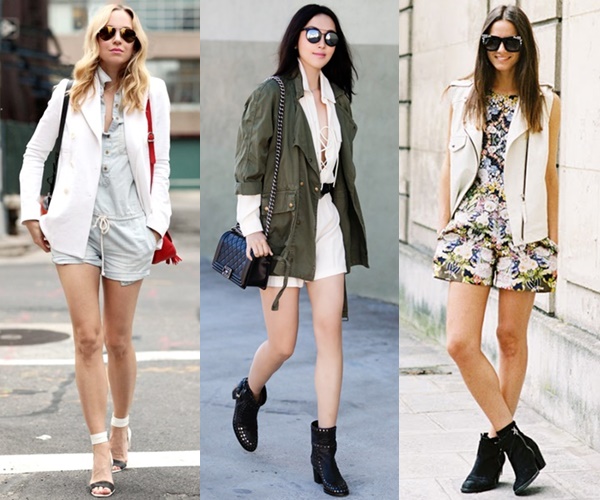 On a Night Out
Whether you're going out with your girl gang, or you're going out with your partner or if you're hitting the club, rompers are a great alternative if you're not feeling a dress or skirt that night. Pick staple that you feel confident in, one that makes you feel a million bucks. Go for it with lace details or even with sequins for a bling effect. Think of black and white monochromatically for that classy style, or you may add more jewelries, pair it with nice heels and festive clutch to finish the look.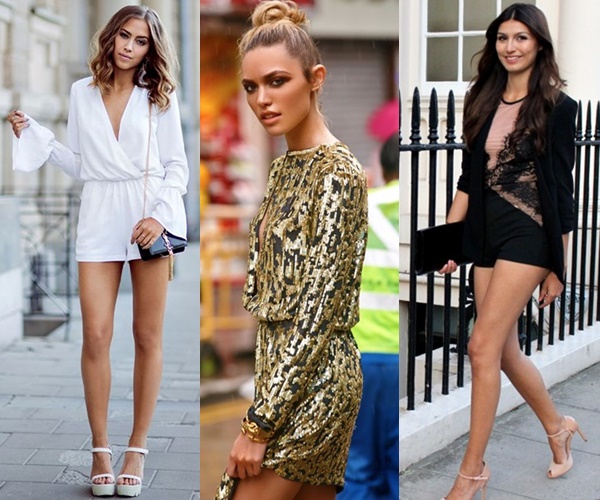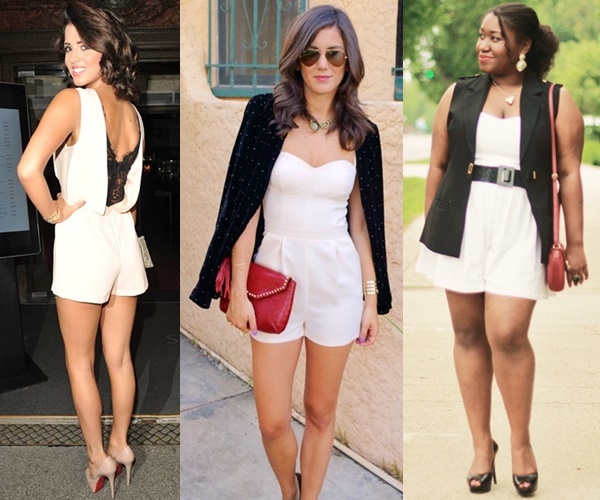 For Work
If you are thinking about wearing this to work, there are certain rules to apply here :
1. When choosing your own 9-to-5 playsuit, be conscious of the fit. Think tailored, and not too tight, too casual, or too flowy. You'll want to leave the body-hugging numbers for your off-duty hours.
2. Make sure you create an appropriate length. If it feels too short for the office, it definitely is. You can tone it down by wearing a flat leather sandal and blazer that will create a faux shorts-suit effect.
Styles to Wear a Playsuit for Work
3. Beware of the V-neckline. Keeps the V steady, so you don't have to worry about any unintentional plunge. It's even much better if you pick romper with collared or round neckline for an office-appropriate look.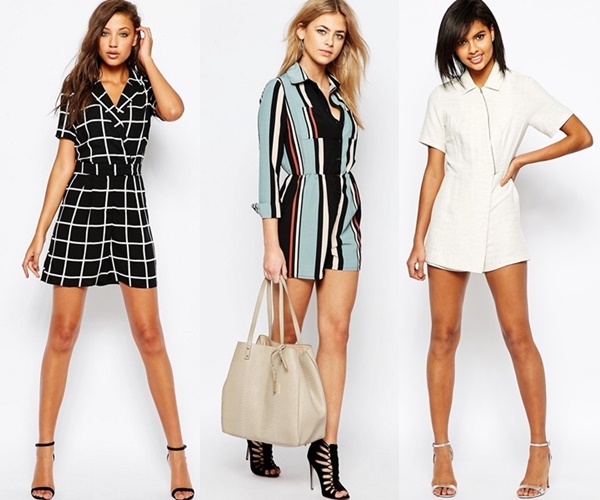 4. Go for neutral colors. Solid and neutral colors surely will make your office wear look more professional, but depending on the work environment, sometimes you are also allowed to wear those bright printed one on Friday during summer
5. Learn more "Office Wear Fashion Tips: What to Wear to Work from Formal to Casual" for general rules of office wear fashion tips and advice
To a Wedding
Black tie, semiformal, cocktail attire – you generally know the drill with wedding dress codes. If not, check "Plus Size Wedding Guest Dress with Guidelines" and "Wedding Dress Spring Summer 2015 from Various Labels" for tips and advices of wedding dress codes. However, when it comes to wearing romper for the wedding, there's still certain rule to follow in order to honor the host.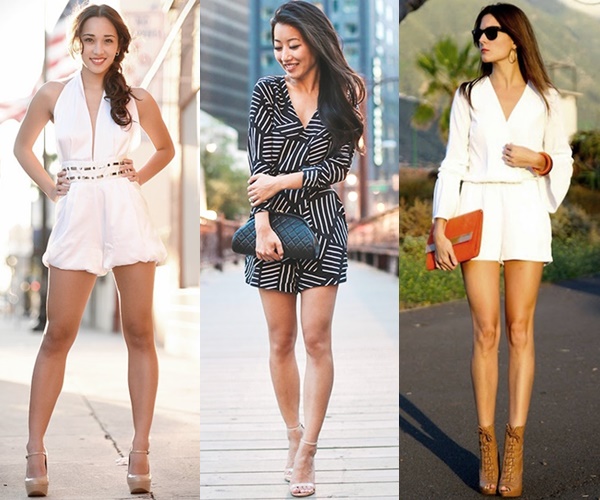 Because romper generally speaks for a more casual and relaxed feel, it's always best to choose an outfit suited to the venue. Depending on type, design, and cut of yours, this staple can actually be worn to different occasions from cocktail to casual, from afternoon to evening wedding. Make sure to choose it in a very sophisticated color and style, or go for those with festive, tailored design, and that it is not too tight, not too revealing on the neckline, as well as not too short on the hemline. Check "Guest Attire: What to Wear to a Wedding (Part 1)" for tips of do and don't as for guest.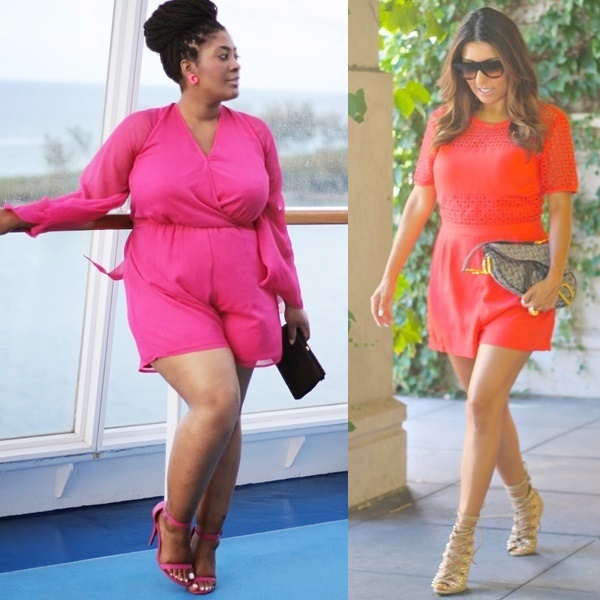 For Fall and Winter
Grab your hat, put on your sexy thigh-high boots, add warm jacket or coat, and you are ready to look classy with playsuit during the chilly days.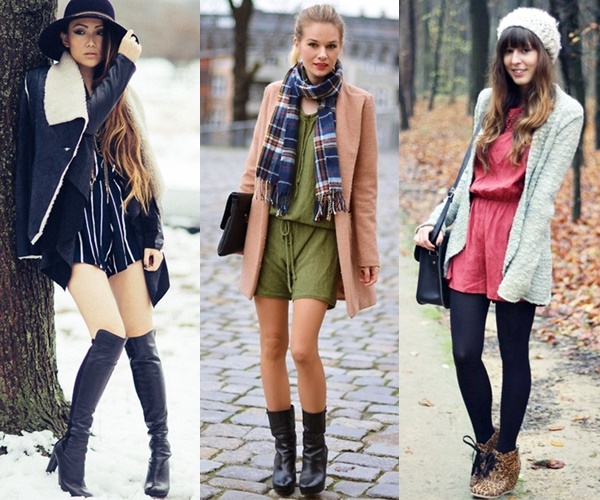 Generally, playsuits usually are not just for summer days and they could also function truly well for the cold seasons. Don them with tights, a cardigan in addition to a pair of chic lace-up brogues for any smarter appear, or toss your slouchy booties, scarf, and also casual blazer for a much more relaxed yet classy outfit. You may also experiment with layering jumpers and sweaters around yours, making your playsuit appears like shorts, or why don't you try putting a long-sleeved shirt beneath if you are notably cold and want to include an additional layer to remain warm.