Neckline is an important thing to consider in the world of fashion. Whether it's a tee shirt, chic blouse, or even dress, this small part of the garment can radically alter your whole appearance, and greatly affects how flattering a top or dress will be, regardless of accessories. For plus size women, whether you're on a date, at the office, or just brunching with friends, there are dozens of different necklines that can change the way your bust, neck and face areas look, giving the best to the way you look.
The neckline you choose – the shape or cut of the neck opening, including collar or trim – can make or break the way you look, even if the rest of the top or dress is great. So, when you're looking for your great staple dress or top, pay attention to what kind of neckline will be most flattering for your body (it's one of the simplest ways to highlight your assets). For example, if you are considered plus size, some women who have a wide neck wouldn't want to wear something that will make the neck look thicker, nor would a woman with a small face want to create a disproportioned look from top to bottom.
To choose the right neckline for plus size tops and dresses, consider five key areas of your upper body which include your body shape (whether it's apple or top heavy, pear or bottom heavy, or hourglass); size of your bust (whether it's small, average, or large); shape of your face (whether it's square, oval, round, etc.); type of your shoulder (whether it's narrow or broad shoulder); and type of your neck (whether it's long, short, or thick)
Although I personally think all women can wear whatever clothes they want to wear, regardless of necklines and body shape, please check out these easy tips for general fashion ideas, and take a look at this quick breakdown of necklines and which shapes they are best suited for.
Asymmetrical (One Shoulder) Neckline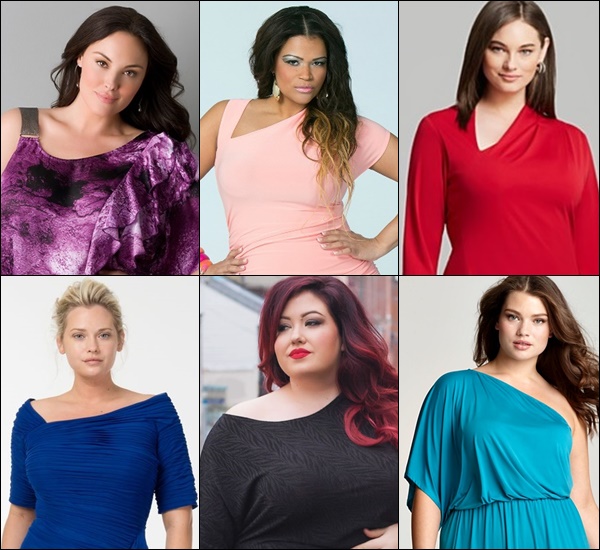 Looking fashionable and chic, an asymmetrical or one-shoulder neckline could help draw the eyes up and away from middle and bottom areas (such as round tummy, thick thigh and wide hip). If you have broad shoulder, this neckline is also a great choice to create the illusion of narrow shoulder. An asymmetrical neckline generally does not affect the shape of the face so all women are free to wear this neckline.
Boat Neckline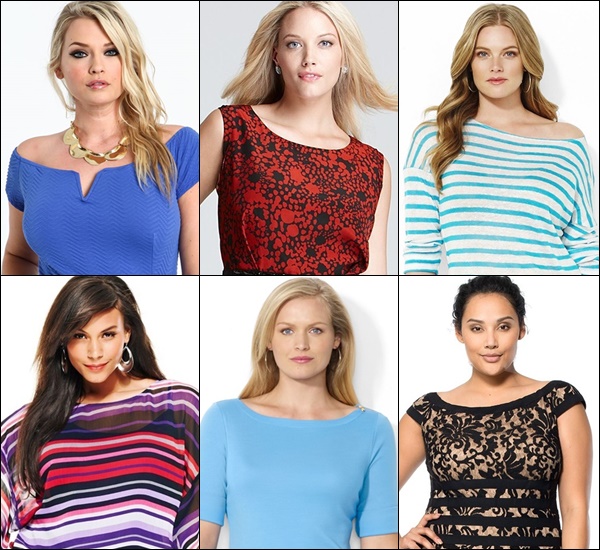 Also well-known as Bateau Neck, the boatneck is great for offsetting wide hips, and creates a beautiful modern look that really shows off a slim neck and shoulders. Although it can make a shorter or thicker neck look wider, but I believe even women with thick neck and shoulder can sport this neckline and still look incredibly fabulous. Plus, boatneck is also a good choice for women with a larger tummy or bust because it draws the eye up to the neck. Take a look at pictures below for more fashion ideas.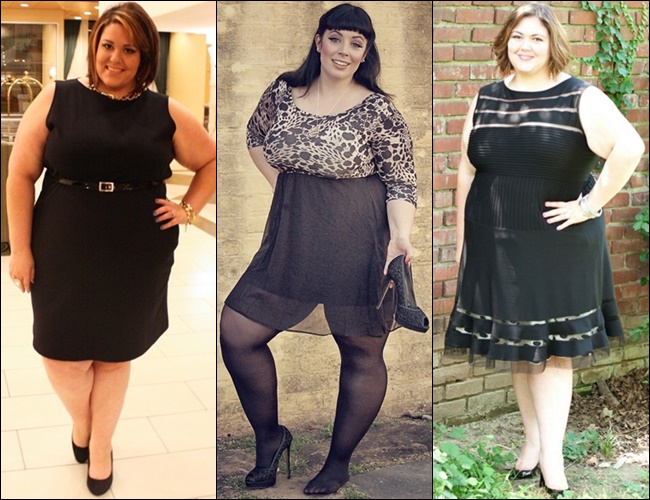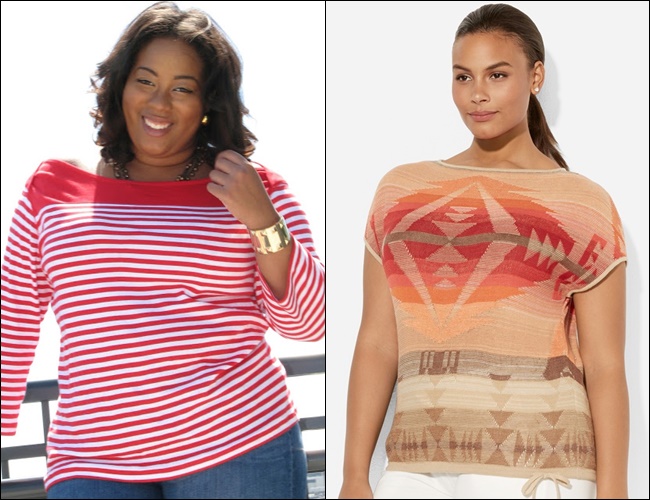 Bardot (Off Shoulder) Neckline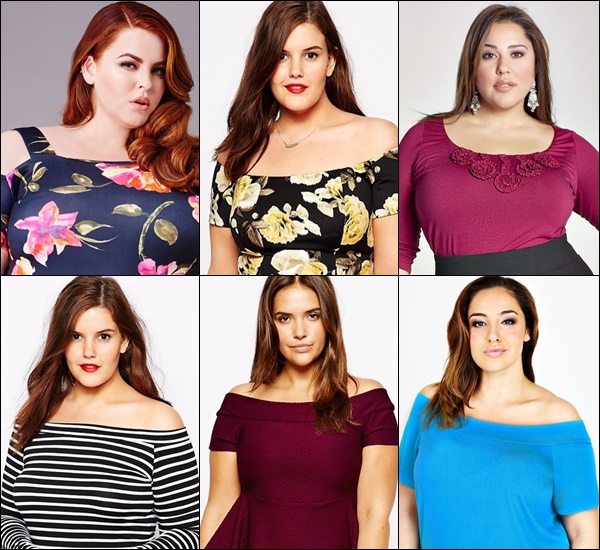 Although it's similar to boatneck, both Bardot and off-shoulder necklines are wider and generally sit just off the shoulders – or anywhere from just at, even below the shoulders. These styles are so flattering and super versatile, great for all body types – hourglass, pear, apple and rectangle shapes, as well as for women with a larger and smaller bust. This neckline flatters women with a wider neck, looks great to accentuate narrow shoulder, and can beautifully show off a nice collar and shoulder area.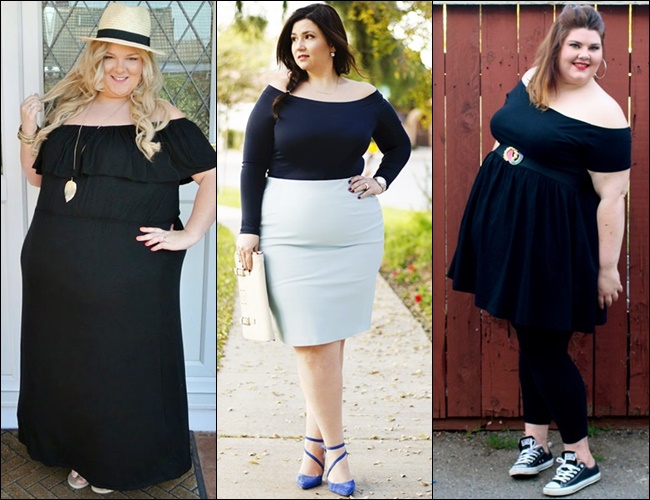 Strapless or Bandeau Neckline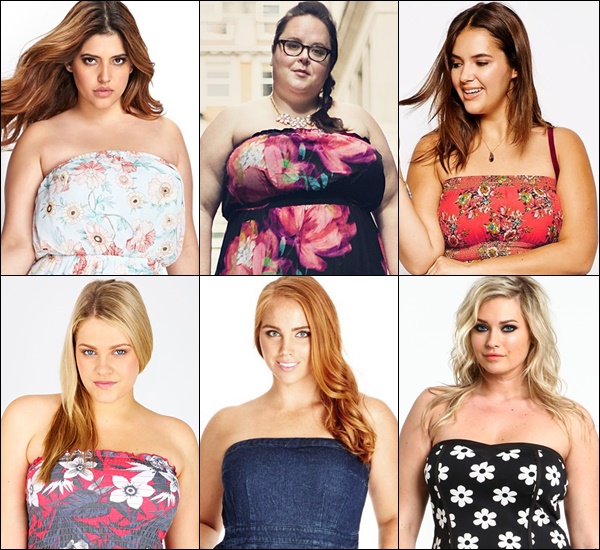 The strapless or bandeau neckline suits women of all shapes and sizes, and it is a great way to show off beautiful shoulders and neck. However, because this neckline offers less support around bust area, if you are a busted woman, make sure you wear best supportive undergarment. The right undergarment including underwire strapless bras, corsets, bandeaus, stick-on cups can make or break an outfit. Basically, the bra must be well-constructed with full coverage and firm control but must also be comfortable. Learn "Choosing the Right Bra for Every Type of Outfit and Occasion" for tips and ideas.
Cowl or Draped Neckline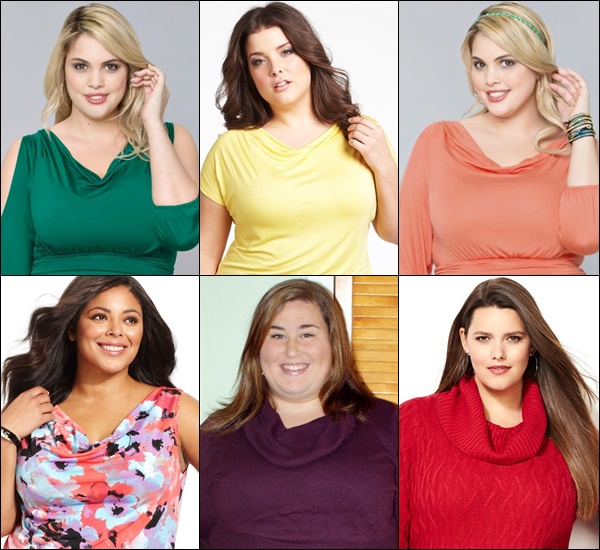 Creating the effect of vertical line, a cowl and draped neckline can add dimension to a small chest yet can magically downplay the well-endowed. Women with a smaller bust and wider hips will benefit from this style because the neckline can create a balanced and proportioned look. Apple, hourglass and pear body shapes will even out their bodies from top to bottom. As for women with a larger bust, because a cowl neck drapes down to the bust and adds some shape and volume to the bustline, busted ladies could opt for a top or dress that feature less or moderate extra fabric on the neck area – above the bustline, similar to turtleneck – to avoid the bulky look around the chest
Crew or Round Neckline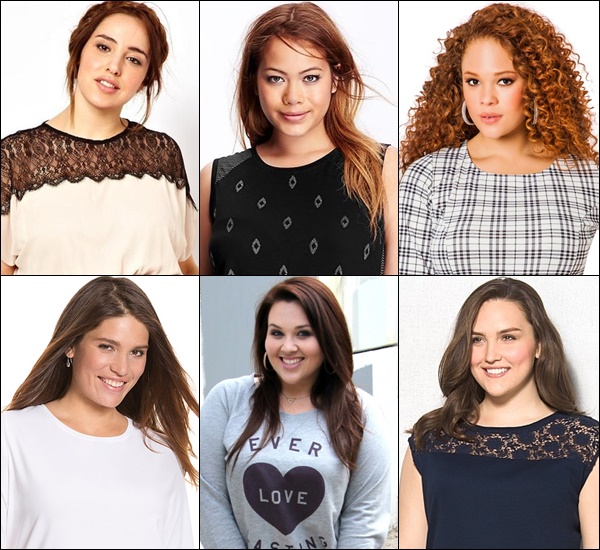 This neckline is high, round and closed all around the neck. It usually collarless and fits tightly at the base of the neckline, which is the most classic and timeless neckline. This is the most flattering for women with a smaller bust and slender neck, but generally, this neckline works well for hourglass, pear, rectangle and apple body shapes. If you are top heavy – with a large bust, broad shoulders, a short neck, or a double chin – you could opt for a jewel neckline, which is similar to a round neck, but it tends to be wider and lower, making it a great style to beautifully display the collarbone and elongate a short or thick neck
Scoop Neckline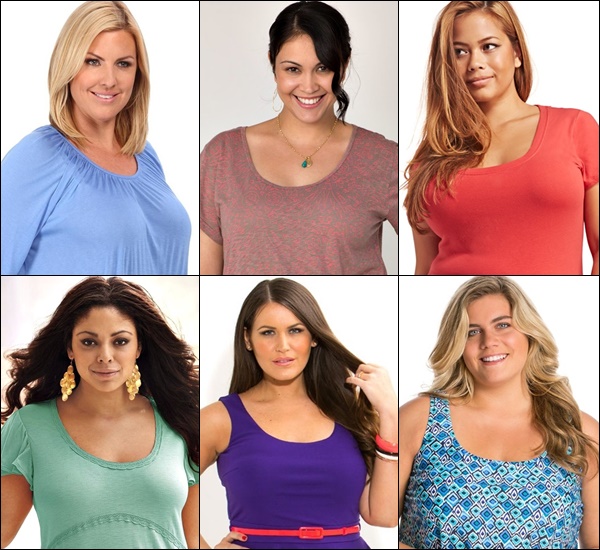 The scoop neckline probably has the most variation of almost any other style for tops or dresses. It can be low, deep, high, narrow, or wide this neckline has a common round style that is found on tops, sweaters, cardigans, dresses and even some jackets. This neckline is also very versatile perfect for all body shapes, especially for women with a larger bust because it's an open style neckline that shows off an attractive neck and collar area.
Square Neckline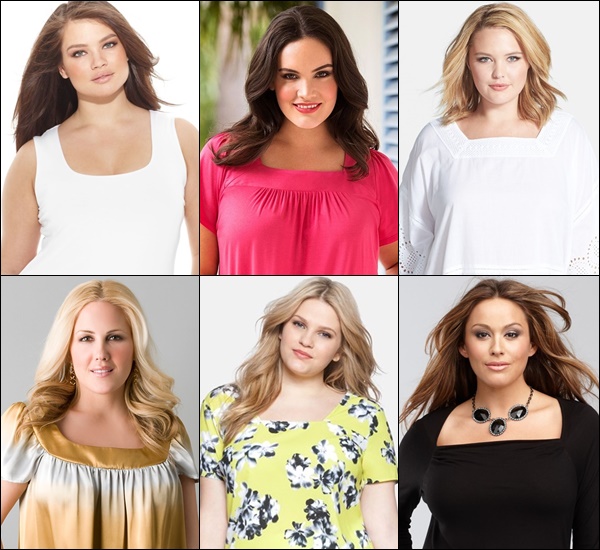 Falling straight down and cuts right across the bust, the square necklines look exceptionally good on women with a large bust, although it's also very versatile to be worn by small chested ladies. However, since this neckline does create a wider look to the upper body, it's more recommended for women with narrow shoulder. Ideal for pear body shapes. This style should be avoided if you have a square face, since it will give you a harsh masculine look. As for a high square neckline, it basically has the same drawbacks as a boatneck top.
Halter Neck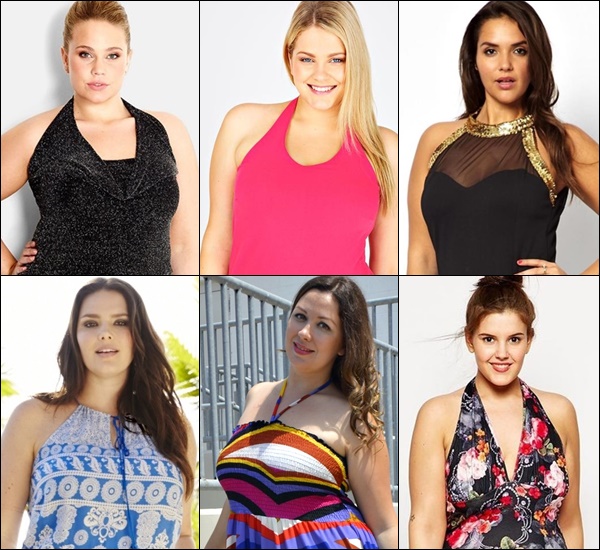 Perfect and looking fabulous for almost all body shapes, whatever size you are, a halter will flatter your figure. It's ideal for women with a larger bust – because it gives support and lift to a big bust – or narrow shoulders and draw the eye away from large waistlines. If the halter has a built-in bra, it can create curves where there are none, which is why you see a lot of halter-style bathing suits and wedding dresses.
V Neckline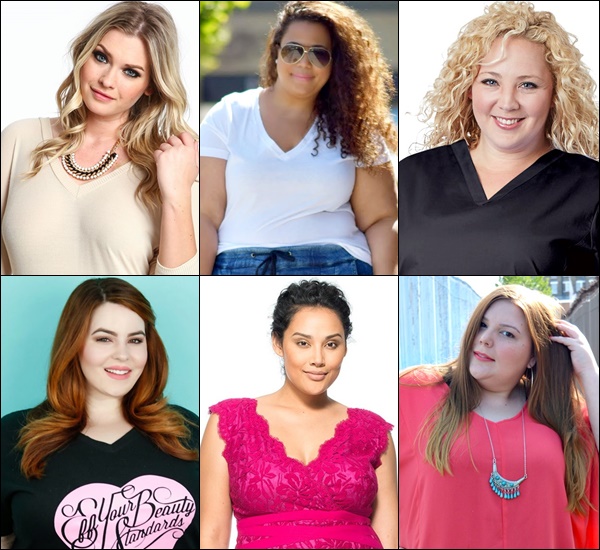 Universally flattering for almost all body shapes, the V-neck is also one most favorite neckline that suits every woman. There are different variations of V-neck where the "V" sits higher or lower on the body, so this is the only thing that should be considered when purchasing tops. A higher V-neck is suitable for women with a smaller bust and narrower neck, the deeper V-neck is ideal for women with a larger bust and thicker neck. Just make sure you don't reveal too much.
Generally, these types of neckline bring attention to your face and elongate your upper body, especially if you're petite, busted, or have a short neck. One easy tip to consider when choosing the right neckline is that wearing an open neckline that shows it off is going to make most women appear longer and leaner.
Plunging (Deep V) Neckline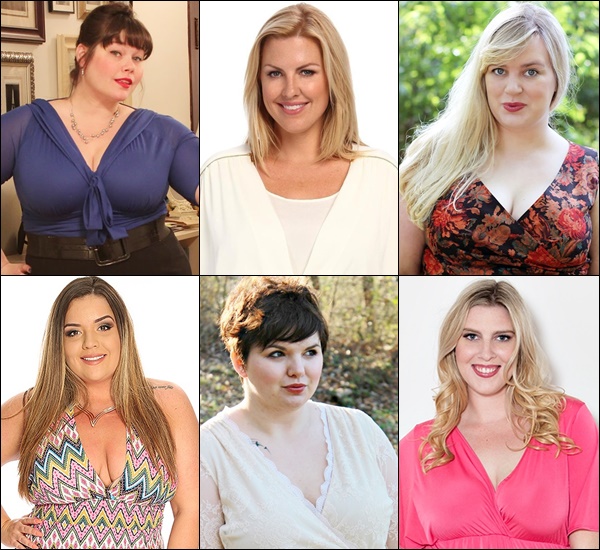 Although a plunging V can be too revealing, this neckline is one of the most daring and are most popular style for cocktail party or special occasion. All you need to do for making the look more appropriate is to invest in a special bra – called a plunge bra – suitable for this style. Learn "Choosing the Right Bra for Every Type of Outfit and Occasion" for tips and ideas.
Or, if you don't want to look too revealing, opt for a moderate deep V-neck – neither too low nor too wide –, or wear a cami underneath for extra coverage. Not to mention, adding a mesh panel to your dress or top can not only slim your torso, it can also offer more support and decrease nip-slip risk. Opt for a fabric that has the same shade as your dress or top.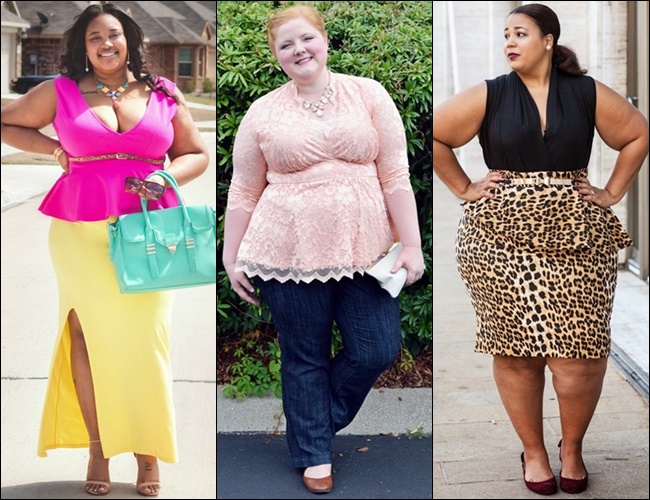 Sweetheart Neckline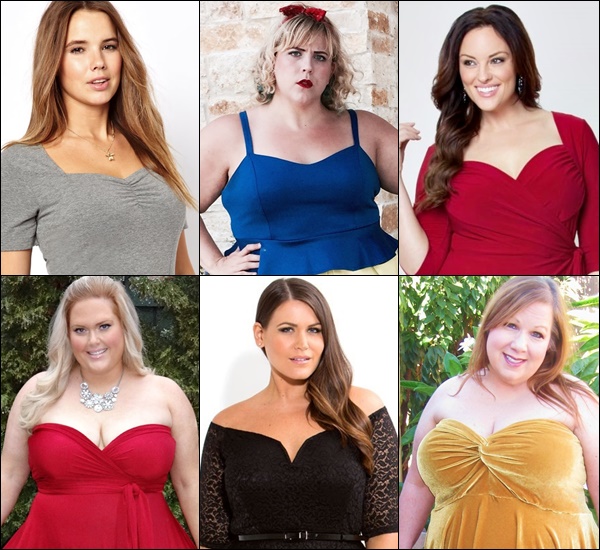 With a shape mimicking the upper part of a stylized heart with rounded neckline dipping in the middle, a sweetheart neckline is a lovely, flattering and feminine style that any woman can easily wear, including for women with a large or small bust, making it a great choice for any body shape. This style can be worn as a strapless gown or top, or with any sleeve length. The gently curves of this V-neck variation create the illusion of curves with an inverted triangle shape and it also highlights natural curves for other body shapes like hourglass, apple and pear.
Notch Neckline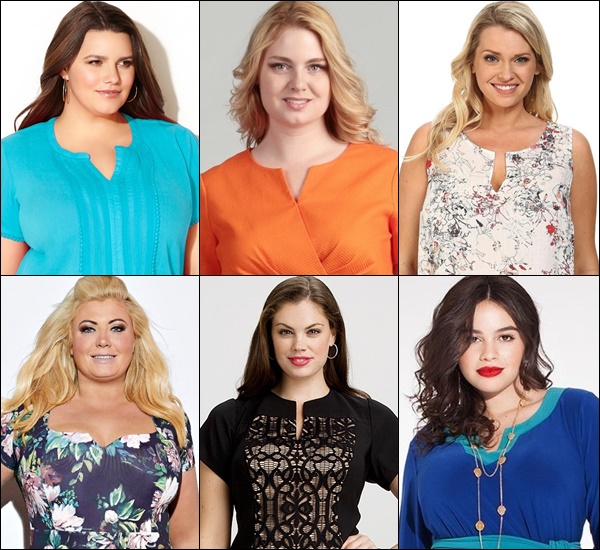 The notch neckline is excellent for all body shape. And especially for plus size ladies, because of the style that looks like a combination of a round and V-neck, this neckline can add visual interest to the overall look and help draw the eyes up and away from middle and bottom heavy area, such as rounded tummy, wide hips, etc. This is also a good style for a smaller bust and for both narrow and wide necks.
Turtle (High) Neck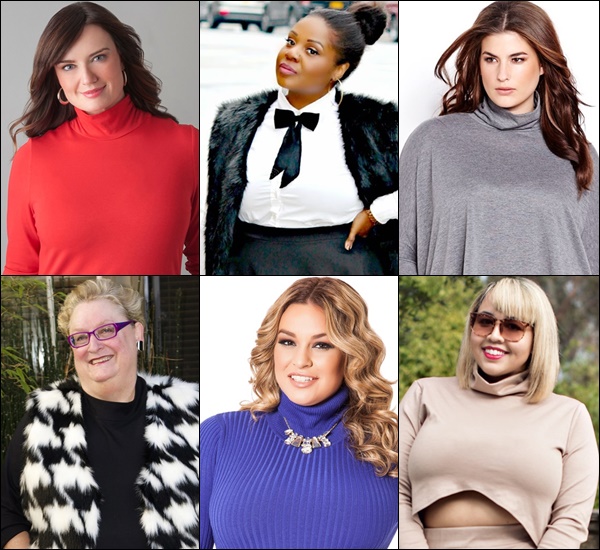 A turtle neck or high-neck is a very popular choice for cool weather clothing. It is a style that hugs the neck with a long collar, folded below the chin, which some people say this style is generally unflattering for women with a shorter or wider neck, and sometimes it can create a "floating head". Don't be afraid, avoid all the negatives, and be comfortable in it. Once you get comfortable, you can try out lots of ideas to see how they work.
For plus size ladies or women with a larger bust, broad shoulders, and thicker neck, a turtle neck is actually great for all plus size body shapes, but most importantly you need to choose a comfortable turtle neck that fit well – not too tight not too loose, choose moderate collar – not too thick and heavy – and find the most flattering way to style this neckline. Not to mention, a good supportive bra is also a must since the bust will get emphasized with this style. Or else you can always add a jacket on top which will have a slimming effect for the bust.
Whether you are considered a pear, apple, or hourglass body type, sometimes different shape needs a different way of styles to get the most flattering look, for example:
If you are a pear or bottom heavy, a turtleneck will add width to your torso and shoulder area which is a good thing, so you can just draw the further upwards for more interest by adding a statement necklace to your turtleneck.
If you are an apple or top heavy, you can try the peekaboo style by wearing an outerwear that flatters your figure and does not emphasize your mid-section, while you let a turtle neck peek through from the neck and sleeves. It is totally a very chic option for you.
If you are an hourglass, emphasize your waistline to create that curvy silhouette, You can opt for a fitted turtleneck on top with full-skirt or add a belt to cinch that waist and balance the look.
If you're plus petite, try the monochrome look by wearing the same color head-to-toe including the turtle neck. This trick works wonderfully for petite figure, because a turtleneck that hides the neck will elongate torso even further, creating a taller silhouette.