For those fashionable girls, sure we all want to look stylish 24 hours a day. However, sometimes adding a dose of style for 9 to 5 working time can be a challenge, especially if you're working in a buttoned-up, ultra conservative world. In this type of working environment, dressing professionally is an absolute must, which unfortunately, professional settings are not exactly friendly to the fashion forward. Take a look at some of these work-appropriate tips to incorporate chic fashions into your office looks
Keep in mind that getting dressed for the Business Professional doesn't mean leaving your personal style behind. Always choose the most appropriate attire that flatters you most as well offer high comfort and confidence. This means you are required to present yourself in a polished, professional look but avoid to dress like someone you are not. Think your business fashion choices really based on your personal look.
On the other hand, there's still distracting a piece of clothing or jewelry that is less appropriate for office wear including colors, silhouettes, and styles. Learn that the outfit you choose will speak volumes about your ability to do your job. For example, if you are concerned about your career, you'll be more concerned with looking professional than looking cute and trendy.
BASIC GUIDELINES FOR PROFESSIONAL LOOK
Here are a few basic guidelines for business formal dressing to looking appropriate and polished. Noted that while there are a few general rules of thumb for office dressing, it really depends on where you work. Obviously, different environments call for different outfits, but these are the safest ones:
Obviously, color plays a big part in professional image. Wear colors based on a neutral color palette such as black, maroon, white, navy, cream, charcoal, and grey. Most of these colors work well in pantsuits, skirts and shoes and mix back with softer feminine colors that are appropriate like ice blue, lilac, soft pink and ivory.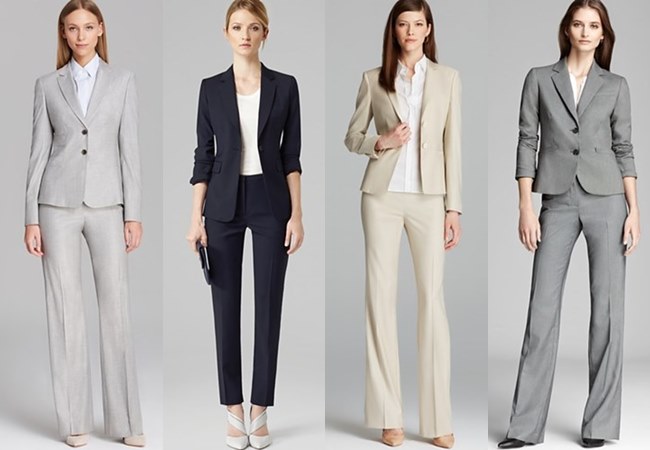 2. Depending on your working place, vibrant lime green and bright pink, or other loud colors won't cut it in the boardroom, unless it comes as a very little pop of color among the neutrals. Minimize bright shades and busy, wild prints and use it only for small part of your attire – although sometimes creative types can still pull them off. Just make sure to keep everything simple and sophisticated.
3. Look for the most dainty and subtle jewelries such as stud earrings or single bracelets. Avoid gaudy accessories or jewelry that jangles (chandelier earrings, stacks of bangles). Think simple, sleek and chic.
4. Present yourself as an organized, professional person by carrying bag with structured styles in basic leather colors (black, beige or brown). Slouchy, or printed, colorful handbags will make you looking sloppy.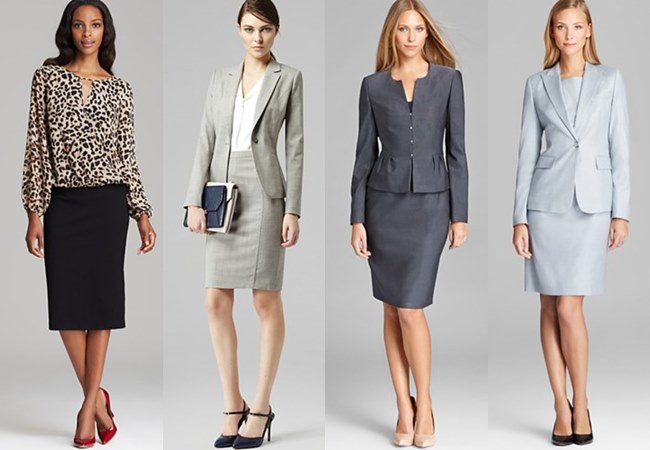 5. When talking about professional work clothes, all suits should be tailored to fit close to the body. Stick to items with a contemporary cut and avoid anything that is ill-fitting or too large.
Pants should be fitted but not too tight, free of visible panty lines.
Skirts should hit at the knee or below, and especially for straight styles like pencil skirts, they should be loose enough to sit down in comfortably.
Jackets or blazers should be able to be buttoned
And blouses should be conservative, freshly pressed, always tucked in, and shouldn't gap between buttonholes.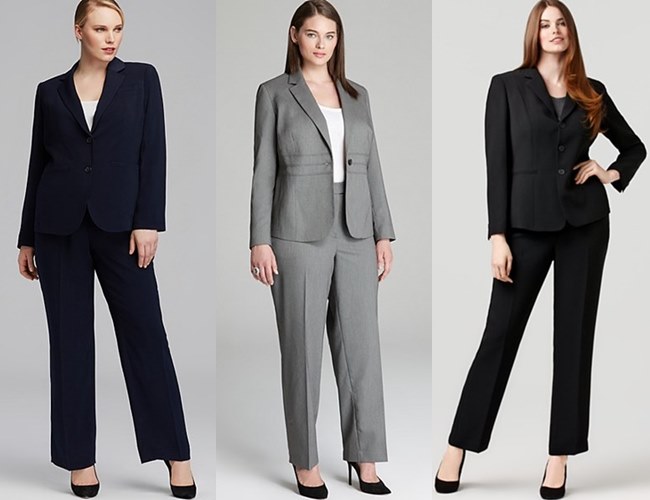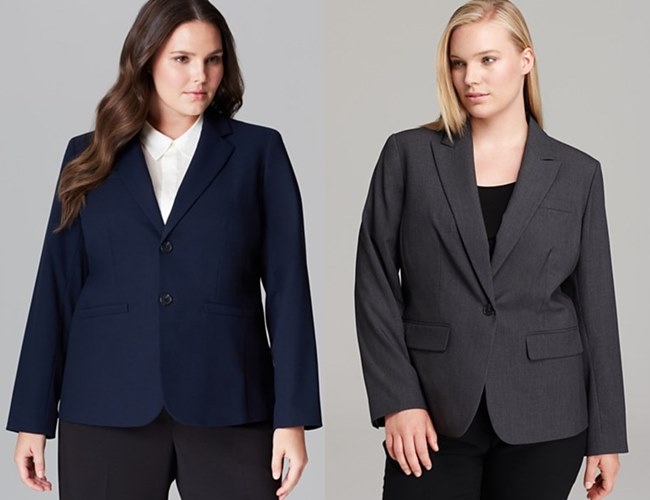 6. As for shoes – whether it's flats or heels – your footwear has to be scuff free and come in neutral shades like black, beige, cream, or brown. If you go for heels, better not to wear anything higher than 3 or 4 inches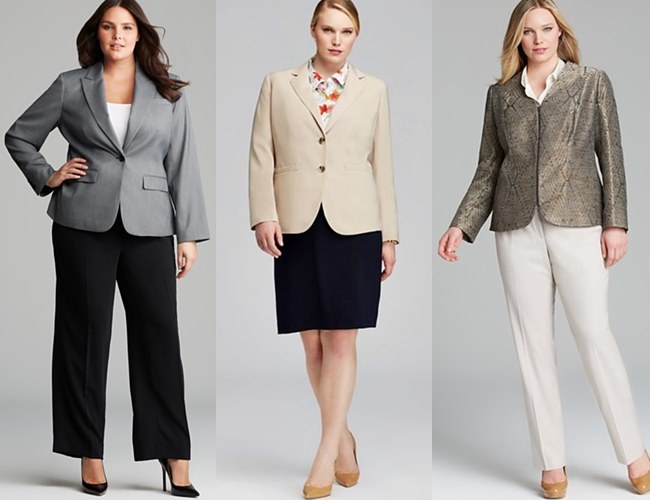 7. Your hair and makeup should be groomed, neat, and simple. Basically, most of what constitutes a polished image should be absolutely in the details including manicured nails, classic makeup, run-free hose, scuff-free shoes, neat hair, etc.
8. Keep in mind that inappropriate outfit can really cause permanent damage to your professional image, even sometimes to your career. Here are the big "No-Nos" in the workplace, especially at a business, professional office
Too sexy – see-through fabrics, super short skirts, hot pants, spaghetti straps, sheer sundresses, tube tops or strapless dresses, super-tight clothing, clothes that show off excessive cleavage and exposed midriffs
Too casual – jeans, t-shirt, tanks, flip-flops, sneakers, sandals, straw totes, slouchy boots, oversized clothing, or clothes that involve funky graphics like a favorite band's name or witty catchphrase
Too sloppy – wrinkled, untidy clothing, fabrics that crease easily (rayon, linen), outfits with too many layers, including too many details, prints, and accessories
Too sparkling – all types of clothing with metallic fabrics including those with studded, spiked, sequined, and all 'bling bling' details
Too trendy – Unless you work in fashion, wearing the latest trends to work is a no-no, as wearing overly trendy clothing can overshadow your work accomplishments.  Yes animal prints are cool, but avoid vibrant animal prints in your outfit. Yes floral prints are pretty, but don't go too girly with too much florals. Yes bohemian, sporty-look, rocky-chick, vintage 50s, and other nowadays trends are super high, but always stick to the basic rule for looking polished in your workplace. On the other hand, while it's important to avoid looking too trendy, this shouldn't translate into wearing dowdy clothes..
9. Learn well different types of office wear or every dress codes of your work place, whether it's Business Professional, Business Casual, or Casual Friday. Dress codes have relaxed at many companies, and business casual is now the norm in many workplaces every day of the week. Problem is, many people have no idea what this means.
10. If you can't figure out where to start working on your career image since most companies don't have specific guidelines about what to wear to work, develop yours by building a fashion database. Assess the nature of your profession and observe what your boss wears. Think to get-ahead style. Or think about the styles that the highest-level woman in your organization wears and use them in your wardrobe.
Credits: All Picture Ideas are Wear to Work Collection by Bloomingdales
Now, while there are a few general rules for office dressing, sometimes office dress codes can also be maddeningly confusing. You want to look stylish yet need to dress conservatively. And what does "business casual" even mean? Actually just because you work in a professional workplace doesn't mean you have to sacrifice style for the sake of your career. There are always simple tricks to update classic looks into something stylish, fashionable and chic, promising you that even in the conservative world fashion can be fun.
Learn more about business dress code, what you can (and can't) wear to work through article "Office Wear Fashion Tips: What to Wear to Work from Formal to Casual (Part 2)"