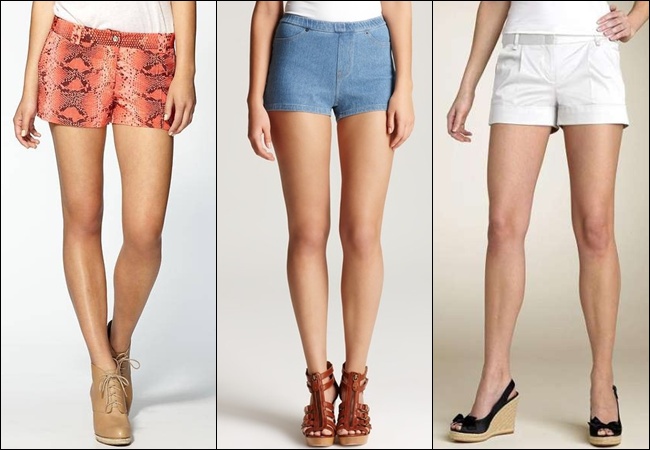 Shorts … some people love them while some hate them, no matter these fashion staple for summer are designed in many styles, fabrics, prints and colors, shorts are always be one of the most popular must-haves in every woman's wardrobe. Shorts will give you the same cool, breezy feeling as a skirt, and for those who love to fashion in casual, yet sexy and flattering outfits will definitely have these versatile pieces more than one designs.
However, although shorts are considered just as versatile and simple while being more practical for active people, every woman should know what best to pull off shorts suitable for their figure and silhouette. You may show some leg, but fitting your shorts well that promises the best comfort in you is essential, so don't push yourself with trend when your personal style and body shape don't meet its designs.
When choosing shorts, make sure they lay smooth and flat, which are not too tight, ride up or tug. The trick is to flatter your shape and size, balance the top with accessories up or down accordingly, and wear it with confidence and perfect personal style. Actually it follow the same principle as skirts – it's all about the silhouette. The most universally flattering shorts sit low on the waist and have a structured, straight leg.
As for the pairing top, a good rule to remember is all about balance. If yours are loose and baggy wear a tighter top. If yours are shorter and tighter, loosen up on top. Anchor your look with accessories like a long-chain pendant, sandals with some sparkle, oversized sunglasses, or a block-color bag to add some 'pop'. Learn how to wear shorts for your body type and what to wear with it fashionably.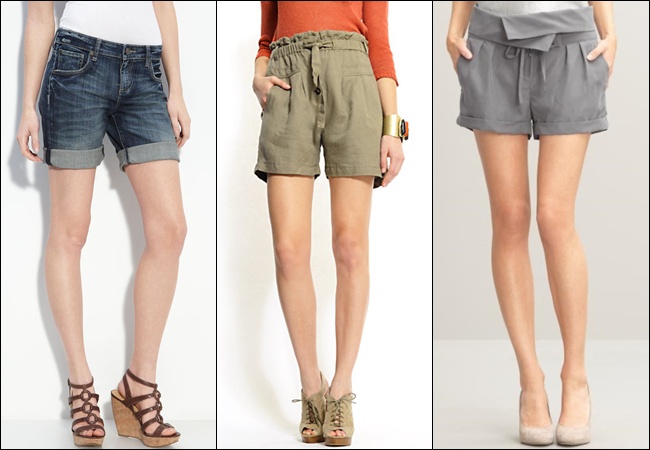 If you have long and thin legs: On contrary for the short legs and petite people, shorts for long legs should have longer inseam, such as a mid-length style to show just the right amount of skin. You may as well opt for hotpants but choose designs that have large details, cuffs and are convertible (have a roll-up feature). By wearing this style you get maximum usage from it, plus a convertible length makes even stick-thin legs look curvier.
But overall, women with long legs are the luckiest ones, since they will always look good in any kind of shorts in varieties of designs, cuts, and details, depending on your personal style.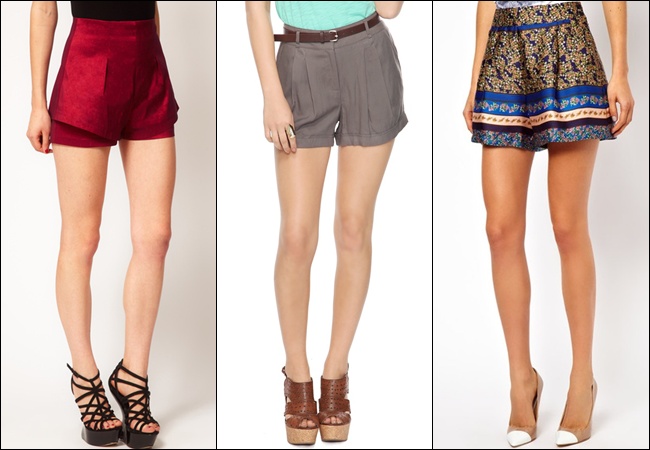 If you are a square shape: Women with a square or straight shape are considered to have less curvy figure, therefore look for shorts with accessories that give curvier look. Balloon or bubble as well as shorts with belts will add volume and some curve, while A-line will also add an hourglass silhouette. Shorts with prints and high waist are also work well for such body types, since prints can add the illusion of curves, while a high waist creates a great waist.
What to match with: Choose colorful and printed shorts to add curves on this boyish figure, and wear accessories around the waist to create curvier appearance.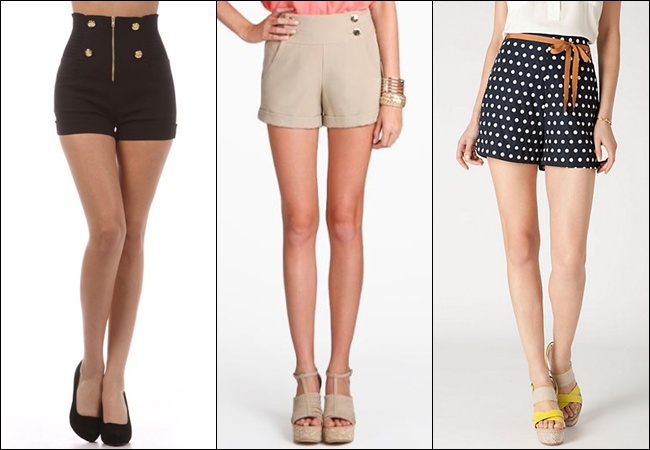 If you are an hourglass shape: Opposite to those who have straight shape, women with hourglass shape are very curvy. Try A-line to make your legs appear longer and leaner. Contoured waistbands and high-waist styles will help eliminate the gaping at the midsection that often results with this body type. But if you have a flat beautiful tummy to show off, don't mind sporting structured shorts with mid-rise look. Don't do with straight cut, since this style won't do your body any favors. If you think you have big thighs, consider wearing shorts with mid-length or knee-length cuts.
What to match with: Pair with light-weight tank to balance the look, instead of tops with heavy details or prints. Put skinny belt or other dainty accessories for a more flattering style.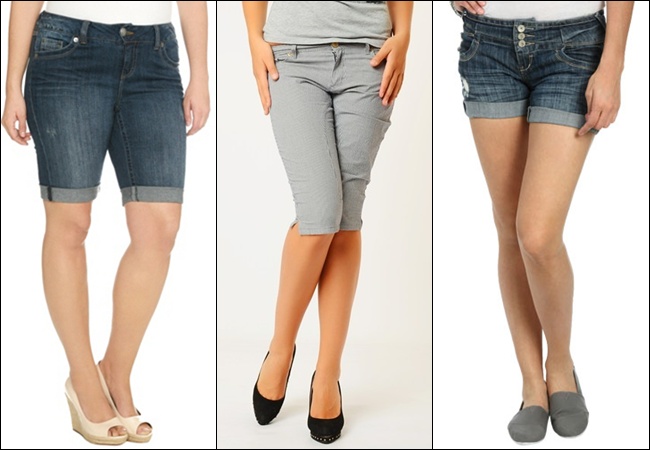 If you are a pear shape: Women with pear shape have bigger size on the bottom area such as bigger buttock, wider hips, and fuller thighs. Look for knee-length to cover problem areas like dimpled or flabby thighs. Slim fitting Bermuda or mid-length (with an inseam of about 7 or 8 inches) are also another option to make your buttock looking less heavy and to give your legs a longer, slimmer look, while still covering problem areas like the upper thigh. If your shape isn't flabby, you actually can wear hotpants for a sexy look, but avoid cargo shorts, since the pockets will add width to your hips.
You might also try low-waist designs to save you from the frump factor. Make sure the pieces are nothing too tight, and opt for shorts which don't skim over your legs, choose something comfortable and roomy. For the most flattering look, keep fullness under control (slimmer-legged will make your legs look slimmer, too.)
What to match with: Although knee-length shorts can make short legs look shorter, it's easy to balance it out with a pair of wedges to elongate your legs. Choose solid color and balance the pear shape with an interesting, colorful, embellished top or top with detailing at the neck area to draw the eye up. You may as well team it with a tunic that covers your back.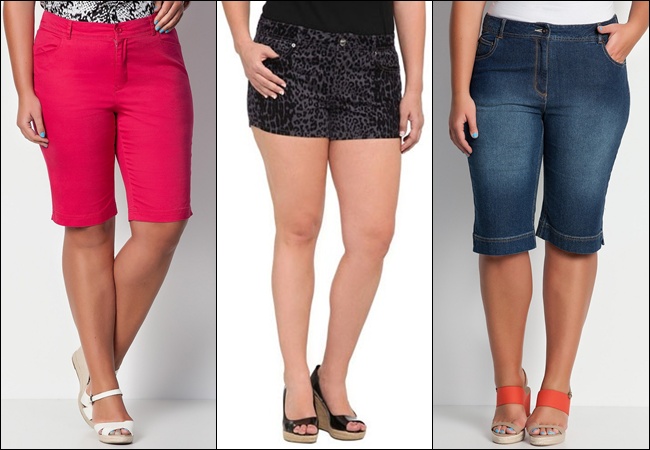 If you are plus size: Women who are plus size or have rounded body shape should look for a pair of knee length shorts with no pleats and large embellishments. This style is definitely flattering to a larger frame and they are also dressy. Also, remember that oversized and baggy clothing will add to your frame, so stick with a tailored clean short.
What to match with: Just like problem of wearing knee-length shorts, pop on a pair of wedges for a leg-lengthening and really flattering look.
All in all, no matter what body shape you have, every woman definitely can be flattering in shorts as long as they know what types of it suit best on her silhouettes. Make sure your body has a firmed and toned figure, as well as cellulite-free to avoid any flabby thighs or muffin-top on the mid-section.
Put some accessories, wear flattering footwear, and appropriate tops to cover or disguise the "unwanted" part of your body, for example tights are great to camouflage your legs visually (bright tights to give more weight or dark tights to reduce the rounded looks). But above all, confidence and personal character are still the number one rule in fashion.