Outfits that look good on the catwalk, however, may not look so great when they make the transition to Main Street. And when it comes to fashion, unless you are an A-list actress surrounded by fashion stylists and trainers, chances are you'd have a few body issues that you'd wish you didn't have, but have come to accept. A handy section at the end of this guide will explain the easiest ways to fashionably dress your shape, building your confidence without forcing yourself into somebody you are not.
Speaking of your most pressing body problems, there are still quick fixes that can hide those little flaws that nibble at your self-confidence. Whether you are going to follow these tips or not, hopefully, these simple fashion solutions could help so that you won't have to worry about those jiggly bits any longer. Take a look at this handy 'how to' guide:
Whether you are top-heavy or bottom heavy, or considered as hourglass but with apple or pear tendencies, or you're a rectangle who carries extra around the midriff, one way to define a woman's body type is by how her curves connect her bust, waist, and hips. Here are some general tricks to accentuate your best features – and hide everything else
TOP HEAVY
If you have upper body bigger or larger than your lower body part, softer around the middle and have heavier breasts with narrower hips and slimmer legs, you probably want to make the most of your womanly figure by showing off your legs, curvy waistline, and great cleavage.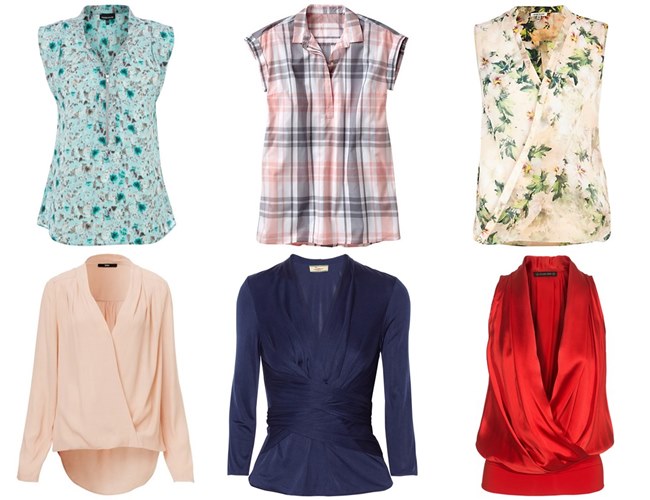 Tops
If you have tummy, opt for tops that "drape" over any love handles, like tunics and flowy tops with an empire waist.
If you are busty, choose the most flattering necklines to accentuate the long lean line. The lower the neckline, the leaner you'll get, but still keep everything elegant and classy. Opt for low-ish necklines like V's, scoop, cowl, open shirt collars and boat necks.
Create curve by opting for tops that emphasize waistline such as wrap tops, mock wrap tops, tops with front/side ruching, and tops with front knot detailing. Or you could also try wearing belt, and try to find your sweet spot, which is often a little higher than your natural waistline so that your belt hits the smallest part of your torso.
Know that patterns and textures provide better "camouflaging capabilities" than solid colors. Opt for these tops even though you are top-heavy. Just make sure you choose flattering patterns that aren't too big especially around the bust or midriff area.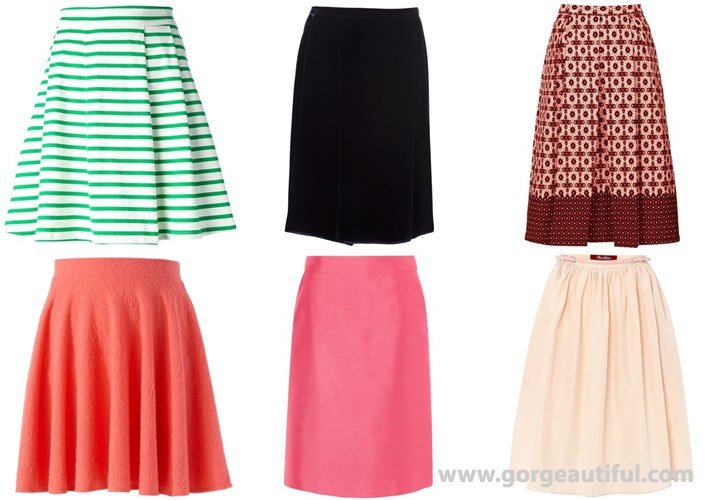 Bottoms
Add volume to your lower body part to achieve a well-proportioned look. Play up nice legs with shorter (an inch above the knee) skirts. A pencil skirt – not too tight – with side seam cut straight down from the hip is your best choice as well as an A-line skirt.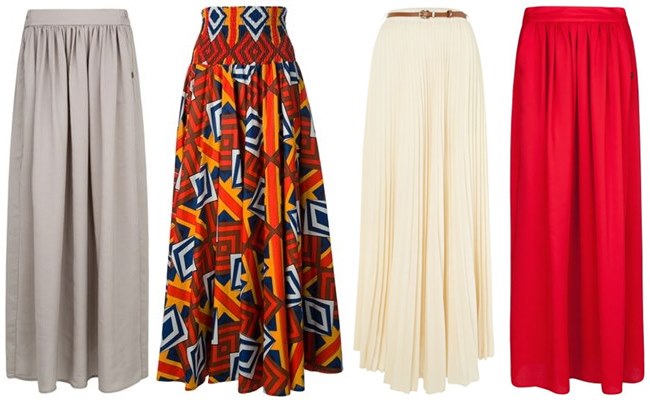 If you want to go for a longer skirt, opt for an A-line maxi skirt or a flowy long skirt to give you the look of a waist and more of an hourglass look
Opt for pants with a straight leg and have a lower rise than the natural waist. Flared pants or boot cut are your friendly choice but make sure to avoid pleats and gathers. Front pockets on jeans help disguise a tummy problem, while back pockets can help define a flatter rear common to top-heavy women.
Match your outfits with shoes preferably boots or chunky footwear because the volume that is created by chunky shoes balances out proportions – especially if you tuck a pair of skinny jeans or leggings into knee high boots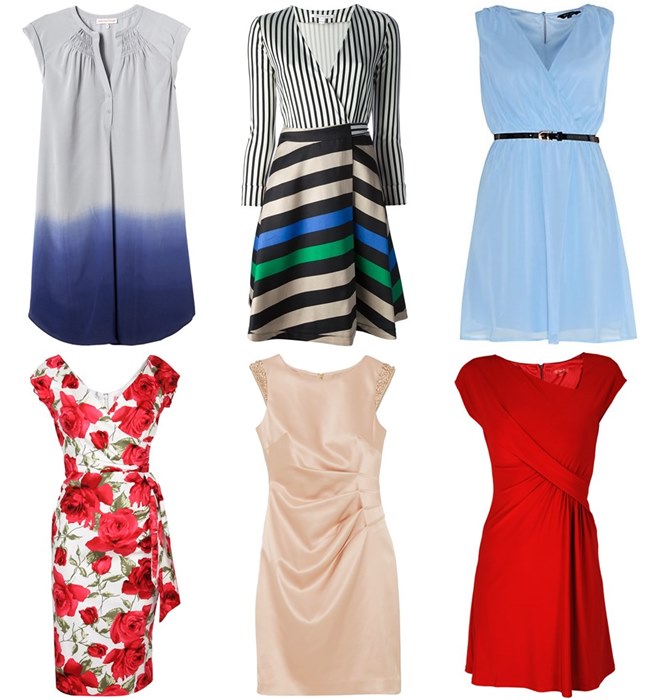 Dresses
Basically, top-heavy figure – including hourglass or apple shape – works best with many dress silhouettes. Whether mini, midi, or maxi, dresses with center front ruffle details, waisted dresses, belted dresses, and mock wrap frocks with plenty of side seam rushing are great for this shape. A sleeveless black sheath, a soft princess seamed dress, a strapless dress with corseted top are also good.
Depending on each personal style, this body silhouette looks great with outfits that don't cover up head-to-toe. Opt for pieces that show a little skin whether it's bare arms or shoulders to create a refreshing and more flattering look.
BOTTOM HEAVY
Bottom heavy is actually the most common female body shape. If your hips are wider than your shoulders, or you have curvy hips, thick thighs, and a full rear, those shapes are the key characteristics of this body type. Here you could accentuate the positives, such as creating a shapely waist, delicate upper body and attractive shoulders and arms.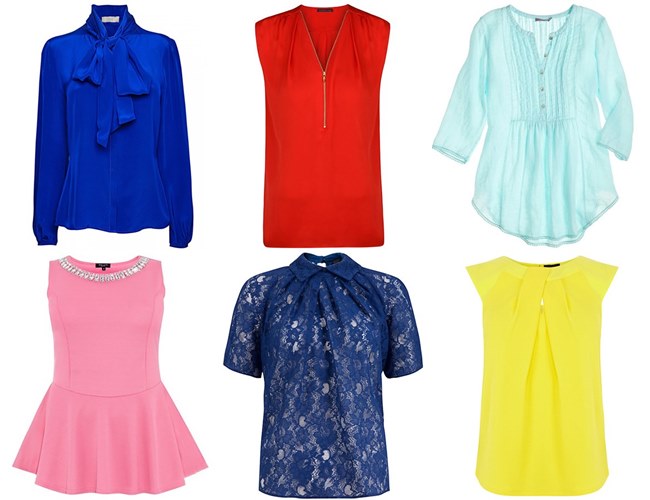 Tops
If you are bottom heavy, the general rule for tops is that you want to direct attention to your tops. Fun colors, prints, embellishments or details, all serve the purpose of drawing the eye away from the hip area.
If you have tummy, opt for tops that "drape" over any love handles, like tunics and flowy tops with an empire waist. Formfitting waist definition can work if it doesn't give you muffin top.
Ladies that are bottom heavy have relatively small waistlines, so it makes sense to showcase this part of the body. Look for fitted – not skintight – tops or shirts, blouses, knit tops, tees, and knitwear that are shaped at the waist. Peplum tops are great over slim-fit bottoms, as well as those outfits with waist-cinching belt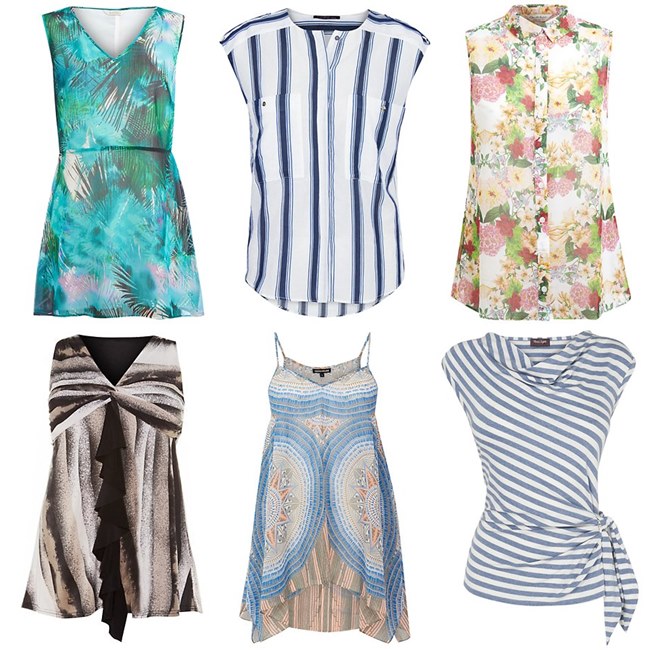 Since tops are the main focus to attract attention from the lower part of your body. You could start opting for tops with different types of neckline including strapless, off-shoulder, or one-shoulder necklines, etc.
If you have a long neck, necklines that are high or cover your neck such as boat necks and turtlenecks work well on you, while lower or opened necklines are great for those with short waist, large bust, or short neck
V-necks and open collars all call attention to the face, which is always a good thing. These necklines also elongate the neck, minimize the bust, and draw attention to your slim midsection. These also look great if go with layers
Speaking of layers, longer jackets should hit anywhere but the widest point of your hips (right below the waist to mid-thigh). As for the shorter ones, layer a fitted shorter jacket, gilet, waistcoat, vest or sweater over an untucked top for the most flattering effect. Wear jackets and blazers open for the best vertical lines and for creating a visual balance between the top and bottom half of your body.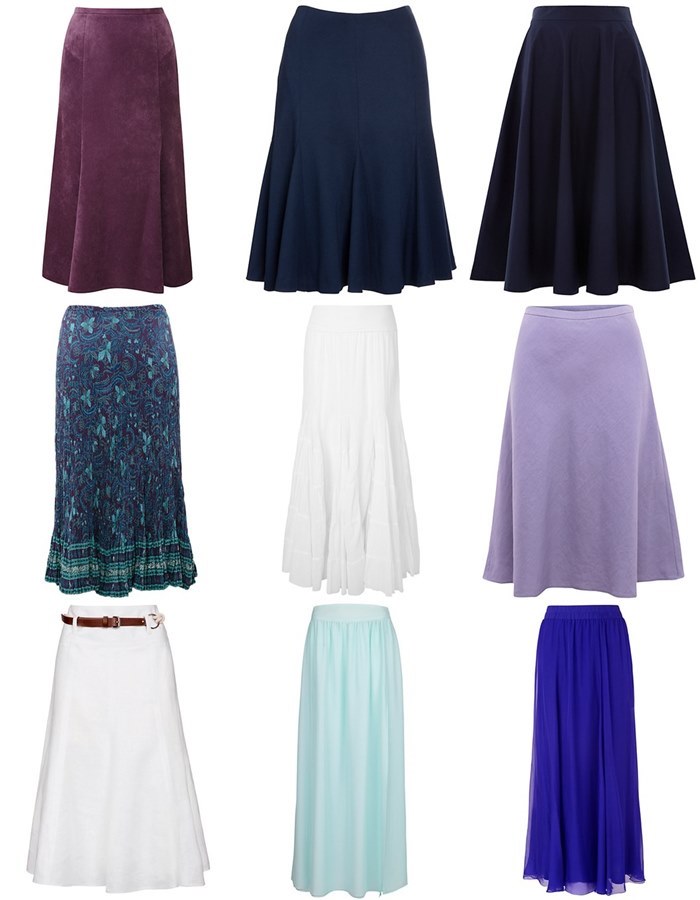 Bottoms
Any style that follows your natural A-line shape is a match made in heaven. Look for skirts that are fitted at the waist and voluminous down to the hem. Classic A-line skirts that hit around the knee area are ideal because they draw attention away from your hips and thighs
Skirts with mermaid shape could also complements your curves as well as pencil skirts that taper at the hem and hit longer over the knee – wear this with an A-line top or tunic to camouflages the hip and thigh area.
As for pants or trousers, opt for mid-rise (not too high or low). Your pant waists should fall somewhere below the natural waistline for a better fit. Fit the largest part of your body and tailor as needed.
Usually, for women with this shape the waist comes too large when the rest of the bottom fits on the hips and thighs. If the waist is only a little big, wear a belt and match the look with a partially tucked fluid top.
Minimize fussy details like big cargo pockets, ribbons, or excessive zippers around the hip area. Keep the front part of your pants free of detail and make sure that there is enough ease through the hip and thigh.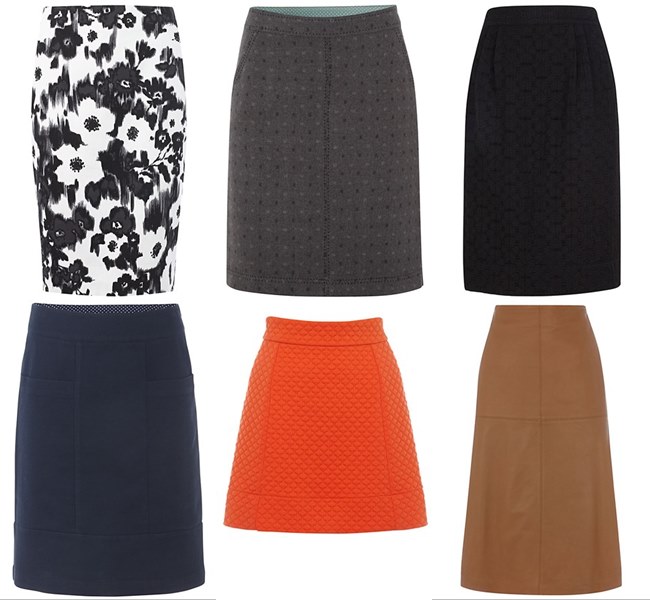 Depending on your personal choices, sometimes patterned or light-colored pants create wider effect, while dark solid bottoms are visually more slimming
Don't forget to always try opting for clean, tailored lines on the bottom. Generally, when you keep it simple on the bottom, you have so much room to play with tops and accessories.
As for shorts for this shape, you could choose between knee-length or mid-thigh shorts that straight from the thigh down, or follow the A-line skirt rule which is fitted at the waist and voluminous down to the hem. Make sure your shorts lay smooth and flat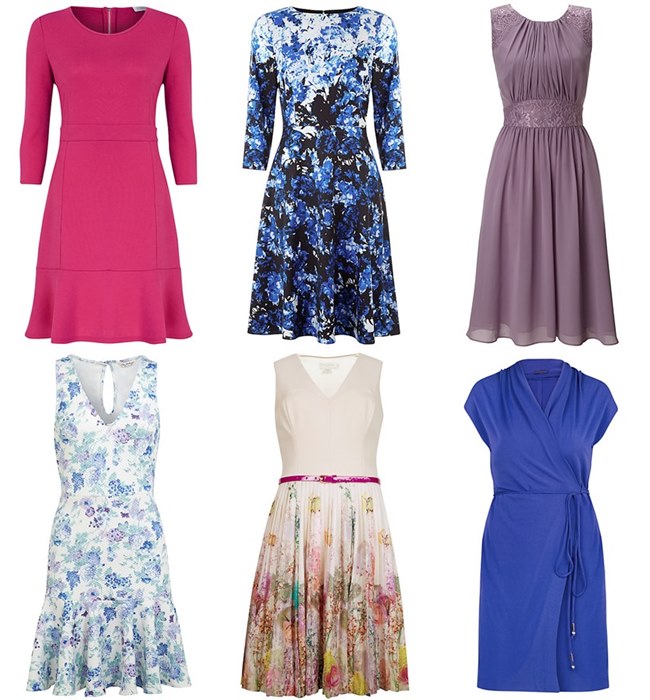 Dresses
If you want to emphasize your curve, look for dresses that nip in at the waist and slightly flare out over hips and thighs. Dresses with fitted top-knot chest detailing under the bust, and that skim over the bottom in a gentle A-line silhouette are also ideal for this figure
For those with larger bust, a wrap dress goes really well, while women with small bust could look for an empire, or raised waist dress. A full-skirted dresses are also perfect for this figure because the cut will hide heavy hips and thighs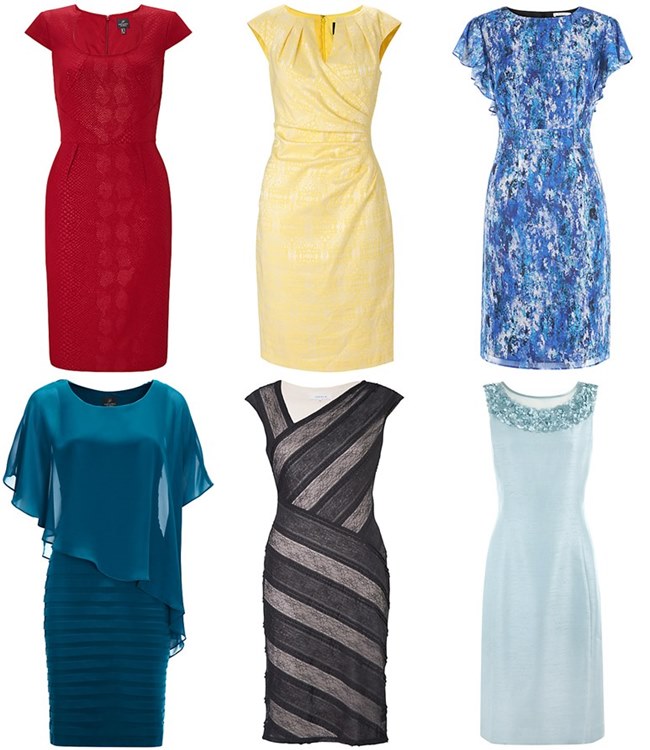 If you want to wear a fitted sheath dress, make sure to find a fitted frock that creates balance on your silhouette, the one that doesn't make you look or feel bottom heavy. Opt for sheaths that can accentuate instead of de-emphasizing your proportionally larger hips. Here you might need to have the torso altered.
For the sheaths you have to look for suitable patterns that create curve visually, or accentuate your waist with belt to create balanced silhouette. If you belt a dress, make sure the belt sits higher up at your waistline rather than your hips. You could also choose fabric with stretch to create a more forgiving fit over the hip and thigh.
Finally, if you need to find more tips and ideas on how to dress for your specific body parts, choose one of these articles and see what you can do with your personal styles.
– How to Fashionably Hide Specific Body Parts (Upper Body) Part 1 (problems with turkey neck, armpit fat, and flabby arms)
– How to Fashionably Hide Specific Body Parts (Upper Body) Part 2 (problem with large breasts, narrow shoulders, and broad shoulders)