Summer fashion calls for fewer layers and showing more skin, and shorts are definitely one of the most popular and essential summer staples that everyone love to pull off. If you are shying away from the staple only because you think you don't have a body to flaunt it, think again and start getting a leg up with the right style of shorts for your shape. Whether you've got short or long legs, a tummy, or wide hips, or bottom heavy, yes, you can still wear these flattering cuts in short, medium, and long styles.
Everybody has their own body shape, whether you're naturally skinny or you were born big-boned, or even if you have some 'problem' area you just can't seem to shift, there's always a way to fashion with shorts. The great thing about shorts is that they can be dressed up or down depending on how you style the look. Here are some tips and styles to show off your shape in shorts.
If You Have a Tummy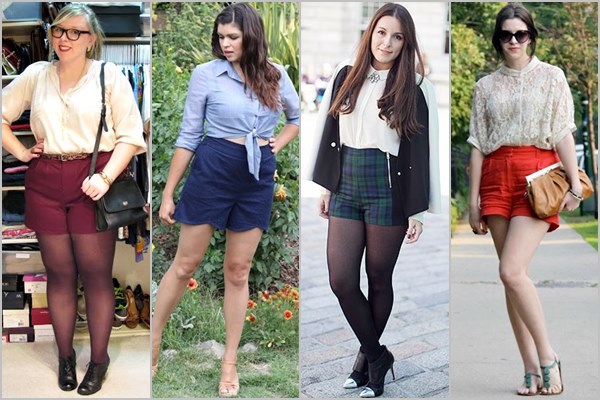 What to look for: A generous fit through the middle to keep you comfortable and a wide waistband to help hold you in and keep your stomach looking flat. You could also look for a roomy cut through the waist for more interest. Just minimize pockets, pleats and gathers near the waist which only magnifies this "problem" area. Or wear skinny belt to create curve around the area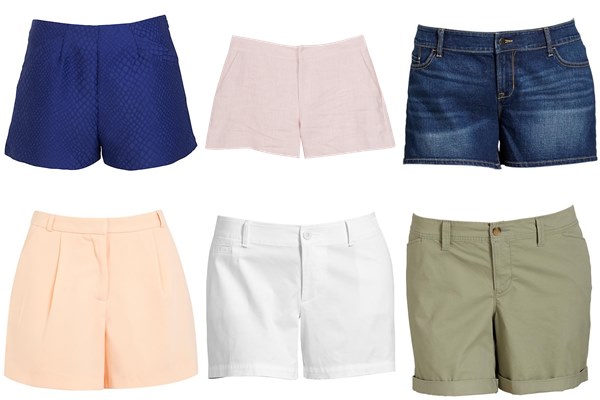 Depending on the person, you could either choose a mid- or low-rise cut because sometimes high waistbands emphasize the very area you are trying to mask, or you could as well go with high-waisted cut to avoid a "muffin top". Just make sure to pick a cut that nips your waistline, making it slimmer and more defined.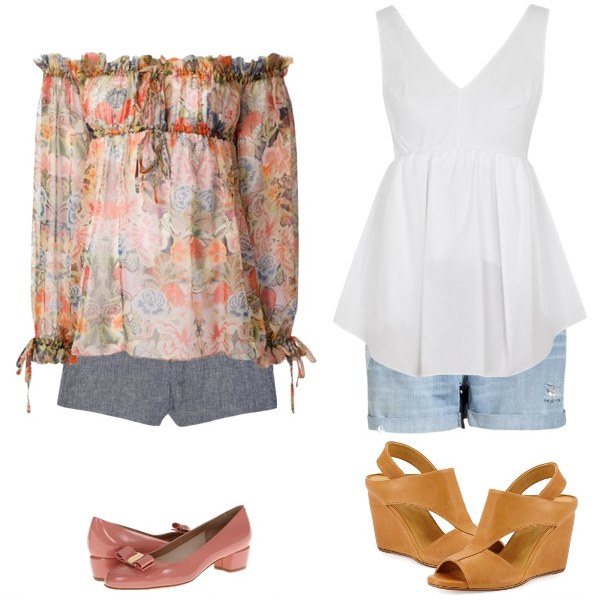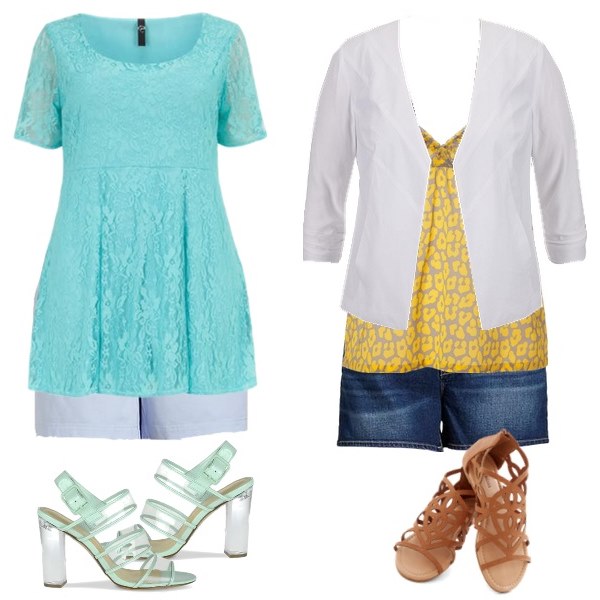 What to pair them with: A flowy Empire-waist top or top with a long shirttails and rounded hems to camouflage the tummy. Choose simple tailored jackets that nip in at your waist or belted jackets to give the illusion of a smaller waist and this will trim in your tummy area.
If You Have Curve or Wide Hips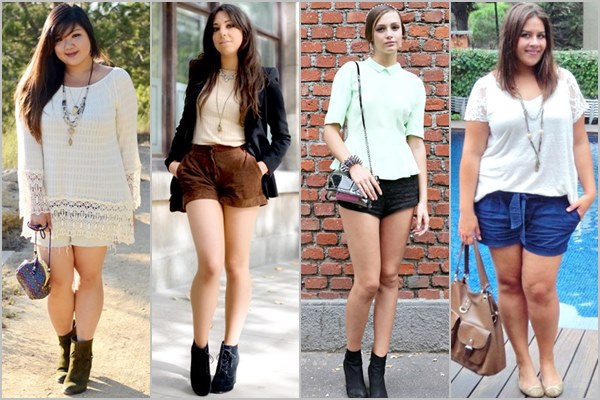 What to look for: High-waisted shorts with body-skimming (not tight) cut that creates a straight (not tapered) line from the widest part of the hips down to the hems are your best friend to emphasize that dainty just-below-the-ribcage area and downplay thighs. Don't forget to keep the shorts sleek with simple details, prints, and colors.
To accommodate full thighs, choose a style with a longer inseam and slightly wider legs. Make sure everything is fit – not too tight, ride up or gather in the place where your hip meets your thigh – nothing looks worse than ill-fitting shorts. Shorts should lay smooth and flat. Or, you could also avoid pockets that line up with the side seams. These tend to pop open and emphasize the hips and thighs.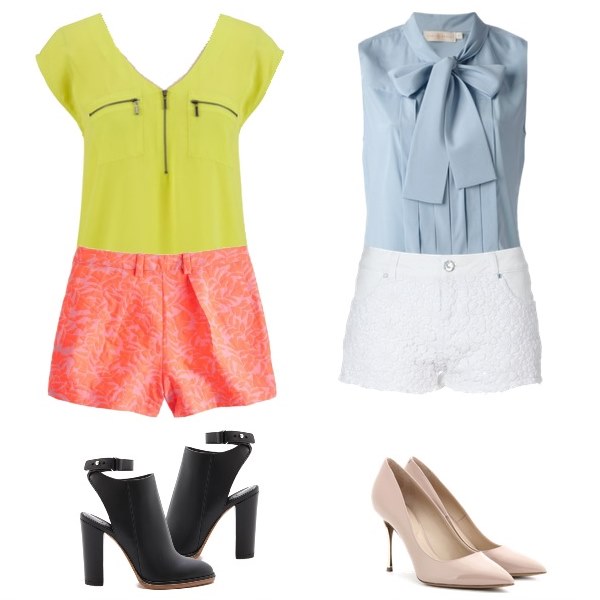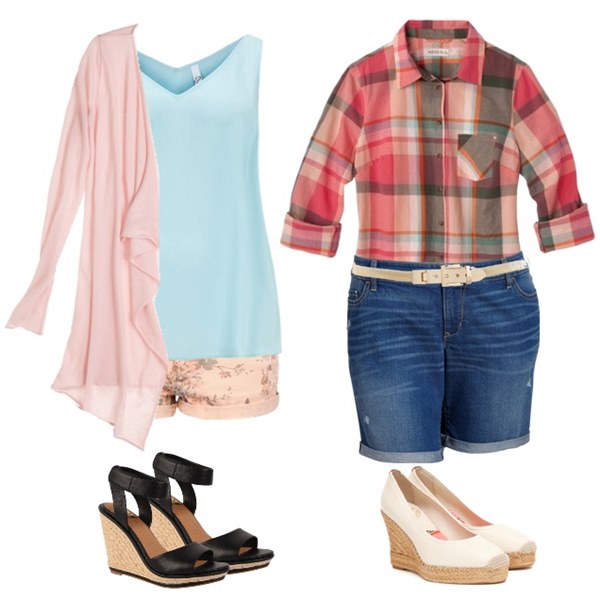 What to pair them with: A slim-fit top or a button-down with a skinny belt. Or go with an eye-catching embellished blouse or a statement-making necklace to bring all eyes to your top half.
If You Have Full Thighs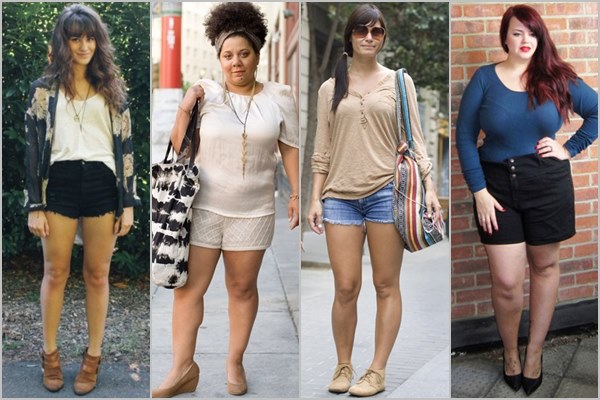 What to look for: Women with this "problem" usually look for the safest shorts which is a trim in slim-cut Bermudas that cover their quads. But for more flattering look, it's better to stay away from figure-hugging shorts and look for wide-leg shorts that hit mid-thigh. Make sure your shorts aren't too big that only adds bulk, and minimize pleats, bulky back pockets, or side pockets that could create "wings" or give a bubble butt.
As for waist and height, depending on the person and cut of the shorts, a low waist saves you from the frump factor, while some people with full thighs and round tummy could also try high-waisted shorts to avoid a "muffin top".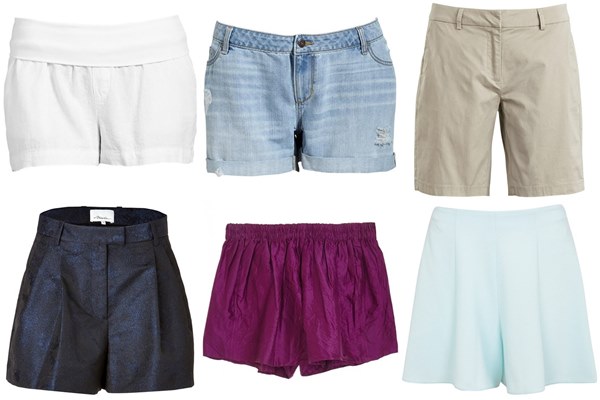 Moreover, longer shorts can actually have the opposite effect and draw more attention to the thighs, so better to choose shorts that hit at mid-thigh. The Boyfriend style or those structured, tailored shorts are really flattering as it sits low on the hip and is cut loose. This style can also be dressed up or dressed down with, and are definitely your go-to style.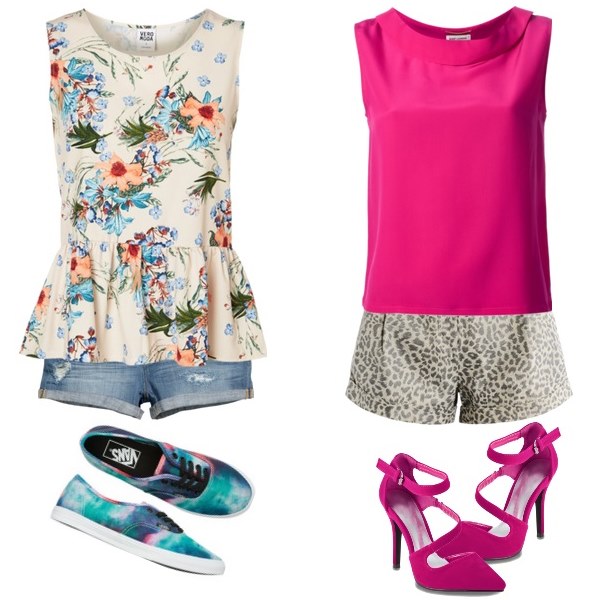 What to pair them with: A slim-fit top or a button-down with a skinny belt. Or go with an eye-catching embellished blouse or a statement-making necklace to bring all eyes to your top half.
Shorts for Skinny Legs Women's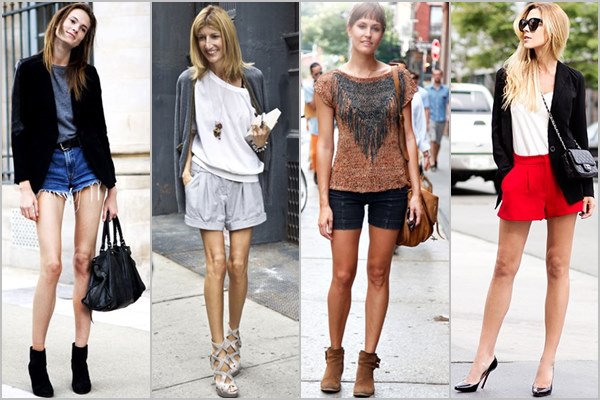 What to look for: Low rise styles are flattering on women with long, skinny legs, but if your legs are shorts, better to opt for high waist shorts for adding more height to the legs. Find shorts that fit you well – the best fit is typically neither tight, nor baggy – and the shorter you go, the better it will be. You don't need a pair of shorts that could pass for panties, but by showcasing your thighs a little bit more, your legs will look a bit fuller.
Not to mention, styles with cuffs or turn ups can work well on your figure, because they create a visual horizontal break, while slim-fitting Bermuda in brightly color and prints could be your best option if you want to go for longer style.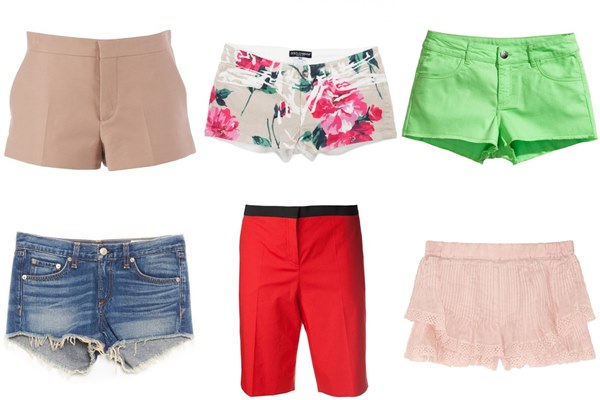 With long or thin legs you are free to indulge in shorts that feature decoration or detailing. If you want to create visual volume on your thin legs, do it with shorts that have bright, large patterns or details to attract attention and do a lot to fill up spaces. Although women with petite figure are told to avoid wearing brightly patterned clothes, but especially for shorts, brightly big patterns are perfect for petite shape since these patterns do a lot to overwhelm small areas. Balance the patterns with elegant mix-and-match such as simple tops in solid and neutral shade.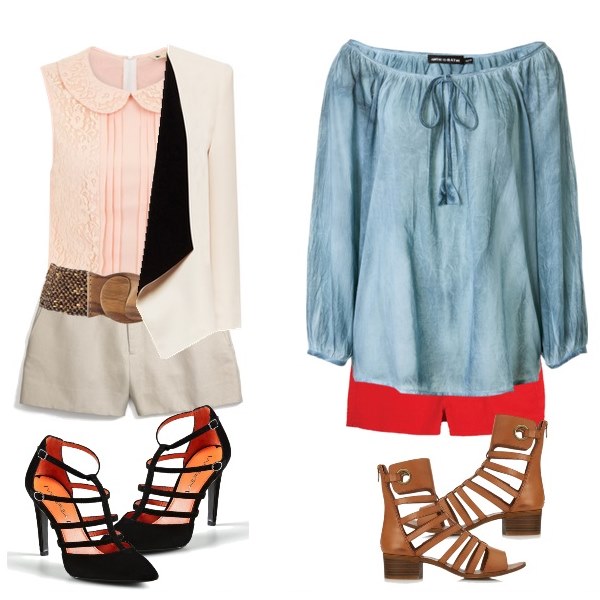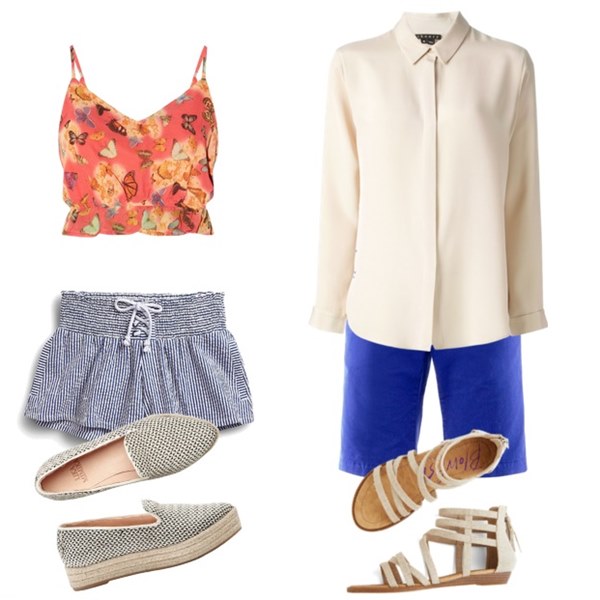 What to pair them with: Depending on the shape of your upper body, basically you can go with any type of tops. Make sure your tops best suited to your figure.
If You Have Short Legs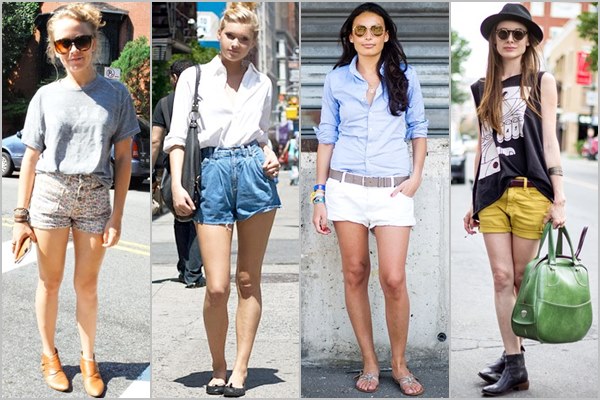 What to look for: Shorter legs means you can wear shorter inseams. In fact, the tinier the cut, the taller you'll seem. Just pick a pair with a five-inch (or so) inseam to play up your legs then add heels for the illusion of height. Shorts with vertical details such as piping, pleats and vertical rows of buttons could also create a strong vertical line and make your lower body look longer.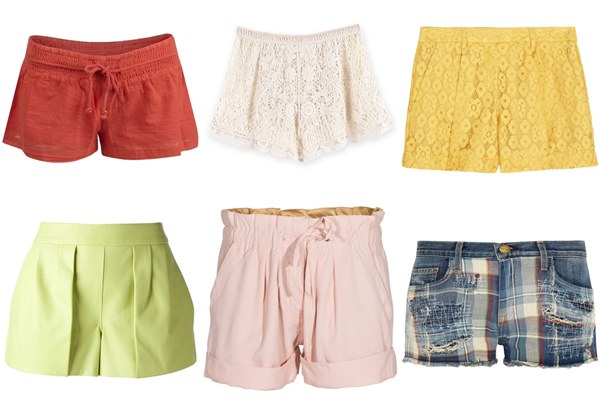 You basically can wear all different types of shorts, including high waist shorts that trick the eye into believing your legs start at a higher point than they actually do. While Bermuda and boyfriend shorts are an excellent choice if you don't like the thought of showing off your thighs. They fall above the knee but are longer than mini shorts and look more dressy-casual than denim shorts. Not to mention, shorts in a similar color to your skin such as beige and tan help elongate your legs without chopping it up like contrasting black and dark blue.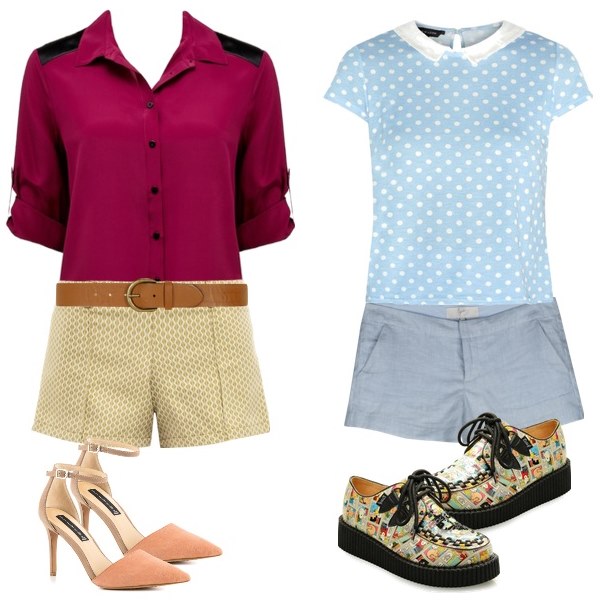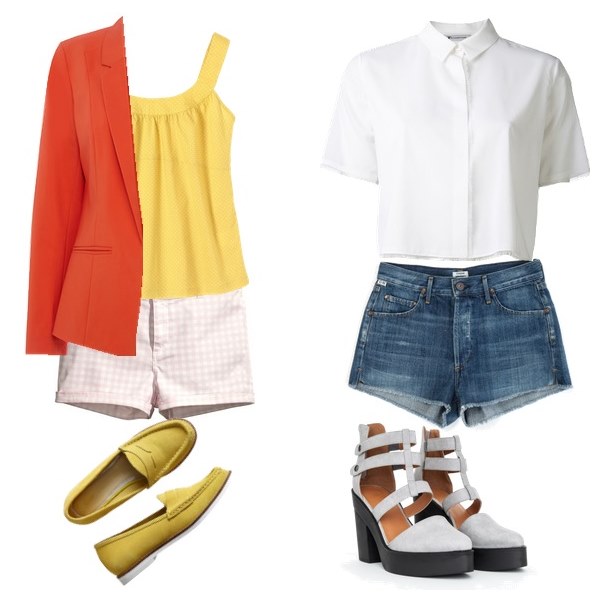 What to pair them with: If you really want to make your body look visually taller and leaner, heels can make any legs look instantly longer, but make sure you opt for the right style and height for your personal style as well for the shape and thickness of your legs, while shoes in skin-tone colors such as brown, cream, tan and beige can also create longer legs. Don't forget to pair your shorts with best fitting top and never give up on such a classic and versatile wardrobe staple. Last but not least, see article "Fashion Tips and Style If You are a Petite Woman" to know more ideas and tips about petite figure fashion tips
Shorts If You Have Muscular Calves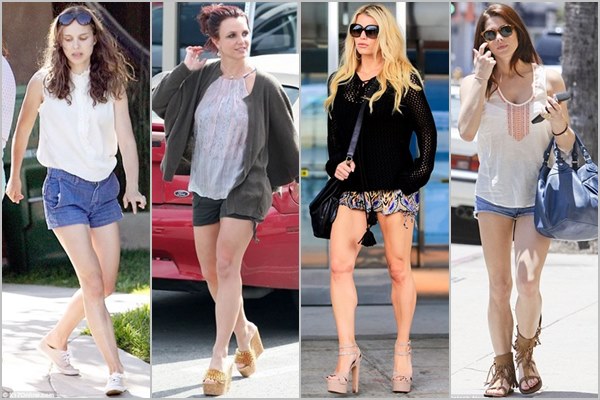 What to look for: Shorts that make your legs look longer and leaner. Pay attention to small details of your shorts, and opt for pieces that not visually "chop up" your body. For example, shorts that come with contrasting colors such as cuffed denim shorts in different shades or horizontal fade creases. Just like shorts for short legs, for women with stubby-looking legs, their goal is to find shorts with vertical details.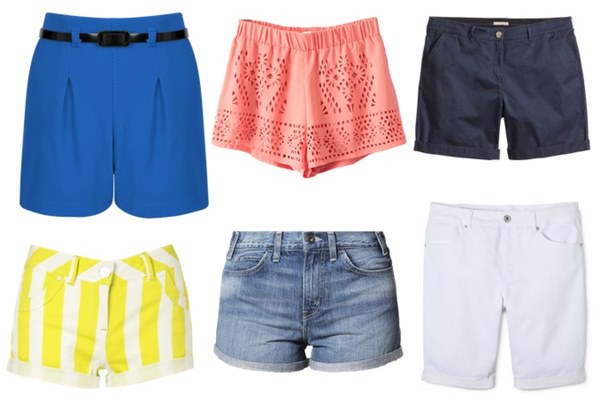 Shorter shorts are best on shorter legs as well as those with muscular legs. Meaning the more skin showing, the better, because longer hems tend to empower your height. Better to avoid shorts that are below-the knee or anything that hits the widest part or the top of your calves since they tend to bring attention to your wide calves and make you look shorter. Opt for high waist shorts, Bermuda or boyfriend shorts, or shorts in a similar color to your skin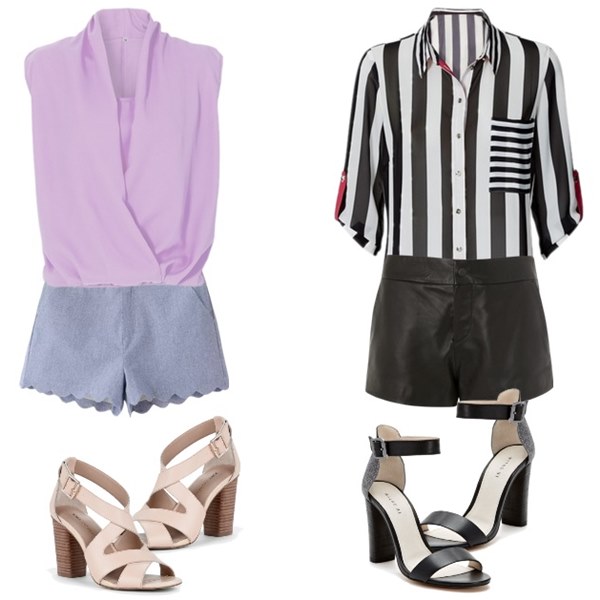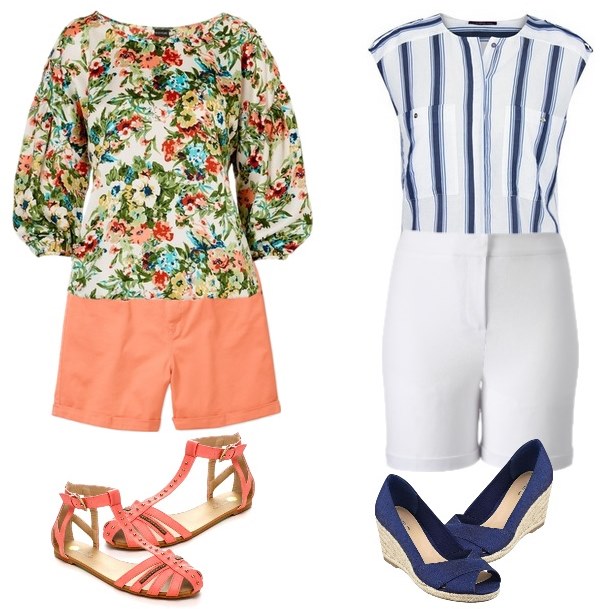 What to pair them with: Shoes in similar skin color can be your best option to create visually leaner legs. Or you can also match your shoes with the color of your shorts. For colder months, tights or stockings are excellent to make your legs warm and disguise your muscular legs.
If you want to opt for heels to add height, choose your heels wisely. The right style for your short and wider-looking legs would be shoes with a little bit of a platform sole and/or sturdy heels. A thicker stacked heel, wedge or platform shoe balances out heavy legs, while skinny stilettos create too much contrast and exaggerate huge calves. Ankle straps shorten your legs unless they're shaped as a 'T' – think T-straps.
Finally, for more ideas and tips on short fashion, take a look at these articles below
– How to Wear Shorts best for Your Body Type
– 15 Shorts Ideas Great for Spring and Summer 2014
– What to Wear with Shorts on Different Occasions
– Various Cute Short Outfit Ideas for All Seasons