After planning ahead and decoding the formality or probably the theme of the event, putting together the perfect wedding guest outfit also requires smart decision to make sure you're dressed appropriate for the wedding's look and feel while still looking classy and weather or season appropriate. Unlike seasons, temperatures are iffy to gauge, but even harder so is windiness and sun exposure. So think about where the wedding is set, what season and how the temperature is
All weddings can be very beautiful whether they are held in spring, summer, fall, or winter, or even under sun exposure or during windy days, inside or outdoors. Just make sure you understand what best to wear for those occasions. Follow these fashion tips to help choose the perfect outfit to wear.
Following the last article Wedding Guest Attire (Part 2) and (Part 1). Here are some ideas and a few things to bear in mind:
Outfits to Wear to A Wedding
Windy or Hot Outdoor Location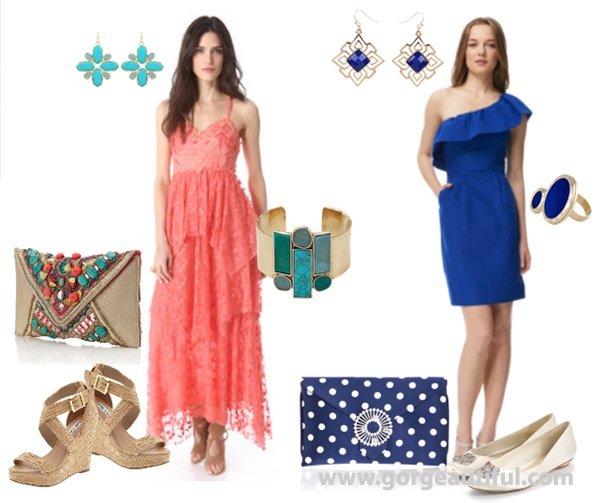 For an outdoor location – whether it's a beach or garden party – avoid high heeled shoes that will sink in the sand or in the grass. Loose fitting clothing made of natural fibers will be your friend to strike the right balance between comfort, formality, and stylishness. A wedge heel will be far more comfortable, or, you can go for the very trendy ballerina shoes or flats.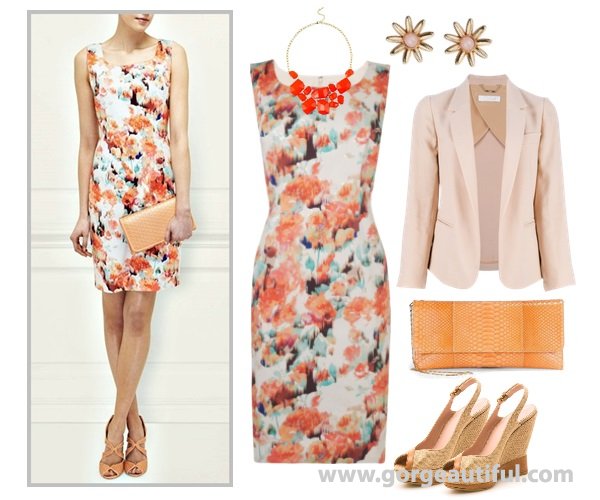 If the ceremony is outside in a blustery locale, be sure you wear a longer or tighter fitting skirt (without pleats or gust catching layers). Wear wrap but avoid anything that will get caught in the wind – you won't want a battle of wills between the wind and your modesty. If it's in a hot location avoid the suit and go for a breezy dress to help you keep your cool. Don't forget pack sunscreen if needed so you're not a lobster after the ceremony.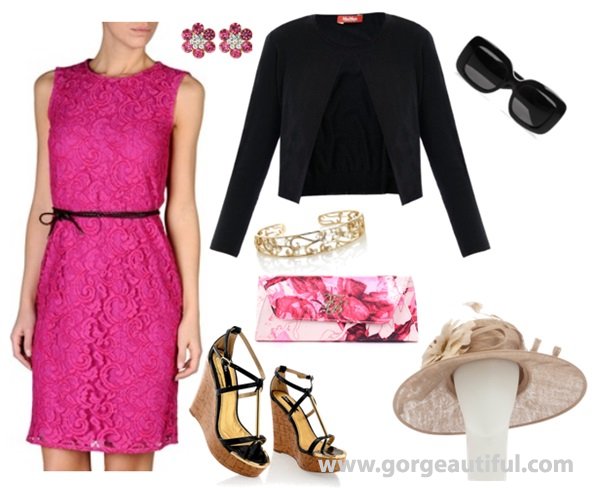 Adding a wide brim hat to your outfit will not only shield your face, but it will enhance some European classy punch to your ensemble. Also don't forget to have sunglasses for an eye protection. Moreover, if you're traveling to another city, make sure you pack a cardigan or jacket that coordinates with the outfit you plan to wear to the wedding. Notice that even on a warmer day, a light sweater will keep the sun off of your shoulders, preventing sun damage. And if it's indoors at the country club or fancy restaurant, make your outfit slightly more tailored and dressy.
The Season of the Wedding
Just like many other seasonal fashion trends, finding the perfect wedding guest outfits also follows the same rule regarding to each season, for example, colorful and bright outfits for spring and summer, or warm and cozy ones for fall and winter. Choose prints and colors according to the season such as garden flower prints in pastel and bright shades for spring and summer, or autumnal prints in earthy or jewel tones for fall and winter.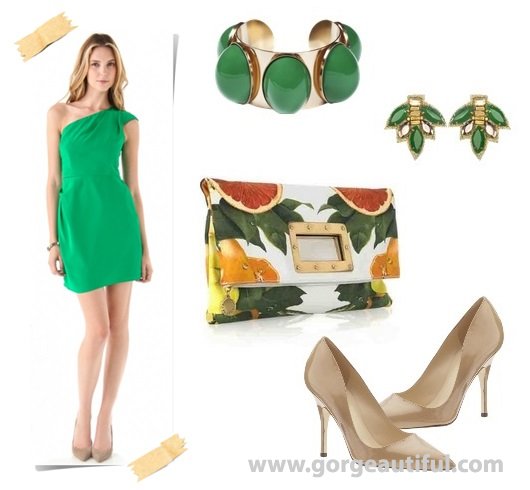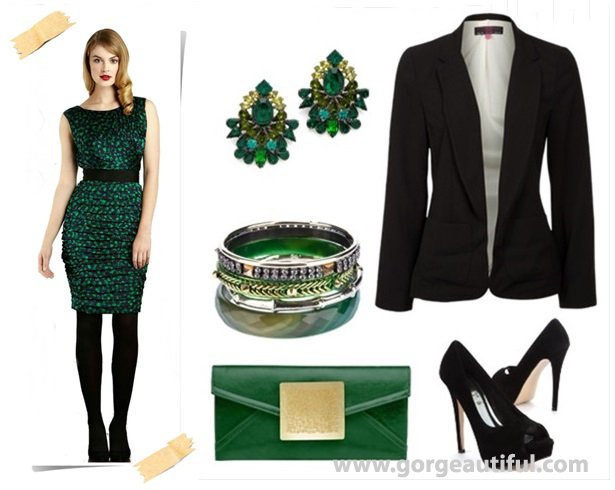 Credit: Dress for The Wedding (find more fabulous outfit ideas of these two dresses here and here)
Moreover, you also have to opt for a dress that simultaneously fits the dress codes. For spring and summer weddings, nothing works better than pretty colorful floral prints for outdoorsy receptions and garden drinks. You also need to wear something light and breezy to help you keep your cool. For fall and winter weddings, not only you have to look stylish and elegant, but you also need to stay warm. So wear outerwear or tights, or choose outfits made of warm fabrics. Think jewel tones, brocades, moody floral prints, and rich textures for a seasonally appropriate and festive look. Here are some suggestions of wedding attires best for each season.
Wedding Guest Dresses for Spring
Romance and femininity scream exactly the spring season. Feminine outfits with subtle hues and girly details are perfect for many occasions during this season. Just take a look at the beautiful assortment of fresh and new spring pastel collections. And if you go for shopping, there are tons of wedding guest dresses around right now that scream this refreshing season.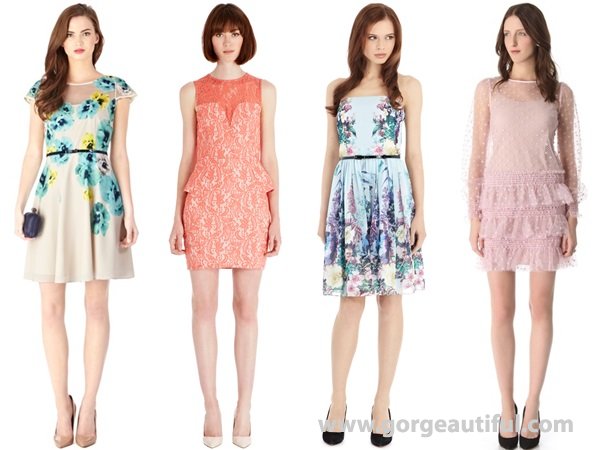 Outfits in pastel shades along with subtle prints and fabrics are best to wear at an Semi formal or Casual Morning Spring Wedding party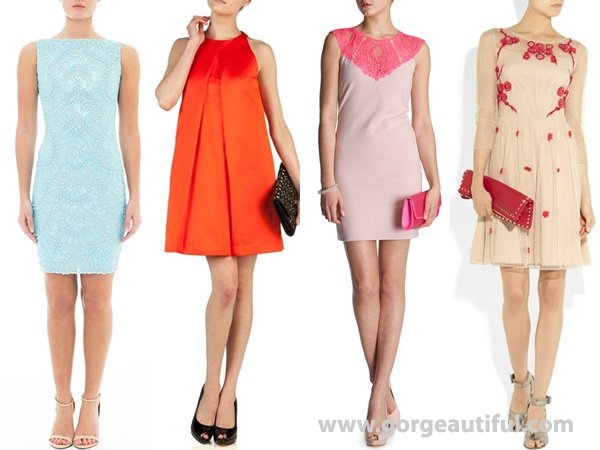 Opt for bolder and brighter pastel shade to your Afternoon Spring Wedding Guest Dresses
Wedding Guest Dresses for Summer
Bright, colorful, and breezy outfits are specially designed for summer. There are plenty options out there, or just take a look at the gallery of these "Wedding Guest Attire" articles for various dresses dedicated for summer weddings from morning till evening. Take a look at the entire gallery of these articles (part 1 to 3) for numerous ideas of wedding attire for spring and summer.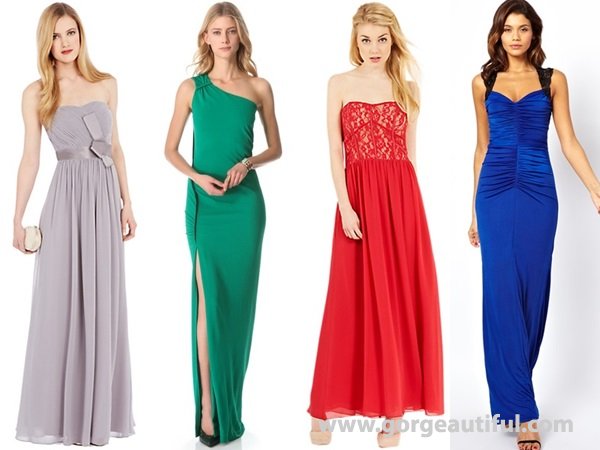 At a formal wedding during Spring Summer season, although cocktail dresses are most common, the floor-length ones in bright colors can also be your best options.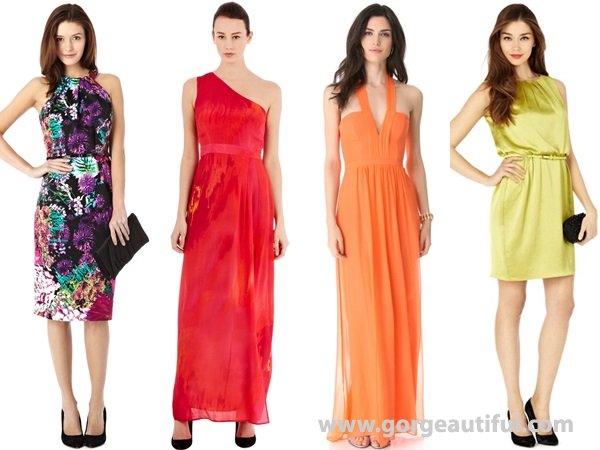 Whether in solid tone or with prints, whether it's mini, midi, or maxi (long) dress, these cheerful ideas of Wedding attires are suitable style for spring and summer.
Wedding Guest Dresses for Fall
For the autumn season, if you're headed to a black tie optional fall wedding, obviously you should pick formal gowns, preferably in earthy or stones colors. While if you are invited to a more casual party, try a dressy cocktail dress in autumnal shades and prints. Drape an outerwear over your shoulders for a polished look, and complete the outfit with antique-inspired jewels.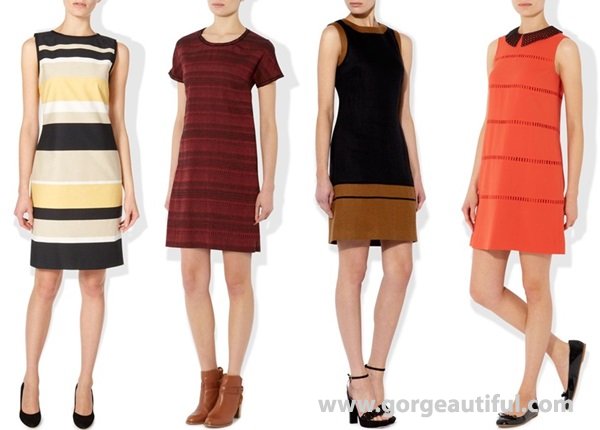 Variety of chic shift and sheath dresses with simple, yet stylish cuts are best options for those who attend some semi formal weddings. Pick earthy tones for a fabulous autumnal look.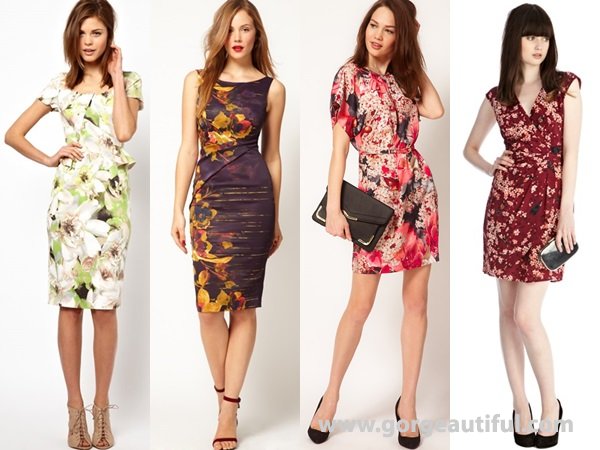 Moody floral prints definitely scream the autumn season. Opt for nowadays trend peplum sheath, tube dress, or the classic sheaths and shifts to flatter your look as a wedding guest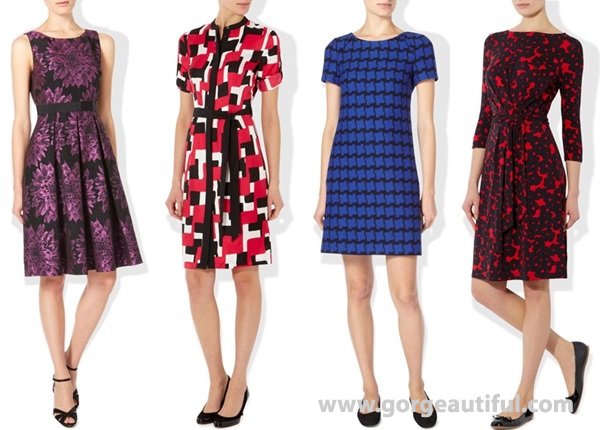 Prints don't have to be florals. Pair these gorgeous printed dresses with pumps, heeled sandals, or flats. But also consider where the wedding is set for you to wear the pairing accessories accordingly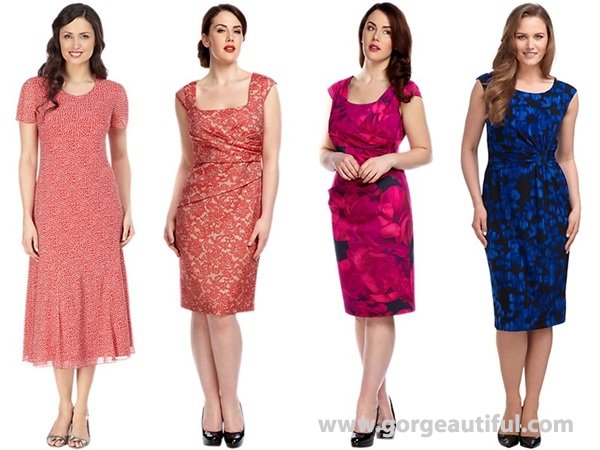 To achieve a classier, feminine look, knee-length dresses are always be your best friend for a Wedding Guest Attire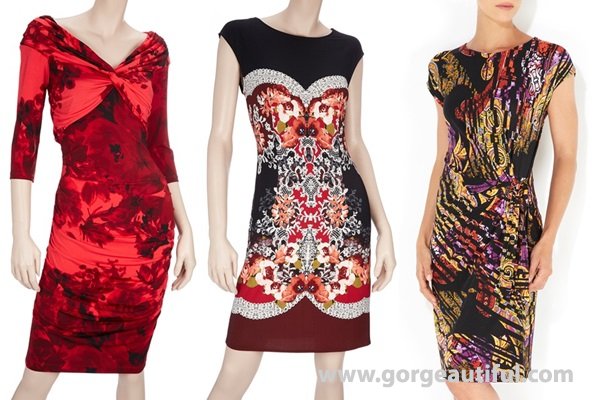 Depending on the formality and the dress codes of the wedding, you can as well opt for dresses with dark and vibrant prints. Whether it's in hot velvety scarlet tone, tribal exotic prints, or very busy patterns, just make your own judgment of the ideal outfit for a daytime or evening reception.
Wedding Guest Attire for Winter
Dress in rich jewel hues and dark floral prints, faux fur jackets and pumps, don't forget your tights to achieve a more polished look. The right wedding outfit not only keeps you warm through the ceremony, but also strikes the perfect balance between style and appropriateness to looking and feeling fabulous on the day.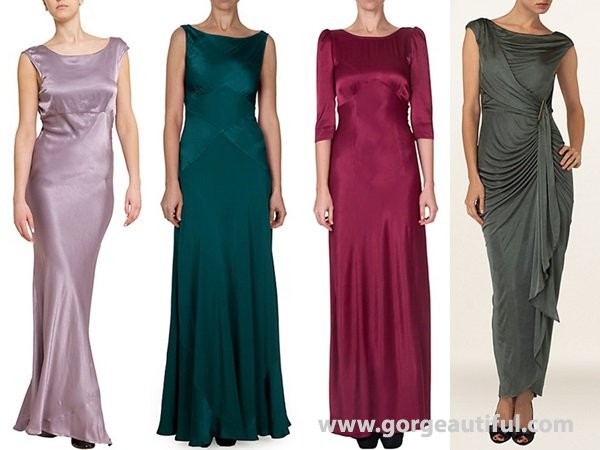 These stunning gowns are an effortlessly luxe choice for your next dark suit wedding. Extra style points if you pair the gown with a matching printed pashmina and double gold cuffs.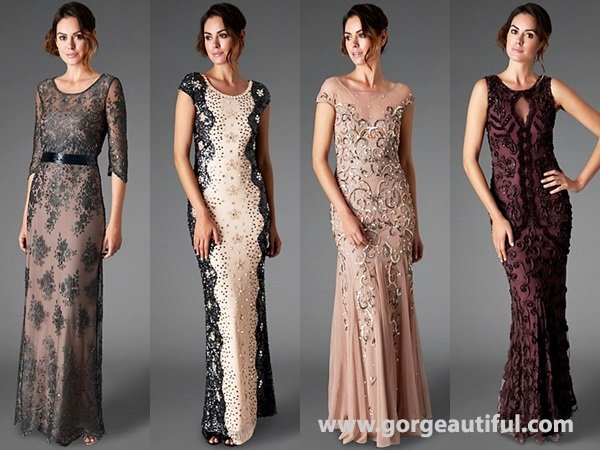 Embroideries and laces always look flattering, incredibly glamorous and elegant. Opt for these embellished gowns to a formal, black-tie optional reception for winter, and put your hair in an updo.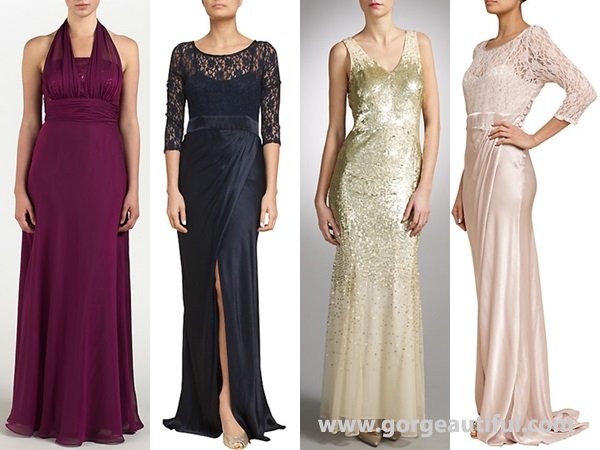 Shines and shimmers of sequined or satin dresses are also the best bet for a formal wedding reception. Just do the perfect balance between your shining dress and its accessories to achieve an elegant look. Sparkling dress means dainty jewelries and accessories.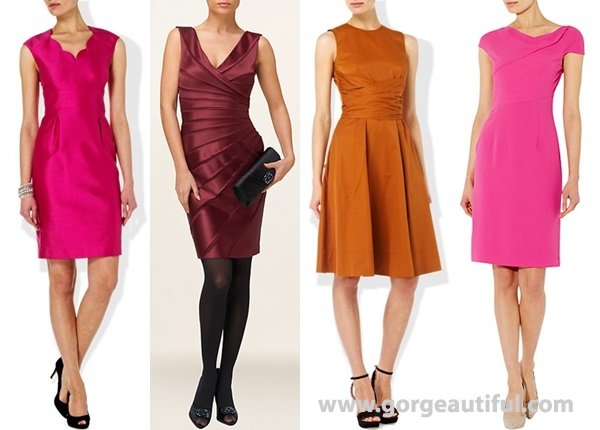 Winter doesn't always synonymous with dark shades and gloomy look. You can as well wear chic dresses in bright hues like pink, but make sure the brightness of your look is shown accordingly to the theme and the nuance of the wedding. Play simple and modest. Don't fashion something much brighter than the bride.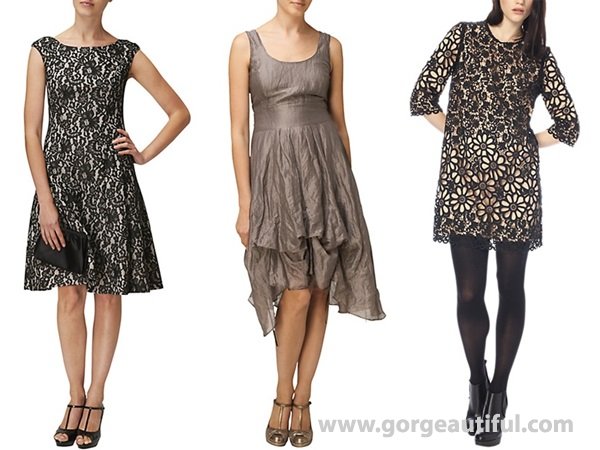 If you want to establish something dark and classy during the chilly days. Try bronze or copper shades, instead of gold or silver to tone down the shines. Or you may opt for the timeless combination of black and white for an effortless look.
Wedding Guest Accessories
Speaking of accessories you must always think about balance. Nothing more elegant and sophisticated than donning an outfit with well-coordinated accessories like jewelries, clutches, heels, and other accessories like wrap and tights. Especially for cold days, tights are a necessary accessory depending on where you live, but instead of a solid dark opaque pair, opt for a sheer black pantyhose or skin-colored stockings. The results? A slightly seductive yet season-appropriate look. Leather pumps are a timeless choice, while satin and silk pairs enhance a more festive tone.
Wedding Guest Accessories Ideas for Fall and Winter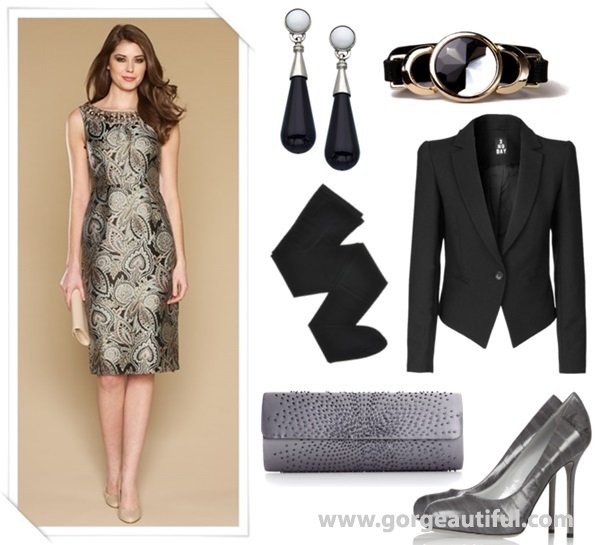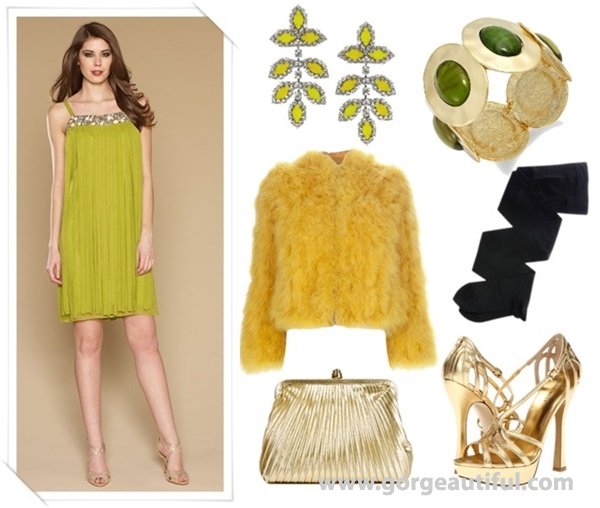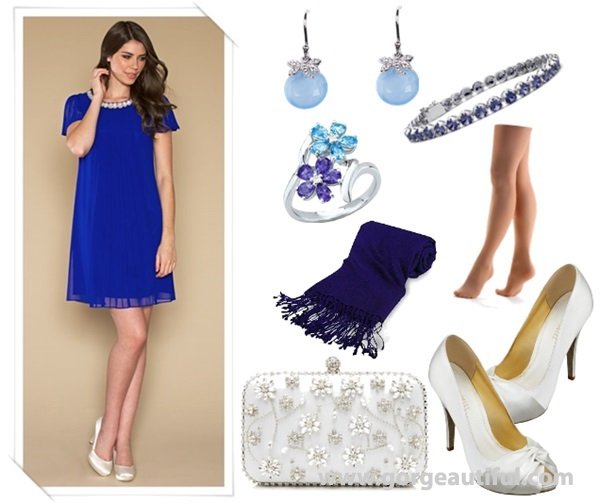 Dark suite Wedding Attire and Accessories for Fall and Winter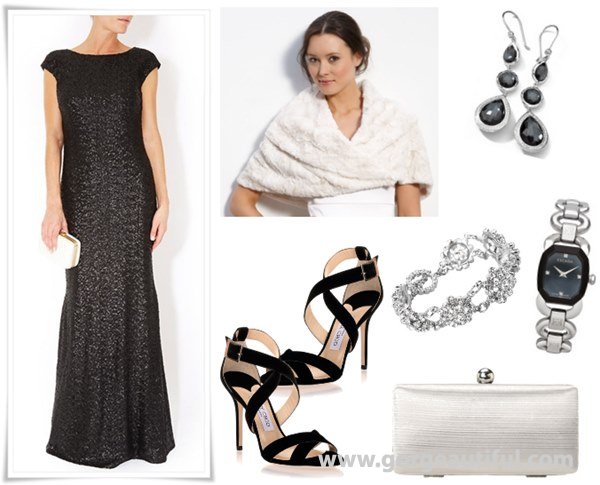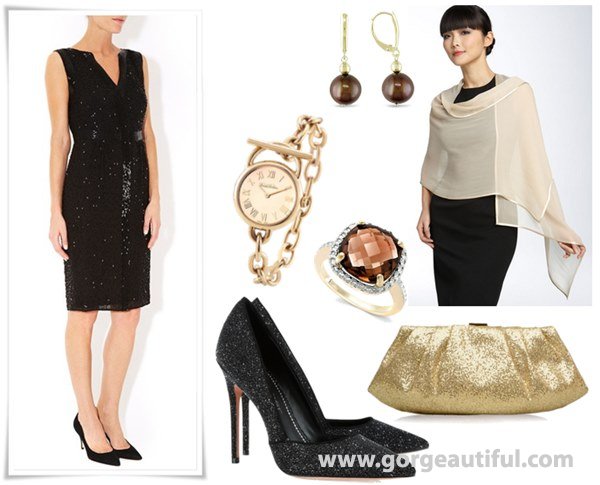 Types of dark dress you choose basically depend on the formality of the event. Long dresses or gowns suggest elegant and glamour look for formal Black Tie optional, while short ones give a simpler and easier style perfect for a cocktail party. People says black dress is a big no no for a wedding, but you can obviously toss it away as long as the host is fine with it, and the dress feels festive. Show some sparks and glamour with sequins or details, or dress up the classic one with stylish accessories. Think of wraps to stay warm if it's held in winter.
Wedding Guest Accessories Ideas for Spring and Summer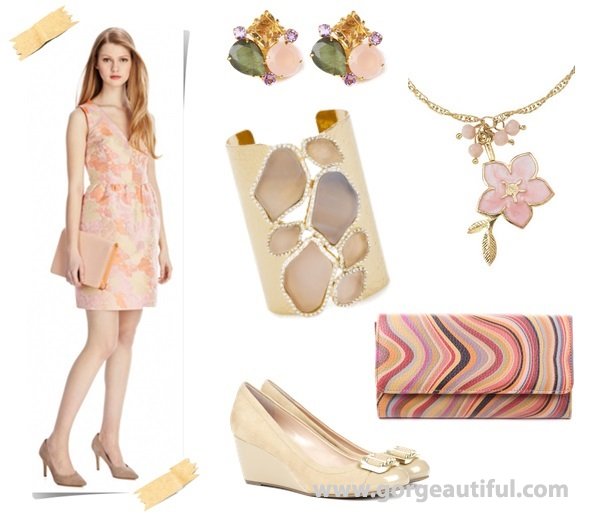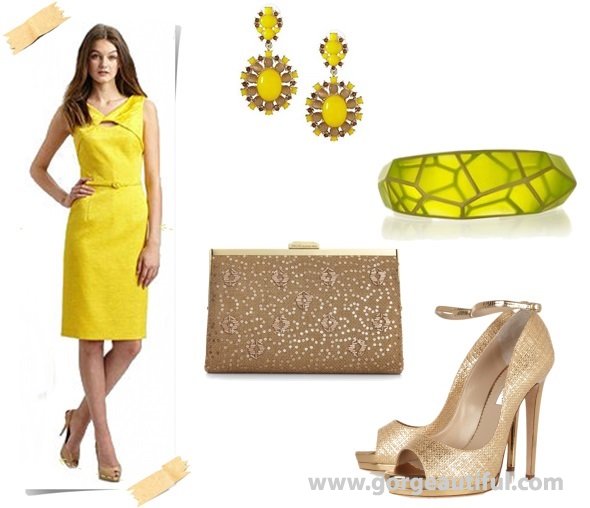 Floral Wedding Guest Dress for Spring and Summer – Afternoon and Evening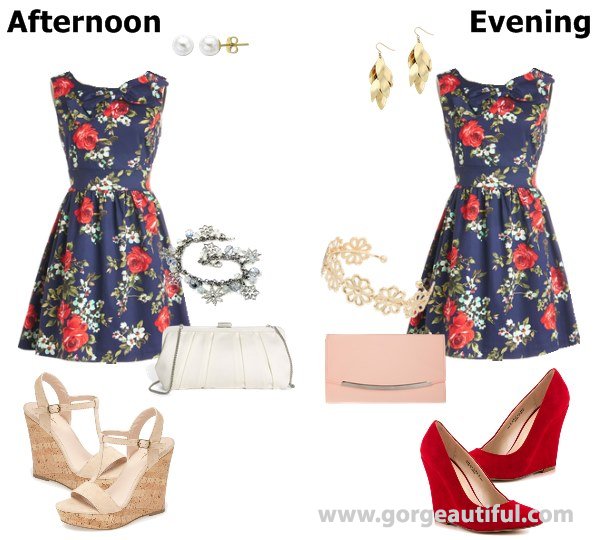 Wedding Dresses with Coat at Winter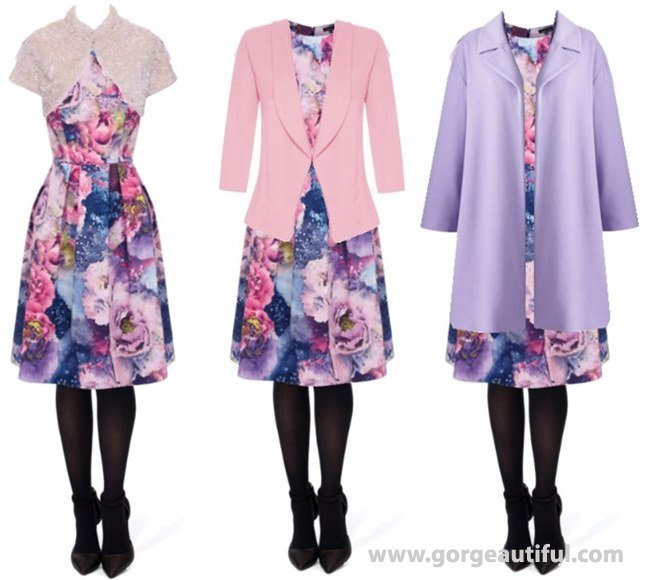 Outerwear for Wedding Guess dresses at Winter Season
Floral Pleated Dress / Leila Fur Bolero / Pale Pink Waterfall Blazer / Simply Be Lilac Duster Coat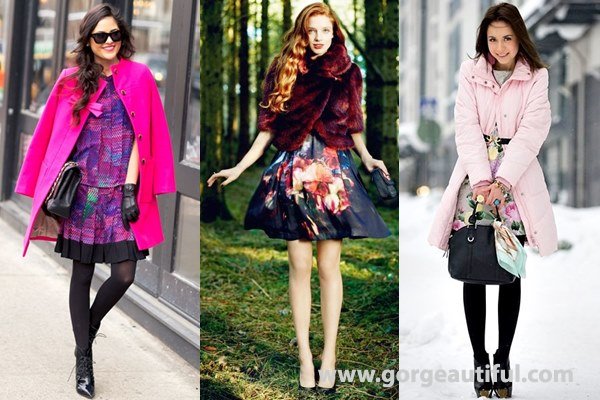 All in all, choose sparkling jewelries between earrings, necklaces, rings, and bracelets or cuffs. But don't wear them all to avoid an overwhelming look. Combine jewelries accordingly between its sizes and sparks. Wearing too many bold jewelries will only make your appearance looks tiring. If your jewelries are the center point of your look, choose subtler pumps and clutches to tone down the brightness. Take a sneak peak at some suggestions of wedding guest outfits with accessories. Just write down on the comment section, if you want to ask each item.
Last but not least, don't forget to find more and more ideas of Wedding Party Dresses via :
– Spring Summer 2014 Guest Attire for Wedding
– Wedding Guest Accessories: Shoes, Clutches and Jewelries
– Style Ideas: Guest Outfits and Attires For All Seasons
– Fall Winter Wedding Attire from Various Labels
– 15 Beautiful Fall Winter Guest Dress – Outfit Ideas
or check out Wedding Guest Dresses tags