When you got a winter wedding coming up, figuring out what to wear to this wedding can be tricky. For some chillier weather, you obviously need to get the balance right between warmth and style. It's too cold for the strapless and sleeveless dresses, yet, you probably don't want to be too covered up – since you are going to attend a wedding party, not funeral. Check out a few super easy tips for your wardrobe to a winter wedding. Plus, click through to find some outfit ideas to wear this cold season.
No matter what type of wedding you are going to attend, whether you're headed to a day wedding, a black tie affair, or a less formal but still-dressy evening wedding, winter wedding will always require comfort and warmth. Learn some suggestions below, or go to "Wedding Guest Attire: What to Wear to a Wedding (Part 3)" for general wedding guest dress fashion tips for all season.
Generally, to give comfort and warmth, obviously, you need an outerwear to cover up. Opt for a beautiful coat, or other layer such as blazer, jacket, or cardigan – or even elegant shawl and bolero for a dressier look.
Depending on the location of the venue – whether it's inside or outdoor – you could also pick other accessories such as gloves, scarf, and even a pretty winter hat.
If you don't want your feet to get too cold, especially if you are wearing a knee-length or tea length dress, wear tights for warmth and for style, plus opt for pumps or flats with closed toes.
Last but not least, dance the night away. This will keep you warm and you'll be sure to have a great time
To that end, with the new season comes a whole host of new fashionable possibilities, various brands come with numerous fall winter dress collection, filled with a tone of winter-wedding-appropriate fabric, colors and prints – from dark yet divine florals to beautifully romantic lace to vibrant metallic options – and these key looks have filtered down onto the high street. Check out some beautiful picks from 15 popular fashion labels, and click each label for the overall latest Fall Winter 2014 dress collection.
ASOS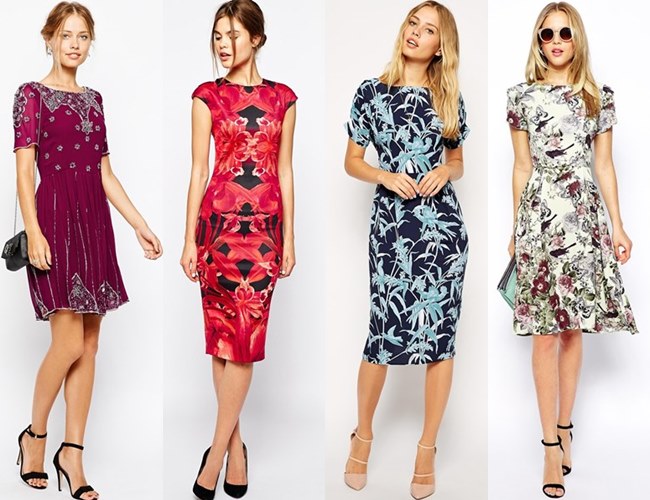 Frock and Frill Embellished Skater Dress ($180.91) / Ted Baker Dress Midi Dress in Jungle Orchid Print ($302.78) / ASOS Wiggle Dress in Leaf Print with V Back ($91.41) / Love Midi Skater Dress in Botanical Floral Print ($79.98)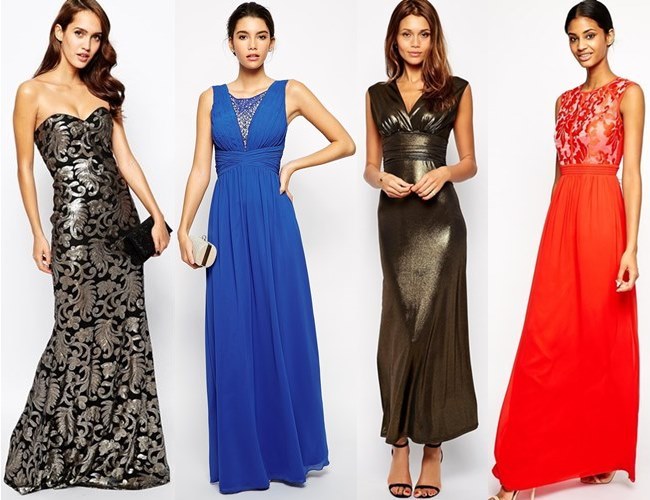 Forever Unique Bandeau Maxi Dress in Baroque Sequin ($476) / Chi Chi London Grecian Style Maxi Dress with Embellishment ($123.78) / John Zack Plunge Neck Maxi Dress In Matte Slinky Fabric ($79.98) / Little Mistress Maxi Dress with Baroque Effect Bodice ($123.78)
Bloomingdales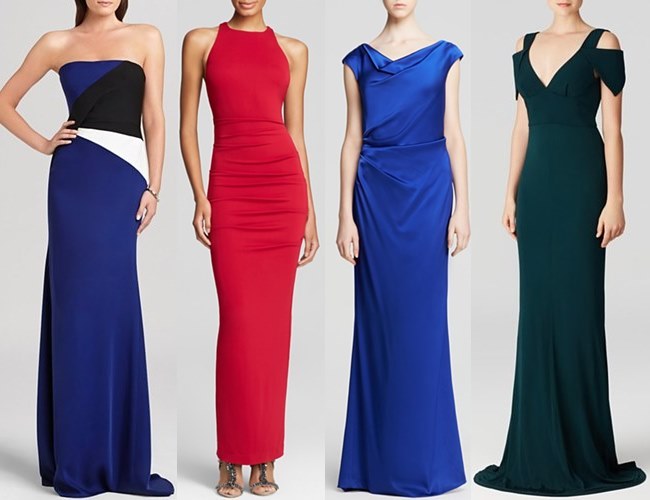 BCBGMAXAZRIA Gown – Audranna Strapless Color Block ($448) / Nicole Miller High Neck Open Crisscross Back Jersey Gown ($430) / Laundry by Shelli Segal Gown – Sleeveless Draped Asymmetric Stretch Satin ($445) / ABS by Allen Schwartz Gown – V Neck Cutout Shoulder Jersey ($425)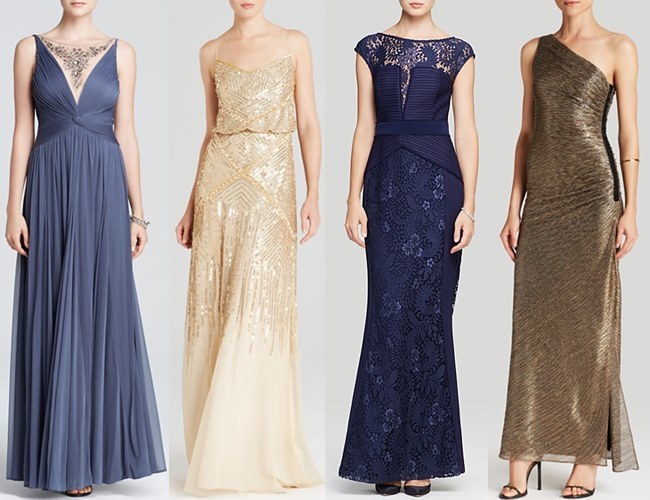 Adrianna Papell Gown – Sleeveless Jewel Illusion Neck Ruched ($300) / Adrianna Papell Sleeveless Beaded Blouson Gown ($370) / Laundry by Shelli Segal Gown – Illusion Lace Bodice ($365) / Laundry by Shelli Segal Gown – One Shoulder Metallic Foil Knit ($295)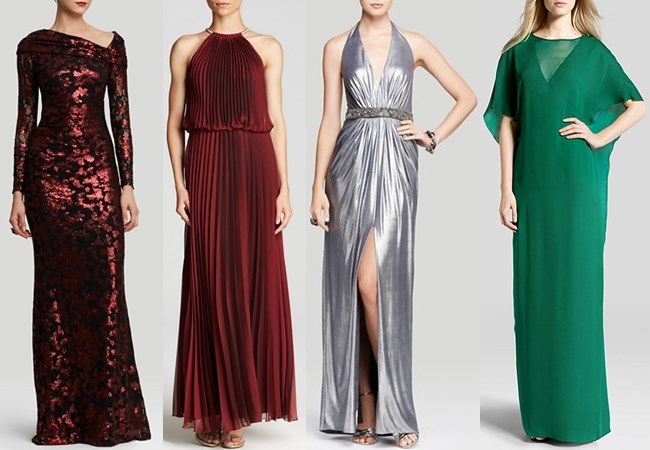 Badgley Mischka Gown – Sequin Lace ($695) / AQUA Gown – Blouson Pleated ($248) / Aidan Mattox Gown – Plunge V-Neck Halter Neck Metallic Beaded Waist ($440) / HALSTON HERITAGE Gown – Boat Neck Elbow Sleeve Sheer Inset ($595)
COAST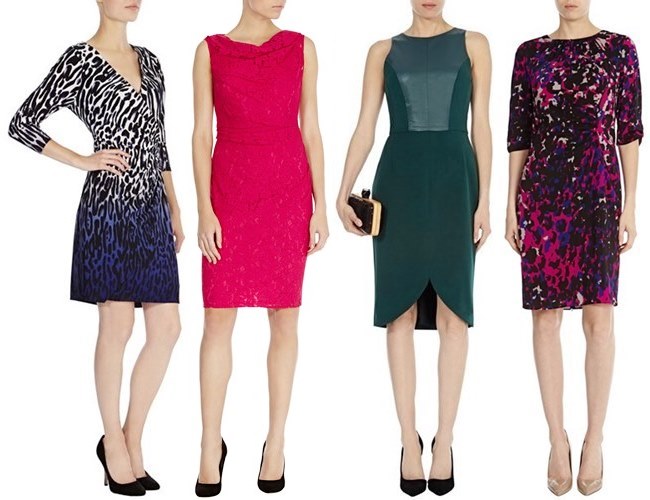 Rochella Animal Drape Dress ($160) / Lianna Lace Dress ($240) / Alvarez Shift Dress ($220) / Rivi Print Dress ($180)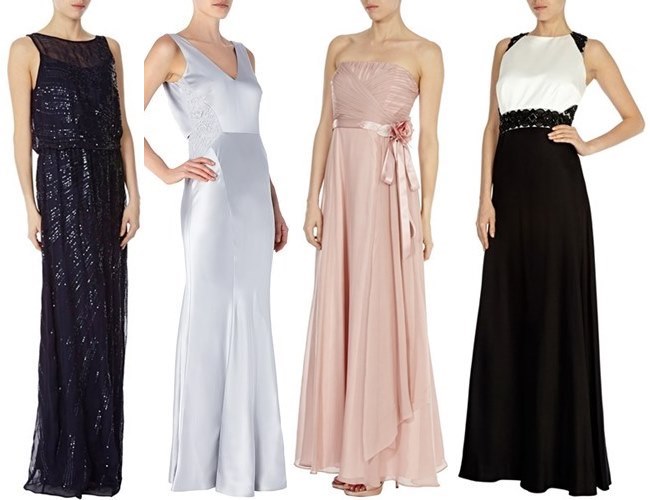 Santine Maxi Dress ($650) / Ciella Maxi Dress ($430) / Allure Maxi Dress ($320) / Tobey Crepe Maxi ($650)
Debenhams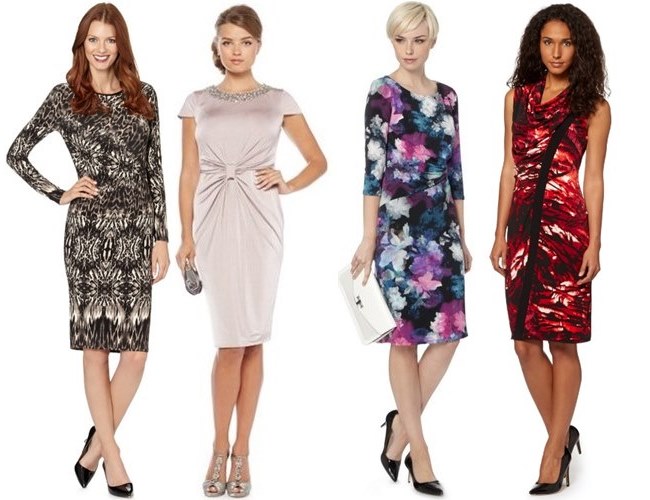 Star by Julien Macdonald – Black Animal Print Dress (£45) / No. 1 Jenny Packham – Pale Taupe Ruched Knot Dress (£95) / The Collection – Black Graphic Floral Dress (£55) / Star by Julien Macdonald – Red Feather Printed Jersey (£45)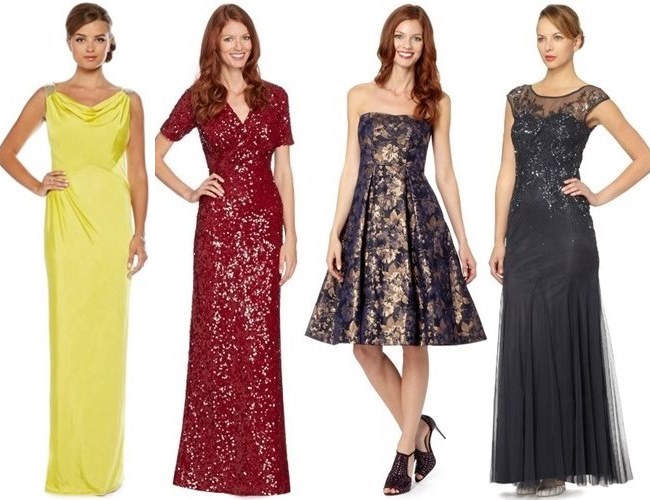 Pearce II Fionda – Lime Cowl-neck Maxi Dress (£130) / No. 1 Jenny Packham – Dark Red Sequin Embellished Maxi Dress (£225) / Debut – Dark Blue Jacquard Floral Bandeau Prom Dress (£110) / No. 1 Jenny Packham – Navy Embellished Tulle Maxi Dress (£210)
Free People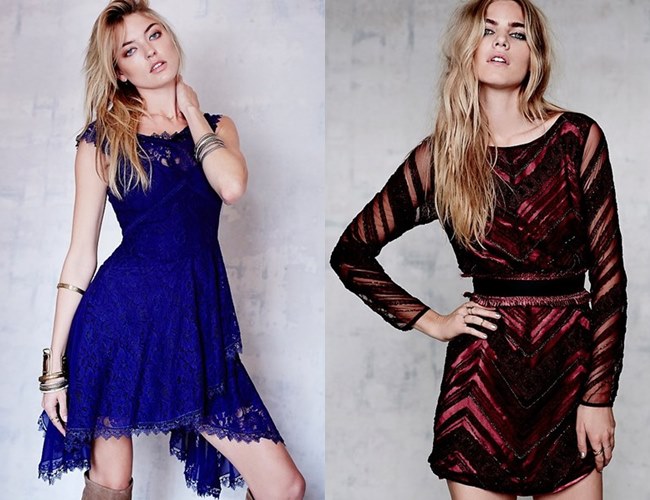 All Dolled Up Lace Dress ($250) / FP New Romantics Future Heirloom Dress ($350)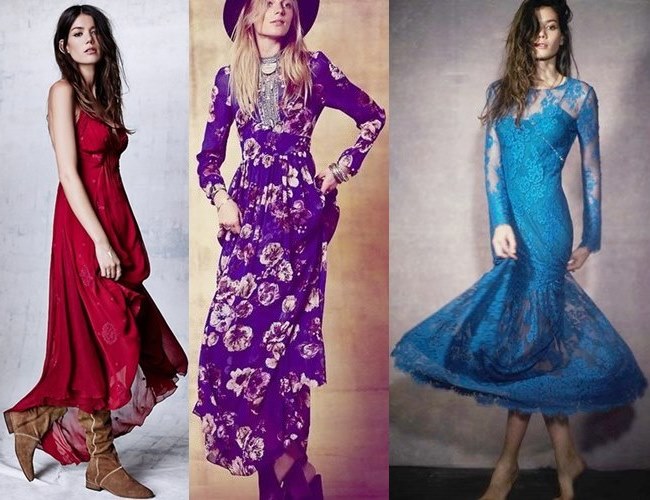 Blue Moon Dress ($268) / Paradise Maxi ($350) / Kennedy Dress ($895)
French Connection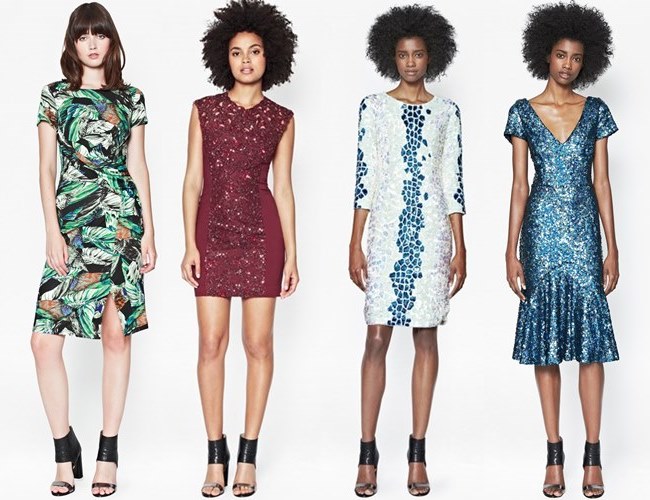 Calliope Printed Jersey Dress ($158) / Encrusted Lace Dress ($298) / Caiman Sequinned Dress ($478) / Sirius Sequinned Dress ($268)
HOBBS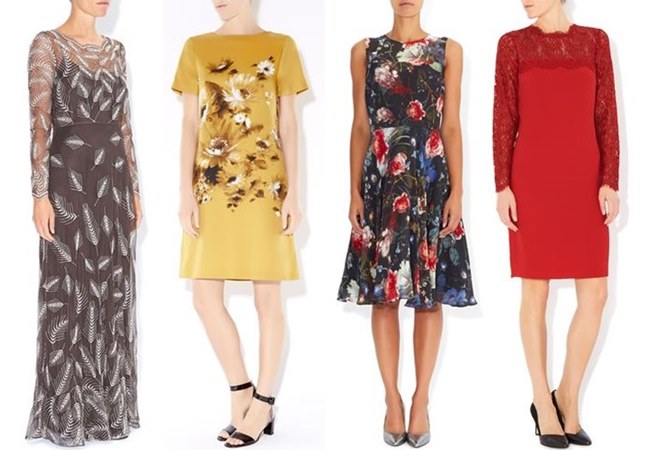 Wheatsheaf Maxi Dress ($735) / Invitation Summer Bouquet Dress ($280) / Invitation Guildhall Dress ($395) / Invitation Bretta Dress ($425)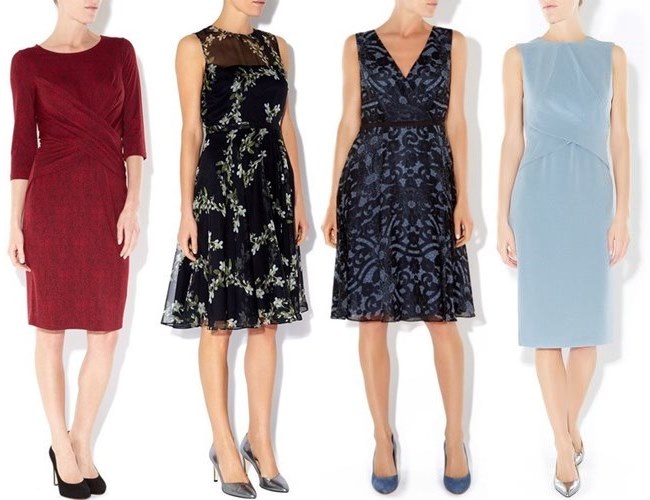 Luann Dress ($175) / Abigale Dress ($315) / Calla Dress ($335) / Penrose Wrap Dress ($315)
Kaliko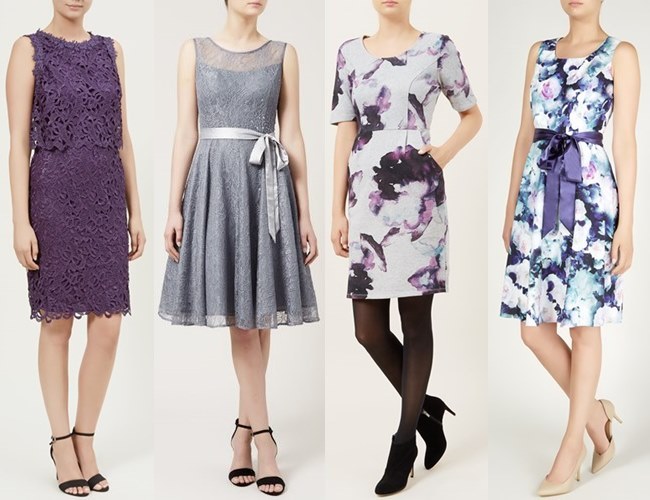 Floating Bodice Lace Dress (£149) / Bead and Lace Prom Dress (£149) / Floral Print Dress (£89) / Hazy Floral Soft Prom Dress (£89)
Monsoon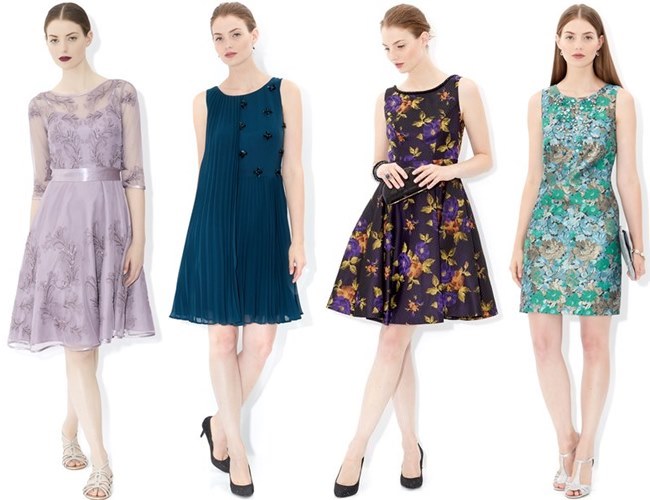 Isabel Feather Dress ($300) / Amsi Dress ($175) / Trinket Dress ($210) / Vespa Dress ($300)
Nasty Gal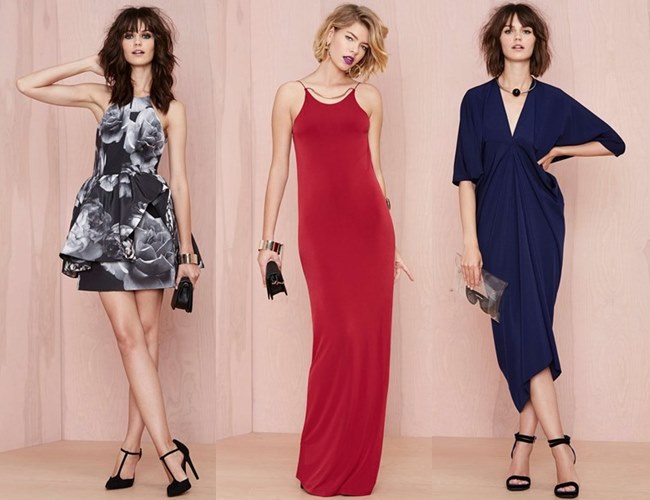 Cameo Alone Tonight Dress ($240) / Never Look Back Dress ($88) / Metamorphose Dress – Navy ($68)
Nordstrom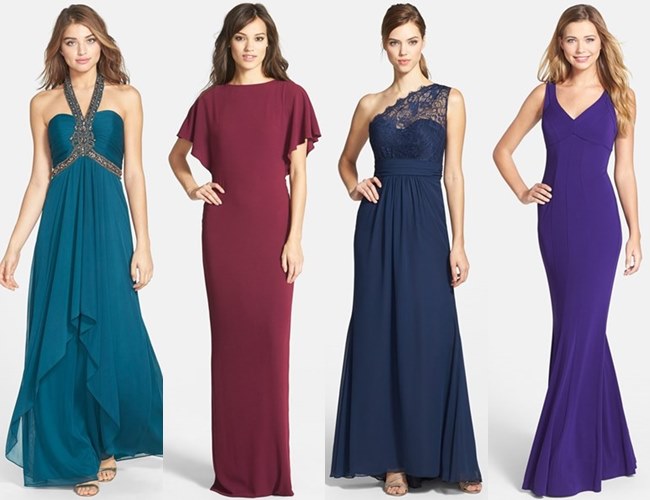 Xscape – Embellished Drape Front Halter Gown ($228) / Halston Heritage – Crepe Gown ($545) /
Jim Hjelm Occasions One-Shoulder Lace & Chiffon Gown ($260) / Nicole Miller V-Neck Matte Jersey Trumpet Gown ($495)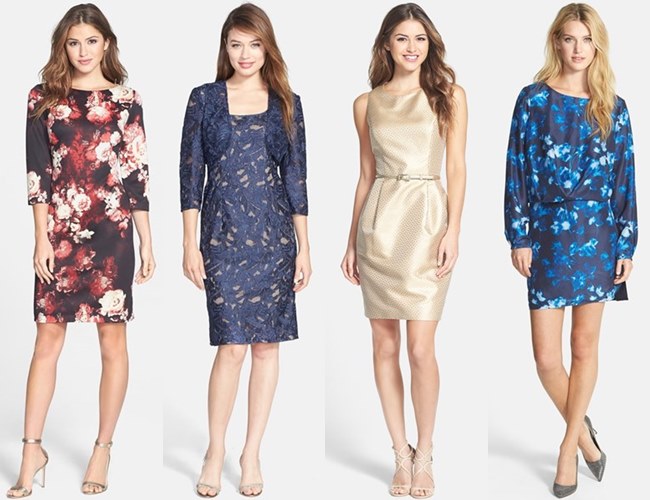 Gabby Skye – Floral Print Scuba Sheath Dress ($98) / Alex Evenings – Lace Sheath Dress & Bolero ($188) / Eliza J – Metallic Jacquard Sheath Dress ($198) / Vince Camuto – Center Drape Floral Print Dress ($139)
Phase Eight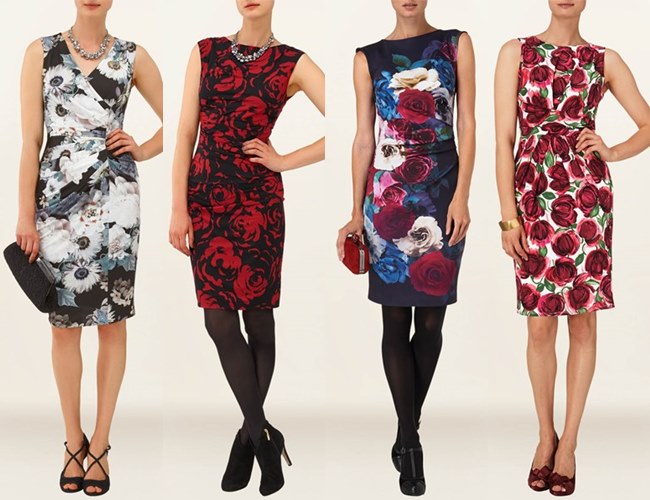 Arline Floral Dress (£79) / Serenity Rose Dress (£99) / Adalina Dress (£99) / Leila Rose Dress (£69)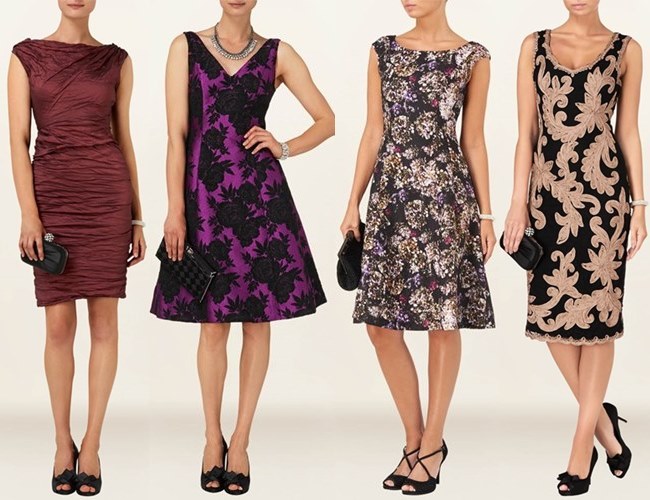 Skyler Crush Dress (£140) / Delilah Jacquard Dress (£150) / Angela Fit And Flare Dress (£99) / Sabine Tapework Dress (£95)
Topshop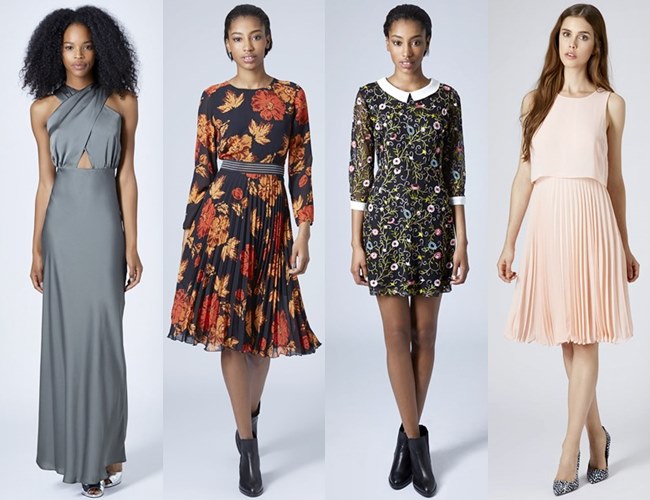 Satin Cross-Over Maxi Dress ($116) / Bloomsbury Floral Print Midi Dress ($130) / Embroidered Collar Dress ($110) / Midi Pleat Overlay Dress ($96)
Warehouse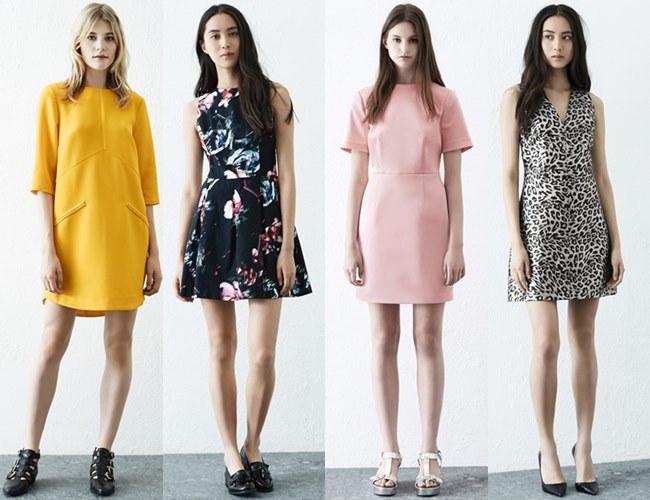 Panelled Shift Dress ($82) / Displaced Floral Dress ($107) / Structured Shift Dress ($116) / Metallic Animal Jacquard Dress ($89)
ZARA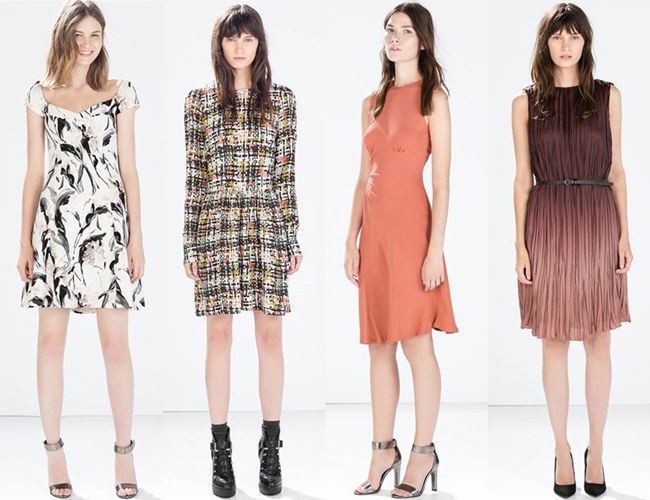 Printed Crepe Dress ($79.90) / Long Sleeve Printed Dress ($79.90) / Dress with Side Gathering ($99.90) / Ombre Dress with Belt ($79.90)