Putting together the perfect wedding guest outfit can take time and investment. Whether it's a morning or evening ceremony, it's a casual or formal event, whether you're attending a summer wedding on the beach, a garden party themed 'I do', or a tradition black tie soiree, from wedding guest dresses to hats, shoes, bags and accessories, here we give all wedding guests dress ideas to look chic and perfect for the very special occasion. A day to remember for bride, an outfit to cherish for you.
There are obviously plenty of choices when you are looking for a dress for a wedding. But before you start opting for the one, find the proper dress length and design depending on type of the wedding itself. Here, you'll need to figure out the formality of the wedding, and try to get almost every bit of information regarding the venue, including dress code, place and time, and even the weather forecast if you are going to attend an outdoor party.
Following the last article Wedding Guest outfits: What to Wear for Wedding (Part 1). Here are some ideas and a few things to bear in mind:
Dress to Wear on Wedding
A. The Formality and Time of the Wedding
Basically, there are four types of formality of a wedding: informal (or casual), semi-formal, formal, and ultra-formal (or white tie), while most weddings are held either in daytime or evening. During daytime, some events are held in the morning or in the afternoon. As for evening weddings, you will probably be invited to several evening weddings, whether it is held during or after sunset, or held with the party atmosphere of nighttime, which is great for receptions.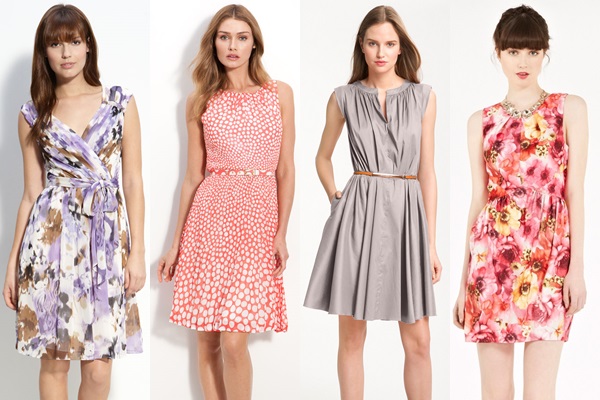 Daytime Weddings: Bright and colorful dresses are best to pull off during daytime. Enhance your feminine side by donning a clean and simple outfit in floral prints or girly shades. Full skirt with a blouse, a dress – shift or sheath –, or a trouser suit are perfect. Depending on formalities, the more formal the wedding, the fancier and dressier the outfit should be. For example, wear something simple and neat if it's informal, add more stylish accessories and details if it's semi-formal, and do with something fancy – like gloves or hat – if the wedding is formal (although it's rare to see hats and gloves at most weddings).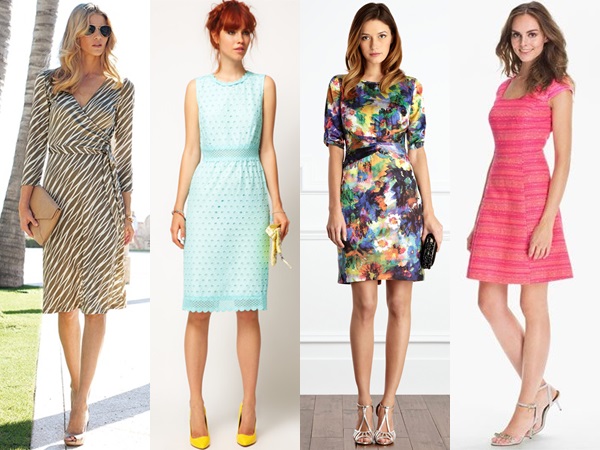 For morning weddings, the occasion tends to be less formal than the afternoon or evening ones. This gives you leeway to wear something more casual and comfortable. Opt for easy and pretty attire that shows freshness and lightness into the look. Soft prints and colors are perfectly acceptable for a morning wedding (especially during warmer months). If it is spring, then bring a sweater or wrap.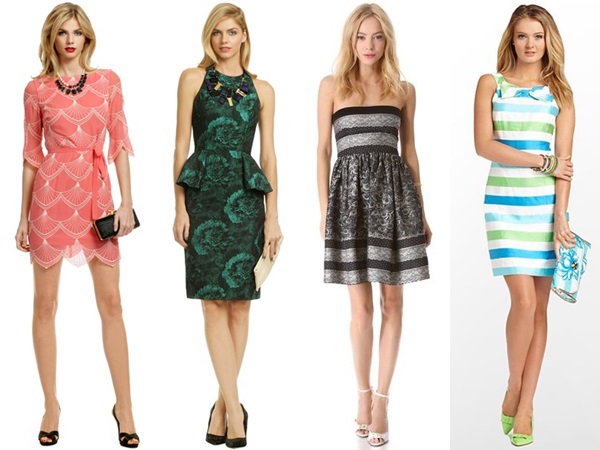 Informal or Casual Morning Weddings: Opt for something light and simple, yet still has fashionable touch in it. Choosing wedding guest outfit in subtle, feminine prints and colors is best to achieve refreshing look in the morning, while flattering design, cuts, and accessories add the appearance to look polished.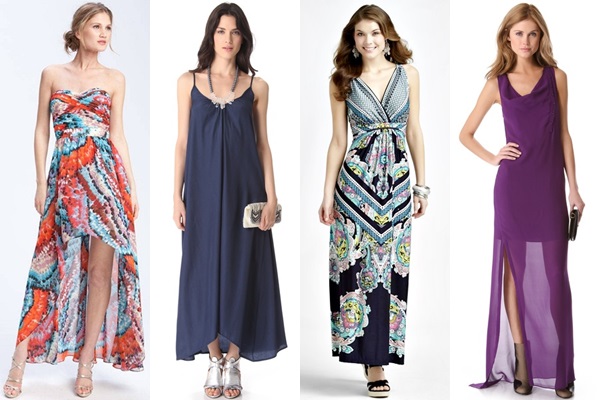 Semi-formal Morning Weddings: Sure there are no big differences between informal or semi-formal, to indicate formality of the wedding, look at the invitation. The style of invitation is a big indicator of the level of dressiness you can expect. The more formal the invitation, the more formal the attire.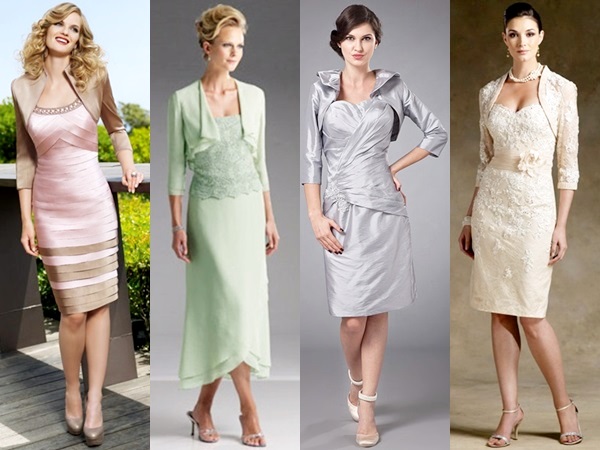 Formal Morning Weddings: Something classy and elegant is best to pull off in a formal wedding. This type of wedding will require a cocktail dress or maxi dress. Pick a sophisticated clutch and glamorous shoes that complement your dress beautifully.
Slightly more formal and bolder than the morning wedding outfits, at afternoon or daytime weddings, you can bet on something more colorful, brighter, and dressier with prints and accessories. A mid-length cocktail dress or nice sundress is best for such occasions. Consider heels instead of flats, and also consider the material. Cotton or jersey is more casual, while silk or sheer layers are more formal. Here are some ideas best to wear for a morning and daytime weddings. Of course, the ideas are not strict that you can try all of them both for morning and afternoon.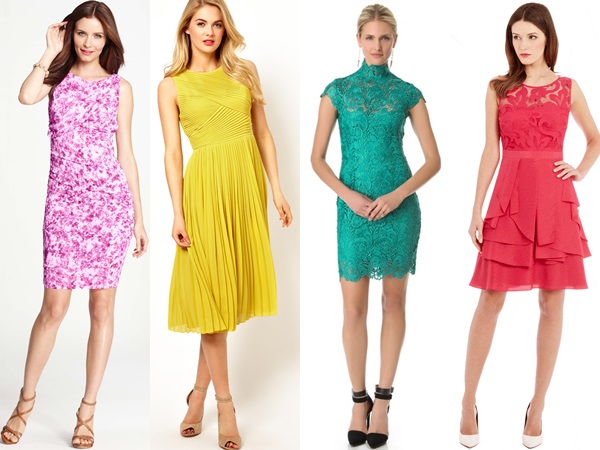 Informal or Casual Daytime Weddings: For a more colorful touch, choose outfit in bright color. Select a dress shirt, nice slacks and tie for an informal daytime wedding. However, if you can't determine if it's informal or formal, you can't go wrong with a less dressy, short cocktail dress. Not to mention, adding a pop of color with a bright shade is also a great way to liven up your look.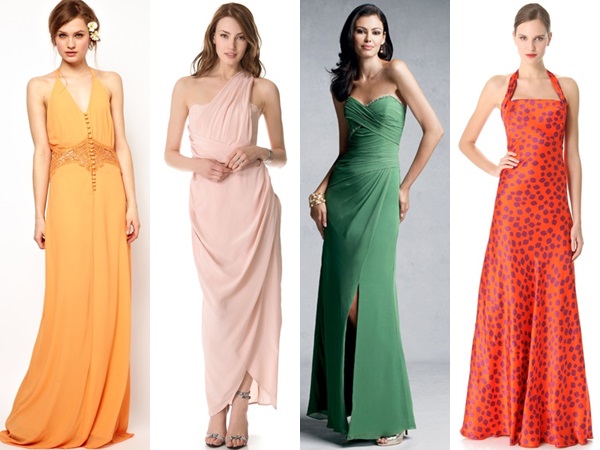 Semi-formal Daytime Weddings: If you are looking for a more modest look, wear a fairly conservative, floral or colorful long dress (or cocktail dress) to a semi-formal wedding. Bright cheerful color will look just right at a semi-formal daytime wedding, whereas clothes in lightweight fabrics like linen or cotton are often best for daytime wedding attire.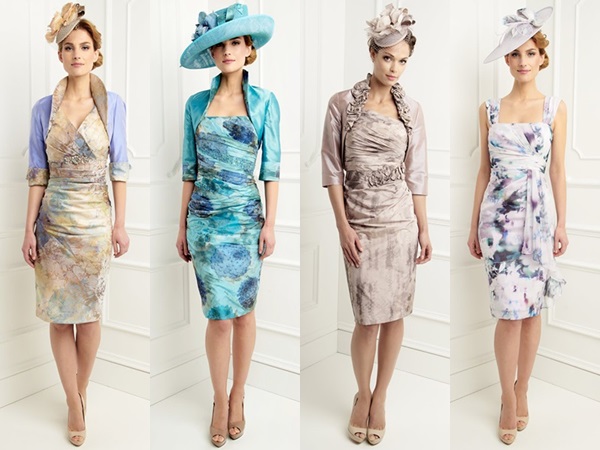 Formal Daytime Weddings: If you're invited to a dressy daytime wedding, look for a more polished dress appropriate for either morning or afternoon. Choose a short cocktail dress and make sure it's not too revealing.And to really make you feel the part, a wedding hat or fascinator is the perfect finishing touch for your wedding outfit.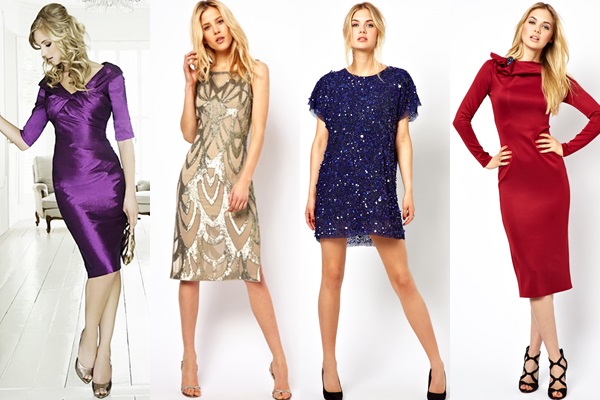 Evening Weddings
At evening weddings, the suggestion is to dress as you would if you were going out to the theater or to dinner. Think glamor, elegant, and classy. Sophisticated cuts or darker colors are appropriate for such weddings. Plus, consider nicer materials like lace or satin instead of jersey or cottons. Keep in mind that weddings that are at night or mid-to-late evening are usually more formal. So ladies, you can get away with a more glamorous dress and "sparkle" a little if you like.
Opt for a long gown, but don't do with anything too plunging (in the front or back) because it might be considered tactless. A cocktail dress is equally classy, while mid-length is fine too. Avoid beads or sequins unless the invitation specifically says semi-formal. If the invitation specifies "black-tie" or "formal dress," it's time to break out the tuxes and gowns. If the invitation says "black-tie optional," that gives you a little more leeway.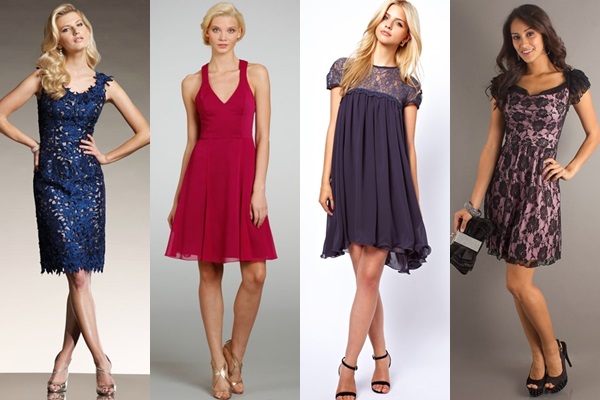 Informal or Casual Evening Weddings: Cocktail attire indicates that you should dress for sophistication. You can wear evening gowns, but make sure you know the formality of the wedding whereas gowns fit the classy atmosphere. For an evening wedding, informal will still mean a little bit dressed up. Don't reach for your jeans, shorts, or tank tops unless you know the bride and groom are very informal people.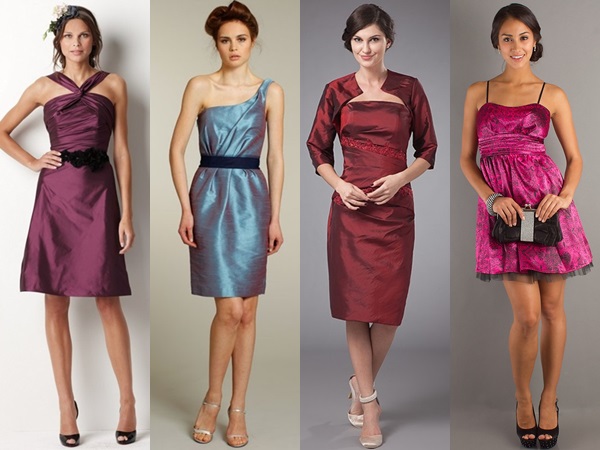 Semi-formal Evening Weddings: Still a step above casual or informal, a semi-formal dress code leaves many options open. Usually, women will look for cocktail dresses when attending these semi-formal evening weddings, but careful, because you don't want to look like you're set to go to the club. Choose a long or midi dress in warmer weather or a sweater in cooler weather. You can put more glamor for this event by wearing something with shiny fabrics like silk or satin.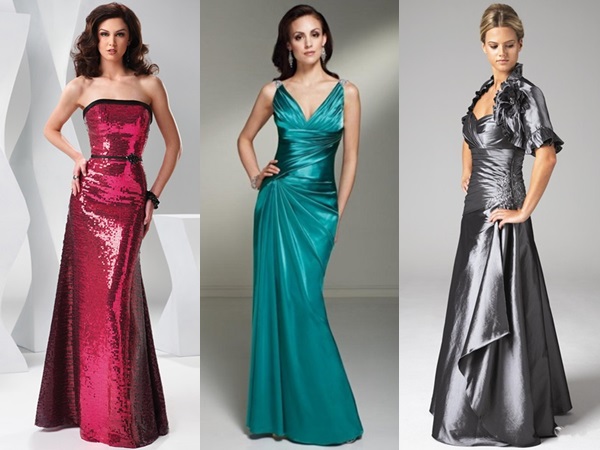 Formal Evening or Black-Tie Weddings: semi-formal optional means that wearing a tuxedo or long evening gown is not mandatory, but guests should feel free to do so. This is actually the easiest dress-code to adhere to with the least amount of stress. Depending on the theme of the party, you can even pull off shiny maxi dress to give a touch of luxury. But keep balance and think elegance. Sophisticated gowns are best for this occasion, whether you want to wear them sleek with dainty jewelries or sparkling with more glitz. Colors aren't as much of a concern, but you'll want to stay in a darker palette. Jewelry doesn't need to be as fine, but it shouldn't be too casual.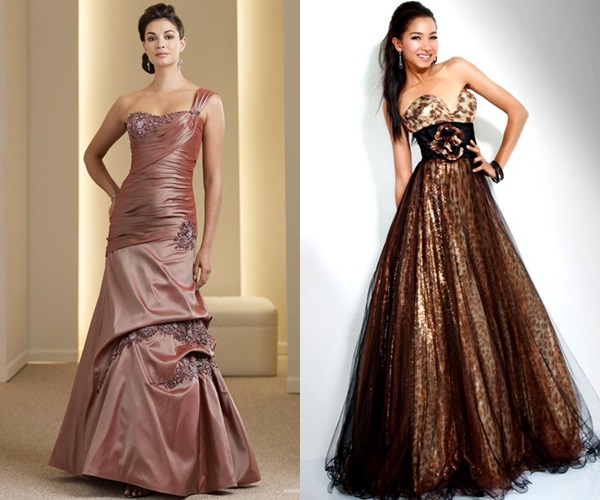 Ultra Formal or White Tie Weddings: White tie weddings are the most formal. If you receive a wedding invitation in the mail that says white tie is required, you can be sure the bride has an exquisite event planned, meaning you're pretty restricted as to what you should and should not wear. For this occasion, a formal floor-length evening gown is the right choice. The color of your evening gown can be adjusted to the season you're in. Silk and satin are the most common (and stylish) fabrics for an evening gown. Wear high heels in one color that best match your gown. Wear your most glamorous jewelry but don't overdo it. Let your hair and makeup be done by an professional. Think elegance and luxury
B. The Theme of The Wedding
If you are invited to a wedding with theme, check the invitation whether there's specific dress code you should wear. Vintage, rustic, western, boho, beach party, garden party, etc. variety of wedding themes are becoming popular that you should try to coordinate with the look and theme as a guest, and not necessarily match as you would in a bridal party or as a part of the family. As a guest, always find out what the bridesmaids are wearing, color and style. There's literally nothing worse than looking like you're trying to be one of them. Also avoid looking too mother-of-the-bride by swerving match-matchy colors and prints for clashing ones instead.
However, if you wish to attend the wedding harmoniously with the atmosphere and theme of the venue, pick a color that coordinates and do not attempt to match the floral pattern or try match that exact shade of fuchsia used for the invitation – that's a job for the maid of honor and party. Here are some suggestions of wedding guest outfit coordinated with the wedding's theme.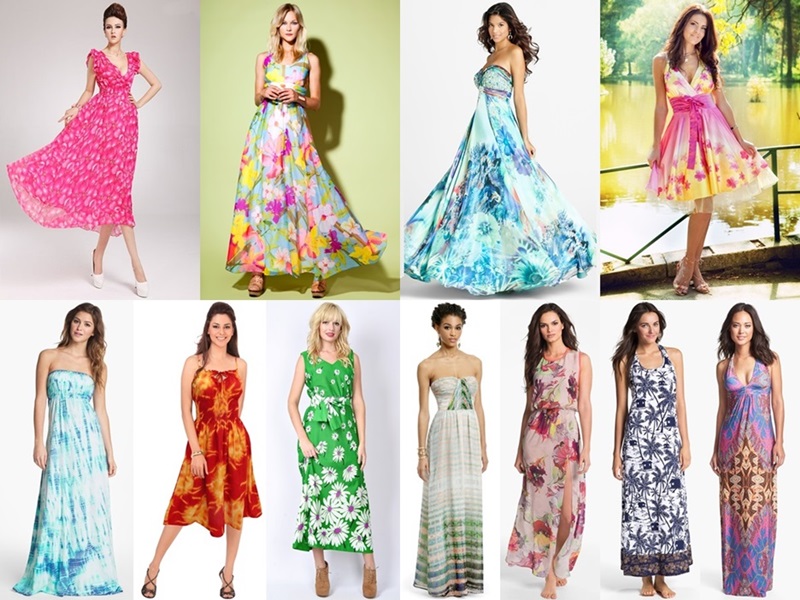 Beach Dress Wedding Guest: Light breezy dresses and strappy sandals make for the perfect beach wedding outfit. At this non-traditional wedding, there are a few ground rules you should follow in order to look great, remain comfortable, yet formal enough such as bright colors, bold patterns, and sensible material. You need something that can keep you cool so the lighter the material the better. If it's a formal ceremony, wear a long, elegant gown. Semi-formal calls for short or tea length dresses, which are great because they won't drag in the sand, plus they transition beautifully to a reception venue held at a restaurant or ocean front hotel.Wear shoes that you can easily slip on and off. Flip flops or sandals are a great option as long as they're on the nicer/dressier side.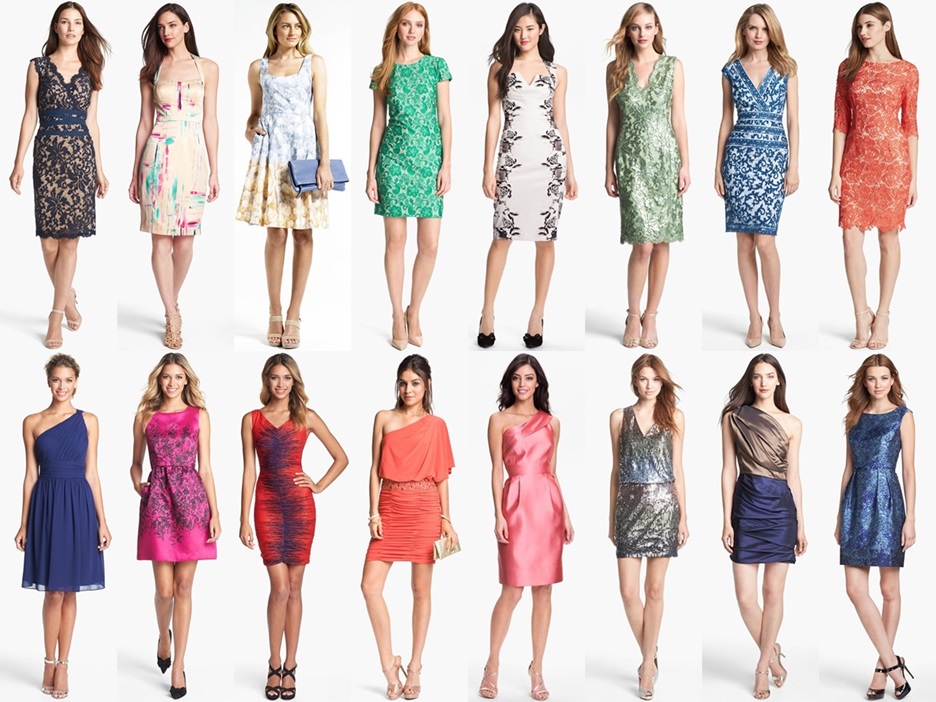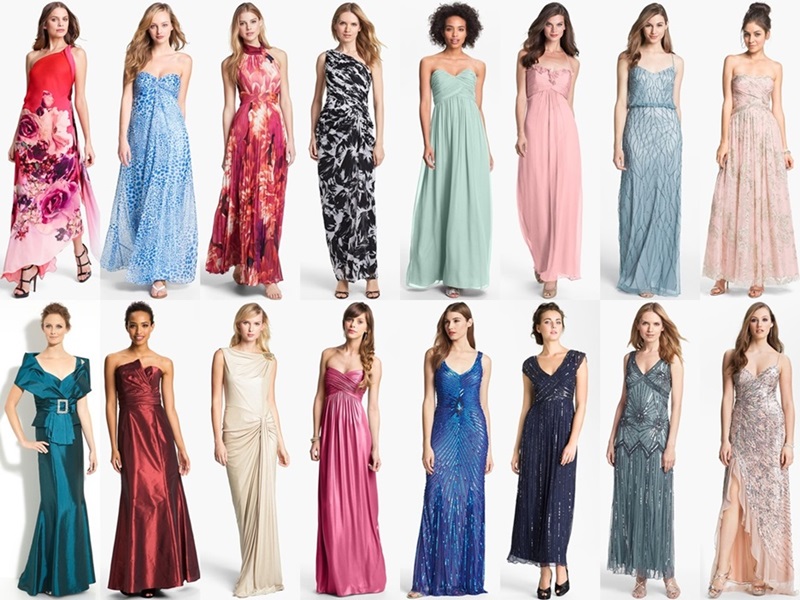 City Wedding Dresses and Gowns: A city wedding is the perfect chance to go all out and dress to impress. This is actually the easiest outfit to pull off since what you have to do is thinking chic and tailored, then you're well on your way to true guest glamor. There are plenty options for this outfits, cocktail dress, shift or sheath dress, strapless or with neckline, maxi dress or midi dress, all are perfect as long as you keep the balance, elegance and modernity of your outfit.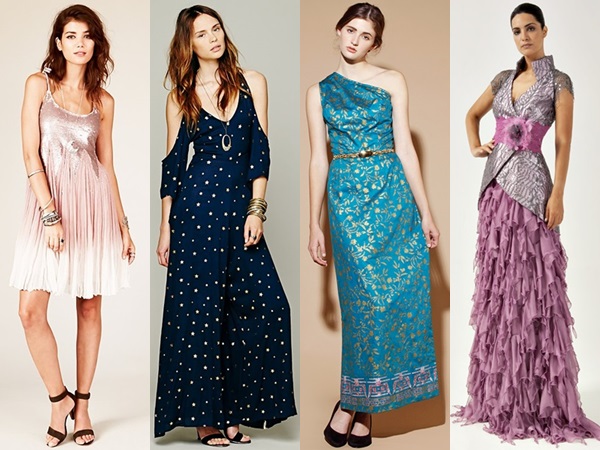 Bohemian Themed Wedding Outfits: Boho-chic, boho fashion, or bohemian fashion defines someone who is living an unconventional life. It also gives 'vagabond,' 'wanderer,' and 'gypsy' as examples. 'Boho' therefore is an adjective that means 'socially unconventional.' However, nowadays boho is also becoming increasingly popular to forgo tradition and embrace the carefree – with fashion falling in line. Outfits that embody free spirit, tribal and ethnic vibe, as well as unique attitude are now becoming the wedding destination of choice, allowing the ceremony to boast a bohemian look and feel. At this wedding, all you need to do is being free accordingly on your style, meaning you still showing respect to the host by wearing something polite, elegant, and design appropriate, even though you have freedom of choices.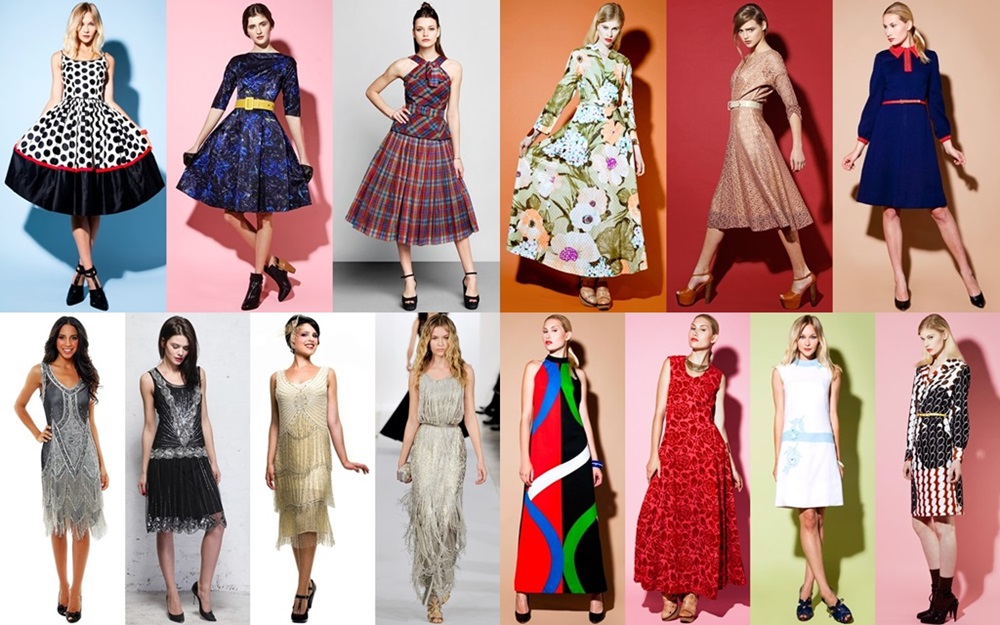 Vintage Themed Wedding Outfits: Just like it's theme, vintage fashion enjoy something of a style resurgence a few years back. Most people would probably think back only to the 50′s pin-up style, which actually vintage doesn't always stop at that era. Donning vintage dresses also means to think years back of the 60′s or 70′s retro and glams atmosphere with number of disco attire or outfits that evoke pop art movement and flower power generation. Not to mention, with the long-awaited Great Gatsby flick out this May, flapper fashion is key. You can also pick a 20′s or 30′s style to enhance vintage look, as it'll double up as an on-trend festive season frock too.
Continue the article to Wedding Guest Attire: What to Wear to a Wedding (Part 3) and follow some style ideas of wedding guest dresses depending on weather and season appropriate, along with ideas of accessories, makeup, and hairstyle.