After finding the perfect wedding guest dress you are going to wear, the first fitting will be coming up soon and you need to find shoes, a clutch, along with jewelries and accessories matched to the entire outfit. You've searched high and low for the perfect shoe to dance the night away in and still can't find any, even you don't know what accessories and clutch to match with. Whether it's indoors or outdoors, here are some suggestions to pick for each type of wedding ceremony as well as the reception.
One essential item to make the best of your entire look is a jacket or wrap. Always consider layer – even though the wedding is held during bright summer days. Beach weddings can get chilly in the evenings or when the wind picks up. Attend the event prepared for cooler weather with a light jacket that matches your attire or a loose wrap or shawl you can wrap up in to stay warm on the beach.
Additionally, better not to leave the cleavage opened. Sometimes you need to cover-up for achieving polished look, and by styling with elegance you show respect to the host. Basically, the golden rule of wearing cover-ups is that if you bare more on top, cover the bottom. If you're baring more below, then cover up on top. Don't forget to cover up your legs in winter such as wearing black opaque tights.
See more articles such as "Wedding Guest Attire: What to Wear to a Wedding – part 1, 2, 3" for some wedding guest dress tips and suggestions, along with this article "Plus Size Wedding Guest Dresses and Accessories Ideas" exclusively dedicated for plus-size figures.
FOOTWEAR
Yes, it's a daunting and often painful task trying to find the perfect shoe that you can wear to the wedding ceremony all the way through dancing at that wedding. In this case, sometimes you need to bring two pairs of shoes: One for the ceremony and one for the reception in case you feel like hitting the dance floor.
No matter what types of wedding ceremony and reception are, the basic rule of wedding guest shoes is that your shoes should be polished showing the perfect balance of elegance. But obviously, depending on the formality of the event as well as, season, place and theme of the wedding, there are various designs of shoes that you need to take into consideration. Here are some tips, ideas, and suggestions of wedding guest shoes, whether under $100 or well into the hundreds.
Indoor Wedding Guest Shoes
For indoor black tie or formal wedding, it's time to dress up in glamour. Choose classic heels that lengthen your legs – preferably a slender heel. But, don't overdo the shoes that are a bit too "high fashion" – shoes that you can't walk in them and so end up grumpy. Always consider that comfort comes first.
Choices: Classic high to low heels including pumps, sandals, or stilettos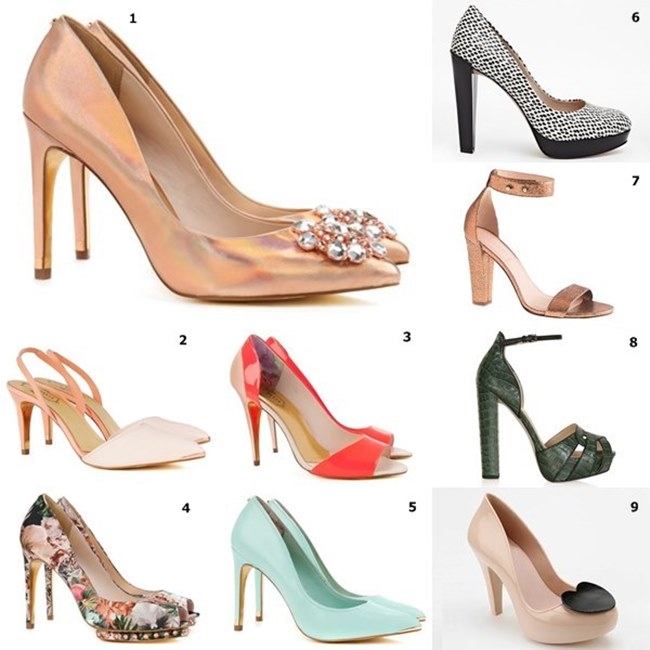 Ted Baker 1. Crystal Brooch Shoes (£150) 2. Sling Back Court Shoes (£120) 3. Colour Block Heels (£120) 4. Metal Tip Court Shoes (£120) 5. Leather Court Shoes (£110)
6. French Connection – Nambia Platform Heels ($130) 7. J.Crew – Lanie Sandals ($250) 8. Topshop – LITA Croc Sandals ($116) 9. Urban Outfitters – Mel By Melissa Shoes ($75)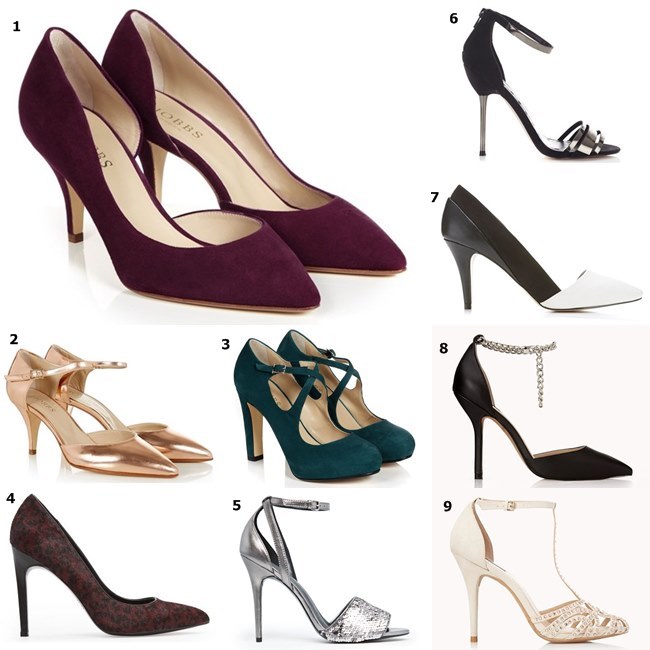 Hobbs : 1. Alana Pump ($285) 2. Carly Shoe ($305) 3. Fae Shoe ($345)
MANGO : 4. Fur stiletto shoes ($50) 5. Sequined metallic sandals ($45)
Miss Selfridge : 6. Gia Strappy Heels ($74) 7. Golightly Low Point ($68)
Forever 21 : 8.  Night T-Strap Heels ($40) 9. Faux Leather Pumps ($30)
If you are invited to a more casual or semi formal wedding like a cocktail party, remember that casual does not mean you can wear those "easy and relax" day-to-day outfits. Casual generally means smart, but not too smart. It's always better to make an effort, although in some point you still have to think of modesty. Use weddings as an opportunity to dress up and show off a new outfit. Be elegant – avoid going too overboard but also don't dress too casually.
Casual wedding means other than choosing a pair of high heels, you can also bet on easier footwear such as dressed up flats or low heeled kitten shoes for a better comfort. While the mighty wedge allows you to remain sturdy without sacrificing the added inches so often required to look and feel our most stylish.
Choices: Classic high to low heels, dressy flats, wedges
Hobbs 1. Mimi Pump ($365) 2. Corinne Shoe ($250) 3. Elizabeth Pump ($225)
Ted Baker 4. ADILINA Gladiator Sandals (£110)
French Connection 5. Unice Assymetric Wedges ($130) 6. Lara T Strap Sandals ($125)
MANGO 7. Snakeskin Stiletto ($119) 8. Peep-toe Platform ($80) 9. Bow Suede Sandals ($120)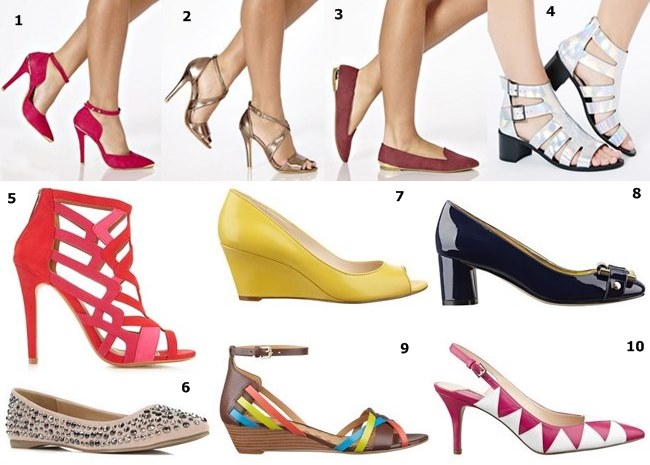 Miss Guided 1. Raquelita Suede High Heels ($54) 2. Kazunia Strap Sandals ($47) 3. Rena Pointed Croc Pump ($16) 4. Chelo Cut Out Sandals ($54)
Miss Selfridge 5. Delores Puzzle Heel ($150) 6. Romy Sparkle Flat($44)
Nine West 7. RELAXINN Peep-toe Wedges ($85) 8. SOLVENT Pumps ($30) 9. VILLEA Ankle Strap Sandals ($79) 10. KINSLEY Slingback Pumps ($89)
Outdoor Wedding Guest Shoes
Either the ceremony or reception (or both) are outdoors on a lawn, gravel, sand, grass, or some uneven surface, walking through the sand or sinking into the lawn is horribly uncomfortable. If you'll likely be standing on those kinds of surface, which even possibly at the edge of the water, it's difficult to walk on in heels. Here are some advices to get your most stylish look at outdoor wedding:
1. Avoid those sharply stiletto-heels. For this occasion, you need something cute and festive, but no skinny heels which just going to sink into the grass or sand, leading to some unfortunate tripping/dress-over-head scenarios. Opt for sandals, wedges, ballet flats, loafers or maybe no shoes at all – think of a beach wedding.
2. If you are insist on wearing heels, and if the wedding likely to be held at both outdoor and indoor venues, consider bringing an extra pair of flats to make sure that you can glide through the grass, while also stay elegant with heels during the indoor event.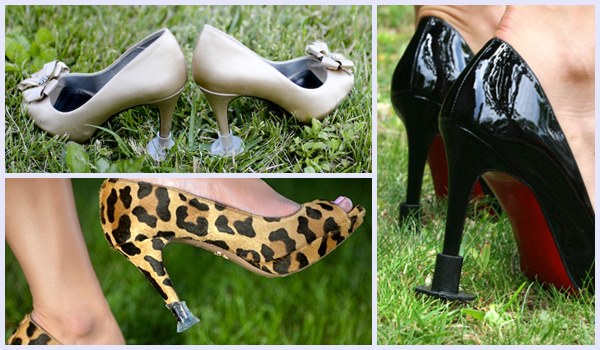 3. Or, you can prevent your heels from sinking into the ground by using a heel protector. Many companies (such as SoleMates) offer this protector made of plastic that not only protects your heel from getting scratched up, but it also creates a wider base for you heel so you don't puncture the grass with every step you take.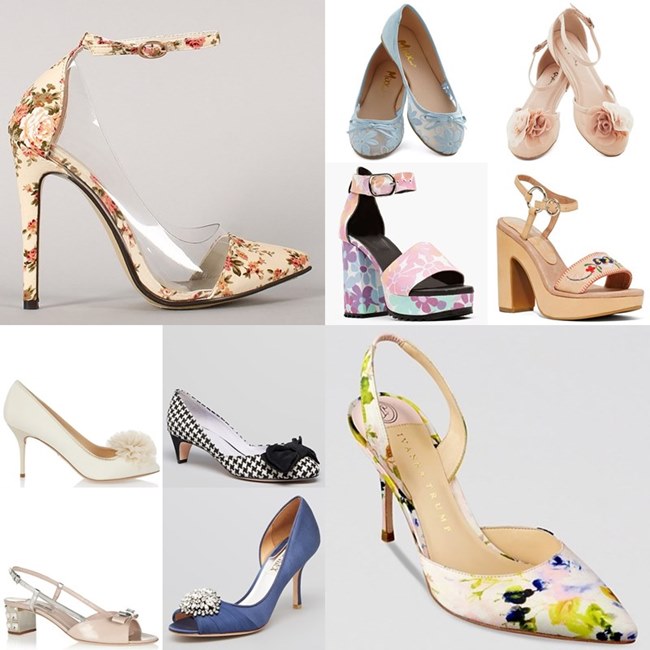 4. Depending on the wedding theme, whether it's formal or semi-casual event, garden weddings mostly come with romantic, fairytale atmosphere filled with flower and colorful shades. Opt for feminine floral shoes to bring out the most look to the wedding – whether it's wedges, sandals, or ballerina flats.
5. If the invitation asks for an elegant, cocktail attire, either a wedge or platform sole are your best options – instead of flats or sandals. Those options are great to give height creating that leaner, taller silhouette while staying comfortable during the outdoor venue (although it might not do as well as a flat shoe if there is a great deal of grass or the ground is very wet)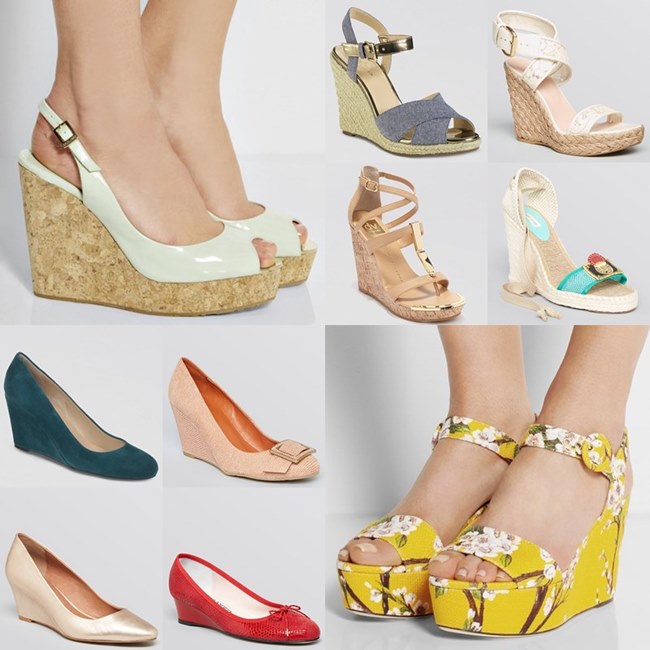 6. Shoes with platform sole provide more formal and elegant appearance, and it also gives foundation on which to shift your weight, and you'll be taking a little pressure off the heel, so it won't sink in so much. While a wedge, although it gives much casual look, it has one solid sole that slants up at an angle, so you get height and an even surface.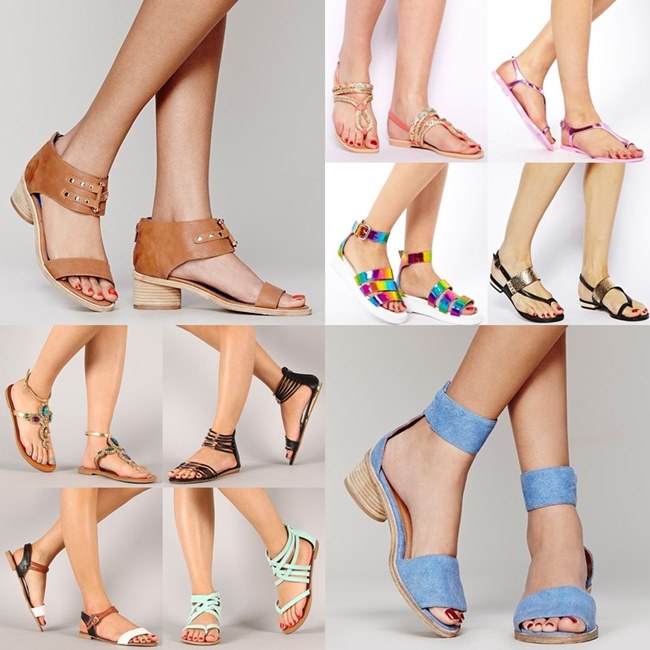 7. Especially for beach weddings which mostly require lighter and breezier attires, a pair of ballet flats or beaded sandals is an easy, comfortable choice that won't sink into the sand, so you won't risk twisting an ankle or breaking a heel.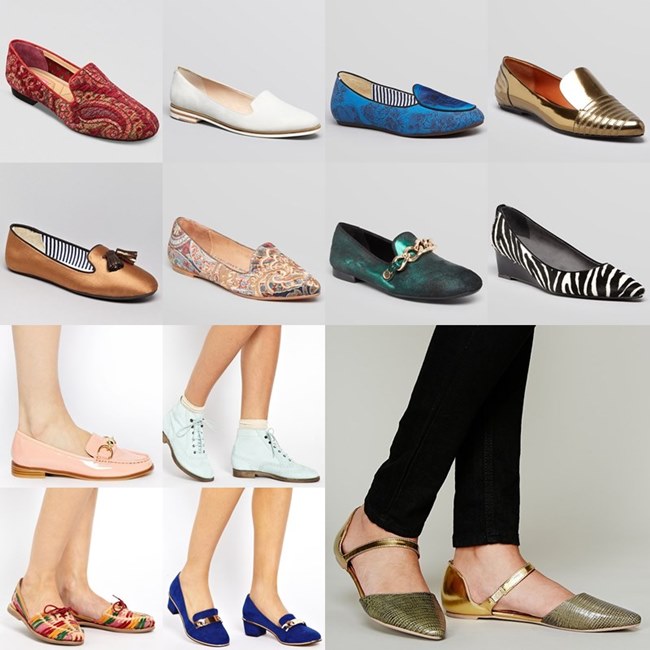 8. But obviously, although you are allowed to get your best comfort and practicality with flats and sandals, as a guest who attends somebody's wedding, you are required to show respect to the newly-wed couple. So, always keep your entire look in perfect elegance and modesty
9. And if you are invited to a country western-themed wedding, a pair of boots is definitely your number one choice, although there are still many more options including wedges or flats made of leather, denim or other casual-looking fabrics.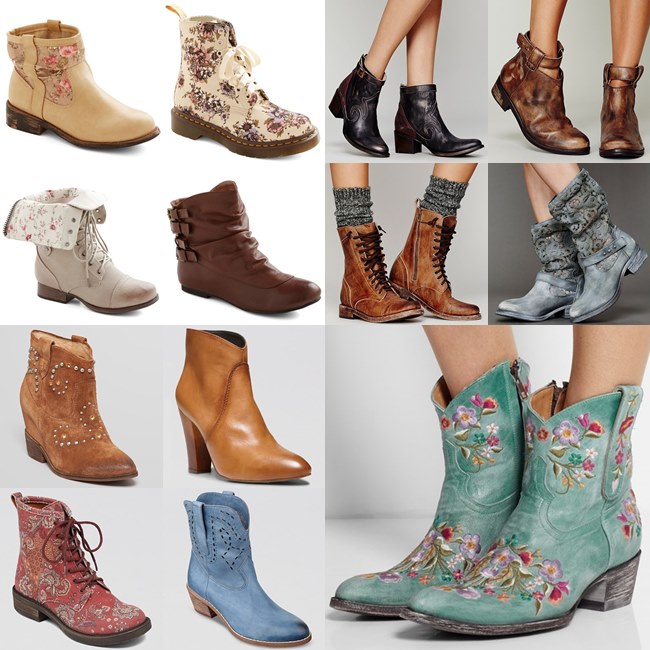 10. Wearing boots at a country wedding doesn't mean you have to stick only with cowboy boots. For such theme, you can still opt for various boots – from ankle to mid-calf to knee boots, plain or with prints – including the slouchy ones, the classics, or even military boots.
11. Attending an outdoor event means you have to think of the location, especially the ground where the wedding is held. If the ground is very wet or a little bit muddy, consider wearing shoes with fabrics that are instantly easy to clean such as patent leather.
All in all, when it comes to choosing the right wedding guest shoes that suit you most, take a note that most weddings have dancing party right after the reception, which more often than not, those elegant heels you just bought aren't probably your best option. For this occasion guests usually take off their high-heeled shoes and dance barefoot. The problem with dancing barefoot is that you might be dancing on glass or other sharp objects.
The new trend is for the bridal couple to offer cheap flip flops for the guests to wear during dancing. But if the host doesn't do such service, be wise by bringing a spare pair of your well-loved dancing shoes and let the fun begin. No one will notice and this pre-planning will ensure you can dance away into the small hours of the night.
Continue the article "What to Wear to a Wedding : Shoes, Clutches and Jewelries (Part 2)" for more ideas and tips of wedding guest bags, jewelries, and accessories.