Created for the first time in 1940s, the creeper shoes or brothel creepers, or we just call the 'creepers' are a type of shoe usually with suede uppers and thick crepe soles. They were found during World War II, as soldiers based in the deserts in North Africa needed to wear sturdy boots with hard-wearing crepe rubber soles because of the climate and environment. Later on, having left the army, many of these ex-soldiers found their way to wear the same shoes and these became known as "brothel creepers".
Not until the late 1950s, the shoe was almost unknown in the world of fashion. They became popular after being shown off by the Teddy Boys who's well-known for having a distinct look with drainpipe trousers, draped jackets, bolo ties, pompadour haircuts, and velvet or electric blue clothes. The shoe has since been introduced into subcultures such as indie, punk, goth, ska, skinheads, and new wavers to represent the underground, rebellious styles during those times. Todays, from turning to be one of the rock n' roll must-haves, the shoe has gradually been used into a wide variety of personal style.
Plenty of designs, patterns, and fabrics of creepers are scattered through various stores and boutiques to give you a great free of fashion choices. Not only that they provide variation in the thickness of the sole, the shoe prints, colors, and details are also offered in numerous ways, started from animal to floral prints, from vibrant metallic to soft subdued tones, from leather to suede to canvas materials, as well as a range of detailing such as shoe-laces, spikes and beads, braiding and knitting. Creepers, without a doubt, are one of the most versatile footwear to opt for your day-to-day wear.
Although sometimes creepers are considered as a bizarre fashion item, hated and loved at the same time because of its masculine thick appearance, actually it's still possible to fashion a delicate look with creepers. The trick is to invest in creepers with candy pastel or cheerful colors such as light yellow, baby blue, or powdery pink, and pair them with chic, delicate, and feminine outfits. Here are some pieces that match the creeper: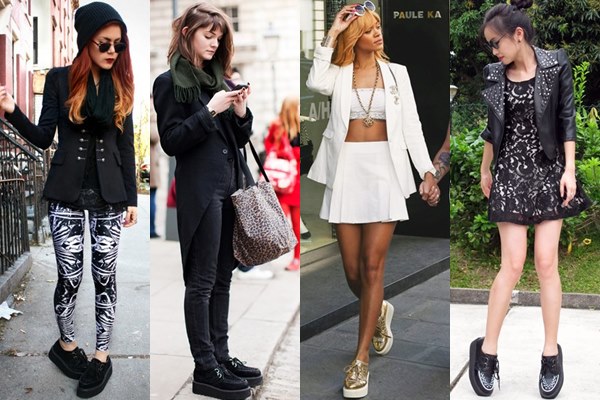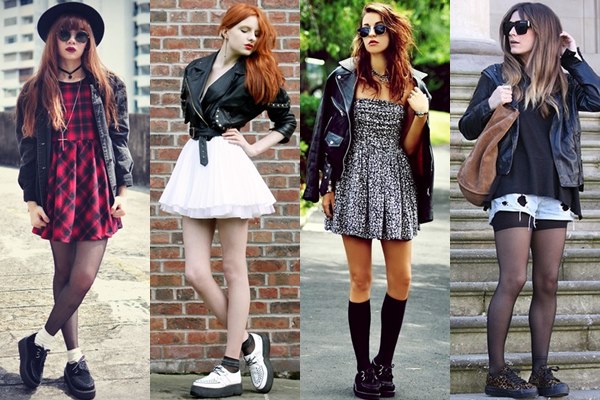 Structured Blazer and Jacket
To get more formal, yet semi-professional look with creepers – although creepers pretty much evoke such youthful attitude – invest in a blazer and pair it with any staples that comfort you best. Check article "What to Wear with Blazer for All Different Occasions" for more blazer style inspirations. Choose outfit that's edgy enough to match the spirit brought by the shoe. Think of wearing these creepers like you are wearing an Oxford or loafer.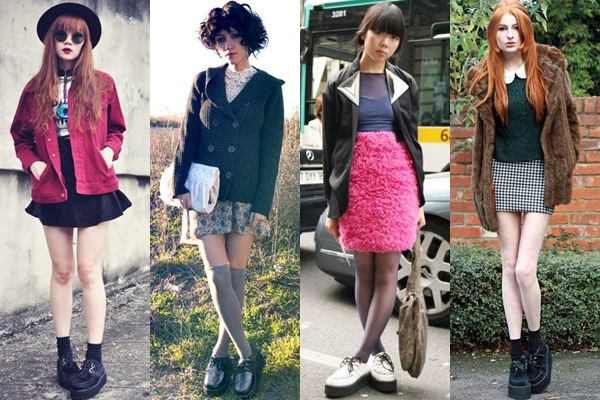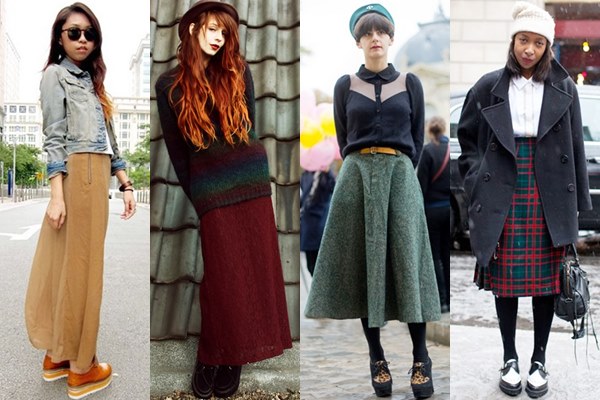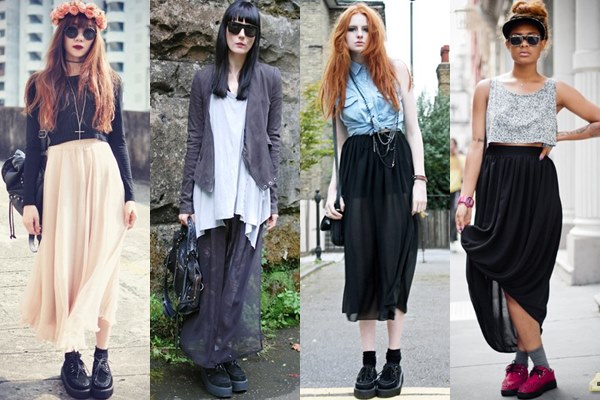 Various Types of Skirts
From mini to midi to maxi, from pleated skirt to skater to full skirt to the flowy one, creepers with skirts can really change the boyish look given by the shoe into a girly chic yet edgy and striking enough with the mix of boyish-meets-girls androgyne styles. See article "How to Wear and What to Wear with Long Skirts" for long skirt style ideas and see what you can do with long skirt and creeper shoes.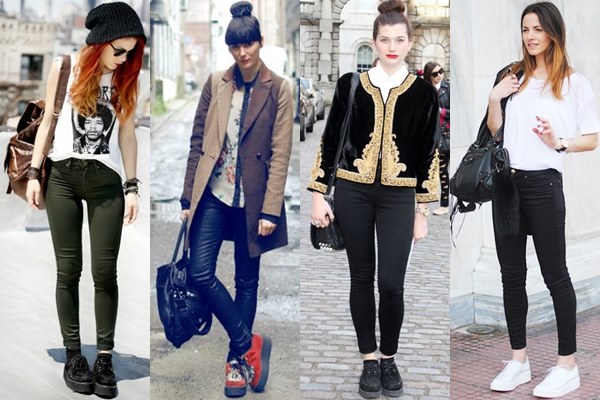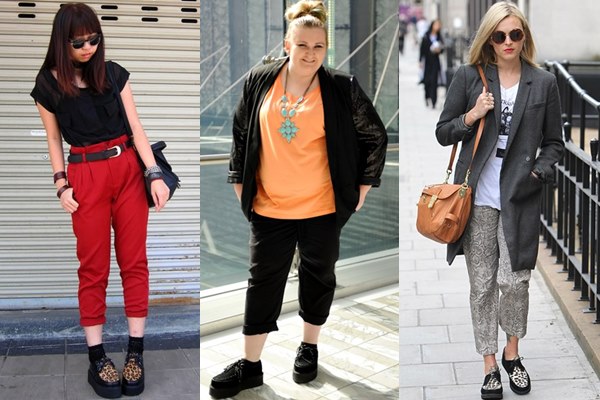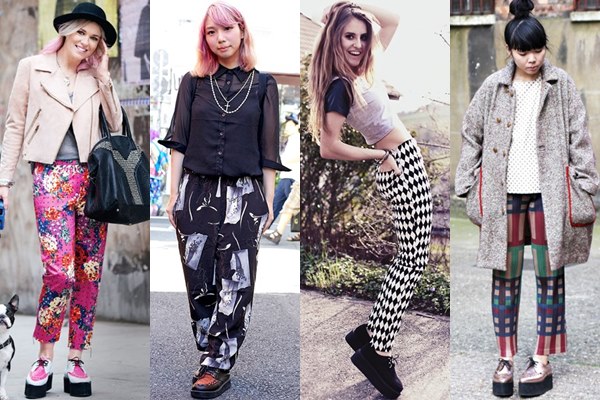 Different Looks of Pants
The key point of wearing creeper is to think the shoe as footwear between sneakers and loafers yet mixed with punk-chic look. Match creeper shoes with skinny jeans for those safe yet super-stylish looks. Wear it with cropped pants to show the flattering look of you creepers, or match it with printed pants to abuse the fun attitude of the shoes. You could as well pair creepers with flare/slouchy pants to get that boho-chic or casual sporty image. Here's an article "What to Wear with Flare Pants on Different Occasions" for flare pants style ideas.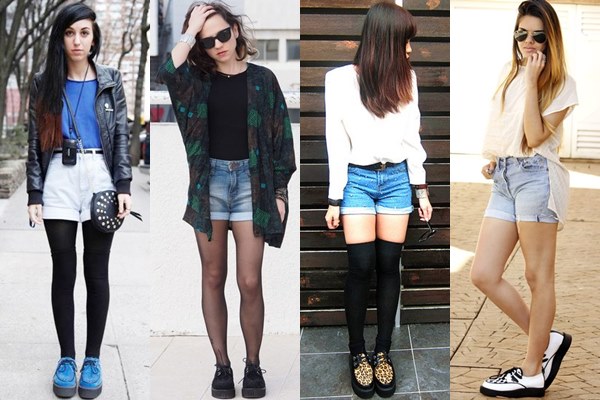 Creeper Shoes with Shorts
From winter to summer, from denim to tailored shorts, creepers look incredibly fun with shorts. Depending on temperature of the days, creepers are great to paired with various types of hosiery including tights, opaque stockings, high socks or thigh highs, or just rock your creeper with summer outfit bare legs. Check "What to Wear with Shorts on Different Occasions" for various shorts styling looks.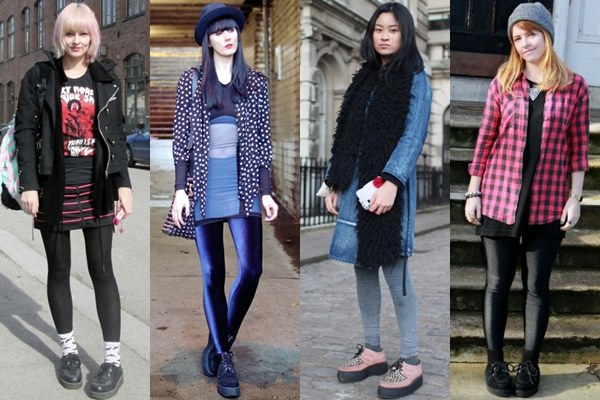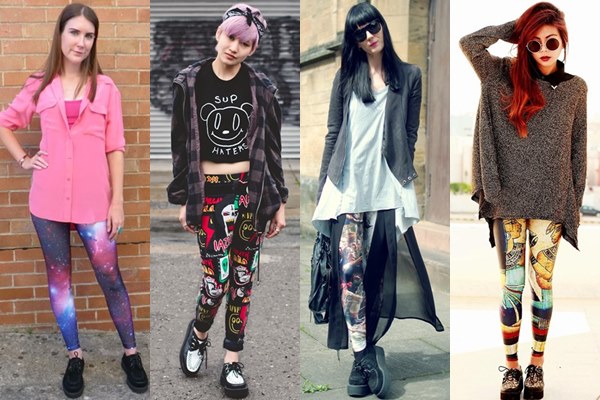 The Power of Leggings
Leggings and creepers are best friend, as they accentuate each other. This outfit is very casual and it's perfect for daywear, from a subtle look to the striking one. Pair creepers with solid colored leggings for a cozy, casual attire – whether it's in neutral or bright shades, subdued or shiny velvety look, or you could match creeper shoes with busy and vibrant printed leggings to add more colors and fun. Additionally, if you really care on how to wear leggings appropriately, check article "How to Wear Leggings Gorgeous and Beautiful" for more tips on wearing leggings.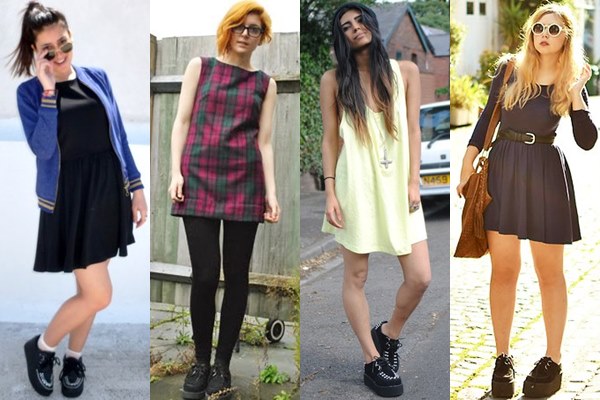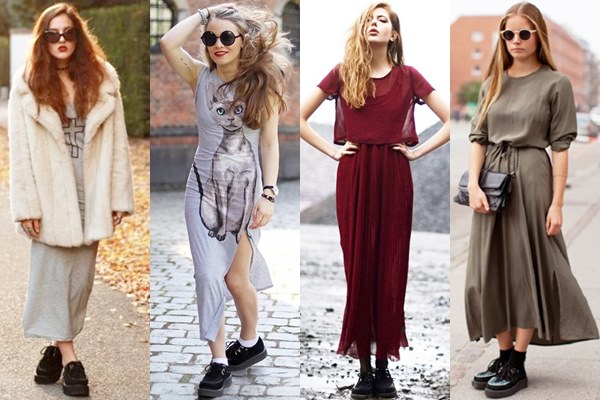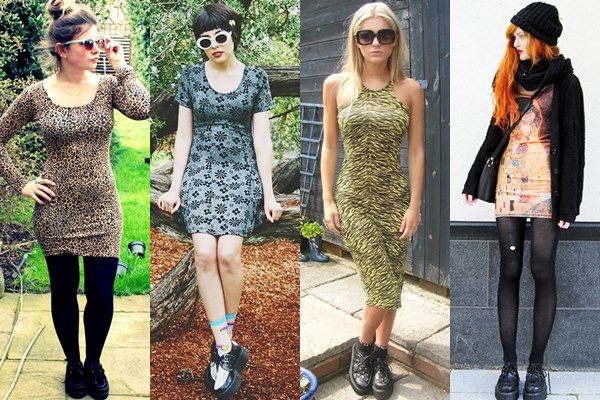 Creeper Shoes with Dress
Although creepers represent hard and tough of a masculine look, pulling off a bodycon dress with creeper shoes could also be fun, as it shows more casual vibe of bodycon, yet feminine enough for the shoes. Creeper shoes with dress – including sheaths, shifts, fit and flares, and maxi dresses – is basically incorporating creepers into casual outfits for the non-creepy (or super-creepy) types. The girlishness of a dress could be perfectly toned down with some outstanding, eye-catching creeper inspired loafer.
Even you can sport that oversized shirt dress tunic paired with creeper shoes to get a perfectly sexy vibe for these summer breezy days.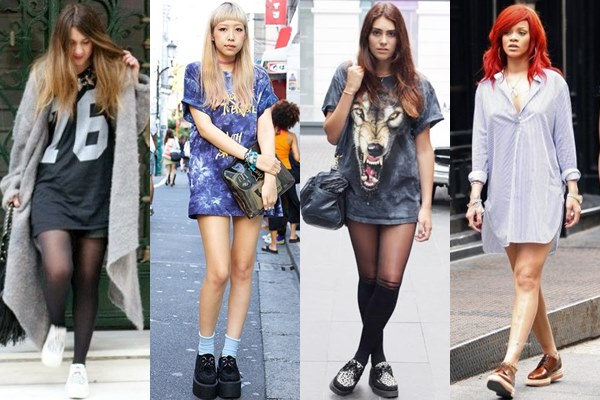 Check out these two videos for some fabulous and gorgeous outfits with creeper shoes, and continue to article "How and What to Wear with A Pair of Creepers (Shoes) – Part 2" for more inspirations of creeper – different styles and different occasions – Enjoy 🙂