As with most versatile fashion staples, creepers are easy to wear, cool, current, and they certainly make a statement for almost every casual to semi-formal occasions with all different styles, perfect for any climate and season all the year round. Creepers made their mark when the trend took hold among the punk rocker crowd in the 70s. The name itself comes from the rubber, known as crepe rubber, used to create the sole of the shoe. Naturally crinkly, they give creepers that distinctive, toaster-oven look.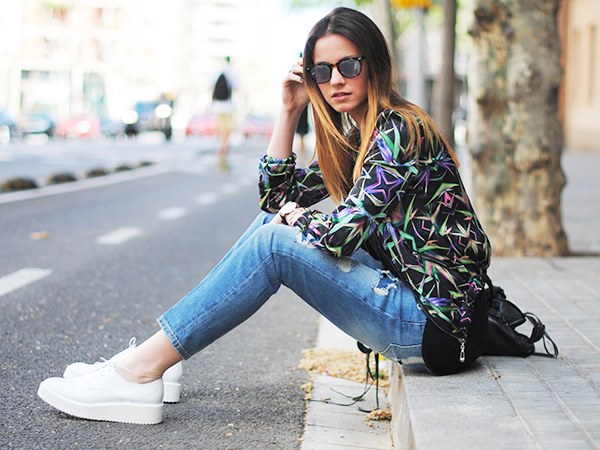 In continuing the previous article "How and What to Wear with A Pair of Creepers (Shoes) Part 1", we've seen how great the creepers are, as they look fabulous with skinny jeans and ankle socks, opaque black tights paired with shorts, or with skirts, dresses, pants, or other fashion pieces. Check out some street styles showcasing creepers for various occasions, worn in many different styles.
CREEPER SHOES FOR DIFFERENT OCCASIONS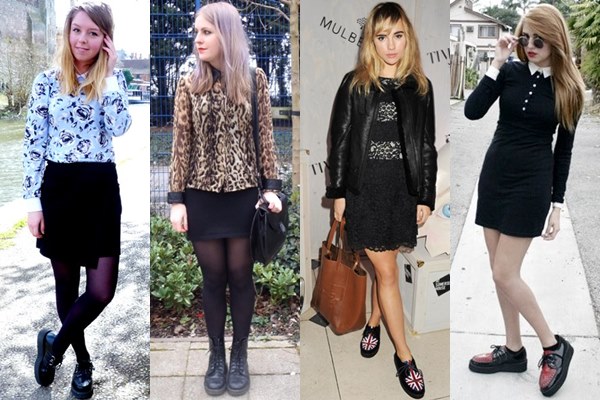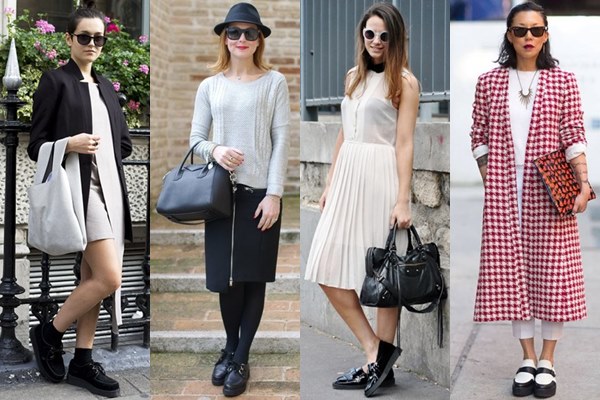 For those of you who are lucky enough to enjoy a casual work environment thank your lucky stars, because with this types of work place you can enjoy sporting and styling your creeper as fun as you like. Just remember that for this look more conservative attire is usually required. Make sure you opt for something appropriate for the office, then dress it down with the creepers to get that easy and stylish, casual and comfortable looks for work.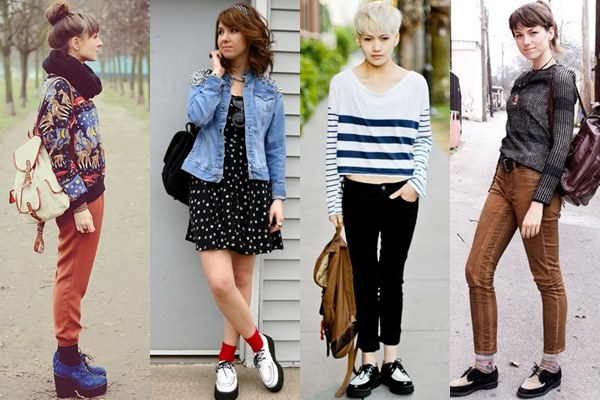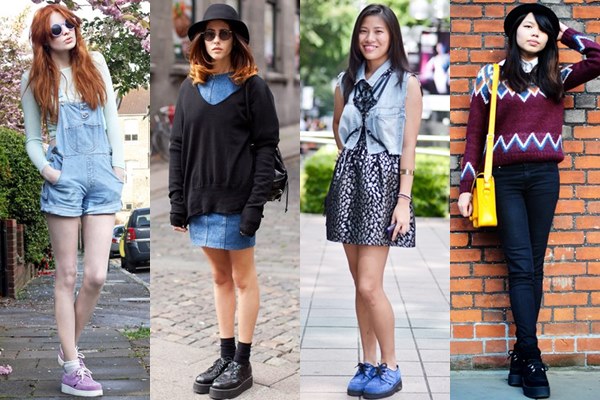 Just like wearing creepers for the office, opting for this shoe for college are easy and fun, offering lots of casual, chic, and comfortable styles. Keep in mind that choosing outfits for college means you should opt for some college appropriate attires. You might want to try some outfits that are simple and comfy, yet still look put together. Try looking for pieces that fit well and come in comfortable fabrics, and that also have interesting or unique details that express your personality. Love your creeper and make sure you feel comfortable when wearing it.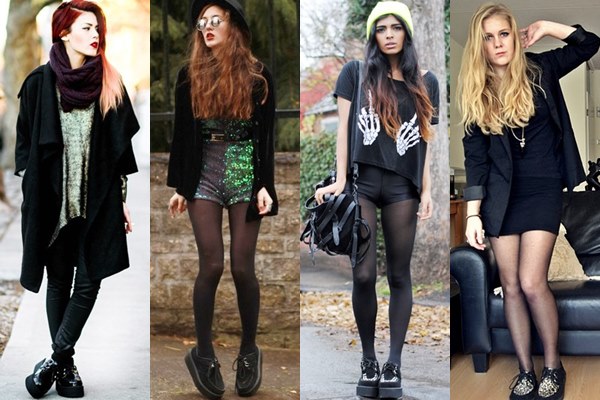 For night out, you probably might want to add some glitz and sparks into the outfits. Choose pieces with sequins or glitters and pair it with creepers – either in vibrant or classic looks – then finish the look with layers for a polished and cozy look. You could also opt for LBD and creeper to get a classic-chic style, while very short shorts or hot pants paired with interesting tee and tights offers more rocky style into the outfit.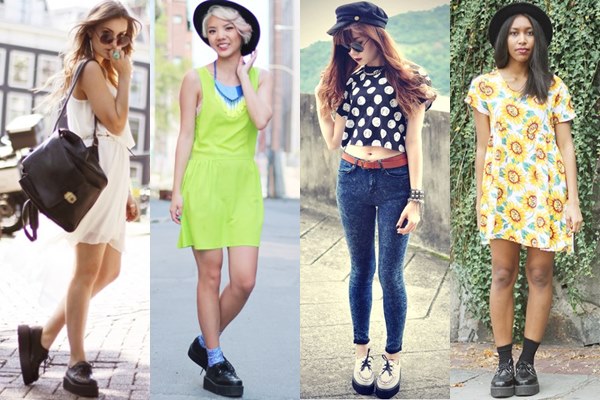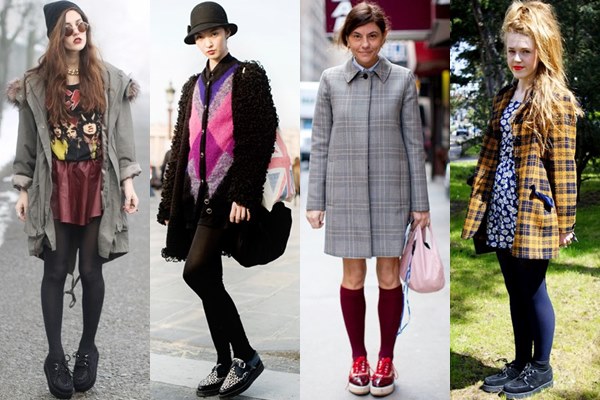 For all different seasons, creeper shoes are unique and never go out of style. They are also practical, and very comfortable to wear as well as being good on the eye. Just do your season appropriate attire and pair it with creeper to create that grunge-meets-edgy statement.
CREEPER SHOES WITH DIFFERENT STYLES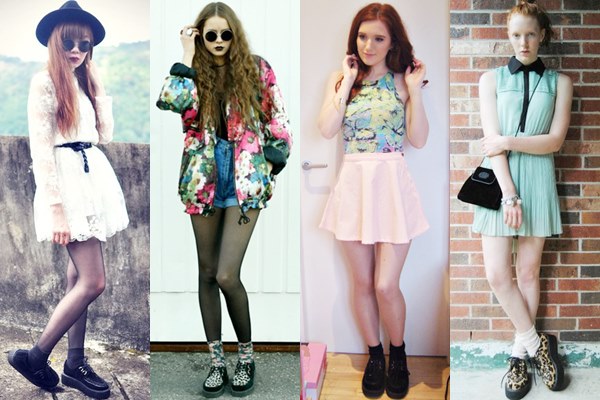 By wearing creepers with a cute, girly outfit including those dresses with laces, delicate shades or pastels, and feminine prints, the grunge chic of creepers really ties the outfit together, creating a perfect balance between romantic touch while still behaving a little bit of punk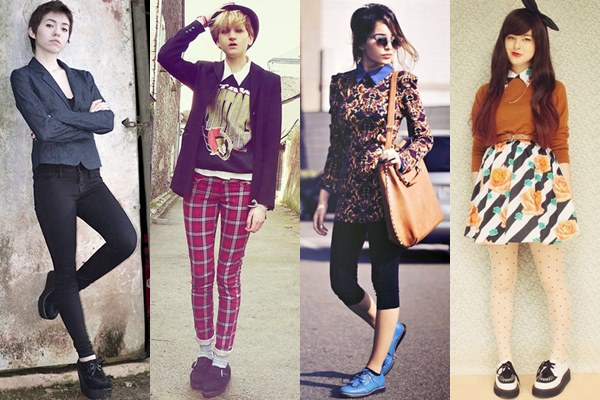 The creepers are imposing, but style wise, they are sufficient in themselves. Dress your outfits in preppy way – neat and well-balanced – then compliment the entire look with creepers with socks or tights to make it even classier. To feminize your outfit do not forget to wear a little reminder of color and feminine prints.
Leather staples, military jackets, dark colors, and gold details are perfect to enhance a rocker-chic look, while the creepers itself accentuate the look even rockier. Abuse your femininity to give the softer side of rocky styles by wearing mini skirt, laces, or bright colors, or opt for classic creeper to tone down the tough appearance created by this style.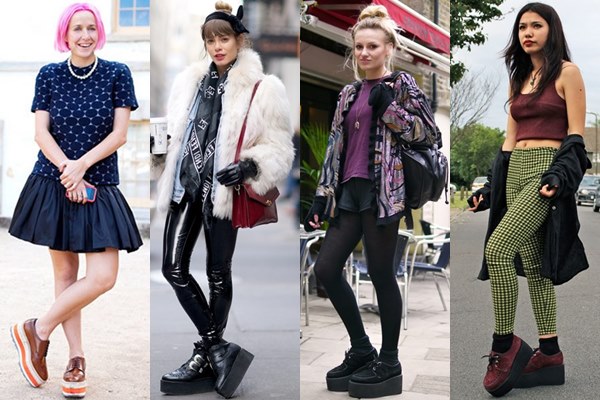 Get your bold fashion sense into these outstanding grunge looks with super thick soles creepers. The shoes look fantastic with leather pants or leggings or tights, paired with coat or cardigan. Mini skirt and shorts are also best choice to tone down the "darkness" of the punk looks. Adding a touch of girly colors would also great for a chic girly-grunge combination. I suppose it all comes down to donning it with confidence and whatever looks good and makes you're inner fashionista glow.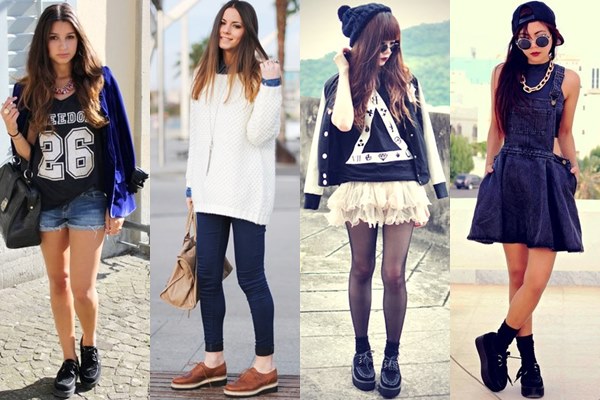 Creeper shoes are already considered as sport-related footwear. Get the sporty vibe more fashionable by pairing the shoes with some athletic-themed staples such as bomber jacket, jersey top, leggings, and baseball cap. Or, black and white attire with creepers could also be an option to make an interesting sporty statement.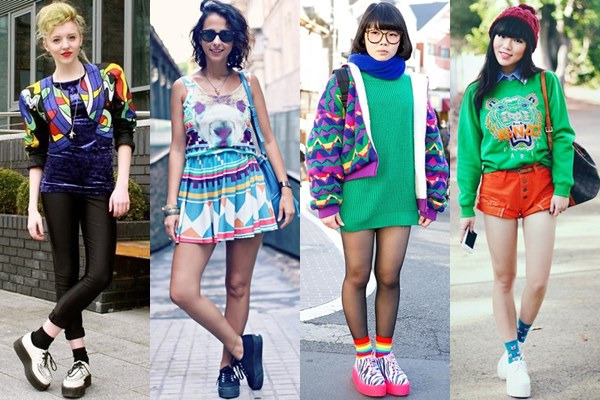 Play with colors to brighten your look with creepers. Abuse vibrant hues by wearing colorful pieces with interesting patterns. Plus, this is also the time if you want to try those funky creepers in fun colors and designs.
CREEPER STREET FASHION STYLES
There are several ways to wear creeper shoes. From jazzing up your outfit with a pair of black leggings, rocky tank tee, and an oversized plaid shirt to channel your inner punk soul, to choosing for a neat twist by wearing printed tailored pants or a structured blazer to finish the look. Keep your shirt simple in neutral colors such as white, grey or black. Or you can try out the bad girl look by sporting denim shorts and a printed tee with sheer tights for a bit of a tease. Tuck in the front part of your tee and opt for knee high socks or tights. Don't forget to wear a deep red lipstick for that extra sizzle. Here are some fabulous outfit ideas you can steal from various street fashions.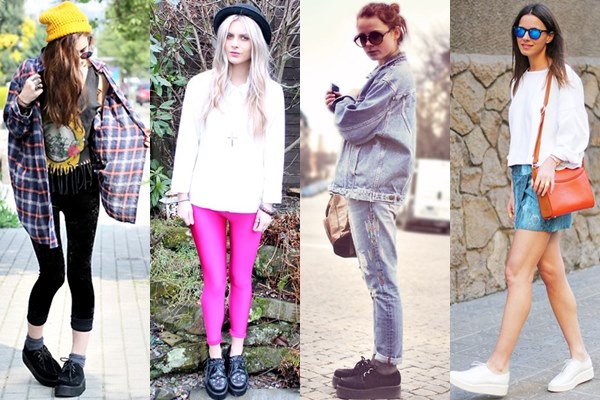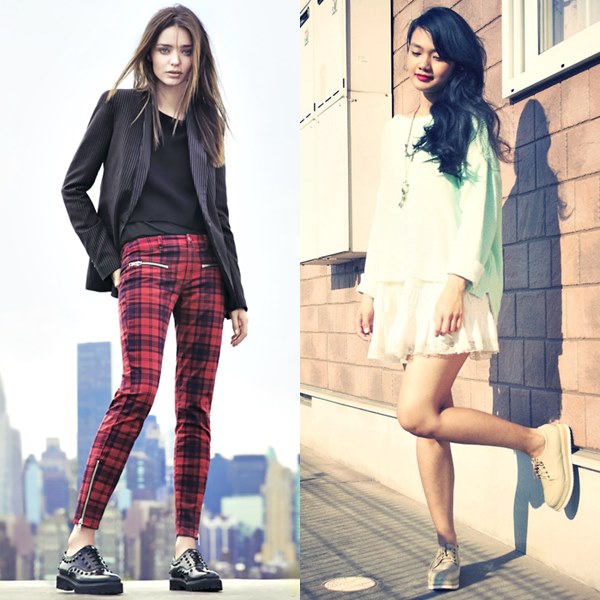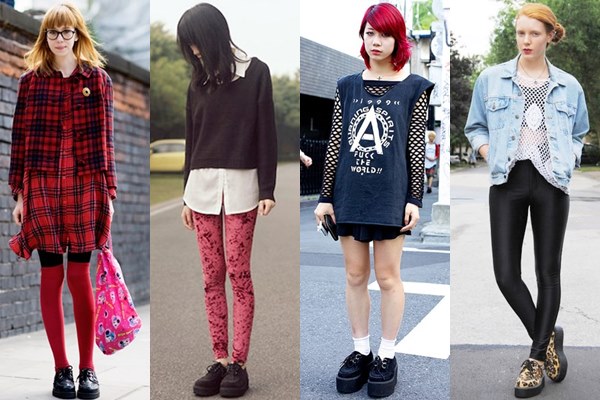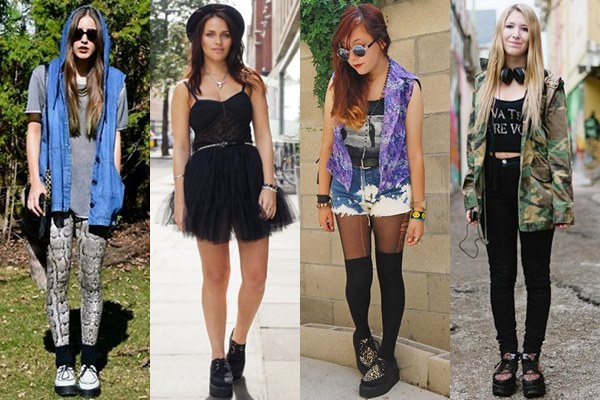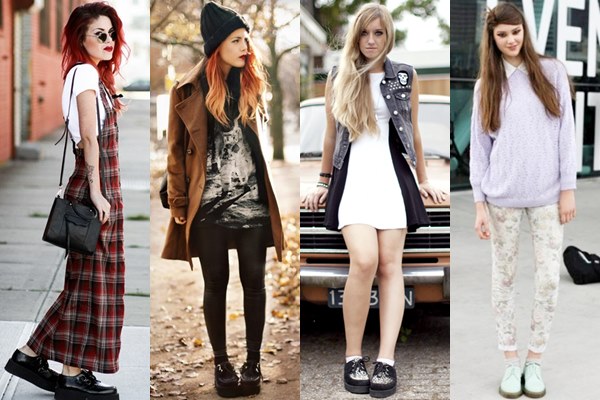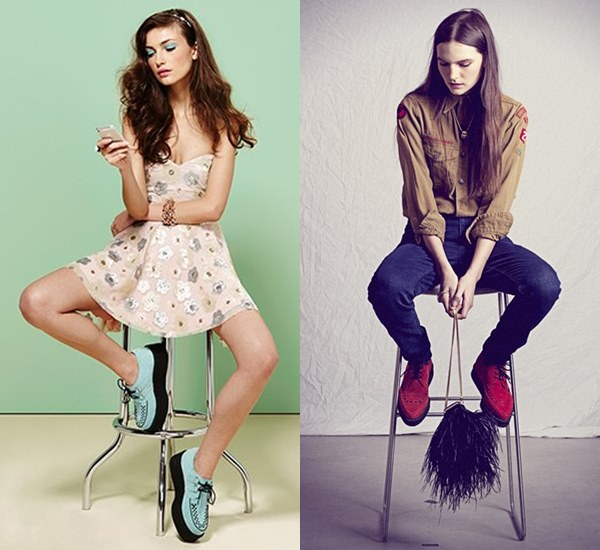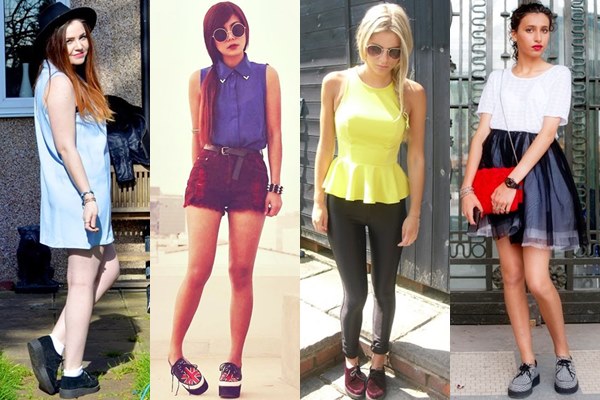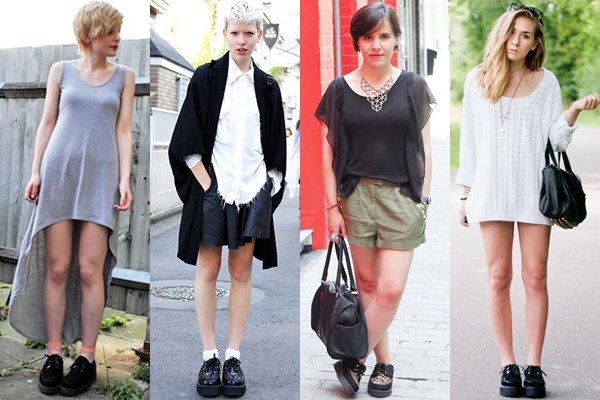 CHANEL RESORT 2013 CREEPER FASHION
Take a look at the gallery featuring Chanel Resort 2013 collection for other style inspirations with creeper shoes. From cropped pants for day-to-day casual chic to full A-line dress and maxi dress for a feminine aura to skinny leather pants and slouchy trousers for those perfect masculine styles, find your best outfits and style it with creepers.