Flared jeans are obviously still one of most favorite wardrobe staples. Typically fitted through the hips and thighs, and then flared out from the knee until they skim the ground, these 70s-inspired trousers are great for leg lengthening when they fit well at the top, perfect for all body shapes – especially pear, round, and apple shape – for creating a nice silhouette. And most importantly, no doubt, they are incredibly fabulous, giving skinny pants a much needed break.
Wide legs, or boot cuts, all are best choices if you are looking for an alternative to your favorite straight-legged bottoms. However, not all wide legged pants are created equally. For example high-waisted wide leg pants are good if you want to hide a muffin top or create a curvy silhouette.
Well fitted bell bottom pants are best for skinny legs, palazzo pants look great only for tall women, and boot cut pants are good to hide thicker thighs. Check this article "How to Wear Flare Pants best for Your Body Type" to know about types and what styles of flare pants best for your body type.
To pull off these fashion pieces on different occasions, noted each style evokes a different look. Pleated Palazzo trousers are a great way to work a 70s inspired silhouette, boot cuts jeans with heels or boots are gorgeous to achieve smart casual look, while tailored wide-leg trousers are elegantly stylish. Not to mention, there are a few die-hards who live for bell-bottoms 70s disco glam rock. Just make sure your outfit is balanced by pairing your wide-leg trousers with a fitted top. Take a look at just some fashionable wide-leg trousers below.
Flare Pants for Summer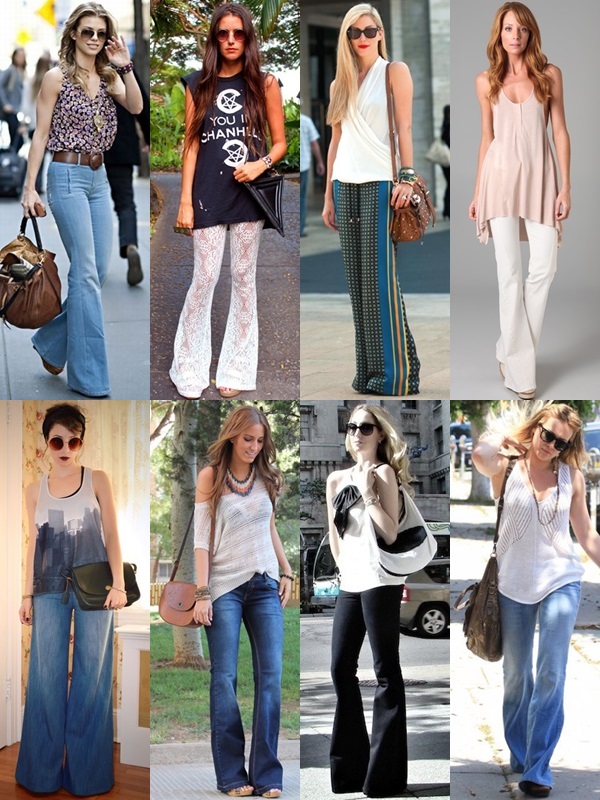 For Summer, opt for wide legged pants in soft, comfortable and breathable fabrics such as cotton or lace for a feminine look. Denim pants are also great if you want to enhance those elegant, casual styles. Matched your pants with summer-y top, such as tank, tee, or loose shirt. Make sure you wear flare pants with top that is well fitted to achieve a nice silhouette.
Flare Pants for Winter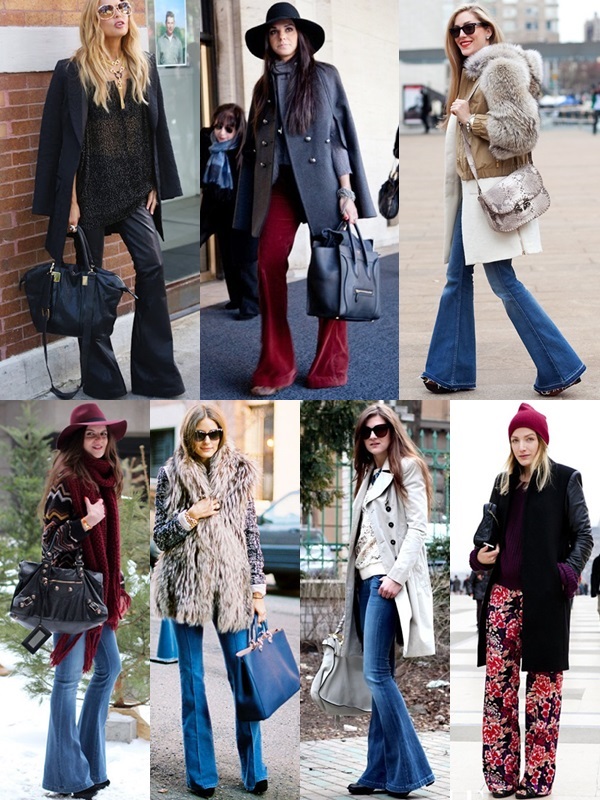 Bootcut pants or wide leg trousers are all women' best friends during winter, especially if they are worn with heeled boots. Undoubtedly, heels are perfect with wide leg pants, bell botoms, or bootcuts. Pair your pants with a comfortable, well-fitted top, and finish the entire outfit with stylish outerwear and other winter essentials, such as winter cap, wide-brim hat, and scarf. Leather are gread to give a touch of rocky style, while floral prints give more colors and feminine look. Denim pants, like always, deliver such a trendy casual vibe, yet looking super elegant and classy.
Patterned Flare Pants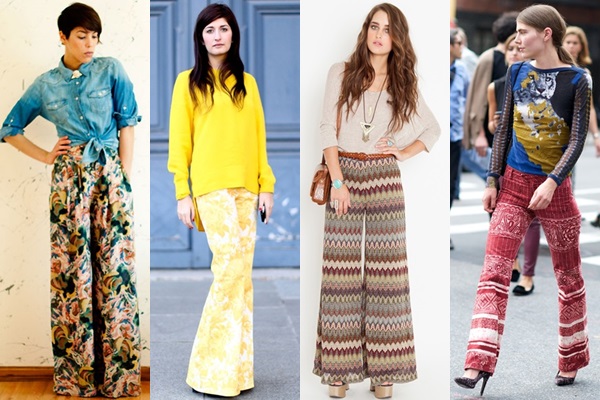 To give dimension into the look, playing with prints and colors would be a great option when wearing flare pants. Just keep the balance by wearing solid colored top matching with the pants. Because of its flared cut and colorful prints, your pants would be the center of attention. Balance it out with other simple elements in basic and solid colors to subtle the business of your patterned flare pants.
Formal Outfit for an Office Wear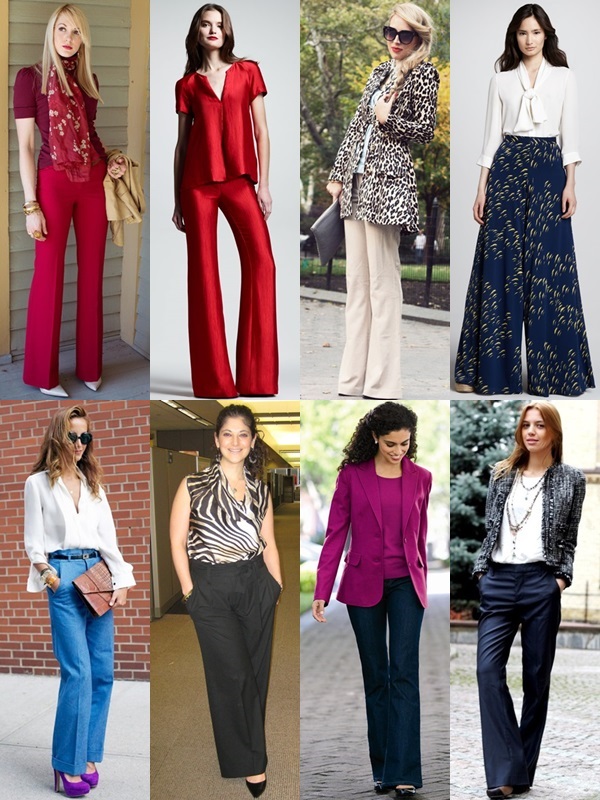 When it comes to office wears or formal outfits, always think about classy and elegant attire. Try a simple, neutral colored button down, neutral pumps, and a pair of flare or wide-leg slacks. Or you may also opt for tailored flare trousers with tucked in stylish blouses made of satin, silk or cotton. Invest in blouses with feminine details like bow neckline and discrete accessories to add a touch of sophistication, while pointed shoes are also great to deliver polished perfection. However, for a professional flare-leg pant look, avoid styles that are too 70s. Avoid outfit that is too reminiscent of any particular era other than "right now". Be careful about wearing it to the office.
Semi Formal Outfit for a Dressy Wear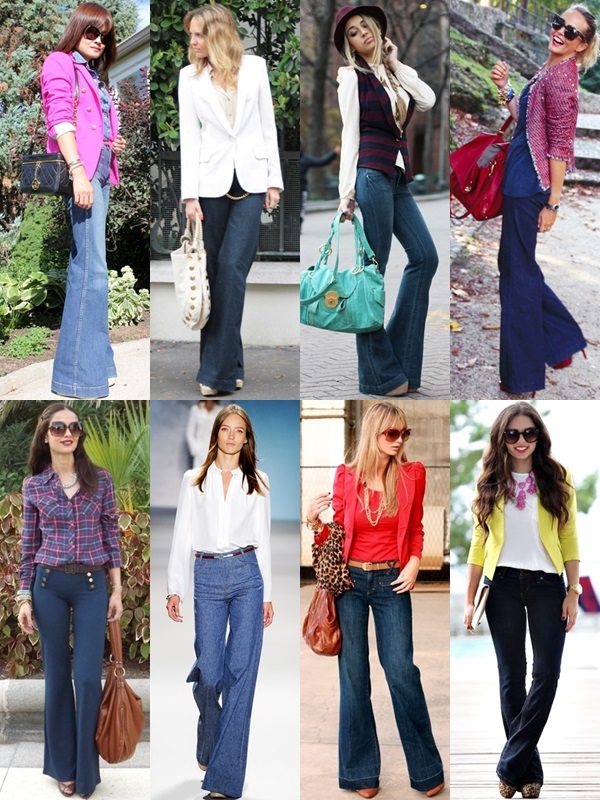 For an office wear on a less formal occasion, or if it's a friday, some dressy jeans could work – whether it's wide-legs, bell-bottoms, boot-cuts, or trouser pants – are your best options. Pair them with a more structured layer, such as blazer, cardigan, or vest to polish the look, while heeled boots or platforms along with sophisticated handbag add a formal touch and elegant vibe into it.
Casual Outfit for Daytime Wearing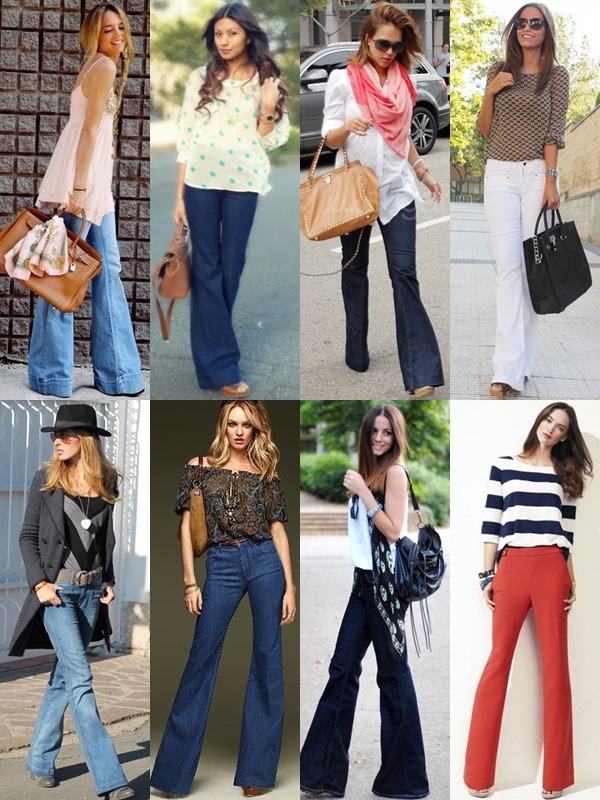 As for daytime wearing, definitely you have freedom of style choices when wearing flare jeans, from the simple, elegant style to the feminine chic fashion, from the classic retro look to the opulent extravagance some of us are willing to try. All are fabulous with flare pants. Just remember that it is always important to know your body type and, consequently, dress it appropriately with your personal style.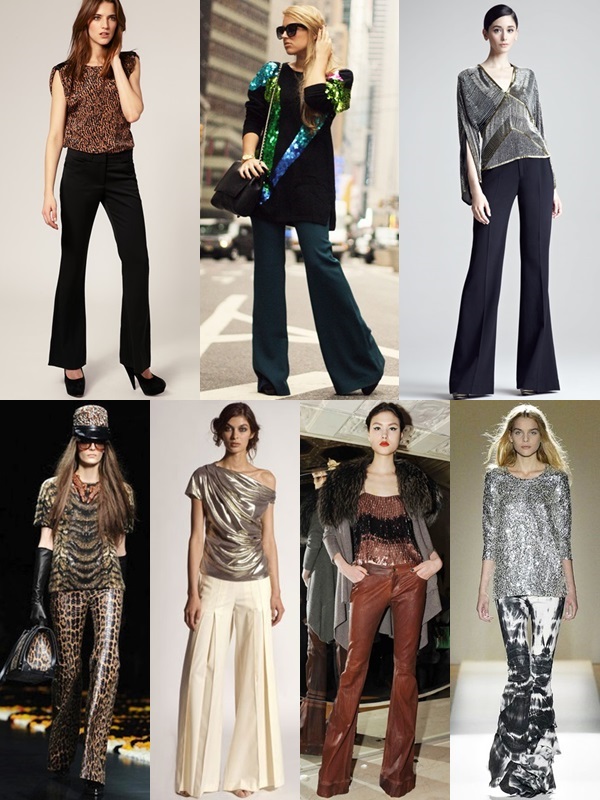 To take the look to night, try adding either a splash of color or sparkle. You can also wear something dressier and darker like animal printed or sequined top. Black or dark colored pants or jeans look more formal and are easier to use in a night look. Add in a leather bag for a slight edge and you are ready to go. Silk or satin are also good for a night look, then balance the sheen with a subtler top.
Here are some fashion styles and inspirations you can try with flare pants for women