Being one of the most fashionable outfits for decades, without a doubt everyone will say yes to leggings because of their comfort and cool-looks. And for the most part, leggings are also considered genius for their irrefutable body-friendly designs, stylish functionality and versatility, and multi-season use, which all can really amp up your outfit if they are worn the right way, and matched with the right clothing.
How to Wear Leggings
Based on their form and function, leggings are form-fitting pants that end at the ankles, and do not normally cover the feet. They are often worn under another piece of clothing such as a dress, skirt, or shorts, and mostly come with a variety of color, pattern and fabric imaginable, including a fabric made to look wet and another made to look like denim. Different from tights that are usually worn only in the winter for warmth, leggings are made with thicker material, and may be worn during virtually any season.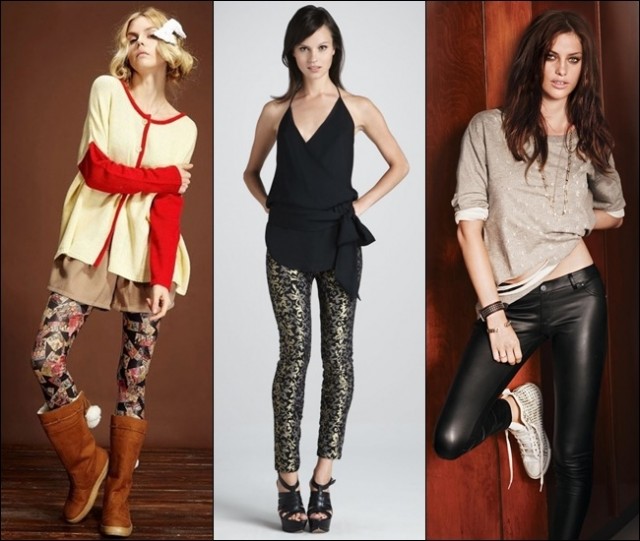 Leggings today are much more sophisticated and chic than their ancestors from the 80's, and are frequently worn similarly to the skinny pant as a base for layering. However, because of the form-fitted designs, leggings are also one of those tricky styles that a lot of women wear completely wrong. To avoid that, heed some rules when deciding what to adopt this ongoing trend.
Basically, the ideal way of wearing leggings is to think them as tights rather than pants. Opt for mid-thigh blouses to camouflage tush, stomach, and hip, including variety of t-shirts, tees, and tops, as well as outerwear like blazers, cardigans and jackets. Not to mention, you may also put them under skirts, shorts, dresses, or tunics as a base for layering.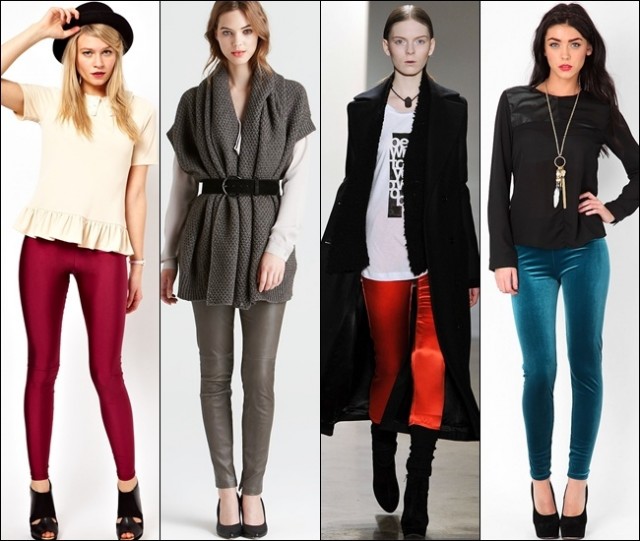 To achieve an elegant look, try not to coordinate leggings with cropped, short or fitted tops, no matter how great you look from the rear. Anything shorter than mid-thigh tops takes away from the lengthening and slimming qualities intended by leggings. However, we've seen many women wearing leggings with something short above, and they still look incredibly fabulous. So, I guess, if your really want to wear cropped tops, just go for it, and make sure you always think about balance when it comes to wearing leggings well. The key is to accentuate your best features and diminish those that are less stunning.
As for fabrics, the proper leggings should be made of thick fabrics so that people won't see your skin peeking through. Take a look in the mirror. If any part of your leggings, especially the rear, is slightly sheer, Take Them Off !!. Many women are wearing leggings that are too sheer and too small that the whole world can see what's underneath, and surely no one wants to see that, no matter how perfect your body may be.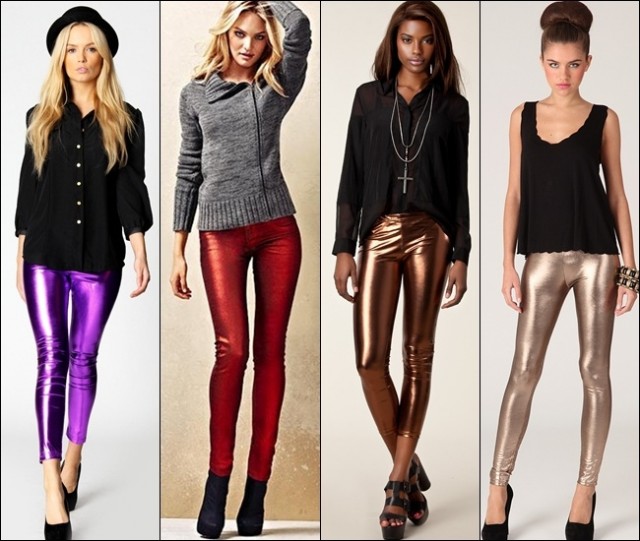 Double-knit and non-shiny leggings are also recommended to achieve an elegant, smart, appropriate style. Although shiny leggings are great to wear on a night out, these leggings can show bulges or create them even where there are no bulges. But, if you're willing to take the risk, go for it and better to invest in basic and dark colors that go well with any style.
Length, Colors and Prints
If your body shape is not a supermodel-figure, pay attention to the lengths, colors and prints of your leggings in order to create illusion of slimmer and taller silhouette. Leggings that are ankle-length, for example, are great to elongate a short silhouette, while for women who are over their ideal weight may opt for leggings in dark colors, preferably black, as well as much longer tops that cover hip to help disguise the extra pounds. As well, black leggings that paired with bright-colored tops will also draw the attention to your hair and makeup, away from your legs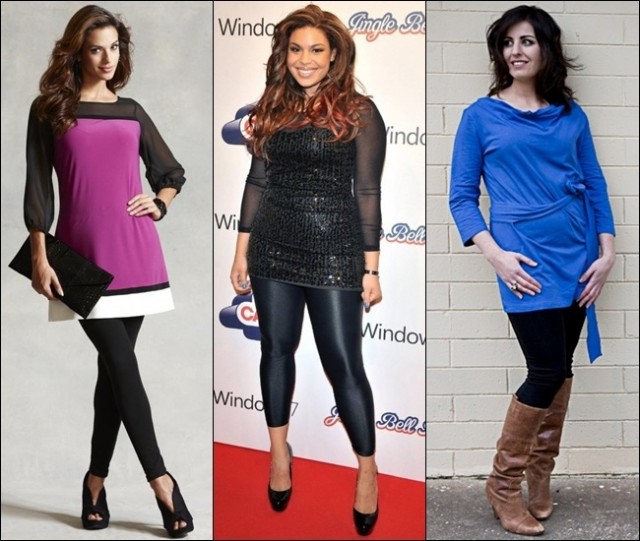 Using prints and color combination that already exists in your outfit are also an easy, fun alternative to leggings, but don't mix too many colors and patterns with them. For example, if you want to wear printed leggings, team them with top in basic and safe colors such as black, grey, navy, white and ivory, and if your outfit has touches of brown, wear brown leggings to complement and balance the look.
Prints and patterns are mostly best suited for women with thin legs, nevertheless, these leggings are still for everyone that even any size leg can quite easily make this work. Colored, stamped, or even sober wet legging and jegging, are among the varieties of these pieces, which some of them can be detailed in sequins, animal prints and striking stripes.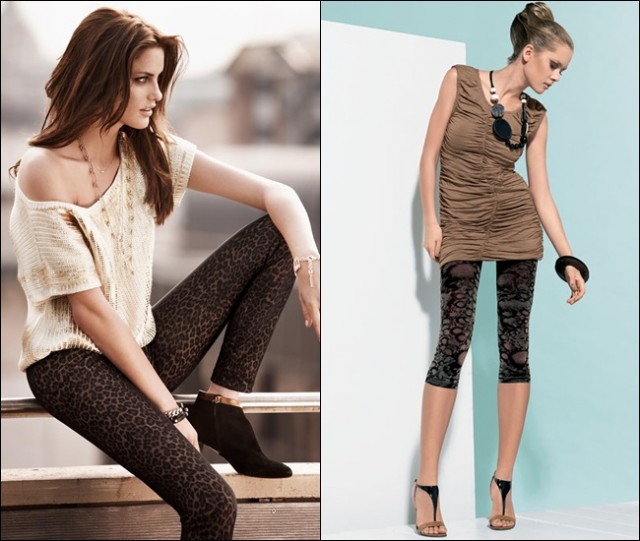 Just remember that your legs are the focal point of the outfit, and patterns could potentially make the thighs look thicker and bigger, so always cover your derrière, tone down the rest of what you are wearing and wear complimentary colors. Wearing leggings in a contrasting color or pattern can look either fabulous or a bit scary, so be wise with your fashion taste. Once again, always think balance and there's no need to add anything else too trendy or distracting to your appearance.
Last but not least, although shorter leggings or cropped leggings work well for working out, and are also very popular to be worn under dresses, life is definitely not one big aerobics class, so please don't go around dressing with these leggings like you are in the gym, for example, pairing with fitness tops while hanging around in the mall.
Let's take a look at the video for more How To Wear Leggings advices, as well as some great leggings fashion looks on different occasions.