Seasons by seasons, shorts have been captured in many runaways with a myriad of designs and styles. Tailored and chic, number of sophisticated shorts are presented elegantly proving that this extremely versatile fashion staple is not only reserved for casual wear, but can also be worn at various occasions, from classy to trendy, from day till night, from casual to formal, suitable for work wear, weekends, shopping, and cocktail parties.
Without any doubt, today shorts can be considered as a good substitute to your short skirts. They are simple wear that promise you great comfort making every woman loves shorts as we can see how the street styles and celebrities' fashion turn these pieces into one of fabulous apparel to wear. Silky shorts are apt for a dressier look, short shorts at the beaches, structured shorts for casual yet elegant styles, and more designs showing that shorts are no longer restricted to certain age groups only, certain occasions only, and certain body types only. Let's take a peek at these 80 various outfits with shorts to inspire you fashioning in different occasions, performing yourself gorgeous and confidence.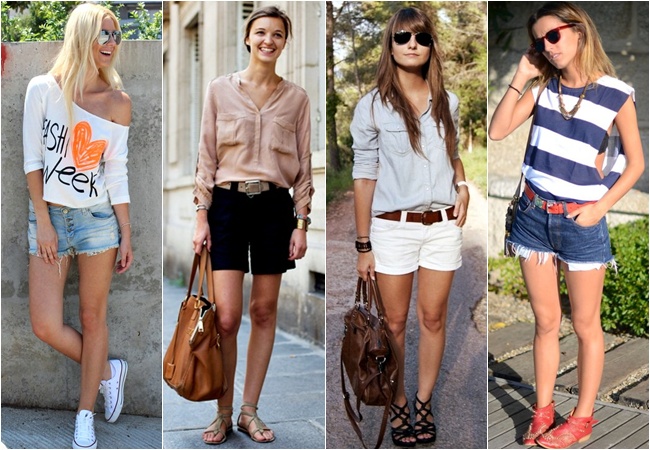 For casual daytime activities
To wear shorts for day-to-day occasions, opt for shorts that have more comfortable designs to offer mobility and flexibility during your daily tasks. Depending on each body type, Boyfriend cut-line or slim fitting Bermuda, whether with rolled-up or chino style, both are classy and can be a great choice for any casual daytime activities.
Find best colors and prints, preferably in bright and colorful ones to fit the day, or you can also opt for various fabrics such as denim or cotton. To achieve casual vibe of your outfit, the comfort comes first when wearing shorts. Combine shorts with light-weight blouses and finish the entire look by opting for comfortable footwear such as chic, stylish sandals or flats, or heels if you are really a heels person.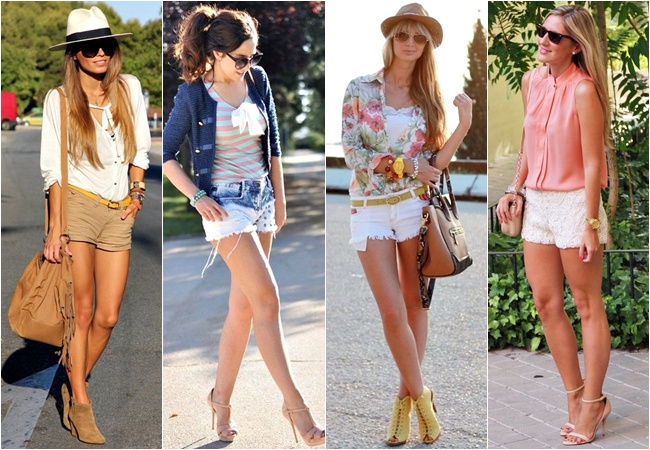 For fashionable daytime activities
For those who want to look for smart, chic, and stylish shorts for spending hours and hours walking through the mall, hanging out with friends or just spending time alone while experiencing great window shopping, bet on structured shorts with chic shirts and lighter coats or blouses, while maxi bag, accessories and high heels can make the look even more harmonious and gorgeous.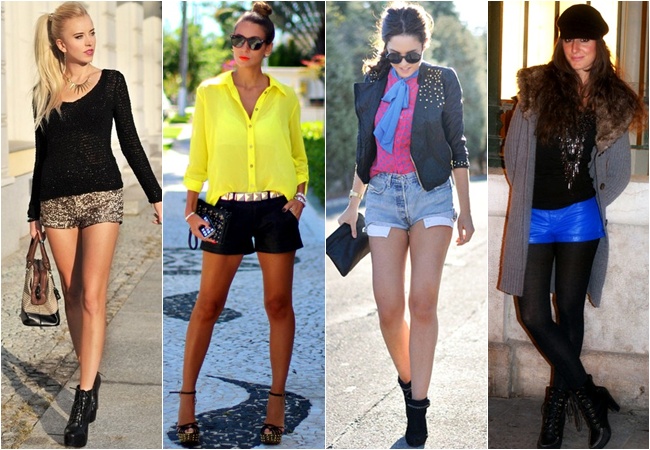 Shorts on a night-out
At night, it's recommended to perform more glamour and sparks in our outfits, especially when we want to have a special night-out with friends or spouse. Bet on shorts with bright or shiny shades, sparkles and embroidery to compose a visual night gleams, if you have good confidence you can wear short shorts or tight shorts to give sexier look. Choose light fabrics such as satin or lace to enhance the party vibe on your appearance. Last but not least, you may also play your entire outlook more on the accessories, hair styles, and makeup to complement the entire night out style.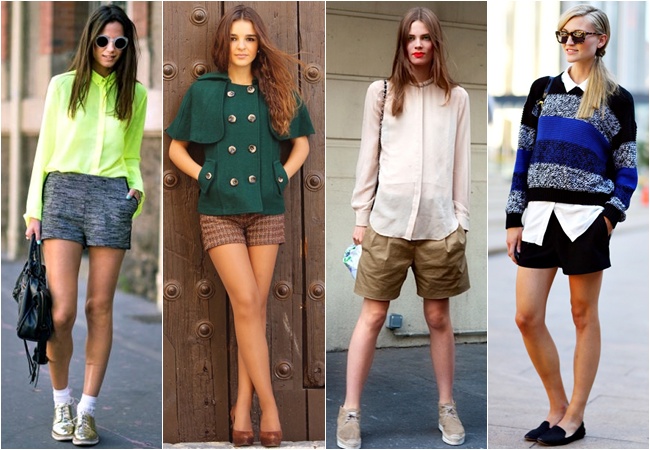 Shorts as college or school outfits
When you decided to wear shorts at college or school, always remember to wear something polite, smart, and elegant. Choose discrete and basic deigns to give more sophistication on your look. Opt for shorts that have more of preppy style and add with some classiness by pairing them with appropriate tops suitable for the occasions.
Basic denim shorts or structured shorts can be a great option, but you need to be careful especially with the length of your shorts to avoid showing off too much skin of your legs or to avoid being too vulgar and cheap. In this case, tights are a good way to approach such polite look during school and college time, while creepers are great to give such preppy casual look.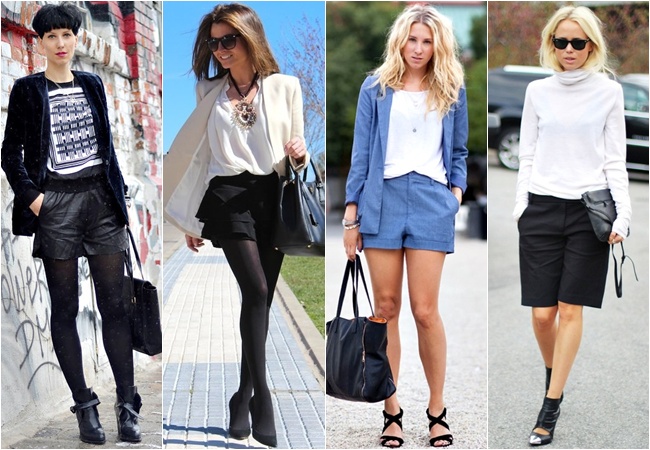 Shorts as working outfits
Just like how best to wear shorts at college, pulling off shorts at office hours should also look more behaved and polite, plus, for working outfits you are required to present a more formal outlook, such as matching a pair of structured and tailored shorts with formal blouse, blazer, or vest. Not to mention, black tights are highly recommended when choosing shorts as your working suit. Remember that besides opting for mid-length shorts, for this kind of occasions you also need to find shorts that have cut lines and fabrics in more formal tailoring.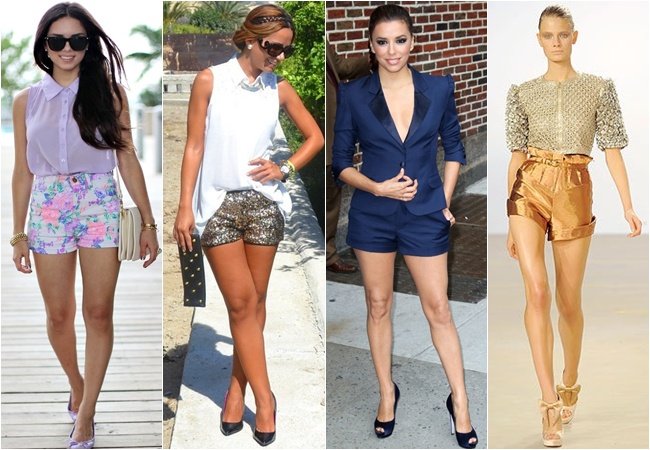 Attending formal events or parties with shorts
Even at some formal events or casual parties like cocktail party or day-time party, we can opt for shorts, which of course, should be matched with more suitable tops fit for the occasions. Choosing shorts with non-denim fabrics can be a great option, while to reach the formal look, you can combine your mid-length shorts with structured blazer or loose blouse with flattering details, as well as accessories to finish the look. Put some subtle colors or a splash of color to the entire outfit for a more cheerful appearance.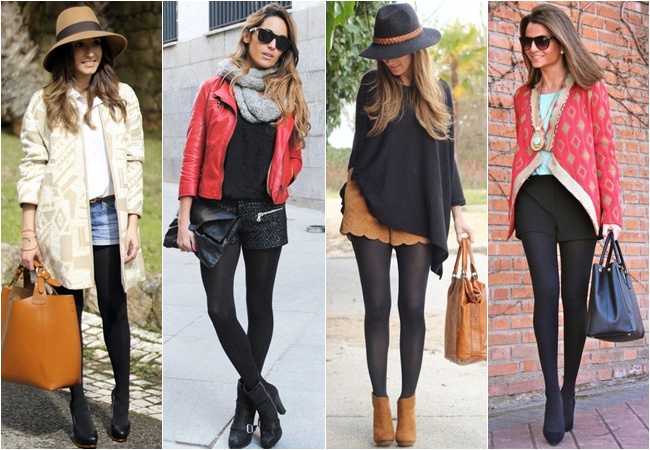 Shorts during chilly winter days
Even though shorts are made of little fabrics than trousers, these practical pieces surely can also be worn during winter to complement your fabulous style. What you have to do is just having a common sense and choosing the proper parts suitable for the cold season. Layers are the main part to match with shorts for these days. Opt for outerwear and thick tights or leggings to keep you warm while wearing shorts. As for colors you may choose dark shades to help easing the cold, or bet on heavy shoes like knee-high boots and combat boots to complete the look.
Shorts during breezy summer days
As for summer, the outfits are all about being light, bright and colorful, meaning that shorts are exactly the right must-have to fashion all season long. During these days, you will get so much fun playing with all the mix and match outfits, and many options to dress in head to toe. Bet on shirts and tops in lighter fabrics to complete the look. Try floral patterns for more romantic, feminine look, or bet on neon colors and pastels as they are among the top trends for the approaching summer 2013.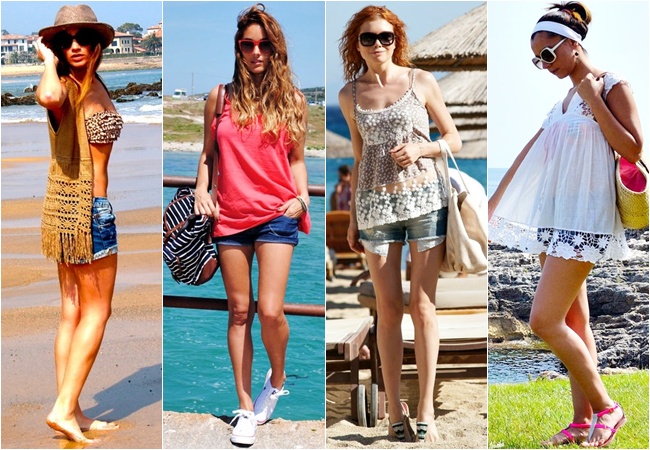 Shorts at the beach
Everybody knows that shorts are heavily worn at the beach, thanks to its practicality making these summer staple easy to combine in various ways to compose beach outfits. Opt for comfortable hot pants or short shorts in bright colors and sexy designs to rock the beach-y vibe, and pair them with any beach tops, bikini tops, knitted-wear, etc to complement the look.