For some women, choosing the appropriate purse and jewelries to a wedding is almost as difficult as choosing what they are going to wear. Whether the wedding is formal or semi-casual, held in spring summer or fall winter, evening or afternoon, it's always been an important decision to choose the perfect purse and accessories that requires some thought beforehand so you don't find yourself wishing you had made a different choice. Check out some wedding guest rules for choosing the right accessories.
In continuing previous article "What to Wear to a Wedding : Shoes, Clutches and Jewelries (Part 1)" generally, the most important fashion rule when attending someone's wedding is being respectful to the host, as well as to the general etiquettes in the society – especially if you are invited to a traditional religious ceremony, or even sometimes, different regions of the US tend to dress differently for weddings.
Make sure you understand every do's and don'ts where the wedding is taking place. Feel more comfortable by checking with someone in the wedding or a friend who is familiar with the society. Always ask if the church, synagogue, or mosque has a dress code that may require you to wear something long to the ankle, or to cover your head, shoulders or arms during the ceremony. Play safe by choosing a classic, elegant outfit to the ceremony, and prepare a wrap or jacket to layer your attire in case you need to.
Moreover, think of accessories as the key factor to make you look different and outstanding among other guests. Attending numerous weddings in succession can be costly, especially if each event requires a new outfit. A great way to avoid breaking the bank is to choose a couple of versatile dresses and update them for each wedding by wearing a different bag, hat, shoes and jewelry. Statement accessories are a great way of updating a look and incorporating the latest trends.
CLUTCH PURSE
Considering what types of purse you need to take with you is all depends on your personal taste and how much moving around you will be doing at the wedding and what alternatives to taking a traditional purse may exist. Some women like to opt for a small clutch purse to get much smarter and elegant look, while others tend to choose a bigger one – which still looks festive and formal – to bring many items including a spare pair of flip flops and a wrap.
No matter what size of purse suits you most, there are few considerations when choosing the right purse regarding to the wedding's schedule. Always choose a clutch to match your activities at the wedding. During the day, surely there will be a lot of moving around, from the ceremony to cocktail hour to the reception. You likely won't stay put until you are well into the event. For this reason, it is important to consider that you will be transporting your purse with you to all of these different locations. Think of these several tips:
– Opt for a lightweight purse that is on the smaller side, and also matches your attire since it will be one of your accessories. Remember not to go overboard. Avoid glitter and sequins for before 6 p.m. or when the invitations calls for casual or semi-formal. Think of sparks only for a black tie.
– If you have to stay all day long as the wedding goes – from ceremony to reception – seek for your best comfort to carry the purse. Most clutch purses have a small "handle" to hang the purse around your wrist or it can be placed under your arm. Either of these ways of carrying your purse will make the purse a rather prominent part of your ensemble.
– Additionally, although comfort comes first when choosing the right purse, never underestimate design and style of your purse. Your goal at this event is to look stylish and polished, so always opt for an elegant, dressy clutch rather than the casual or the simple ones.
– Depending on your personal preference, think of a few items that you will actually need to take with you. Some women might need to bring many items like an ID, iPhone, some cash – if there is a cash bar –, flip flops, a shawl, a pocket camera, as well as a little touch-up makeup like a compact, lipstick, hairpin, brush, etc. And for carrying these, you might need a larger purse.
– On the other hand, you also need to avoid temptation to bring "unnecessary" items. Then again, what and how many items should you bring depend on your personal choice. Basically, the larger the purse, the more likely you will be to fill it, and the smaller the purse, the more elegant you will get. Think wisely and smartly. Choose a purse that can accommodate your essentials and nothing more.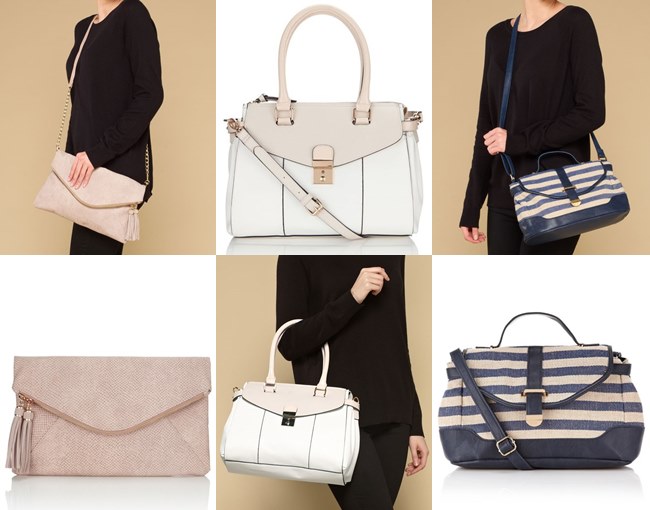 – If you need to bring a spare pair of flip flops to wear during dancing, then it's time to supersize your evening bag. Your mission is to find a purse that is approximately 7.5 or so inches wide (or your shoe size). Larger clutches are actually one of the trendiest look for a vintage wedding since most women of the 1920′s also brought a spare pair of flats when attending to a wedding, they obviously didn't wear 4 inch heels for an entire night of dancing.
Here are some ideas of small and large clutches: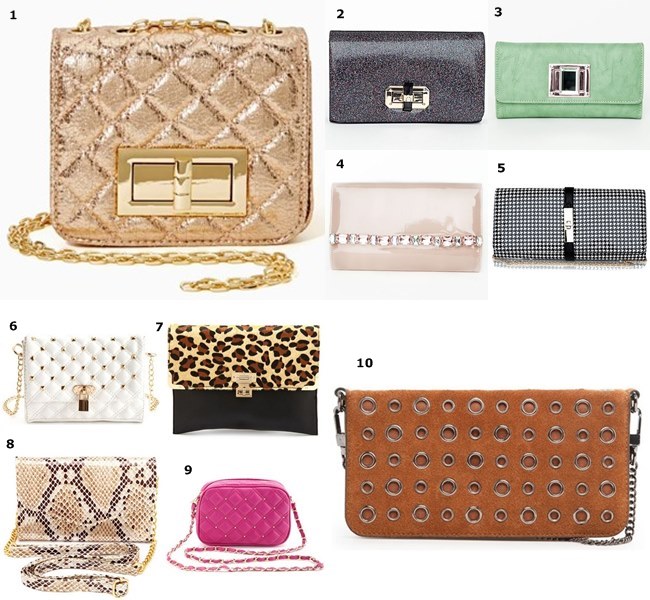 1. Nasty Gal : Elysian Quilted Clutch ($40.00)
2, 3, 4, 5 : MISSGUIDED
6, 7, 8, 9 : charlotte russe
10. MANGO : Eyelet suede clutch ($49.99)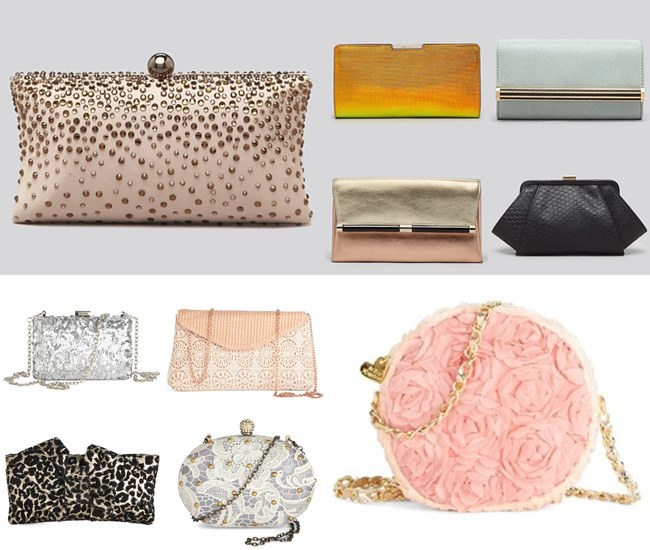 Above : Clutches from Bloomingdales
Below : Clutches from ModCloth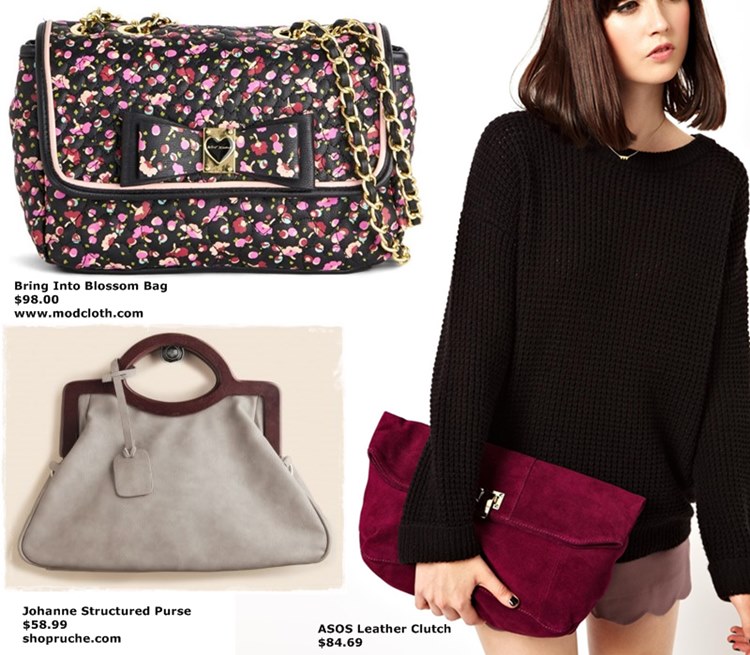 Continue the article "What to Wear to a Wedding : Shoes, Clutches and Jewelries (Part 3)" for more ideas and tips of wedding guest jewelries, and accessories.