As beautiful as a winter wedding can be, being invited the occasion as a guest can become an issue that you're feeling a little stumped about what to wear for the nuptial. Don't worry, whether you're headed to an afternoon formal wedding, a black tie affair, or a less formal but still-dressy evening wedding, wrap up and still look smart with these numerous ideas from 12 most popular plus size labels, featuring plus size wedding guest dresses to don to every fall and winter wedding over the next few months.
Obviously, there's more to attending a wedding than getting dressed up. To be a great wedding guest, you need to take a few nuptial-attire rules into consideration and give your best, appropriate look for the happy couple. Learn these articles for easy tips and style ideas of wedding guest dress:
1. Wedding Guest Attire: What to Wear to a Wedding
– Part 1 : a straightforward list of style dos and don'ts to guide you through wedding season
– Part 2 : what to wear to a wedding regarding to the venue (the formality, time, and theme of the wedding)
– Part 3 : what to wear to a wedding regarding to the weather, location, and season of the venue
2. What to Wear to a Wedding : Shoes, Clutches and Jewelries
3. Plus Size Wedding Guest Dresses and Accessories Ideas
4. Spring Summer 2015 Plus Size Wedding Guest Dress with Guidelines : knowing wedding guest dress codes for plus size ladies
5. Wedding Guest Dress Spring Summer 2015 from Various Labels : a more detailed cheat sheet of wedding guest dress codes
6. Plus Size Wedding Guest Dresses tags : numerous plus size wedding guest dress shopping ideas for all seasons
And finally, here I've got you covered with various favorite dresses from 12 popular plus size fashion labels. Scroll down for some of the best picks to wear at any fall and winter wedding this year 2015
Anna Scholz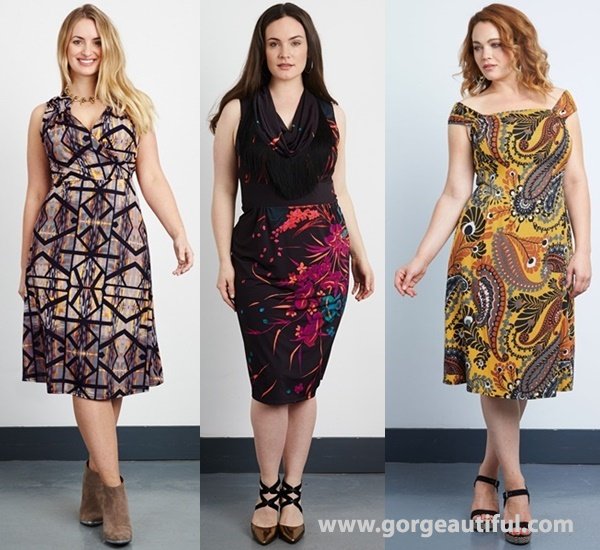 Crepe Jersey Ruched Wrap Dress ($67.87) / Digital Jersey Fringe Cowl Dress ($430.39) / Double Silk Off Shoulder Dress ($145.00)
There's some great options offered by Anna Scholz for your "Dressy Casual" wedding guest dresses, featuring comfortable and easily polished printed dresses that can be matched with tailored blazer, festive pumps, along with dainty jewelries for daytime, and a bit of bolder pieces for the evening venue. While for a more formal "Black Tie Optional" wedding guest dress code, the maxis and slivery sheath dress are great to create a bit of flair.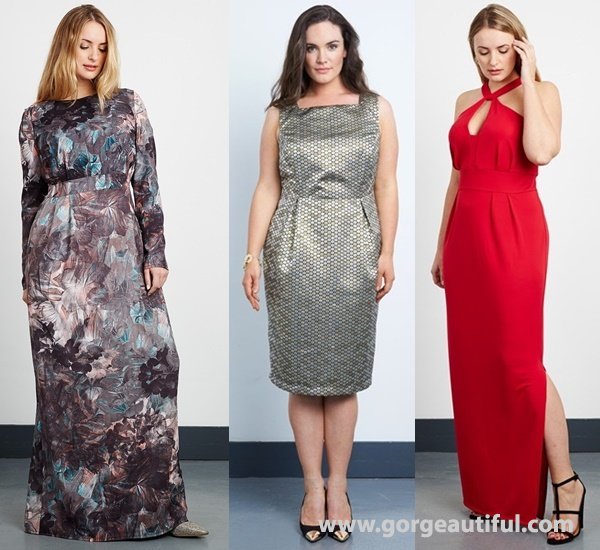 Chiara Space Maxi Dress ($424.21) / Sequin Jacquard Lolita Dress ($84.84) / Crepe Jersey Halter Maxi Dress ($353.26)
Ashley Stewart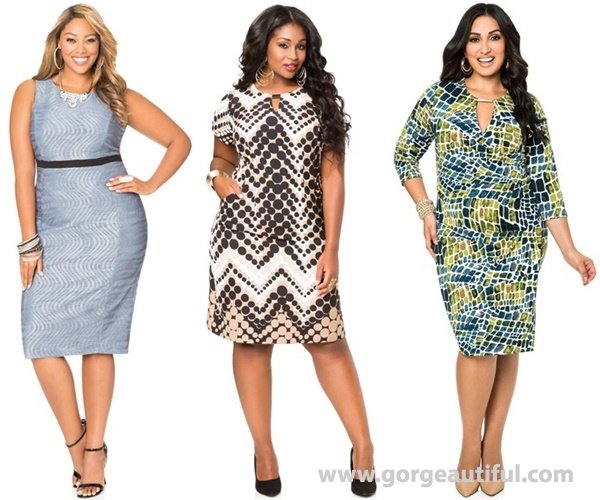 Textured Knit Sheath Dress ($40.87) / Chevron Dot Sheath Dress ($40.87) / Tile Print Faux Wrap Dress ($37.12)
From formal to semi-formal, from afternoon to evening options, Ashley Stewart offers sheath and wrap dresses with chic prints, great to wear for fancy and festive afternoon venue, while the three black pieces including maxi and skater dresses as well as jumpsuits are perfect to add touch of glams in the evening, especially when paired with something metallic and shiny, like golden belt, clutch and heels, or other sparkling jewelries to give the look a more festive vibe.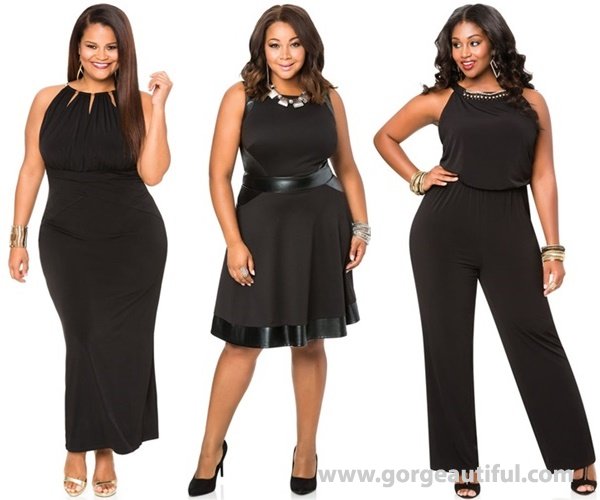 Keyhole Halter Maxi Dress ($44.62) / Faux Leather Ponti Skater Dress ($40.87) / Beaded Neck Halter Jumpsuit ($44.62)
Just remember when you are going to wear black in the wedding, make sure the couple is okay with the color, and that you look sleek and party-appropriate in the dress, not over-the-top or high-drama. As long as the dress feels fun and light, looks dressy and fancy for a party, then you are fine.
ASOS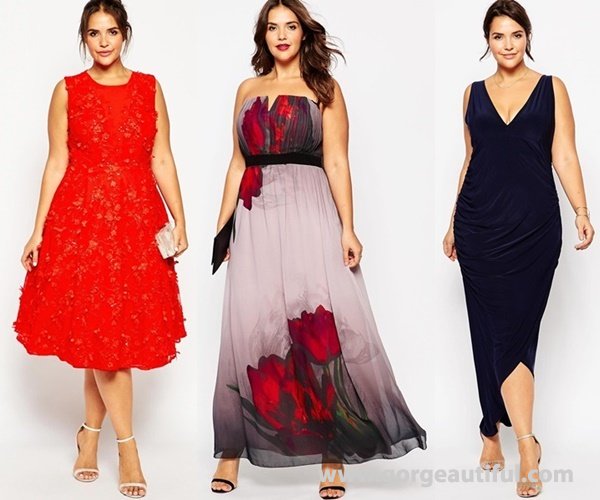 Chi Chi London Plus 3D Floral Embellished Midi Dress ($126.00) / Little Mistress Strapless Tulip Print Maxi Dress ($117.00) / Club L Plus Plunge Front Ruched Midi Dress ($64.00)
Just like how the label always proposes a bunch of beautiful and gorgeous selections for any occasions, this time Asos proposes several wedding guest dresses for full figured ladies in variety of styles and designs perfect to choose for all different wedding dress codes. Pick bright and light colors for the afternoon flair, such as red and turquoise, or go for rich jewel tones like cobalt and dark blue in the evening.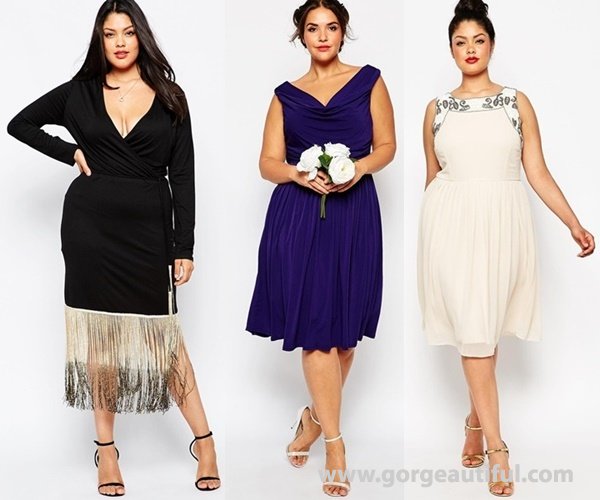 Club L Plus Wrap Front Fringed Hem Midi Dress ($73.00) / ASOS CURVE WEDDING Drape Cowl Neck Pleated Midi Dress ($86.00) / Lovedrobe Embellished Midi Skater Dress ($126.00)
As for the white dress, you can always add layer – like blazer, bolero, or silk scarf in other color – to slightly cover the dress, so that you don't look like wearing too white-y or bridal-y attire.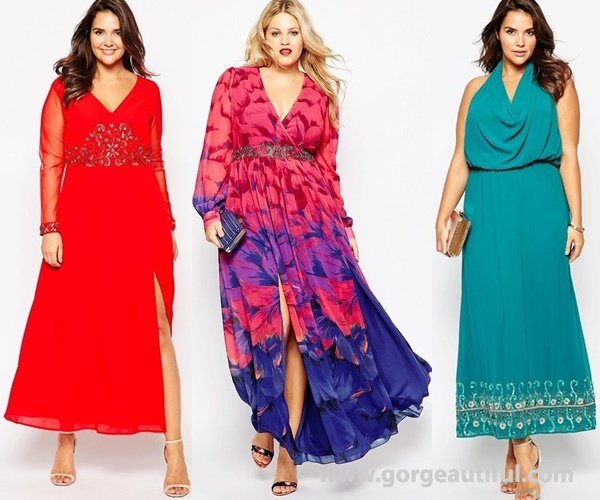 Lovedrobe Plunge Front Maxi Dress With Embellished Cuff ($163.00) / Little Mistress Plus Printed Maxi Dress With Wrap Front ($135.00) / Lovedrobe Bardot Cowl Neck Embellished Hem Maxi ($161.00)
ELOQUII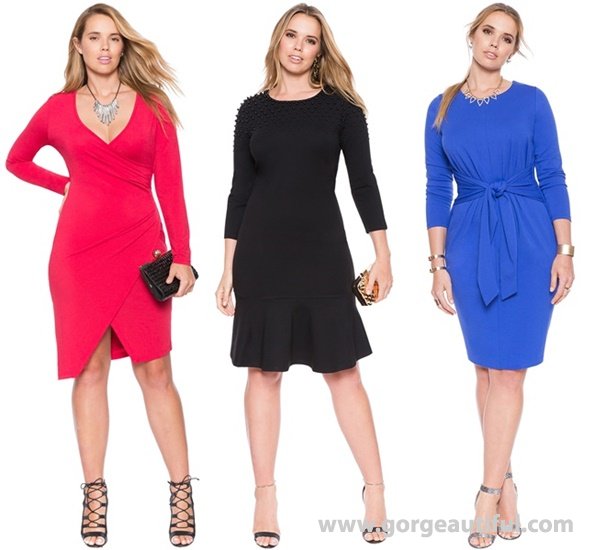 Asymmetrical Wrap Dress ($89.90) / Studio Pearl Shoulder Peplum Dress ($169.90) / Front Tie Waist Dress ($99.90)
Probably a little bit too casual for an evening wedding option, but Eloquii comes with sweet and simple picks for afternoon venue, featuring beautiful bold colored dresses in different cuts and designs, and could easily be dressed up for a dressy casual event or dressed down for something less formal.
Fashion to Figure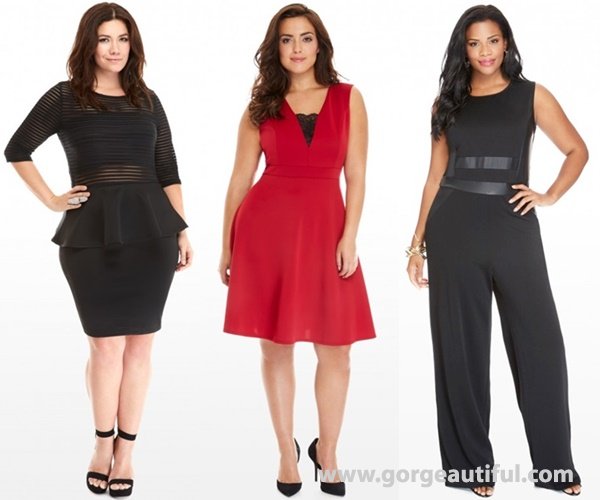 Jet Illusion Stripe Peplum Dress ($42.90) / Touch of Lace Flare Dress ($42.90) / Lolita Techno Crepe Jumpsuit ($48.90)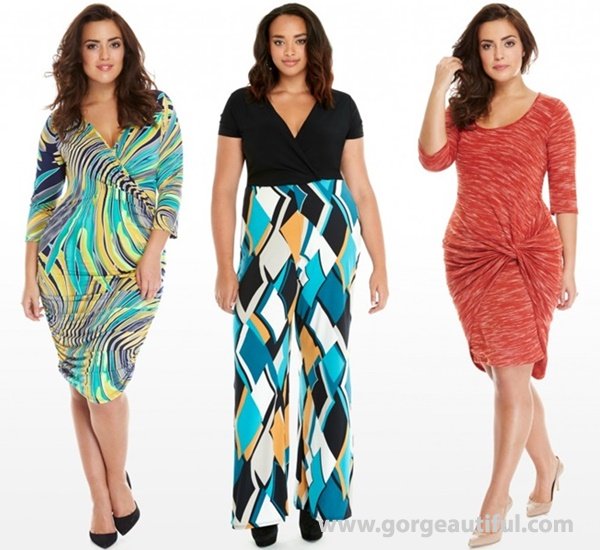 Kyra Abstract Print Dress ($44.90) / Modern Art Geo Print Jumpsuit ($46.90) / Kalen Knot Side Dress ($42.90)
From casual wedding, to fancy semi-formal, to formal black tie optional, plus size retailer Fashion to Figure, proposes various trendy wedding guest dresses for the season, filled with interesting prints and details like mesh, knot, and ruched. Among the selections, there're printed wrap dresses for casual wedding, stylish jumpsuits for a more formal flair, as well as LBD and maxi dresses for formal options.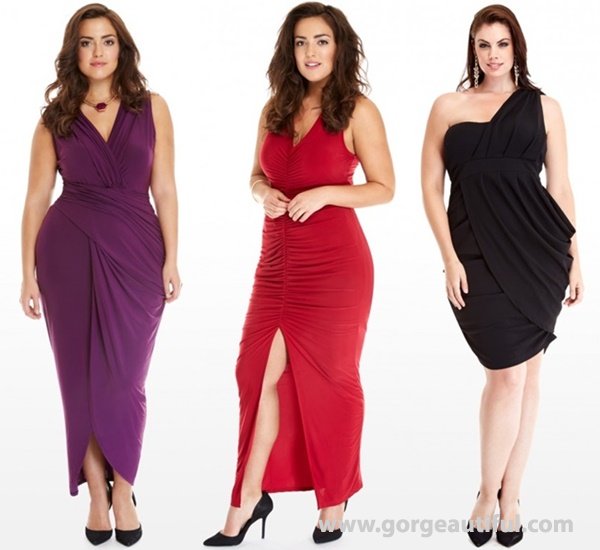 Cirrus Draped Maxi Dress ($46.90) / Nimbus Ruched Maxi Dress ($44.90) / Grecian Draped Dress ($44.90)
Forever21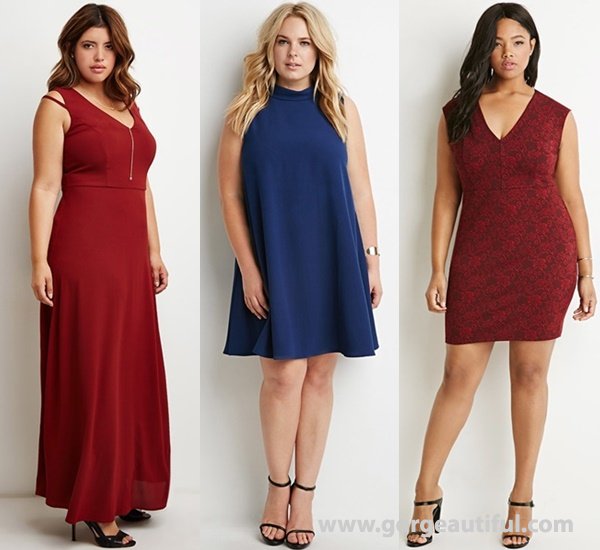 Strappy Maxi Dress ($27.90) / Funnel Neck Crepe Dress ($24.90) / Rose Print Bodycon Dress ($19.90)
Although Forever21 doesn't feature many options for wedding guest, there's still a few of wedding party-appropriate dresses including bodycon and shift dresses for a more casual looks during the afternoon, various LBD and lace pieces for a more formal flair, as well as a striking Draped Chiffon Lace Dress in black and red for an evening black tie wedding guest attire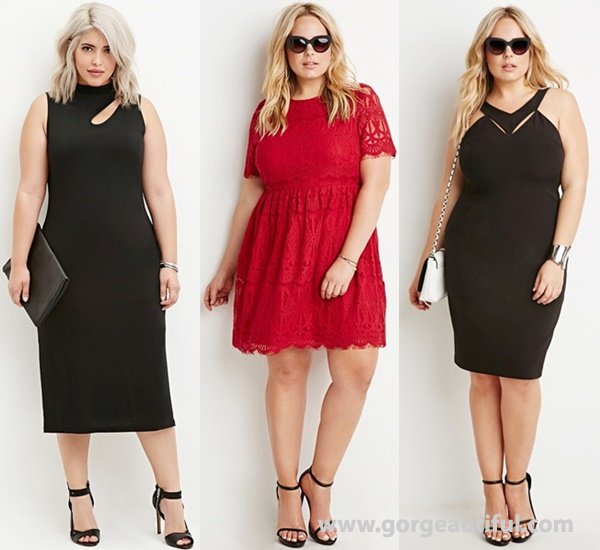 Cutout Midi Dress ($24.90) / Eyelash Lace Fit & Flare Dress ($29.90) / Cutout V-Front Dress ($27.90)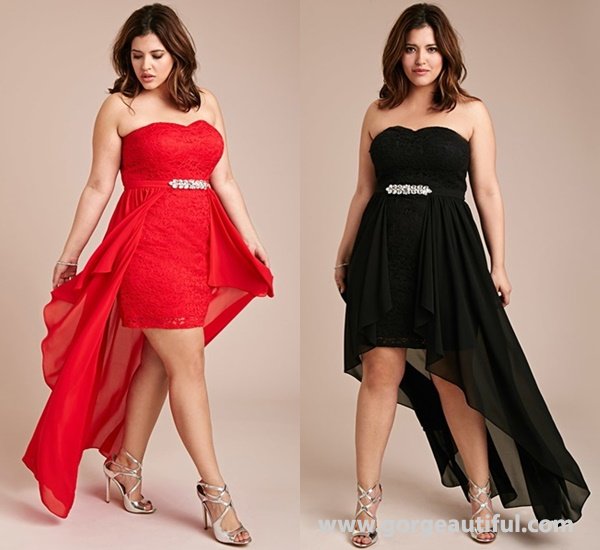 Draped Chiffon Lace Dress ($49.90)
IGIGI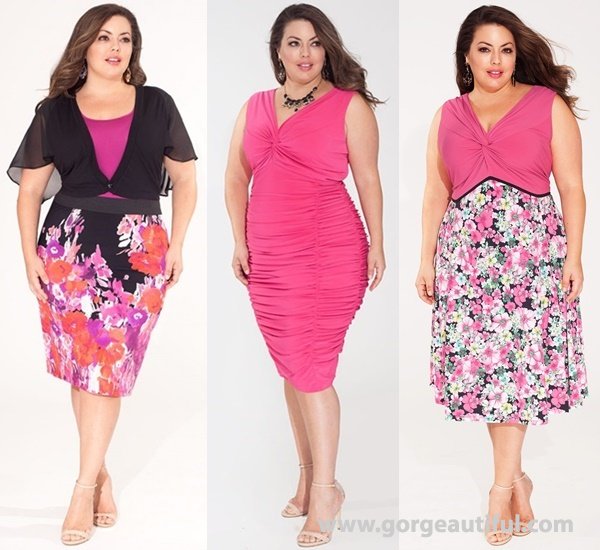 Glenn Capelet in Black ($58.00) / Sonia Plus Size Dress in Fuchsia ($148.00) / Christine Plus Size Dress in Fuchsia ($128.00)
Filled with feminine silhouette with styles that create an hourglass curve, IGIGI always knows how to present their beautiful wedding guest dresses, from casual to formal, still with refreshing and luxe floral prints, alongside every rich color that appear in each of the label's line-up. The bright pieces with a touch of pink are great to wear in any afternoon dressy casual wedding, while numbers of lace and maxi dresses in black and white or in glamour silvery hues will look super elegant during the night of formal wedding.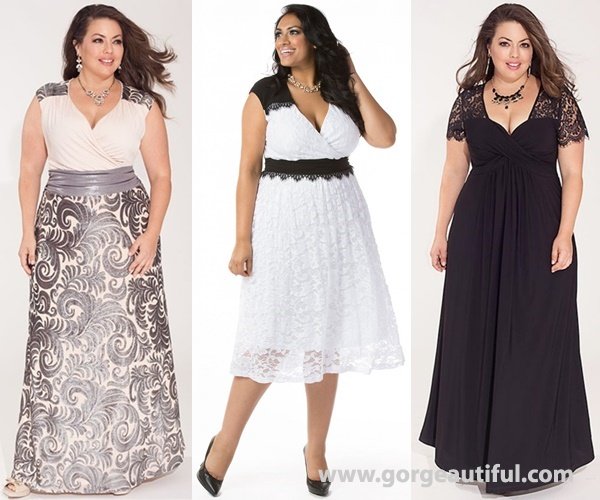 Lisette Plus Size Gown in Blush Argent ($398.00) / Berenice Plus Size Lace Dress in White ($178.00) / Monica Plus Size Gown in Black ($238.00)
Lane Bryant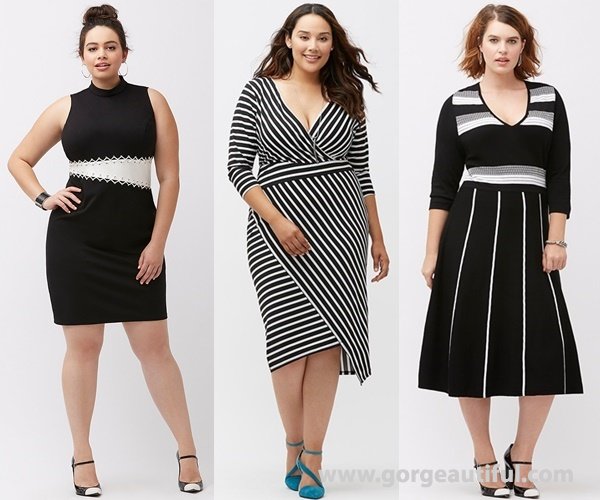 Eyelet bodycon dress by ABS by Allen Schwartz ($283.50) / Simply Chic matte Jersey bias stripe dress ($89.95) / Striped sweater dress ($89.95)
Be monochromatic with Lane Bryant, as this season the label offers a range chic black-and-white cocktail and party outfits, along with a few of stylish LBD started from bodycon to skater to sheath dresses. Among the dresses, one of the black bodycone comes with unique laced-up eyelet detail, the luxe matte Jersey dress in statement-making stripes features an on-trend asymmetrical hem and flattering neckline, while soft and sassy sweater dress looks flattering with sexy deep V-neck and long sleeves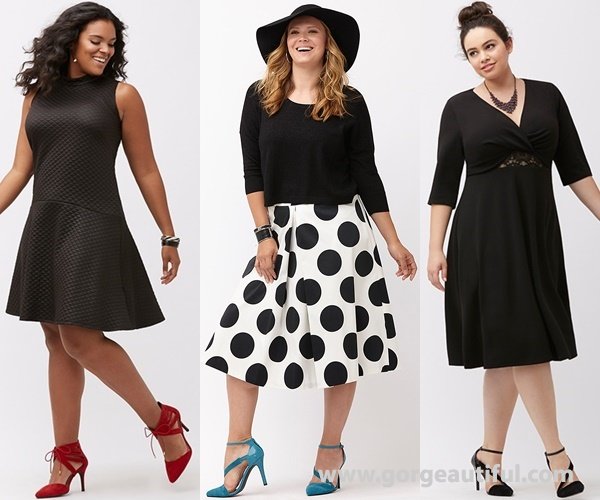 Quilted mock neck dress by ABS by Allen Schwartz ($283.50) / Polka dot midi skirt ($31.00) / Peek-a-boo Perfection dress by Kiyonna ($118.00)
MISSGUIDED
Plus Size Wrap Dress Grey ($60.00) / Plus Size Slinky Wrap Maxi Dress Black ($70.00) / Plus Size Wrap Dress In Jersey Rust Slinky ($60.00)
This season, Missguided mostly proposes a vast range of daywear attire, while for the party flair they comes with some simple yet classic pieces of wrap dresses with ruched, slits and interesting pleats, whether maxi or knee-length
NAVABI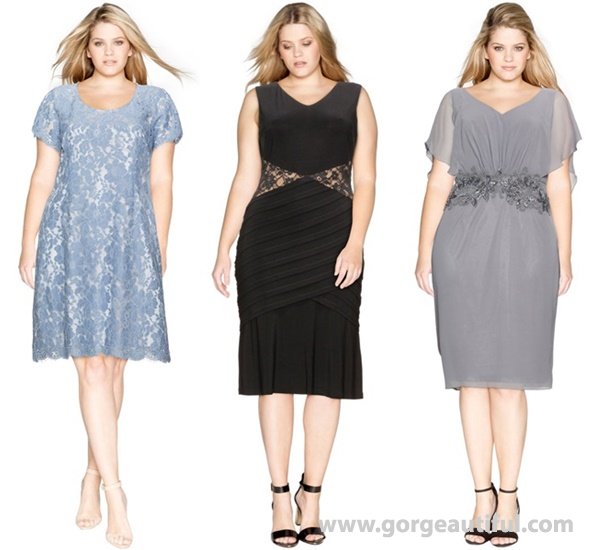 Manon Baptiste A-line lace dress ($288.90) / Tia Dresses Lace detail dress ($350.90) / Viviana Embroidered cocktail dress ($626.90)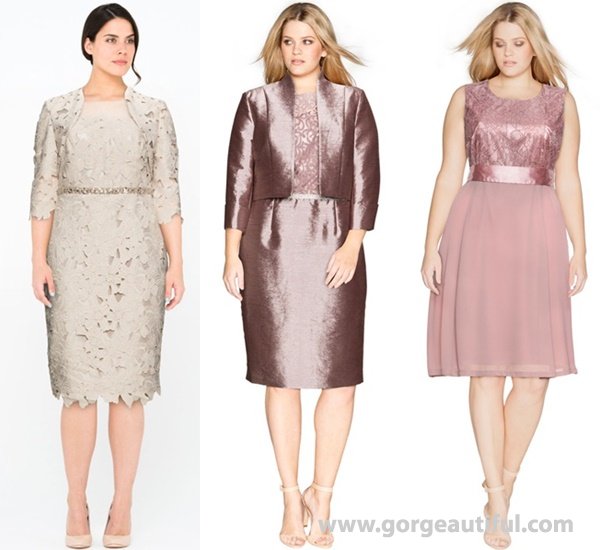 Mascara Cocktail dress with matching cover-up ($515.90) / Mascara Cocktail dress and matching cover-up ($450.90) / Manon Baptiste Lace-chiffon ribbon tie dress ($349.90)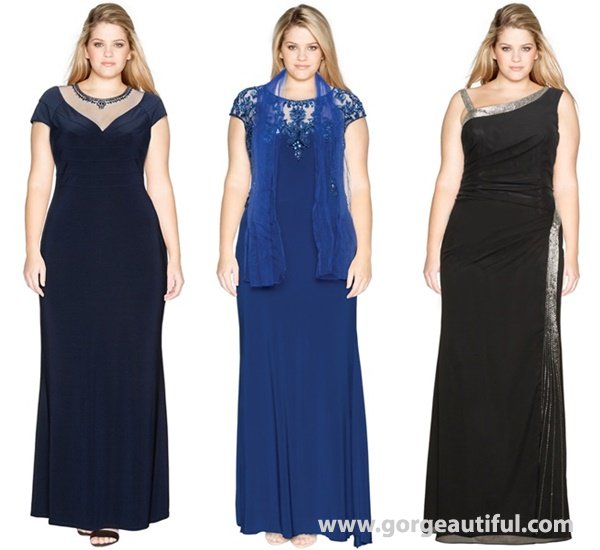 Gina Bacconi Beaded neckline evening dress ($466.90) / Angel Forever Embellished chiffon floor length gown ($666.90) / Weise Embellished Asymmetric Evening Gown ($431.90)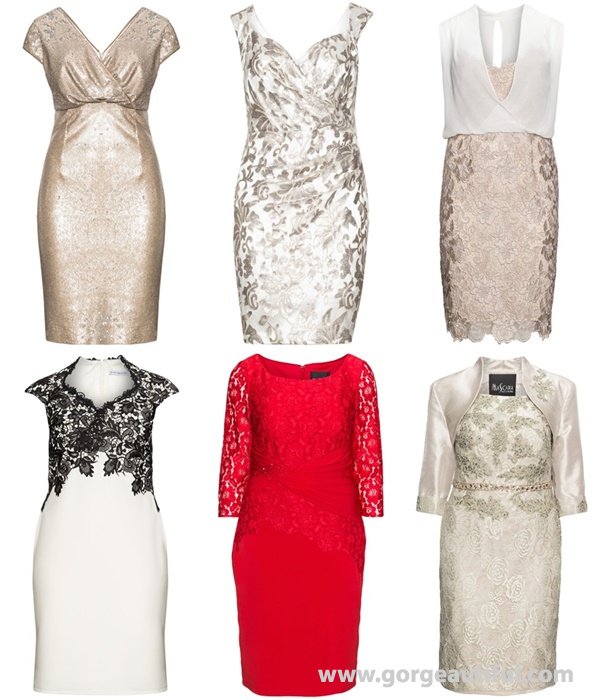 L-R : Ariella Wrap front cocktail dress ($345.90) / Ariella Sequin wrap cocktail dress ($346.90) / Gina Bacconi Chiffon lace dress ($440.90)
L-R : Gina Bacconi Lace embroidered dress ($440.90) / Mascara Drape detail lace pencil dress ($386.90) / Mascara Lace dress with coordinating shrug ($400.90)
Featuring lots of fabulous and classic options for wedding guests, Navabi offers party and cocktail selections in soft winter-y hues of silver, light bronze, gray, pale blue and blush, as well as the timeless and luxe colors of black and navy. With elegant wrap such as bolero or scarf, as well as sleek details of lace, mesh, and pleats, from afternoon to evening, most of the offerings are dedicated to formal events, whether it's black tie optional or black tie.
Simply be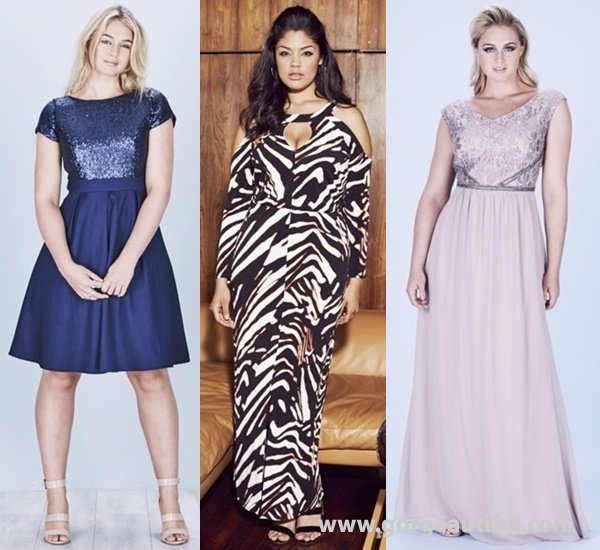 Sequin Prom Dress ($124.99) / Anna Scholz Animal Print Maxi Dress ($107.50) / Little Mistress Lace Maxi Dress ($129.99)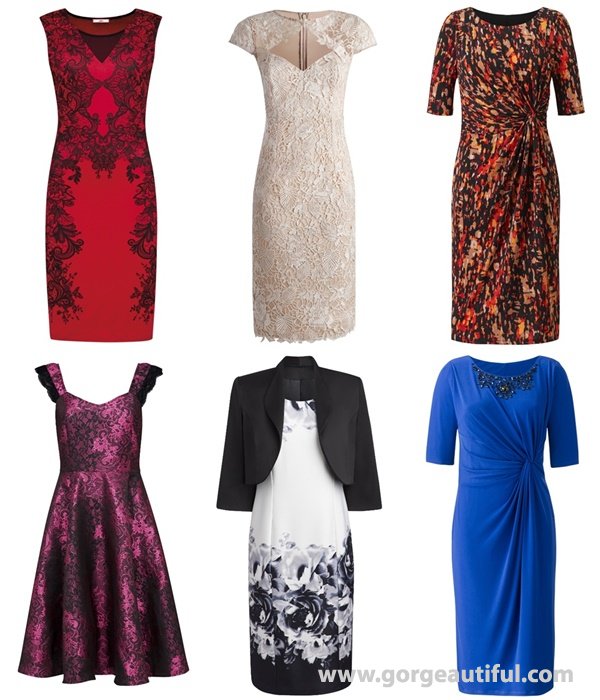 L-R : Joe Browns Romantic Reflection Dress ($79.99) / Joanna Hope Short Sleeved Lace Dress ($164.99) / Graphic Print Twist Front Dress ($59.99)
L-R : Joe Browns The Effervescent Dress ($124.99) / Joanna Hope Print Dress And Bolero ($247.50) / Embellished Twist Knot Dress ($74.99)
Just like how the label always comes with trendy, fashion-forward pieces. For this cold season, plus size retailer Simply Be features a range of fabulous dresses for wedding guests, from maxi to midi, from sheath to fit-and-flare, from casual to formal, with lots of interesting prints and elegant details such as laces, sequins, knots and pleats.
Tadashi Shoji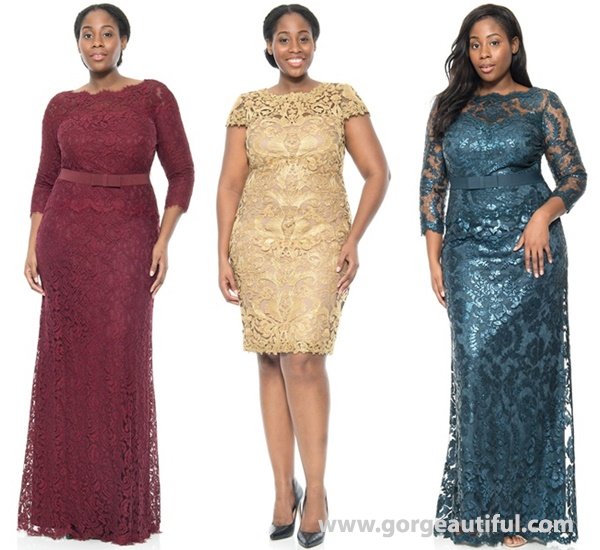 Illusion Lace ¾ Sleeve Gown with Grosgrain Ribbon Belt ($428.00) / Corded Embroidery on Tulle Cap Sleeve Dress ($468.00) / Paillette Embroidered Lace ¾ Sleeve Gown ($548.00)
With the label's signature of luxe and glamour silhouettes, Tadashi Shoji is one of your choices for Black Tie, or even White Tie wedding events. Sheer and glossy details, gold embroidery accents, as well as delicate fabrics of lace and tulle, all proposals sure will take you to the higher level of luxury and glams, while creating an effortless silhouette that flatters curves and fashions an hourglass silhouette.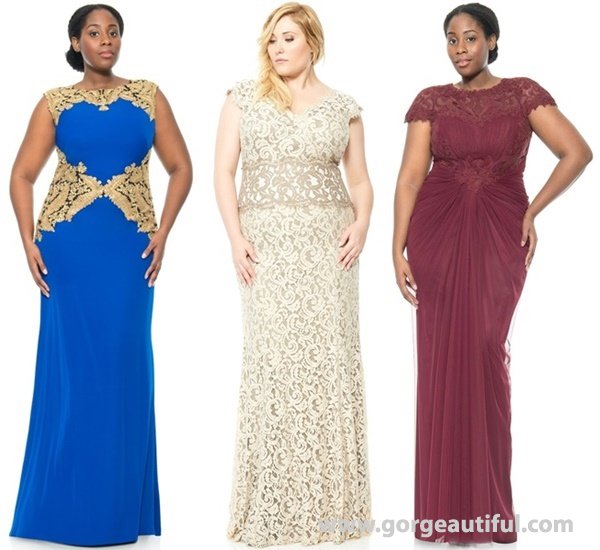 Myna Gown ($548.00) / Contrast Lace Waist Gown ($428.00) / Corded Lace and Draped Tulle Gown ($508.00)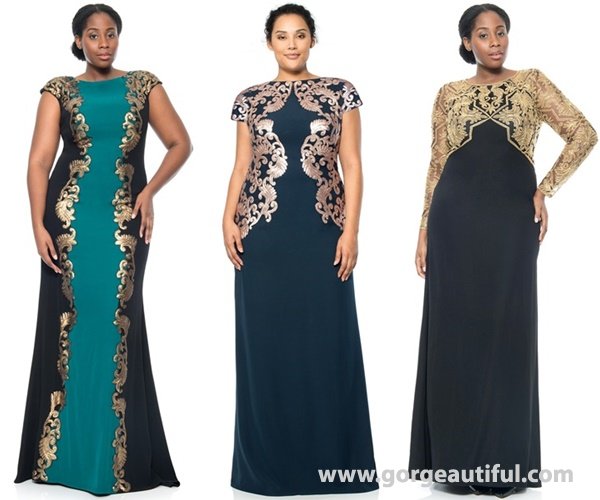 Crepe Boatneck Gown with Metallic Paillette Detail ($608.00) / Crepe Draped Open Back Gown with Metallic Paillette Detail ($588.00) / Sora Gown ($468.00)