No matter your body type and size is, nobody wants to be inappropriately dressed at a wedding, nobody. But, choosing what to wear to a winter wedding can be a bit of a sartorial nightmare, as it gives you something to look forward to during the cold days that you have to think about which dresses go well with layering and cover-ups. And happily, exclusively for curvy ladies, Adrianna Papell has got you covered with their beautiful plus size wedding guest dress collection for fall and winter wedding days.
Filled with a tone of winter-wedding-appropriate fabric and prints – from dark yet divine florals to beautifully romantic rich jeweled tones – whether you're headed to a day wedding, a black tie affair, or a less formal but still-dressy evening flair, depending on the venue, time of day and theme, you can really have fun choosing what to wear through the line's selections, from floral, lace, and chiffon to floor-length gowns, fit-and-flares, and sheath just to name a few.
Take a look at a few range of Adrianna Papell plus size party dresses to wear at weddings coming up over the fall and winter months – whether it's casual, dressy casual, black tie optional, or black tie. Plus, learn more about wedding guest dress codes at "Spring Summer 2015 Plus Size Wedding Guest Dress with Guidelines"
Black Tie
Since "Black Tie" is the next most formal wedding dress code – after White Tie – and usually means the wedding is an evening affair, a range of long evening gowns proposed by Adrianna Papell can be your choice for a winter wedding. The dresses come in luxe winter hues such as navy, cream, silver and gold with glamorous touch of beads and sequins for giving a little sparkling effect.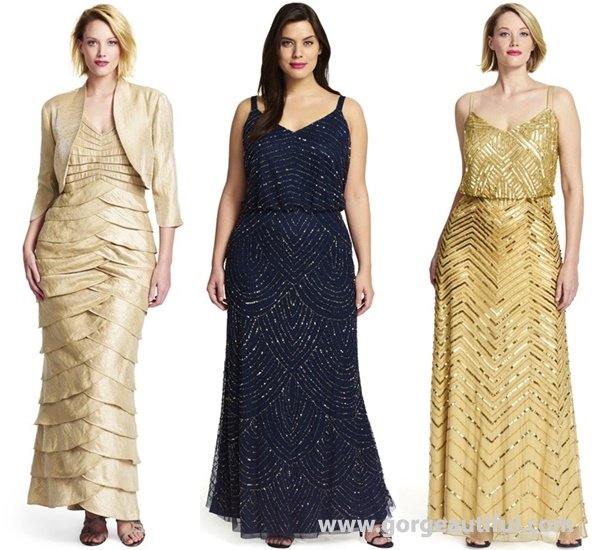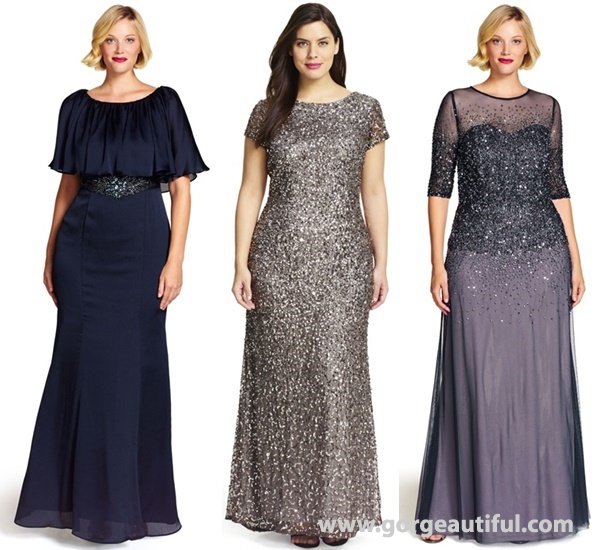 Black Tie Optional
The wording "Black Tie Optional" suggests something slightly less formal than Black Tie, where the ladies can opt for a long dress, a dressy suit, or a formal cocktail-length dress. For this season's wedding venue, Adrianna Papell suggests various lines of cocktail dresses, including a range of sheath, blouson, and shift dresses with attractive detailing such as glittering beads and sequins, chic cape sleeves and flutter sleeves, as well as luxurious fabrics like lace, chiffon, and satin. Even there's an eye-catching cape dress mixes a flowing cape back.
As for the long gowns, although they come in much simpler designs than for the Black Tie, the dresses still offer elegance and luxury to the wearer.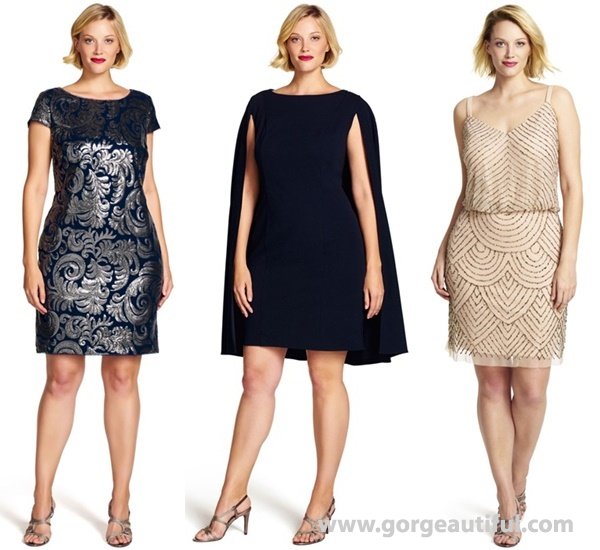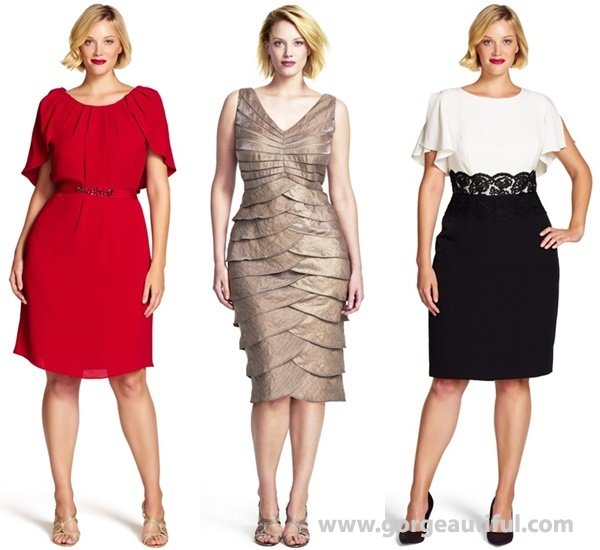 Dressy Casual
Depending on the time of the event, when the invitation says "Dressy Casual", you'll want to dress somewhere between formal and casual. Opt for these fabulously feminine dress selections from the label, started from classic sheath dresses, to shift, to fit-and-flare with little less sparkling and glittering effect, yet still promising luxe and elegant vibe, creating a flattering silhouette perfect for any dressy casual wedding or other special occasions.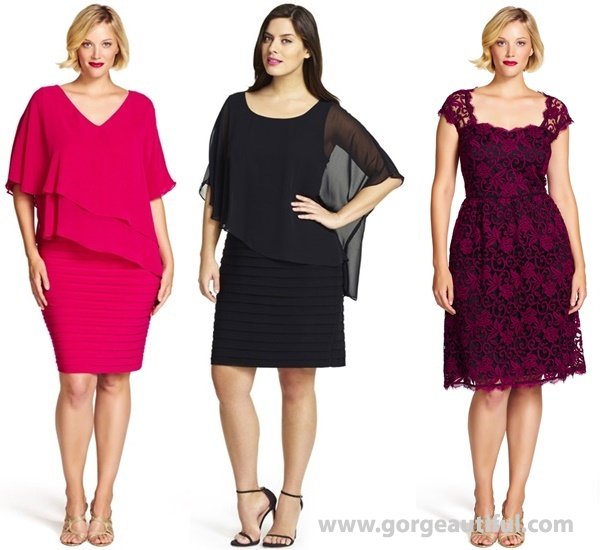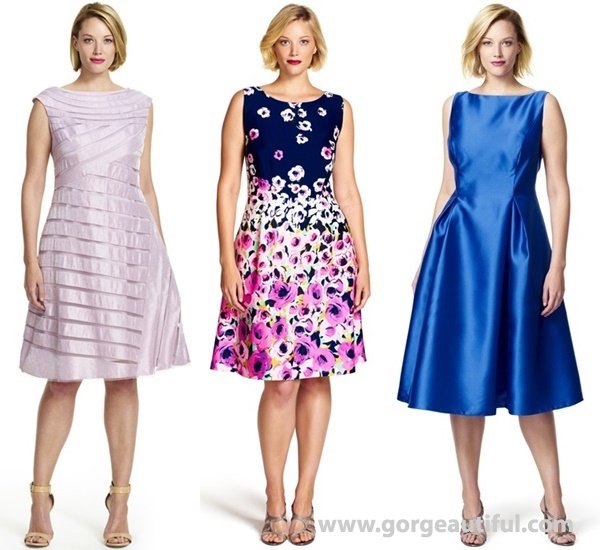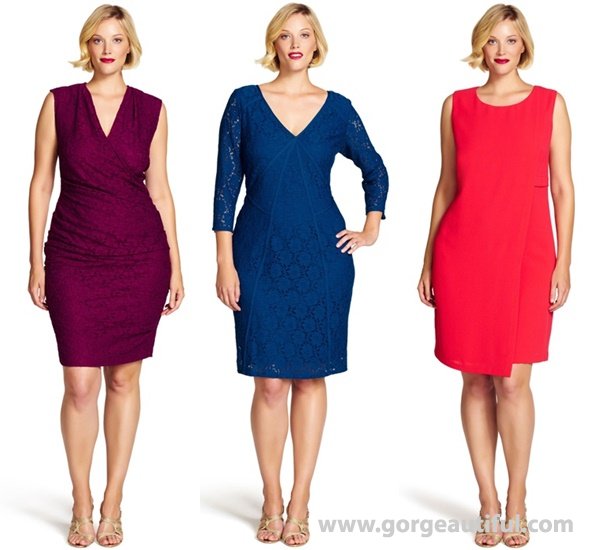 Casual
As for "Casual", this wording is reserved for the more relaxed affair – in the world of weddings, it translates to "business casual". Pick one of a few range of feminine dresses offered by the label, whether you want to go with casual fabrics like lace, organza, or knit fabrics, the selections still promise for a classic, stylish, and girly silhouette.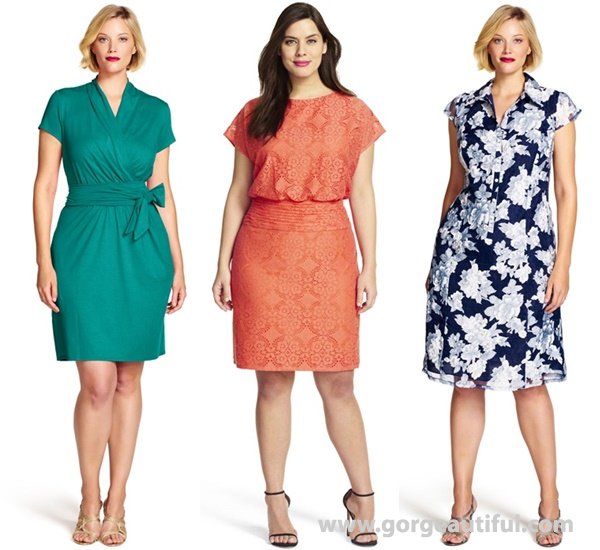 Finally, take a look at these articles of style ideas and advices, exclusively for curvy ladies to choose the right wedding guest attire.
1. Wedding Guest Attire: What to Wear to a Wedding
– Part 1 : a straightforward list of style dos and don'ts to guide you through wedding season
– Part 2 : what to wear to a wedding regarding to the venue (the formality, time, and theme of the wedding)
– Part 3 : what to wear to a wedding regarding to the weather, location, and season of the venue
2. What to Wear to a Wedding : Shoes, Clutches and Jewelries
3. Plus Size Wedding Guest Dresses and Accessories Ideas
4. Spring Summer 2015 Plus Size Wedding Guest Dress with Guidelines : knowing wedding guest dress codes for plus size ladies
5. Wedding Guest Dress Spring Summer 2015 from Various Labels : a more detailed cheat sheet of wedding guest dress codes
6. Plus Size Wedding Guest Dresses tags : numerous plus size wedding guest dress shopping ideas for all seasons