We all love and need the hottest trends, especially when we see plus size fashion blogs are filled with great styling tips, so many style inspirations and options with the most suitable and cool combinations that would give any woman a sugar rush. But obviously every closet also requires style staples, some clothes and accessories that are essential to wear from year to year and for different occasions. Check out these must-have options, and be inspired by twelve fashionable plus size women in their daily attire.
Basically, although you'll get tons of pieces to wear out and they're just so perfect for your trendier combos, here is the ultimate summer wish list for plus-size women ready to take their fashion to completely awesome territories. From festival-appropriate dresses to funky jumpsuits to outstanding midi skirts, these versatile staples are far from boring – though the cuts may be classic, and specifically for the plus size women, they'll flatter your body and flaunt those curves.
MIDI FULL SKIRT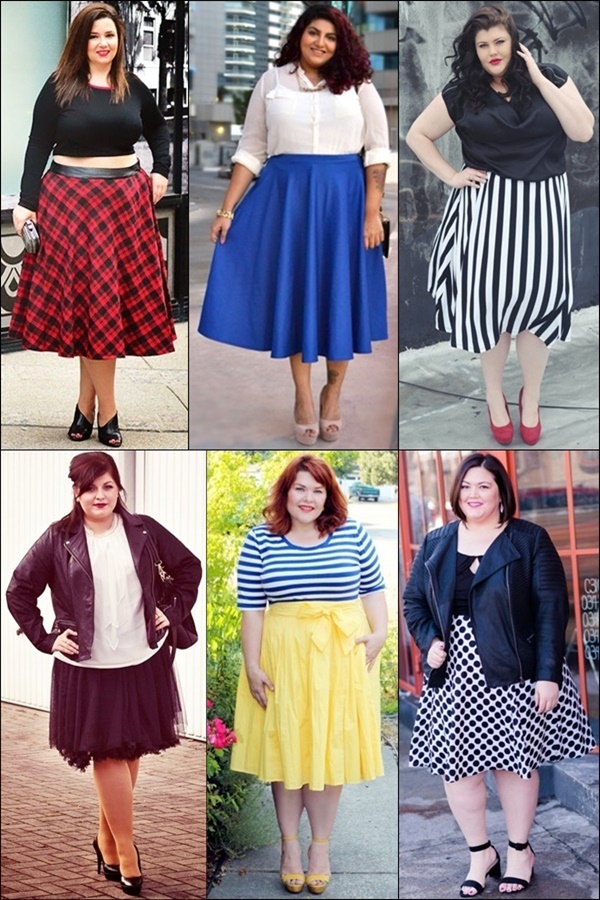 Plus Size Full Midi Skirt Spring Summer 2015 Style Ideas
One of the most suitable and cool fashionable staple that the plus size beauties can try out this summer is the midi-length full skirts. The a line cut is a universally-flattering cut as it shows off the waist and skims the wider parts of the body, perfect to embrace your feminine silhouette especially when it flows with its weightless fabrics. Depending on designs, fabrics, and details, because midi skirts come with different color and print options, they will be an ideal and fun solution for casual walks and hangouts, shopping, and even for formal occasions like afternoon wedding or garden party. Pair your midi skirt with a crop top, chic, flowy blouse either left over the skirt or tucked into it, or you may add with layer.
MINI SKIRT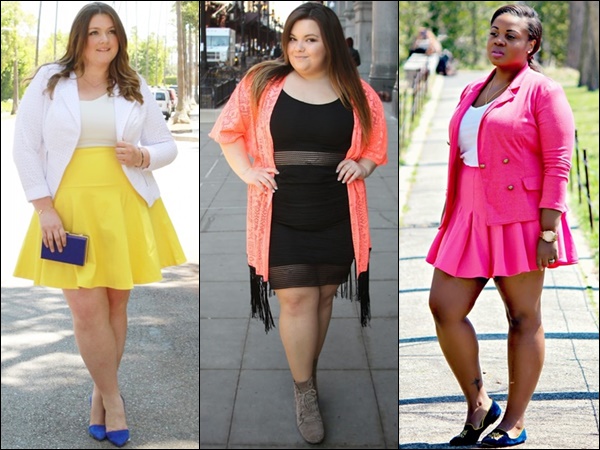 Plus Size Mini Skirt Fashion Ideas Spring Summer 2015
When warmer weather rolls around, curvy ladies may want to show off their gorgeous gams in plus size mini-skirts. Whether you opt for a basic and classic style or a fun and trendy one, from casual to party perfect, these cute staples are timeless for a sexy and updated look. Finding flattering plus size mini-skirts isn't always easy – but once you find that perfect fit, there's no better way to stand out.
You can pair them with matching blazer for a business casual look, go fun with stylish layer such as fringe cardigan, or go simple with a basic, chic top. Just remember, while some fashion "rules" say plus size women can't wear minis, those rules really should just be taken as suggestions and nothing more. There are no real world fashion police coming to arrest you – so wear what you want, and explore fashion in the most enjoyable and fun way.
LITTLE BLACK DRESS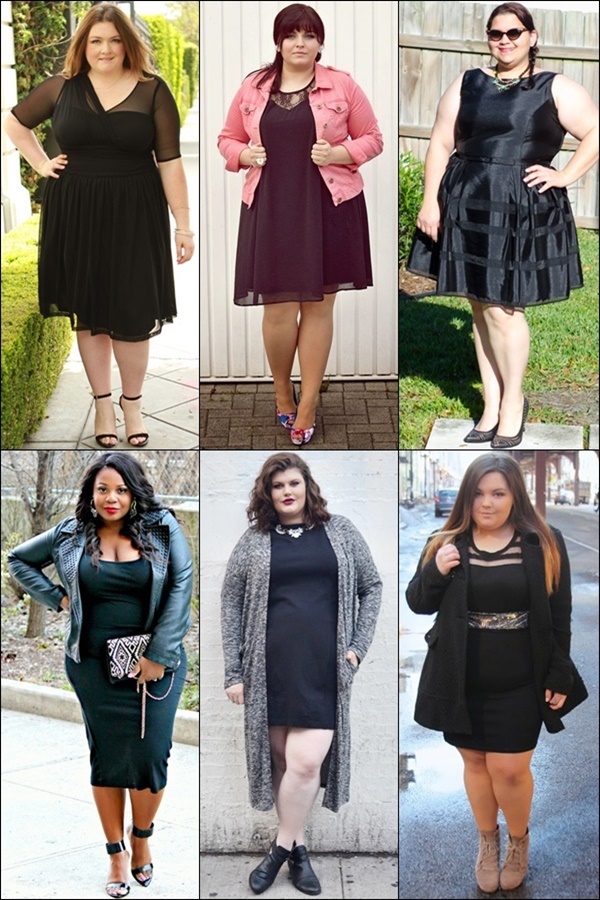 Plus Size Little Black Dress Fashion and Style Ideas
Every woman wants the perfect little black dress. It's always been one of the most essential staple in every closet. For plus size figures, you want the dress to fit perfectly. Too tight and it will look like it was painted on, and too loose will actually make you look bigger than you are. You can even invest in at least 2 LBD's, which one is a casual T-shirt dress and another is a dressier cocktail option. Don't forget to choose good fabrics, because a beautiful fabric will drape your figure beautifully. And finally, try don't go too bare or too sexy for your body, though you don't have to cover up from head to toe. Many who wear LBD prefer to look classy and elegant with a little sleeve or a less revealing neckline.
VERSATILE PRINTED DRESS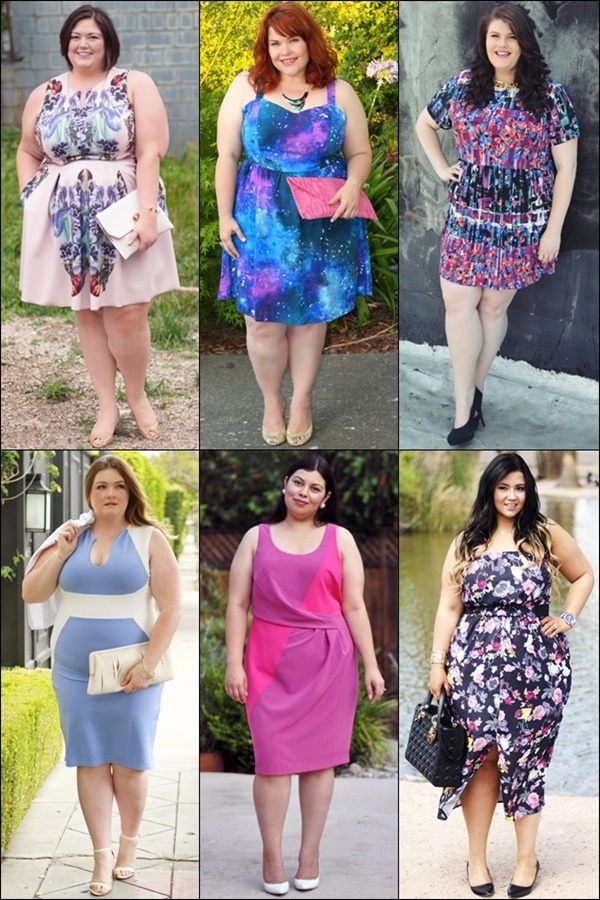 Plus Size Spring Summer 2015 Printed Dress Fashion Styles
Sheath and fit-n-flare dresses are the two most timeless and versatile dress styles to wear for different occasions. These types of dress are the perfect base for working a variety of different looks, whether it's for work or play, that can be dressed up or down and still look all sorts of stylish. And when it comes to how to wear these styles, the printed ones will do all the talking because right now the fashion world is having a love affair with all things printed.
Choose a dress in a bold botanic, floral, or geometric print for a fun twist on this classic style. But be careful when you want to have them for a professional look. Subtle, smaller prints tend to be more office appropriate than bigger, louder prints.
DRESSY PEPLUM TOP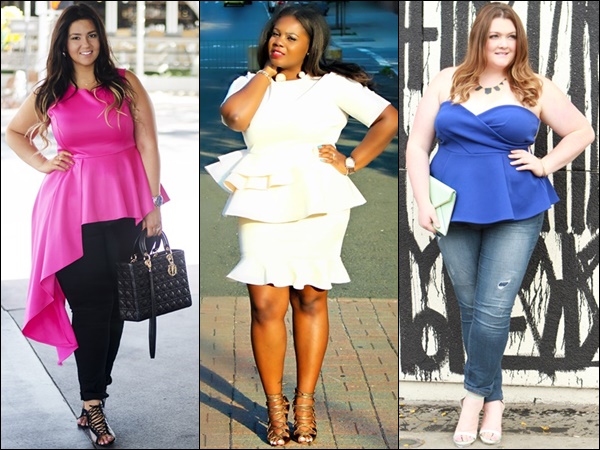 Plus Size Peplum Top Fashion Looks Spring Summer 2015
Looking incredibly stylish and chic, peplum tops have found itself modern, sharp, sweet, and such a curve friendly silhouette – it balances out your figure and creates an hourglass waist, while hiding your tummy. The whole idea of this staple is figure-flattering femininity, and there's a peplum style for everyone. Never afraid to wear those dressy and unique styles in bright color or print, and pair your peplum top with a fitted skirt or bottom to play off the proportions and to give play up your curves.
SHORTS AND BERMUDA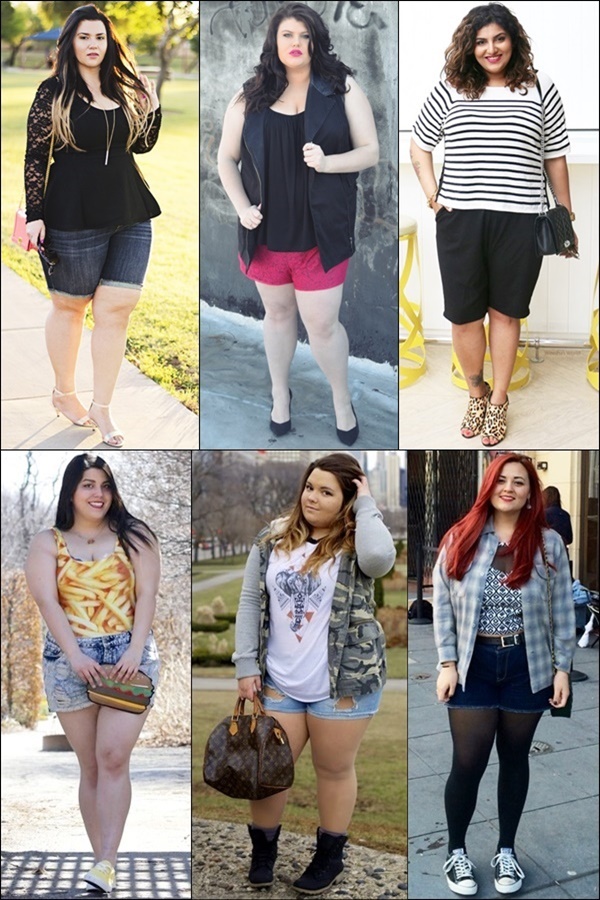 Plus Size Full Midi Skirt Spring Summer 2015 Style Ideas
Nothing cooler and more fun to spend the breezy summer days than opting for a pair of comfortable shorts – even for plus size ladies. So, show some leg with the season's hottest shorts. Whether it's tailored shorts, denim shorts, or Bermudas, take a look at the pictures above of plus size women who rocks different types of plus size shorts in summer. Do they look fabulous? Yes, and they comfortable and able to enjoy their summer like everyone else.
If you have doubt on how to wear plus size summer shorts, check out articles below featuring tips and ideas of plus size summer shorts
– Finding the Most Flattering Shorts to Camouflage Problem Areas
– How to Wear Shorts best for Your Body Type
– Plus Size Fashion Shorts Spring Summer 2015 from Various Stores
– Style Ideas: Plus Size Fashion Shorts for Different Occasions
STRAIGHT PANTS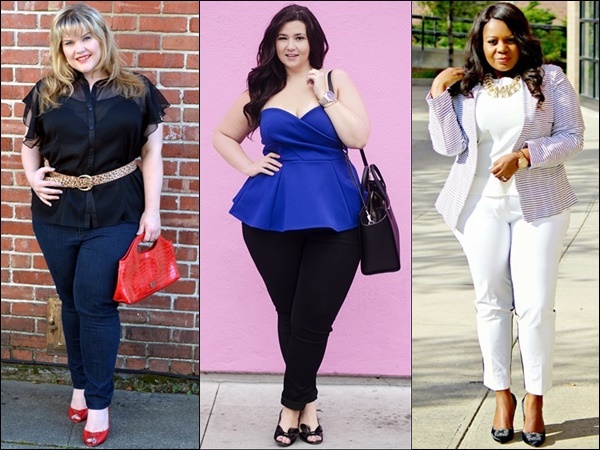 Plus Size Straight Pants Spring Summer 2015 Style Ideas
Similar to a boot cut and a skinny pants, a straight-leg pant style is wider than a skinny leg opening and relaxed yet not as flared as a boot cut or wide-leg pants. Extremely ideal and versatile both for casual and office attire, straight pants will be an ideal piece for plus size women, especially when you choose fabrics with visually smoothing and flattening effect, such as the denim and cotton pieces.
Instead of investing in those pairs in bright, colorful patterns, if you want to get the most out of your money, pants in neutrals are the way to go. Neutrals and classic shades like black, browns, whites, dark blue and even dark olive green, won't draw too much attention and they go great with other colors, meaning they are also easy to pair with different styles of tops.
JUMPSUIT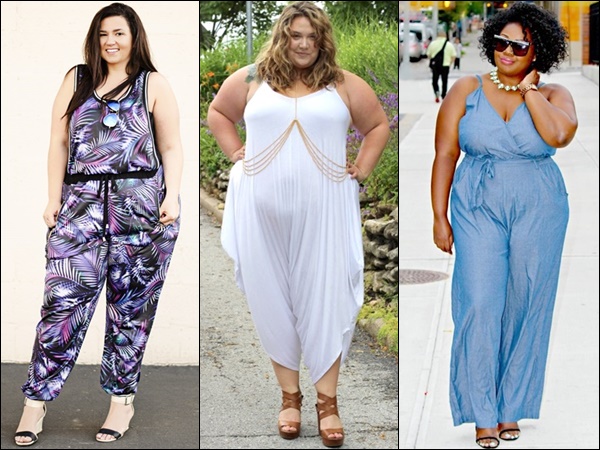 Plus Size Jumpsuit Ideas Spring Summer 2015 Fashion
Jumpsuits and rompers are truly classic, highly fashionable and comfortable piece of clothing. Not only they are easy and versatile, but any woman can find a style that looks amazing on her body – no matter her shape. If you are one of the plus sized people who feel less confident when wearing jumpsuits, there's always a jumpsuit that will work for your curvaceous body and give you a dazzling look irrespective of the occasion. The only trick is to pick the right one, which will flatter your body type the right way. Yes, jumpsuits are the forever plus size fashion.
ESPADRILLE SHOES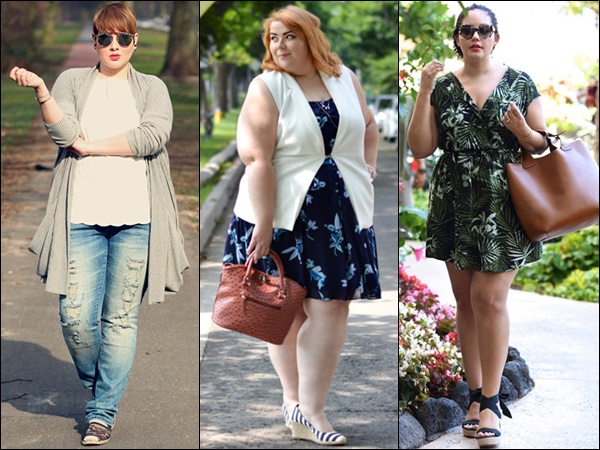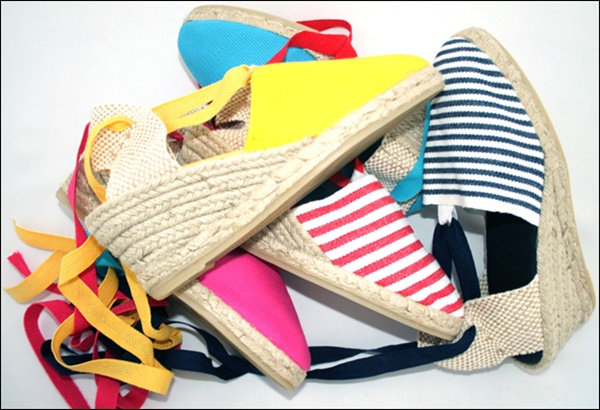 Plus Size Espadrille Shoes Spring Summer 2015 Fashion Trend
When you're shopping for shoes to wear in the summertime, be sure to check out the selection of espadrilles. Whether it comes in flat or heel form, espadrille shoes are one of the quintessential summer shoes, marked by its casual, lightweight, cool and comfortable feature, which ultimately what makes this footwear absolutely fitting for the hot days. And there are also so many kinds of espadrille shoes to choose from – loafers, flats, sandals, platforms, wedges, etc. perfect to dress up and down your perfect summer style. Learn "Ways to Wear Espadrilles Shoes" for style ideas and tips on wearing these shoes.
FLORAL PRINTS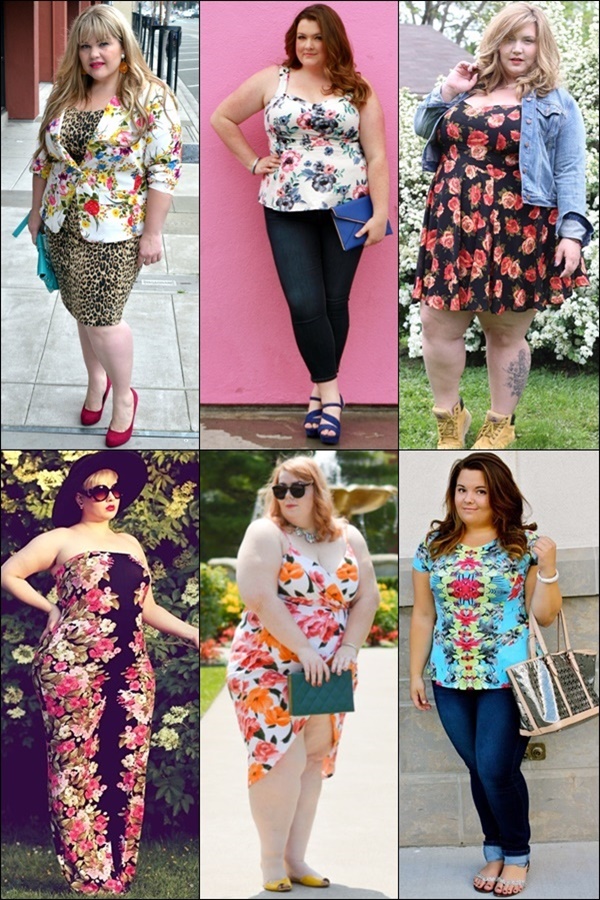 Plus Size Floral Fashion Trend Spring Summer 2015
Another super awesome trend that the plus size ladies can definitely go for is the floral prints. Whether it's large-scale, abstract, blurred watercolor effect florals in bold hues or the traditional floral prints that we know and love, find yourself this summer being drawn to brighter, happier colors and prints, and of course, lots of florals, which are, obviously, at the forefront of the plus size fashion trends for all the years round. If you are a curvy beauty and you can't help enjoying those delicate and sweet design patterns, try to pick the corresponding and good options like small prints and patterns.
While a knee length sheath or flowly floral dress, and skirt or even a maxi will look stunning for a night out or even a fancy dinner date, a structured floral top, jumpsuit, or even a tailored floral print jacket will work wonders for daily wear. Learn "How to Wear Spring Summer 2015 Plus Size Floral Fashion Trend" on how to rock this spring with various style ideas and options
Finally, I hope you all like this article and love the twelve bloggers (links provided below) who consistently offer serious outfit inspiration, no matter what your size. Click through their link to check them out! And don't forget to check these articles of other plus size bloggers related to fashion, styles, and clothing. Have a great day =))
Authentically Emmi – Emily Ho
Clothes and Shit – Jessica Ip
CONQUORE The Fashion Cafe – Ela Zdera
Fat Girl Flow – Corissa Enneking
Jerilinn's Blog – Sarah Jerilinn
Latesh Wrinkle – Amanda Montgomery
Lu Zieht an – Luciana Blümlein
Lovely in LA – Rachel Richardson
Natalie in The City – Natalie Craig
Sometimes Glam – Crystal Coons
The Manfattan – Melissa Campbell
Wheesa's World – LuAnne D'Souza aka Weesha