As the fashion world always spins one season ahead of the present, take a look at your wardrobe now and find most statement-making staples that embrace those cute and fabulous sporty-mixed-girly looks. You cannot go wrong with these outfits. From all-whites attires to structured shapes to modern floral patterns in pastels to iridescent metallic influence to art-inflected designs to athletic pieces, all are key pieces you should be lusting after for the Spring Summer 2014 season.
Many of us will probably be hitting the shops this weekend for some new season essentials. But if you look closely in your closet, it's not that difficult to get this season most lust-worthy trends since they are so versatile that you can mix-and-match pieces you've already had. Or to ensure you don't end up frittering away funds on random purchases, I've done a bit of window shopping on your behalf to get a new perfect capsule wardrobe.
Check out the article "Spring Summer 2014 Fashion Trend Styles and Colors" for a round-up of what's trending, and here are top 10 fashion essentials for Spring Summer 2014 that you can buy on the high street and wear now. Where to buy them now and how to wear them.
Sporty Chic
Key pieces: sneakers, baseball cap, sweatpants or shorts, joggers, a slouchy t-shirt, sweatshirt, crop top, bomber jacket, and chic jersey.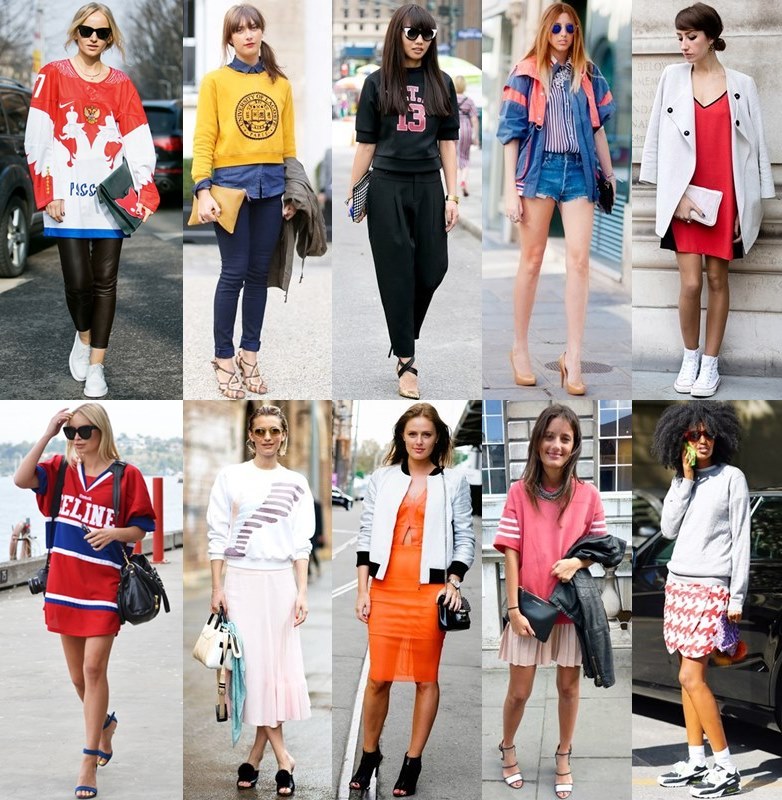 How to wear: When pulling off the sporty-chic trend, it is important to wear more chic pieces than sporty pieces. Choose only one or two key pieces and pair them with stylish statement great wearing for a non-gym occasion. Luxe sportswear is possibly the easiest trend to negotiate as long as you don't overdose of sporty pieces. The focus is on sportswear basics re-imagined in dressier designs, and glam-chic materials.
You could pair your bomber jacket with a sexy bodycon, or a sweatshirt with harem pants, go for a plain sweater with a chic skater skirt and booties, or wear an oversized jersey as a mini tunic. Heels are also best to dress up your sporty clothes. Here are some styles available at some stores.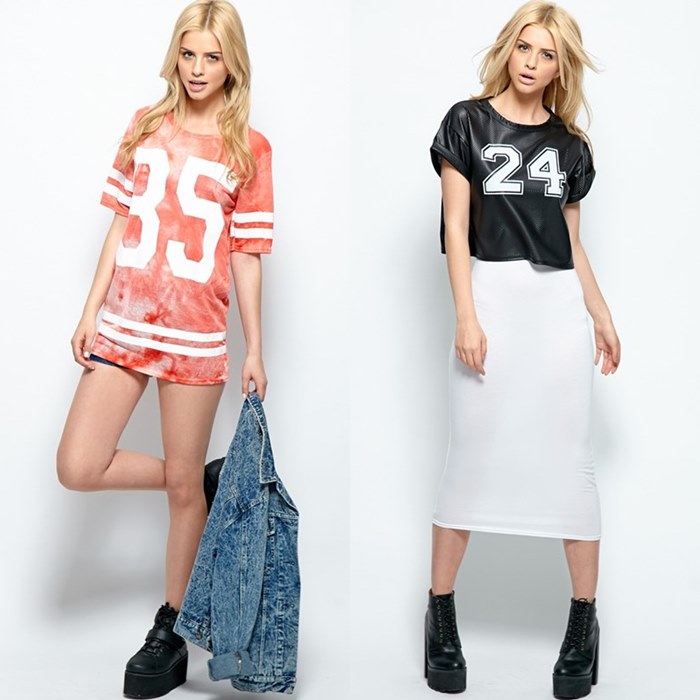 Pretty Little Thing: Luci Red Tie Dye '85' Sports Tee & Hailey Black Sport Mesh Crop Top (@ £12)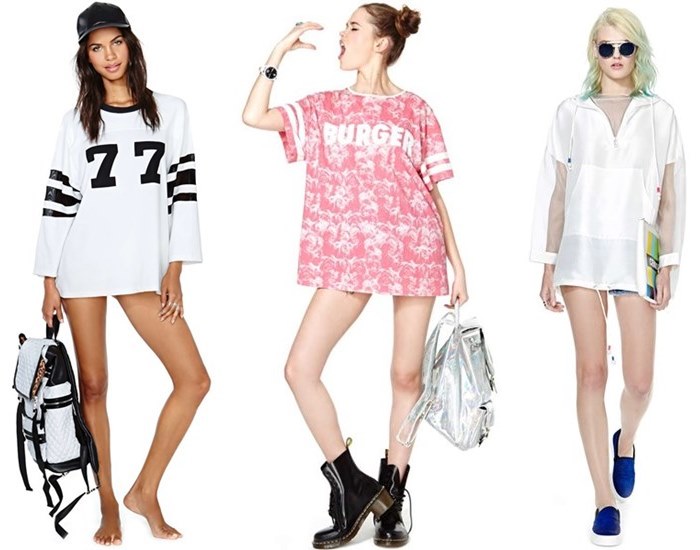 Nasty Gal: Minimale Animale Johnny Utah Swimsuit Cover Up ($185), Lazy Oaf Rosie O'Burger Tee ($60), To Be Adored Elin Silk Hoodie ($282)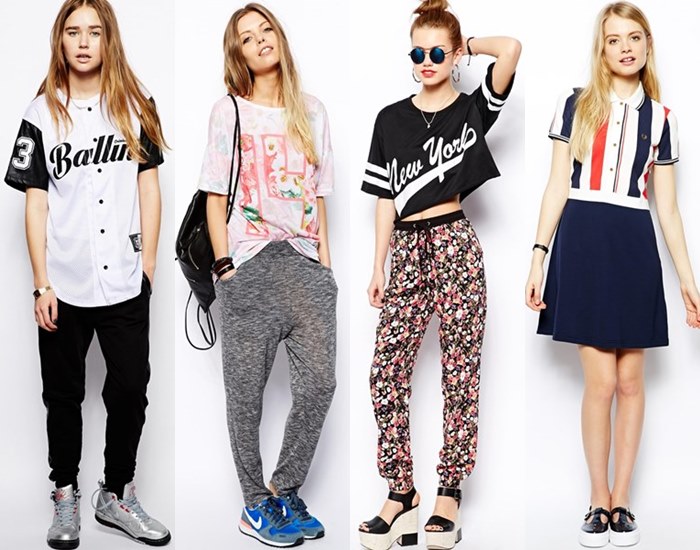 ASOS: Criminal Damage Ballin Baseball Jersey Top (£50), Digital Floral Tee (£20), Floral Slim Leg Trouser (£18), Fred Perry Southsea Deckchairs Polo Dress With Striped Top (£80)
Pretty Pastel
Key pieces: everything that are in sweet pastels.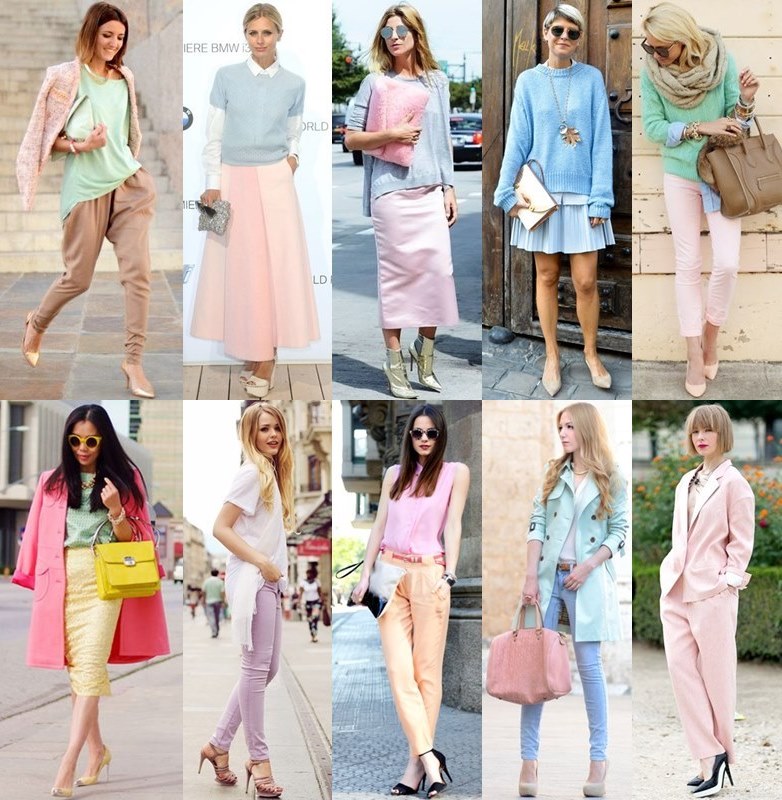 How to wear: To fashion this romantic, girly trend, what you have to do is abusing everything in pastels head-to-toe. Don't just sprinkle a little pastel around the edges of your clothes. Dive right in, and go all-over pastel – or head-to-toe pastel with one bright color, which is a bit less sickly. If you end up with a glut, you can always store in the deep-freeze section of your wardrobe.
You don't have to look overtly girly with this trend as you can go for sporty look as well, or urban-chic for more dynamic, edgy styles. A pair of loose suiting in blushed pink looks good to achieve boys-meet-girls ensemble, while jumpsuit in pastel paired with casual flats is one best option to appear casually sporty yet feminine. Pick fabulous pastel pieces available at your favorite stores and pair them with other pastel you have.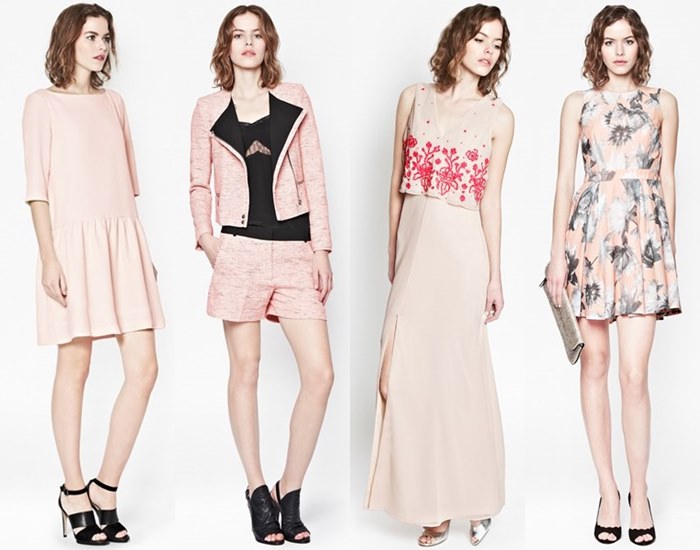 French Connection: Tennis Drop Waist Dress (£110), Bel Air Tweed Biker Jacket (£150) + shorts (£70), Quinnie Sequin Maxi Dress (£180), Lily Collage Dress (£89)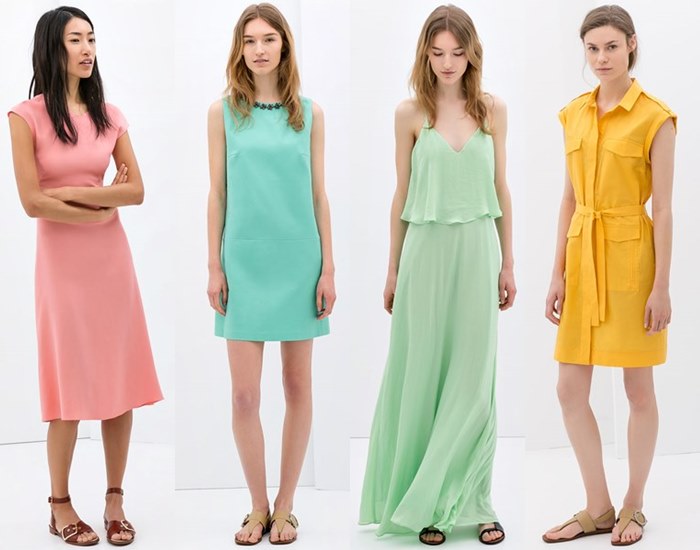 ZARA: Dress with Flared Skirt (US$119.00), Dress with Embellished Neckline (US$59.90), Maxi Dress with Low-cut Back (US$99.90), Poplin Dress with Belt (US$79.90)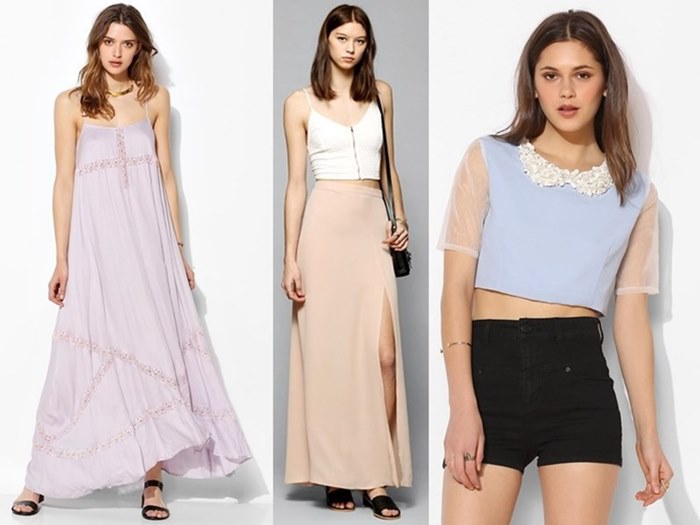 Urban Outfitters: Shilla Lace-Trim Maxi Dress ($140), d.RA Cara Slit-Front Maxi Skirt ($79), Sister Jane Crystal Bouquet Top ($75)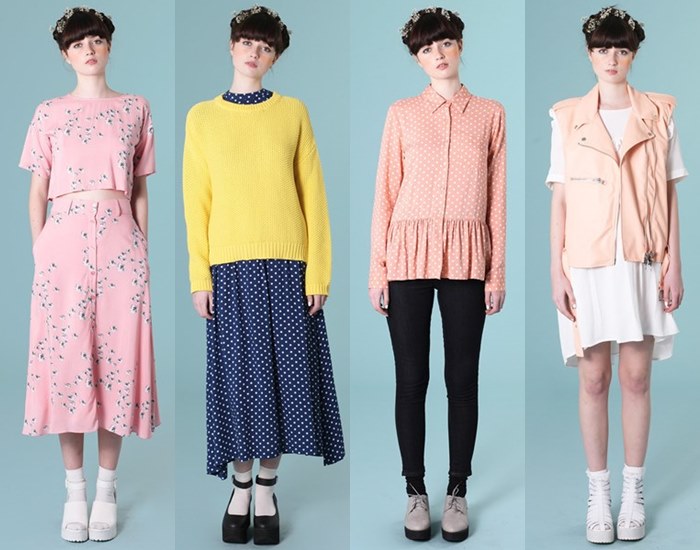 The White Pepper: Twin Set in Floral Print (£80), Beehive Knit Jumper Yellow (£45), Peplum Polka Shirt Coral (£45),  PU Leather Biker Vest Coral (£40.80)
Ted Baker: FOPPAR Embellished Dress (£179), DANEKA Ombre Maxi Dress (£299), GWENIFE Textured Structured Playsuit (£149), ZAIRAH Lace Bomber Jacket (£169), SOLEYA Floral Jacquard Top (£139) + Trouser (£149)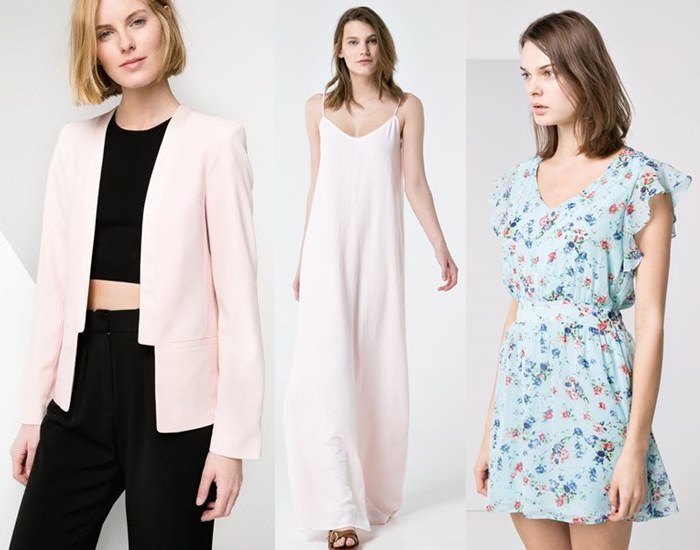 MANGO: Satin Edge Blazer ($59.99), Spaghetti-strap Long Dress ($99.99), Floral chiffon dress ($59.99)
J.Crew: Basketweave Dress ($350), Eyelet Jumpsuit ($298), Cotton Piqué Lace Dress ($158), Strapless Plaid Silk Organza Dress ($275)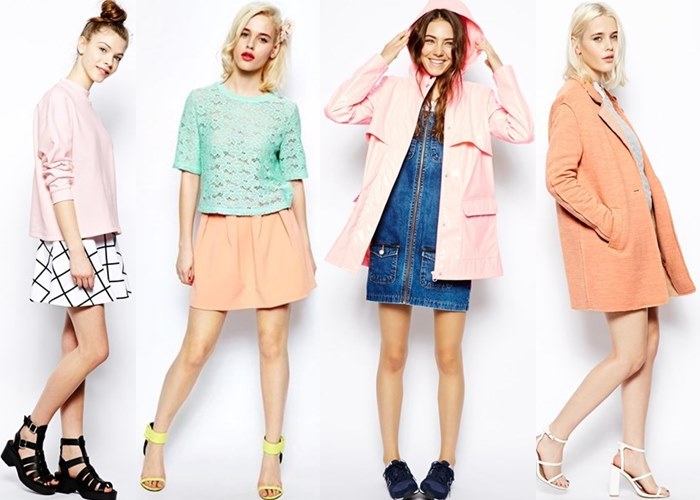 ASOS: Monki Zip Side Sweat Top (£30), T-Shirt in Daisy Lace (£20), High Shine Rain Mac (£40), Bonded Coat With Raw Edge (£75)
Floral Festive
Key pieces: all pieces that come with floral prints, patterns, embellishments, and details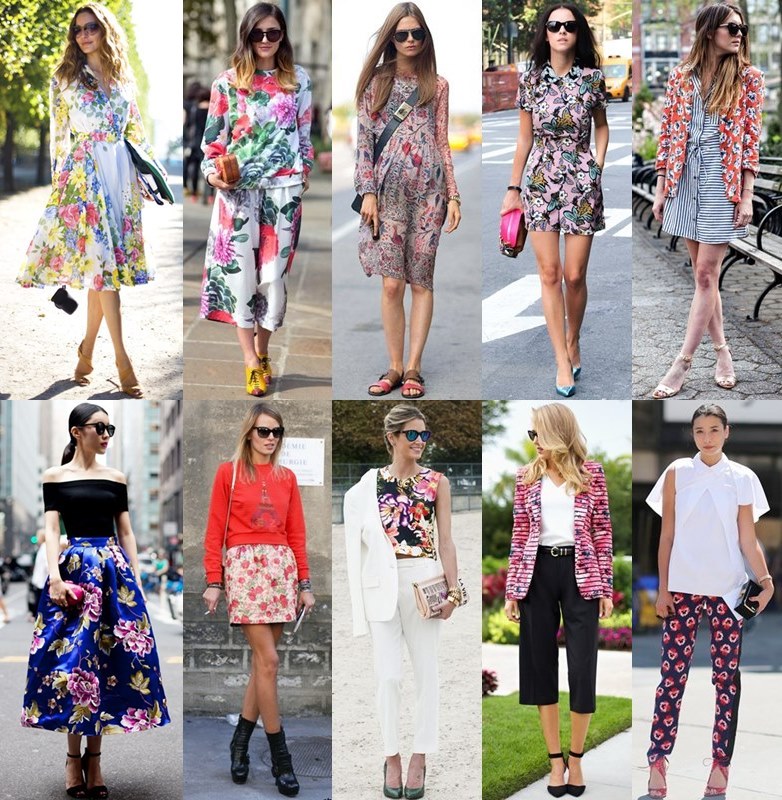 How to wear: Go for this spring-y must-haves with relaxed sporty-chic staples such as sweatshirt or bomber jacket to create that trendy sporty-mixed-girly fabs. Be brave and confident with print-mixing or pair your floral piece with solid tone for a subtler look. Floral prints with classic colors like black-and-white or white-on-white will be perfect that also extremely hot this season. Or you could tone down the busy print with subdued pastel.
Add a black fitted top with full midi skirt in vibrant floral to get that edgy finish, or you could opt for a floral printed jumpsuit/romper to get that sporty-chic look. Check out some summer-loving pieces out there available at various stores.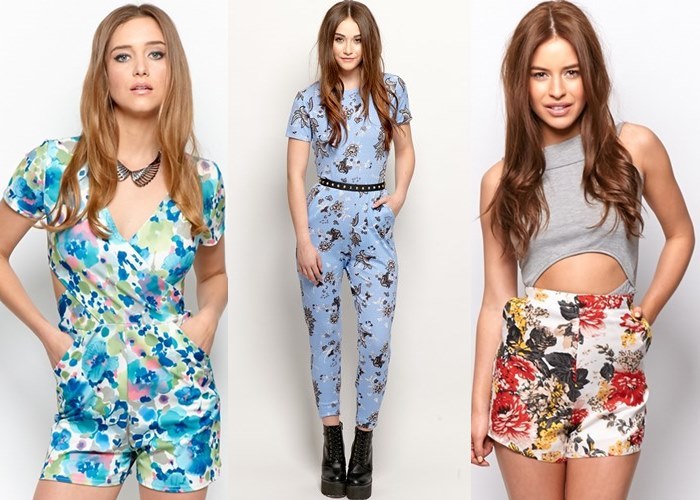 Pretty Little Thing: Keira Blue Floral Cut Out Playsuit (£24), Jadie Blue Paisley Jumpsuit (£20), Giselle Floral Print High Waist Short (£14)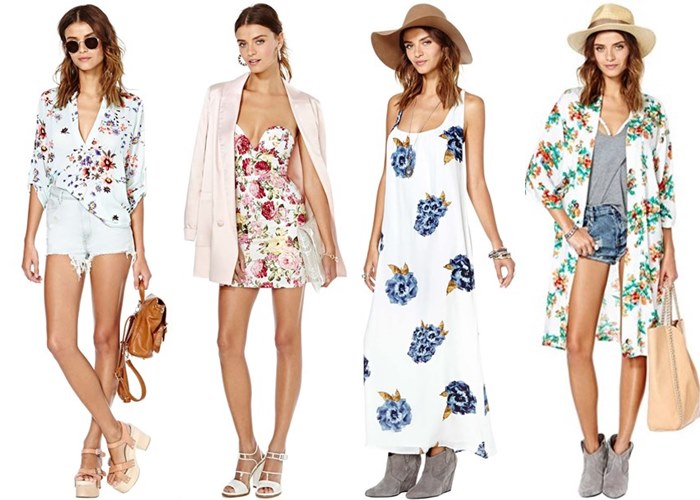 Nasty Gal: Spring Ahead Blouse ($52), Garden Life Floral Dress ($68), Winston White Bonnie Dress ($242), Reverse Lounge Kimono ($68)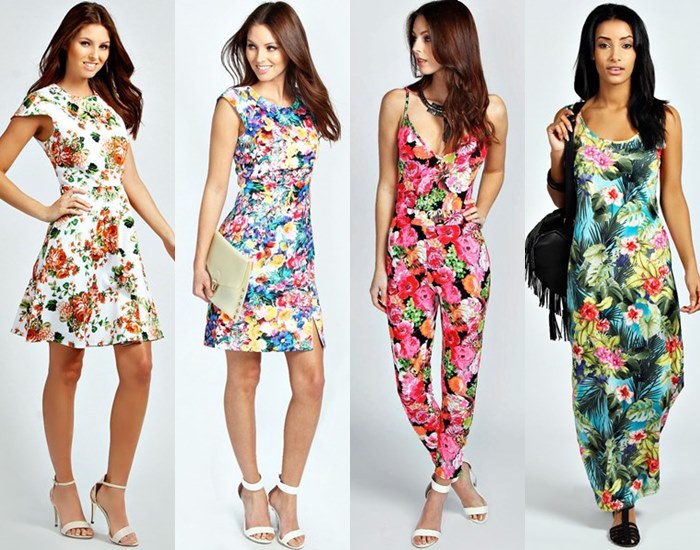 Boohoo: Jenny Cap Sleeve Floral Skater Dress (£30), Rachel Tropical Floral Ruched Detail Dress (£25), Tanni Textured Neon Floral Jumpsuit (£25), Megan Tropical Print Scoop Neck Maxi Dress (£15)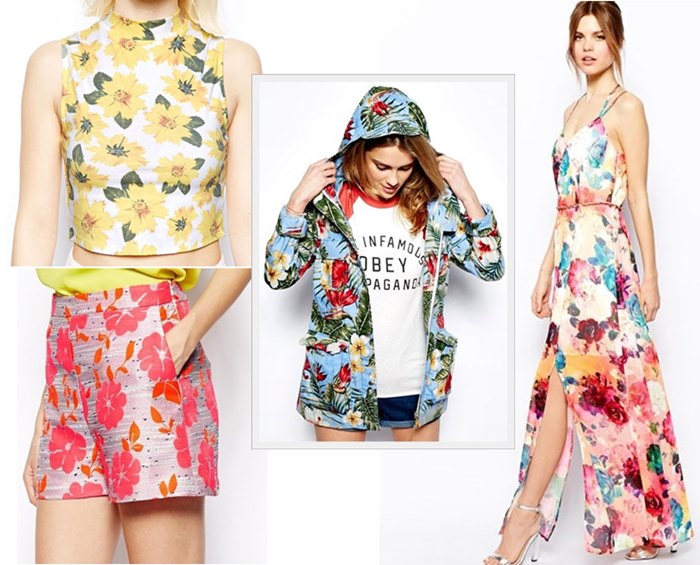 ASOS: Crop Top in Marigold Print (£16), Shorts in Neon Floral Print Jacquard (£35), Penfield Vassan Parka (£120), Warehouse Rose Printed Maxi Dress (£80)
All-Whites Statement
Key pieces: all pieces in solid white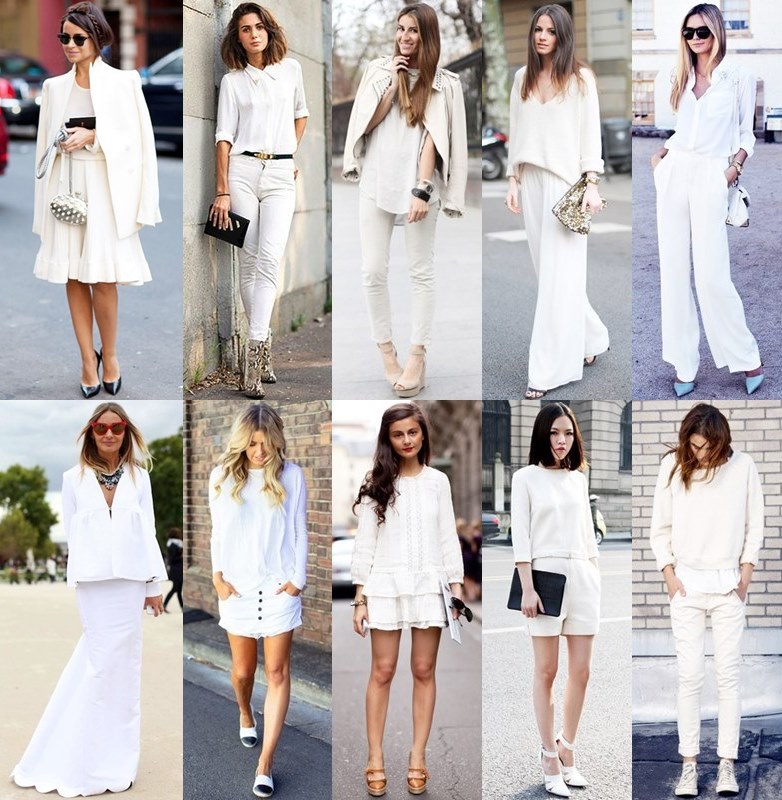 How to wear: No color is fresher or more crisp than white, so when you don the hue head-to-toe, it results in an exceptionally stylish, high-impact look. A perfectly tailored piece makes it easy to pull off this trend. From a crisp, clean shirtdress to a white structured coat or jacket to slouchy trousers all work just as well and perfectly fit for this spring and summer. Just keep it simple without overcomplicating this sleek look. You can start pairing a classic blouse with white skinnies, shorts, or a skirt and some white brogues to achieve that effortless perfection.
You could also pull off head-to-toe white statement by wearing a maxi dress or jumpsuit with details such as lace, sheer fabrics, etc. And if you're an avid follower of the "no white before memorial day" rule, just balance your look with a subdued accent color like darker accessories to give a little splash of color. Find a piece with design details that bring another shade into the picture, but make sure you keep the colors as minimum. Read article "How to Wear Cool and Crisp All White Fashion Trends" for more tips and style inspiration on how to pull off All-White Fashion Statement.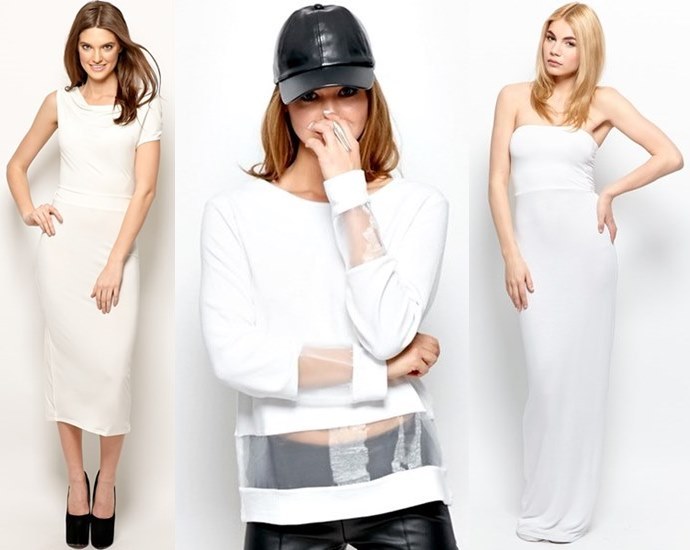 Pretty Little Thing: Chrissy White Silk Cowl Front Midi Dress (£30), Elena White Sheer Panel Sweater (£20), Albany White Bandeau Maxi Dress (£10)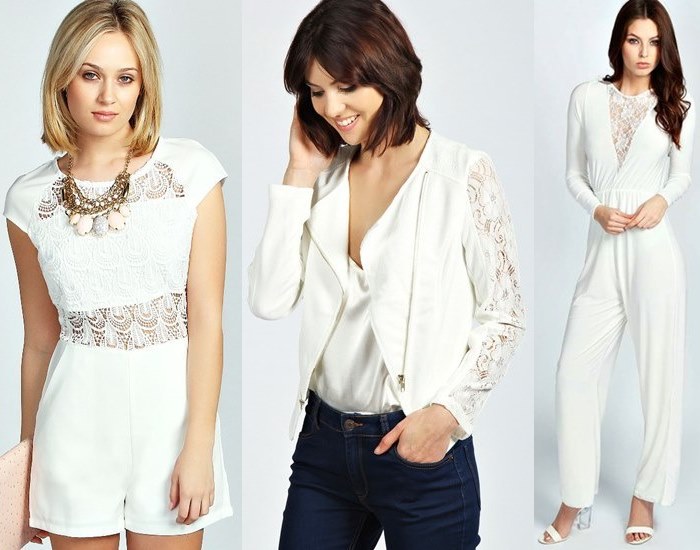 Boohoo: Anabel Crochet Front Capped Sleeve Playsuit (£25), Lydia Lace Trim Zip Jacket (£30), Brooke Lace Insert Plunge Jumpsuit (£25)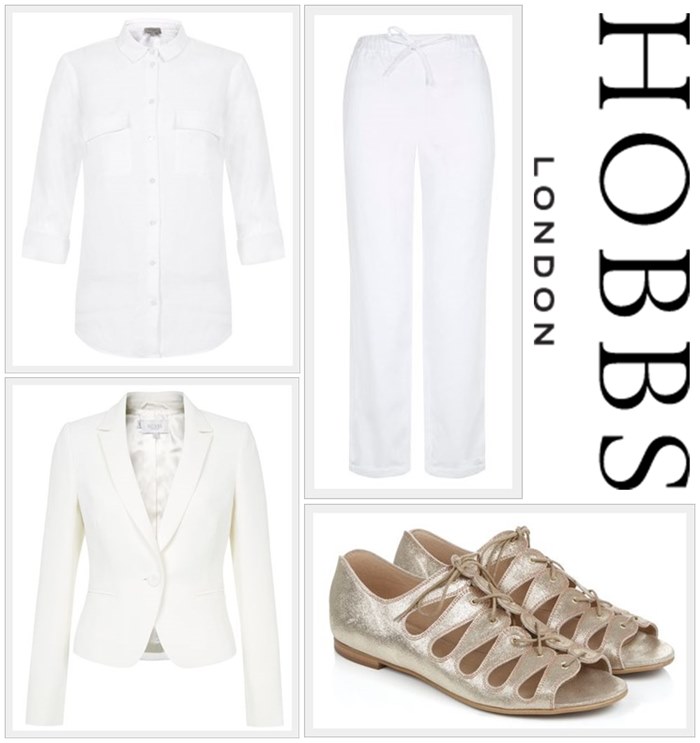 Hobbs: Jane Shirt ($145), Invitation Lucia Jacket ($395), Polencia Pants ($150), NW3 Lulu Sandal ($250)
Black and White Ensemble
Key pieces: all pieces in solid white, solid black or in black and white patterns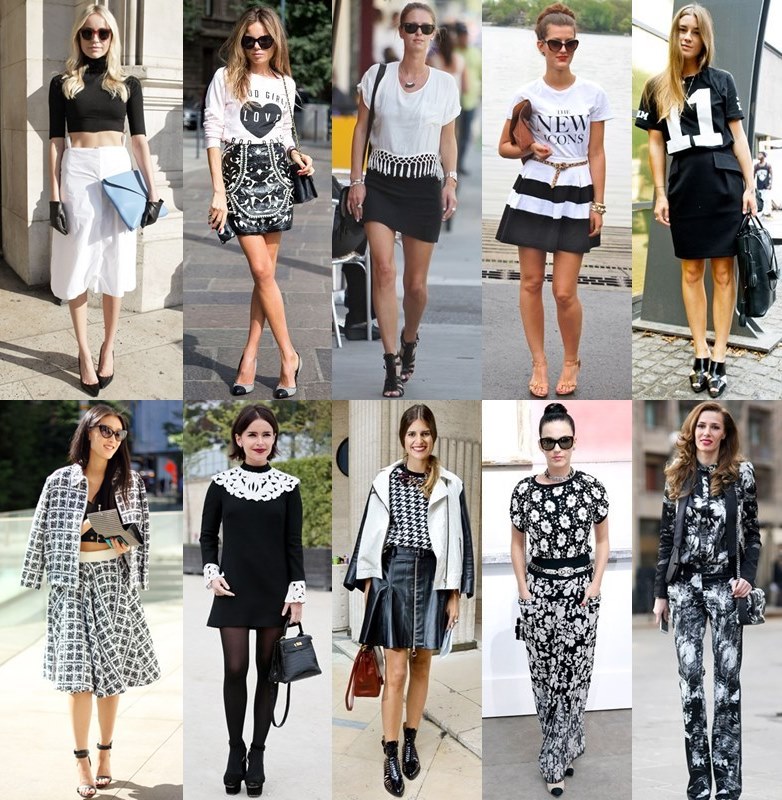 How to wear: A smattering of classic black-and-white goods are anything but basic. These two colors are like the chocolate and vanilla of the fashion world: understated on their own, yet heavenly when mixed together. B&W gives you the opportunity to experiment with bold, graphic prints and patterns while keeping your look cohesive and cool.
You could opt for an outfit in B&W pattern, or do mix-and-match between two pieces with one solid color – white and black. Check out article "How to Dress a Flattering Black and White Fashion Statement" for suggestions on how to wear black and white ensemble. And see some pieces available at various stores for you to invest new wardrobe for this new bright season.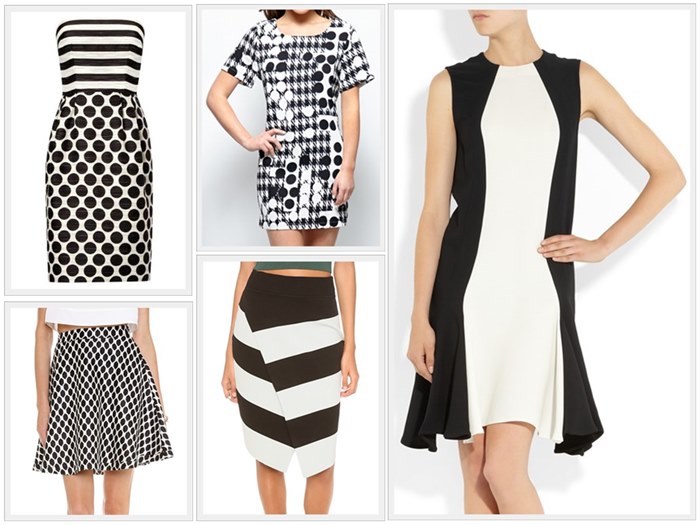 Invitation Harriet Dress ($105), Diane von Furstenberg – Amelia Skirt ($398), Keeley Monochrome Print Shift Dress (£25), A.L.C.Campbell Skirt ($396), Stella McCartney – Dalida Two-tone Crepe Dress (£330.67)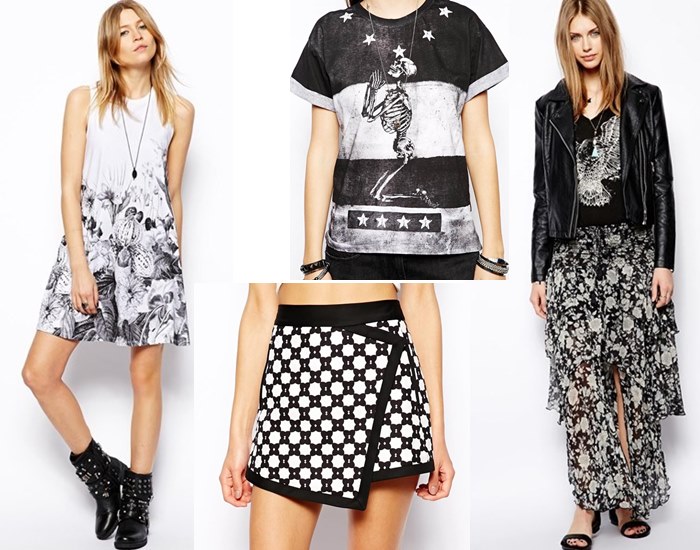 ASOS: Swing Dress With Floral Border Print (£22), Religion Praying Skeleton T-Shirt (£35), River Island Mono Print Skort (£30), Denim & Supply By Ralph Lauren Mixed Length Floral Print Skirt (£110)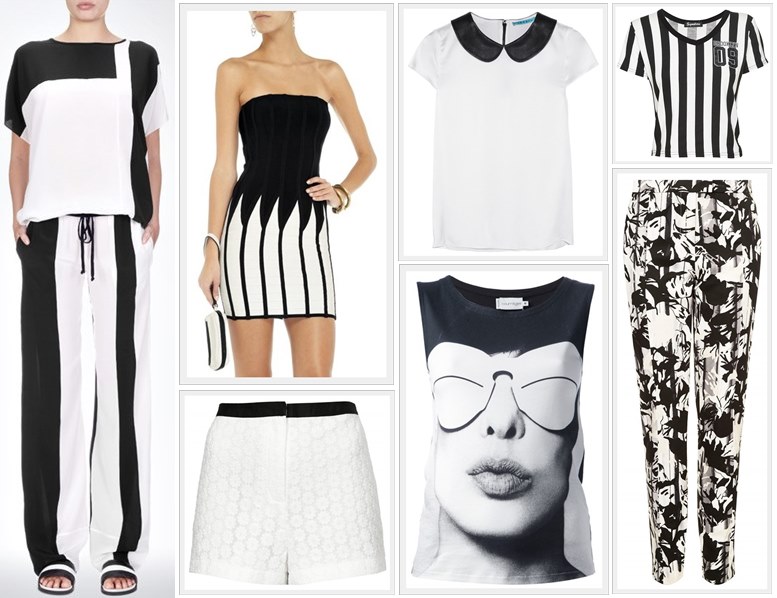 Crepe De Chine PJ Trouser (£215) + Pull Blouse (£195), Hervé Léger – Two-tone Bandage Mini Dress (£492.33), Embroidered Daisy Mesh Shorts ($68), Alice + Olivia – Emily Leather-collar stretch-silk Satin Top (£114.38),  COURRÈGES – Face Print Tank ($301.88), Striped Brooklyn 09 Print Cropped Monochrome Varsity T-Shirt ($18.41), Pleat Flower Cigarette Trousers ($84)
Continue to article "Where to Shop for Spring Summer 2014 Fashion Trends  (Part 2)" for more styling tips and key pieces of this Spring Summer 2014 trends.