During the hottest days of the year, nothing says "cool" like a crisp white on white attire. Whether you love it or hate it, no doubt you're familiar with the all-white look as it's been all over the runways and mostly in numerous street style fashions. While many ladies swear by their collections of black basics, we couldn't agree more that an all-white ensemble makes for a much more refreshing statement. And knowing how to wear an all white outfit will help you pull off one of the hottest trends right now.
Speaking of head-to-toe white ensemble, it's totally understandable if you're feeling a bit weary of this trend. It's easy to feel intimidated when putting together a monochromatic look – especially one that's all-over white.
Aside from the fact that an all-white outfit can also be quite tricky as it requires seeking for the perfect combinations, based on a flawless choice of both fabrics and styles. Still, white is always considered as a lovely color. A color that is crisp, sterile, pure, divine, edgy, delicious, elegant and timeless that's too good to be missed. So just try the trend and begin planning your outfits based on easy fabrics and loads of white. Ahead are some favorite all-white looks, with smart tips on how to pull them off.
Simple, Classy, and Elegant
It's very hard to go wrong with wearing all white. But still there's no reason to over complicate this look. Instead, make sure items balance each other out and just keep everything simple and sleek. Try to achieve as much of a stream-lined look as possible and avoid choosing pieces that are too over-the-top. Basically one important key to making your all-white look flattering is minimalism, so stick to well-cut pieces, clean lines and subtle accessories. Limit any glitzy accessories or overly fussy details to one, two at most, per outfit.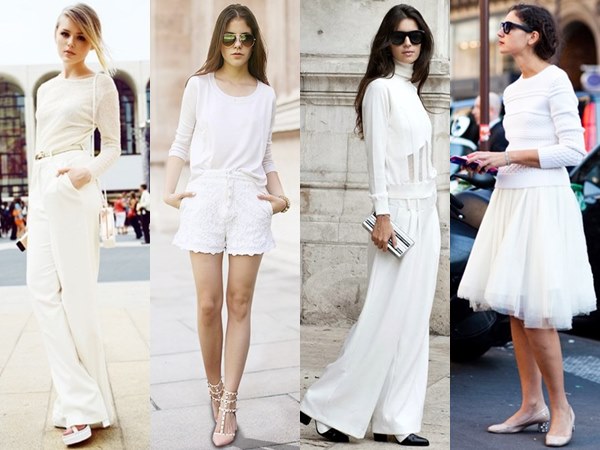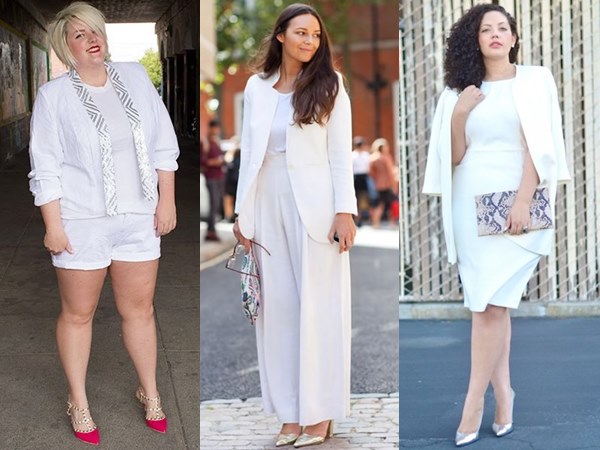 Go a bit professional, a perfectly tailored piece – such as slouchy trousers and boyfriend jacket – makes it easy to pull off this trend. A pencil skirt with a classic, dressy top alone can also be fabulous, while a crisp, clean shirt with skirt or shorts can do no wrong, and it works just as well at work as it does with flats or trainers for the weekend.
The Right Fabrics and Details in the Right Places
When you are opting for white on white attire, always pay attention to fabrics – especially if you have issue with your figure that you would need to disguise specific part of your body. For starter, think of good quality fabrics and use fabrics or treated materials that skim smoothly over your body. Cotton and lightweight linen, for example, can – depending on the piece of clothing – be stiff and bulky, which definitely one way to create volume, while Ponte knits, heavier linens, and denim – sometimes for some curvy women – are more substantial to cater to their curves.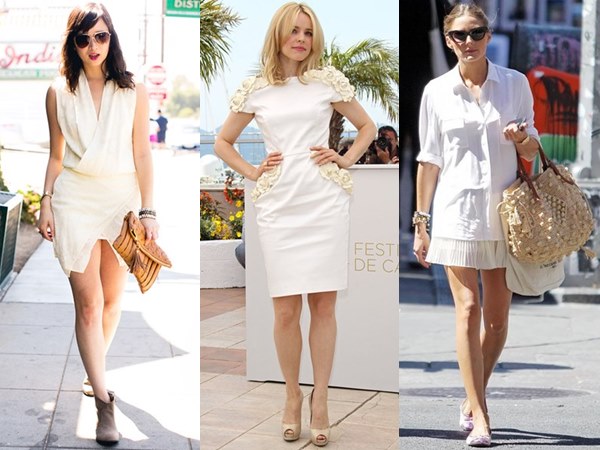 Furthermore, if you have problem with specific part of your body and wish to hide it, be aware that white has the opposite effect of black. Meaning, white doesn't offer a slimming effect so that you need to play with details or embellishments to accentuate area you want to emphasize. On the other hand, keep everything simple to the area you want to hide. Placement of the embellishments, pleats, or ruffles could bring a huge difference to your figure, as well as necklines, layers, waistlines, and textures.
For example, when it comes to looking slim in white, a great trick is to bring attention to the thinnest part of your waist. Draw attention to your waist with matching belts or opt for white dresses that pinch at the mid-section to accentuate your fabulous curve. Moreover, for those with petite frame, opting for outfits with deep V-neck, short hemline (above the knee) or very long one (floor length) can also create the illusion of looking taller and leaner.
All in all, make sure you know perfectly your shape and personal styles and always choose for outfits that fit you. Not to mention, the most important tip for how to wear an all-white outfit is to have confidence and comfort with your own shape, style, and fashion.
An Accent of Colors, Layers, and Textures
After determining the most flattering styles best for your look, start experimenting with your all white outfit with different accents including textures, colors, and layers to avoid looking too flat and plain. By playing with these accents you'll be adding another dimension to your overall look.
TEXTURES
With different texture (or separates made of different fabrics), your head-to-toe white will come with better depth and interest. Lace, ruffles, cutouts, draping, or any one of these options will definitely give your look some edge. Feel free to pull out your eyelets, lace, and linen. Mixing and matching textures works well with whites – lace and cashmere looks just as chic as an all-white ensemble that is 100% silk.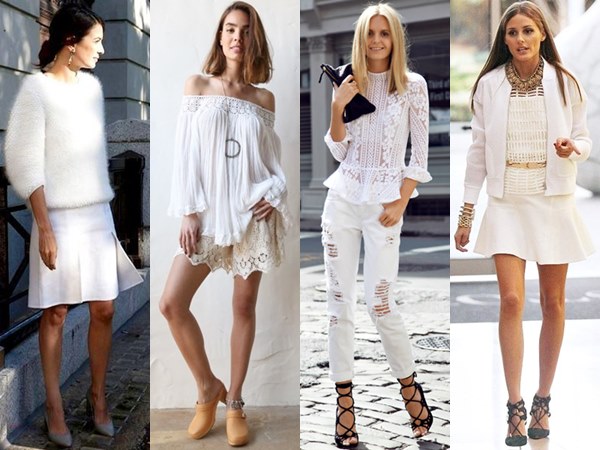 Additionally, make sure you dress all-white outfit suitable for the season. Try incorporating white into cozy textures that are made to be worn in appropriate season. As long as the warmth of your outfit is suitable for the season, the trend will translate and transition beautifully.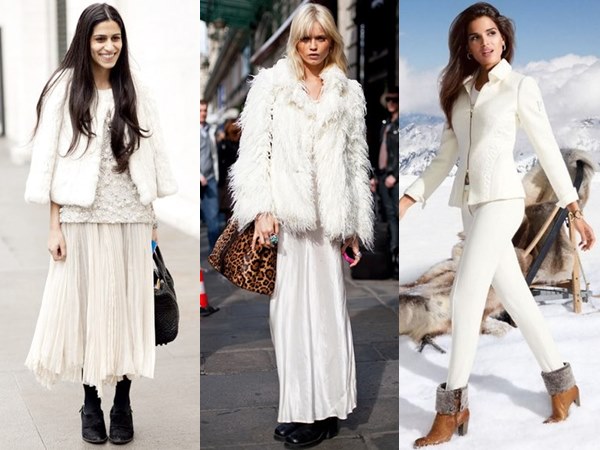 In winter, for example, fabrics like wool, cashmere, fur, cable knits, or other heavier fabrics are perfect to keep your body warm. Don't pull out your linens and silks until the spring or summer. Winter outfits with different textures could consist of white jeans or pleated long skirt with chunky knits or furry oversized jackets or jacquard blazer. While summer outfits could be made up of slouchy cotton t-shirts and flowing pleated chiffon skirts.
COLORS
Kind of like the tip on texture, balancing your look with a subdued accent color also brings another shade and dimension into the picture. Don't be afraid to "white out" and try a gradation spectrum from light cream to pure-white to greyish white, from off-white to milky white to bright white to silver. If you have more cream than white in your closet, you can still achieve the same monochromatic effect. Mixing your eggshells with your mother-of-pearl also still counts as all white. If you go this route, just be sure to keep the overall look simple – you want the focus to be on the slight variance in shades, not the fact that you're a slave to trends.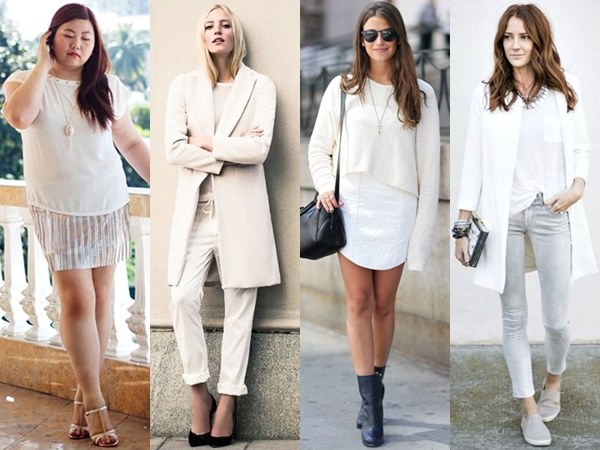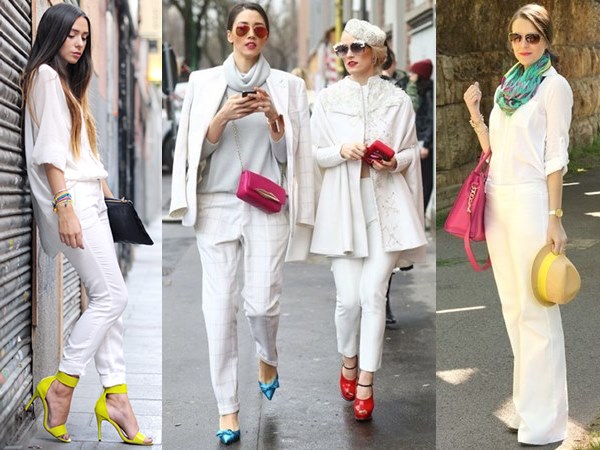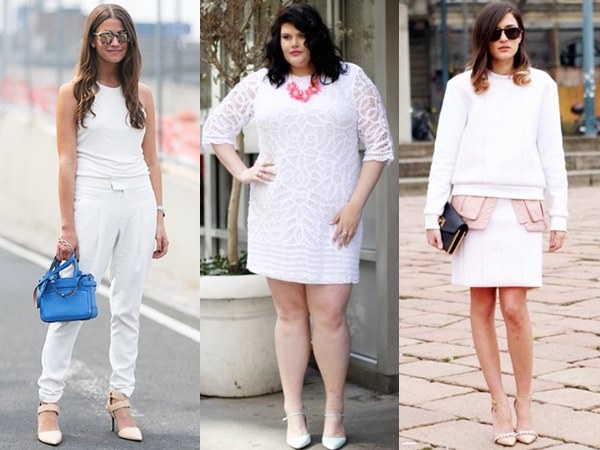 In terms of mixing shades, regardless of your personal choice, make sure the other pick of color is used rather as an accent, with the solemnly purpose of amplifying the white manifesto. A white structured coat with white high-waisted pants can be paired with darker accessories like riding boots or a fur scarf to keep the outfit cold weather appropriate. While summer accessories like sun hat, sunnies, and sandals in delicate pastels are pretty for a subtle highlight or in vivid orange for a fashionable contradiction. Just make sure you don't let those non-whites steal the show. Keep them minimum as an accent only.
LAYERS
Layering your white clothes will also help add depth to your overall look. Just be thoughtful with layers and try to balance it out as clean as you can. This is also another way to show off your styling know-how. Avoid layering that appears too heavy for very light shades like white.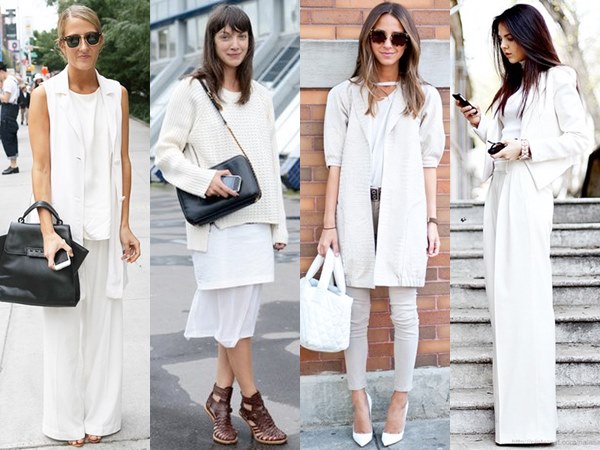 Wearing a cropped jacket over a streamline pair of wide-legged pants and tee would give more dimension and interest to the entire outfits. Or maybe wear a long coat over a top and skinnies, or do layering with sweatshirt and simple top. Try to focus on layering with different textures for an expert-level look.
The Fabulous Side of White
Despite the fact that all colors are beautiful, there's always been something unique, chic and classic about monochromatic whites, especially white is one color that makes for a much more refreshing statement. And one easy way to put together a head-to-toe white outfit is to invest in matching pieces. Determine which styles you want to pull off and start collecting all white staples from your closet and match one to another. Finish the look with white or colored accessories to polish the look .
The trick is to know what key pieces that perfectly highlight each style. Keep your outfits relevant by paying closer attention to the minimalist cuts and chic details. Here are some of the numerous styles you can fashion with white-on-white statements.
Styles You Can Fashion With All White Outfit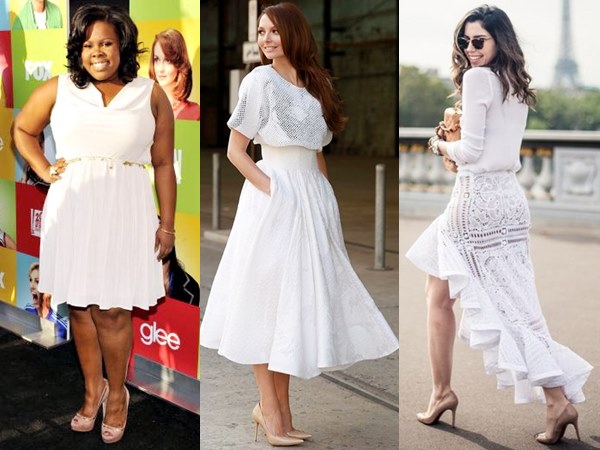 FEMININE
The easiest way to abuse this look is to choose pieces that highlight your femininity. Lace and satin are delicate fabrics to give touch of romantic appearance, while details like ruffles, floral embellishments, pleats, and even pop of pastels are also good to look feminine, as well as key pieces such as full skirt, lightweight/flowy dress, and pointy heels. Think in terms of clean lines, ultra-feminine silhouettes and delicate lace for a full-on ladylike statement. Cuts that are fit-and-flare, or baby doll and peplum styles can also bring that girly chic look to your outfit.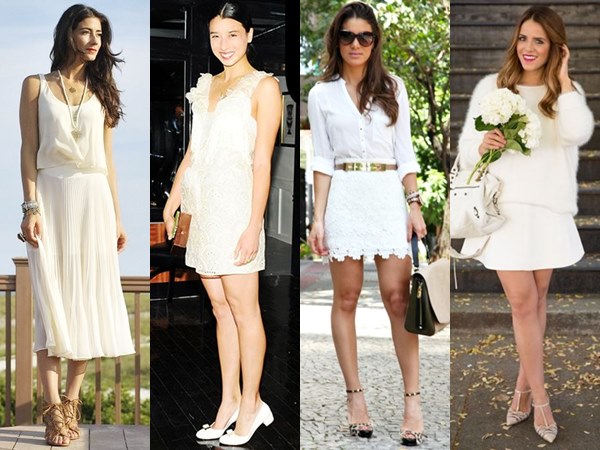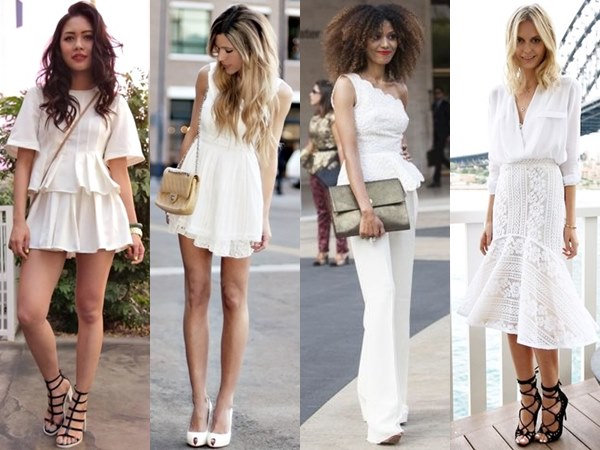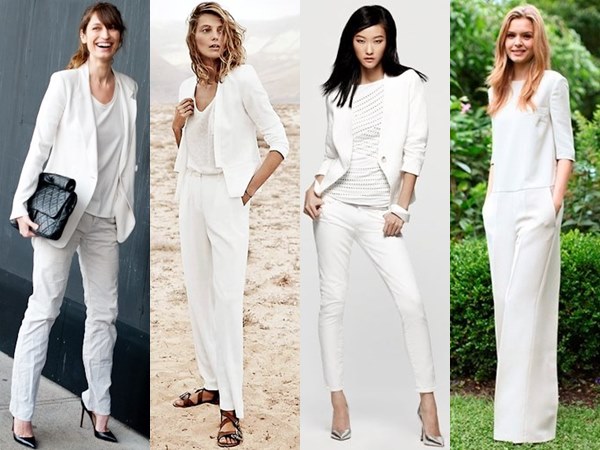 MASCULINE
The key point to achieve this style is nodding towards androgyny, but holding onto a subtle feminine quality. Sure, white might be most often associated with innocence and purity, but depending on how you wear it, you can look downright boyish. Highest trends that emphasize masculine vibe such as slouchy trousers, skinny pants, tuxedo-styled blazer, and classic tee are perfect for a light and airy look that's got a great casual to formal vibe.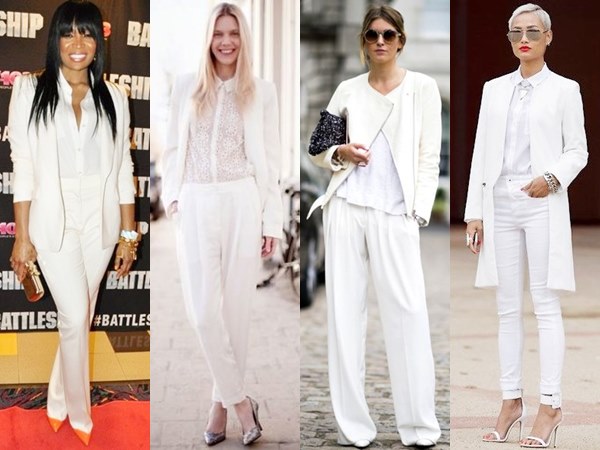 For cocktail occasion, think of the all-white masculine inspired tailoring with a touch of girly lace detail as a perfect mix of boy-meets-girl influences. Seek for minimal-chic silhouettes. A matching blazer and pants combination is a chic take on modern evening wear. Create the effect of a plunging neckline by wearing V-neck under your blazer. Or, you can also get that pixie-hair cut to enhance the masculine look even more.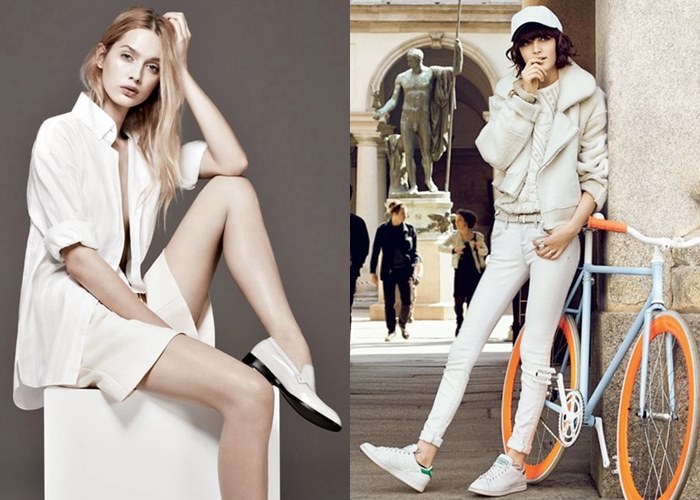 SPORTY
A bit more casual than masculine style, sporty-chic has been all over runways and street fashions to be one most popular 2014 trend. Prepare your white sporty staples that accentuate more to the chicness side rather than a gym-look. Remember that sporting a sporty look doesn't mean you dress as if you are ready for a gym. The key pieces can be very boyish such as sneakers or loafers, or you can opt for other sporty items including bomber jackets, sweatshirts, and crop tops. Pair these items with your elegant apparel to reach that sporty-mixed-elegant statement.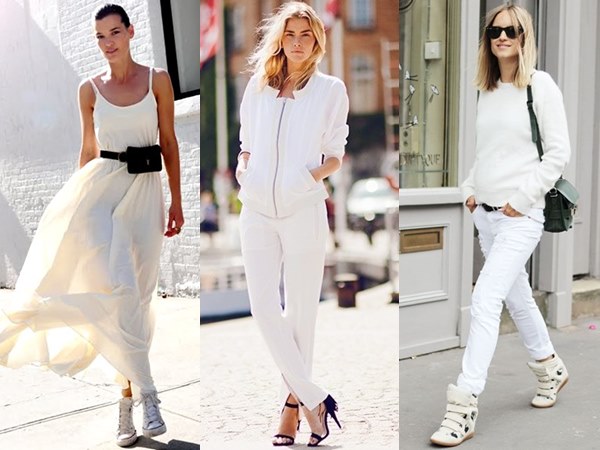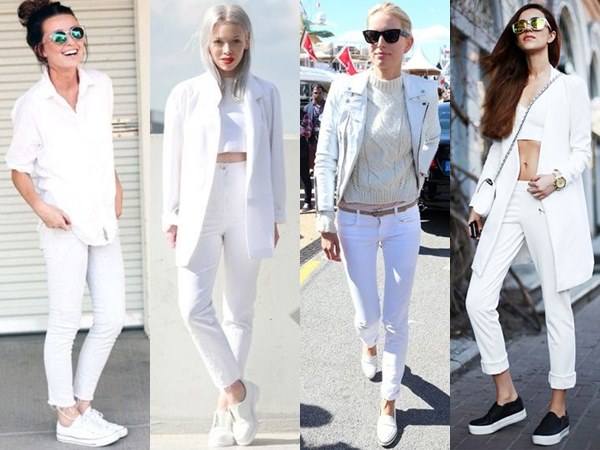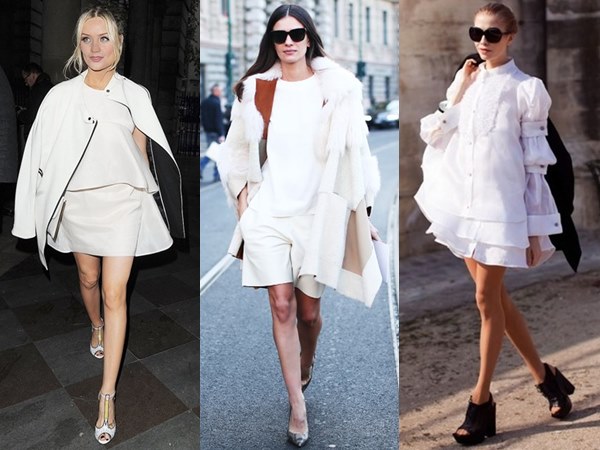 EDGY
Despite its undeniable soft sensibility, white can also be made to appear tough and edgy, showcasing your strong character as a powerful, independent woman. Opt for pieces that highlight confidence and simplicity. Build your outfits upon slightly oversized pants, boxy silhouettes, structured skirt, and high heels.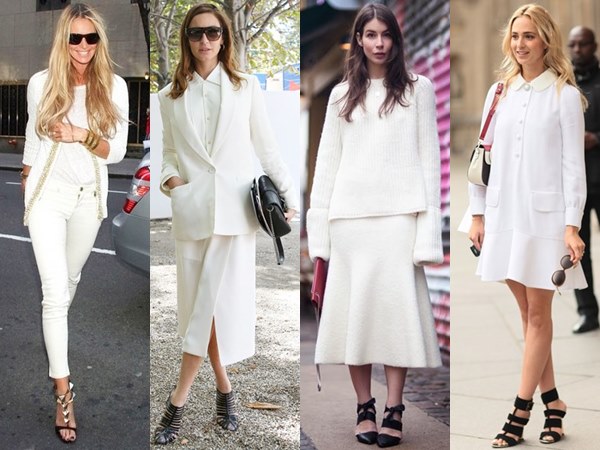 Seek for cardigan, bomber or leather jackets and layer them on top of sheer or transparent blouses for maximum contrast, or pair a chunky boxy sweater with midi A-line skirt for a total boxy looks. A simple-chic boxy sheath dress with gladiator heels can also be one option for a little girly touch.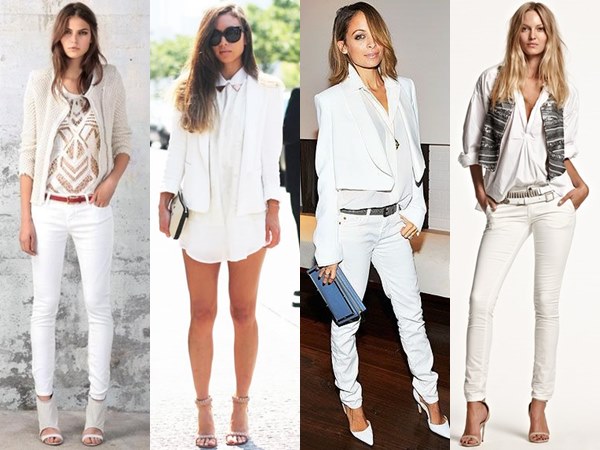 ROCKY
Just like the character of the styles itself, wearing white-on-white in rock attitude is to abuse a darker side of white, yet the softer side of rocky styles. Either you go with tough appearance with studs, spikes, or cutouts, or to choose outfits that evoke rock n' roll glam with very deep V-neck and gold jewelries.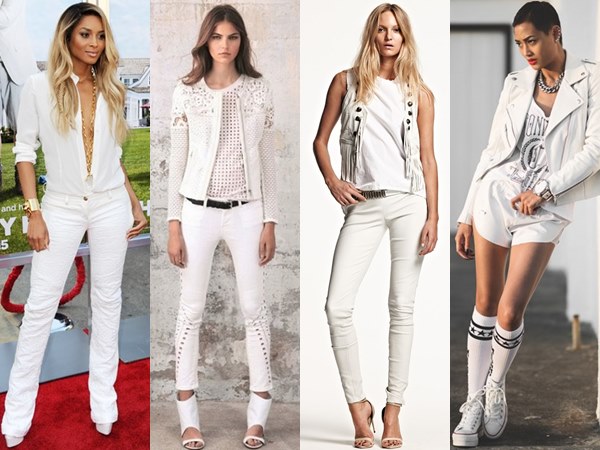 Key pieces like boots, leather jacket or pants, bling accessories, distressed jeans, and skinnies are essential to rock this look, while pop of black also produces that chic, rocky style. Not to mention, don't be afraid to fashion this look mixed with other styles such as sporty and create that cool and fun sporty-rocky-chic.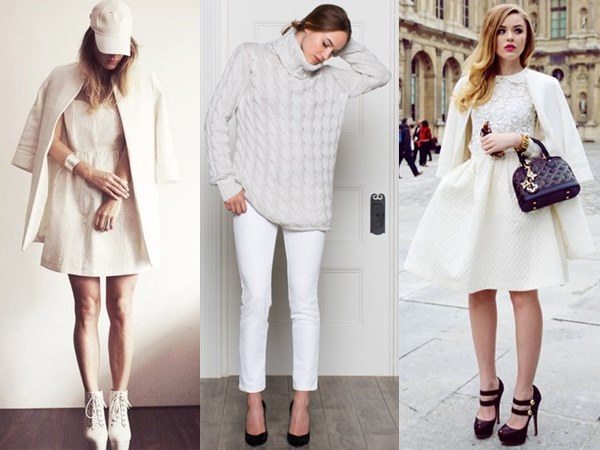 PREPPY
Dressing in preppy way is basically a neat, well-balanced, put-together look that is never sloppy, trashy, mall-trendy or overdone. This fashion suggests white-one-white outfits perfectly since preppy always goes simple, tidy, and sophisticated. The style pretty much shows that you dress in well mannered with pleasantly classy and clean attitude – just like what a quote says "Dressing well is a form of good manners"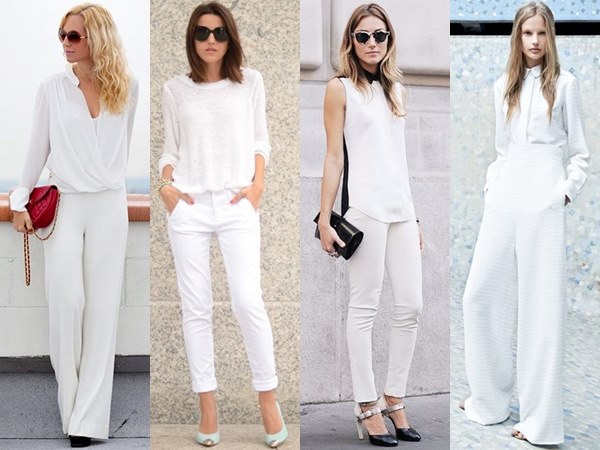 It showcases nothing too vulgar or skimpy, nothing look messy or dirty. Pieces like sweatshirt over a classic shirt with statement necklace represent the preppy look very well, while you could also invest in cardigans, blazers, tailored pants, crisp button-downs, and pencil skirts for stylish and professional look.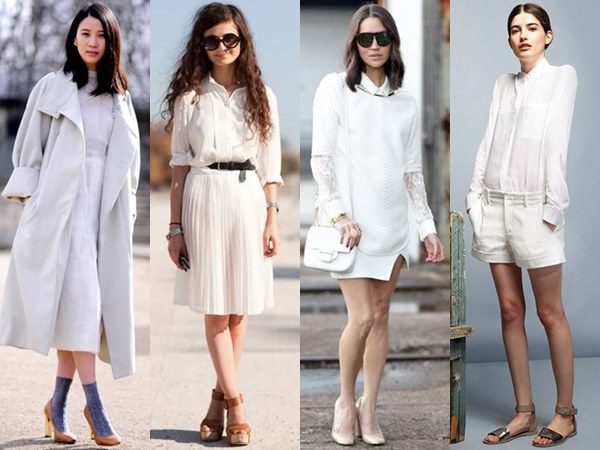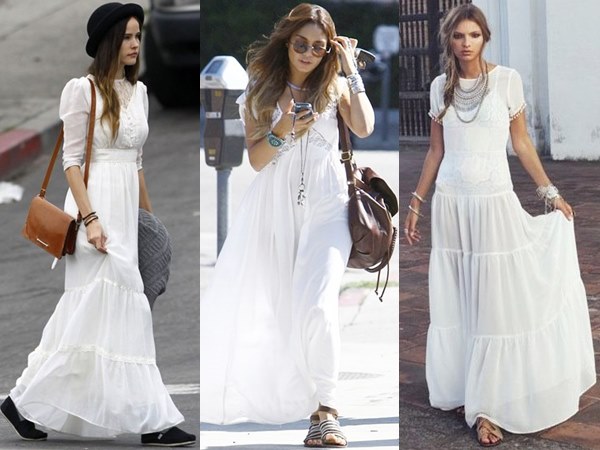 BOHEMIAN with All White Outfit
Just the opposite of being preppy, When you do bohemian way, meaning you have to think "out of the box" from any fashion rules and let yourself free to choose whatever pieces you wish to wear. Items such as lightweight flowy dress, slouchy or palazzo pants, sheer fabrics, lace, knits, and crochets are some of the key looks, while sandals and busy jewelries with beads or sequins, floral crowns and scarf knot headbands, as well as ethnic, leather accessories are also among the must-haves.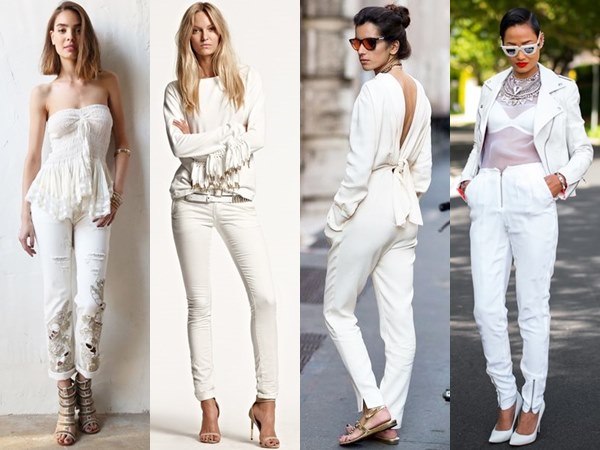 On the other hand, aside from all must-haves mentioned above, a bohemian basically shows that you are a free person that always seeks for the most comfortable fashion, which later on, this attitude resembles the gypsy and hippy's styles – although being boho means more than being hippies – Check out article "How to Fashion a Bohemian Style" for more inspirations.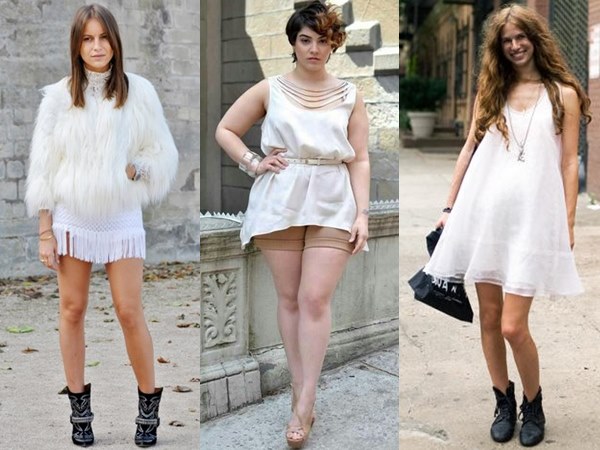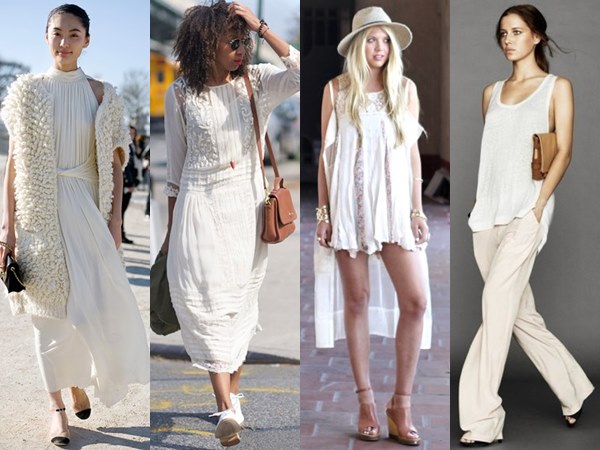 Take a look at more and more style ideas with all white outfit from spring to winter, from day till night, from casual to formal.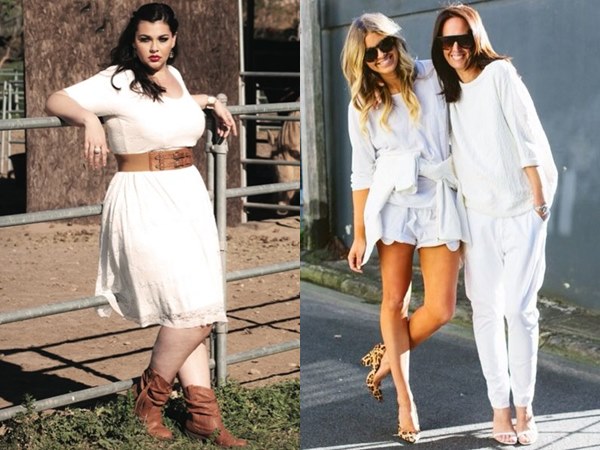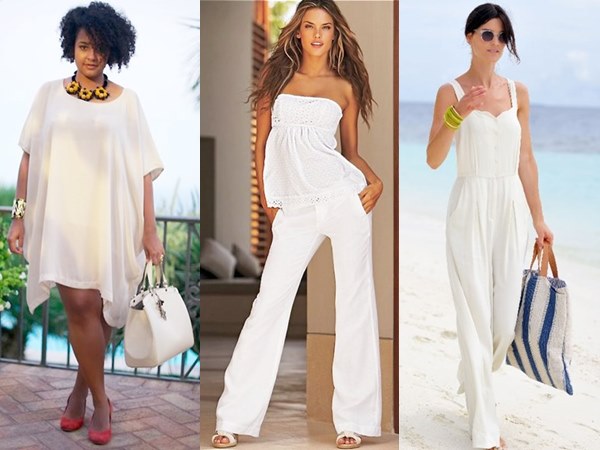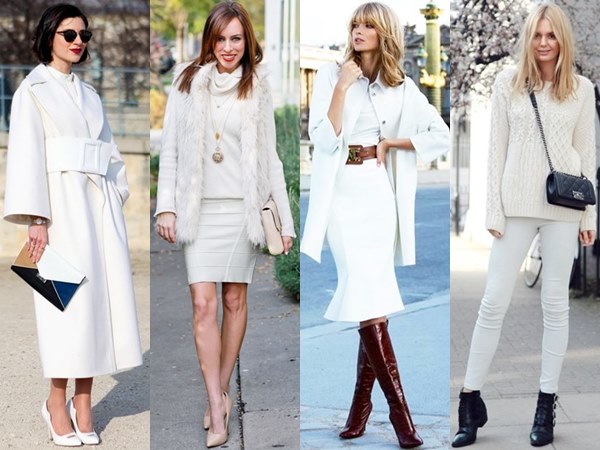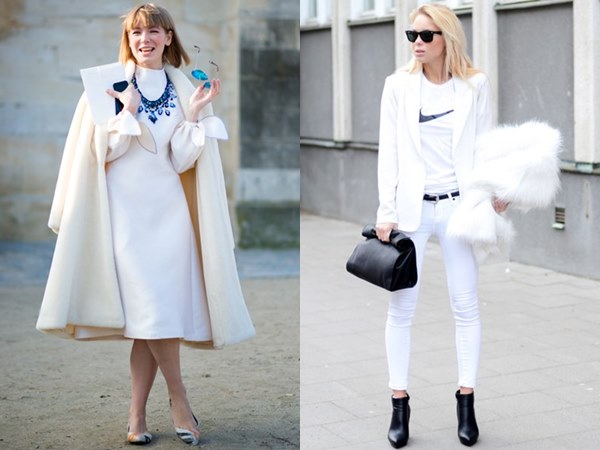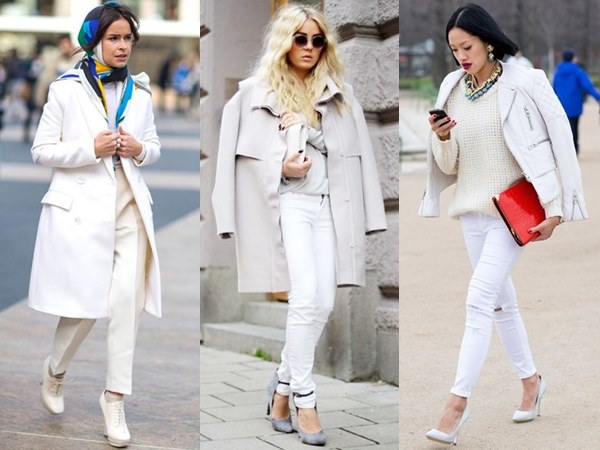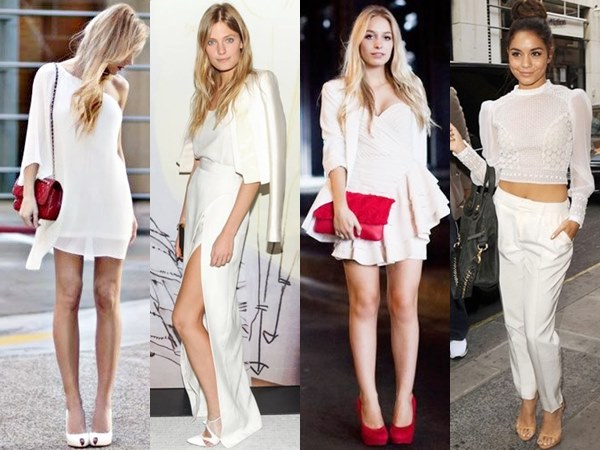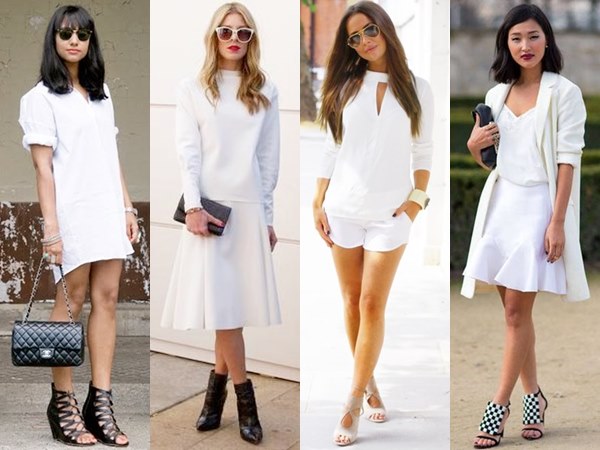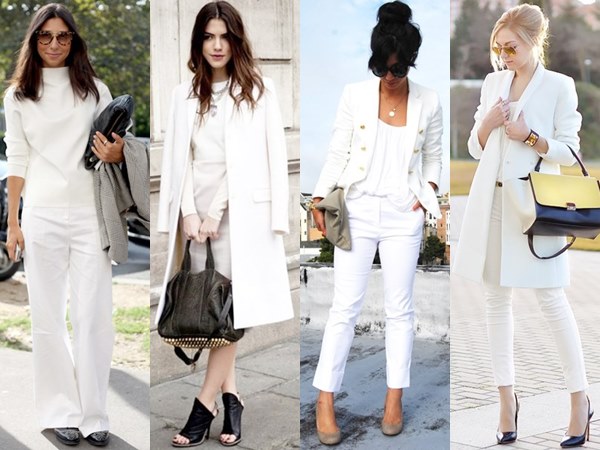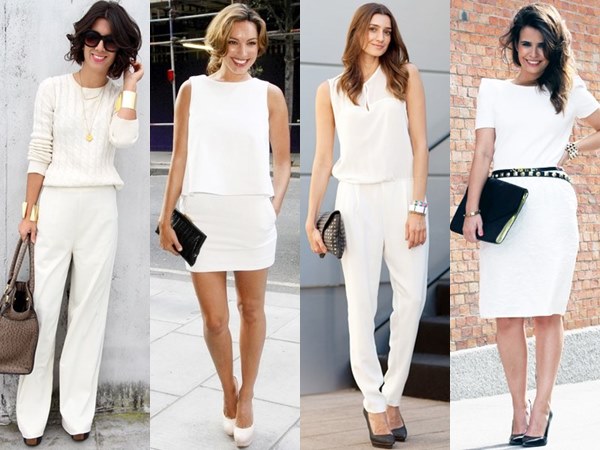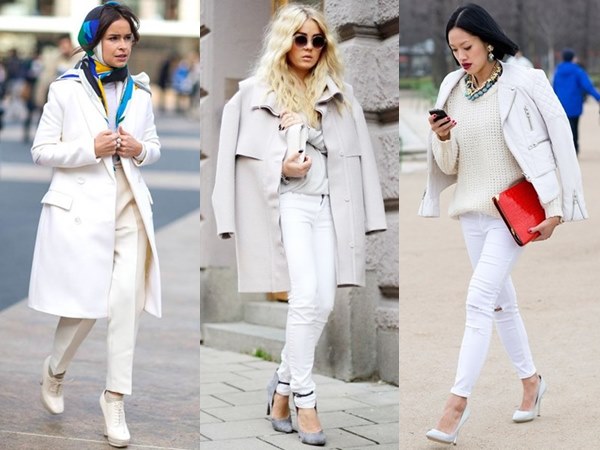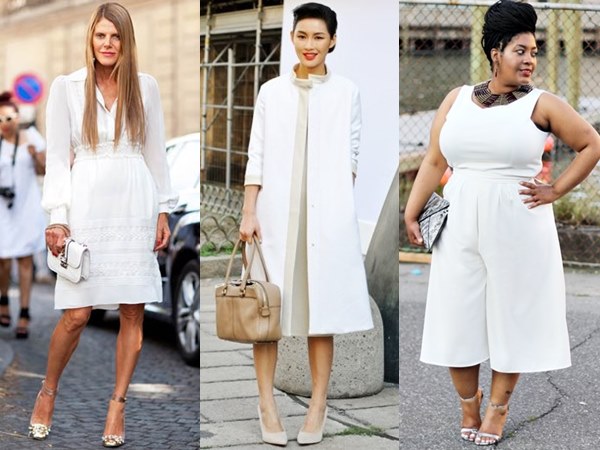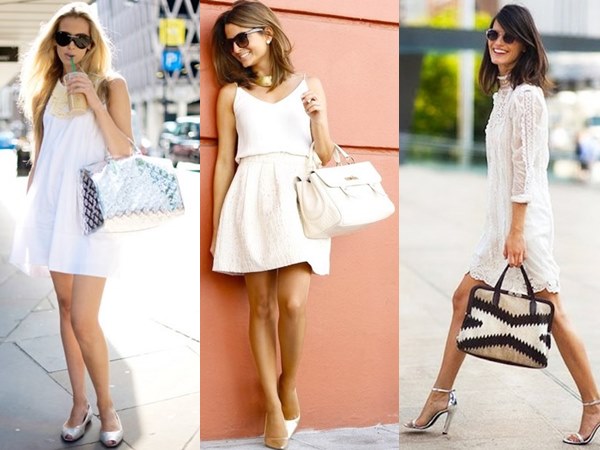 ALL WHITE OUTFITS STREET STYLES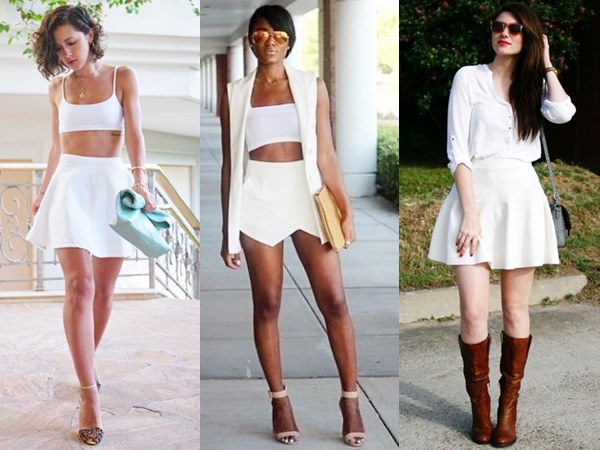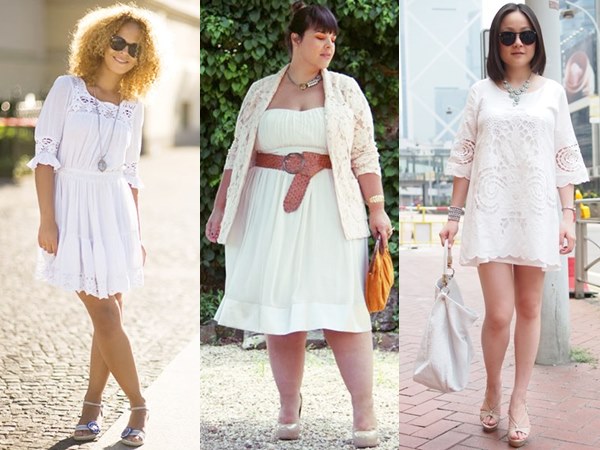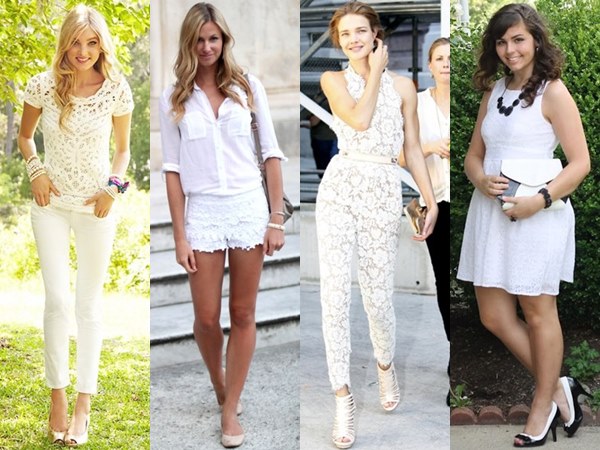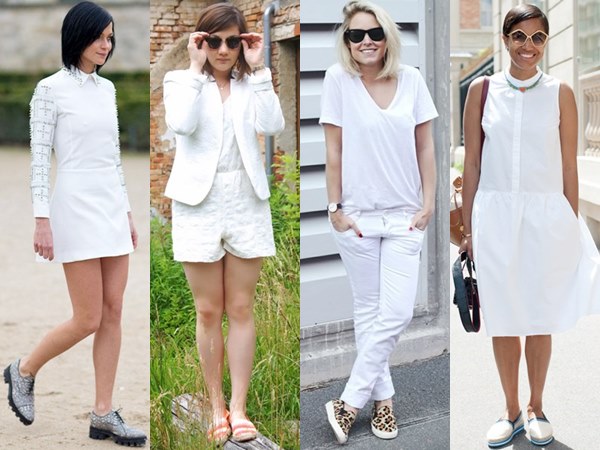 Last but not least, of course, from feminine to sporty to preppy to boho, all styles pictured above are just some general ideas of fashion. If you just cannot face wearing anything that's deemed fashionable, don't worry. It doesn't matter if you are wearing what is "in" or not; what's more important is to wear what you like and what suits you. Do your own mix-and-match of your staples and follow what you think works. Either be a trend setter or make a trend your own, it's all yours.