Spring finally feels like it's arrived. And after a very long Winter, we're welcoming the return of sun with open arms, ready to freshen up our wardrobe with a fresh set of trends we should be lusting after for the Spring Summer 2014 season. From a fresh perspective on shirting to pop art and pink, pastels and floral prints to the high-wattage iridescent metallic, here are the trends that stood out to us the most, breaking down all the must-haves from all the major Spring Summer 2014 runways
This year Spring Summer 2014 fashion trends are all about sweet-chic romantic meets sporty look in the most elegant attitude, suggesting some key pieces with colors that have defined the season such as crop tops, bomber jackets, full tea-length skirts, sheer details, fringe, and exaggerated silhouettes reflecting confidence and power with plenty of room for the feminine side. Here's a round-up of what's trending
FASHION STYLES
Although spring season has always been screaming for those romantic pastel shades and floral prints, this season designers give more interest in it as they have injected a high-fashion attitude into classic sportswear separates. Throughout the runways, sporting spirit aesthetic clearly took over the runways, most notably, baseball caps, tennis-inspired dresses and varsity jackets.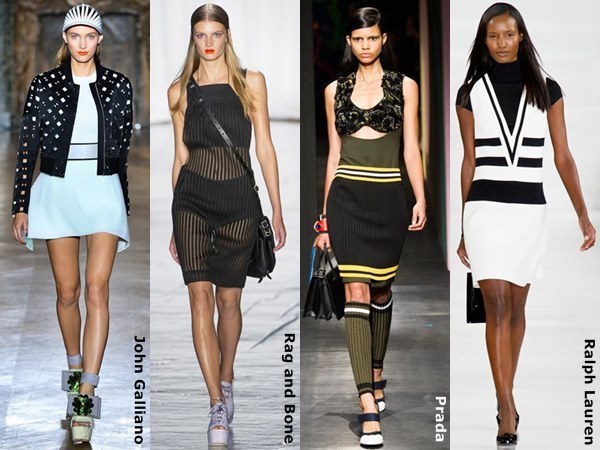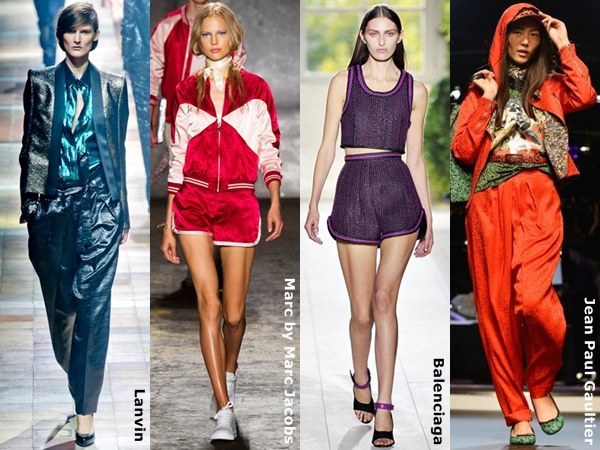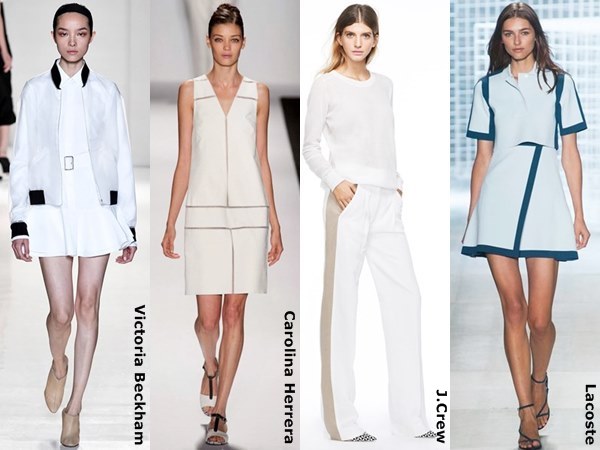 Sporty Chic
From relaxed jumpsuits with some glam-metallic vibe to a more versatile pieces such as the crop tops, hooded pullovers, zippers, mesh, ponchos, and shorts as well as chic tracksuits reminiscent of our days in most sporting looks, designers crafted sportier wear with a modern eye and sometimes a sexier and bolder feel including the looks of sheer-shirt, shiny fabrics, and bright colorful pieces. And for making a stronger sporty-urban vibe, super-cool accessories like legwarmers and tube socks, visors and chunky rubber sole sandals are also among the favorites.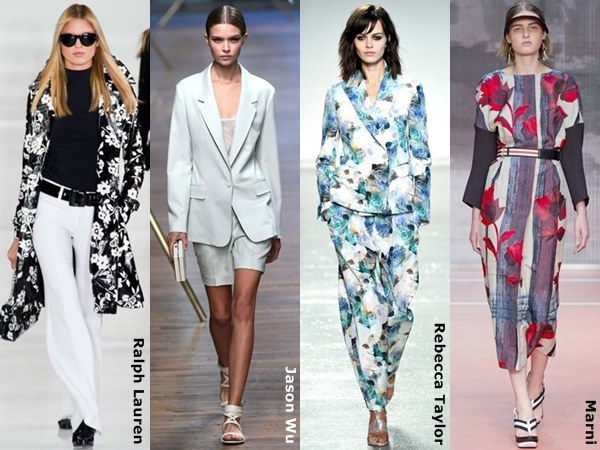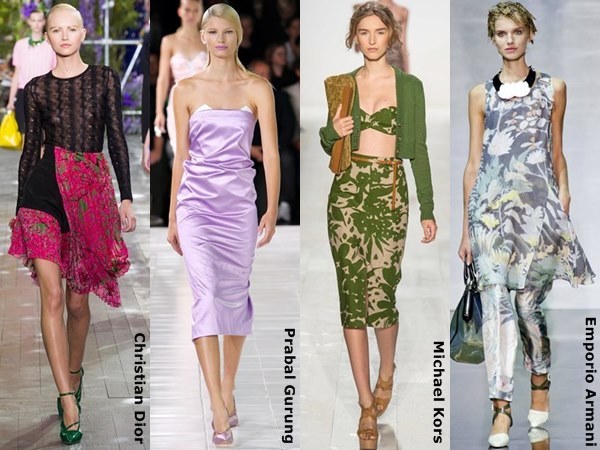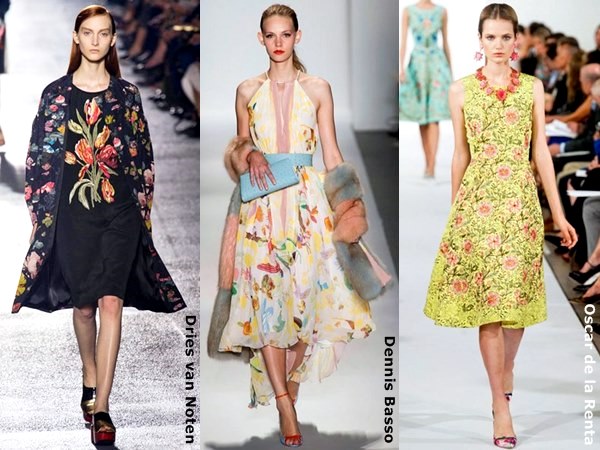 Romantic Girly
Besides looking stylish and trendy in most sporty attitude, it's not a huge surprise that feminine, romantic looks are always fashionable for spring. And for this 2014, shades of pastel, floral prints, trapeze dresses and full-maxi skirts took over the looks in the runways, featuring number of girly statements with metallic and shines, bold embellishment, and interesting details such as pleats, fringes, and ruffles.
KEY PIECES
From a fresh perspective on shirting to pop art and pink, some key pieces featured on last runways stood out with feminine silhouettes, figure skimming trumpets or edged with flounces and ruffles. The trousers are soft, slouchy palazzo pants or as an alternative maxi skirts, more hippie than yuppie have made a real come back.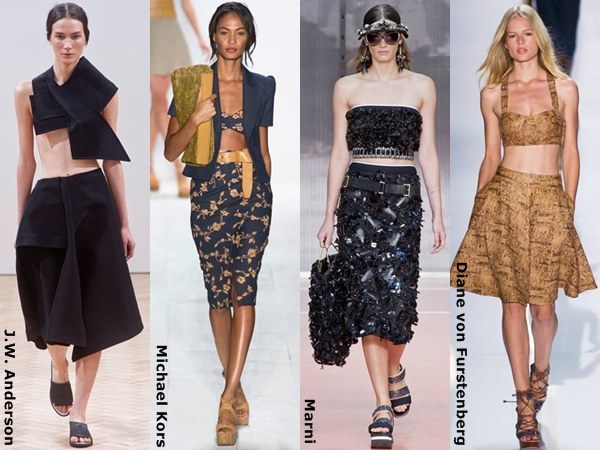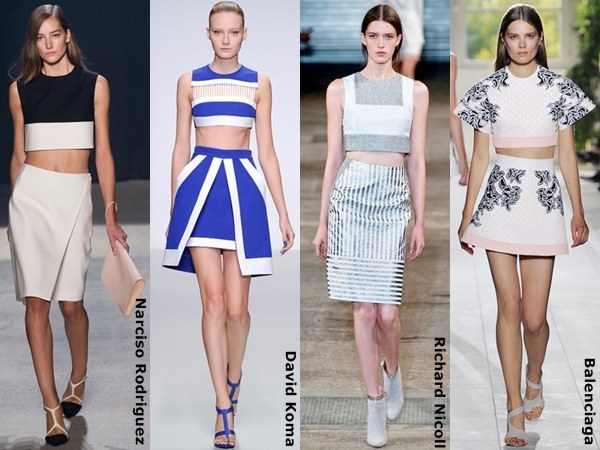 The Crop Tops
Turns out crop tops aren't going anywhere. Stick to that gym routine – bare midriffs are here to stay. Next spring and summer will be a gloriously wonderful time for girls with great abs, as for those not interested in maintaining a nightly sit-up routine for the next six months, try high-waisted pieces for an easy way to wear crop tops without showing too much stomach. Check article "How to Wear a Crop Top for Spring Summer 2013 Trend" on how to wear a crop top.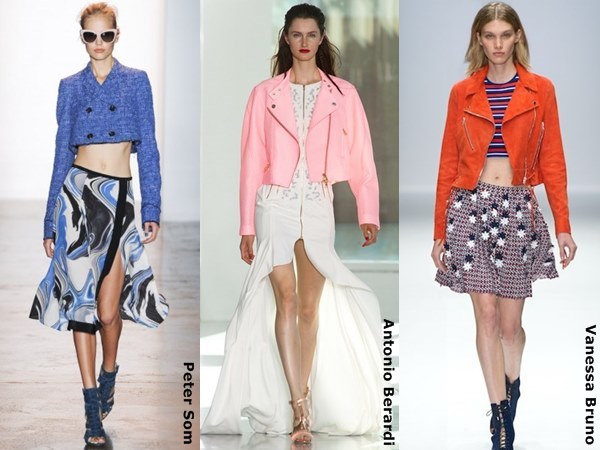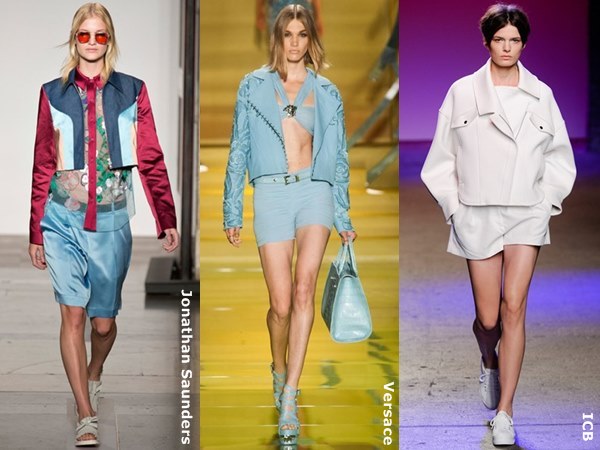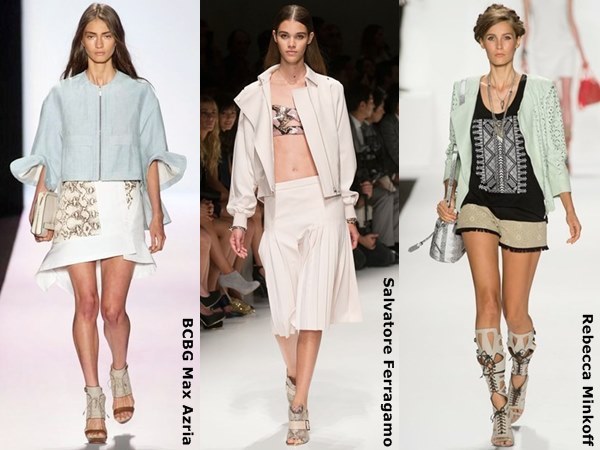 Or, you can opt for a boxy, cropped jacket to pair with a sheath or shift dress, tailored trousers, office-ready skirts, and your go-to jeans. Opt for this silhouette in a plethora of prints and textures to add interest for the bright season perfection.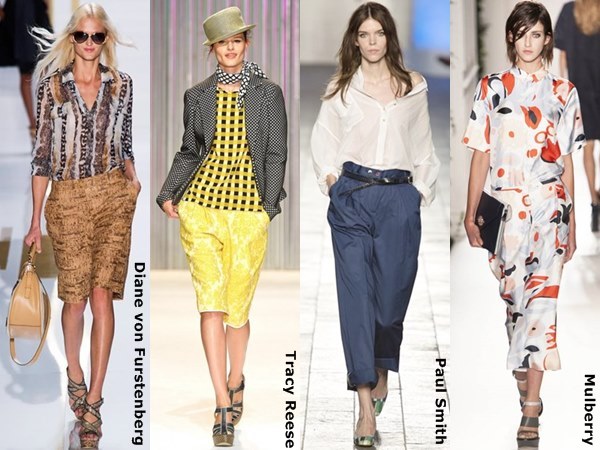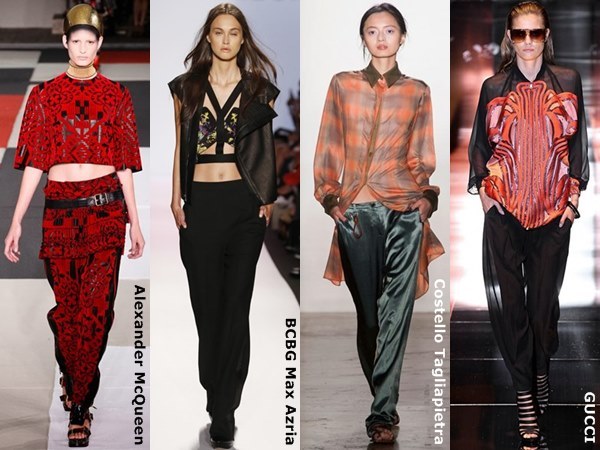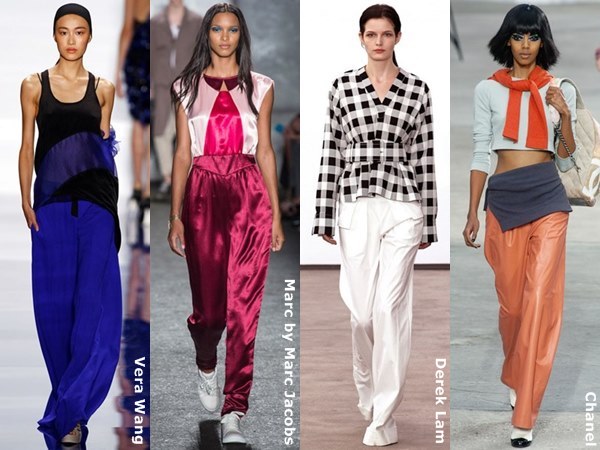 Wide-Leg Slouchy Trousers
Easy to wear and ultra-chic, billowy wide-leg trousers made a huge showing on the spring runways. For these breezy days, let legs breathe with a welcome of proportioned loose trousers make for an elegant alternative. Not just the wide-leg pants were featured through the season's runways, Bermuda shorts and pajama-like pants with slouchy silhouette came to oppose the appearance of formfitting trousers, figure-hugging skinnies, promising relaxed and, most importantly, comfortable looking for super stylish casual vibe.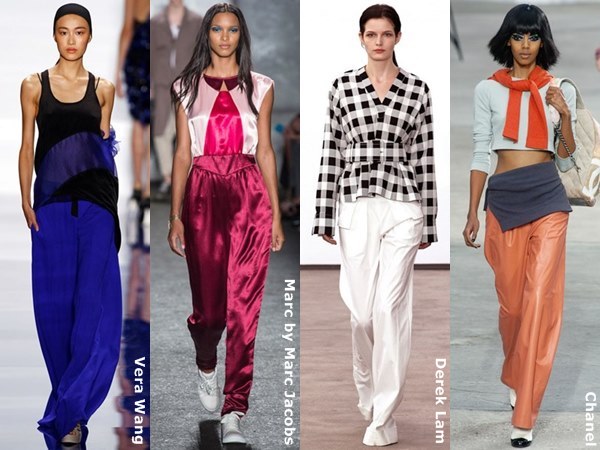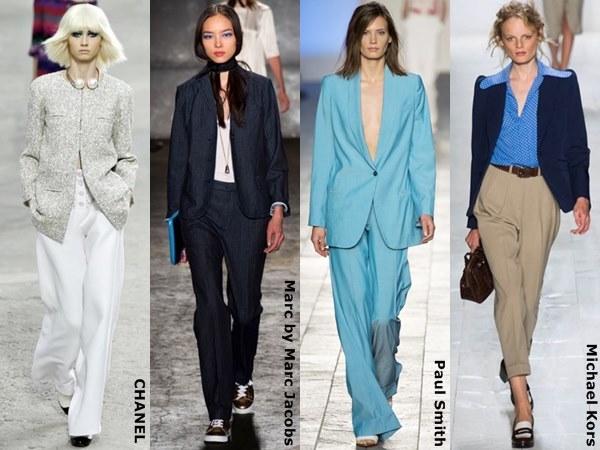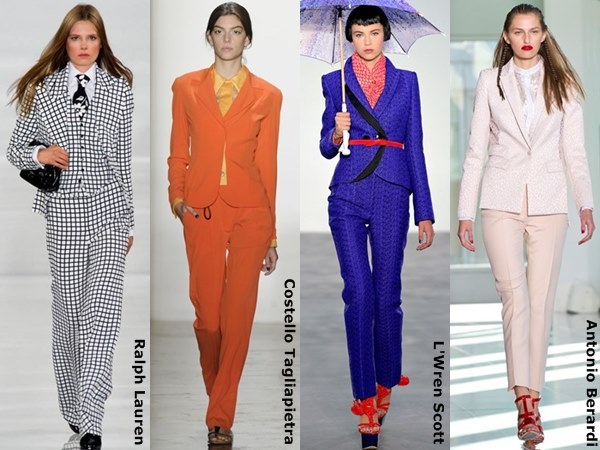 Powerful suit
In giving a little classy, elegant attitude to the sporty-casual vibe, the looks of slouchy, relaxed wide-leg trousers are smartened up with sophisticated tailored blazer looking like a boss in a powerful suit. It's really all in the styling. To keep the look modern but refined, opt for a streamlined silhouette of sporty-meets-sophisticated tailored trousers in monochromatic shades – or with coordinated color separates – and pair the pants with a casual non-button-down top and tailored jacket.
You can also try investing in casual denim, slouchy pants, or tailored Bermuda and pair it with a cropped or tailored blazer for that ultra-chic elegant look.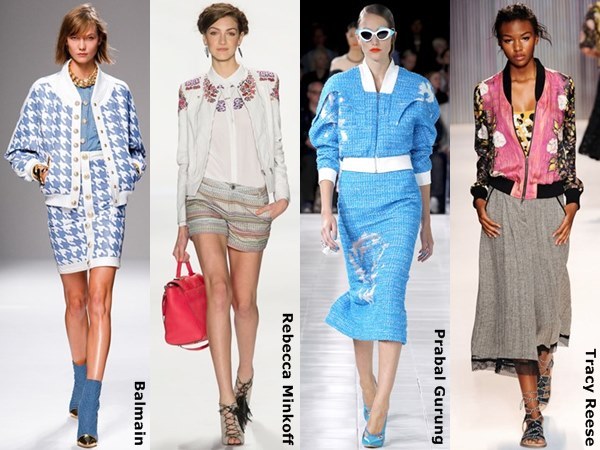 Bomber Jacket
Nothing embodies super-cool sporty vibe more than a bomber jacket. This season, these sporty layering pieces get edgier with adventurously colorful prints, luxe textures and fabrics, and sporty-cool detailing. This staple has long proved itself as an agreeable wardrobe companion, and like its cousin the boxy jacket, the bomber is ultra-versatile to temper the girliness of a dress or complement the athletic chicness of dressy shorts. Just be brave and add a new bright, vibrant, or pastel hue – other than black or white – into the mix to grab more attention into the look.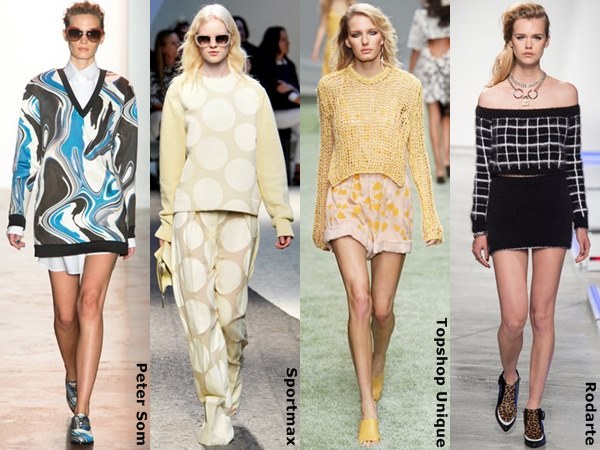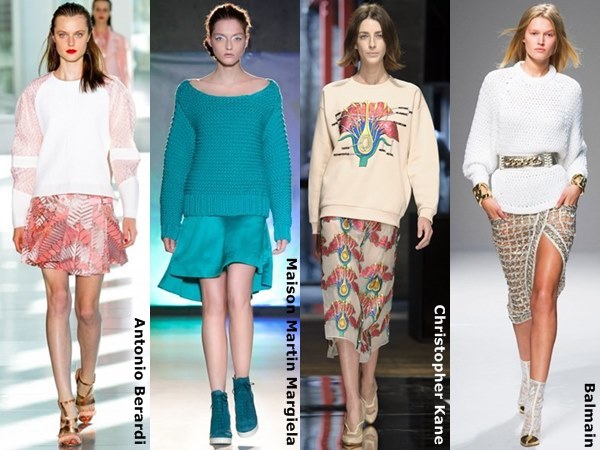 Sweater Dressing
Casual yet incredibly flattering, sweatshirts are no longer relegated to that plain gym outfits. Along with the not-going-anywhere crop top, spring knits make for next season's staple separate. And with the slouchy silhouette is getting a makeover for spring – with brighter hues and splashier patterns – whether it's boldly printed or inventively cut, this seasonal sweater is an easy-chic piece to pair with tailored pants, flirty skirts, and blousy shorts, or even to just throw on over a light dress.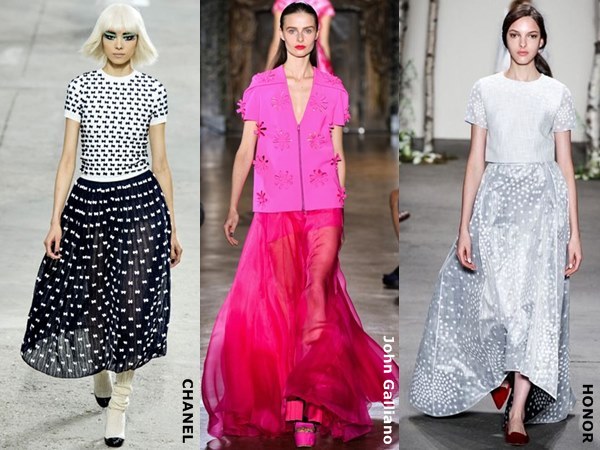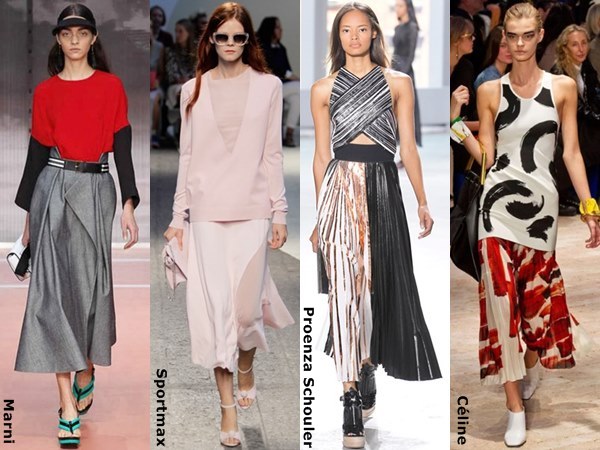 Tea-length to Full Skirts
More hippie than hipster, comfortable yet alluring maxi and midi skirt has made a return to the catwalks, promising that they still have a very special place for this season's most popular trends. The length this season will fall somewhere between the lower calf and maxi. Pencil skirts or pleated skirts are all the rage, while lightweight fabrics and pretty prints go hand-in-hand with the super-feminine style.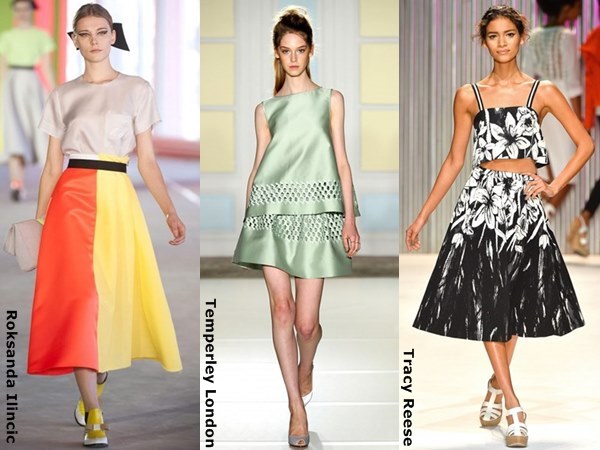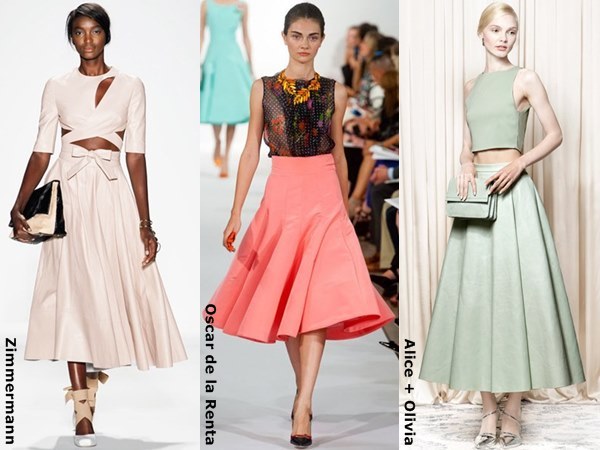 Moreover, as the midi-skirt may be the ultimate transition piece, the full tea-length skirt – between midi and maxi – is also the 'it' item for spring. This ladylike, voluminous, calf-covering full skirt is ideal because aside from looking like a princess, it accentuates the smallest part of the body: the waist. The silhouette feels innately formal but is simpler than you think to style down. Of course, you could also get the look with a breezy tea-length dress, but keep it modern and sexy by baring some arm.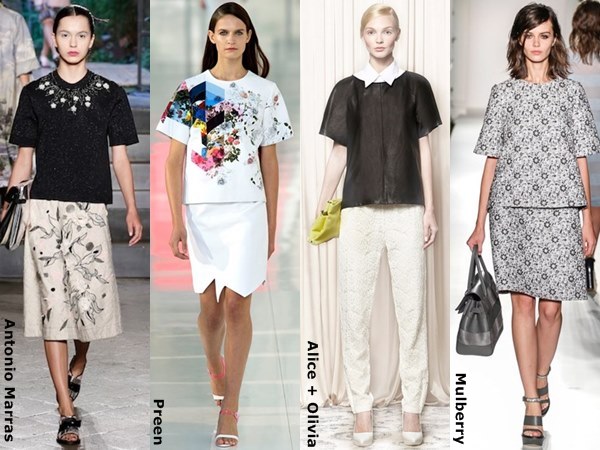 The Shift Blouses
Almost like a dressy version of a T-shirt, the shift blouse is easy to pair with any bottom you would love to don this season, plus it obviously gives so much more elegance compare to T-shirt. This elegantly structured top with its near-elbow-length sleeve and boxy silhouette will keep your style flattering and versatile that you probably need to invest in now. Have some fun with extra details, like exciting prints, luxurious textures, and varying necklines.
Continue the article "Spring Summer 2014 Fashion Trend Styles and Colors (Part 2)" for more colors, prints, and details Spring Summer 2014 Fashion Trends