Warm, bright season is coming and there's nothing more happy-making than a dressy, more fun wardrobe update. Whether its fancy 3D-popping embellishments, artsy graphics, black and white mono, white on white statements, or fondant pastels – we're looking forward to a new season seen through rose or fuchsia, blush, bubblegum, mint green, or neon pink-tinted spectacles – or perhaps you'll be working the sporty tennis skirt trend, take a look at more fashion key pieces that are trending now.
In continuing article "Where to Shop for Spring Summer 2014 Fashion Trends (Part 1)", we've seen this year promises to be the most sexy, bold and jewel-encrusted, yet sporty and classy season. Expect plenty of high shine, dazzling prints, fuller tea-length skirts, and plenty of embellishments
The Fullest Skirt
Key pieces: full-skirt or A-line skirt from midi to maxi to tea-length (between midi and maxi that hits just above the ankle)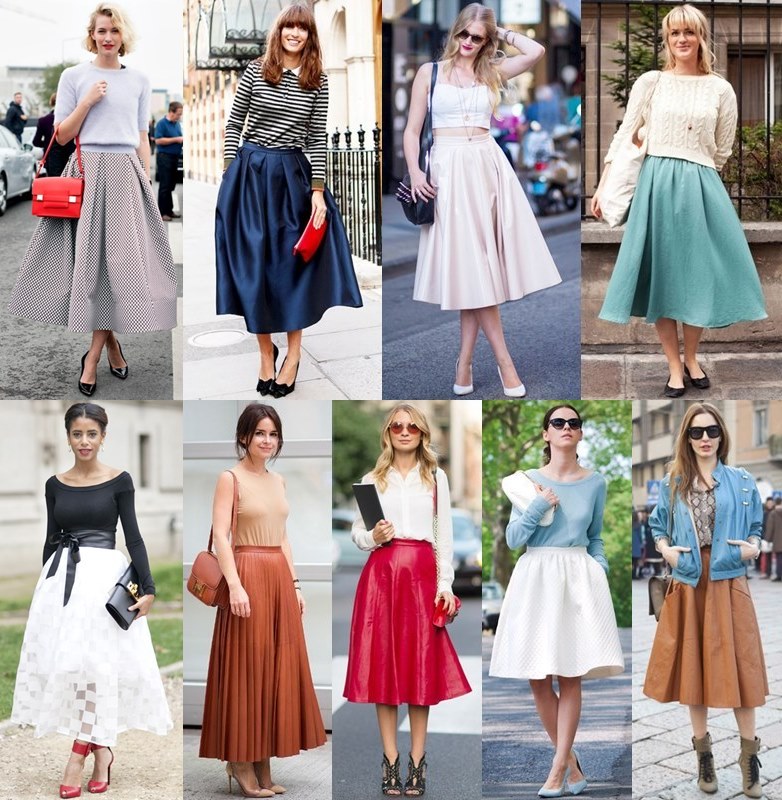 How to wear: Full skirts were in full swing on the runways. This type of skirts is both figure flattering and flaw concealing. Although the style is being shown in classic fabrics, neutral hues and pastel shades, the way full skirts are being worn is thoroughly fresh. Pair the staple whether with crop tops, crisp shirts, and bomber jacket or body-conscious sweaters for the sporty highest trend.
This skirt can be worn dressy with structured satchels and pointed toe pumps or dressed down for a casual look. For a weekend ensemble, full skirts are being shown with flat sandals, heeled sandals, mini-satchels and soft clutches. Obviously, this trend is not your Mother's or Grandmother's full skirt outfit anymore.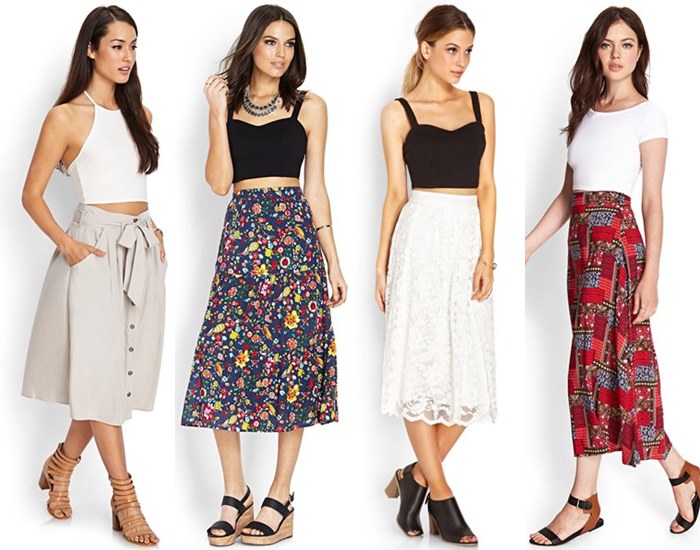 Forever 21: LOVE21 Sash Tied Midi Skirt ($27.80), LOVE21 Tiered Floral Skirt ($22.80), FOREVER 21 Classic Lace A-Line Skirt ($27.80), FOREVER 21 Patchwork Floral Maxi Skirt ($19.80)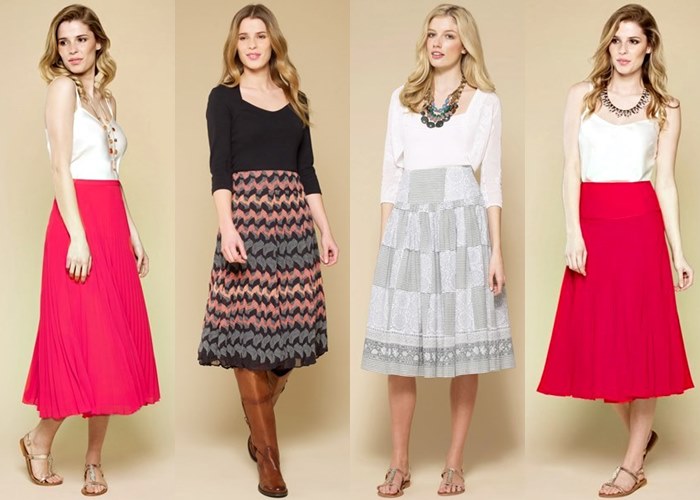 Monsoon: Piper Pleated Midi Skirt (£55), Zinnia Printed Skirt (£59), Ellen Woodblock Skirt (£49), Orella Skirt (£59)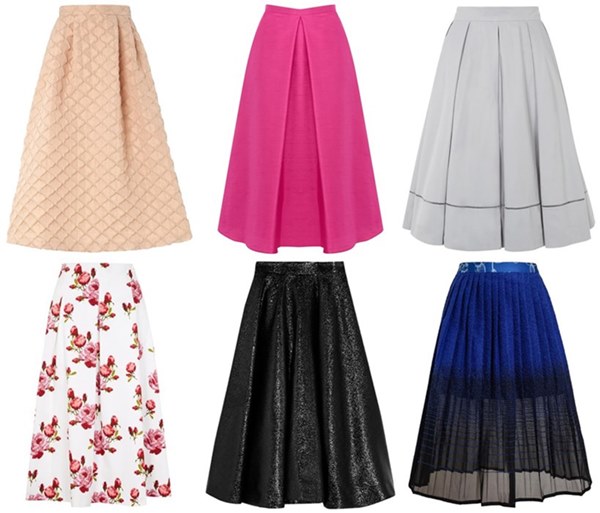 Samuji Salmon Pink Quilted Skirt ($510), Shantung Fuchsia Full Midi Skirt ($90), Hobbs Justine Silver Grey Skirt ($225), Invitation by Hobbs Blossom Skirt ($250), Lulu&CoLamé Black Midi Skirt (£131.25), OSTWALD HELGASON Degrade Embroidered Pleated Silk Skirt (£440)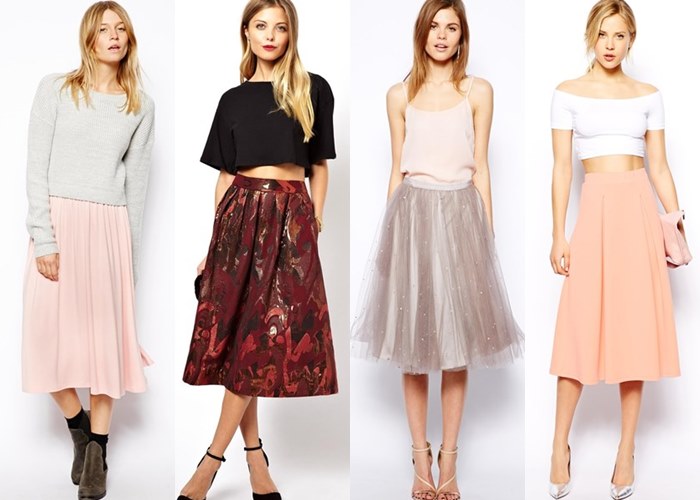 ASOS: Full Midi Skirt ($41.39), Full Midi Skirt in Camo Jacquard Print ($65.85), Coast Cordelia Sparkle Skirt ($235.18), Midi Skirt in Scuba With Full Pleats ($56.44)
Crop Tops
Key pieces: every style of crop tops – from full-on belly-baring numbers to tops that show just the slightest sliver of skin.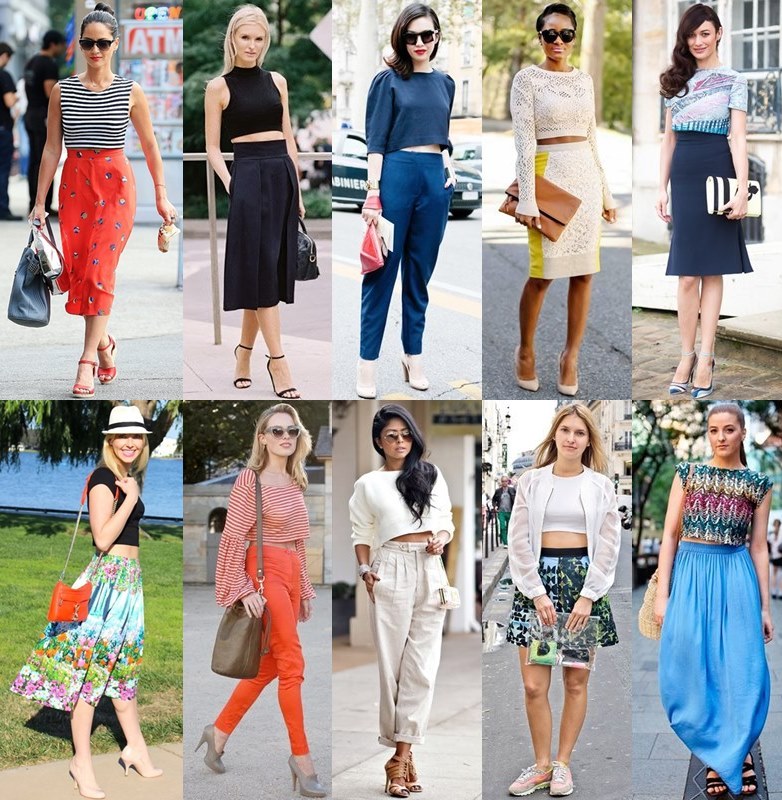 How to wear: Still a hot trend for next season, crop tops took over the runways along with many of the street styles. Elegant for evening or playful with matching shorts for breezy days, never has there been a more attractive incentive to hit this summer days than crop tops. Just like the yesteryear's trend of crop top, this season's pieces are still less about the stomach and more about the waist.
Read following article "How to Wear a Crop Top for Spring Summer 2013 Trend" for more styling tips of a crop top. Basically, for this season's hottest trend, styles that sit comfortably at the end of the ribs are important, second only to getting your proportions right at the bottom. The trick is to wear them with skirts and trousers that come over the navel to reveal just a hint of skin. Even you could pull off a crop top as layer over your shift dress, making the look more interesting and polished.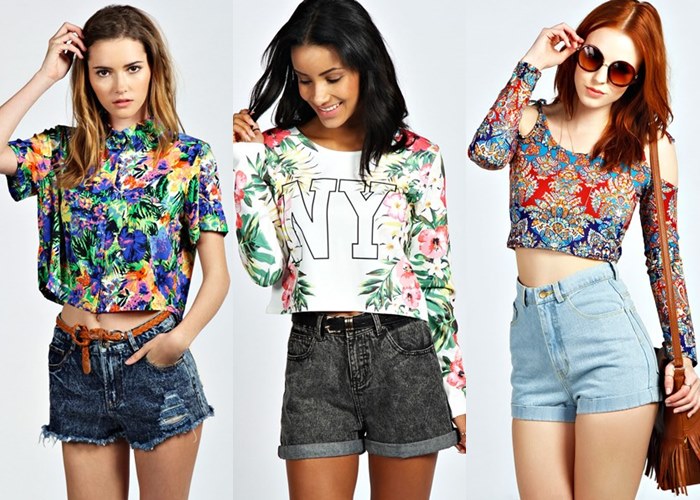 Boohoo: Gabby Hawaiian Boxy Shirt ($26), Daisy New York Floral Print Scuba Top ($32), Elisa Boho Print Tie Shoulder Crop Top ($16)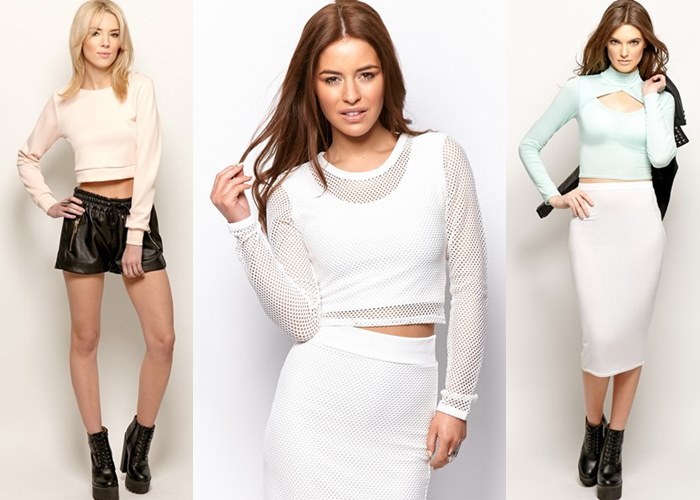 Pretty Little Thing: Grace Nude Cropped Scuba Sweater ($27), Eleanor White Fishnet Long Sleeve Crop Top ($34), Jenna Mint Roll Neck Cut Out Crop Top ($27)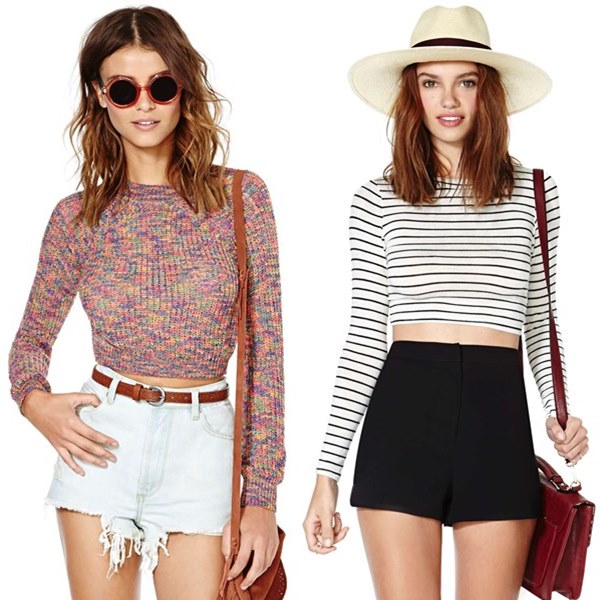 Nasty Gal: MinkPink Twist And Shout Crop Knit ($92), Liner Up Crop Top ($38)
High Shine Metallics
Key pieces: every staple that comes in shimmering shine, metallic mine golds and silvers and coppers, futuristic iridescent colors and fabrics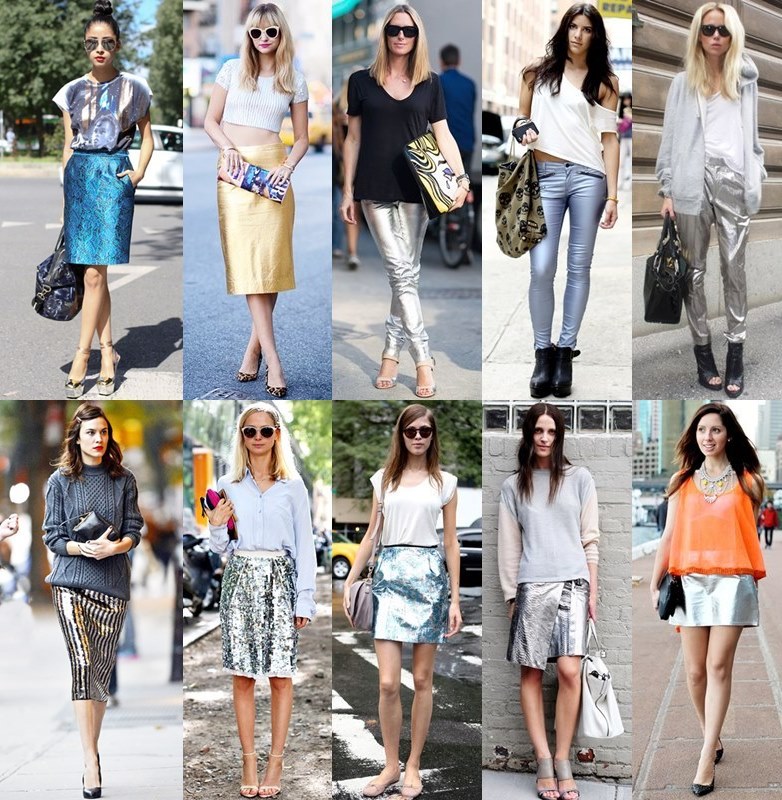 How to wear: It's pretty simple to don this trend, just pick one incredibly striking metallic piece and wear it with full throttle confidence, heels and stylish accessories in subtle hues. Just create a discreet way by bringing a little bling to skirts and dresses. From sculpting shimmering fabrics into sinuous, body-skimming looks, the best thing about these colors is that you can wear them from day to night whether it be at work, out on the town or taking it easy on the weekend. You could also sport them on cropped jackets, wide-legged pants and athletic-wear to hit the coolest sportswear styling spring trends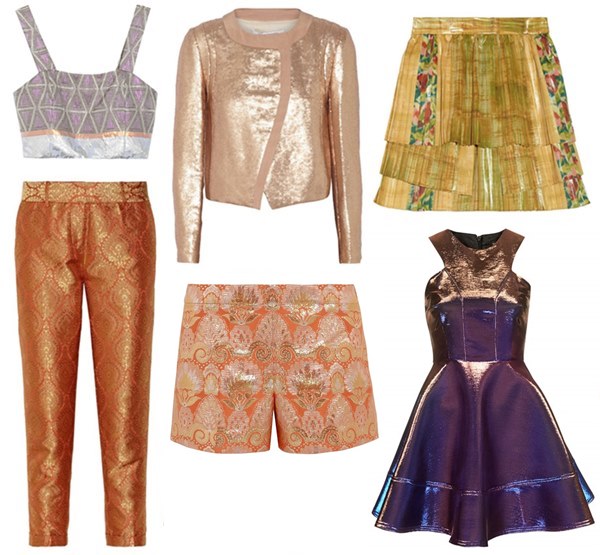 Suno – Cropped Geometric-jacquard Top ($200), Elizabeth and James – Anselm Jacquard Straight-leg Pants ($172.50), Diane von Furstenberg – Sardinia Metallic Sequined Jacket ($263.25), Gilded Brocade Short ($120), Suno – Tiered Coated-taffeta Skirt ($294.98), Metallic Two Tone Skater Dress ($150)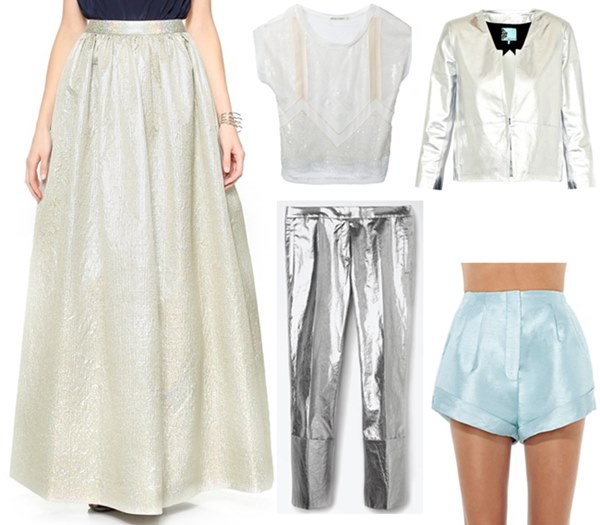 Alice + Olivia Metallic Ball Skirt ($697),  WHAT-ELSE? Sheer Sequinned Blouse ($177.12), Cotton Silver Crown Trouser (£205), Metallic Leather Jacket (£445), Cameo Reality Short ($120)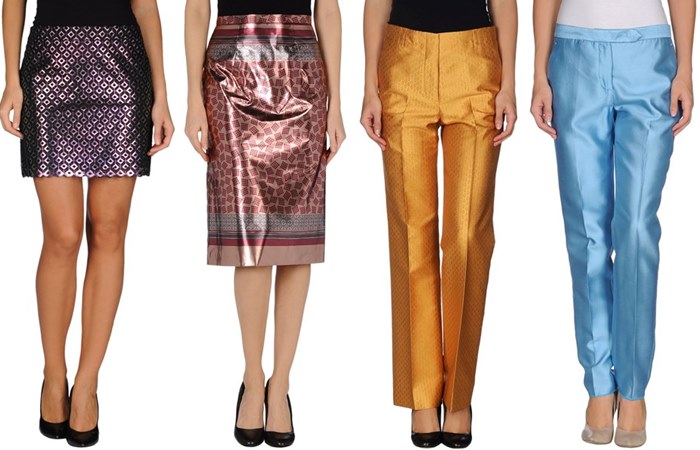 Stella McCartney Mini Skirt ($265), Burberry Prorsum 3/4 Length Skirt ($265), Mauro Grifoni Dress Pants ($160), Gianfranco Ferre Dress Pants ($251)
Art-Inspired Prints
Key pieces: fashion pieces with prints and patterns that take artwork, paintings, or graphic designs as its key inspirations – from breezy artistic gingham, checks, geometric retro patterns, and paint swirls to abstract paintings inspired by graffiti work, sketch books, paint brushes, spray cans and graphite.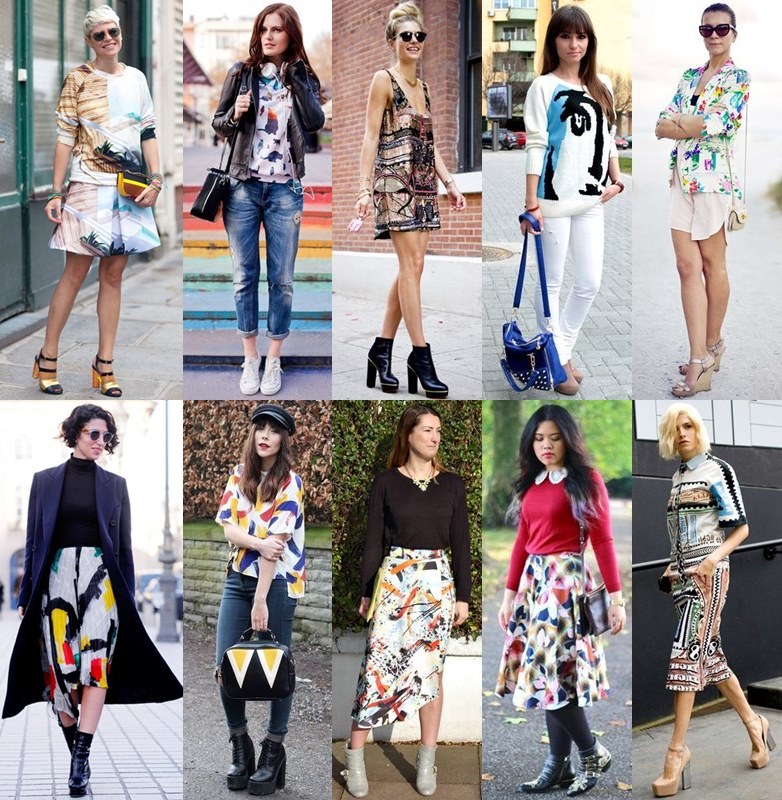 How to wear: As this season's fashion promises to be illustrated by every art-inspired print, all pieces with statement graphics, paint splatters and geometrics can be incorporated into your look with effortless ease. Generally, this look is all about strong vibrant color and interesting prints
Donning these prints can be tricky depending on how busy the prints are. One most important rule is to keep everything in balance. Try not to clash two different prints – in other words, avoid print-mixing so you don't look overwhelmed.
If you wear separates, choose both bottom and top with the same prints, or pair a pop art skirts or pants with a solid color top and vice versa. Don't wear heavily embellished shoes or carry quirky clutches as you want to keep the focus on the outfit. With too much happening there is bound to be a clash.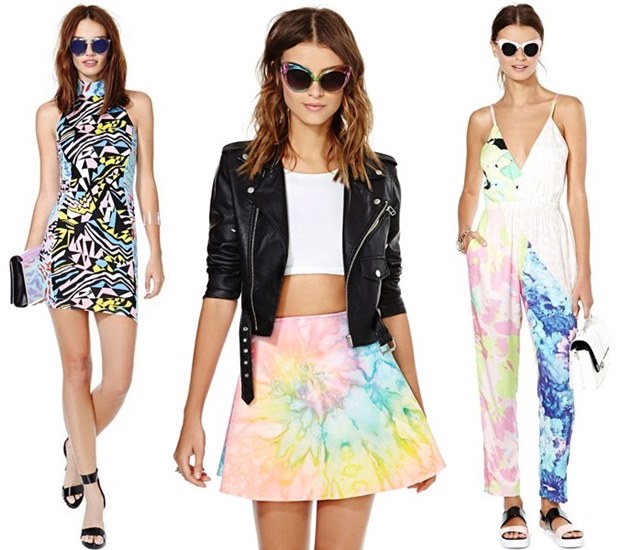 Nasty Gal: Nasty Gal Take It To The Max Dress ($78), UNIF I Dye Skirt ($108), Nasty Gal x Shakuhachi Classic Spastic Jumpsuit ($168)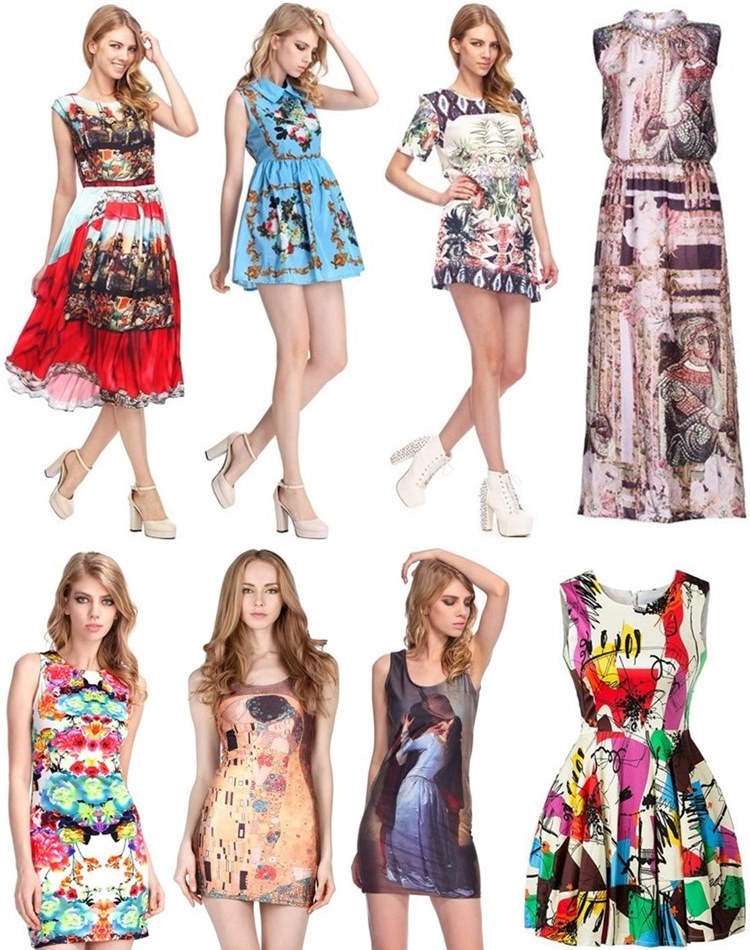 Romwe: Baroque Red Sleeveless Maxi Dress ($49.99), Retro Printing Blue Dress ($39.99), Floral Print Loose Dress ($33.99), Christians Print Sleeveless Pink Dress ($35.99), Baroque Sleeveless Mini Bodycon Dress ($24.99), Romantic Kiss Bodycon Dress ($39.99), Romantic Kiss Print Tank Dress ($41.99), Scrawl Print Slim Sleeveless Dress ($34.99)
3.1 Phillip Lim – Embellished neckline printed front top ($475), Preen by Thornton Bregazzi – Multi Colour Tile Shelton Top ($625), Wunderkind – Abstract Print T-shirt ($258.52), Jean Paul Gaultier Vintage – Print Denim Jacket ($478.92), ASOS – Criminal Damage T-Shirt With Mona Lisa Tattoo Print ($56.44), Isa Neon Abstract Shift Dress ($57)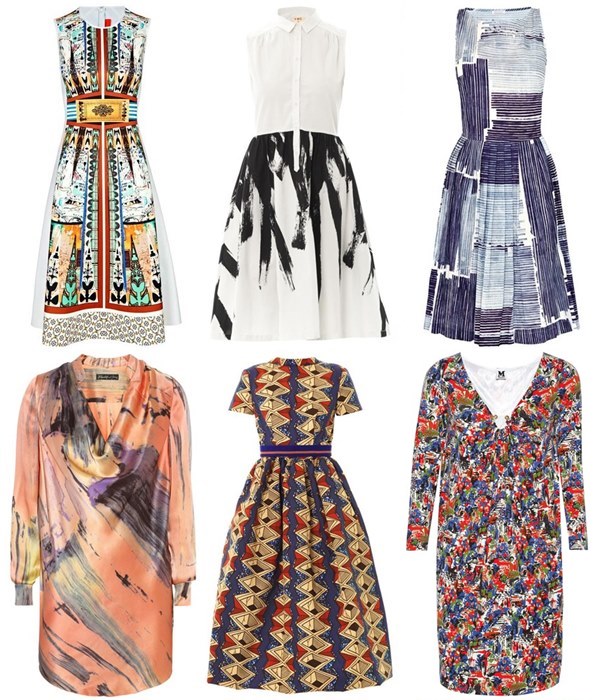 Clover Canyon Havana Circle Neoprene Dress (£295), YMC Paintbrush-print Cotton Dress (£195), Just In Case Baily Cotton Dress (£240), Elizabeth and James – Carly Printed Silk Mini Dress ($197.50), Stella Jean – Mirto Diamond African-print Dress (£465), M Missoni – Printed Jersey Dress ($288.15)
3D Embellishment
Key pieces: Haphazardly stitched crystals, lavishing lashings of shimmer, sparkle and costume-jewelry fancies across tops, dresses, collars and spare inches of fabric – the more the merrier.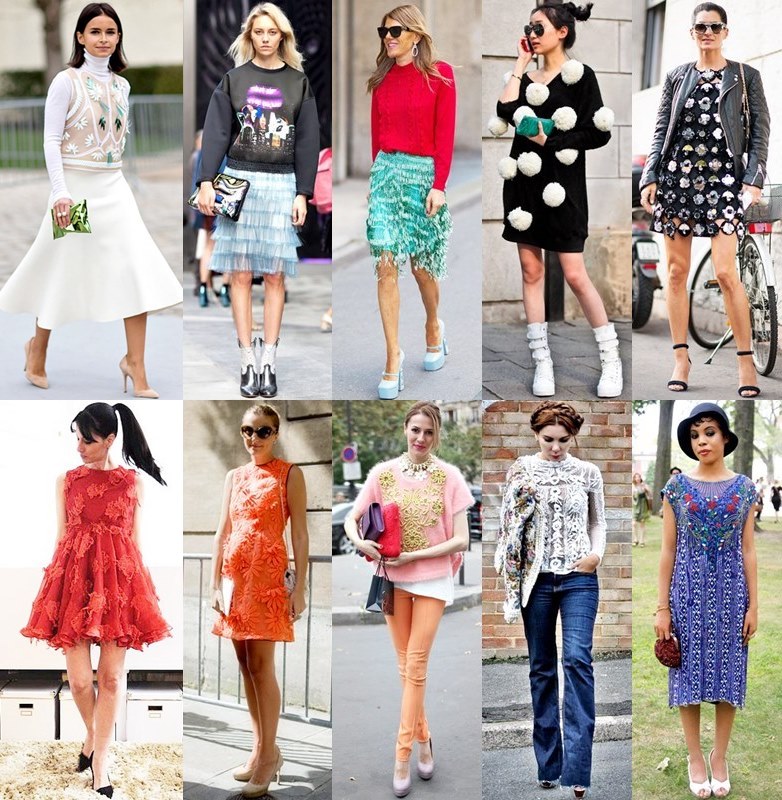 How to wear: Embellishment is the new passport to bling this season, as it still holds us in its thrall, enriching our wardrobes both day and night. Even casual sporty pieces carry some embellishment now, giving a whole new slant on day-to-night dressing. Just try to add a bit of glitz without overdosing on the trend. If you're not sure to wear this trend, start by incorporating small embellished items into your wardrobe, such as a handbag, shoes, or small accessories.
Know your figure well by determining which body part you'll want to hide or to emphasize, and use embellishment on or near a body part you want to call attention to – it draws the eye to it. Also make sure the embellishment is scaled to your figure, for example, huge sequins may overwhelm petite figures, while large, intricate embellishment looks best with streamlined, simple clothing. Then again, everything is about balance when it comes to striking fashion looks.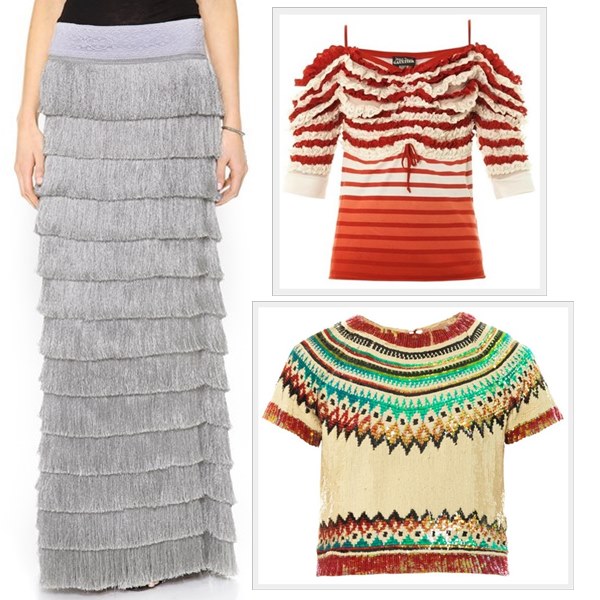 Free People Snowdrift Fringe Maxi Skirt ($400), Decades X Jean Paul Gaultier Ruched off-the-shoulder top (£187), Decades X Jean Paul Gaultier Embellished silk top (£935)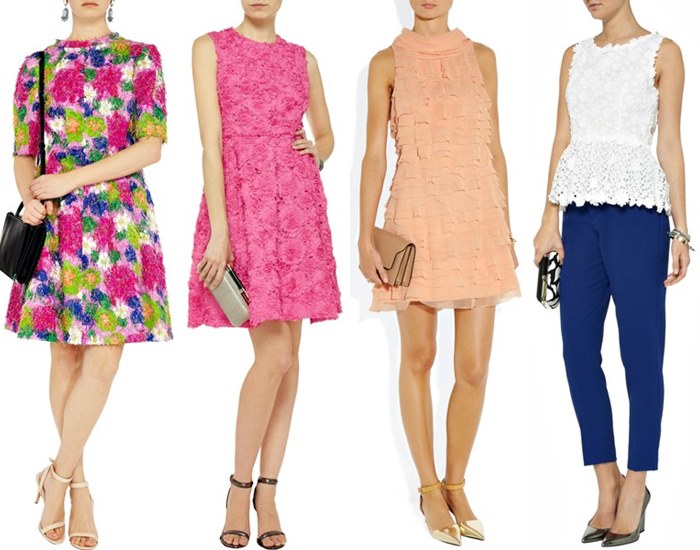 Marni Multicolor Embellished Cottonblend Dress ($712), Jill Stuart Letizia floral-appliquéd Organza Dress ($394), Moschino Orange Ruffled Mousseline Dress ($663), Oscar de la Renta Appliquéd Cotton Peplum Top ($591.50)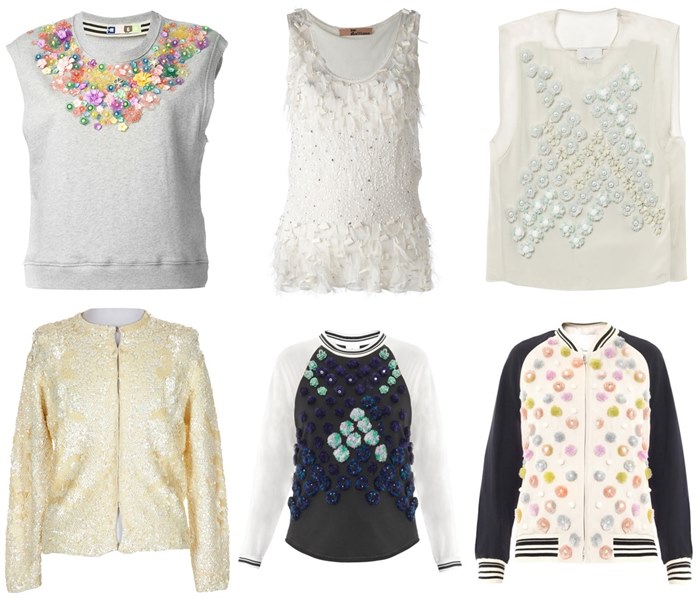 MSGM – Embellished Sweat Top ($375.94), John Galliano – Bead Embellished Top ($219.37), 3.1 Phillip Lim – Dandelion Embellished Silk Top (£425), Cream Sequinned Blouse Cardigan (£90), 3.1 Phillip Lim – Dandelion Embellished Top (£380), 3.1 Phillip Lim – Dandelion Embellished Bomber-jacket (£805)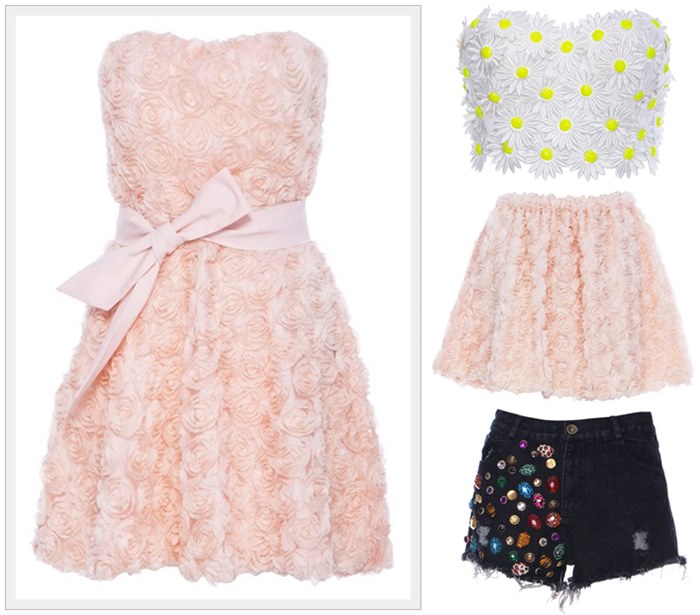 Romwe: Faux Roses Embellished Pink Bandeau Dress ($41.99), Daisy Embellished White Bandeau ($36.99), Leopard Diamante Embellished Black Denim Shorts ($43.99), Faux Roses Embellished Pink Skirt ($26.99)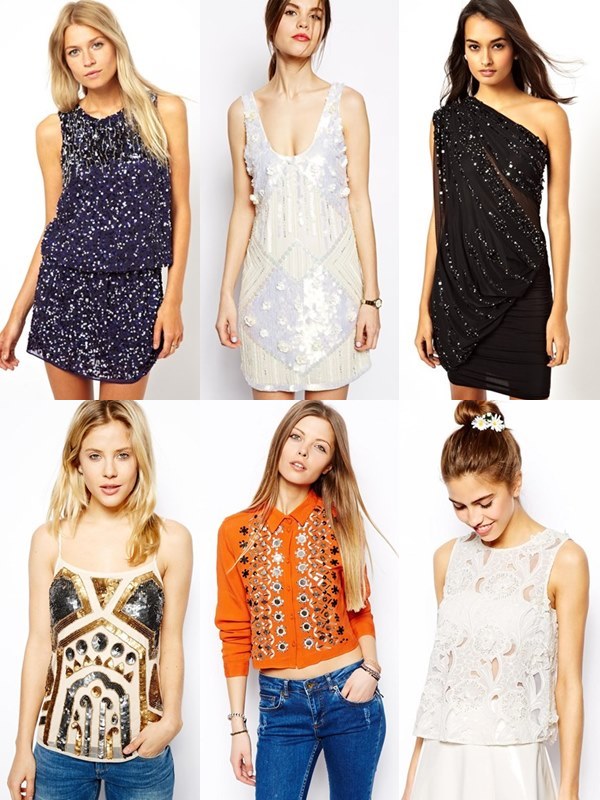 ASOS Dresses: Mango All Over Embellished Dress ($82.78), Pearl Amazing Embellished Shift Dress ($282.21), Forever Unique Zara Embellished One Shoulder Dress ($95.95)
ASOS Tops: Cami Top with Art Deco Embellishment ($63.03), Orange Blouse with Mirror Embellishment ($84.66), River Island Cropped Embellished Tank Top ($65.85)
Finally, when it comes to fashion trends, number of trends may come and go and spin one season ahead of the present, but of course, personal style refers to your own fashion style. Never follow trends that aren't you. If you hate it, skip it.