Nobody wants to be inappropriately dressed at a wedding, nobody, even for a wedding in chilly days during fall and winter season. Think rich autumnal hues, gorgeous prints, and something for everyone, from the church wedding to your most formal of nuptials. Or embrace a winter wedding with jewel-tone velvets, long sleeves, heavy silk brocade, and everything else you couldn't get away with. Even the slip dress can work for a barn-themed wedding with the simple addition of an evening jacket.
However, although the choice of wedding guest outfits is huge, as all women know, it can be difficult sorting through rails upon rails of clothes in the stores to find not only something suitable for your shape but also your height. Says that you are interested in wedding guest outfits for petite ladies, first of all you must know some basic tips for this small shape, which in general petite means women who are small in build. This figure does not mean you're thin, meaning women who are petite come in all different types of body shapes as well. Learn "Fashion Tips and Style If You are a Petite Woman" for further fashion advice and style inspirations.
As for the choices of dress petite ladies can wear for a wedding. Here, our roundup of the best dresses to wear to a fall winter wedding, along the most common wedding-guest dress codes explained so that you arrive appropriately.
But before taking your next step at this easy cheat sheet for what to wear, please check out other worth trying tips for wedding guest dresses via articles "Wedding Guest Attire: What to Wear to a Wedding – part 1, 2, 3" as well as "Wedding Guest Dress Code Guidelines"
Black-Tie Wedding Guest
Apart from white tie affairs – which aren't common anymore for most wedding – black tie is the most formal dress you'll probably face when to come to weddings or galas. The dress code goes with so much excitement and opportunity to dress up, including a full length gown in luxe material and rich color (such as black, jewel tones, chic metallic, navy or brown). However, for those with petite shape, make sure to keep your outfit sleek and elegant. Don't get (too many) accessories and jewelries that are oversized and bold (such as large hoop earring, oversized rings, oversized necklace, etc.).
When choosing a full length gown, pay attention to the proportion and practice good posture. Be mindful that the correct posture will make the clothing draped around the body better and thus improve your overall silhouette. Plus, you will also look taller, leaner and smarter. Fitted or semi-fitted dresses are also better for you, as well as dresses that come in solid rich color with minimalist or small embellishments, or with large prints but in neutral dark hue. Take a look at some ideas of wedding guest dress for black-tie event, starting from ones in classic design, material, color and embellishments perfect for petite figure.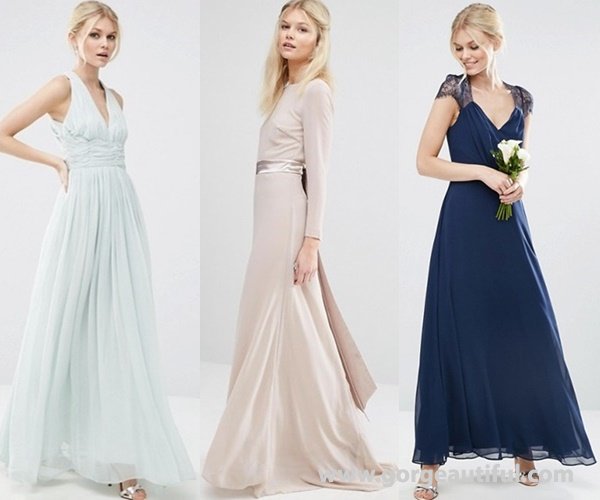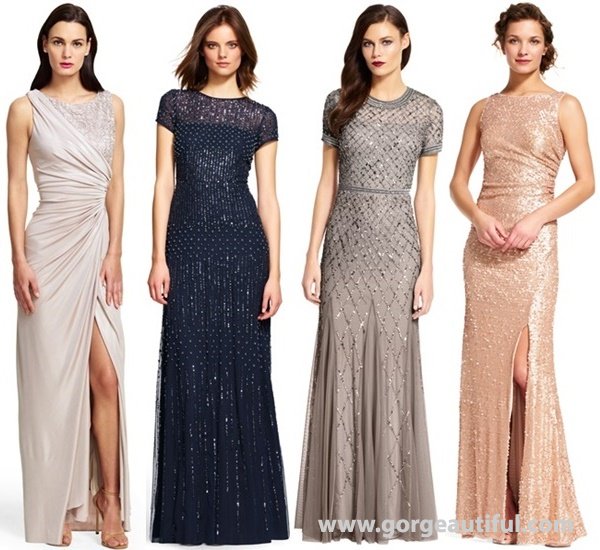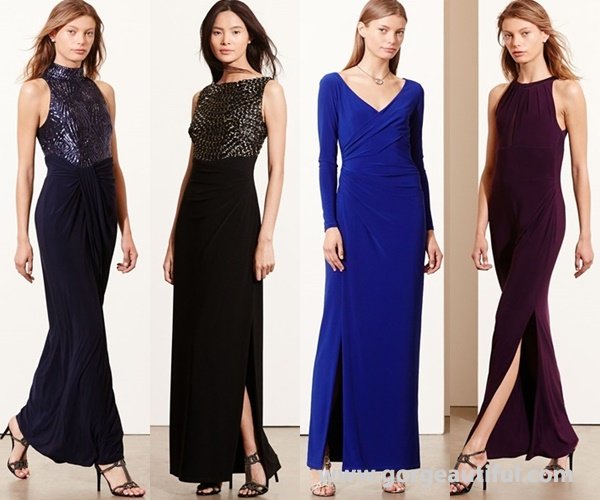 Formal Wedding Guest Dress
Formal wedding can also have several other aliases, such as "Black-Tie Suggested" or "Black-Tie Optional", which the wording here suggests something slightly less formal than black-tie. A sleek formal or embellished cocktail-length is the best choice for petite ladies to attend this event. Traditionally, cocktail attire for women was restricted to dresses that were knee-length, however, nowadays any length shorter than an evening dress may also be considered cocktail dress appropriate.
If the wedding you're attending is in the afternoon, you can be a little freer with the colors and patterns of your dress, however, if the wedding is an evening cocktail event, the rule about rich colors such as emerald green, scarlet, or dark tone like brown, navy, purple, gray, or black definitely applies. As for a morning ceremony, small prints, brighter colors, or most pastels will work for you perfectly.
You could also go for a long or in formal wedding, but make sure it comes in simple and elegant details instead of an elaborate sequined evening gown. For petite figures in maxi dress, pay attention to the 'two-thirds-one-third rule', meaning you need to define your waistline two-thirds for the lower body part and one-third for the upper part. Plus, if you have to split up your body at the center line, opt for belt with a skinny version and wear heels to add height to your lower body part.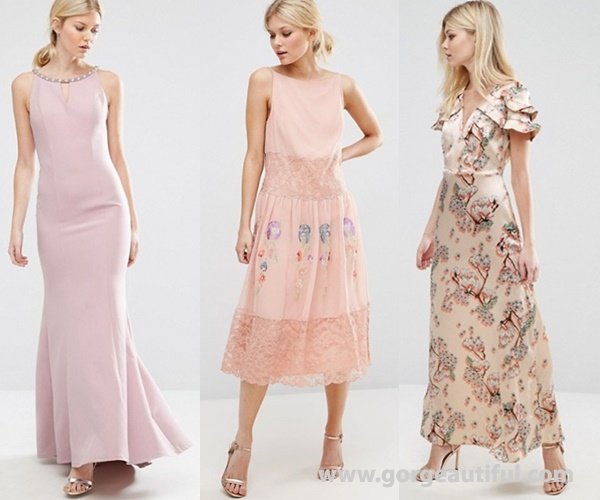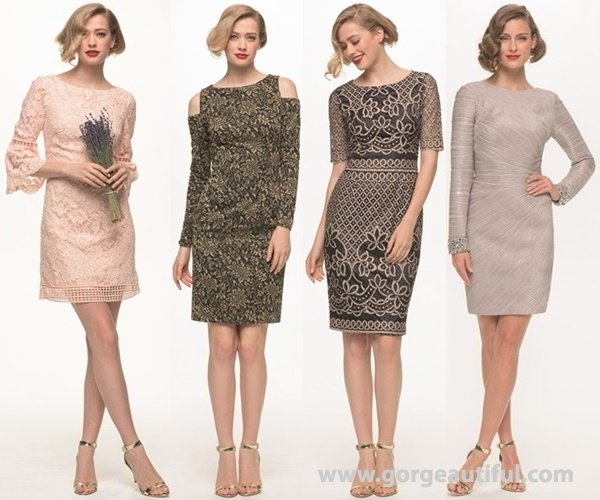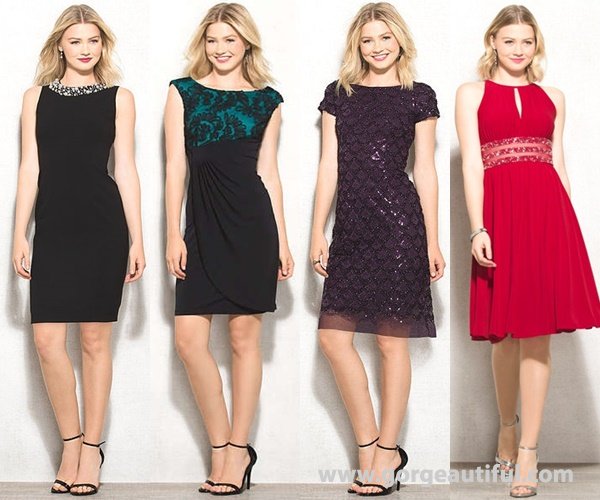 Festive Attire Winter Wedding Guest
"Festive Attire" seems to be an invite trend of late that can leave many guests scratching their heads. Basically, this dress tends to come up on invitations around the holidays, it is similar to cocktail attire, but with a holiday bent. The safe bet is to wear rich color, bold jewelry, and sparkly details showing that you're ready to have a good time. Go all out with sophisticated bling and a vibrant dress – from metallic and shiny shades to bright tropical prints to embellished details – or you can even add more glad tidings with statement accents: a bib necklace, red pumps, or a glittery clutch, but make sure to still think of a balanced look, and never overdo the bride.
Actually, a winter wedding is the perfect excuse to wear your most fun, festive dress. Keep an eye out for head-to-toe metallic or rich colors like red ruby, gold, or copper, as well as luxe fabrics like sequin, satin, or lace. However, winter days can be hard for petite ladies since you'll also want to keep you wedding guest dress made of heavy fabrics, like tweed or velvet to keep you warm during a chilly evening celebration. Go for an outerwear – such as coat of jacket instead of wearing a heavy-fabric dress, or you could also pair a shorter dress with opaque black tights and closed-toe pumps. However, when petite frames wear an outerwear, be mindful of roomy cuts with lots of material, and never opt for a dress that doesn't fit quite right. Basically, if something is voluminous on the bottom, balance things out by wearing something fitted or tucked on top.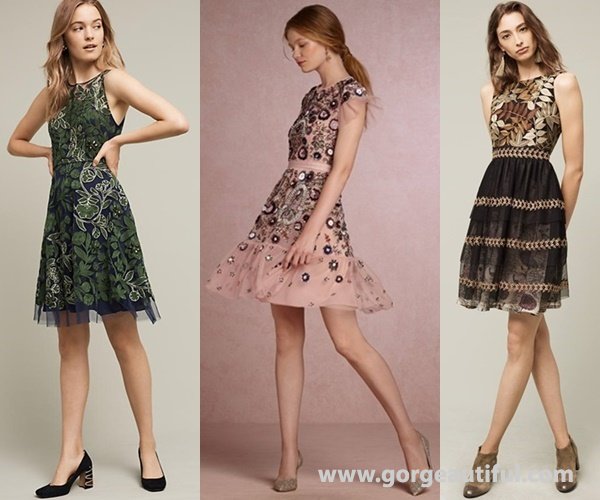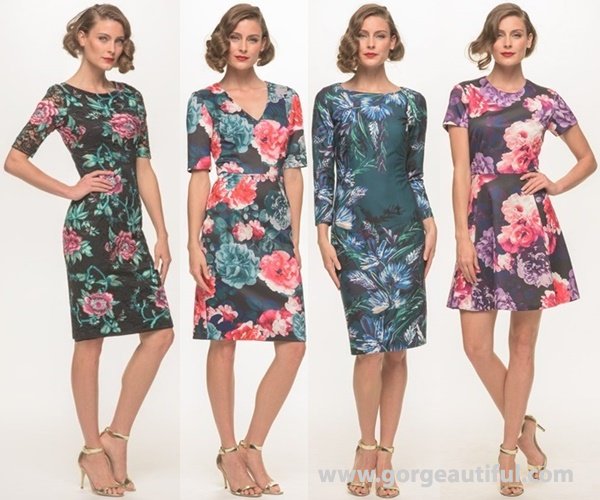 TOPSHOP Petite : Winter Floral Sequin Dress ($150.00) / Tulle Lace Up ($240.00) / Foil Spot Midi Dress ($75.00)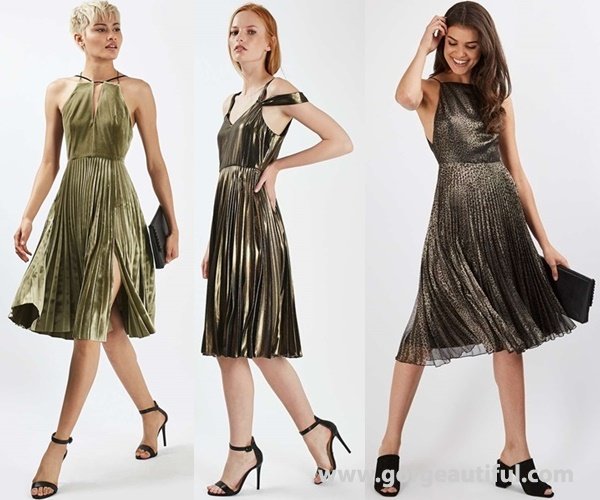 Semi Formal or Dressy Casual Dress
Depending on the time of the event, the wording "Dressy Casual" or "Semiformal" means you need to dress somewhere between formal and casual. A classic cocktail dress in less luxurious fabric is standard for an afternoon wedding, evening reception, or an evening wedding at a hotel or elegant reception revenue. This is also a great time to wear a lightweight, light-colored day dress or tea dress during morning or afternoon semiformal wedding, or wear darker, more formal hues for an evening fete.
For prints and colors for the cold seasons, since dark and muted tones tend to be one most popular color for fall and winter wedding, try adding a pop of bright color with a bold statement necklace, bag or lipstick. Or, you could also go for dark colors with bright floral prints to give more interest into your outfit. However, for those with petite frame, very large, gigantic prints all over your outfits can overwhelm your frame – some says the print shouldn't be larger than your fist. So keep it in balance by pairing the prints with solid colors
Especially for fall wedding, since this wedding can be tricky to dress for because the weather can be so unpredictable, think to throw a sweater, scarf, or other layering piece – including tights – in your bag in case the temperature drops. If you look for wearing a coat for the wedding, petite ladies should pay attention to the length of the coats, wear it opened-button or opt for mid-knee length, just above the knee-length, or miniskirt length. Opt for a coat that doesn't look heavy – simple cuts, bright colors, or light fabrics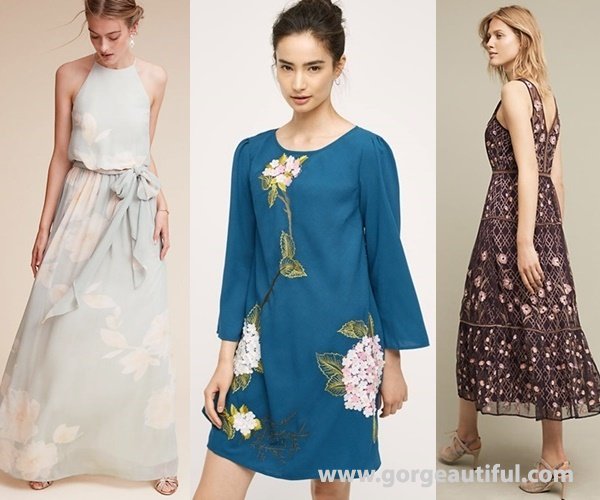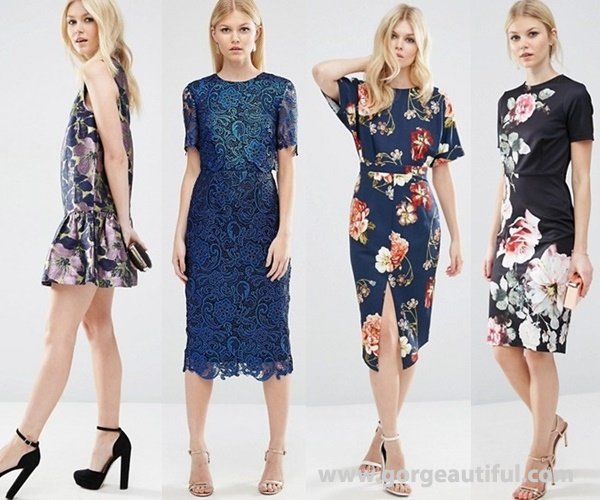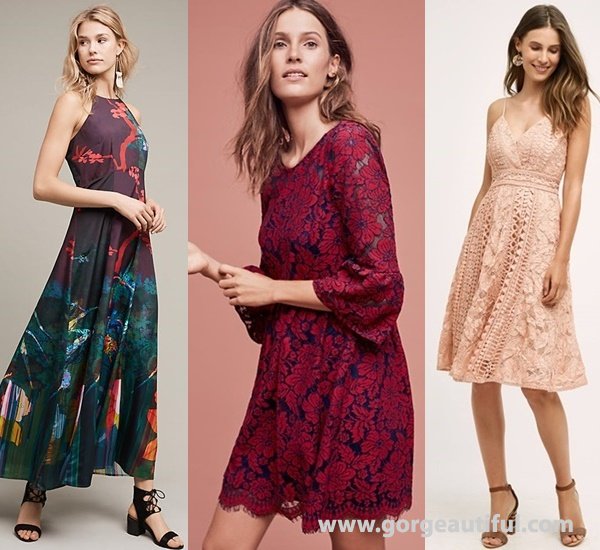 Casual Winter Wedding Guest Dress
In general, casual means anything goes. The word "Casual" on a wedding invitation indicates a more laidback affair, but there's still a difference between wedding casual and casual-casual (with jeans and sneakers). For this venue, you have a lot of leeway with options ranging from simple shift and sheath dresses – as well as a skirt or pants with a nice blouse.
For women with petite frames, all types of mini dresses are definitely your best friends, but be mindful with the weather since you are attending a wedding during a chilly day. When choosing a blazer and jacket, always make sure the seams sit perfectly at the bony tops of your shoulders and that the sleeves hit exactly at your wrist. Generally, the better fitting your clothes are, the more polished you'll look. Use good judgment when it comes to balancing out your outfit.