The chilly days of fall winter are coming. Despite the frigid temps and Vitamin D-lacking blues, the one thing you can smile about this season is your wardrobe proudness. And if you are wondering what the top 35 fashion trends and essentials are at the moment, here's your fall winter fashion essentials as you can create many different looks and outfits with these specific pieces, mix and match, that will help you out for these next few months. From tops to bottoms to outerwear to footwear, as well as accessories and bags, choose some of these 35 and do your own judgment to style this season fabulously.
Whether you need a guide for going out shopping or working, for hanging out with friends or even maybe you need some ideas for gifts this season, here are the following trends and essentials, must have in your closet.
Colors, Patterns and Fabrics
For this 2013 Fall Winter trend, jewel tones and leopard prints are super-high, along with a little touch of sparks of sequins and metallic elements. Other than gems colors like ruby, emerald, sapphires and topaz for night out, natural shades like black, white and brown, as well as khaki shades – such as camel, tan, beige, and olive – are also among the favorites especially for day time wearing. As for olive and beige, they are perfect if you want to create those trendy military-inspired look. So, choose khaki hues to reach the neutrals, or opt for dramatic gems colors for a more dramatic look.
Besides the timeless leopard prints, tartan or plaid patterns also come high this season. Have your attire a little touch of these prints, and combine them with natural shades like black and white. From shoes to bags to sweater and jackets, you won't make a mistake with animal print. Just don't wear it all together! A little splash of these prints is enough to change the whole look into new flattering, chic style.
Because of its warmth, the classic leather and wool staples are thankfully the most chosen ones to style with, along with fabrics with details of lace, fur, and glitzy sequins. Choose your wardrobe essentials made of these fabrics to enhance those effortless glams.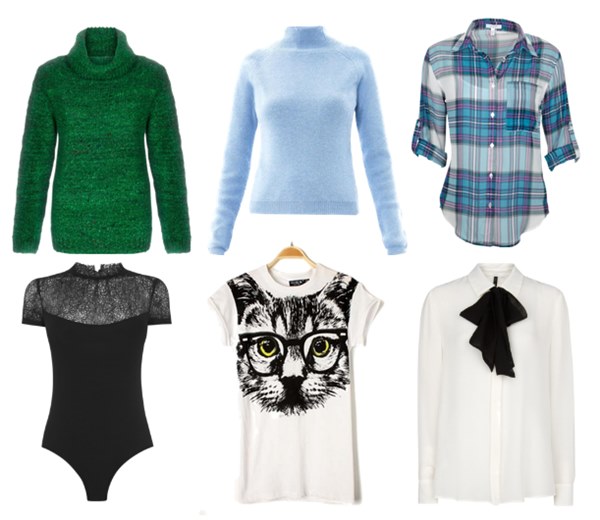 Wardrobe Essentials – Tops
1. Chunky Sweaters: If you're looking to stay really warm this winter, wool clothing is a great option. We couldn't be more excited about the trend of comfy chunky sweaters that are so right now. Opt for sweater in bright jewel tones to add the interest, wear them long or short with skinnies or coated denims, and finish the look with boots or Oxfords
2. Knitted Tops: Just like thick, chunky sweaters, knitted tops with turtle neck can also give you much warmth during the chilly days. Invest in bright soft colors to balance the gloomy effects of the season's colors. Combine a chic knitted top or sweat shirt with your favorite bottoms – from skirts to pants to shorts – and add the look with tights (or leggings) and layers to let the body even warmer.
3. Plaid Shirts: Plaid shirts may remind you of scruffy woodcutters, but they're so darn trendy and so right now, especially to wear during those casual daytime wearing. Select colors that flatter your complexion, and combine the shirt with layer to make you warm. Plaid button-downs shirts are incredibly gorgeous because you can style them to look western, grungy, hipster-esque, or even laid-back California cool.
4. Lace Bodysuit: Let a little lace peak out from underneath a layered look. A dainty bodysuit tucks in perfectly to pencil and skater skirt looks fabulous with tailored blazer for more elegant look or with military coat for a younger, urban-chic fabs.
5. White Tees: No closet is complete without a basic white tee. Opt for white tees that have interesting details such as tees with graphic prints – animal face prints are so in right now – or tees with embellishment like sequins or beads.
6. White Tops: Can trendy, be classic? Apparently, yes! Not only that these timeless white tops have always been in style, but they're also the 'it' item for fall winter. Pair it with skinny jeans, chic shorts, or skirts, and combine with oxfords or ankle boots to get those preppy looks.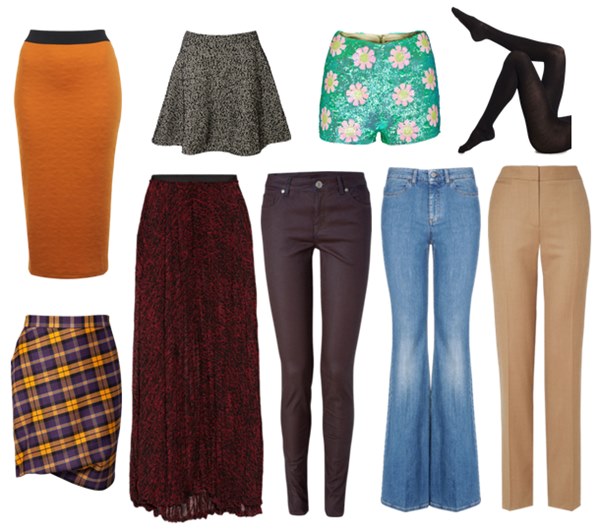 Wardrobe Essentials – Bottoms
7. Pencil Skirts: Pencil skirt is so much in fashion. It is a must that every woman should have in her closet. For winter, the most appropriate pencil skirts are made of thick fabrics to keep you warm. Knowing that the pencil skirt is quite timeless and refined, this classic fashion staple is perfect to polish your casual look or even to create your formal outfits to look more elegant. Opt for calf-length pencil skirt in jewel tones to celebrate the trend, and combine it with boots in various height
8. Printed Skirts: A modern printed skirt anchors any outfit. Dress it up with a lace bodysuit for flattering looks, or keep it low-key with a white tee. Choose for a skirt with draping cuts and plaid prints to get the trend, and pair them with urban staples like printed tights, shoulder bag, and knee-high boots to make the entire looks even more striking.
9. Skater Skirts: Although this skirt doesn't promise much warmth during the cold days, but its designs – especially with the pleats – surely give such a gorgeous, cute girly look into the outfits perfect for any occasions. For winter, opt for a skirt made of warm fabrics like tweed, and pair them with stylish outerwear and thick tights or leggings to finish the look. Not to mention, by using the appropriate accessories you can change a morning outfit to a night outfit in a minute.
10. Maxi Skirts: The maxi skirts are trendy this season, and this fashion staple is obviously versatile that you can wear them with almost anything and everything. Check out this article to see how you can don a maxi skirt for this season.
11. Sequin Shorts: Even in low temperatures you can still sport a pair of chic shorts if you combine the look accordingly. Wearing leggings or thick tights is a must to keep your legs warm, while depending on how you handle the cold, you can add more layers to the outfits. So, give your jeans a break and kick up your winter wardrobe with dazzling sequin shorts. They're incredibly stunning, and just as chic as trousers – plus way more comfortable than skirts.
12. Coated Denim: Add a touch of rocker-chic vibe with various designs of coated denim. This staple is so hot this season that you can wear them with any outfits, from casual to formal, from day till night. Take a look at this article to find out how to dress them effortlessly.
13. Flare Jeans: If you are tired of the skin-tight, uncomfortable jean, invest in a pair of flares. The looser fit is still incredibly sleek and totally elegant. These pants look fabulous with a tucked in top or blazer, and you can combine with casual tee for more relaxed style. Don't forget to add some height with super high heels.
14. Camel Pants: Fall and winter's hottest hue is done just right with these tailored trousers. The looks are so versatile and elegant that you can wear them from casual to formal which gives you those classy looks. Wear it with structured blazer and bright pea coat to get a touch of freshness during the days.
15. Tights or Leggings: Printed or solid, thick or sheer, any types of hosiery such as tights, stockings or even leggings, are definitely the most essential wardrobe for winter. Have them more than one colors including black, nude, dark burgundy and navy which are the most basic shades to choose among others and are easy to pair up.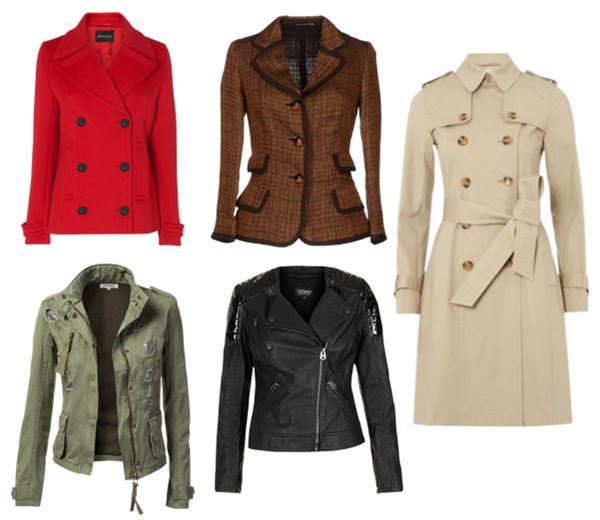 Wardrobe Essentials – Outerwear
16. Bright Pea Coats: Mix up your coat routine with a bold red pea coat, or pea coats with other bright colors like yellow, orange, or purple. The color dresses you up, even if you're wearing a simple tee and jeans.
17. Tweed Blazers: Nothing says cozy like a luxuriously tweed blazer as well as blazer made of soft velvet. Choose colors in jewel or dark earthy tones to add the coziness, and wear it over a lace bodysuit or chic blouse, or pair with tailored pants, pencil or skater skirt in bright hues to tone down the darkness.
18. Military Jackets: Call up a military jacket for active fall winter duty and send that denim jacket back to the reserves. These staples are very adorable that you can pair it with anything and everything. One suggestion, plaid and military jackets are a match made in heaven. Opt for those military jackets in olive green as this color comes a close second to camel as the hue for this season.
19. Biker Leather Jackets: The biker leather jacket or motorcycle jacket is an investment piece. Choose a tailored style without too much bulk and you'll hang on to it forever. The sexy jacket can be worn with everything from dresses to distressed jeans. The classic ones in black or brown are so flattering to achieve those rocky chick styles.
20. Khaki Trenches: This outwear staple has been around since World War I and never goes out of style. Whether you want to style it with embellishments, in military look or in simple and classic cuts, all kinds of trench coats in khaki hues are a must-have that always pops up on the winter runway.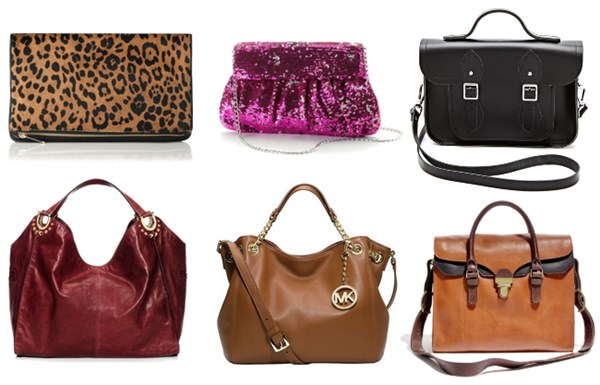 Wardrobe Essentials – Bags
21. Clutches: Clutches are always great to add glamour and femininity into the outfits. Your wild rocky fashion can even look more formal and girly with a clutch. Choose one with leopard prints or sequins for a striking style, and pair it with any favorite outfits in your closet. Noted that clutches don't need to be used for party all the time, as you can also carry a dazzling clutch for day-to-day attires.
22. Tote Bags: If you always carry too many things inside your bag that would never fit with a small bag. Try to rock with tote bags. These bags will surely hold your laptop, iPad, Kindle and wallet in style. Opt for a classic brown leather one for the versatility or choose one with the dramatic tones like bright burgundy for bolder look.
23. Shoulder Bags: Shoulder bag can also be called a messenger bag. This type of bag evokes masculinity as well as youthful spirit to the wearer. Opt for a messenger bag that has proportional size and strap-length to your figure. A shoulder bag's length (where the bottom of the bag hits your body) will accentuate whatever part of the body it comes near. For example, a shoulder bag that ends around the hips will play up your hip width (the eye is drawn to the bag).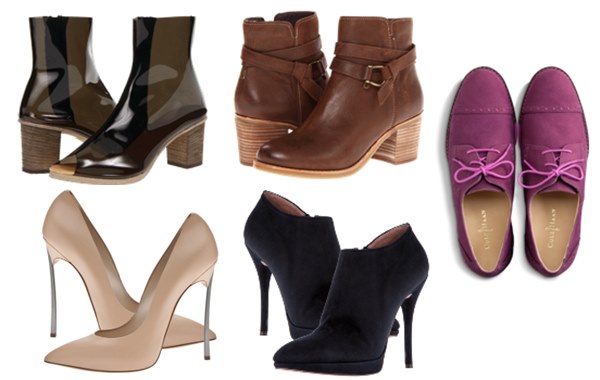 Wardrobe Essentials – Footwear
24. Open-toe Boots: Peep-toe or open-toe booties are meant to be shown off. So in winter, there's really no rule that says you can´t wear open-toe shoes in this cold season. The question isn't about appropriateness but rather how cold it´s going to be in your area and how you can bear wearing peep-toes on chilly days. Wear them now with frilly trouser socks and a sweater dress, or add textured tights when the weather gets colder.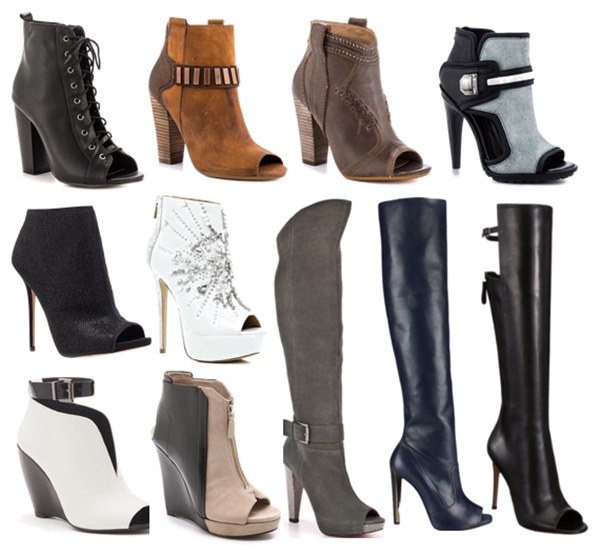 25. Cowboy Boots: Some cowboy boots can also have certain height like ankle boots but mostly come with lower stack heels, which perform more casual effects rather than those ankle boots with sharp, tall heels. Opt for these boots to grab elegant day-to-day wearing with flare pants or skinnies.
26. Nude Heels: Sleek nude heels can definitely go with everything. The neutral skin-tones hue elongates your legs, and gives you the elegant and sophisticated styles. Opt for heels with pointed toe for a classier, feminine looks, and wear them with jeans, tailored pants and dresses.
27. Ankle Boots: Ankle boots have limitless appeal for a variety of different fashion ensembles. These booties can be used to dress up virtually any outfit. They also look fantastic with skirts and dresses, and the best part – you can wear ankle socks or tights to keep your feet warm. Take a look at this article for more tips of ankle boots
28. Oxfords: Classic Oxfords in bright colors finish any outfit fabulously. A dressy pair can even be worn at night if you pair them correctly. While oxford shoes are typically all about warmer weather (when you can wear them with cropped pants or playful skirts), you can still wear these menswear-inspired style during this chilly season. By wearing black tights you can make your legs look longer and slimmer
Continue the article "35 Ultimate Fall Winter 2013 Fashion Essentials (Part 2)" to see how can you combine each staple for the seasons.