Looking slick! This fashion staple is now everywhere this season. Here we speak of coated jeans. A classic denim – mostly skinny jeans – that has a laminated waxy finish and occurs in various forms and colors, giving the illusion and sense of touch reminiscent of a pair of slick leather or rubber pants. Coated denim jeans (also known as "waxed denim") are super stylish and just the right amount of edgy to still be wearable for the average person.
Besides looking incredibly flattering and urban, these jeans that are covered with a thin veneer of novelty give such a groovy look with a sheen that highlights curves, while the plainer the pocket, the more your booty pops. Obviously, many brands have proposed this fashion wardrobe, but coated jeans are fairly pricey. Yes, you can find bargains, but a quality pair that actually looks the way they're supposed to look – and not just cheap and shiny – is probably going to set you back close to $100. And if you get into the designer arena, think double, triple or quadruple that.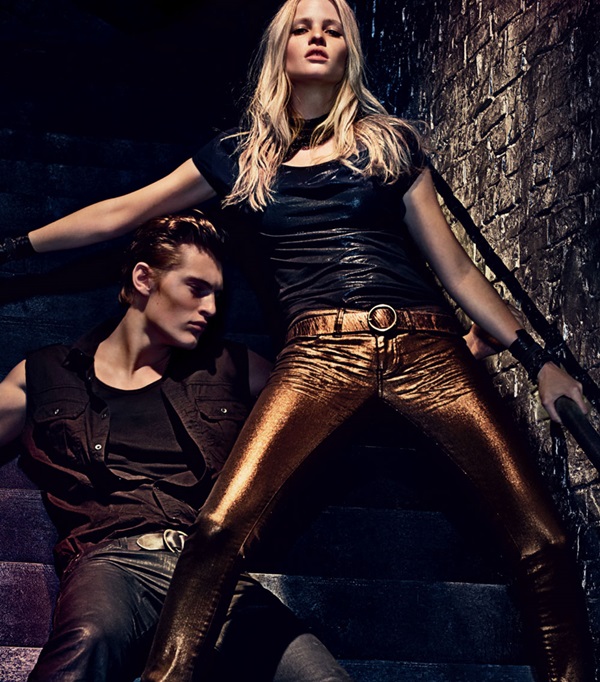 So, is a good pair of coated denim really worth buying or you can just do your own DIY which you can make your very own pair at home with just a few ingredients?
The choices are truly yours, depending on the budget and your personal character whether you are a DIY person or not. Making your own DIY coated jeans will give you freedom of creativity to have a one-kind of piece that is unique different from others, while buying this trend is not also like you're spending money on something that will look totally outdated by the end of this year. Obviously, this trend has already been around for a little while, and it's not going anywhere soon.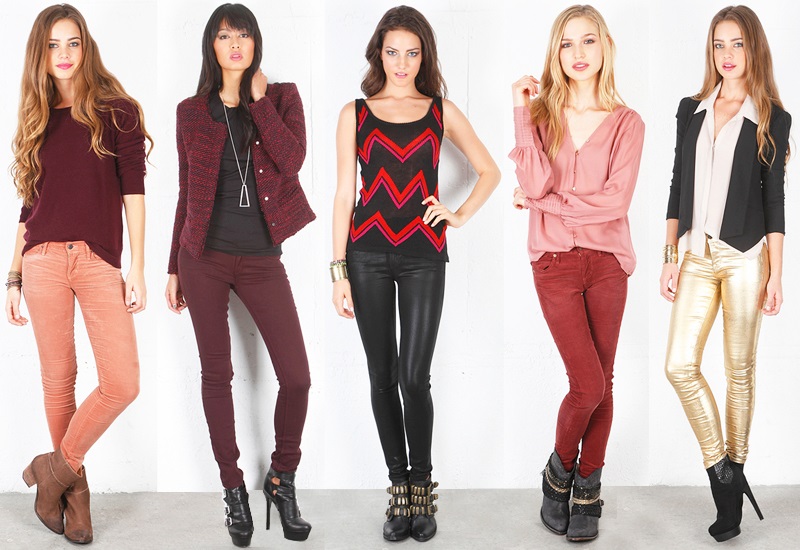 One thing for sure, considering the bevy of on-trend options available, coated denim is really on nowadays trend right now. They are gorgeous and hot looking, without being over the top. Last but not least, they're also just as versatile as regular denim, if not more, so you'll get a lot of use out of them. So definitely you need to have at least a pair of them.
Here are some videos if you choose to have your own DIY pair of coated denim, as well as some tips on totally rocking your investment on buying coated denim:
1. Fit Your Shape Well. Just like many other fashion wardrobes, having outfits that fit your body shape is a must, so make sure you opt for a pair of coated denim that fit you really well. The wax coating makes these jeans not as stretchy as most denim, but they will keep their shape well, which actually give you more benefit to showing your curves. Try them on, and don't settle for a pair that you don't love.
2. Think of Comfort. One thing to know about this kind of denim, yes, sorry to say, these jeans won't be as soft and snugly as your favorite, meaning you really need to find the most comfortable ones for your own benefit. They might not as comfortable as you expect, but that's ok. Just go-to pair of them, get over your need for super, ultra-comfy ones, coz' after all, they look extremely great.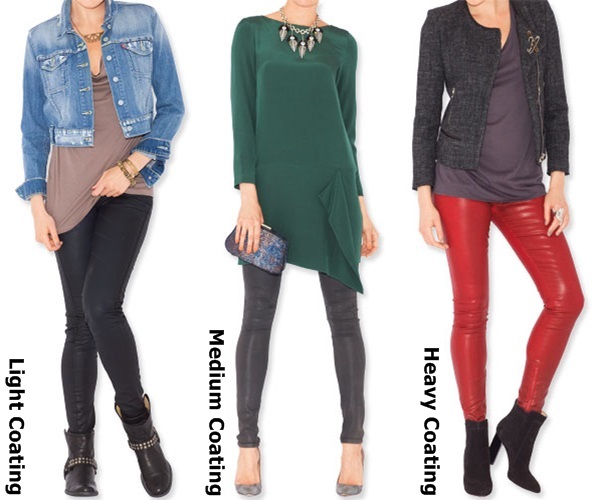 3. Dress Them Up and Down. Depending on sheen and texture of the coating, you can pretty much wear your coated denim jeans in place of a regular pair of jeans, but your whole outfit will be just a little hotter. Wear coated denim with light coating for day-to-day casual outfit, or opt for coated denim with higher coating level for a more edgy and dressy look. For the night out, add sparks for some bling-y chic appearance.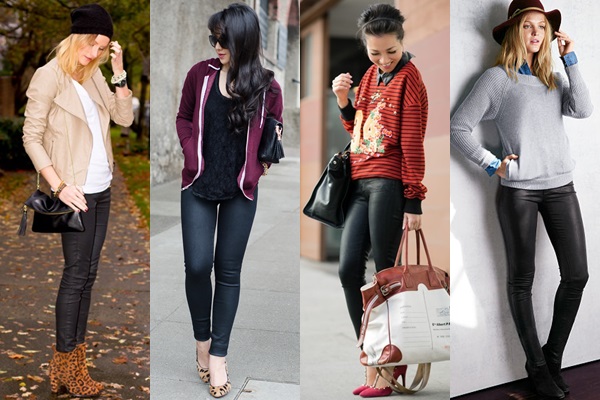 4. Wear them in Timeless Black. No colors can compare the versatility and elegance of black. Invest in a pair of coated denim in black for a classic, stylish look. Black coated denim is so flexible that you can don them on various occasions. A sharp pair of coated denim black jeans will look sleek and put-together with a blouse, blazer, and low heels.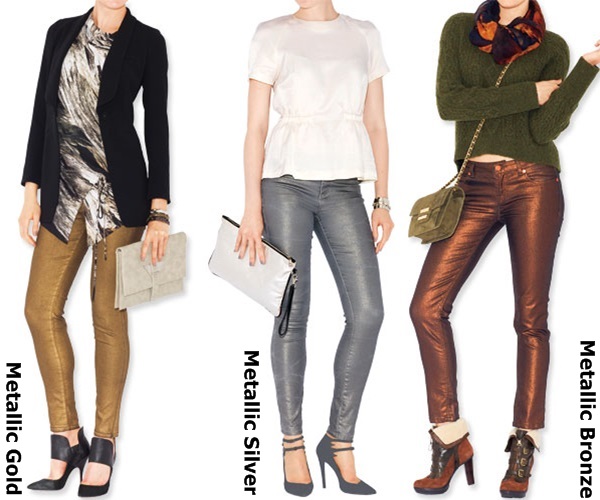 5. Go for Metallic Texture. Take a pair of coated denim in metallic shades – whether in light, medium, or heavy coating – add a pair of sparkly high heels or sexy sling-backs and a slinky top, and you're ready for va-va-va voom date night. Or pair them with simple tee or sweater in neutral shade to tone down the sheen of your denim. Here are some varieties of coated jeans whether in colors, textures, and coating level.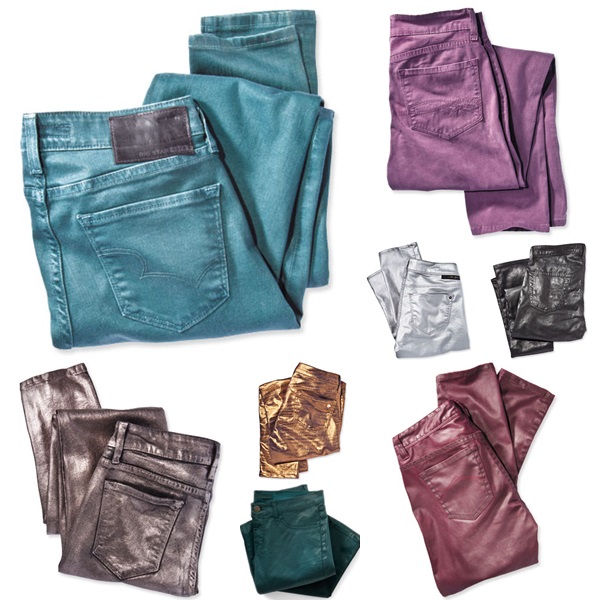 For more inspirations on wearing these flattering coated jeans. Take a look at some styles after the jump.