After we have discovered various types of boot's heels, it's always worth knowing each description of boot's design and height so that you can buy to build a boot collection to work with one's wardrobe. Whether classic or edgy, casual or formal, simple or sparkly, this full-coverage footwear called "boots" can be super comfortable, adorable and chic for you to fashion for many occasions. Here's what you need to know about wearing boots in any season.
Following previous article "How to Wear Boots for Your Body Shape" find out your best boots of varying heights, from ankle high to mid calf high to knee high, or even thigh high.
What to Wear with Ankle Boots
Because of its versatility and easy design, ankle boots are definitely one most favorites among others. They are huge last year, and the trend does not show any signs of cooling down. Like their name would suggest, the ankle high styles hit at, below, or slightly above the ankle height. There are various styles of ankle boots, and it's better to know each style best for your taste in order to know which way a boot can be worn with an outfit.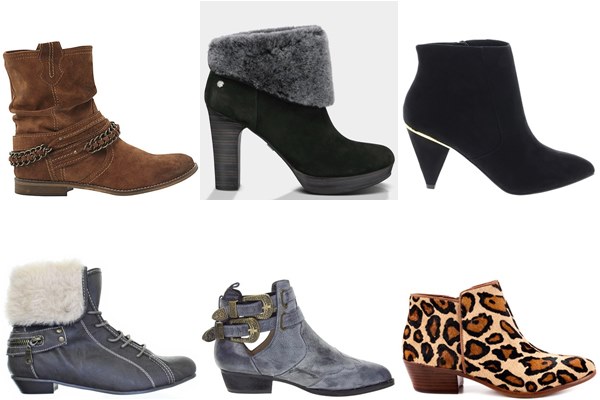 Tips for Wearing Ankle Boots
Choose your heel height wisely. Opt for mid heel styles if you don't like high heels. They still look really good when paired with the right clothing and are ideal for work. Although most fashionistas love to wear boots with high heel, if you find flat or mid heel styles are more comfortable, opt for flat ankle boots with embellishment and details like lace-up, cut-out, zipper, buckle, strap, knot, fur, etc. Those have also become increasingly popular.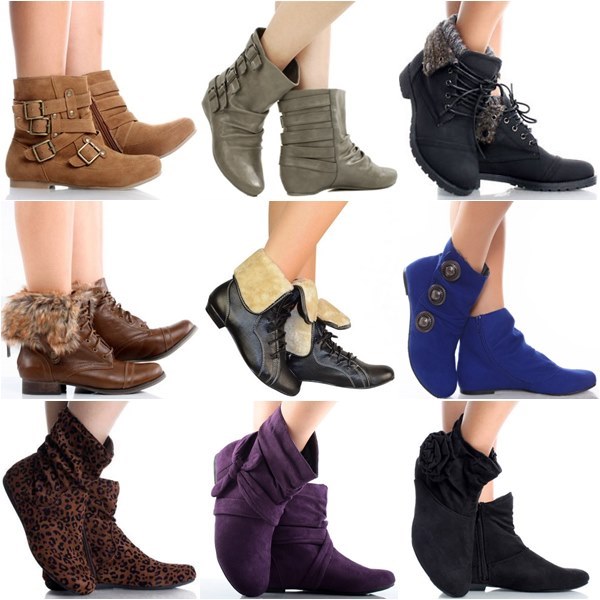 Also you'll need to watch the proportions. They are considered as small footwear that can look awkward with fuller silhouettes up top, but they are best option if you're trying to showcase your legs. So, show off those legs with leggings, skinny jeans, skirts and dresses. They also look amazing when worn with tights
Notice the rise. Since the boots can hit at, below, or slightly above your ankle and if you're worry about your leg-shape or your style, better you get the rise-to-leg ratio right. If you wear it with pants such as tapered trousers, skinny jeans, or leggings, your boots should feel less constricted beneath pants. While if you want to pair it with skirts and dresses, avoid wearing below-the-knee skirts or dresses as this will shorten your legs. Basically, the higher the rise of the boots, the shorter your skirt or dress should be.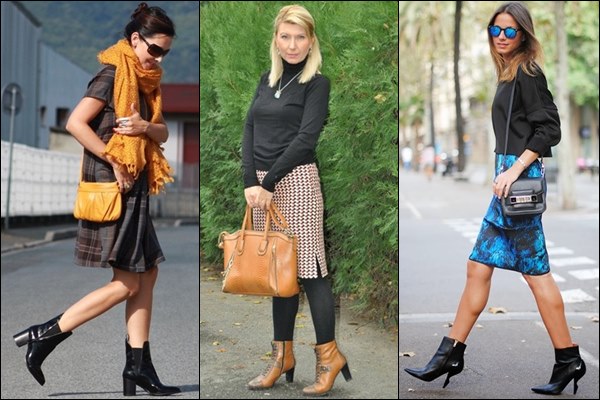 Ankle Boots with Skirt : Some fashion expert say When choosing to wear boots with a skirt, it is important that the length of the skirt or dress fall at mid-thigh or above the knee to make the legs look slim and trim. While me personally those rules are outdated. With boots, sure you can wear any style of skirt, from mini to midi to maxi. Take a look at these gorgeous street-style outfits below you can steal from, perfect to fashion with your flattering boots.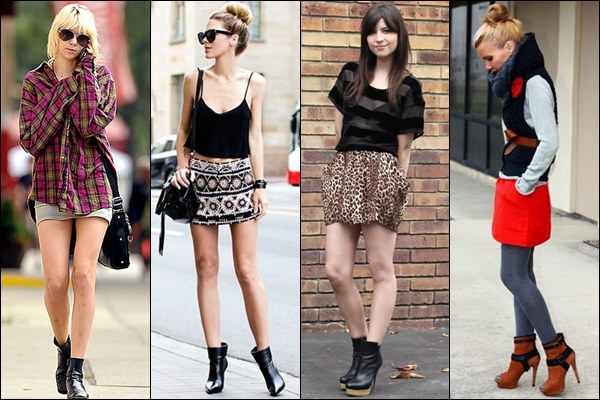 Ankle Boots with Mini Skirt: Winter or summer, classy or edgy, pair your boots with mini skirt and update the entire look with stylish tops such as tank-top, plaid shirt, and chic tee, or opt for it with flattering prints for a more polished finish. Add some winter essentials such as outerwear, tights, or scarf during the chilly days.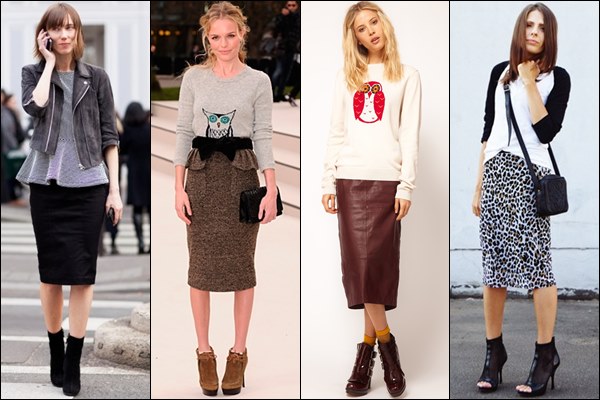 Ankle Boots with Pencil Skirt: Although some say an ankle boot should be better paired with mini skirt, a sleek, feminine looking ankle boot can actually look great with a pencil skirt. Pencil skirt embodies the elegance and classiness, so keep other accessories to a minimum, or opt for boots with simple yet stylish details or embellishments. This attire is ideal for wearing to the office or out at night. For a more casual look, try slouchy boots in soft suede fabrics.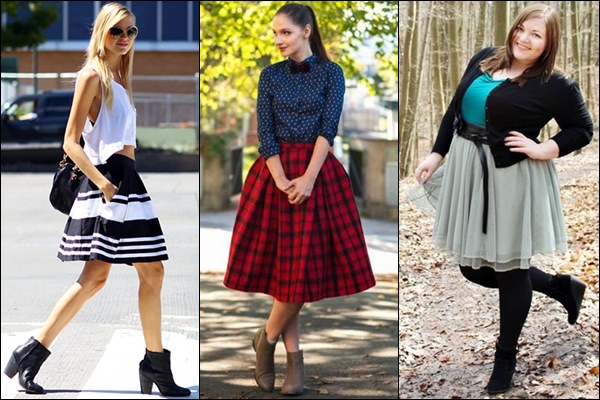 Boots with Full Skirt: No matter people say, still comfort and confidence must come first in fashion. And yes, your boots do great even with a full skirt. Actually, there aren't a lot of rules that go along with wearing boots with skirts. It's perfectly acceptable to mix and match lots of skirt lengths with all boot heights. However, do remember to keep your skirt in the same style range as your boots. For example, don't wear thick chunky motorcycle boots with a party skirt or elegant stiletto-heeled boots with a garden skirt.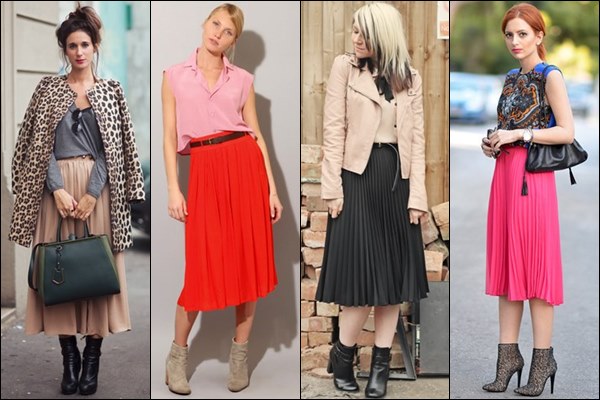 Boots with Midi Skirt: Making their way through fall winter this year, midi skirts definetely come so effortlessly chic, especially when it's paired with cool boots to give a bit of Parisian touch. Just opt for a pair of comfy boots, wear it with midi skirt and layer up for your chilly days attire.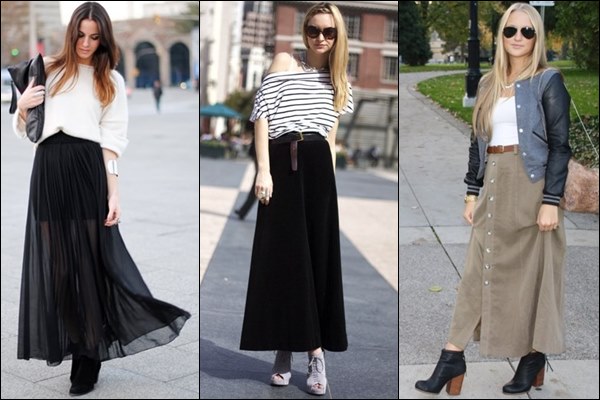 Boots with Long Skirt: Whether they're flat or heeled, classic or edgy, boots and long skirts or maxi skirts are still one of the most perfect combinations for fall – and even for summer. While some women prefer to pair their boots with a long skirt that is on the fuller side, others have also worn boots paired fairly successfully with long skirts that are more narrow. Whichever style you prefer, the key is to show no leg. And if the skirt isn't long enough to cover the top of the ankle boot on its own, add a pair of tights. Or, just go with or without tights as long as you feel comfortable and well fit with your style.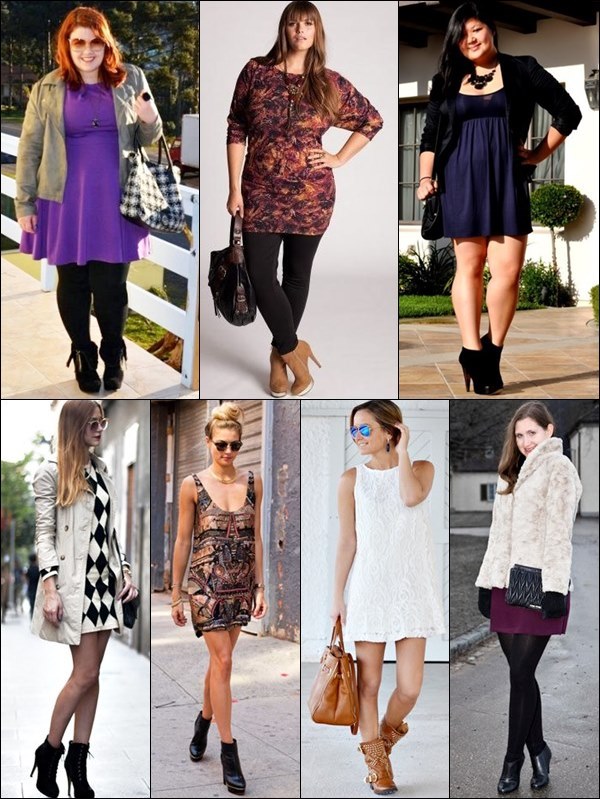 Boots with Dress: As mainstream as they are, for most people, using ankle booties with dresses – especially the long and midi ones – is still considered an edgy, and even unflattering, combination. True, this pairing often looks dumpy. But by adjusting the rest of the variables of an outfit, as well by getting the right style of booties, you've bent body type guidelines and made the look work.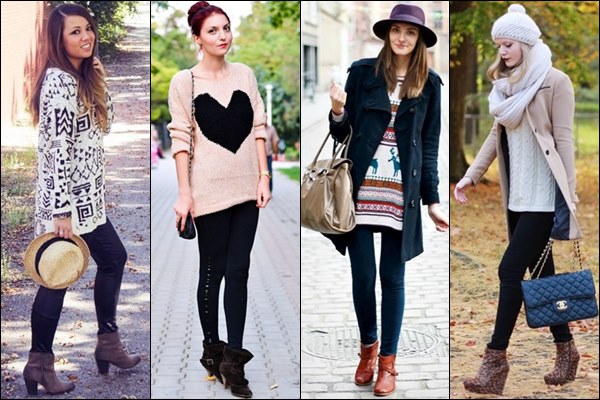 Boots with Knit Tunic: A knit tunic is definitely one versatile item for winter, and it goes perfectly stylish with a pair of boots along with tights or leggings or skinnies, or any leg fitted pants. Add some interesting accessories to finish the look, but don't wear belt as it would take away from the look of the tunic.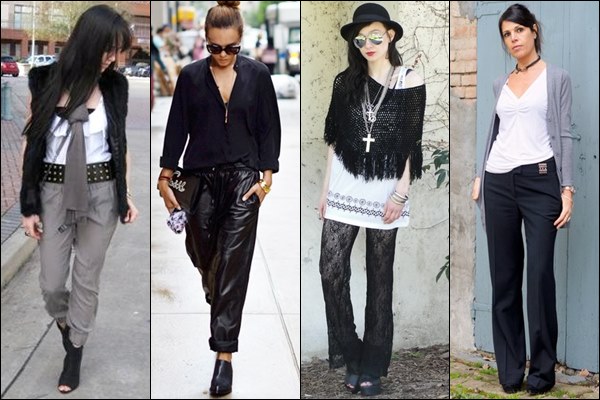 Boots with Pants: Surely boots is one most versatile fashion item to wear for any casual to semi-formal occasions, and yes they even work well with any kind of pants. And when I said "with any kind of pants" means boots do look really good with any kind of pants' style. Sometimes we can just skip those mainstream yet boring rules away and be free with our fashion style. Here, you can even pair your boots with harem and boyfriend pants, lacy flare pants, or  wide-leg pants. All styles are yours.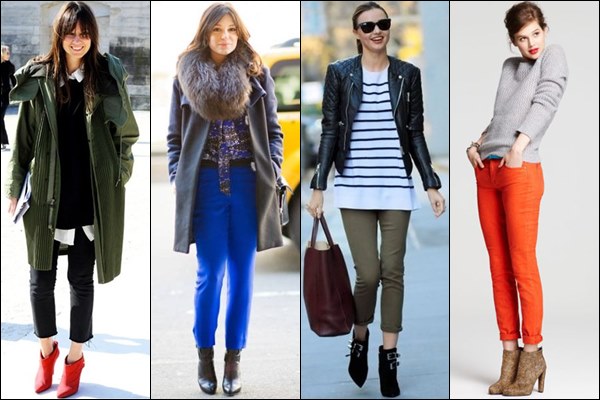 With Cropped Pants: Most people claim "Low ankle boots paired with cropped pants look dowdy, because they break up your silhouette,". However, as fashion goes edgier and more free, we have seen through lots of street fashion girls wear cropped pants with cool boots. So, don't shy away if you think this style fit well on you. Play with splash of color or other chic accessories for a more flattering look.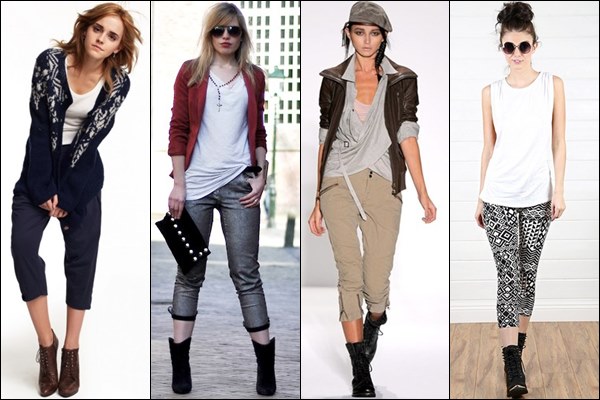 Boots with Capri Pants: Just like cropped pants, capri pants also look fabulous with ankle boots, especially for creating the nowadays rocky chick or military look trend. The difference between capri and cropped pants is their length and flare cut. Capri pants end at mid-calf and are flared – although today they're mostly featured more tapered  – while cropped pants are longer and end just above the ankle. Go with simple pairing to avoid overwhelming look and finish your rocky outfit with subtle accessories for a more stylish update.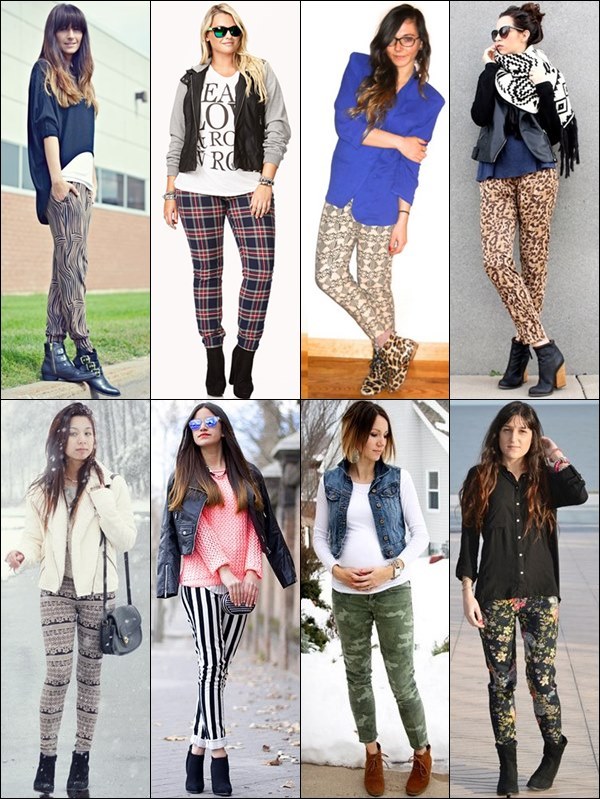 Boots with Printed Pants: From stripes to animalier to tribal to floral prints, there are a wide variety of printed pants' designs and styles out there. And since these pants offer a very busy outlook to the entire outfit, pairing them with an ankle boot is a great option to allow the pants to be the focal point of the outfit. Give a balance look of your printed pants by opting for a basic, simple top and booties in solid color. But if you dare to look more striking, do mixing and matching prints between your booties and pants.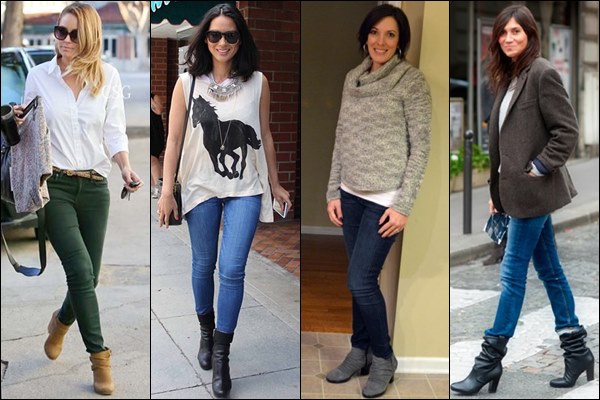 How to Wear Booties with Skinny Jeans
Obviously, a pair of ankle boots and skinny jeans are your best friend. These two fashion staples are a match made in heaven because these jeans hug your body and your legs perfectly, as well are a great complement to the height of the boots. This combination is fabulous for any season, from summer to winter. Keep it casually chic with simple shirt or tee and a touch of interesting statement necklace. Or make it more polished with structured pieces like tailored blazer.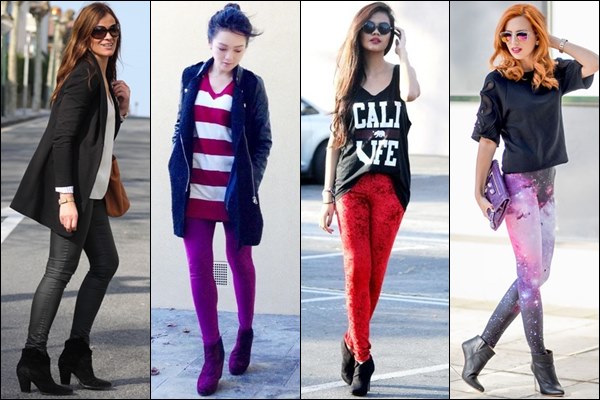 How to Wear Ankle Boots with Leggings
Just like skinny jeans or any other fit-slimming pants, leggings are also one best option to pair with your boots. There are dozens of prints and fabrics to choose from for your leggings. The simplest solution is to pick black leggings with black boots. Tuck in or scrunch over depending on the circumference of the boot shaft.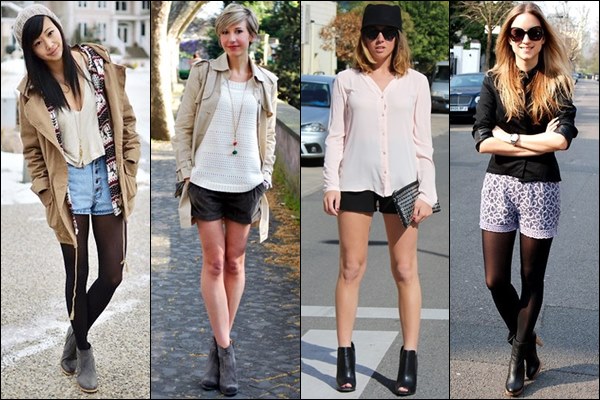 With Shorts: Although the pairing of ankle boots with shorts embodies all that is summer, you do can also opt for this pairing during chilly days in fall even in winter. Just add more layers to your outfit, as well wear winter essential wardrobes like outerwear, tights, or winter cap. Or you can go crazy with your shorts by wearing the black fabrics—stack velvets, tweets, silks, and wools to make a texturally arresting combo.