From tops essentials to bottoms to outerwear to bags and shoes, surely there are lots of must-haves for street-chic wardrobe. In continuing the previous article "35 Ultimate Fall Winter 2013 Fashion Essentials (Part 1)", here are some other essentials perfect to fashion for this year's fall winter, along with timeless, classic staples that remain trendy for many years to come. There are also 10 fashion outfits, showcasing each pieces mixed and matched one to another.
What is fashion without accessories, stunning fashion trends are juxtaposed with structured accessories such as trendy statement necklaces and studded leather belts, which then added even fabulously with chic winter hats. Take a look at these fashion pieces to polish your entire fall winter appearance.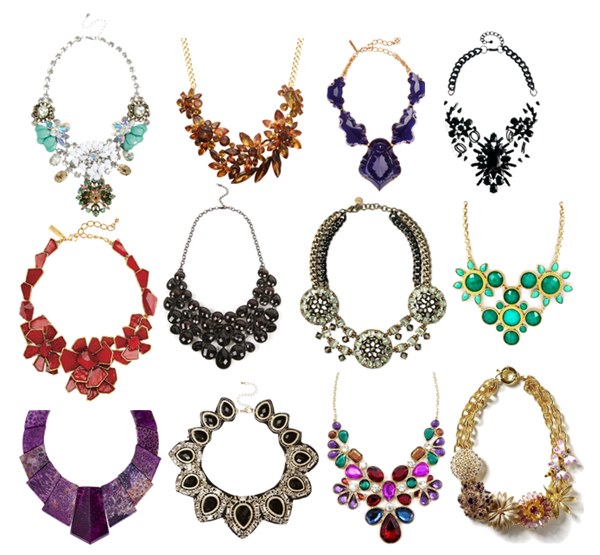 Wardrobe Essentials – Jewelry
29. Statement Necklaces: Dress up anything from a little black dress to a tee and jeans with a bold statement necklace. Follow the trend by adding statement necklaces in jewel tones or designed with stones. Keep the rest of your jewelry simple and you'll be sure to get compliments. These gemstone flower necklaces, as well as various pieces in metal elements are a quirky take on the trend.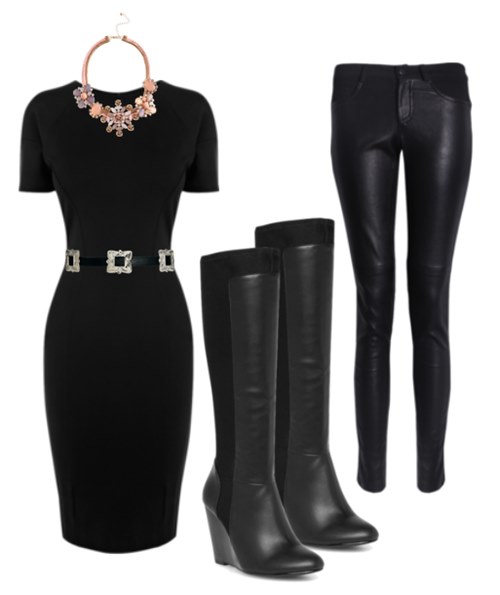 Wardrobe Essentials – Winter Trends
30. Little Black Dress: No surprise, the classic little black dress is a must-have this season, and it seems to never go out of style for many years to come. Wear it with classic nude heels to lengthen the silhouette, and add a statement necklace, stylish studded belts and leopard print clutches for the perfect sophistications. Polish the outfits with structured blazer to finish your winter look.
31. Knee-High Boots: These hottest boots are also a classic, and have always been a must have for every winters. Exclusively this fall winter 2013, knee-high boots, and even thigh-high boots are extremely popular right now. So, don't be afraid to invest in a pair of this type of boots. Learn how to wear them through this article
32. Leather Skinny Pants: Leather skinny pants are not only on the cutting edge of fashion, they are also quite versatile. The simple cut and solid color of a quality pair of leather trousers makes them a great wardrobe basic for the winter season. Pair them with a narrow cut blouse, simple blazer and heeled ankle boot, these pants would work for a more casual office look, a weekend brunch or even a night out.
33. Studded Belts: Nothing screams winter casual-glam more than leather covered studded belt. Studs and leather are huge this season that are not only perform function but also contribute to create a stylish appearance.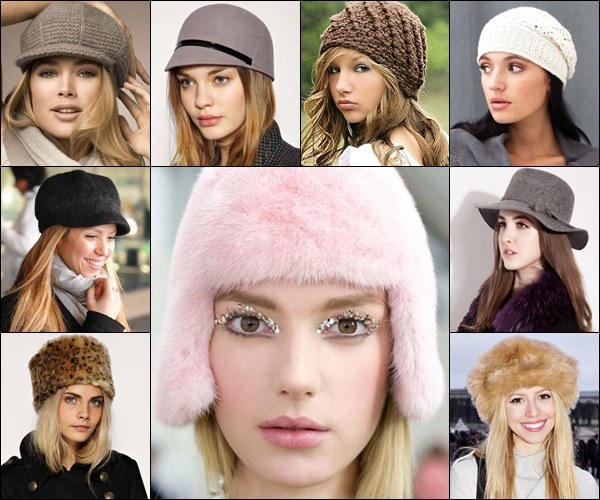 Wardrobe Essentials – Winter Hats
Although I don't put these staples into number of outfits below, winter hats always have a certain place in the collection fall winter fashion, whether you're lamenting the loss of summer, trying to tame your mane in frizz-inducing drizzle, or simply looking to jazz up your trans-seasonal style, there's never been a better time to invest in a stylish hat. Here are some trendy winter hats you can start investing in for the season
34. Winter Caps: Whether a classic wool fedora, a postman cap, or a trapper hat, these types of winter caps and hats are totally todays favorite among celebrities that feels so wonderfully fresh for the new season
35. Winter Beanies: Other than winter caps and hats, beanies are definitely the most chosen ones to protect our head from the low-temps. Cozy, knitted beanies remain classic and timeless, while today's trend comes with faux beanies like what Chanel had done during its runway. Grab one of those faux beanies to give a touch of European luxe feel.
Last but not least is scarves, learn more about this item through this article. And finally here are the 10 outfits work beautifully with the 35 wardrobe essentials. See whether you can take them as one of your fall winter fashion inspirations.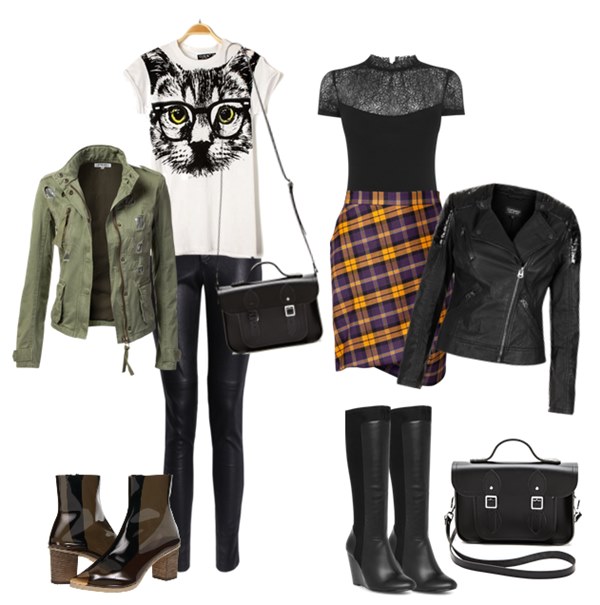 Outfit Left: White tee + military jacket + skinny leather pants + open-toe booties + messenger bag
Outfit Right: Lace bodysuit + print Skirt + biker jacket + knee-high boots + messenger bag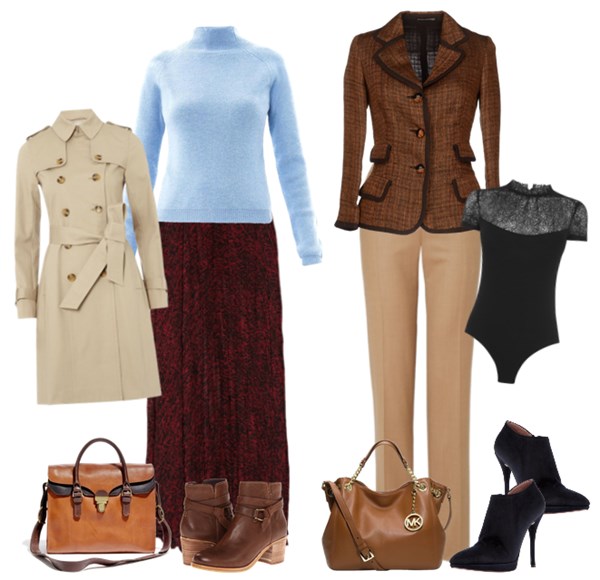 Outfit Left: Knitted top + maxi skirt + khaki trench + messenger bag + cowboy ankle boots
Outfit Right: Lace bodysuit + camel pants + structured tweed blazer + tote bag + ankle boots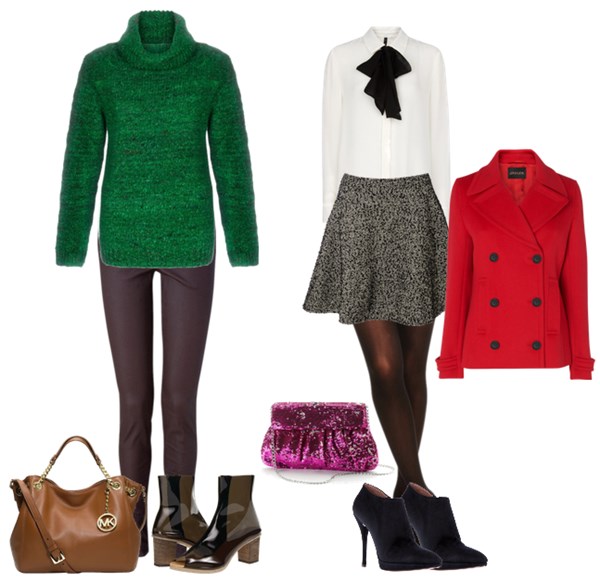 Outfit Left: Chunky sweater + coated pants + open-toe boots + tote bag
Outfit Right: white lady-like top + skater skirt + bright pea coat + black tights + ankle boots + sequin clutch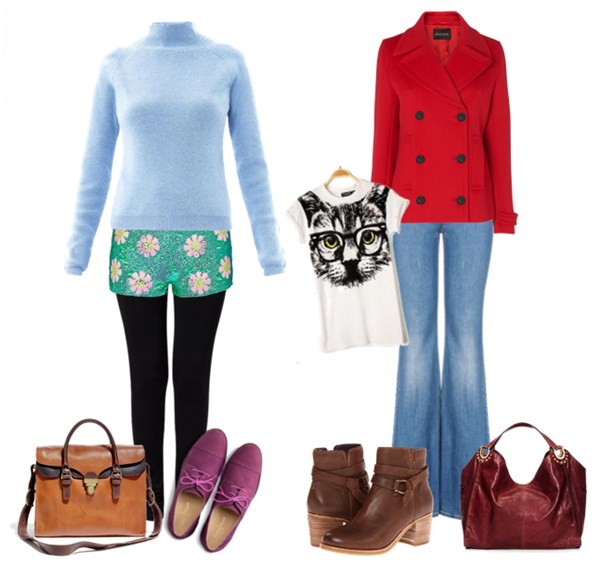 Outfit Left: Knitted sweater + sequin shorts + leggings + messenger bag + Oxford shoes
Outfit Right: white tee + flare jeans + bright pea coat + cowboy ankle boots + tote bag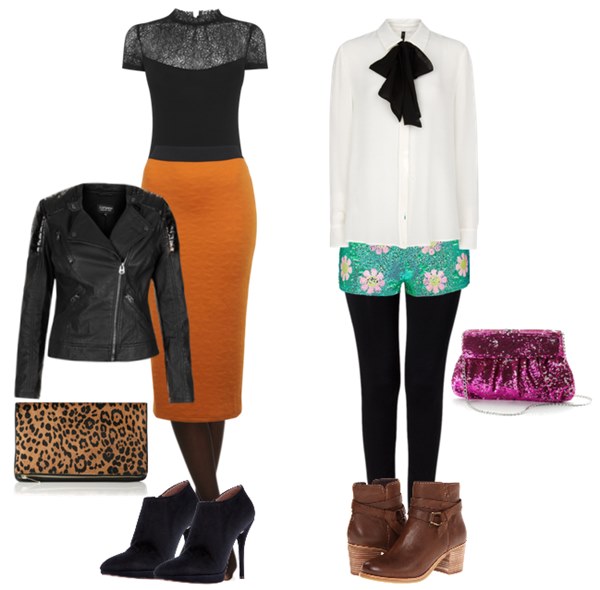 Outfit Left: Lace bodysuit + bright pencil skirt + biker jacket + leopard clutch + ankle boots
Outfit Right: White top + sequin shorts + black leggings + cowboy ankle boots + sequin clutch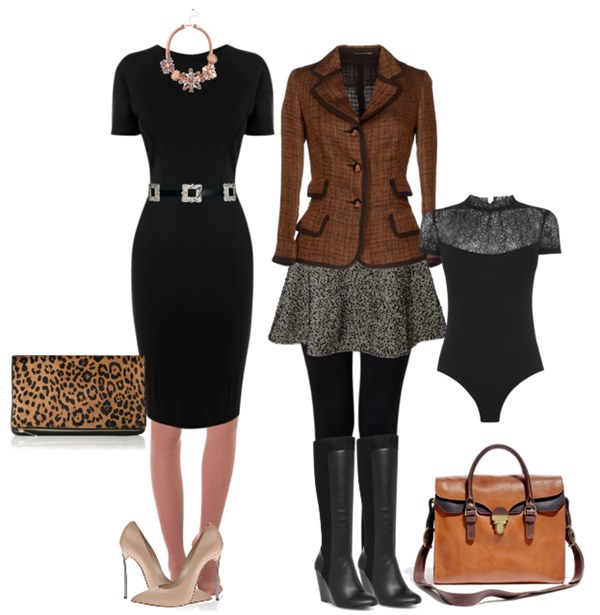 Outfit Left: LBD + statement necklace + studded leather belt + leopard clutch + nude heels
Outfit Right: Lace bodysuit + tweed blazer + skater skirt + black leggings + knee-high boots + messenger bag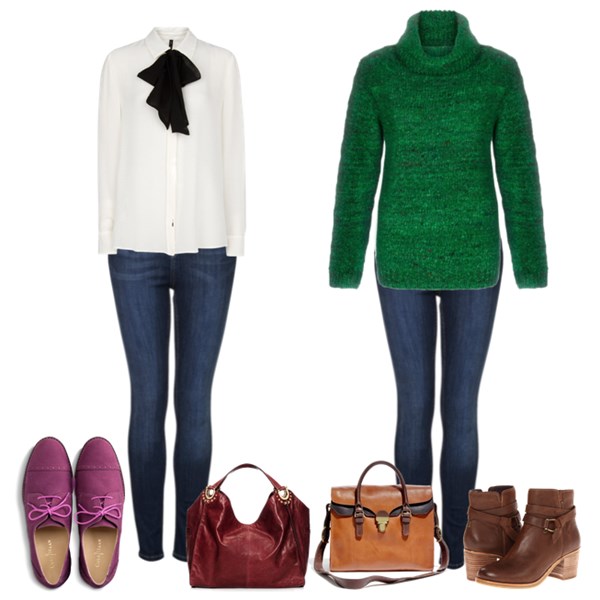 Outfit Left: White top + skinny jeans + Oxford shoes + tote bag
Outfit Right: Knitted sweater + skinny jeans + ankle cowboy boots + messenger bag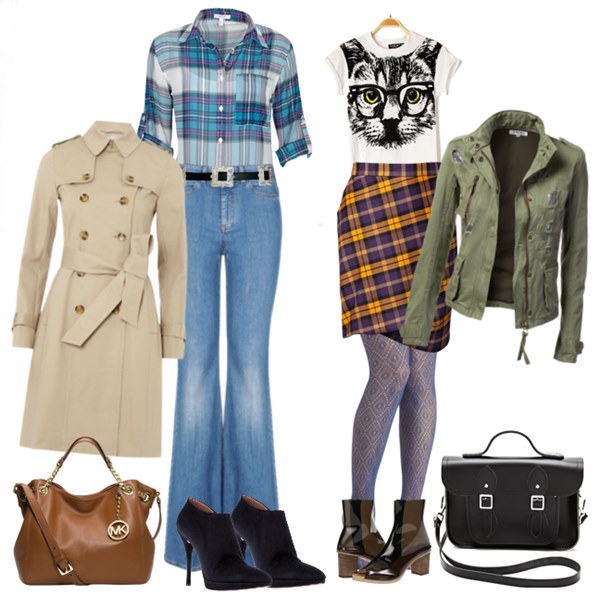 Outfit Left: Plaid shirt + flare jeans + studded leather belt + khaki trench + ankle boots + tote bag
Outfit Right: White tee + print skirt + military jacket + striking tights + open-toe booties + messenger bag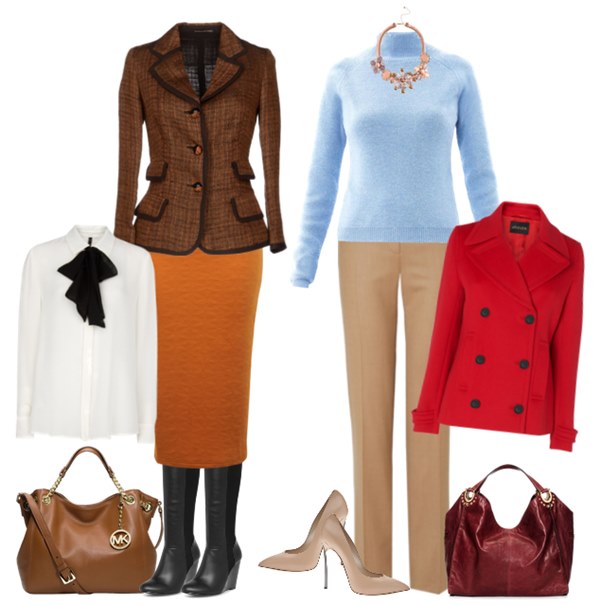 Outfit Left: White top + structured blazer + pencil skirt + khaki trench + knee-high boots + tote bag
Outfit Right: Knitted top + camel pants + bright pea coat + statement necklace + nude heels + tote bag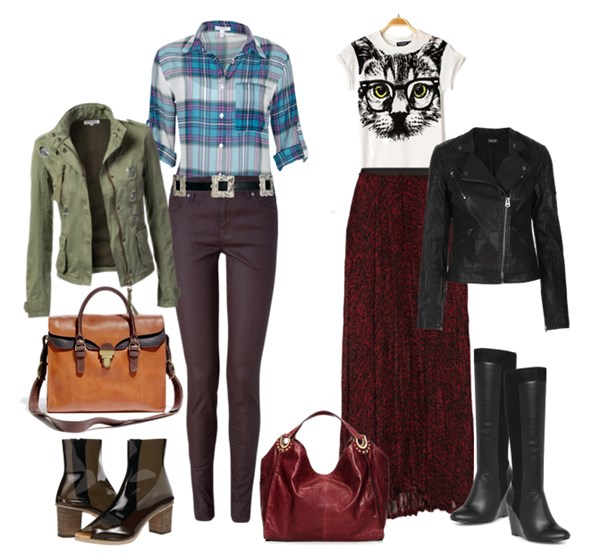 Outfit Left: White top + structured blazer + pencil skirt + khaki trench + knee-high boots + tote bag
Outfit Right: Knitted top + camel pants + bright pea coat + statement necklace + nude heels + tote bag