Women's fashion is remarkably varied. A woman who wears a turtleneck sweater one day might find herself wearing a tube top the next or opting for a halter dress another day. And just as how the right wardrobe helps you looking and feeling your best, the right bra could also be a tricky piece to perfecting your outfit. In fact, it is very important to know the types of bras available so that you can pick the right one for the right time and for the right outfit, so as to protect the general health of your breasts.
Therefore, every woman should understand that each style and type of bra is slightly different because the designs are meant to work under varying types of tops. Not to mention, the right bra that offers good support helps keep your breasts youthful and firm, and can make a big difference in shaping and making you look slimmer and proportional under your clothes. Here to let you know exactly what to look for – a bra that fits properly – in any wardrobe situation.
LEARN ABOUT BRA FITTING
The first step to matching the right bra for any type of outfit is to ensure the bra size is correct. Obviously, the right bra size can make you look sleeker and sexier, while ill-fitted bra is uncomfortable, offers no support, and looks unsightly. The common signs of an incorrectly fitted bra include, straps falling off the shoulders, the back of the bra riding up, the cup wrinkling, and the skin under the arms and around the back looking lumpy.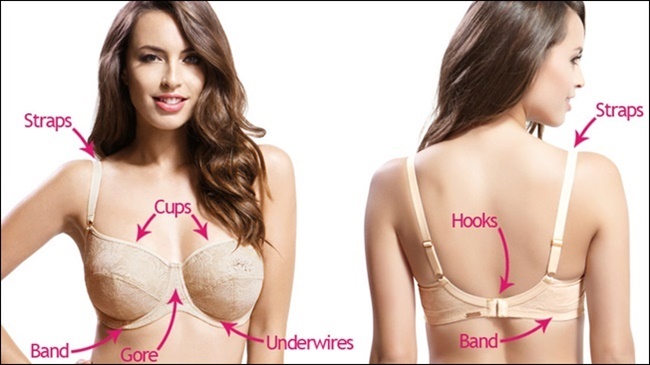 Make sure the straps sit securely on the shoulder. The straps should run straight up and down and should not ride up in the back at all – adjustable as needed. The gore should lie flat on chest, and the band should sit straight around the body and fit securely. As for cups, the breasts should also sit comfortably in the cups with underwire sits flat against chest. Breasts should be completely enclosed in the cups with no spillage out of the sides or front, while underwires should lay flat against the top of the rib cage and should not poke, prod or push against the skin in any way.
Keep in mind the cups that are too small will result breasts spilling over the top of the cup; cleavage looks overemphasized; bra center sits away from the chest; and even sometimes you also have to continually adjust outside of cup. On the other hand, the cups that too large will make cup's material wrinkles, and the cup won't sit securely against the breast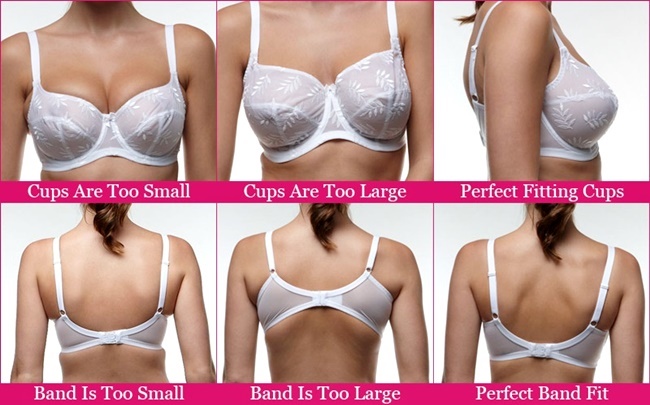 Not to mention, the band of your bra should also need attention, for example, if the chest size of your bra is too small, it results skin bulges over the chest band under the arms and around the back, leading to visible and unsightly lumps. As for chest size that is too large will make bra slips, offering very little support, and even straps sometimes fall off the shoulders.
It is important for women to understand how to identify an incorrectly fitted bra. A simple three-step process which consists of measuring the under bust to determine the band size, and the bust at fullest to determine the cup size, will get you an accurate measurement. Not to forget, most lingerie stores offer professional bra fitting services, where experienced staff members are able to guide buyers to the best bra for their figure and style. Here are the three steps: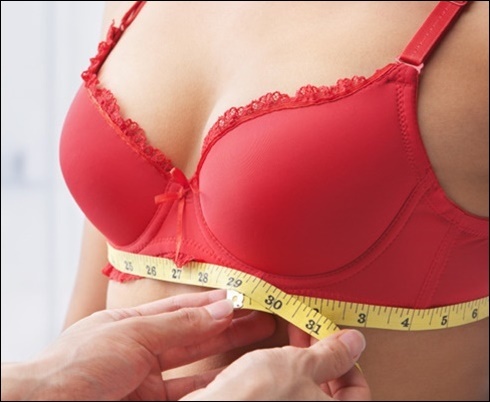 1. Measure your band size: Use measuring tape wrapping around your rib cage, directly and evenly under your bust, and level around your body. Save that number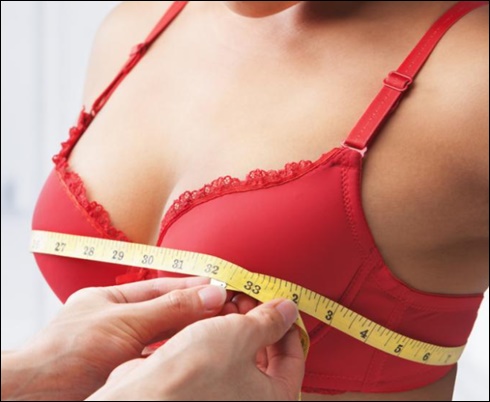 2. Measure your cup size: Wrap measuring tape securely – not too tight – around your chest, so that the tape crosses over the fullest part of your bust. Round to the nearest inch and save that number
3. To find the perfect fit, refer the number of your cup and band size to the Bra Measurement Chart to find your perfect match.
CHOOSE THE RIGHT BRA FABRIC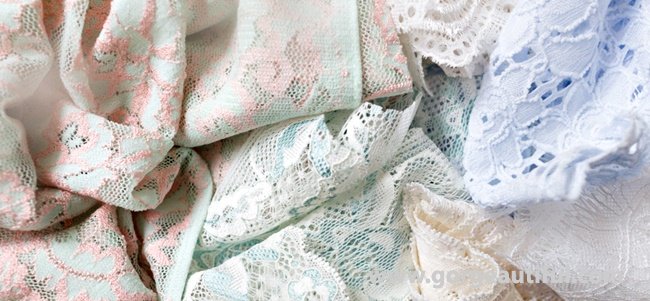 Another important aspect of a bra, or any type of clothing for that matter, is how it feels on you. And for that reason, you will need a bra that is comfortable but also offers you support and shaping. The right fabric or material of your bra could determine your overall feeling about the bra, which in turn leaves you uncomfortable for the rest of the day. Plus, matching the right fabric is also part of matching the right bra for a particular outfit.
So, knowing every type of your bra fabric is important to determine which best suited to the outfit and your needs. Keep in mind that not only is the outline of the bra something to consider, but also the thickness of the cup. When wearing a sheer or tight fitted top, for example, a soft padded bra will hide any revealing nipple lines. Usually, a fabric blend is your best choice for the perfect combination of skin pampering and pretty shaping. What are some of the common fabrics used in bras today, and what makes them so great?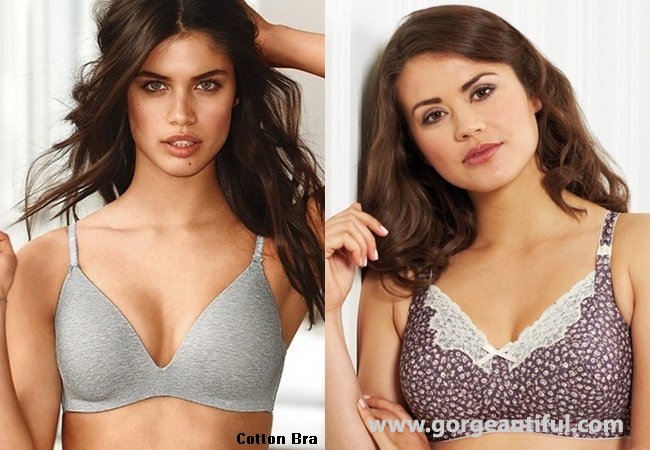 1. Cotton is comfortable, soft, breathable, and can usually be machine-washed and tend to last must longer. On the other hand, cotton bras may not offer enough shaping and support, as well is not quite as racy or sexy as other fabrics.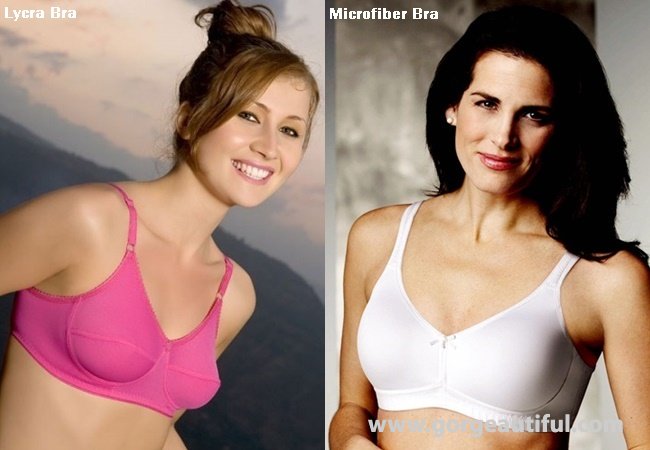 2. Lycra is a stretch fiber; a form of spandex that is lightweight, comfortable and breathable. A benefit of this fabric is its significant strength and elasticity and its ability to return to the original shape after stretching. The fabric is a great choice for sport bras and swimwear as it is also quick-drying, resists bacteria, UV rays and chlorine.
3. Microfiber is an extremely comfortable fabric that provides a smooth, sleek feel against the skin and is nearly invisible under clothing. Particularly used for t-shirt bras, this fabric is breathable, soft, very durable, lightweight and easily maintained and cared for. A microfiber bra that is lightly lined with fiber fill will conceal the nipple and create a rounded, well-supported silhouette.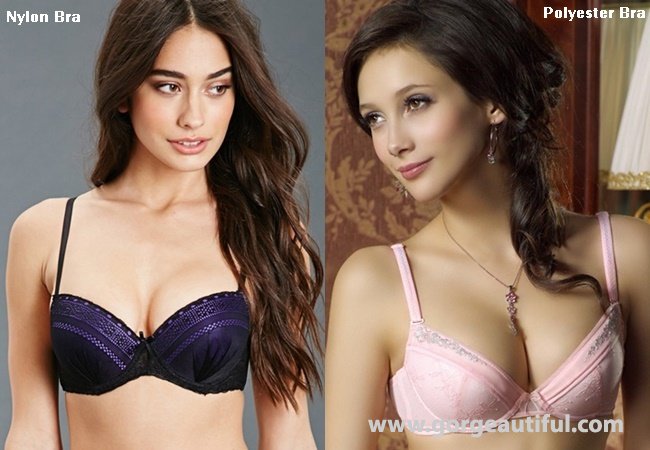 4. Nylon and Polyester are supportive and can be woven into luxurious lace, lustrous satin or light microfibers that feel smooth against your skin, while with spandex will add comfort of stretch. The fabrics feel light like silk, but are stronger, retain shape longer, resist creasing, are mildew resistant and can be washed easily, easy to care for and dries quickly – unlike silk.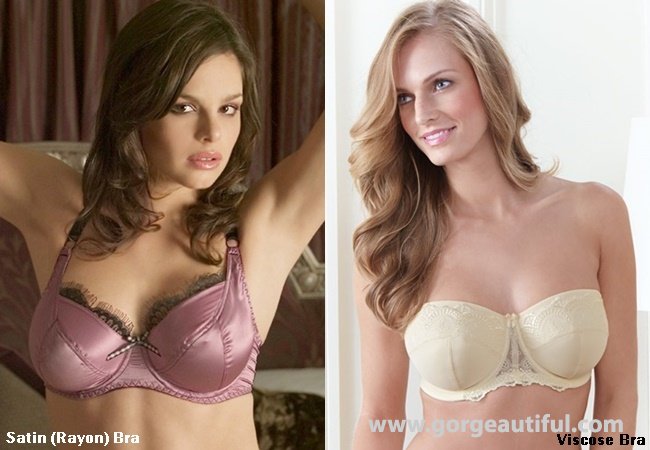 5. Rayon (satin) and Viscose are a semi-synthetic fiber similar to cotton or silk. It's a highly versatile synthetic fabric, smooth, cool, and highly absorbent that provides the soft comfort and sensuous feel of cotton or silk while costing less. One disadvantage to textile products made with viscose or rayon is that the items can often wrinkle easily, and sometimes cannot be machine-washed or dried.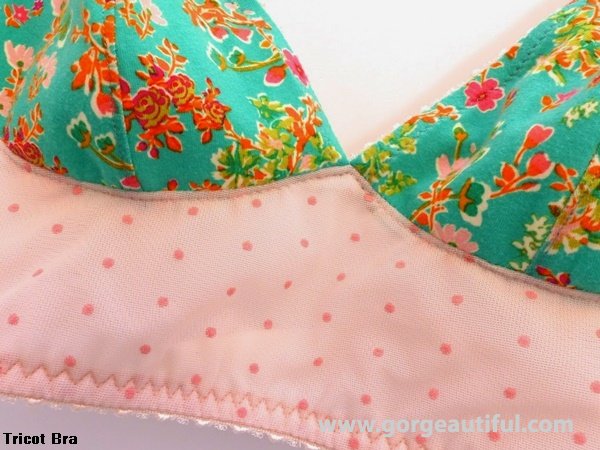 6. Tricot is a type of weave for fabric; a warp-knit that's close and inelastic, which often be used as either the outer fabric or as a lining of lingerie. It is durable and usually thin and inexpensive, has a unique weave that allows it to be smooth on one side while sporting texture on the other. It also provides not only support but also comfort. Lace cups are also often lined with sheer tricot to add stability and reduce scratchiness.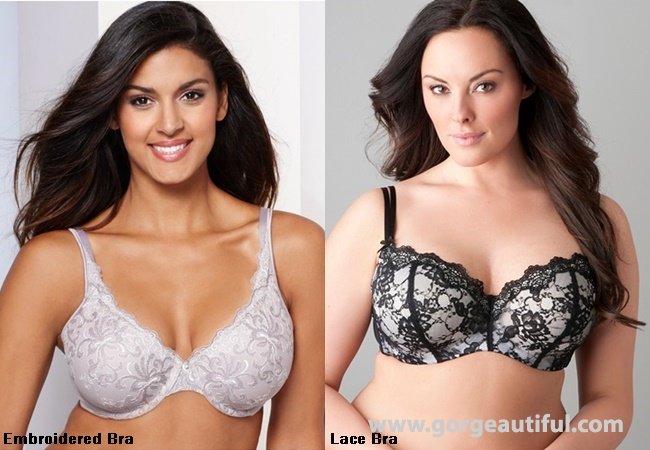 7. Lace and Embroidery Bra are intricate, timeless and beautiful, but can easily irritate skin. If you're looking at a beautiful bra with decorative detailing, it's probably done with lace and embroidery. Laces usually do not offer smooth lines under sheer or tight fitting clothing, but it's great for wearing under thicker clothing where the bra outline is inconsequential.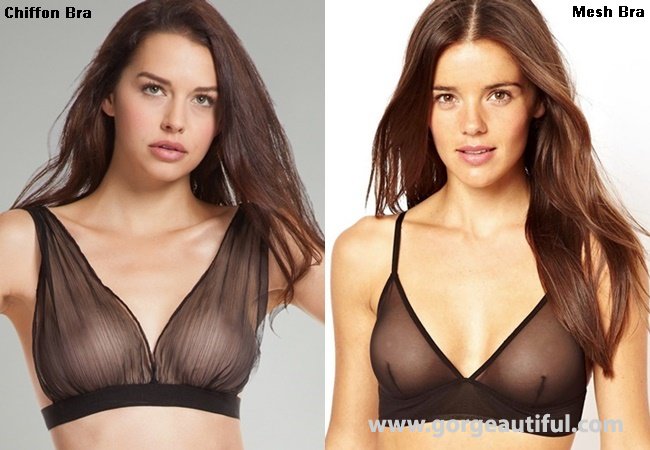 8. Mesh is a partially sheer, tightly woven knit fabric. Lightweight stretch mesh is often used for lining a cup under stretch lace, and has seaming in place to conceal the nipple. When bra cups are constructed with mesh, it provides a comfortable feel because of its light and airy texture, meant to feel cool and dry on the body. On the other hand, mesh fabric can irritate for your skin and doesn't offer the best overall support, unless mixed with cotton, spandex, etc.
9. Chiffon is delicate, lightweight, very comfortable and airy just like mesh, and it also drapes against the body. It's also easy to clean or wash. It's a sheer fabric composed of highly twisted crepe yarns. However, it's easy to fray and damage, also can be weakened by sweat and sun
Obviously, bras that pinch, slip and cause bulging have no place in your wardrobe. But not finish only at its design and structure, when evaluating your bras or before shopping for a new one, really get a sense of how the fabric feels on you or what is your favorite kind. Is it too constraining? Is it too flimsy? Itchy? If so, find the right fit and fabric for you.
Continue to article "How to Choose the Right Bra for Every Type of Outfit and Occasion (Part 2)" for more tips on selecting the right bra to your needs, your outfits, as well as colors of the bra.