Spring is here, and summer is just on the horizon, the weather is finally warming up and we can start to feel a definite shift in the seasons. So how will you put your spring summer looks together? Pastels or vibrant shades? Denim shirt or crop top? Suit shorts or printed jumpsuit? No matter what you love, finding your own personal style for the season shall be fun! Make sure you keep it locked, check out these eight fabulous style ideas on plus size fashion must haves and how to style them.
Pastel Shades
Although pastels aren't exclusive only to Spring and Summer – but rather, they seem to surface every year – these feminine shades are so romantically bright and airy that instill a sense of summertime adventure with styles for every aesthetic. They're evocative of the soft, hopeful nature of the season, perfectly beautiful to pull off for walks on the boardwalk or strolls down the city streets during the warm days. Don't be afraid to mix different pastel hues and when you do go for a simpler beauty look.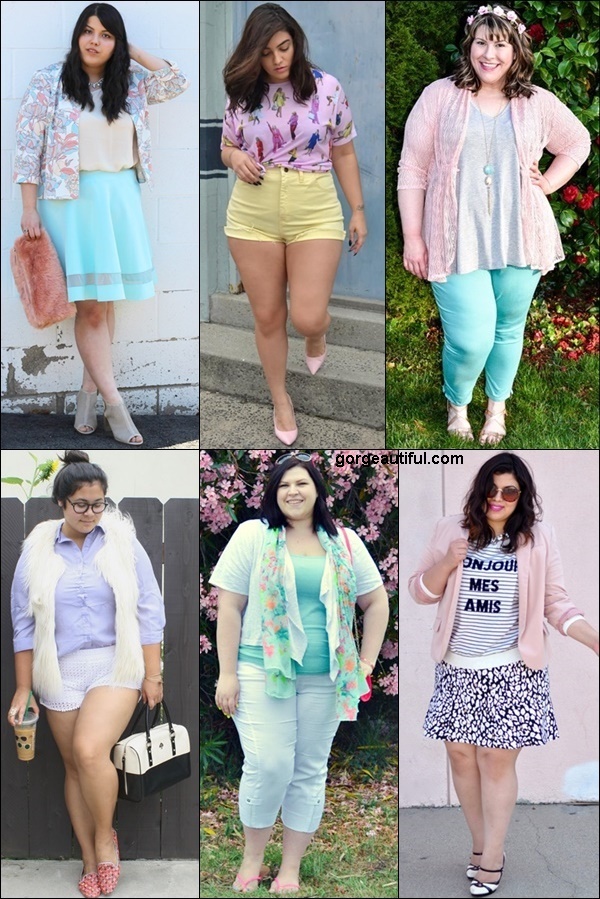 Bright Color
For some curvy ladies, it takes guts to wear those electric colors especially in a day. But there are no rules when it comes to color – just make sure it complements your complexion and try a hit of ultra-bright shades and fun pieces from neon colors to vibrant prints that would make for chic additions in your wardrobe. If you're still nervous about jumping into Technicolor waters, dip in a toe first: Start with small, vibrant details – shoes, jewelry, or bags – before trying bigger pieces.
White on White
Still the seasonal trend is too good to pass up, white-on-white or all-white fashion trend is vital to having a complete warm weather wardrobe. Whether you are plus size or regular size, all body types can work the trend perfectly this season. However, while the color is one of the most flattering hues of spring and summer, rocking all white outfits is a tricky trend to pull off. Check out "How to Wear Cool and Crisp All White Fashion Trends" for general tips and style ideas on white-on-white fashion trend, there are plenty of ways that you can wear all-whites clothing.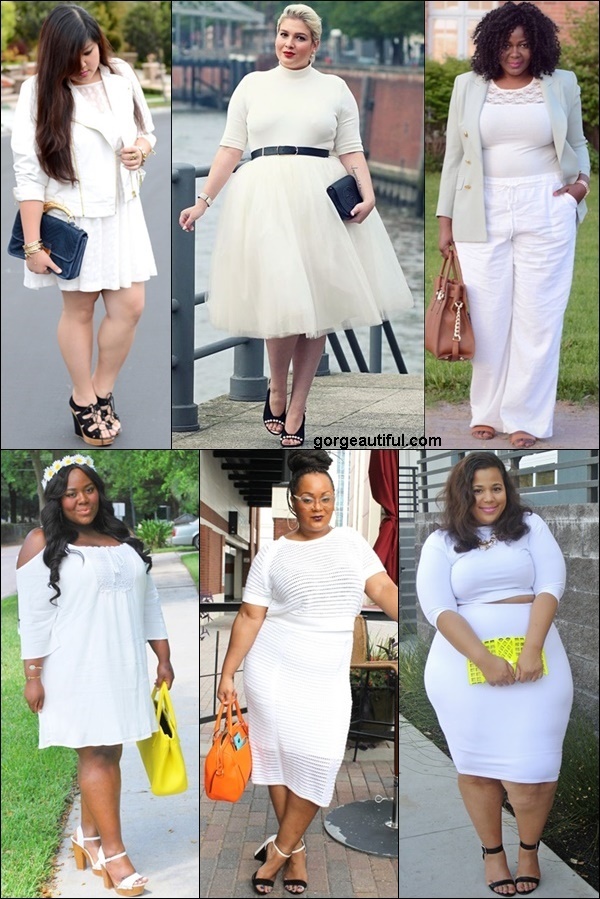 Stripe Patterns
Get up to date with the latest must-have pattern and invest in some stripes. You don't have to pick the ones with the classic black and white, instead, try the ones with bright color or contrasting pattern. Stripes are basically one versatile print that almost can go with every staple. When it's warm, grab your heels and head out but if the sun's refusing to shine, pair your stripe combo with a layer for that chill-busting look with an edge. Learn "How to Mix n Match Prints and Textures in Outfits" for general easy tips and ideas of print and pattern mixing.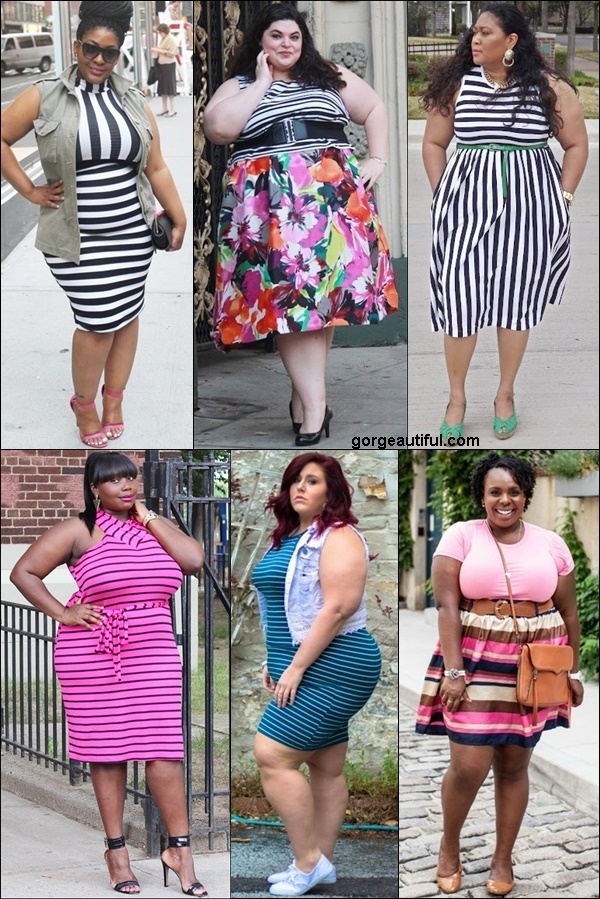 Printed Jumpsuit
No holiday wardrobe is complete without a jumpsuit, and for the season you can start choosing a striking multi-colored printed jumpsuit, whether it comes with flattering bandeau or sleeveless designs. The staple is a true day-to-night hero piece by simply adjusting your accessories and layer accordingly. Think pointy heels and an oversized festive clutch for a cocktail party, or add a leather jacket for a chic city style look.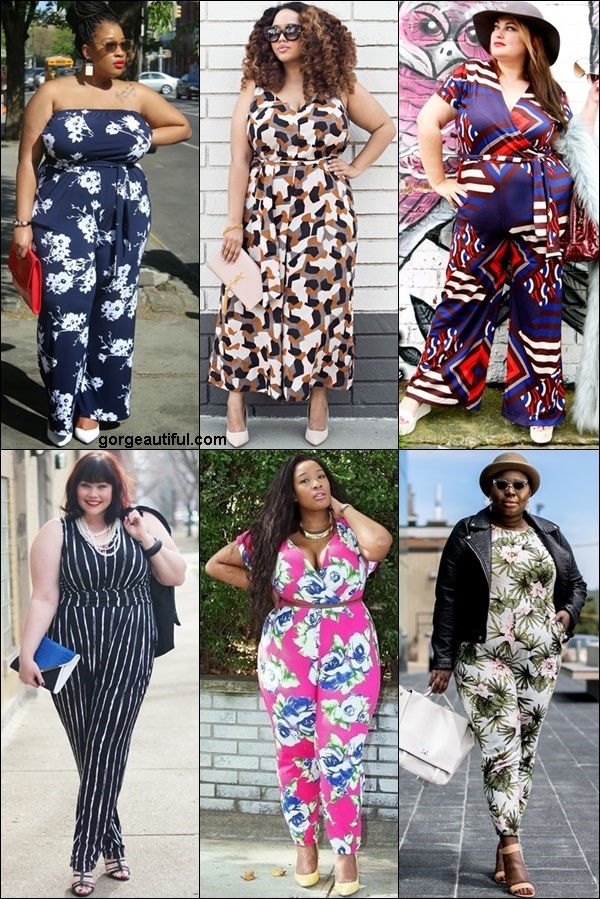 Suit Shorts
There is just something inherently charming about a shorts suit. As one of the most convenient and versatile types of clothes for warm days, it seems the A-list just can't get enough of the shorts trend. And for this season of 2016, we've seen how modern designers began to use women's trendy shorts in business suits, ranging in a variety of styles, shapes and shades. No matter what shape and size you are, donning a pair of suit shorts can instantly create a chic look for most offices and everywhere else. Check out "How to Wear Shorts best for Your Body Type" for knowing how to choose a pair of shorts best suited to your body type.
Crop Top
Although crop tops are very on-trend and don't seem to be going anywhere, for some women with curves showing a little skin can boil down to confidence. Take a good look! If you think you can't wear a crop top, you are tragically mistaken. This cute fashion staple is a stylish addition to any plus-size's summer wardrobe. If you still weary of showing skin, just pair a crop top with high-waisted bottoms, so only a relatively modest sliver of skin is showing.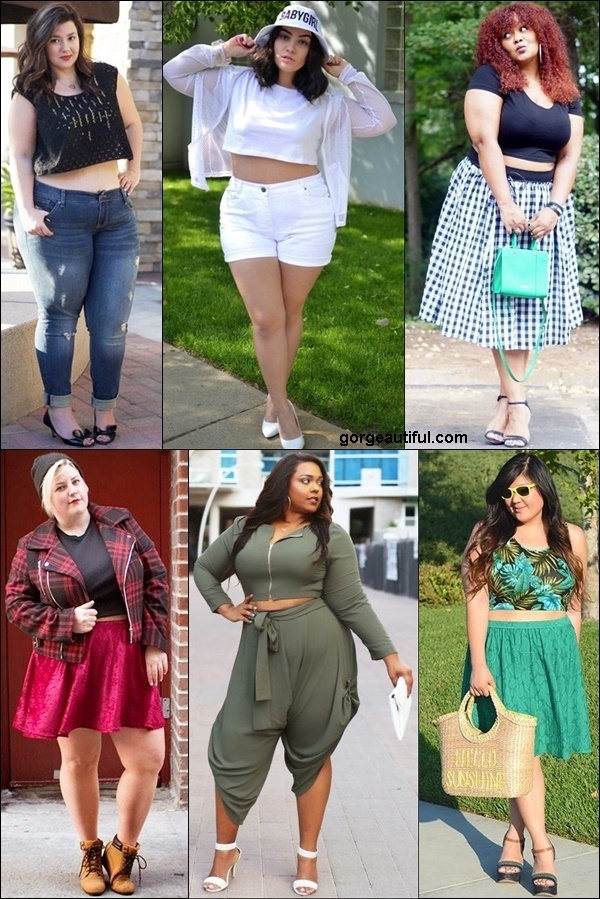 Denim Shirt
As a super versatile and easy staple to wear, a denim or chambray shirt is definitely a must have for the season, that you never can't go wrong to mix and match the piece with anything in your wardrobe. Knot your button-down shirt and make it a crop top, or wear it open for a casual cardigan vibe. You may also try layering the shirt with denim jacket and create that fabulous denim-on-denim look, or wear it with a leather jacket and harem trousers for a winning transitional edgy look.