After the excitements of color blocking, the season's trend continues its fashion fun with Mix and Match of prints and textures, which is a fabulous way to give the outfit unexpected fashion moments, and an interesting depth that bring a more personal approach to our dressing. This technique is pretty much easy to do if you're willing to look outside of the box and take style risks. Not to mention it has the added bonus of extending the versatility of the wardrobe you already have.
Theoretically, mixing textures and prints can be a daunting task, which often results in wrong combinations that don't look that good. This is why most people say they'd never do it. But seriously, with lots of practice and if done correctly you can get out of your comfort zone and mount amazing looks using the technique of Mix n Match. So, here are the right way to mixing patterns and textures: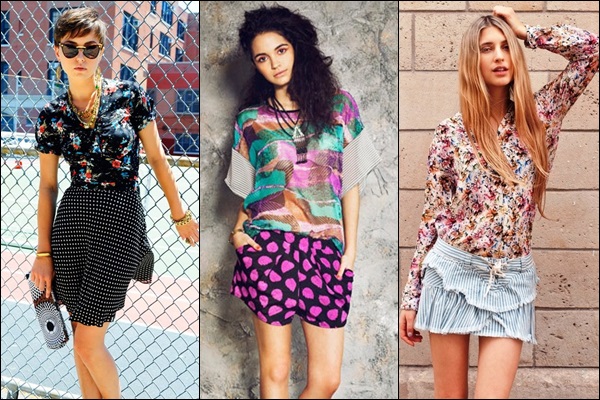 Do Balance With The Scale of The Patterns
One basic rule of fashion is always about having an elegant balance to your outfits, and this will only go perfectly to this mixing technique if you understand the balance between scales, colors, themes of the patterns. When you're mixing your own patterns, look for a connection: It could be a color, a shape, a silhouette.
First of all, it is worth recalling that prints can really empower your body silhouette. Horizontal lines can make your figure looks wider while vertical lines do the opposite way. Small prints will make you look subtle, while large patterns really highlight your outfits, as well making you look wider, super busy and heavy.
So, wear your patterns – either small or large – to enhance your best assets and conceal the others. Don't wear large prints on part of the body you want to hide, and avoid marrying two different large prints if you don't know the rules. Sometimes, wearing two different super-bold patterns makes it look like you got dressed drunk or in the dark.
There are many ways of mixing prints to look polished and not overwhelming. The key is to stick with only two prints and pair your outfit with basic solid accessories, such as bag, belt, jewelries, or heels. Or you may mix two similar scaled prints – but not two super big ones – as long as you break it up with something solid. Make sure your patterns and textures won't compete each other.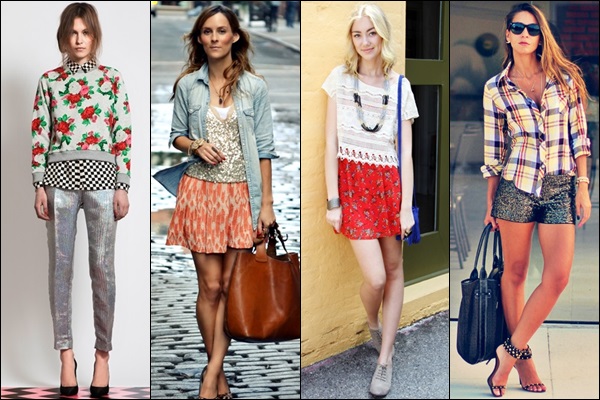 Having More Creativity With Textures and Patterns Mixing
Texture of the fabrics can definitely add a different dimension to an outfit, and by mixing two different textures along with its balanced patterns and colors, you will easily add edge and interest to your outfit. Silky flower printed blouse, for example, matched with floral skinny jeans in the same theme and color tones can make a great fashion statement that the contrast between silk and leather is both sweet and tough.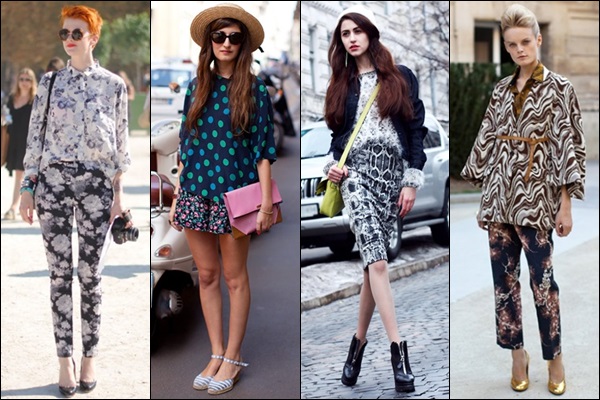 Another idea is to pair a chunky knit sweater with linen pencil skirt along with other fashion elements to complement the entire look. When wearing mini skirt or shorts, you may pair your floral skirt with polka-dot sweat shirt that has one or two colors on the skirt to create a balance look, or cigarette pants matched with kimono top in different patterns but share the same color scheme. Of course you have to combine between colors and prints accordingly to achieve those elegant, balanced outfits. Here are five tips that can help you marrying prints and textures.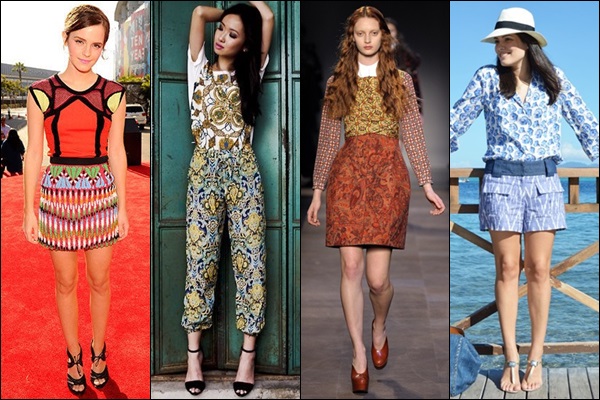 Patterns Mixing with similar colors
Having mixing patterns with similar color is a great way to start, especially for those who aren't confident with the bolder combination. Your patterns should share the same color family to achieve elegant and modern balance. For example, if your flower top is blue and white, your skirt should have some blue to it or anything similar – same color, but different nuance – to those colors, or opt for a print that has at least one of the colors of the other print. And to complement the look bet on accessories in different colors to give a little edge on the outfit.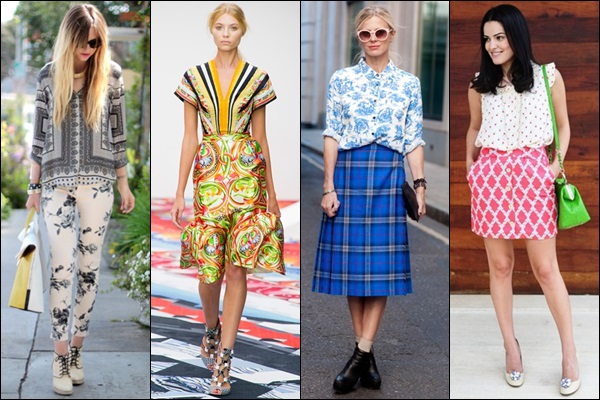 If you are afraid of taking risk in combining some striking colors, you can use some basic, neutral colors for starter. Neutral shades can help you to produce easier combination because this kind of colors like black and white, brown, gray and midnight blue are so versatile that work with almost anything. Think about color gradation of black, gray, and white then combined with any print item you like.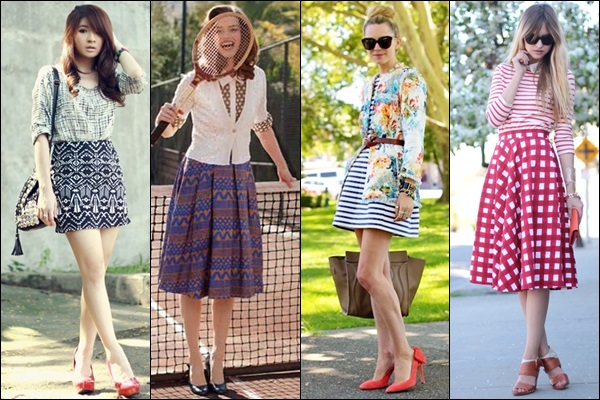 Patterns Mixing with Highlight Pattern
Another option is to pick one pattern that really has to be the breadwinner then paired it with another that's a little more subtle, more basic and smaller. This highlight print can be super-bold, vibrant and large, with many colors and even with busy prints. A good choice is to opt for stripes with something striking. Stripes, dots, or ginghams are those basic prints that are quite versatile to combine easily. You may also use the "same color family" technique to avoid the overwhelmed look.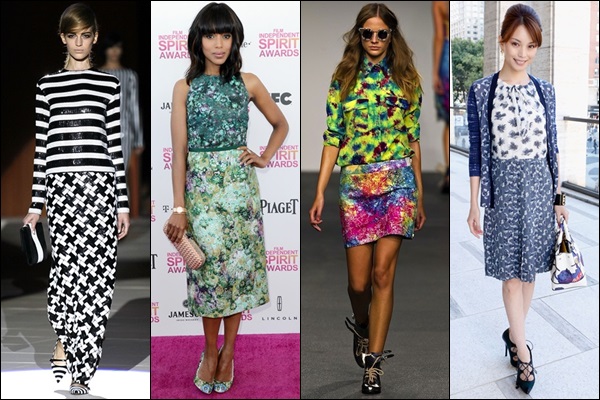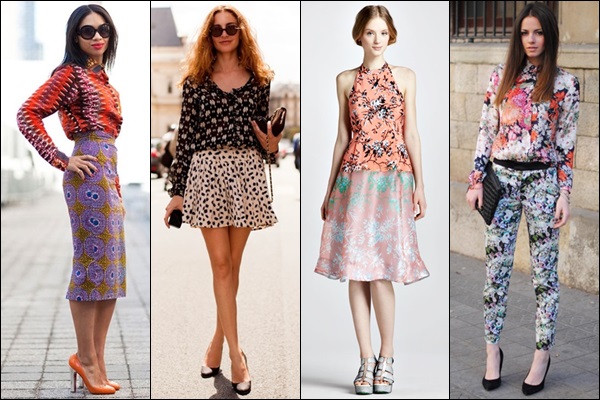 Patterns Mixing with the Same Theme
Stripes with stripes, floral with floral, monochromatic with monochromatic, leopard with leopard, etc. there are plenty options of prints mixing to pull off. However, try not to go too matchy-matchy, especially if you use the same basic patterns. Similar polka dot patterns on head and toe make it look like you're overly confined to fashion rules. As if your outfit is too well-thought and predictable. It's boring and just isn't exciting to look at. Just add a few surprises by wearing different types of prints and textures although it still appears with the same theme. In this case, we are looking for the same theme and not for exactly the same prints with different colors.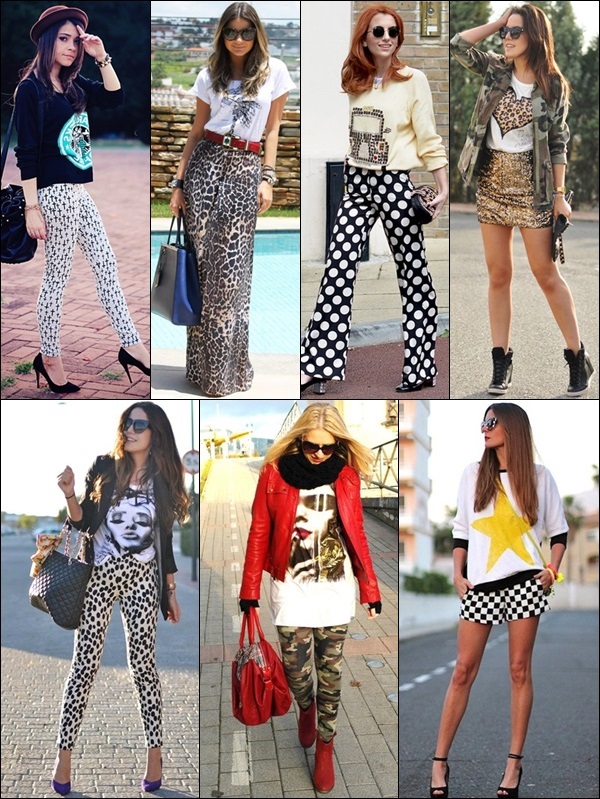 Patterns Mixing with Printed T-Shirt
There are numerous shirts or t-shirts that come with fun pictures or themes. Opt for this kind of printed shirt and combine it with other print items that have similar color tones or same themes. Here, you can create your own personal style that is more casual, cute and chic. Play with textures and colors if you think your shirt looks too simple and plain.
Patterns Mixing with Accessories
Doing the patterns mixing isn't always synonymous with definition of combining two different clothes. In fact you are also allowed to play with accessories for having different prints in your outfit. Printed shoes, bags, scarves, hosiery, or cardigans can be a good bet to combine with one of your printed outfit. On the other hand, having basic accessories can also be a good choice to give a little more subtle look when your entire clothes are already printed.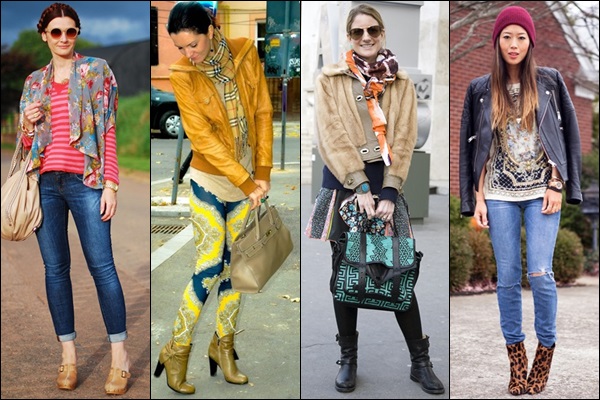 The key rule is to make sure you don't put too many prints altogether to the entire outfit. Give your outfit some rest by breaking it up with a basic, solid color, especially if the two mixing prints are already vibrant. If your clothes are printed combine it with basic accessories. Or use accessories to accentuate the highlight colors, for example if your pieces are super busy with colors and prints, wear solid accessories that have one of the colors of the prints. However, if you wish to have printed accessories pair it with basic piece although you may abuse more than two solid colors.
Take a look at other images of street fashion style for more inspiration on how to mix patterns and textures best for this Spring Summer 2013.