With cocoon silhouettes, sleek lines, unisexual looks, heavy super prints and lots of fur, alongside tons of Victoriana lace and a rainbow of power coats, these Fall and Winter 2015-2016 Fashion Trends are all about withstanding the cold. Yes, fashion trend is always full of outstanding pieces, and we can't deny how great it is to spot a trend that can be worn in everyday life. So, here are the 20 fabulous trend styles for the next chilly days that will take you from the office to the bar and everywhere in between.
Sorting through all of the looks spotted on several Fashion Week runways, between all four fashion-world cities, including Milan, Paris, London, and New York, the new trends for next cold seasons are filled with covetable clothing. From stylish outerwear such as coats, blazers, and jackets, to winter-y fabrics such as leather, tweed, and velvet, to striking details including bold colors, metallic, heavy prints, and 3D embellishments, here are the trends you can't wait to put on right now.
1. Fur Fantastic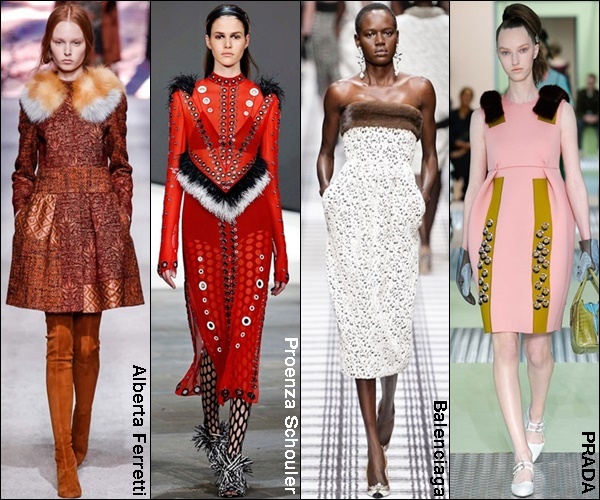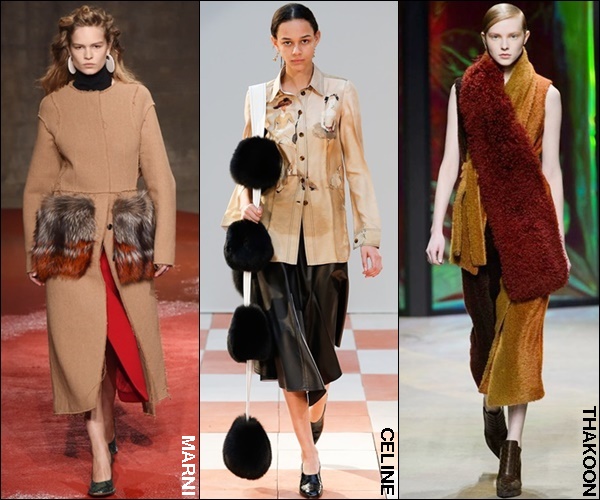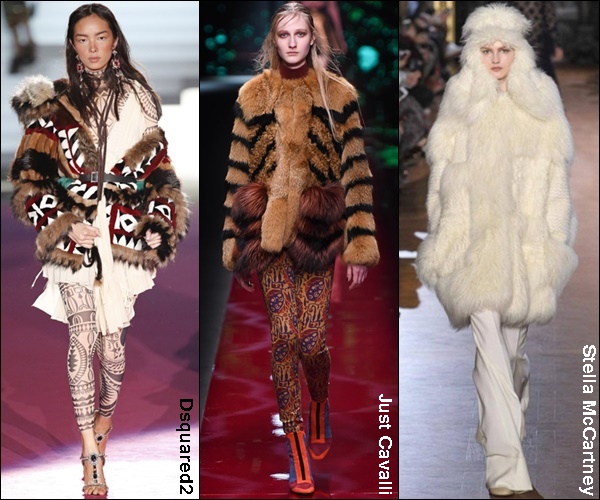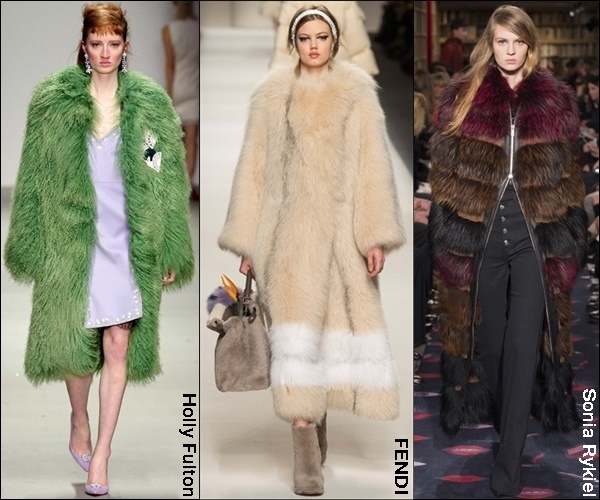 From a touch of fur detailing to a warm and fuzzy coat, from the glorious, bold colored coats to the super-long and classic Mongolian-styled pieces, fur is definitely the predominant trend this winter, which gladly we also spotted that not all of it was real. It certainly isn't every day that fake fur that appears in different colors is considered a stylish piece, but this fall and winter season, it is so very much in, meaning that no animals are killed in the meantime.
2. Capes and Ponchos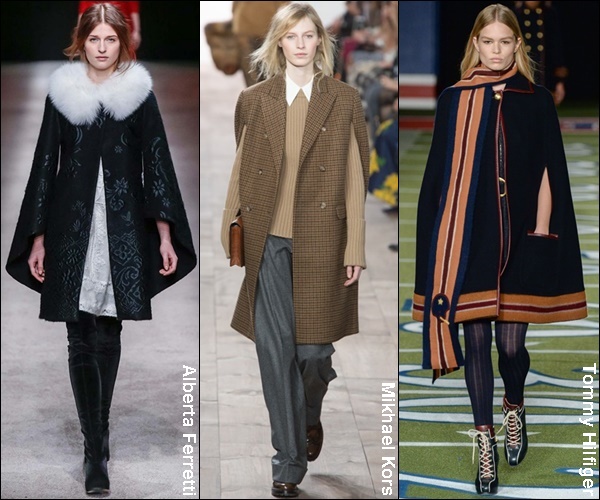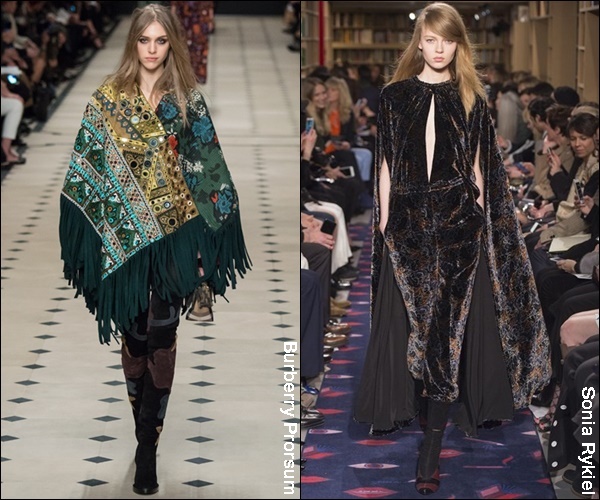 A trend that just will not go away, capes and ponchos were back on the catwalk in a big way this season. From luxe to glam, from structured to sporty styles, capes and ponchos are great statement alternatives to coats when the weather is mild enough to enjoy them. And yes, Bohemian 70s still swings on for the next colder season, which the vibe has gone more folksy than glam rock, showcased by Burberry Prorsum with their fabulous printed ponchos with fringes. All the while Sonia Rykiel brought out our amazement at her seamless incorporation of capes into her collection full of jumpsuits, velvets and keyhole slits.
3. Classic Oversized Coat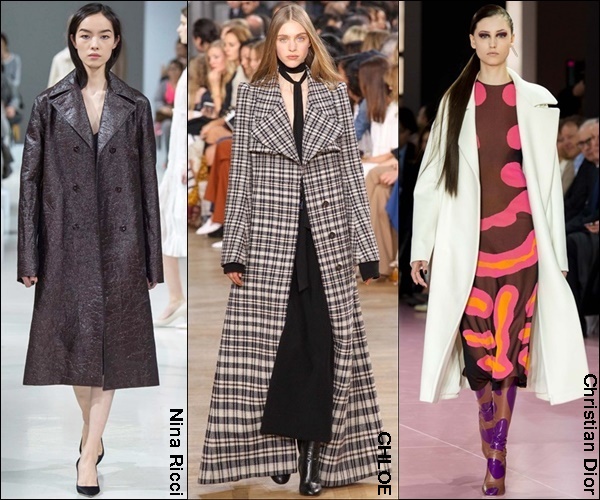 Nothing classier for winter than an oversized coat. A coat in such style does not focus on the waist, but rather completely hide all shapes and curves, and we can spot many of this styles on the runways, cleverly designed in different length (especially the long ones which is below the knee), as well as various  prints, fabrics, and colors. Some of them are characterized by straight lines, high collars, very large sleeves, deep pockets, and wide lapels. Learn "How and What to Wear with Oversized Coat for Fall and Winter" for general styling looks and inspirations.
4. Quilted Duvet Dressing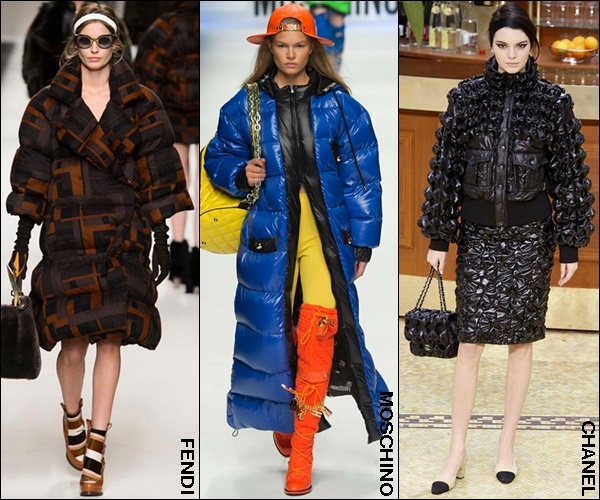 Besides furs, the cloaks, and classic oversized coat, quilting or duvet coat numbers also became a big thing this coming season as Fendi, Moschino, Chanel, and many more all went for the soft and stylish touch this season. Fendi just made all-enveloping duvet style coats out of it and sent the models out looking all warm and comfy, Moschino went bold with bright colors and longer hemline, while Chanel punctuated the look with jewels and all crafty looks. It almost feels like the designers were inspired by the pure comfort and coziness of getting out of bed and into the freezing weathers.
So, ladies, duvets and quilting are just fine for now, and for all plus size ladies, never fear wearing these pieces, check "How to Wear Plus Size Coats Fit and Fabulous" for general plus size styles and tips, including duvet, quilted coat.  .
5. Playing with Layers
Fall and winter are the season for layering – a style that not only keeps you warm, but also adds dimension and interest into the outfit. And for the next colder seasons, some major brands came with thick layering styles, featuring more than three layers including clothes, outerwear and accessories. From Lanvin, to Dsquared2, to 3.1 Phillip Lim, notice that these brands are having a good handle on the basics, which is the most important thing in layering technics. From cozy sweaters, to blouses, to dresses, to stylish trousers, these basics are layered more with vest, cropped jacket, or oversized coat, then added even fluffier with fur stole.
6. Masculine Pantsuits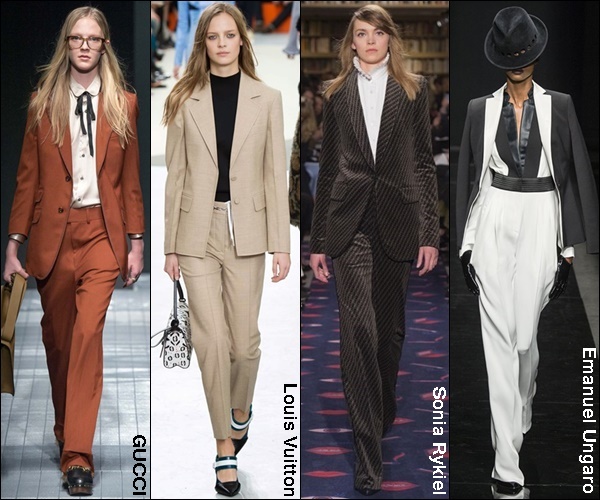 Good and sleek tailoring never goes out of style, and for the next cool days, many of the designers went with all the masculine meets the feminine styles, especially when it comes with a pair of menswear-inspired suave pantsuits. Think of a little androgynous and a lot architectural, simple silhouette. While Gucci and Louis Vuitton appeared in softer, classier looks, Sonia Rykiel kicked out with her 70s velvety pantsuits, and Emanuel Ungaro got more luxurious in tuxedo, disco glam chic. Has there ever been anything as cool and unapologetically femme as a lady in a chic suit? We think not.
7. Neo-Victorian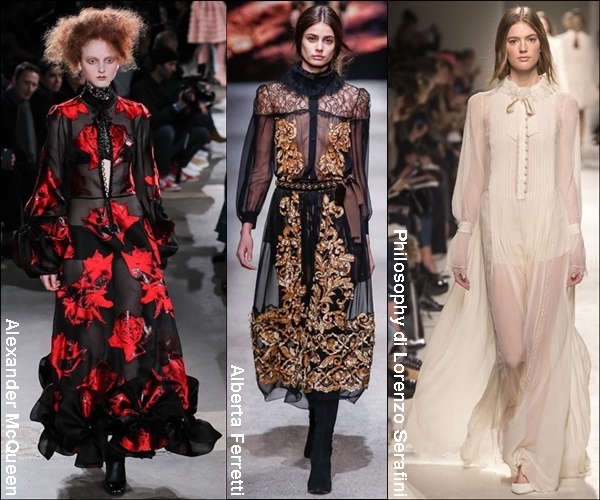 Create a drama look for the next season. Go for a dark glam gothic or just pick a dearly chic look in soft hues. Be it a feminine sweetness of high-neck ruffled collar in sheer fabric or the melancholy elegance of black lace with a touch deep red rose, a Victorian mood pervaded the runways. These 19th century queens ruled over with their moody lace, intricate embroideries, and high ruffle necklines which cut beautifully in costume-worthy silhouettes, majorly embraced at catwalks of Alexander McQueen, Alberta Ferretti and Philosophy di Lorenzo Serafini.
8. Sleek Wide Belt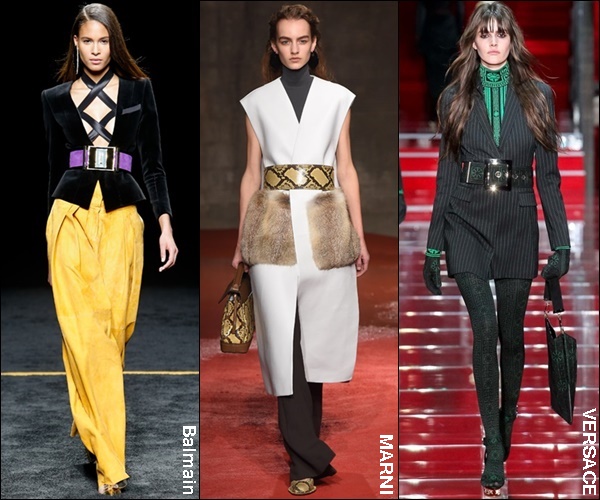 We fell in love with oversized belts years ago and seeing them back on the latest trends list excites us to no end. But this time, represented by Balmain, Marni, Versace, and many more, the belts go much sleeker in medium width, great for drawing the eye to the midriff and creating the hourglass shapes. Shown throughout the runways, they are worn on everything from jumpsuits to vests, dresses and coats, and with cool color contrast or printed pieces, these statement accessories will just make an outfit looks much more appealing to the eyes.
9. Fun Patchwork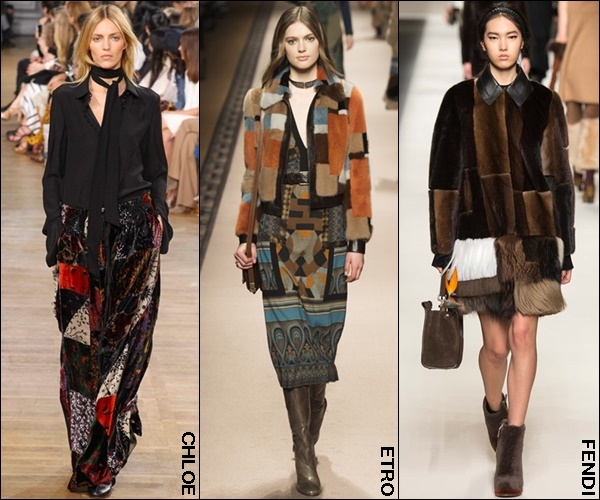 In continuing the looks of 70s folklore bohemian vibes, the intriguing textures of patchwork appeared at various runways, predominantly by Etro, Chloé, and Fendi. That is where the patchwork designs come in, utilizing either single materials or multiple styles in order to create some rather fascinating looks. Some decided to color block with similar textures, while others certainly were a lot more daring, showing just how powerful the juxtaposition of colors, textures and fabrics could be. It was hard not to fall in love with the colorful patchwork slip dresses, long skirts, cropped jackets, and those fur coats
10. Cool Metallic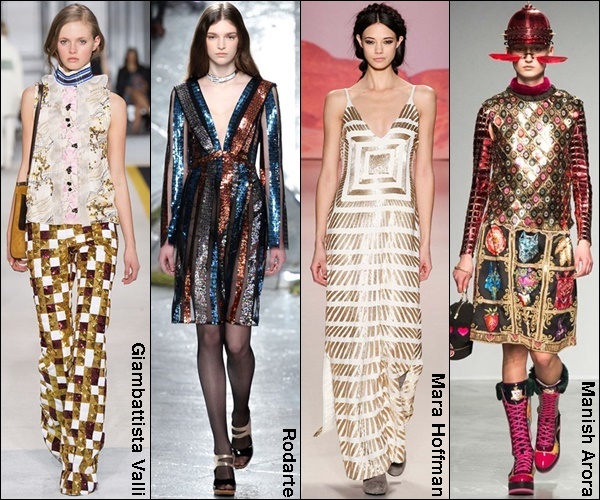 Whether they come in the form of cool silvers or soft golds, colorful shines or just a touch of metallic, we can't get enough of these crafty metallic colored dresses, trousers, sweaters, and skirts must-haves. These are an absolute must-have to make a statement in the new season, spotted on the runways of Giambattista Valli, Rodarte, Mara Hoffman, and Manish Arora. The real emphasis of this trend is on the shines, whether in skinny knife pleats at fluid styles, or more structured with metallic appliques and sequins. Learn "11 Ways to Wear Fashion Sequins From Casual to Dressy" to rock those a cozy-glam that looks effortlessly chic.
Next, continue the new Fall Winter 2015-2016 Fashion Trends via "20 Fabulous Fall Winter 2015-2016 RTW Fashion Trends (Part 2)"