Sequins are so high this season. It's sparkling, outstanding, and even can make simple outfits look glamour only by a touch of little sequins. However, this shimmering detail can also make you looks overboard when not wearing it right. Whether you are going to go for a day casual wear or a bit dressier for a night out, there are plenty of ways to wear sequins without looking too over the top. The key is to balance out the bling of the sequins with the rest of your outfit. Check out these following few ways to wear sequins.
When wearing sequins right, you obviously need to follow some do's and don'ts that include both the pluses and the minuses. Many fear wearing sparkle during the day, but if done well, it can really make an outfit. The trick is to rock sequins in a casual-glam way that looks effortlessly chic. If you dare to wear those stunning sparkly pieces in the morning and afternoon casual or formal, check out these fashion ideas for an inspiration.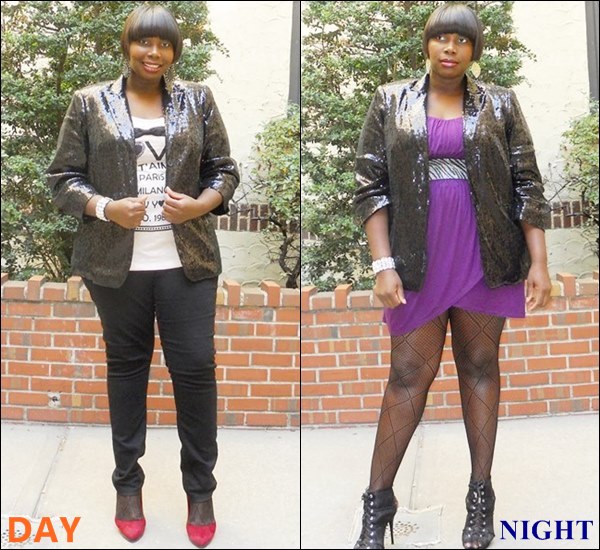 From casual to formal, from simple to bold, from day to night, if you're wondering how exactly to pull this sequins trend off, I've rounded up eleven ways and tips to help you wear sequined pieces:
1. SEQUINS + DENIM
2. SEQUINS + BLACK LEATHER
3. SEQUINS + NEUTRAL COLOR
4. SEQUINS + PATTERN
5. MONOCHROMATIC LOOK
6. MIX AND MATCH
7. SEQUINS + LAYERS
8. SEQUINS FOR EMBELLISHMENT
9. TO DRESS IT UP
10. TRY SEQUINED TROUSERS
11. WEARING A SEQUINED DRESS
1. SEQUINS + DENIM
Ways to Wear Sequins: Pair it with Denim Pieces
One of the instant ways to tone down and make your sequined piece more daytime appropriate is to wear it with denims. Pairing something uber-glam, like a sequined jacket, with something totally casual, like distressed jeans, is a totally modern way to do sparkle. You can easily dress down a sequin top by wearing it with a pair of skinny jeans or do the mixing and matching in variety different ways – sequined skirt with chambray, basic pairing like regular white shirt and skinnies thrown on a sequined blazer, sequined top with denim shorts, etc.
Tips: Because you want to look appropriate and not flashy. Pair denim + sequin with color that is neutral and matte such as white, gray or black, or utilize color exactly the same with the sequin's color – blue sequined top with blue blazer in exactly the same color. Plus, complete your look with casual and minimal accessories.
2. SEQUINS + BLACK LEATHER
Ways to Wear Sequins: Pair it with Leather Pieces
Just like denim, black patent leather is also great for adding some sequin-free shine to your look, yet leather gives bolder look than denim. Leather pieces like skinnies and biker jacket are excellent to make a statement. Don't worry about sequins being too fancy for beat up basic leather staple and utilitarian footwear. The casual shirt shape keeps the contrast in check perfect for a weekend brunch date or just walking around the 'hood
Tips: Avoid leather that is too shiny or metallic. Opt for leather only in black or white for a safer look. Make your sequined piece as an interest to your leather-glam outfit. Dress down the sparks of sequin with a white tee to make a contrast. Or just wear your sequined top as a splash of spark of your top-to-bottom black ensemble. Remember that people are definitely going to be looking at you when you're covered in sparkles, and you don't want they think you are a disco ball.
3. SEQUINS + NEUTRAL COLOR
Ways to Wear Sequins: Pair it with Neutral Colors (Black or/and White)
Even a sparkly sequin can be daywear appropriate if you pair with neutral colors that are basic enough to dull it a little. White and black are your excellent choice as these colors are very versatile matched to any wardrobe – along with natural makeup and low-key hair. Whether you choose for classic sequins like gold, silver, or black, or opt for colored sequins, you can pick either the sequined piece or the matted piece that are black or white. Basically, your jobs are: (a) putting one of these colors in the outfit, and (b) matching sparkling sequins with matte color.
Tips: For formal occasion like a cocktail party, pairing sequins with dressy black piece will create elegantly luxe attire for the event, as well as for a night out – with skinnies or mini skirt – for a more casual look. While sequins + white will lighten up the shines so the outfit won't look too sparkly during the day, easy black jumpsuit with golden sequined blazer surely make your head-to-toe black outfit looks stand out with a good statement topper.
Plus, you can also create a black and white monochromatic look by matching a silver sequin with matted black, or vice versa – black sequin with matted white. Just make sure to put one sequined piece at a time. Make sure you don't wear all the lovely sequined pieces you have at once, because even a minimalist sequined look can make you stand out.
4. SEQUINS + PATTERN
Ways to Wear Sequins: Pair it with Patterns or Prints

If your outfit is already bold, sequins will fit in perfectly. One great alternative to create dimension to your outfit is to mix and match between prints or patterns with textures, and sequin does has textures. Pair a sequin-embellished skirt with a striped blouse in matching color is a definite cool ensemble during the day. You can do the opposite by matching light blue denim with sequined striped top, or pick leopard prints.
Tips: Generally, do all the mixing and matching between prints and sequins (texture) accordingly. Take a look at the picture above, each picture shows the opposite look one to another. Either leopard sequins with solid color or leopard piece with solid sequins. Just have fun with fashion, and these shiny ideas are obviously wearable to keep the modern look. Not to mention, add some classic accessories, like a large handbag or cute clutch to add more chicness to the outfit. Chic, and so easy
5. MONOCHROMATIC LOOK
Ways to Wear Sequins: Wear it Monochromatically with Other Piece
Another way to wear sequins without being too overboard is to pair it with other piece that has the similar color family with the sequins. The idea is to create a head-to-toe monochromatic look with a pop of sparkling sequins.
Tips: If you have a sequin piece in soft or light color, pair it with staple in similar creamy shade like pastel, powdery hues. Opt for dark silver sequin with gray, blue sequin with navy, white sequin with solid white, black sequin with solid black, etc.
6. MIX AND MATCH
Ways to Wear Sequins: Do Mix and Match with Basic Wardrobe Essential

When wearing sequins, not only it's a good thing to mix and match, it's also something you should do. Mixing sequins with simpler articles of clothing that do not have embellishments will almost always look good. You can dress up something old or something plain without fear of going overboard. Versatile essentials like jumper, classic t-shirt or tank top, or chic blouse will do all the works with sequined bottom.
Once again, to get a modern-glam look you need to play nice balance between colors, prints, and textures. Try this out, silver or white sequins look great with seasonal summery shades, and gold is perfect for that festive vibe.
Tips: Try teaming an embellished sequin piece with a bold or interesting pairing for a look that's dressed up and dressed down at the same time. Choose simple silhouette, for example a simple top with sequined bottom, or vice versa. Do also remember that bottoms such as skirt, shorts and trousers have numerous gorgeous designs to play up with. Skirt for example, you can pick from skater to A-line to pencil to maxi skirt. Wear different flattering cut to make a super cute outfit that's really easy to recreate.
7. SEQUINS + LAYERS
Ways to Wear Sequins: Fashion it with Layers
Wearing sequins with layer such as a moto-jacket, trench parka, crisp blazer, or knitted vest make them look more daytime appropriate. The more casual outerwear you wear the more relaxed vibe you'll get. Just use layering to tone down the shimmer. Using subtle textures and patterns will also balance the dazzling effect of sequins
Tips: Not only layering is perfect for chillier days – both in fashion and function – wearing sequins with layered piece will grab people attention without looking over the top. Especially, on days when you don't have time to fuss over what you're wearing, you will need an item that can stand alone, something that doesn't require additional accessories, and can be thrown over an easy outfit yet still look eye-grabbing among the bulky layers. Enter the sequined piece.
8. SEQUINS FOR EMBELLISHMENT
Ways to Wear Sequins: Use Sequins for Detailing

If you're a little wary about wearing sequins on your clothes, never fear. You can still work this style out. Pick sequins as part of your outfit details. From sequin trimmed blazer to sequin sleeved jacket, or a top that's got a gorgeous embellished pattern, these are a great option for accent pieces. You don't have to stick to standard all-sequined piece, wear them as embellishment will also do the great job.
Tips: Not only you can use sequins as details of the clothing you wear, accessories decorated with sequins are also a totally acceptable alternative. You might choose a pin, a hat, some sunglasses, or a piece of jewelry. Speaking of which, don't go crazy with the sequins! Make sure to treat them gently even for accessories.
9. TO DRESS IT UP
Ways to Wear Sequins: Dress It Up for Special Occasion
For special occasions – from day to night – make sure you understand the difference between appropriate day wear and appropriate evening wear, so you don't commit a sequin faux pas. Do remember that sequins are not great for complexity. If you want to wear a really complicated structured silhouette, leave the sequins in the closet. When you wear sequins, you don't want to draw the eye anywhere else, because then your outfit can start to look messy. Keep your lines simple when you feel like you want to shine. And this also goes even when you are dressing up with sequins.
Tips: Fashioning a sequin piece with fur (or fringe) will give an ultra-glam vibe to the outfit. Pair these two elements nicely by using both in same color. Wearing sequins with dressy staple can also create a festive look for a fancy occasion.
10. TRY SEQUINED TROUSERS
Ways to Wear Sequins: The cool and trendy looks of Sequined (Metallic) Trousers
Yes, sequined skirts are very, very in this winter, spring, and summer that you can rock the look for most of the year. But how about trying sequined (metallic) trousers to show off much bolder look, and that is totally cool as long as you pair them with super casual and basic top.
Tips: Compared to skirt, sequined trousers certainly show off much shines and sparks to the entire look, so drag the attention focusing only on the trousers and let others – including top and accessories – compliment the sparks subtly.
11. WEARING A SEQUINED DRESS
Ways to Wear Sequins: Do Simple when Wearing top-to-bottom Sequined Dress
If you're going to go for a dress covered in bling, from top to bottom, opt for one that comes in simple silhouette. It's no need to pick overly trendy style when your dress is already fully sequined. You also need to stick with one color of sequins (either subtle or vivid shimmering sequins) or sequins with patterns as long as it goes with a balanced small color family that's definitely complimentary. Plus, find a dress that fits you perfectly. Make sure to keep your lines simple when you feel like you want to shine.
Moreover, know that this fully sequined dress mostly worn only for special occasions and evenings out. However, you'll get more use out of your dress if you find casual ways to style it. Throw on a denim jacket, textured tights and motorcycle boots for dinner with friends, or slip a dark T-shirt over your frock and use the bottom portion of the dress as a skirt.
Tips: When wearing a sequined dress, because sequins are already bold and eye-catching, you should allow the dress to stand on its own by keeping the rest of your look more low-key since loading up on statement accessories easily can make you appear over-dressed. Just keep your look simple and understated
Go super subtle with dainty jewelries and accessories – nice and simple black pumps or ankle booties are the safest footwear choice. Don't pair your dress with a clutch and shoes in matching sequins or rhinestones, and avoid large, heavy jewelries. Delicate stud earrings are a better match with a sequin dress than a dramatic chandelier style. A simple pendant necklace with a thin chain works well than a statement necklace.
All in all, now that you know that sequins are not just for party nights, we hope you will show them some daylight. Especially for subtle sequins, they are great for day wear, but obviously you can wear more striking sequin if worn properly. Just don't get carried away with the glam factor. Remember that less can be more. Sure, you want to shine this holiday season, but don't forget that there are plenty of subtle ways to do it
Picture source: chicisimo.com (Click each picture at chicisimo to get details of the outfit or to visit the blogger's site)