From super prints, rainbow colors, and stylish metallic to luxe velvet and amazing leather-y pieces, the next cold season will strike with vibrant and cool clothing, yet warm and comfortable for the chilly days. With those great silhouettes and pretty prints for the season, as well as the styles and shapes of the clothing pieces showcased, we love the new Fall Winter 2015-2016 fashion trends and can't wait for the colder months to arrive to experiment with our favorite looks. Check out these new fabulous trends.
In continuing previous article "20 Fabulous Fall Winter 2015-2016 RTW Fashion Trends (Part 1)", here are another ten sneak peek at the key looks of Fall Winter 2015-2016 fashion trends.
11. Vibrant Colors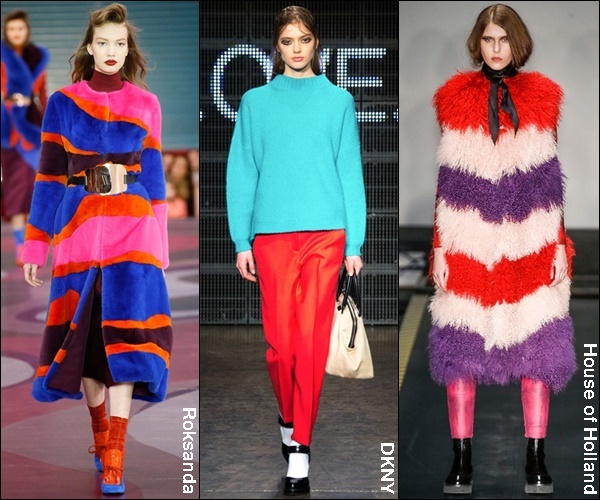 Among the many, some designers decided to differ from all of the winter-y, earthy, darker shades, and went to super vibrant colors from DKNY's electric color-blocking styles to the rainbow colored coats of Roksanda and House of Holland. Considering the fact that we are all prone to developing Seasonal Affective Disorder, these gorgeous pieces help dispel the doom and gloom that is always accompanying the winter months. When one collection channeled a fun, young vibe via novelty cuts and vibrant palettes, even though it's for winter, we know that no collection is complete without at least one popping piece of attire.
12. Super Prints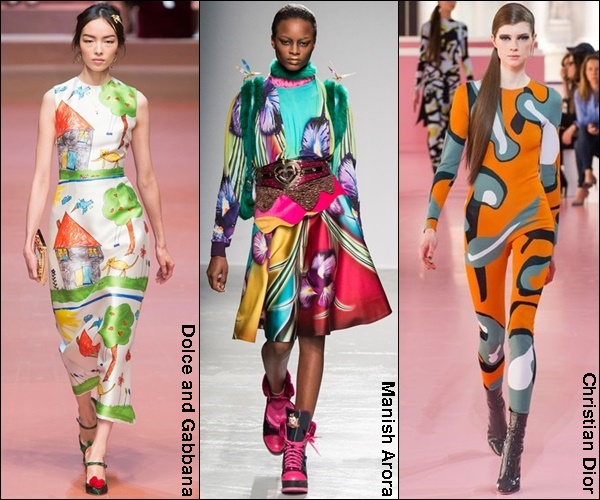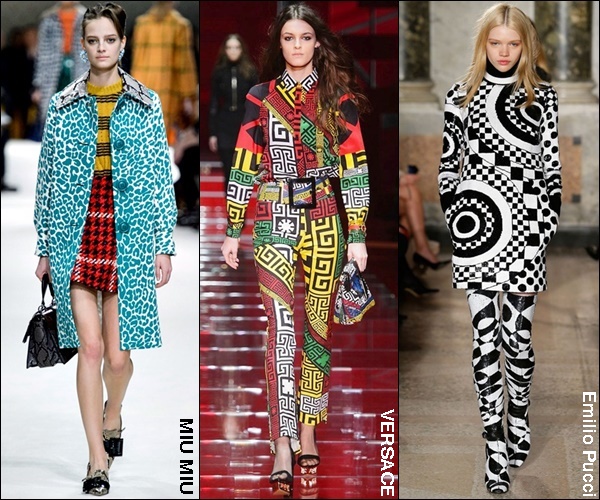 Vivid, graphic patterns, folksy tribal, retro color-blocks, bright tropical, and more swirled across the collections at Dior, Emilio Pucci, Versace, Manish Arora, and more, while Miu Miu clicked and clashed their bold new prints to brilliant effect, sending a perfect message that this colder months, everybody are allowed to go dazzling with super heavy prints top-to-toe if you're feeling bold. Even Dolce and Gabbana came with their cute printed dresses based on drawings by Domenico's nieces and nephews that looked exactly like naughty kids had taken some crayons to Mum's best dress.
13. 3D Embellishments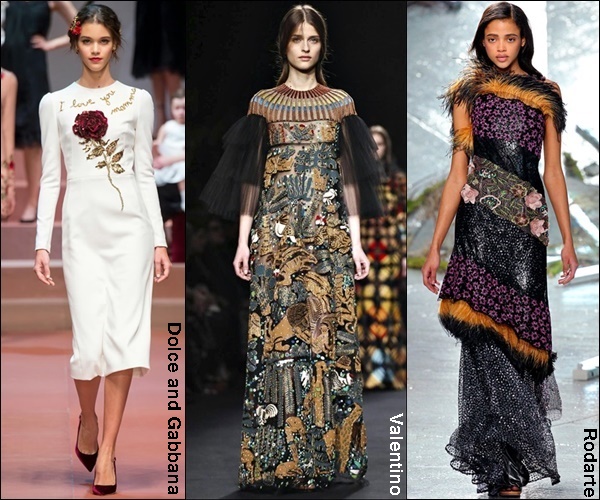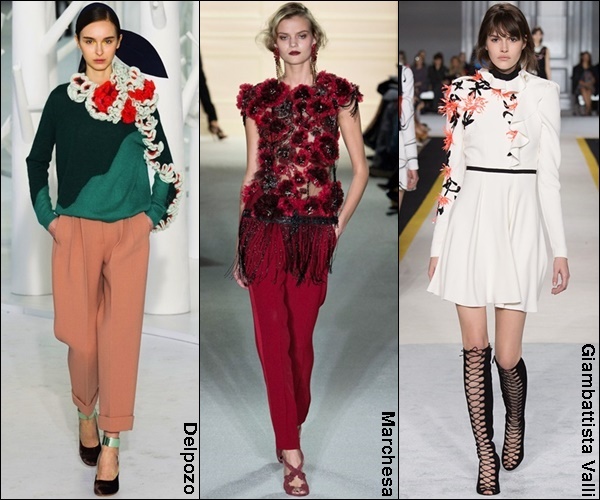 We have had the plain pieces, colorful rainbow staples, and the Victorian-dark styles, the simple shifts, the sleek pantsuits, and the sporty designs. What is more than all of those varieties than 3D embellishments including crochets, floral appliques, and the sparkling effect of sequins and paillettes. From Dolce and Gabbana, to Valentino, Rodarte, Delpozo, Marchesa, Giambattista Valli, and many more, the pieces look incredible with all the stunning effects they hold. While the glitters really pull in the '90s theme though, the classic 3D floral detailing glam feminine and romantic attitude, all of which really wanted to be shows some love and taken out on a spin around town.
14. Tiger Chic Look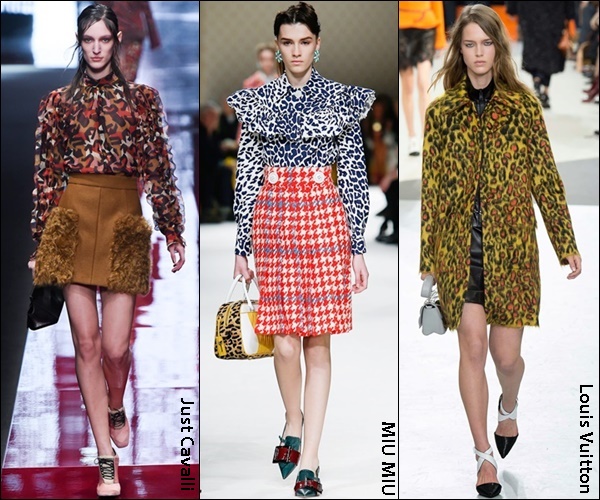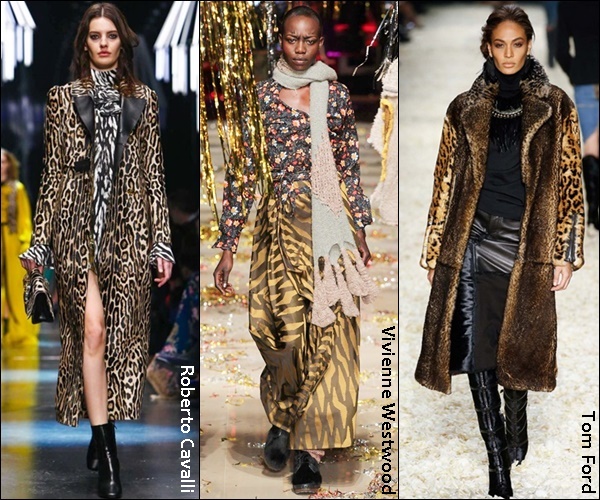 As classic and timeless among other patterns shown at various runways, a little touch of leopard prints still embrace the classy and elegance of the next colder months. While Miu Miu, Vivienne Westwood, and Just Cavalli prefer the modern look as their inspiration, showcasing the prints in color combination of yellow, navy, red, white and orange coloring, the looks of Louis Vuitton, Tom Ford, and Roberto Cavalli turn in much classier approach, where the classic browns are combined with fur and leather elements, or with brownish golden touch just like how Vivienne Westwood did.
15. Still with Fringes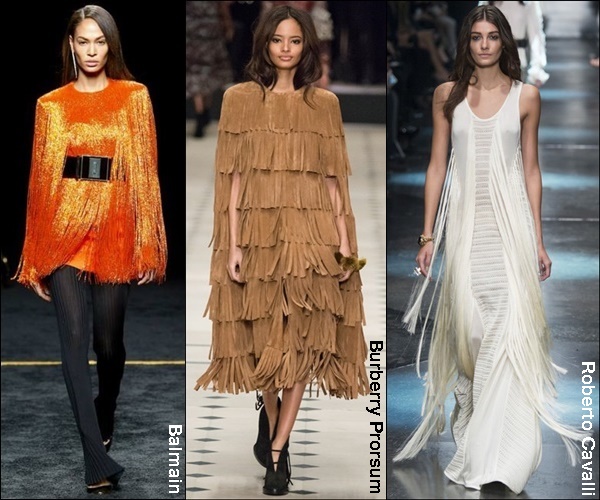 We have always loved to go retro and we saw fringes all over spring summer's runways, which now this bohemian detailing has also made an appearance at big shows of fall and winter to add a flounce to every step we move, or it just really jazz up a jacket, top or dress and make the entire look just perfect. Among the looks spotted on the runways, there's fringe that completely covering dresses like at Balmain and Burberry Prorsum, while Roberto Cavalli featured delicate long fringe top to toe, that it seems to flow like liquid out of a faucet.
16. Glamour Pleats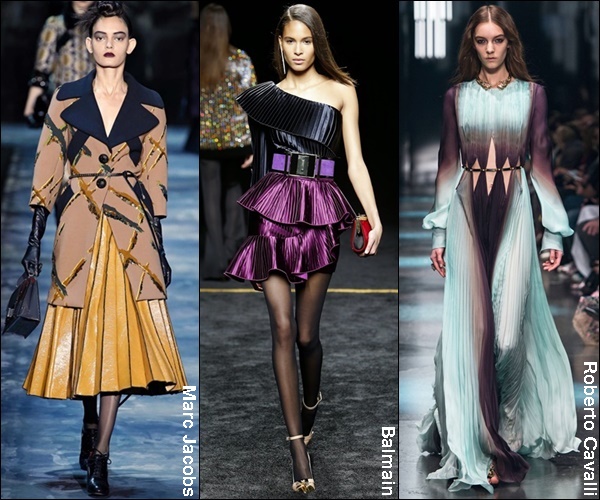 There's something so seasonally right about pleated skirts for the fall winter season, but especially this year of cold seasons the wide variety of pleated skirt, pant and top, as well as fluid dress options was what made the style stand out. This season, most designers, including Roberto Cavalli, Rebecca Tailor, Gucci, and more have received an upgrade – in luxe leather, shimmer, spliced with sequins and rendered in box or knife varieties that sway sexily around the knee as they go. For example, while Marc Jacobs loves the full skirt with the pleated leather, Balmain packed a pair of one-shoulder top and peplum skirt in sharp pleats all around.
17. Luxe Velvet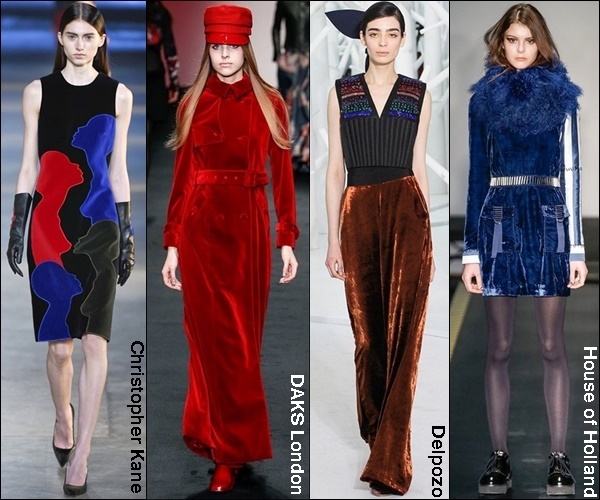 Soft and rich colored velvet is possibly one of the most luxurious materials to be used on the runways that got a very fall-ready makeover this season, reminiscing of the '70s and particularly the '80s. Whether it's in suits, flares, dresses and capes, the luxe velvets popped up at the shows in every city – just in time for cocktail hour. From Christopher Kane, DAKS London, Delpozo to House of Holland, and many more, this fabric is a huge trend in London already and it was very much visible on Milan runway shows, lending fluidity to so many of the incredibly gorgeous looks.
18. Tweed Comfort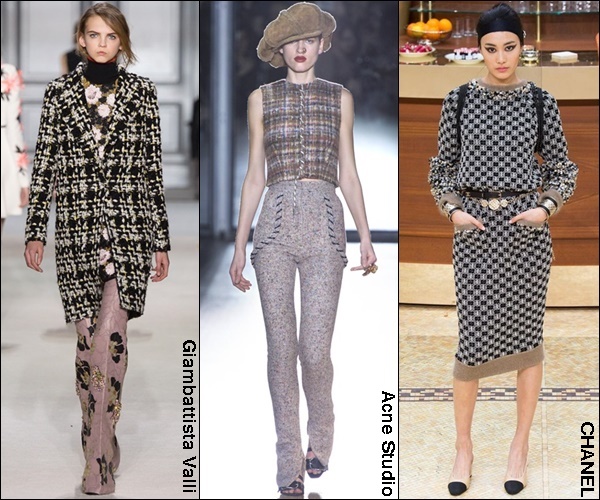 We are used to seeing tweed on the Chanel fashion shows, and it's really nice to see this fabric appear quite much at other catwalks. From skirts or trousers and top made of tweed, to dresses and coats in different types of tweed textures and colors, tweed certainly seemed to have become one of the fall winter 2015 fabrics of choice if you are into the fashion trend. You don't need to spend time thinking about how to match your tweed coats, because they are quite easy to get matched with other clothes just like how Giambattista Valli did at his runaways. Or you can also opt for a head to toe tweed attire such as a pair of tweed chic high-waist pants, a crop top, and a cap like Acne Studio.
19. Lovely Leather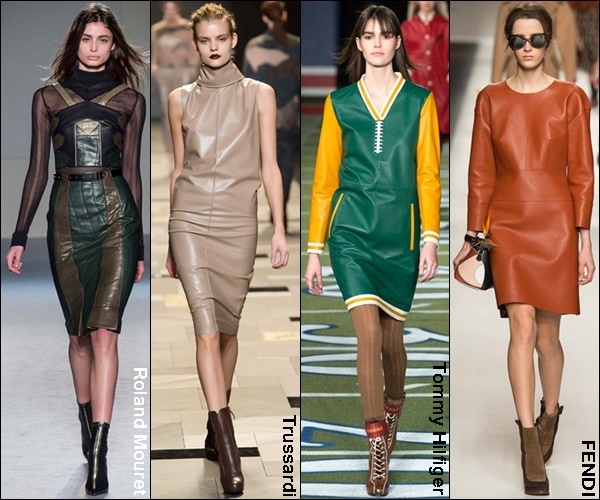 Another simplest way to make a statement this fall winter fashion is to embrace leather combos into the look. How one can ignore the leather trend? since it is literally everywhere, in nearly every collection, on nearly every model sometimes. Weather you go for suede or patent leather, a vast range of leather staples appears from head to toe, in the shape of purses and shoes, but mostly on a cool sheath dresses. Roland Mouret, Trussardi, Tommy Hilfiger, and Fendi are but a few more of the designers that opted to really work in the leather.
20. Timeless High boots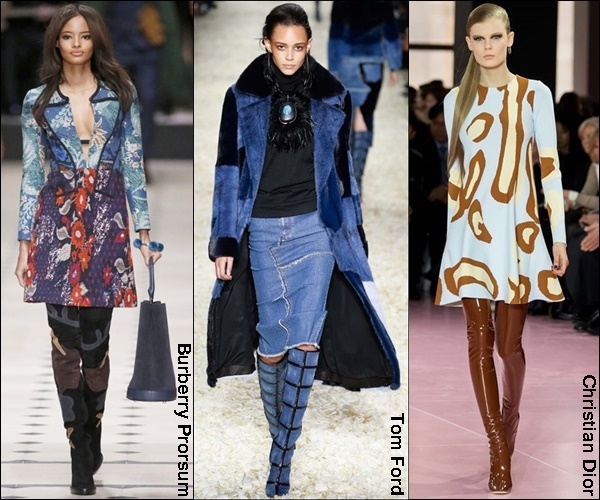 Although there's still numerous statement shoes spotted on this year Fall Winter 2015 runways, a pair of high boots – knee high or thigh high – are the ultimate in fall winter footwear with its overt sex appeal and elegance – the higher, more fitted and more dramatic the better. Whether it's made of velvet, suede, leather, or latex, spotted in various designs including skin-tight, lace-up, or biker styles, and even appears in a range of prints and details such as snakeskins, leopard, or splashy prints, with fur embellishments or with patchwork for texture and color play, it was the high boots to take center stage of most runways, catching all eyes, glowing under the spotlights, leaving everyone in awe, because they are too fabulous to resist.