Is there anything more versatile than denim pieces? No matter what shape you are – plus size or petite, top or bottom heavy – fashion items made of denim is always one of those things that are at the top of the list of must haves. Regardless of season, there's always time when you just love wearing your casual combo with denim. So, if you are on the hunt for the perfect denim staples (whether it's denim tops or bottoms), here's a list of the very best 10 denim wardrobe you must own – or at least half of them.
With a few of shopping ideas from ASOS and a few more denim tips, check out the ten must-haves denim below, along with plenty of inspirational styles from women in different body shape, and finally, see if you can update your closet with more denim.
1. Boyfriend Jeans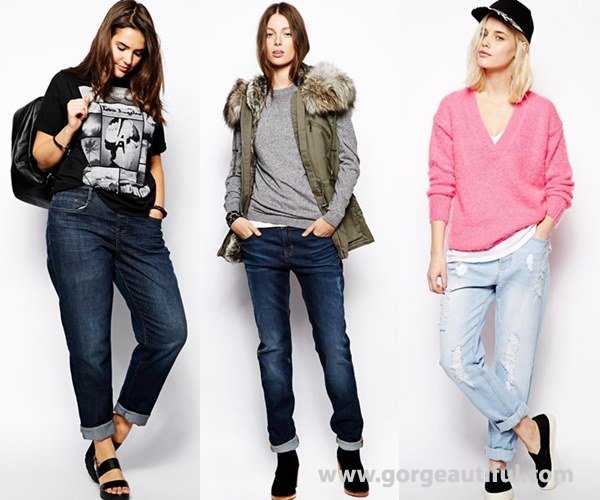 No matter what you pair them with, the effect when wearing a pair of Boyfriend Jeans seems basically the same. It's a bit masculine, a bit undone, very casual and very stylish. Plus, they are super-comfortable that you can rock these extremely dressed up or down, and funky.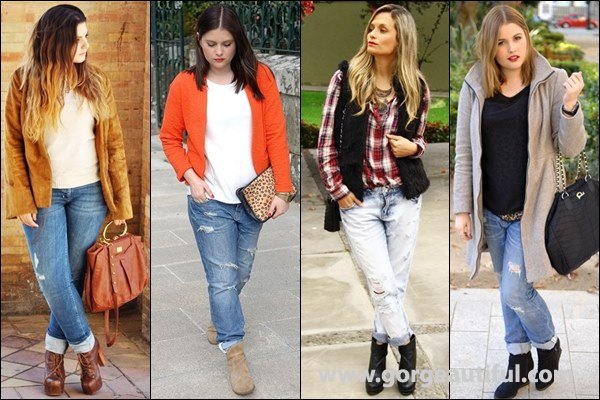 Boyfriend jeans are ultimately a masculine-inspired trend that will embrace your inner tomboy. So do your own way of your looks, whether you want to go super boyish by pairing them up with sporty items like sneakers or biker jacket, or get a little touch of femininity for a more boys-meets-girls attitude by adding bright colors, feminine pieces like pumps, gladiator stilettos, lace top, etc.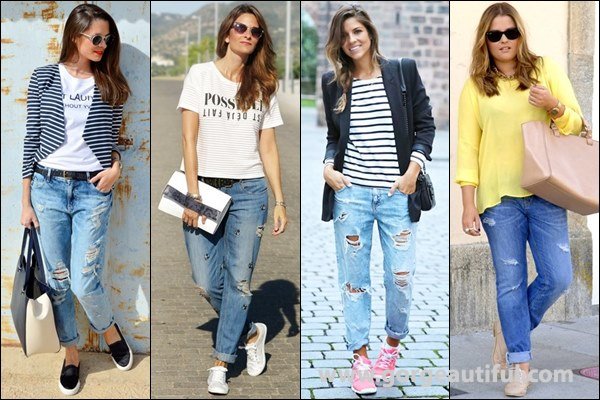 Try some genius ways to wear your boyfriend jeans to get the whole different looks. It is basically about your mood and style. Wear them with various outerwear like coat, blazer, jacket, or even cardigan or vest.  You could also break from those distressed-styled jeans and pick up a pair in a much classic way; then pair them with a top in an on-trend pastel, like pink or sunny yellow.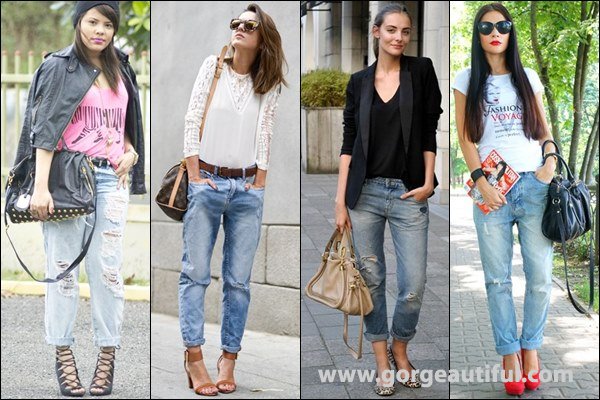 2. Skinny Jeans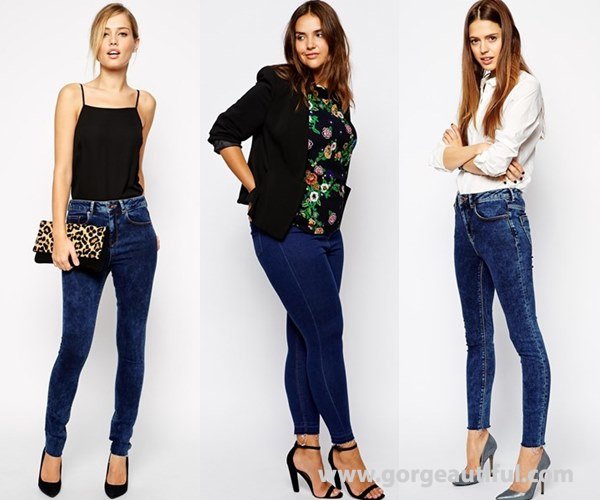 Skinny Jeans are definitely your number one must-have among other denims. Meaning, you got to have a pair of these jeans !! In fact, you might need to own more than just a pair of them since they are a perfect example of denim style that can be rocked in so many super-fashionable ways, paired with almost every chic fashion item.
Opt for skinnies in different colors other than the basics like black or blue. Try maroon, beige, or cream for the neutrals, or you could even choose those neons if you want to go bolder and brighter. Pair the neons with light, simple and subtle top like white shirt – as well as less accessories and busy prints – to tone down the vibrancy and to get a more balanced look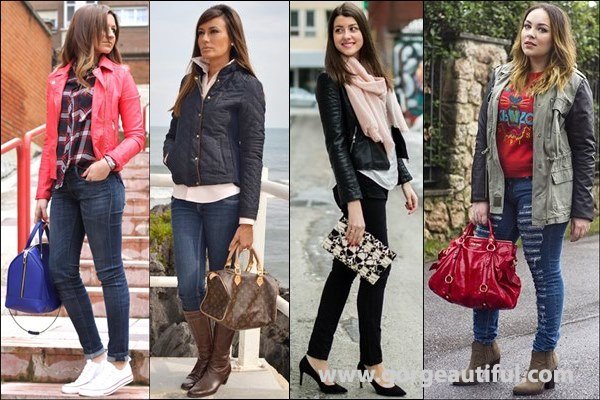 Wear your skinnies underneath your tall boots or just get a pair of booties, pumps, wedges, fancy flats, or sneakers to match with. Pair them also with chic sheer blouses, classic button ups, dressy tops, chunky sweaters, flow-y tunics, blazers, jackets and everything else in between. The skinny jeans are always there to offer you that urban, stylish look.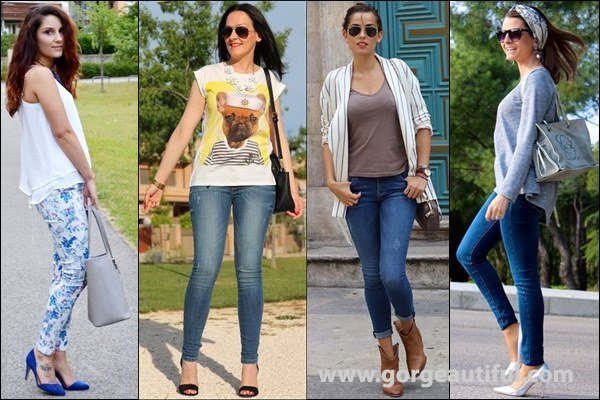 3. Denim Flared Pants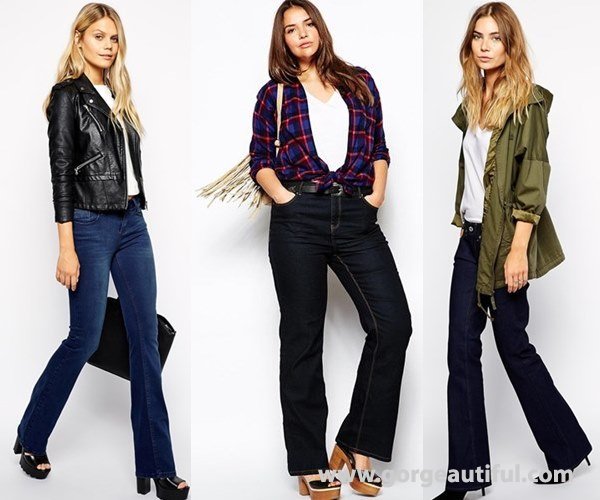 Sure skinny jeans have stayed on top for number one must-have denim, the look of skinnies is impossible to mess up. If a pair runs too long, you can simply roll up the hem, if it's too short, you can just create an easy cropped pants' chic look.  Flare silhouettes, on the other hand, might just be the unsung hero of the denim world, especially when compared to the skinnies.
But, once you try these flared trousers and find them in best fit to your figure, your legs will look a mile long, especially when you wear them with heels – even though I also believe flared denim doesn't always have to be worn with heels. Learn more tips and style ideas of flared pants fashion including the denim trousers.
Learn more tips and style ideas of flared pants fashion including the denim trousers.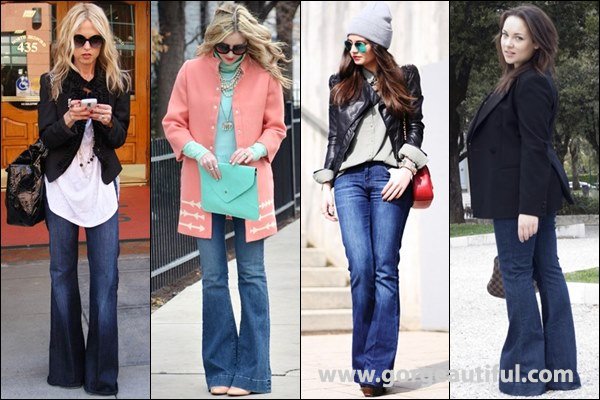 The great thing about flared jeans is that the style has silhouette that can balance out wider hips, accentuate a curvy feminine shape, and make your legs appear longer and leaner. These pants also create such classic, elegant look, which is great if you want to enhance your sophisticated side. Just keep in mind as with all your favorite jeans, it's what you wear with them that adds character.
Opt for different styles of outerwear, tops, or footwear to create your own personal style. You can either go minimalist with simple tee and black jacket, or add colors with pastel long knit-cardigan. For semi-formal look like casual Fridays at work, dark flared or bootcut jeans with tailored blazers will give a more polished look.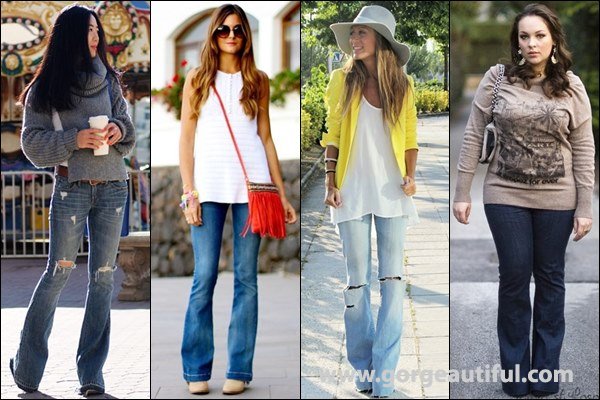 As flared jeans have moved quickly to near the top of the list of everybody's favorites, this fashion staple is definitely a must-have for all different ways, seasons, and occasions. Take a look at pictures for more style inspirations.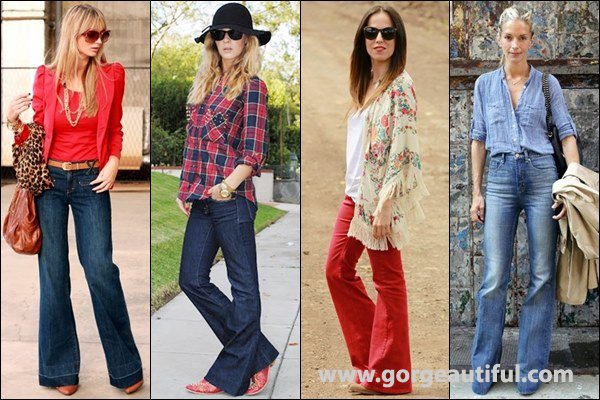 4. Denim Shorts
No matter if you are plus size, petite or skinny, whether your style is completely casual and laidback or perfectly put together and polished, all women in different shape will never go wrong with a pair of denim shorts as this versatile fashion item has plenty of different colors, styles and designs, and is super easy to wear with for all year round.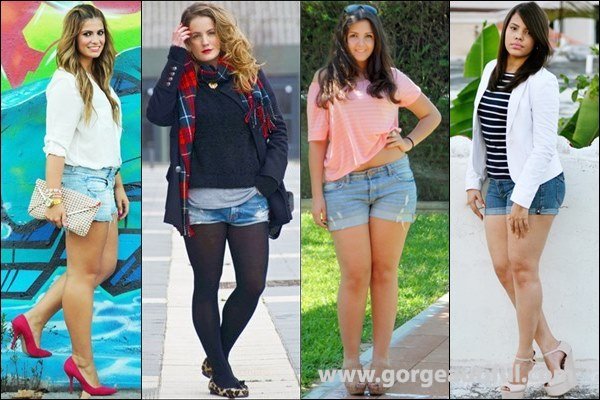 However, do keep in mind that finding a great fit and look of denim shorts – or mostly all other clothes – is all about knowing which style looks good and comfortable for your personality and body shape, and this goes the same when choosing denim shorts. No matter your frame is shorts can look just as good when they are worn correctly, as is true for every body type.
If you have specific problem areas, you could learn some tips through article "Finding the Most Flattering Shorts to Camouflage Problem Areas" or a general fashion tips of shorts at "How to Wear Shorts best for Your Body Type", OR check out more articles about denim shorts through these posts.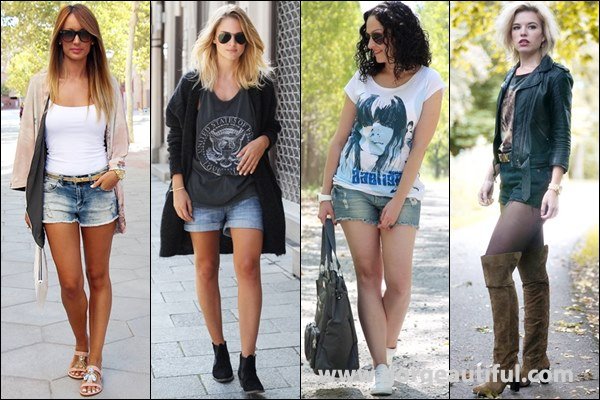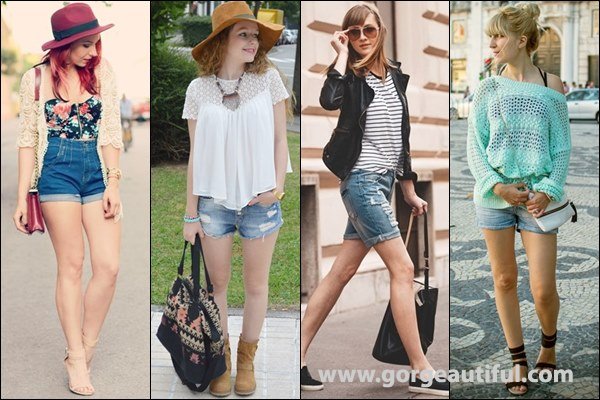 5. Denim Skirts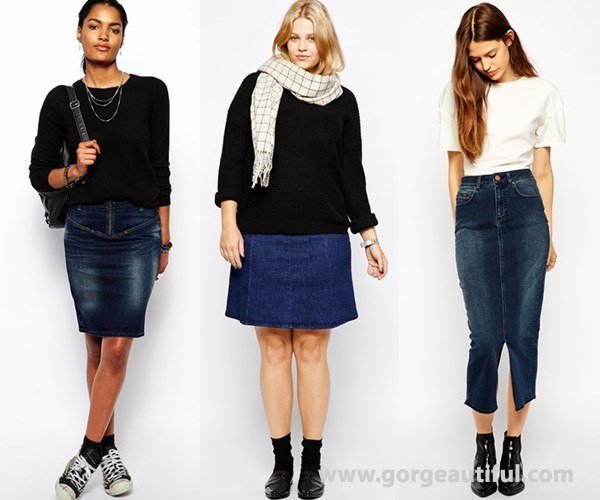 And for the fifth must-have denim, check your wardrobe if you already have a piece of denim skirt. This item is also one of those versatile wardrobe separates that easily be paired with almost anything in your closet. You can keep it casual or even dress it up a little, but either way, it's all about the accessories.
Moreover, when choosing styles of denim skirt, there two general silhouettes including pencil skirt which is slim-and-straight or A-line which is fit-and-flared. So, it's important to find one that perfectly flatters your shape and best suited to your style – but basically you could choose both of them since they are equally stylish. While pencil skirt offers classic silhouette that creates flattering fit, an A-line skirt gives fancier and more fun attitude to your style.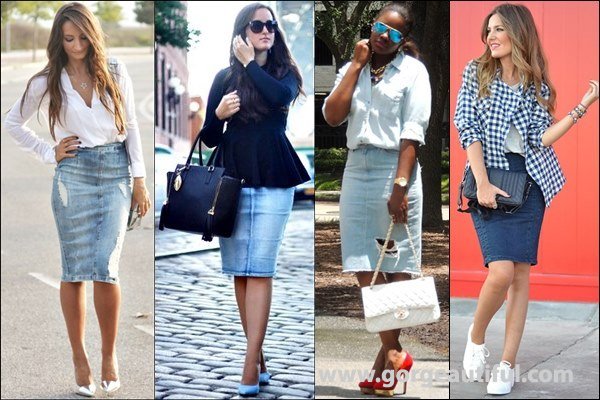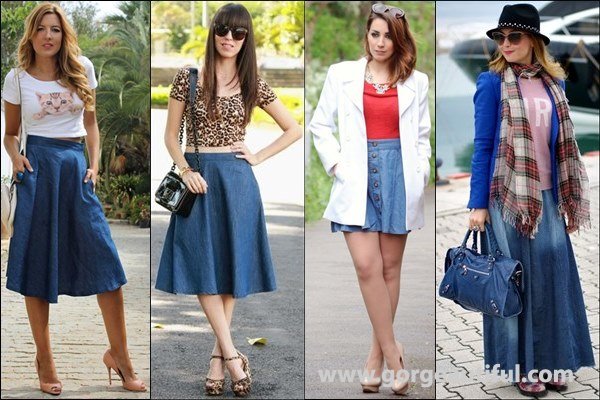 Whether it's pencil or full skirt, fit-and-flared or slim-and-straight, mini, midi, or long skirt, as a versatile fashion item, treat your skirt as a basic staple – like the classic denim pants – and you can get a lot of mileage out of it while showing a lot more leg than you would with pants.
From a statement blouse to a dressy peplum top, a classic button-up shirt for a formal casual look or a stylish crop top for a more casual appearance, just swap a few pieces of, and it'll go from casual weekend fare to dinner party-ready.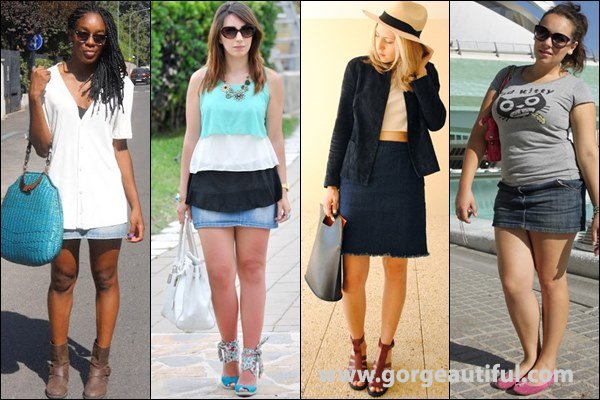 Especially during the chilly days, clothes that made of heavy fabric like denim will leave you feeling both warm and fashion forward. Wear it with layers and other winter essentials (outerwear, tights, booties, scarf, etc.) to complete the look. And for breezy summer days, you can go for casual with cute t-shirt and flats, sandals, or boots, or add blazer to create a polished look, or projects a feminine but relaxed vibe with chic tee, fancy jewelry and wedges.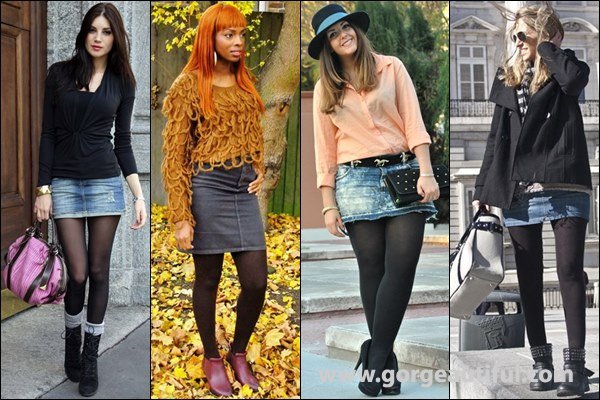 Continue the article to "10 Denim Staples Every Woman Should Have in Their Closet (Part 2)" for more must-have denim and its style ideas. And, also take a look at various styles below showing how these denims can be worn for different body shapes.
Denim Fashion for Different Body Shape
I always believe, no matter what your body shape, all women are beautiful in their own way. Whether you're skinny, plus size, or petite, bottom or top heavy, short legs or thick thighs, etc. you really can wear whatever you want – and when styled well you will look fantastic.
See how these fabulous ladies – with different body shape – dress themselves equally gorgeous with the same style of denim pieces. Yes everybody can sport boyfriend jeans !! Yes all women can wear mini skirt !! Because making choices of fashions that please you, will make you feel and look like you are ontop of the world. Just have fun and enjoy your own personal style, and see if you have some of these must-haves.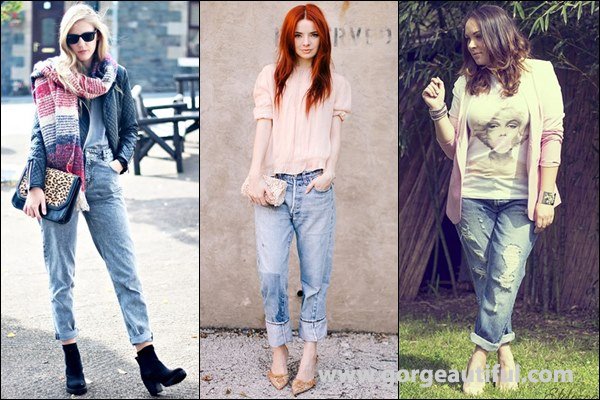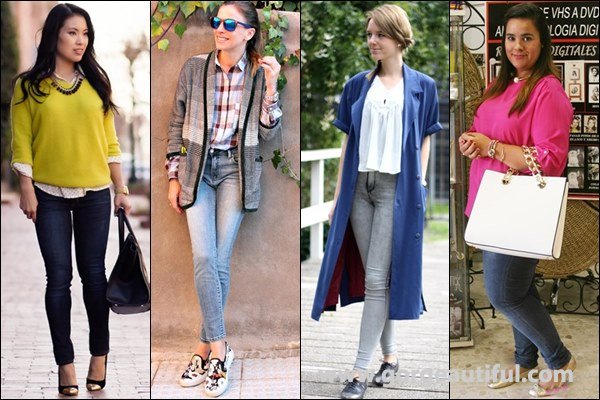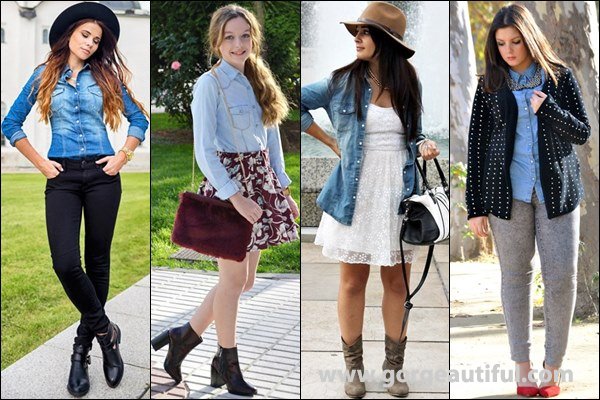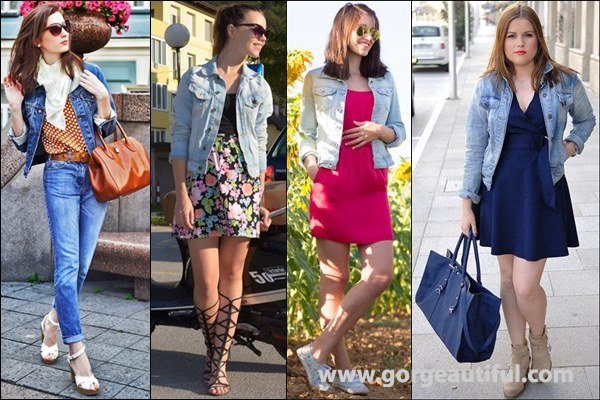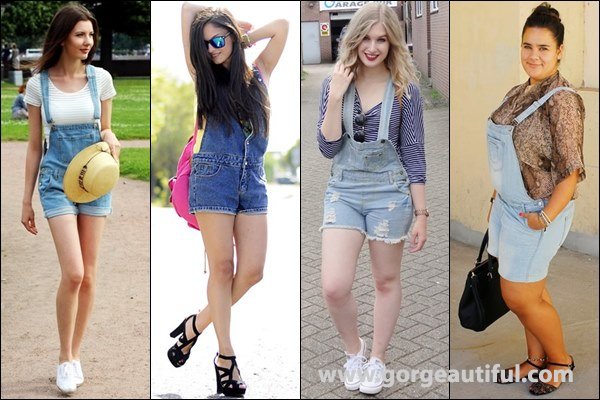 Fashion Style Ideas: chicisimo.com (Click each picture at chicisimo to get details of the outfit or to visit the blogger's site)