Fashion comes and goes, and often surprisingly, styles that hit many seasons ago, which were thought to be already dead as an old fashion, may suddenly turn into a new fashion trend in years after, as well promise to be another fabulous season's biggest must-wears. And now, cropped top, also known as bustier, bralet, or bra-top, which was extremely popular in the 1980s, is set to continue the trend of Spring Summer 2013 adorably.
However, fashioning some wardrobe items can certainly be tricky and risky, depending on how best to wear it appropriately without leaving your outfits look tacky and cheap. Crop tops, for example, they can be versatile and flattering when styled correctly, but just like most things, there's a right way and a not-so-right way in knowing how to walk the line between flirtatious and overexposed. For instance, if you're wearing it to the beach or a party and not office or else then cropped tops are fine, or depending on how cropped tops are going to look on you, if it fits well then it's going to look fine. Read on for other tips for wearing crop tops, as well as some sample outfits to get your inspiration going!
A crop top doesn't always mean vulgar
First thing to know about crop tops is that the style of these pieces is designed to show off the tummy area, which is a very popular look during the warm summer months. Obviously, since wearing one of these statement pieces means that you are going to showcase your entire 6-pack worth of stomach, the only way this fashion staple looks super sexy and hot is by having flat stomach. So make sure you meet this essential requirement, and sure, there's plenty of time to get in shape for spring.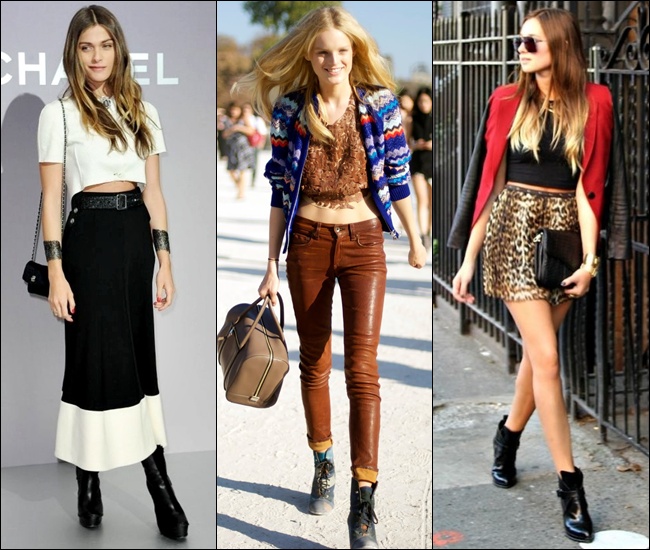 However, actually a crop top doesn't have to be short to make a statement, and if exposing your stomach sends shivers down your spine, there's actually no need to wear very short cropped tops or very low-rise bottoms to show off the flatten area, in fact, to keep your look elegant and smart, it's highly recommended to combine crop tops with high-waist pants, shorts, or skirts, which shows only a sliver of your stomach. Choose a crop top and a bottom combination to hint at that it's cropped without actually exposing midriff much. It gives a playful now you see it, now you don't look to your outfit.
Secondly, knowing the length of crop tops appropriate to your body silhouettes, as well as its neckline cuts, can also be a great tip to achieve the desired sexy and elegant looks, as you can choose to wear longer or shorter tops depending on what's comfortable for you. The shorter top will expose more of your look, while modest necklines will balance out the entire belly-showing style.
Consider choosing the best bottoms
As for the pairing bottoms, the basic rule is the shorter the top the longer the bottoms, meaning that high-waist shorts, pencil skirt or pants will balance out the look, while low-rise hot pants will most definitely make you look overexposed that quickly create a "swimsuit" look. It's better to opt for bottoms in very basic designs, such as high-waist, mid-length or maxi-skirts, or a pair of high-waist, wide-legged jeans. You may also try the harem pants or asymmetrical hemlines that are extremely popular this season. The point is you don't even have to show any midriff, only because you are wearing a crop top.
On the other hand, just like any other fashion rule, wearing a crop top means to have a balance look, so if you prefer to have more striking and bolder look on the bottom area, such as metallic shorts, printed skirts, or studded pants, you should pair with much subtler crop top in neutral shades and simple details.
Pay attention to textures, materials, and prints
When wearing a top with such little fabrics, like a crop top, the use of textures and prints help to add some dimension to avoid looking too casual or cheap. And nowadays many designers have also created a crop top a really an item of fashion by decorating it with studs, beads, jewels and delicious prints, not to mention, with the myriad of low-rider options available in pants, the meeting of hip-baring pants with crop tops can be a deadly combination, so use these facts as an advantage to be standout while wearing a crop top.
As a versatile, practical fashion staple, a crop top, in fact, can be worn for various occasions including for casual, formal, and party, so depending on the occasions and purposes of wearing a crop top, just consider that solid pieces will draw more attention to your skin, while prints or textures will draw more attention to the fashion itself.
A print or texture can also advance the trendy-factor of the top by taking advantage of this season's hot animal, floral, and tribal prints, or you may also opt for laces and sequins for more glamorous, sexy looking. Make sure you know the differences between bra-top as underwear or as sportswear and crop top as fashion apparel. Don't use a crop top made of thin spandex or nylon bandeau alone, unless you wear them as an under-dressing for a shirt that is transparent or has large armholes.
Smarten your outfit up with elegant accessories
As for the accessories, knowing that crop tops are not only flattering and bold by its designs, these pieces can also look prominent in many details, textures, colors, and prints, so having a balanced head-to-toe appearance is a must-do when sporting a crop top. Match all details wisely with sophisticated classic combination of bottoms, accessories, shoes, and jewelries, and don't go too far accessorizing and avoid looking overwhelmed. For example, if you want to have the vintage "pin up" look, don't over do it by wearing a cropped top with all things 1950′s, which only make you like wearing a Halloween costume.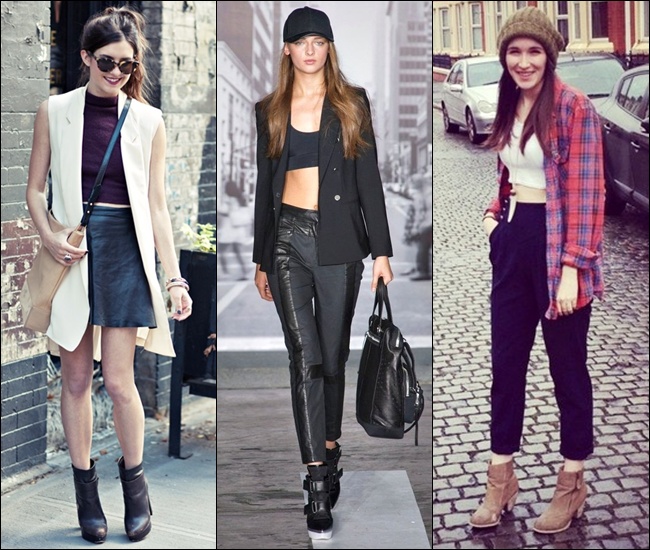 Last but not least, speaking about accessorizing the outfits, layers are also good options if you are self-conscious about showing skin, or you need extra pieces in cool weathers. You can throw a cardigan, jacket, vest, or a lightweight blazer and wear your crop top with tailored shorts. The layers will only show your skin from the front, rather than from every angle, and it's also a great way to cover up if you start to feel uncomfortable. Not to mention, as a layering piece you can spice up a long-sleeved tee or a tight dress by wearing a cropped top over it.
Crop top for different body silhouettes
Depending on body shapes and silhouettes, a crop top can be trendy or trashy. But first thing to know, crop tops are definitely not for those who have rounded flabby belly, meaning that you need to tone your mid-section up in order to achieve a better look when sporting this tight and short fashion piece. A crop top can also "flatten" the silhouette, so for those who are curvy should try combining a crop top with heels in order to get taller appearance.
For skinny women, crop tops are safe that you can show your stomach easy and sexy – without worrying any flabby abs showing off – however, it's better to opt for a cropped top with heavy colors, prints, or details to gain more weight on the top area of your body. As for women who have big breast, try to keep an eye on the thickness of the straps, because wider straps will give more support and leave the neck more beautiful. But if you want your bust area to look sexy, thinner straps are fine, even though you still need to pay attention for not showing off the sexiness more than it should be.
Finally … all in all. Is this a style you've seen this summer? Would you wear a crop top? Have any advice for girls looking to try this trend? Let us know with your comment, but meanwhile check out some selections for fabulous summer inspiration and enjoy the videos!