With warm weather just around the corner, you know what that means; "it's everyone's favorite time of year. It's officially swimsuit season. Prepare your swim essentials and get ready for the summer fun". You may prefer the beach to the pool, or surfing the waves to lounging in the sun, but there's one thing we can all agree on: everybody want to look great in or out of the water. So, speaking of the perfect suit, why not pick the timeless one that won't ever goes out of style? Why not choose the trendy classics.
Luckily, there happen to be a lot of adorable classic swimsuit and beachwear styles that are right on trend for all years around. To make it easier, we have sorted out the most popular timeless trends, check out a handful options to choose.
A. The Swimwear Trends
When it comes to summer swimsuits, there is something for everyone, no matter what your body type is. From dare-to-bare styles to modest one-pieces that are totally glam, the options are endless. Invest one of these styles and sure you'll be ready to strike the summer beach, dazzling and trendy, yet still look classy and elegant.
Strappy Bikini Tops
Swimwear has always been influenced by lingerie styles, and the strappy trend has also been huge for decades in the lingerie industry, particularly for juniors and younger women, so does in a range of swim bikinis. Although strappy styles are great news for smaller busts, along with minimal shaping in triangle cups and bandeau styles, nowadays these looks are also available for large busted ladies. Opt for a triangle top if you are small bust, a padded halter top for a larger bust or a bandeau for girls who hate tan lines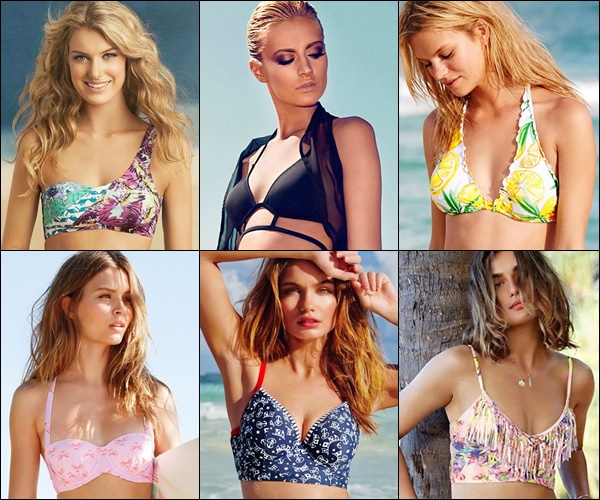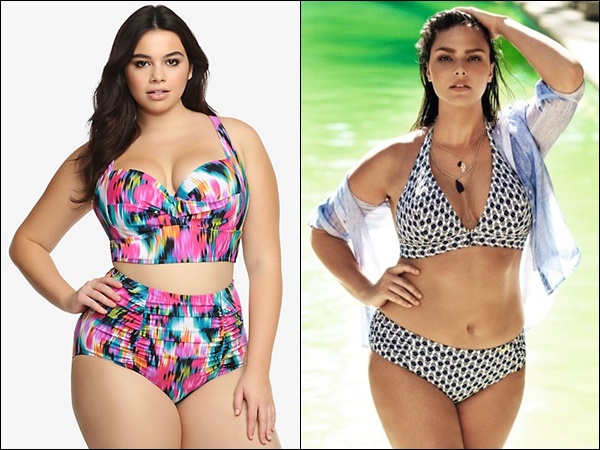 Whether it's spaghetti straps or halter neck, make sure you opt for bikini top with great and comfortable support. Learn "Flattering Plus Size Bikini from Ten Popular Brands" for plus size bikini style inspirations, tips, and shopping ideas.
Lovely and Fun Tankini
Not only it looks super cute, classic, and stylish, provides freedom of movement, and gives better coverage than bikinis, Tankini swim top can also be worn by all women of all sizes, body types, and ages. This type of swimwear offers a unique two-piece look with the modesty of a one piece. Choose from a variety of bottoms including boy shorts, ruffled bottom, skirt, side-tie bottom or high-cut brief, and it also allows women to customize the look according to her preference and body type.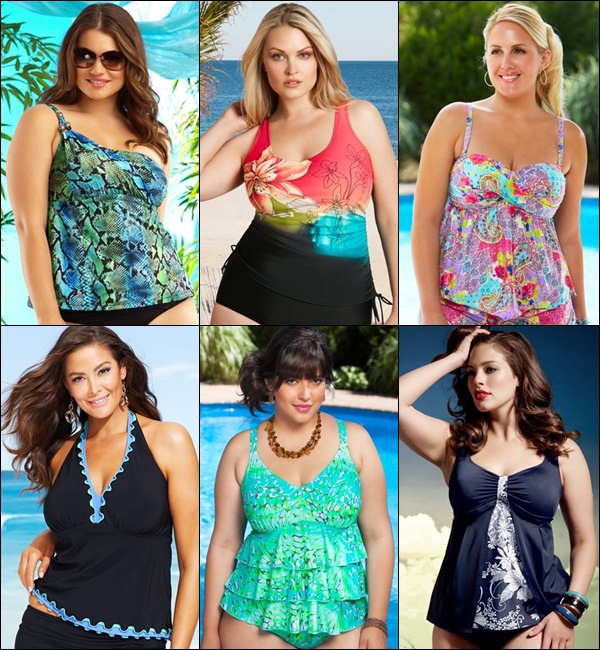 Depending on your personal styles, the Tankini tops come in a variety of details and necklines including halter, asymmetrical, spaghetti and bandeau, or with ruffles, ruched, pleats or knot detailing, which further extends the ability of a woman to choose something that works best for her.
Supportive High-waist Bottom
Some might find a piece of high-waist bikini bottom doesn't look sexy and flattering compared to the ones with strings and tie-sides. However, this type of swim bottom has actually been around the last few years, and it's still holding ground as it offers well supportive design, better coverage, and slimming look, while still screaming such flattering vintage retro style glamorously. If you want to go for a trendier touch, instead of picking the ones that look 'too' retro, opt for one with bold prints, ruffles, and embellishments, or with cutouts to add an edge to your beach look.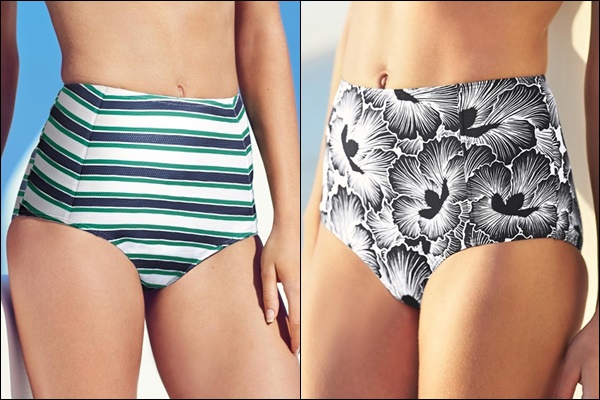 This type of bottom is remaining classic yet always looking trendy that can be a great alternative to a one piece, showing just a bit more skin. Depending on your figure, just spend some time shopping around and try on different suits to find the perfect shape to fit your body type.
Comfortable Sporty Look
It's all about coverage, support, and comfort. The athletic-esque swimwear trend will always continue to dominate every season all years around, it's like you're on swim team all over again. Luckily for girls who are heavier on top, swim top like rashguards, racerback, bralette, and crop bikini tops are always popular, classic, and easy to find. These cuts are perfect for water and beach activities allowing you to surf or play volleyball without worrying about falling out of your top. Also, sporty tops can double as an extra bra, making packing light even easier.
With variety of colors, styles and cuts, as well as various extra features for different purposes, this type of swimsuit can fit any personality, body shape and size, perfect to be your must-have piece for the sizzling summer months.
Classic Glam One-Piece Swimsuit
Obviously, nothing classier than the gorgeous maillots – or one piece swimsuit – in timeless rich colors like scarlet, navy and black, added with a little touch of sparks to enhance shines into the look. From pretty sweetheart necklines, to peek-a-boo mesh textures, to metal panel detailing in front, these suits are designed to celebrate your curves, and to welcome the glamour of swimwear that have some serious sex appeal.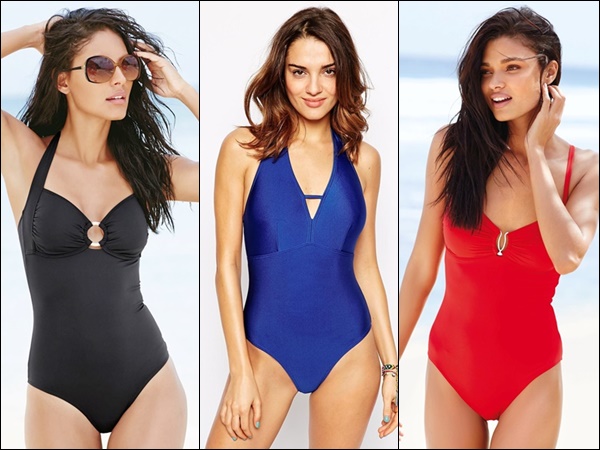 Whether it comes in a bandeau one-piece or a monokini cut-out, both are trendy and look great on different body types. Especially for the simple and classic black bathing suit, it presents a timeless sleek silhouette that is both slenderizing in form and sleek in style. Additionally, these one-pieces also often come with halter straps, well supportive bra, or adjustable spaghetti straps for your best comfort and styles.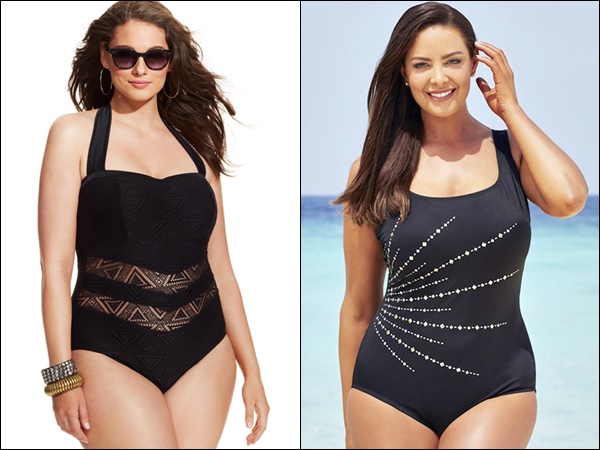 Continue to the next page for ideas of Beach Trends, Prints and Colors that remain classic for your trendy summer beachwear.
Not to mention, dedicated to those beautiful full-figured women, check out "How to Choose the Perfect Swimsuit for Plus Size Women" for general tips and plus size swimsuit style ideas.
B. The Beachwear Trends
Besides your lovely and trendy bathing suit, obviously there are other fashion pieces to style while enjoying your summer pool or beach days – whether you love to lounge on the beach with friends, enjoy yourself at a summer beach party or just unwind with the soothing sounds of the splashing water, everyone needs a beach cover-up or other fashion must-have to stay trendy and stylish. Take a look and invest one of these styles and sure you'll be ready to strike the summer beach, dazzling and chic.
Stylish Kimono
Kimonos have for several seasons been the accessory of choice for beach summer days, and there are two forms of this staple which are full coverage (like a mini dress) or a shoulder cover-up (in cardigan shape). For the beach cover-ups, a piece of flowy and loose kimono is perfect for spring and summer, especially when you opt for one with bright and colorful prints to get that fun stylish look, or one with classic hues like navy, white, and black for a more elegant update.
Throw a lovely printed kimono over your swimsuit to add interest without trying too hard. These boho-inspired pieces also transition well for chilly oceanfront nights by pairing your kimono with a tee and denim shorts for a causal night out or stroll on the beach.
Playful Cover-ups
A handy, playful beach cover-up that's as stylish as your swimwear, of course, can transform your swim style into a great look you can take from the beach out to a bar. From kaftans to sarongs, shirt dresses to maxis – whether you're taking a walk on the boardwalk, hanging at the beach, or at a day party with your friends – the first step in finding your perfect cover up is deciding how little or how much you want to actually cover. If you're looking for a cute and stylish cover-up for your vacay, check out some style inspirations below
Opt for a fun, flirty and versatile number in colorful prints and sheer fabrics to add a sexy element to your outfit, while still keeping some of the sun's rays away but can always look sassy going to a midnight beach party with a cute pair of leggings.
The classy one like kaftan or sarong in bright and bold prints is not only flattering to your natural curves, but it can also look super adorable when paired over your bathing suit while still staying comfortable and looking gorgeous. Finish your trendy beach attire with a chic floppy hat and a pair cute flip-flop, and all eyes will be on you.
Lightweight Playsuit
The shorter sister of the jumpsuit, playsuits aren't just for the kids. Especially for your summer beach outfit, a lightweight, comfortable, and colorful playsuit – or romper can easily transition from sand to sightseeing with a change of shoes and jewelry.
These pieces are super cute and light enough to wear while playing a game of beach volleyball, soaking up the sun, going for a sunset walk along the beach or you can dress it up with a boyfriend jacket or light cardigan and a classy wedge heel to create a chic outfit.
C. Print and Color Trends
When it comes to print and color trends, of course, spring summer will always bring a rich diversity of bright colors and refreshing prints, offering such amazing and daring appearance on the beach and always staying ahead of the game. From elegant and classy shades to juicy hues, from wild leopard prints to summery tropical patterns, check out color and print trend for spring summer beach that won't ever goes out of style
Universal Prints
Although many women tend to shy away from heavy prints in swimsuits, thinking that a solid color will be more slimming, while bold prints will add more weight, actually, a bold, fabulous, and colorful print makes you feel energized, while strategically placed patterns draw the eye where you feel best about yourself. So ladies, no matter what size and shape you are, never afraid to embrace every prints you love on the beach, and enjoy the hot season on the beach.
From wildly kaleidoscopic prints to those that take their cue from ancient and tribal civilizations, or those with explosion of chaotic mix of tie-dye colors of the beach, rainbow stripe patterns, florals to animalier prints, get your best look by playing up with cuts, designs, and, colors, and always have fun with pattern or prints. Coz, everything that is colorful and bold will always be trendy for the hot season.
Elegant Colors
Besides the classic black, white, and navy shades, sure there are plenty of elegant colors that never get out of style, like sexy red scarlet and other rich jewel tones. You may also try monochromatic way with black and white, or combination of two tones from the same color family. If you don't want go for prints and patterns, two-colored swimsuit with unique cuts, designs, and details such as cut-outs, ruched, mesh, knots, or flounce, is also super adorable for making it a hot trend.
If you are looking for something out of the box, mix and match between colors and prints for your two-pieces, or choose a chic one-piece swimsuit with a pop of colors like bright turquoise or fuchsia shades combined with black to get a polished color combination.