General rules in choosing the right swimsuit is to see if the swimsuit is suitable for our body shape and size. We also need to give attention to the color, details, and prints of the swimsuit. Choose a swimsuit that can make the best parts of your body become more visible. And this certainly goes for all body type. However, although swimsuits for curvy women are beginning to evolve, and today, the selection is better than ever, sometime full-figured shapes still face difficulties in choosing the right bathing suit.
As I posted before through this article "Spring Summer 2014 Plus Size Swimsuit Collection from Various Stores", swimwear for full-figured women in recent years is far from being boring. Retailers and designers have put their best foot forward with styles that will make heads turn. From sultry animal print to ruched one pieces, plus-size swimsuits styles run the gamut. Let's take a look at what styles of swimwear look the most flattering on each body shape, in a plus size.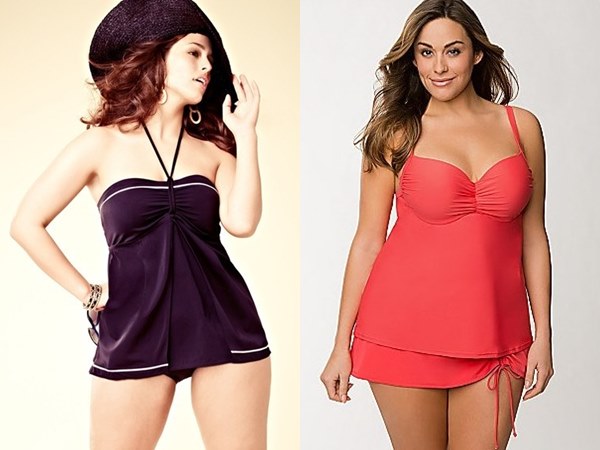 First of all, one most important factor to take into consideration when selecting a bathing suit, a plus size woman should look for the type of support that is built in to the suit. A suit that has a built-in bra offers much more support than one with a shelf bra, and the best suits are those that are sized to standard bra measurements. Many stores and boutiques offer bathing suits in larger sizes that offer the type of support necessary. Their swimsuit can be constructed of two layers with outer and inner layers, or some suits also come with underwired bra for better support.
Remember that being a plus size means you have clothing's measurement larger than the regular size, but each plus size women certainly have different shape one to another, and basically all women have their own character of body shape – pear shape, apple shape, etc. So when choosing swimwear, keep in mind that even though it comes in your size, the style, cut, fit, color, or print may not be the most flattering choice for you.
For example, all large breasted women should look for a swimsuit with great support bra, and this goes for women with all different sizes. If you are pear shape or have quite smaller breast, you probably don't really need to think much of an extra support around the bust rather than those with apple shape. Before ordering, make sure you know what styles best fit to your body type and examine all details the company offers, as well as the sizing charts.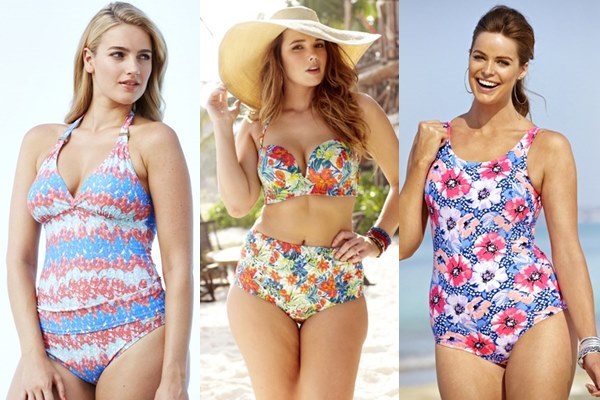 Secondly, think of your self-confidence, comfort and personal fashion styles. Some curvy women love to wear two-pieces suits, especially the bikini styles, while others feel more flattering in a one-piece suit. As for the two-piece styles, the tankini – instead of bikini – can also be an option for curvy women in that the bottoms and tops can be purchased as separates so that you can do mix and match between several different sets for more variety.
Moreover, comparing to one-piece suits, although tankini top offers a little less support than one-piece, but benefit is that there is more freedom of movement. Look for tank top styles with full coverage and sturdy straps. But, then again, it really depends on your personal preference when deciding to choose one-piece or two-pieces swimsuit.
Here are some tips to determine the best style to compliment your full-figured physique based on your body type: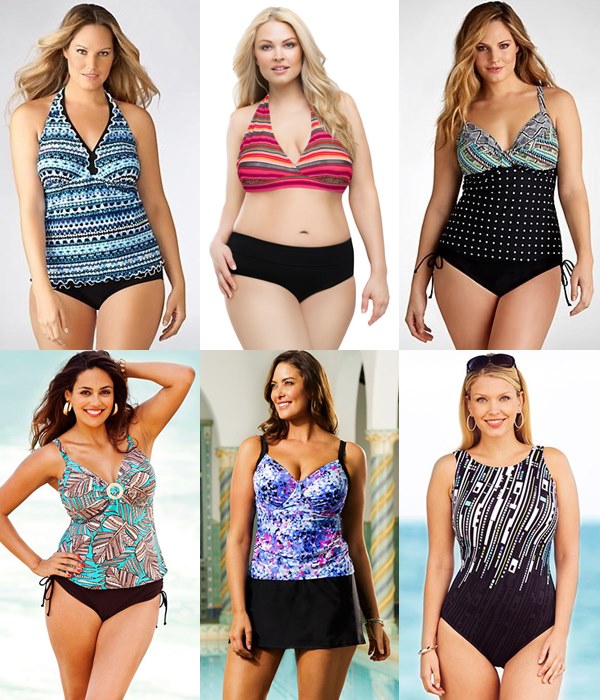 Triangle Shape (Pear Shape)
If you are plus size with a pear shaped body – small shoulder and bust, and larger legs, hips, thighs, or bottoms – swimwear styles that draw the eyes upward are an ideal choice. Highlight you upper body by wearing pieces with bright colors and designs at the top, and balance the proposition by choosing dark, solid colors at the bottom. Also, choose swimwear with tops that accentuate features you like, such as halter tops, which draw attention to nice shoulders.Your Best styles are skirtinis, tankini sets, or one-pieces with brightly colors tops.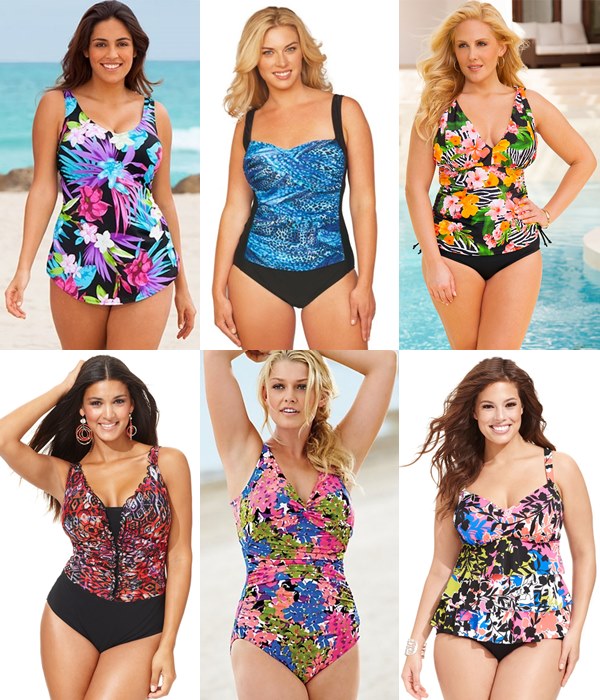 Inverted Triangle Shape (Apple Shape)
On the contrary, if you are apple shape – wider shoulders, larger chests, shoulders, or stomachs, narrow waist and hips – consider the opposite rule of pear shape by focusing on drawing the eye downward with flowing designs and styles. Wear tummy-trimming suits and brightly colored prints to draw attention downward. You'll also want to look for plus size pieces with wide straps and full bust support or underwired bra. Shirred styles help accentuate a narrow waist, while V-necks and surplices flatter the bust-line. Your best styles are swimdresses, V-necks, and all-over print suits.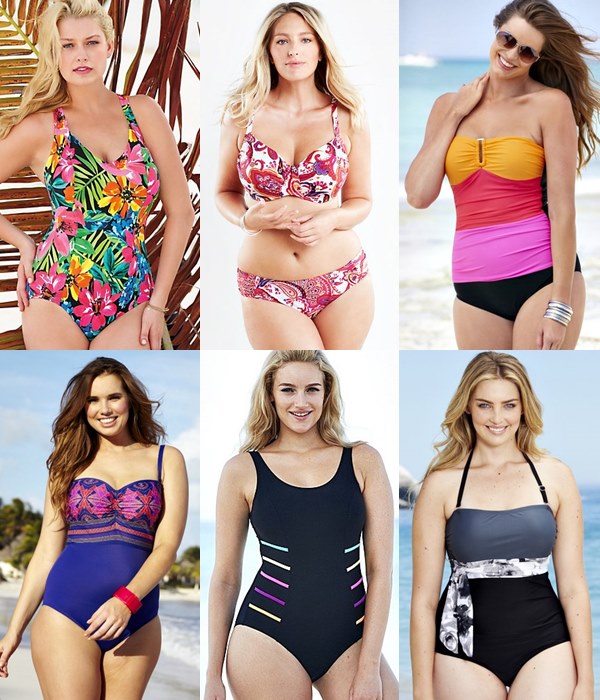 Hourglass Shape
Whether you are plus size or not, women with hourglass shape – larger chests and hips, but with a small waist – are always considered the lucky ones. An hourglass figure is well proportioned on top and bottom. However, if you are plus size and have some problem areas, choose swimwear that accentuates your best features while at the same time hiding your problem areas. For example, if you have slim waist, enhance this area. Choose a swimwear that emphasizes the waist by drawing attention to it with belts, colors, and prints. Your best styles are basically every styles of plus size swimsuits, especially those that draw attention to the waist.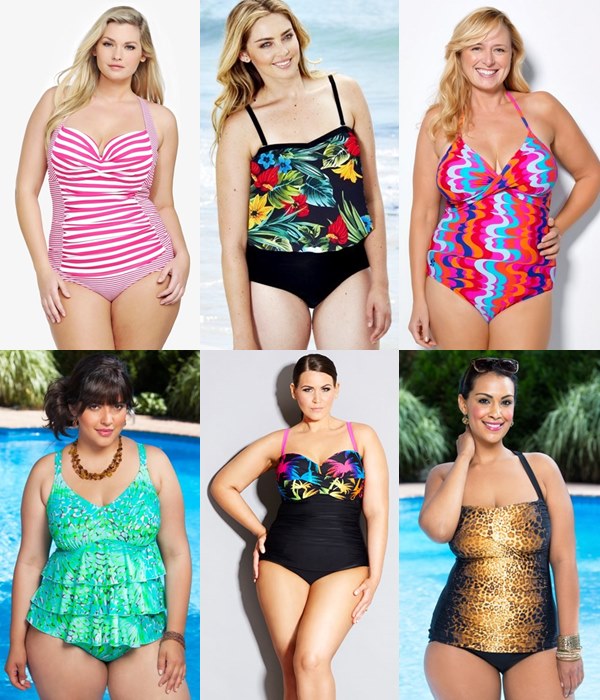 Round Shape
Women with this shape generally have full shoulders and hips, and a round waist. If you're really concerned about having a slender effect created by the suit, your objective is to find pieces that enhance a slimmer effect at the waist. Opt for shirred or surplice styles with bold patterns and colors on the top, and dark, solid colors on the bottom. Halters with plunging necklines are especially flattering, as are styles with a belt or other cute design feature. While vertical prints also work for creating leaner silhouette, baby-doll and blouson styles also flatter women with tummy issues. Your best styles are blouson, baby-doll swimsuit, or pieces that are waist-slimming such as those with optical illusion prints.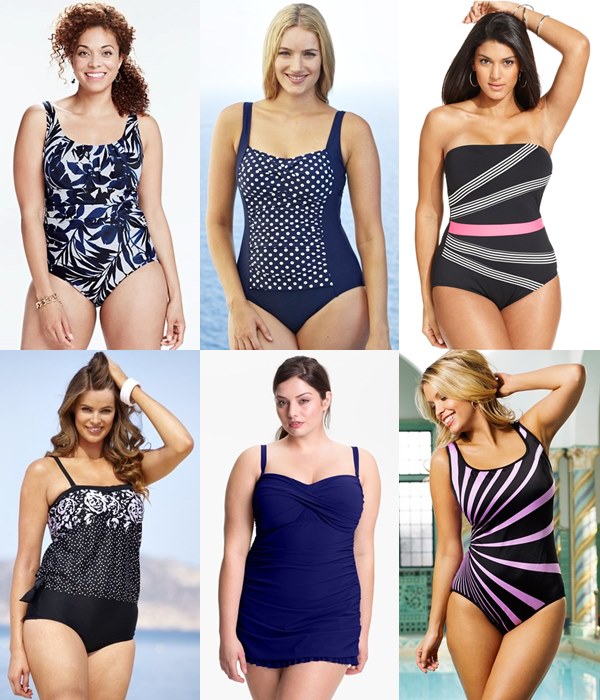 Rectangle Shape
Women with this shape have straight proportions, equal from shoulders to hips, thus you'll want to choose swimwear that create waistline. Belted waist swimwear is great for doing this, as are styles with diagonal stripes. Halters do a nice job of drawing attention to nice shoulders, and plunging necklines do a nice job of drawing attention to an attractive bust line. Your best styles are pieces that create waist (if you want to), blouson, V-necks, or styles with diagonal or optical illusion prints.
Check out more ideas of Spring Summer 2014 Plus Size Swimsuit collection available at Swimsuit for All
Furthermore, everything you wear, of course, depends on your personal choice. Some women have the ability to fit all styles without concerning much of their body shape. Try different style that you feel suits you better or make your own rules and invest in a swimsuit for a drop dead sexy look. There are plenty of styles out there that look really stunning on curvy women for all body shape. Continue the article "How to Choose the Perfect Swimsuit for Plus Size Women (Part 2)" to see the hottest swimwear that flatter a curvy woman