Plus size women rejoice. The hottest 2014 swimsuit "Fatkini" trends flatter full-figured women with fabulous range of plus size bikinis in varieties of colors, prints, and styles. From high waisted to midkini to colorful prints, the plus size bikini is making a huge colorful, fashionable splash this summer as more options are offered from a multitude of retailers. Let's make waves this season and enjoy the beach in the latest looks of bikini, confirming that there are always swimsuits for all body shapes and sizes
For those with large bust, not only that plus size bikinis are incredibly flattering and sexy, these two-piece swimsuits also look best on chesty-curvy ladies. Although fit-and-flare tankini style is great to de-emphasize thick midriffs, chubby tummies while accentuating hips, sometimes swimsuit tops still aren't generous enough for those with busty apple shaped frame. But with bikini tops and bottoms sold separately, women with larger bust can pick different sizes where both parts fit.
Take a look at ten of most popular websites that offer a stunning array of prints and beach worthy solids for mixing and matching your bikini tops and bottoms. Meanwhile, here's a few useful tips on wearing bikini best for your curve.
FINDING THE RIGHT RETAILERS
There are numerous swimsuit stores that carry tons of chic bikinis, but finding the right bikinis for plus size women, especially for those with larger bust, should involve choosing the proper fit, and it also involves making a number of other choices, such as highlighting or downplaying certain body features. If you have certain body-parts that need attention such as better support, better coverage, proper fit, etc. make sure you find the right stores or retailers that offer those specifications you need. Here are four great websites that come with fabulous bikinis exclusively designed for full-figured woman.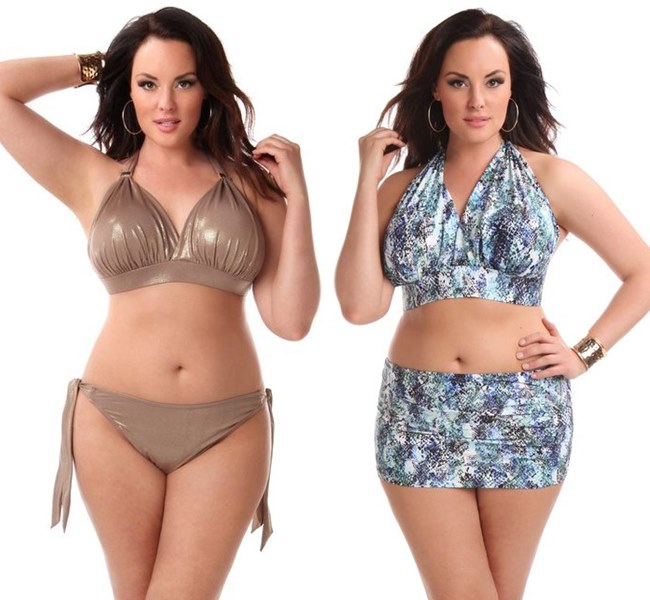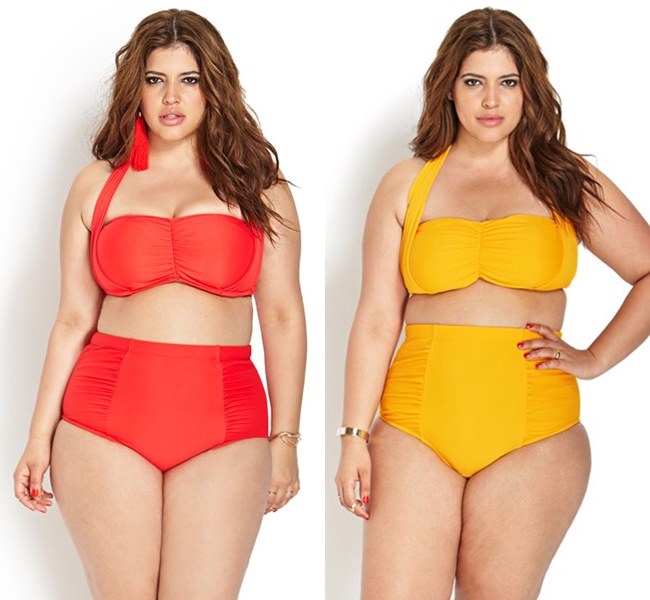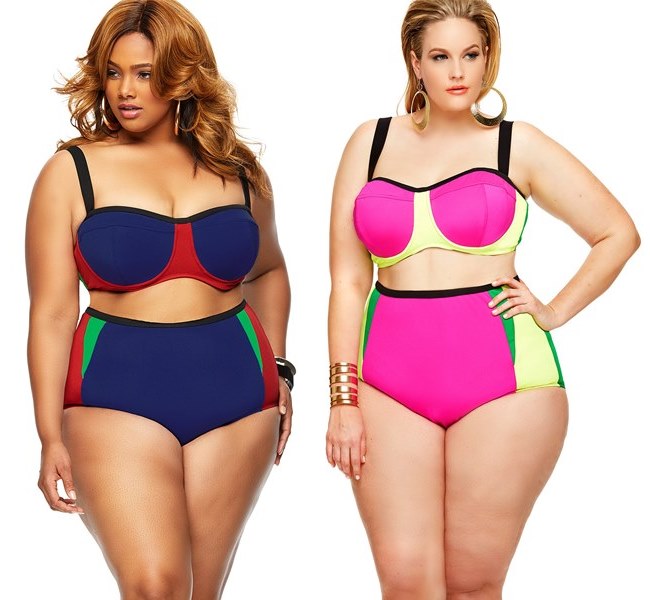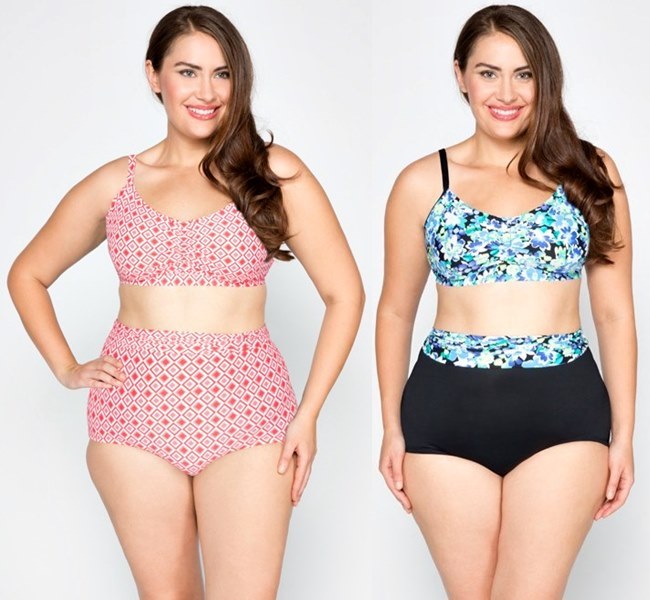 FINDING THE PERFECT FIT
Knowing the fact that not every swimwear retailer provides bikinis designed for full-figured women, actually there are still non-plus size stores that have bigger size only for bikini tops – tops in bigger size for busted ladies but generally designed for regular-sized women with small sized bottoms – so make sure you understand styles and designs that perfectly fit to your needs. This also means you don't need to look for bikinis only at plus size retailers. Take a challenge to venture out to the regular-sized stores and see whether they might have pieces suitable for you.
Here are some non-plus size swimwear shops that offer bikinis for women with larger cup sizes. The bras are beautiful and exceptionally well-made, providing comfortable support including underwire, wider bands, and a great shape up to a G cup – some are a H or J cup.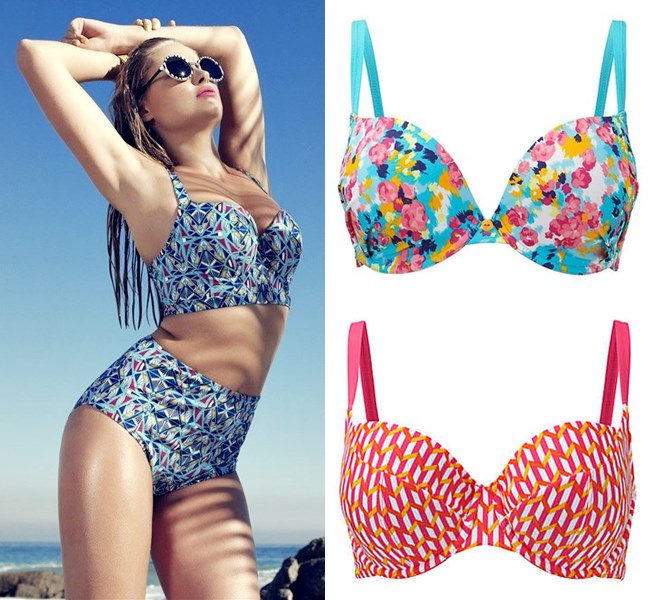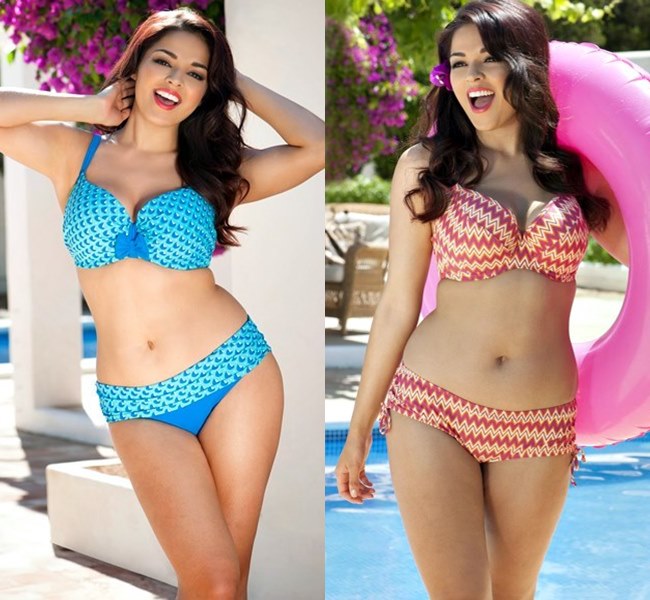 Furthermore, since we are looking for bikinis that complement our body, making us look and feel great in our new bikini, it is important to ensure the right fit, support and comfort. Bikinis also range in how much coverage they offer. Some bikinis can be very minimal and cover very little, while others offer more coverage. I personally prefer looks of bikini that come with sufficient coverage creating a more elegant and comfortable style.
If you need extra support at the bust, opt for a bikini top that is constructed with extra support such as those that come in the form of underwired bra, sufficient coverage cup, and/or in the form of wider straps. Some swimwear experts say wider straps provide more lift and comfort while decreasing back strain, while V-neckline works well to minimize a large chest. Not to mention, some plus size bikinis are designed as bust minimizers and will be labeled as such for easier shopping. Take a look at bra fit guide by Panache to see some common bra fitting problems and its solutions.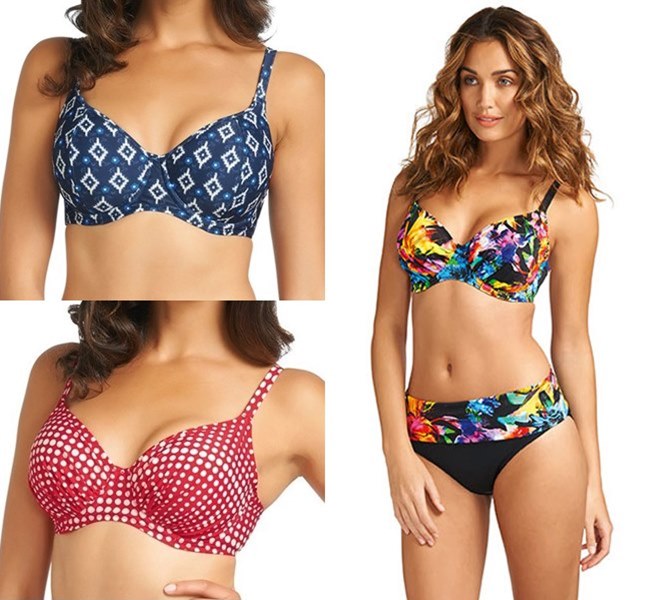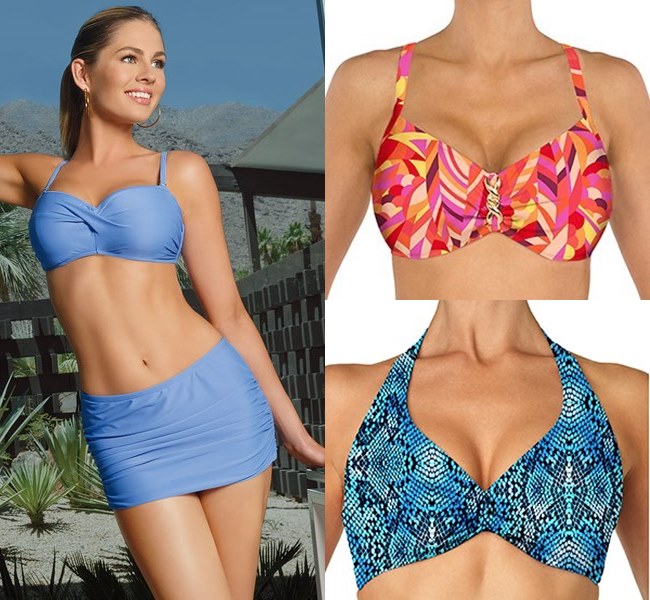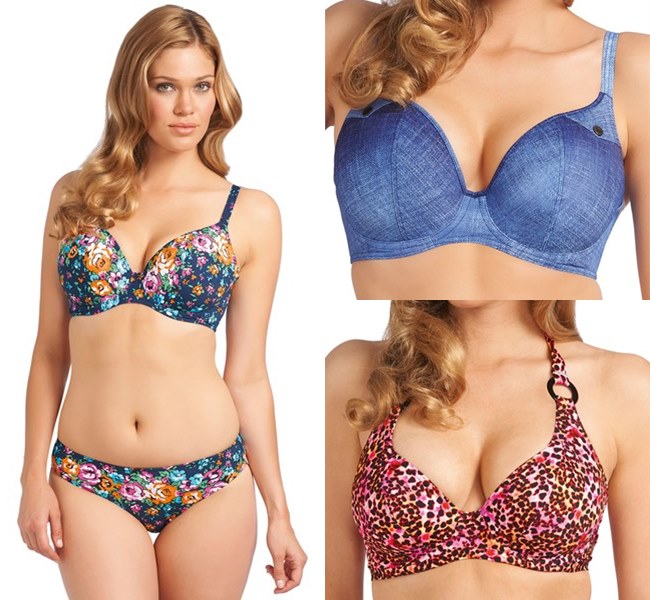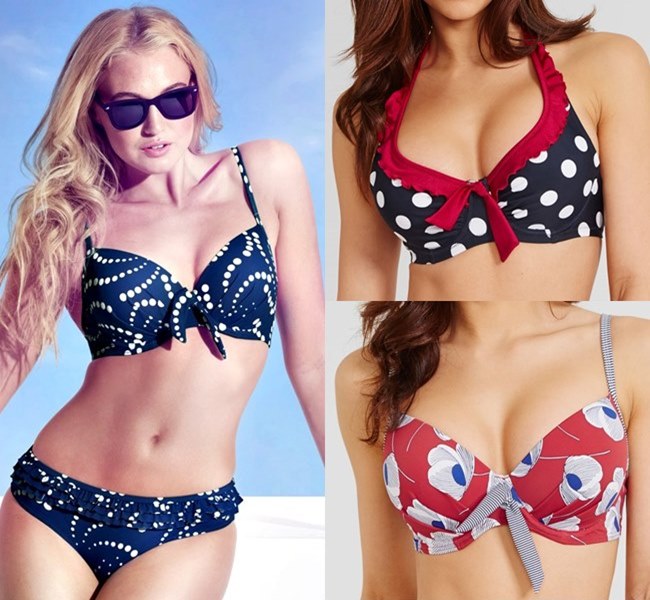 MIX AND MATCH
Real women come in ALL shapes and sizes. While not everybody's shape is the same it's pretty sad to realize most women's swimsuit makers don't get that we're individual. The shapes of real women are mostly not proportional, some are bottom heavy, some are upper heavy, some need a size small bottom and size large top, and vice versa.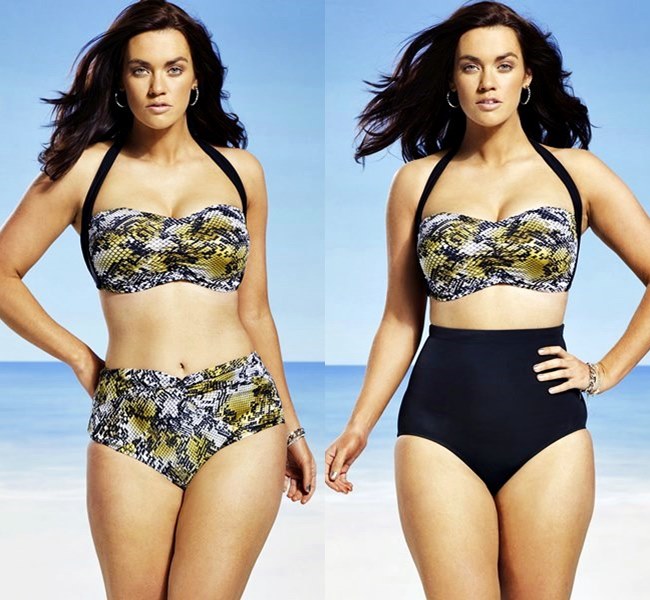 One best solution to these swimwear dilemmas is choosing swimsuit pieces separately so that you can find one set of bikini where both parts fit. Not to mention, by allowing you to mix tops and bottoms, swimsuit separates greatly extend style possibilities than traditional swimwear. You can purchase solid and print pieces. You can buy contrasting top and bottom colors. Mix and match to double the number of swimsuit combos. Shop different stores for pieces that coordinate with others you have.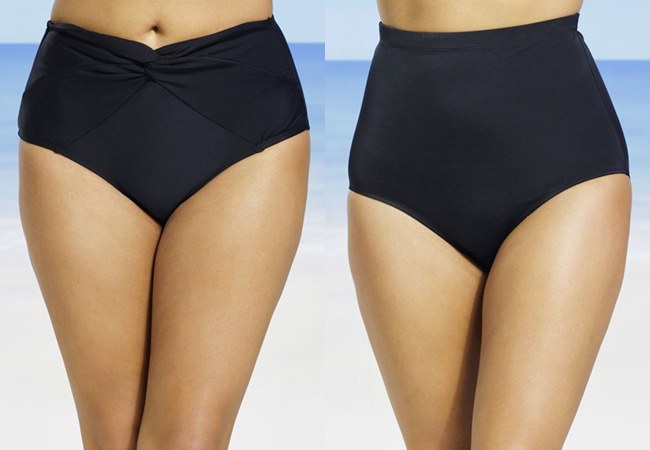 Don't forget, if you want to achieve that flattering, elegant look with bikini, the bottom half of a plus size bikini may need some extra attention, too. Here, you want to make sure the bottom covers adequately and there are no potentially embarrassing material shortages in the rear. If thighs or the derriere are areas of particular concern, some bottoms come with a small, flirty skirt that helps to camouflage these problems. A plus size bikini that is constructed partially of a stretchy material is a good choice for both comfort and coverage. The swimsuit also should be lined for better coverage.
My final words, plus-size bathing suits don't have to be boring. Start making a splash for this summer with a pair of bold, fun and flirty bikini. Take the plunge and try one out. I mean, what a more perfect time to show off how fabulous we rock the brightly sunny days in our bathing suits? Just enjoy the colors, prints, and designs, because fashion should be attainable for everyone.
Check out more articles for plus size bathing suit:
– GabiFresh for Swimsuits For All Plus Size Swimwear 2014 Collection
– How to Choose the Perfect Swimsuit for Plus Size Women
– Spring Summer 2014 Plus Size Swimsuit Collection from Various Stores
– Spring 2014 Plus Size Swimwear Collection by Addition Elle