Generally made of some natural materials and have specific flexible soles made of rope or rubber, Espadrilles or alpargatas shoes are normally casual, flat, but can also be high-heeled, which are super stylish for spring and summer. Although it's still acceptable for cold days like fall or winter, but these types of footwear are especially perfect for summer because of their light material to keep your feet cool during the hot days, plus, they are really comfortable and easy to be styled to wear all day long.
In order to create some great, successful combos with espadrilles, you need to know the basic key rules on how to rock a pair of espadrilles. For instance, the rule number one is that espadrilles are worn only barefoot and no another way, and secondly since they are generally made of some natural materials, as well as designed to present comfortable, easy-to-wear, and light-weight outfits, these shoes also match garments and details with similar styles. Cotton, linen, denim, and all the types of mixes based on these options may be great. Here are some style ideas with espadrilles for your summer outfit inspirations
Ways to Wear Flat Espadrilles
Having espadrilles with flat forms – either thin or thick soles – is much easier to create the most comfortable, casual outfits, ideal to be used for adding some chic, accentuating the uniqueness and, of course, securing the comfort. They can be part of your daywear casual and chic combos with trousers, shirts and jeans or shorts, as well you can wear them with jumpsuits or various styles of casual dresses and skirts. You can match one of your dressy staple with a more casual pairing to make your typical home clothes outfit less obvious and more wearable outdoors.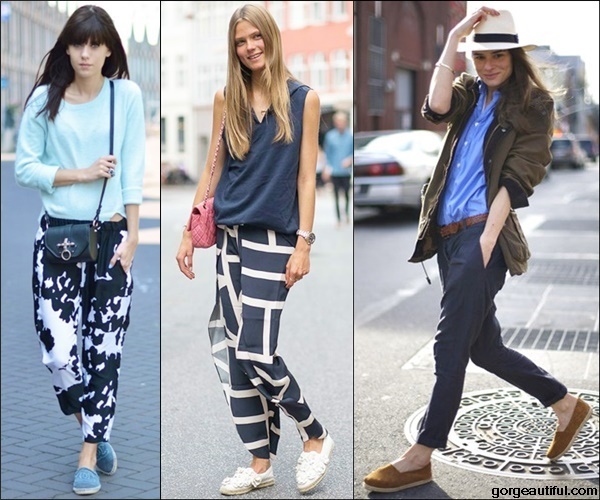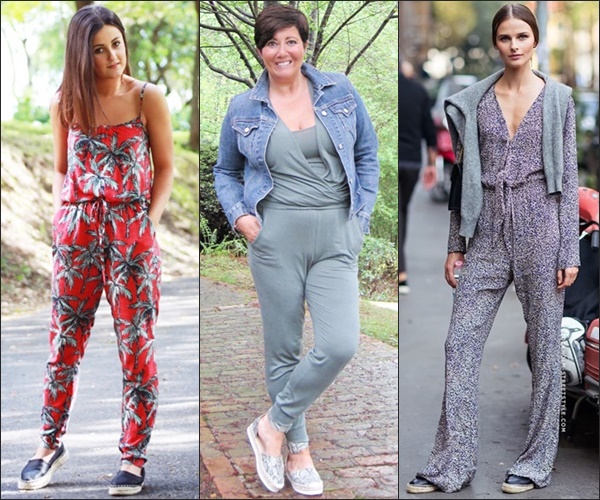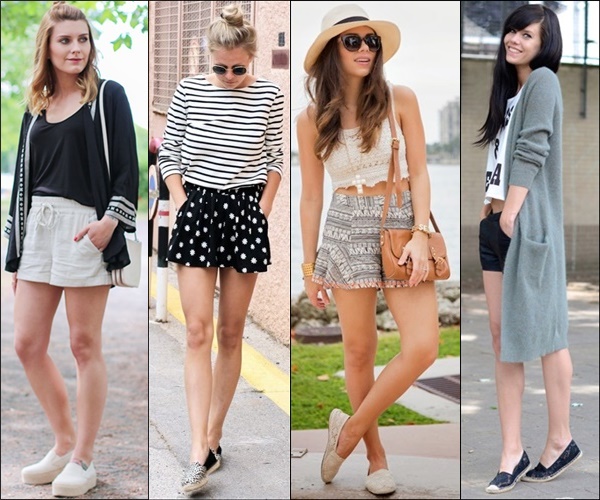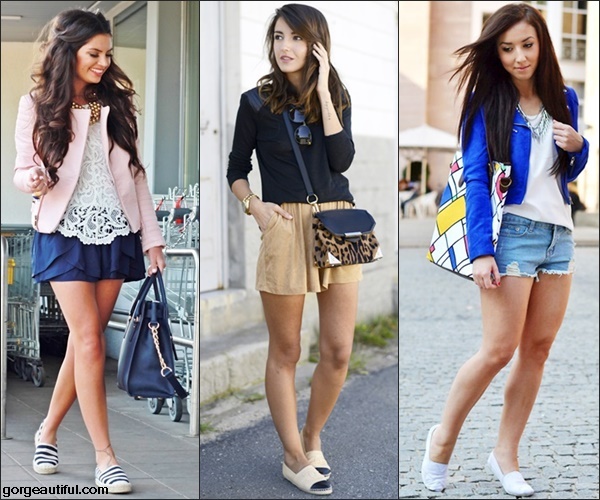 Picking bottoms with natural fabrics for matching them with espadrilles is a great idea, and there's a pair that'll look just as good with your flouncy, maxi dresses, summer long skirts, your cute little white, red, and black dress, as they will with your breezy top and casual cutoffs. Shirtdresses, straight options, and A-lines are a definite do in this respect. Leather alternatives are also a very cool thing you may opt for. All you have to do is playing up your attire with layer, prints, colors, and textures to create that chic look.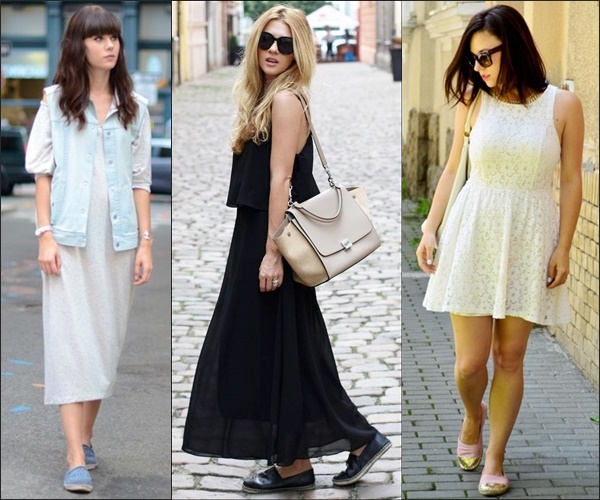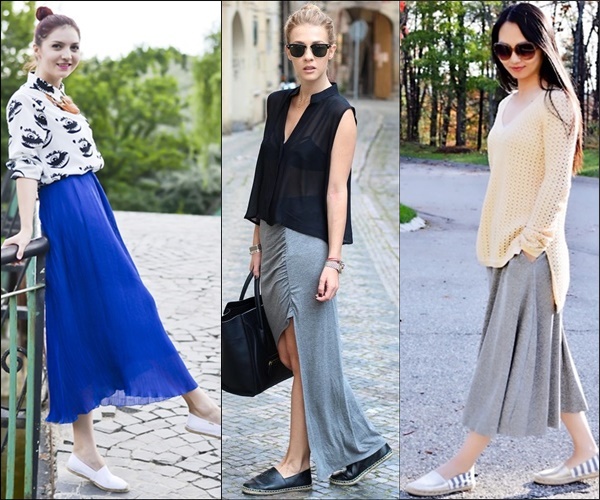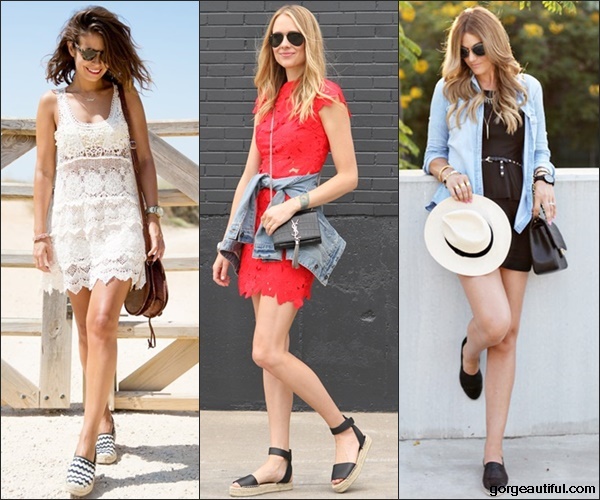 Nothing more versatile, comfortable, and casual for summer outfitting than the look of denim pieces, which obviously perfectly compatible to pair with espadrilles. Be that skinny jeans, shorts, shirts, skirts, or dungarees – distressed or sleek – there's just something about pulling off denim and a shoe with a braided sole that feels timeless, classic, and lends us that carefree spirit we aim for this time of year. Opt for one of these espadrilles styles the next time you reach for your brogues or sneakers.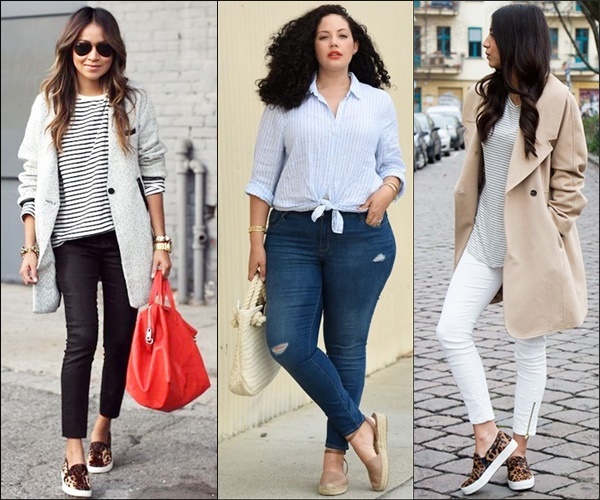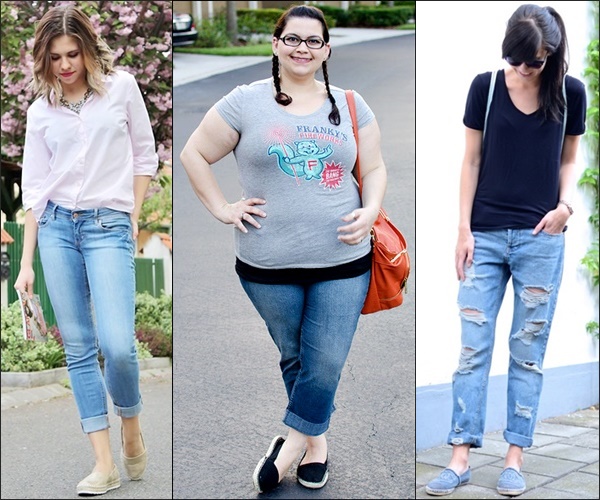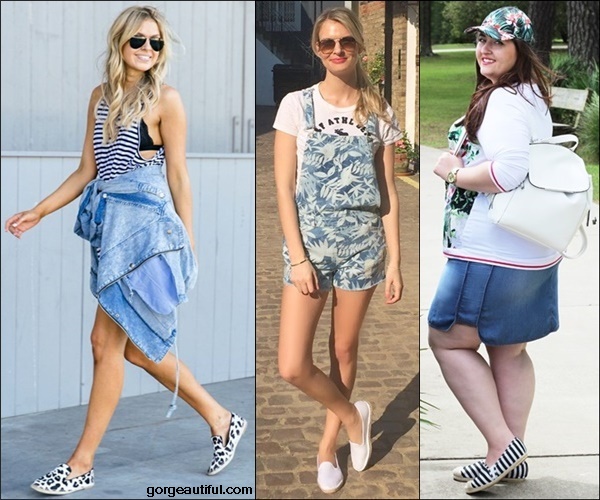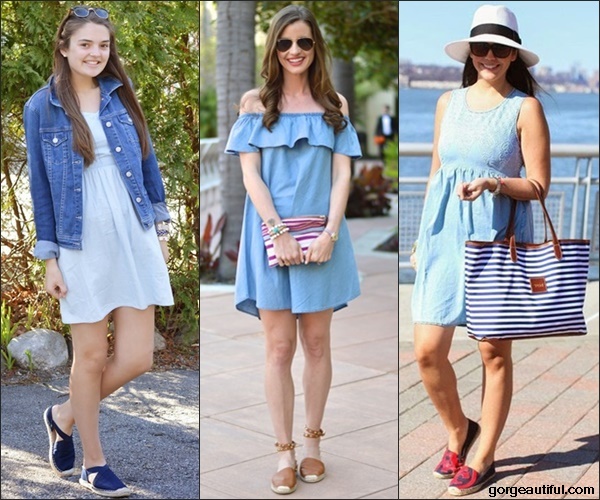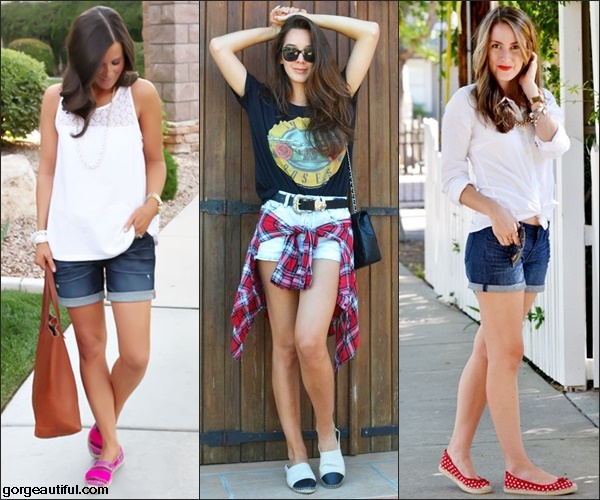 Although espadrilles are best represented to create that casual, effortlessly chic look, the versatility of these shoes are countless that you may also dress down your formal outfits with these shoes to create the most possible comfortable and classy combinations you can make with them. Dress down your formal office suit by pairing them with sleek espadrilles and you'll be ready to have a work-related lunch in your office. Grab these shoes to be part of your Casual Friday or Business Casual office wear, if this summer, you'd want to look fresh and at the same time serious and focused.
Learn "Office Wear Fashion Tips: What to Wear to Work from Formal to Casual" for tips and ideas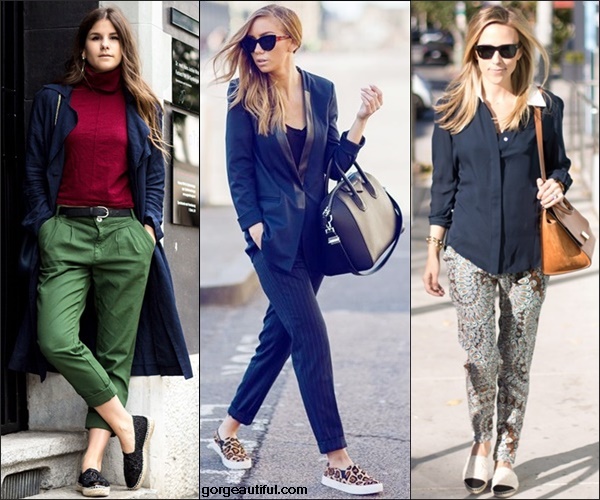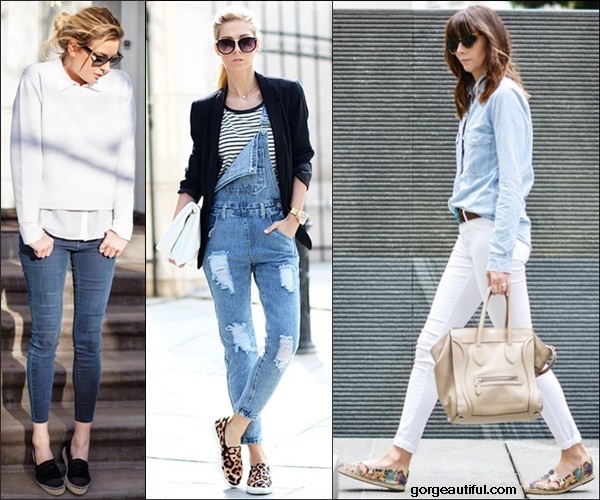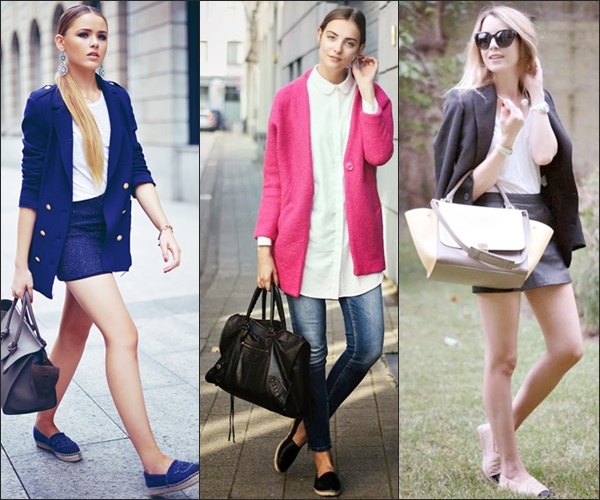 Finally, from a day at the beach, to a nice brunching day, to a block party in the city, to a fun night out with friends, whether you want to enhance your rocky-chic look with leather jacket, or go for a more feminine mood with floral prints, or choose to look edgy or boho, espadrilles sure can do the works to be a must have for all of your summer adventures.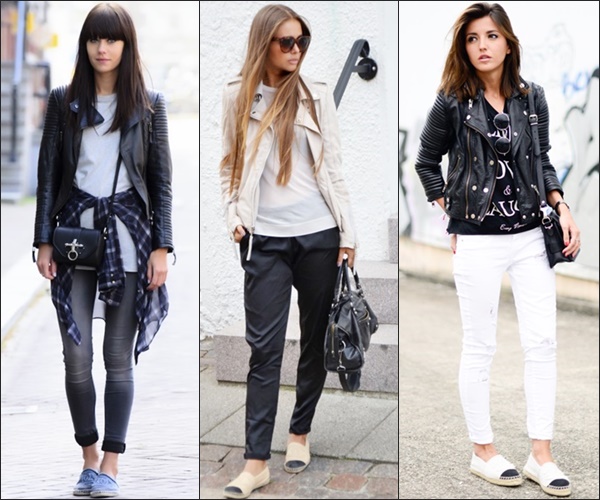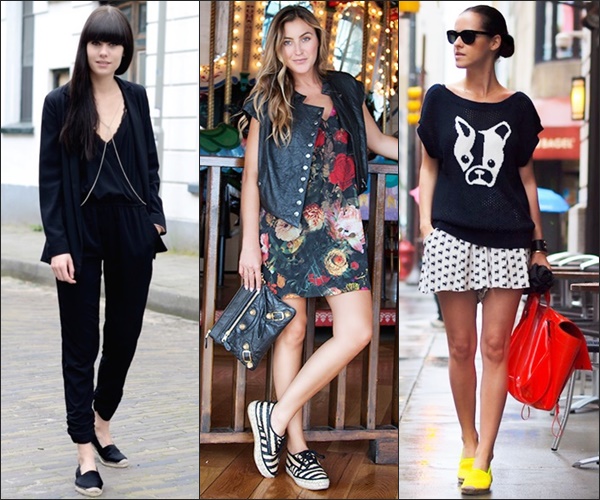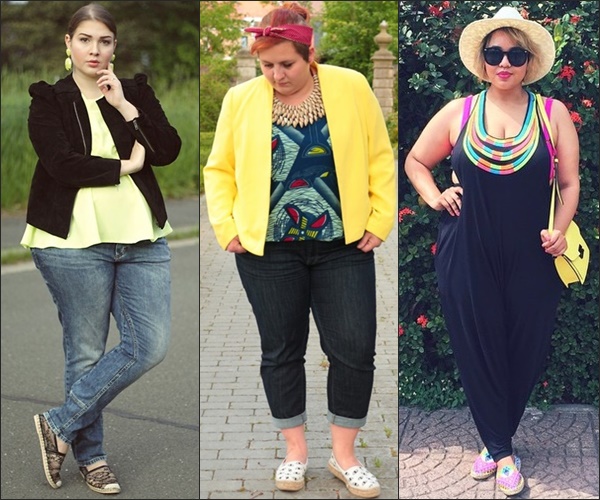 For a night out, for instance, match your basic and neutral combos with bright colored espadrilles and handbag for giving a splash of color, or do some print and pattern mixing between your dress and shoes – between floral and stripe for example. Or you can even go for all-black look for a sleek style at night.
Continue to "Style Ideas: Espadrilles Spring Summer 2015 Shoes Trend (Part 2)" to see more and more style ideas of espadrilles with wedge or heel forms.