Screaming for the creative genius, colors and prints that illuminate, textures that embellish, fashion designers enjoyed "playing artists" for next Spring Summer 2014. From pastel hues to checks, from high contrast black-and-white combination to head-to-toe white, this season's trend is about transformative clothes where 'Daring' is the word, combining the distinctive features of fashion culture with urban contemporary vibe, girly but quirky, sporty but preppy, between soft and vibrant, classic and edgy.
Continuing previous article "Spring Summer 2014 Fashion Trend Styles and Colors (Part 1)", we've seen the key pieces are about how to update a look instantly by opting pretty simple wardrobe essentials including long skirt, crop top, and slouchy pants. Let see some guides of colors, prints, details, and fabrics through next season's most covetable trends and feel the power of flowers and artistic prints, the romantic touch of pastels and fringes, along with sexy-boyish look of sheer fabrics in sporty look.
COLORS AND PRINTS FASHION TREND
Inspired by a mixture of colorful spring garden reflecting the feminine side of a woman yet very dynamic and powerful, designers take a modern twist on the traditional by pairing soft pastels with vivid bright to create a colorful equilibrium. This season, many designers play a lot with soft-meets-bold colors and floral artistic prints to refresh, revive and defy conventional wisdom.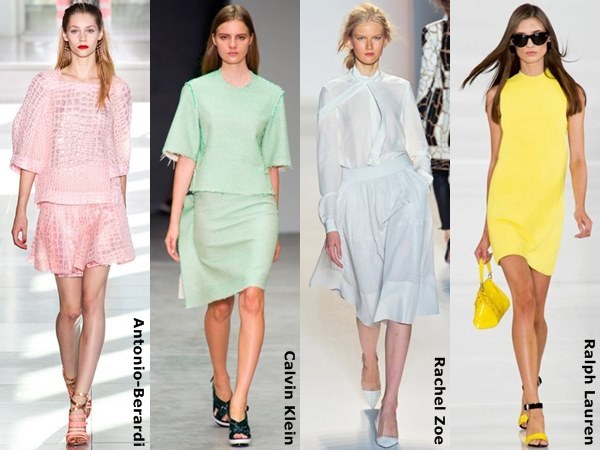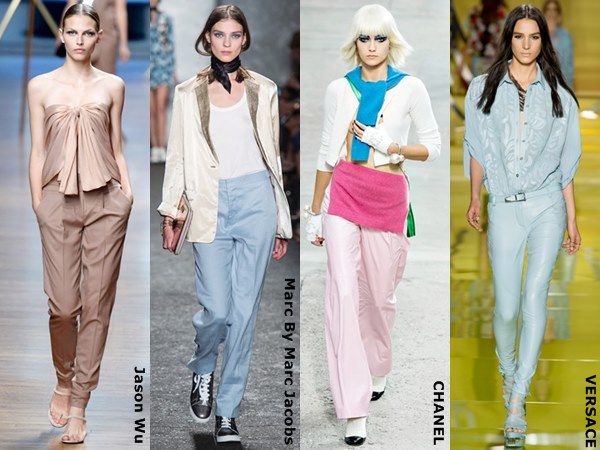 Blushing Pastel Fashion Trend
Indulge your summer-loving, sweet-meets-sporty side with pretty pastels. With the state of pastel, blush and icy shades, you can pick your most-flattering color and wear it with whatever silhouette flatters and excites you. Throughout the runways, there's no limit on how pastel-happy you want to get, from a minty green to lavender to blush pink to baby blue, a rainbow of soft shades evokes exactly how feminine the collections look in most elegant, athletic way. Whether you do monochromatically, color blocking, print mixing or exquisite detailing, dress the look in pastel way.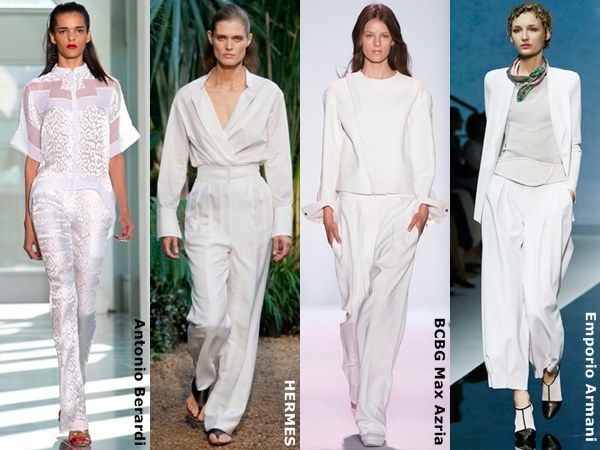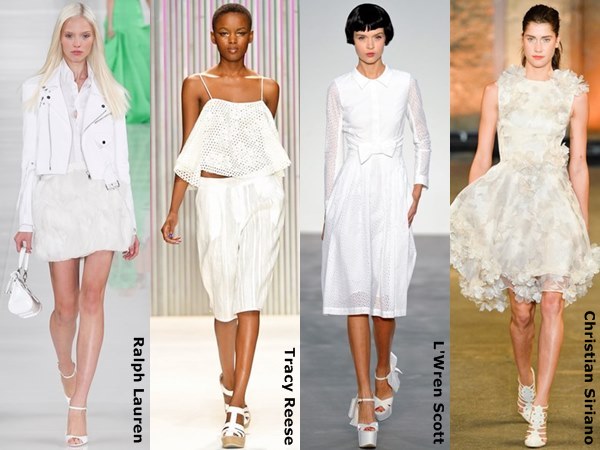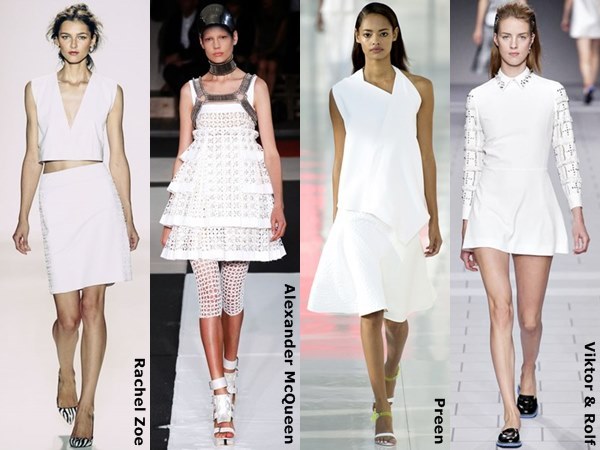 White-on-White Fashion Trend
The trend for monochrome is certainly carrying through to spring and summer, and this season white-on-white ensemble becomes a key trend throughout lots of runways, including textures from techno finishes to classic cottons and transparent silks. The look is always fresh and classic. But if the all-white is just a bit too much for you, break it up with a colorful necklace or shoes. Combining different weights, such as white lace or chiffon, and eveningwear weaves, such as satin, are interesting on the eye. Just be sure to keep colors and shapes bold and clean for layering to work.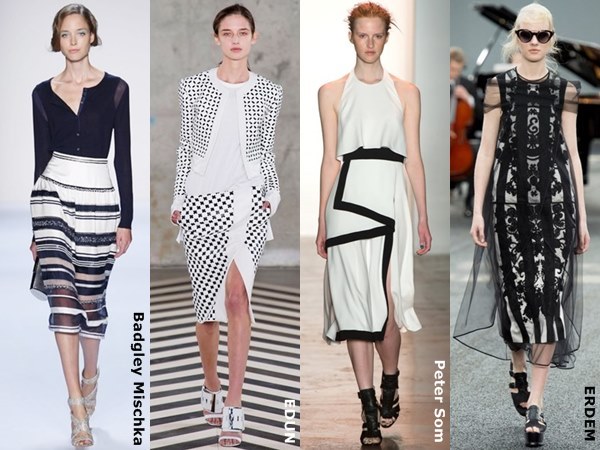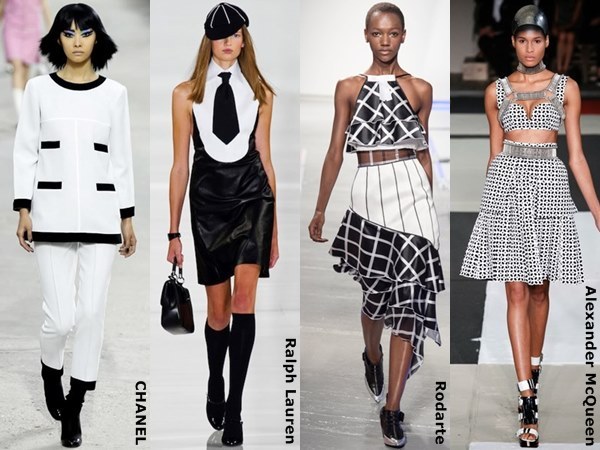 Black-and-White Fashion Trend
Other that the all-white ensembles, the timeless high contrast black and white combination will always have room in every major trend – and definitely no shades of gray here. This trend seems to pop up every season promising that crisp and cool touch that never look boring and plain. From high contrast graphical outfits to something simple in black and white, both look extremely classy and super-chic. Check out the article "How to Dress a Flattering Black and White Fashion Statement" for more tips on how to pull off this look.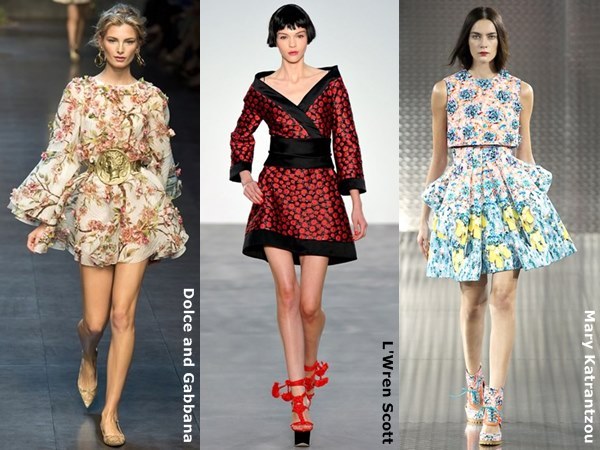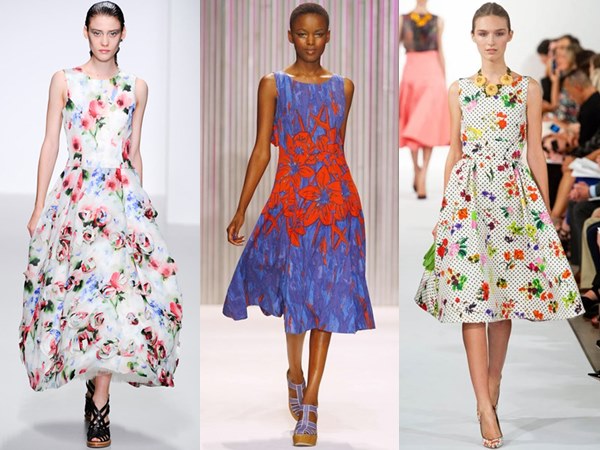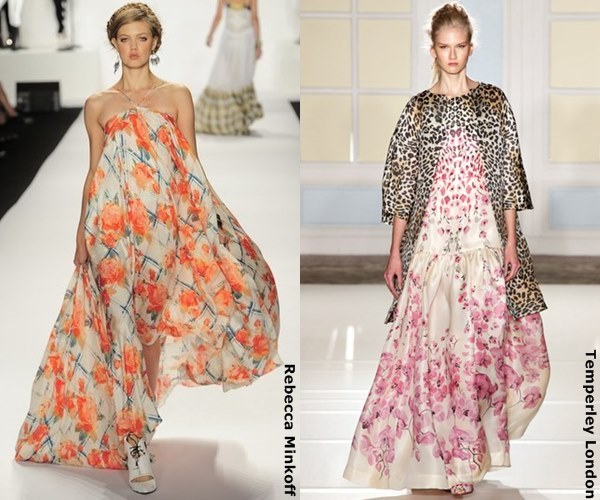 Fantastic Floral Fashion Trend
Ladylike and preppy florals that are 100% spring summer approved. With lovely floral prints and pretty cuts, you could picture any of your looks on the garden-party girl. Whether it's in subdued feminine pastels, print mixing, or offered with vividly vibrant hues, sugar-sweet shades tempered by contrasting silhouettes and sheer fabrics, or embellishment and embroidery brought these blooms to life, everything about flower are presented this season in most magnificent way. Even artful prints also approach to the flower power this season.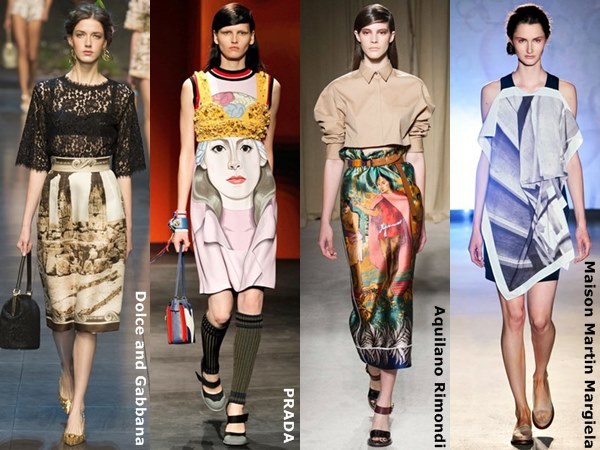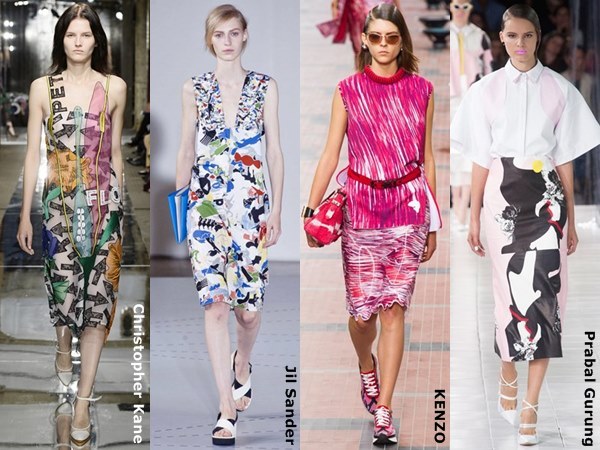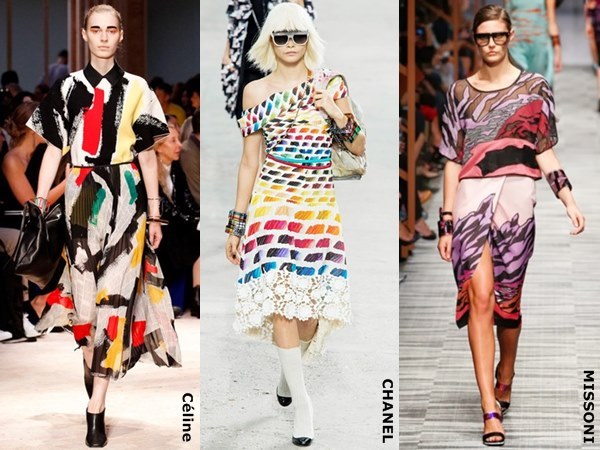 Pop Artsy Prints
As lots of collections featured colorful arty creations, the worlds of fashion and art frequently collide and that's certainly true for next season. We watched the runways wondering if the designers took a collective field trip to the world's biggest museums, from classic paintings to those depicting landscapes, or imagery of a rough sea, classic architecture, and view of the Valley of the Temples. Just add some fun and color to your wardrobe, and let your style inspired by these artistic prints. If a full on dress is too much for you, start looking for colorful arty bags or shoes.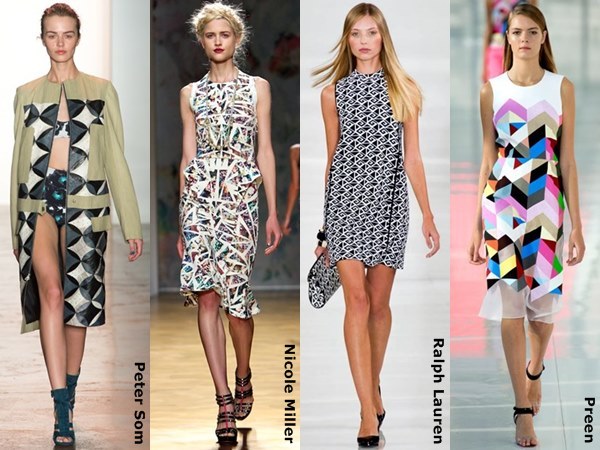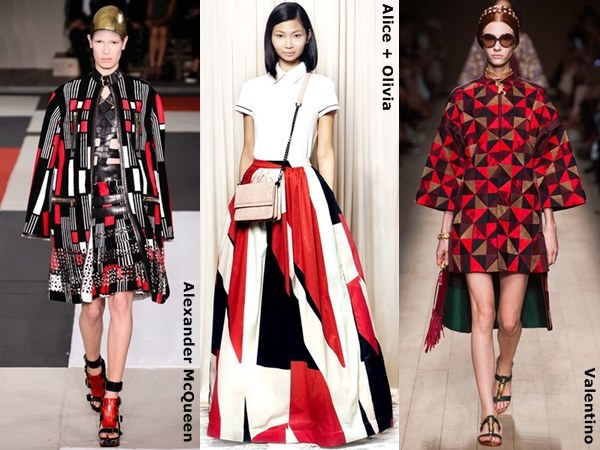 Geometric Prints
For 2014 designers play with graphic elements, patterns are a recognizable and geometric sign, featuring fashion culture with urban contemporary graphic. Geometric prints, big and graphic, were everywhere and didn't meekly stay to a single piece. Instead, strong designs were spread across an entire dress or two-piece look. Let's flashback to geometry class for next season's print craze including grids, triangles, concentric circles and more, black and white prints and patterns along with other vibrant colorful combination that pack a serious statement this season.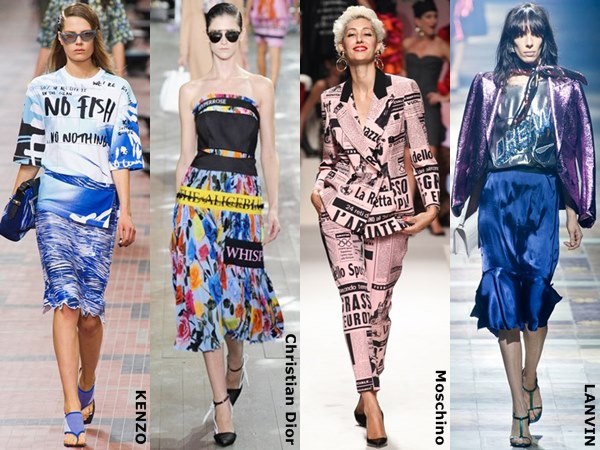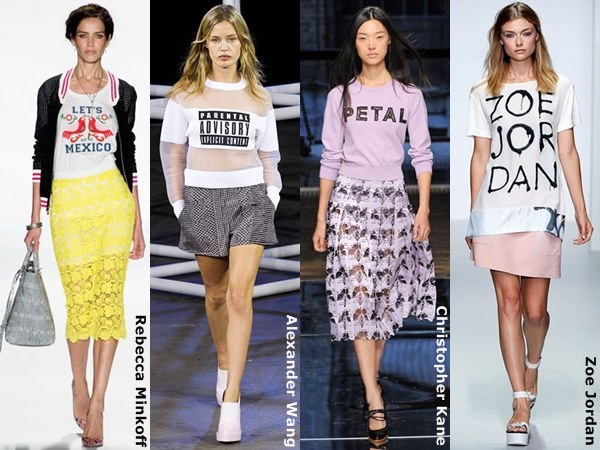 The Words
Just say it loud and proud. This season, it comes as no surprise to see logo tees, head-to-toe lettering, and shouty slogans hitting the mainstream. a whole host of designers got literal featuring printing tops, jerseys, and even legs with scrolling words. Whether your clothes are shouting a motto or a brand, whether it's a straightforward message or something a bit more puzzling, one thing's for sure it's all there for us to read and figure out
FABRICS AND DETAILS
From showing off a little skin with peekaboo panels and translucent fabrics to standing out in striking glamour effect with high-shine metallic fabrics, this season trend is purely about bringing confidence and power in feminine and pretty way. As for outfit detailing, everything is all about maximalists and how to be dare dressing with confidence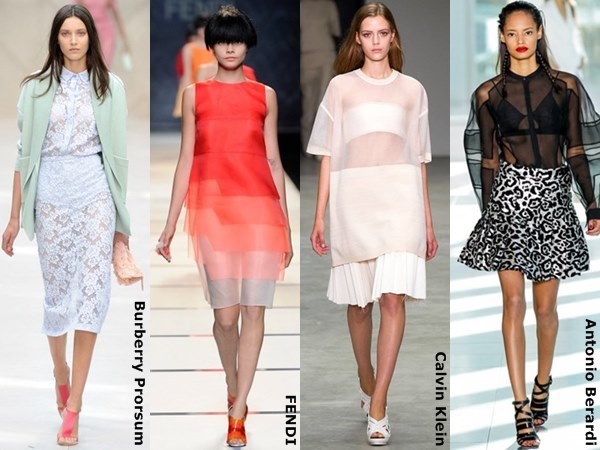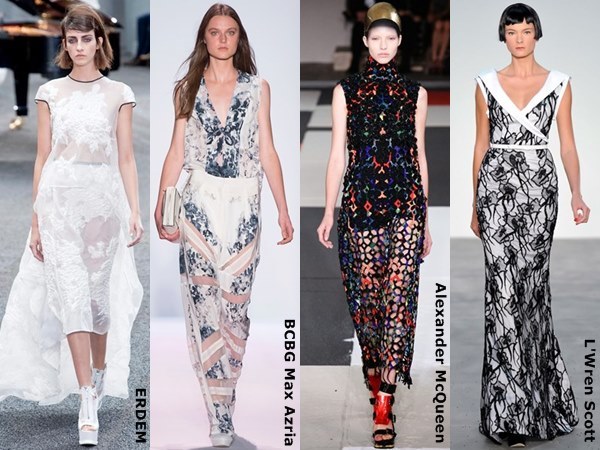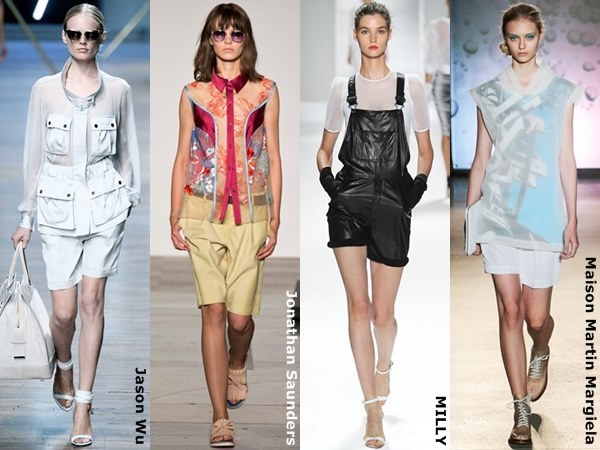 Sheer Exposure
Transparency, sheer fabric is key once again this season as designers continue to persuade us to flash the flesh. Floaty, light, and perfect for the season, sheer inserts, tops, skirts, dresses, shirts and sleeves were all over the runway – basically anything goes as long as it's see-thru whether in vibrant or subtle hue. Evoking a mix of sweet meets sporty, this key trend can add a dose of sex appeal to an otherwise demure look or simply lend some lightness to the overall feel.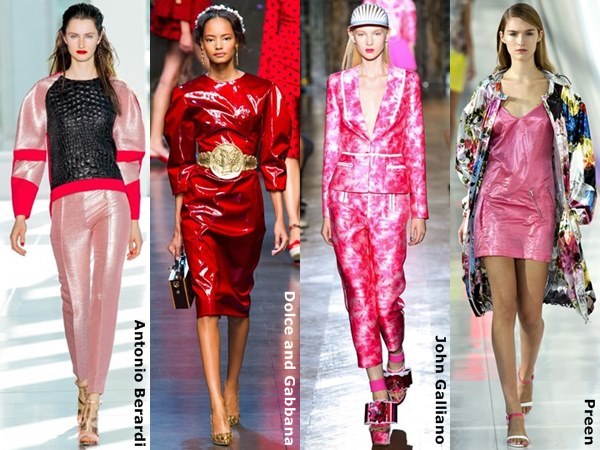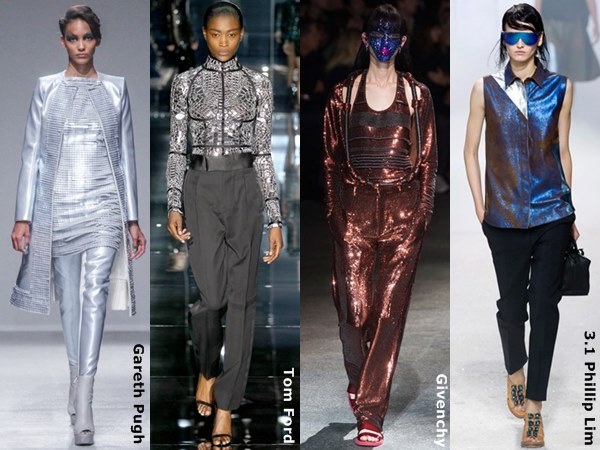 Iridescence Metallic
Approaching the near future's looking so bright with a heavy dose of glamour, shine on the days with that satin, metallic look in every color of the rainbow. This 2014, women are allowed to go ahead bright and bold by investing in statement shades with reflective metallic in multi-carat gold and jewel tones as well, allowing a lady to get her shine on in whatever iteration feels most appropriate.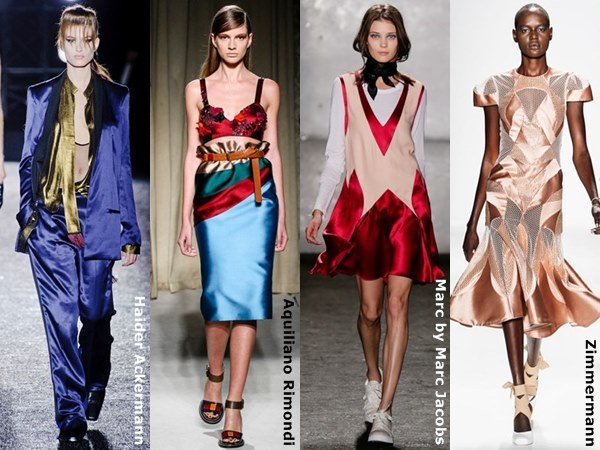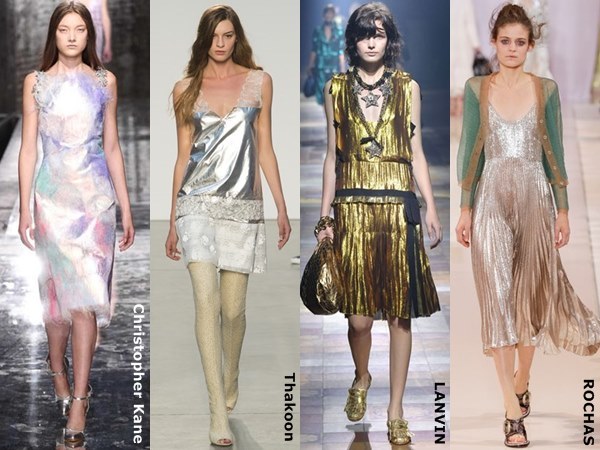 For a cool shiny vibe go for a satin suit or else work sheeny fabrics for day to night – these piece are far too pretty to be saved for best. For a major impact, slip on a holographic dress or skirt, or go for high-shine fabrics such as lamé and colors like gold. While for a more less-vibrant effect, grip iridescent accessories – such as clutch or footwear – or do the metallic with only part of your outfit.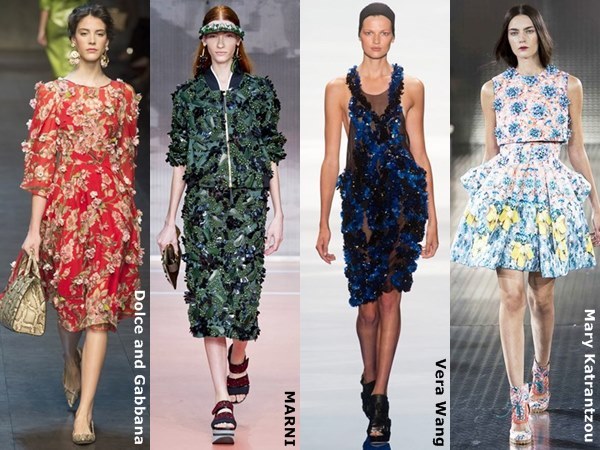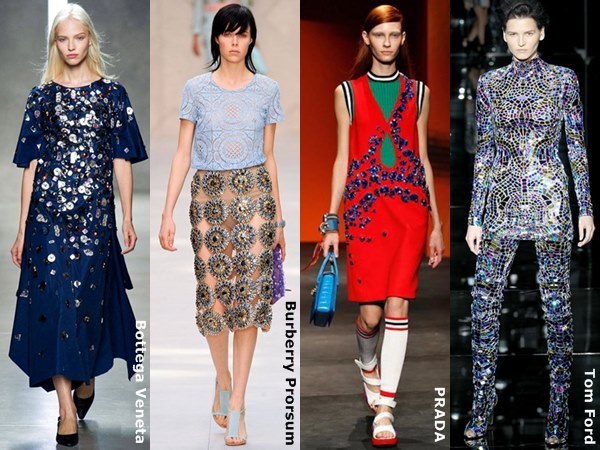 Embellished Details
If you love those dazzling, bedazzled embellishments striking your outfits stunningly, then you are ready for one most popular trend this season. Haphazardly stitched crystals – the more the merrier – is the new passport to bling for the coming season, as we've seen through runways where multi-layered sequins, beads, and crystals become sculptural, melded into floral patterns and worn head to toe for a decidedly un-subtle approach.
Although it seems too girly and glamour for that casual-sporty vibe, possibly the easiest way to negotiate both trends – between glitz and sporty – is to focus on sportswear basics re-imagined in luxe, detailed materials. Glitzy, sequined bomber with dressy sweatpants – or suede sporty shorts for hot nights – and a grey marl tee with sparkling heels can be one best option to evoke these trends. Basically, just jewel up your outfit and add a touch of glam in it.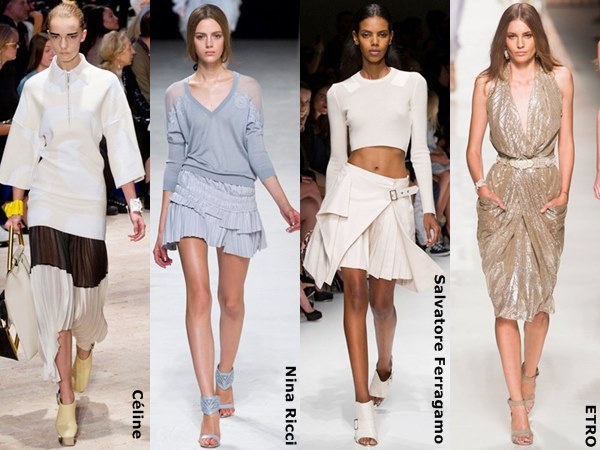 Pleats, Ruffles, and Fringes
Aiming for style trends that are striking, powerful, sporty yet sweets and romantic, light and easy with a natural movement that can't help but be graceful, all the pleats, ruffles, and fringes heading the runways made pretty much clear statements on how the trends are all about. Knife-edge pleats covered everything from skirts to dresses and are feminine yet chic. There was the classic, sharp-as-ice variety as well as some architectural tricks that require a lean-in to see whether it's a true pleat or not.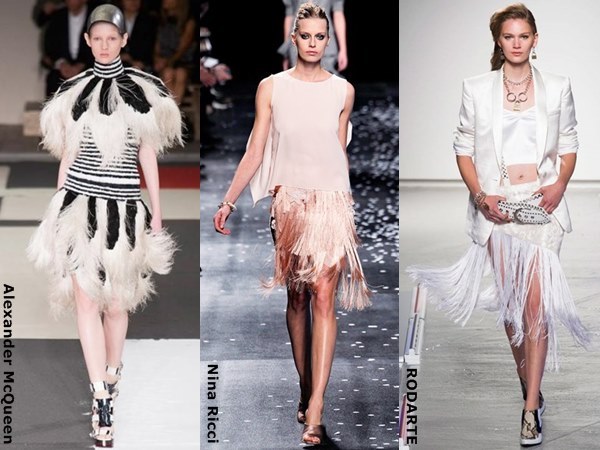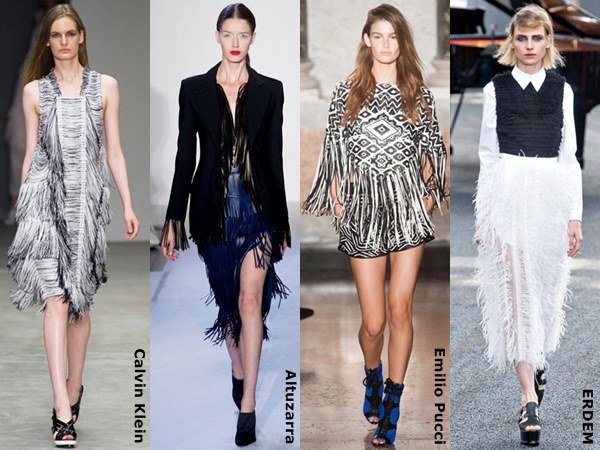 As for fringes, hippies at heart evoking free-spirit and sensuality, this fringe detailing is making a return, adding such a cozy feel into our wardrobe. While ruffles were more than just girlie accents, showcasing ruffled hemlines, necklines, and in some cases, full-bodied ruffles took focus as a new way to add texture and volume.