Wedding dresses come in a dizzying amount of options, even if you've got curves, there are still tons of idea to get your best wedding dress perfect to your silhouette and every character of your body type. Whether you are bottom heavy or top heavy, small chested or busty, whether you have broad shoulder, round tummy, or thick upper arm, make sure you get a dress that will fit your true size and go march yourself down to the nearest bridal shop or department store and experiment with different styles.
Continuing the two previous articles "Plus Size Wedding Dress Shopping Tips and Ideas from Five Bridal Stores" (Part 1) and (Part 2), let's take a look at a few more tips for finding the right dress related to its necklines for your body type.
C. Pick the right neckline: Many plus-size women choose dresses with sweetheart neckline that covers the décolleté but still call attention to their figures. Don't get stuck only on strapless style if you want to go venturing other different styles. I don't always agree with traditional advice, but here it is, follow this general advice of best necklines for plus size bride, or ask your wedding consultant for a more specific request: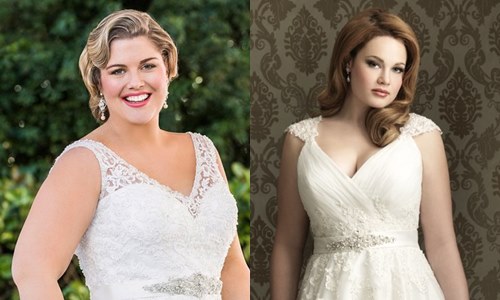 V-neck: this neckline is the most forgiving for plus size wedding dress as it can give visual length to the neck and break up a large chest, broad shoulders, or a wide upper-arm area, as well creating slimming silhouette on many body types.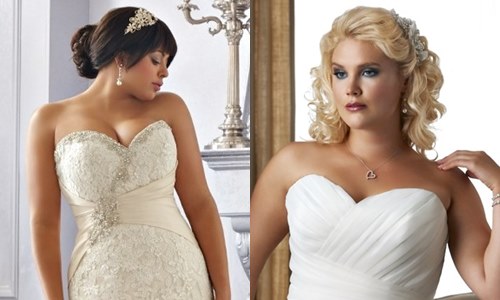 Sweetheart Neckline: it's very flattering for busty ladies, and generally to most women. But since it shows a bit of décolletage, sometimes many brides want to add more coverage like bolero jacket or shawl.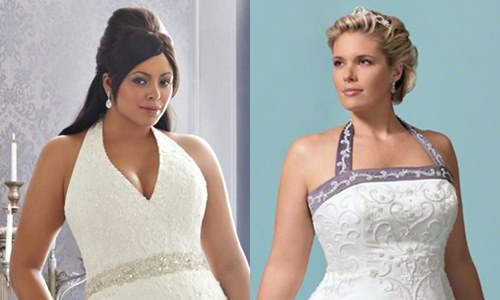 Halter Neck: the neckline looks great and edgy on broad shoulders which contrary doesn't look good for narrow shoulder, and sometimes for thick upper arm.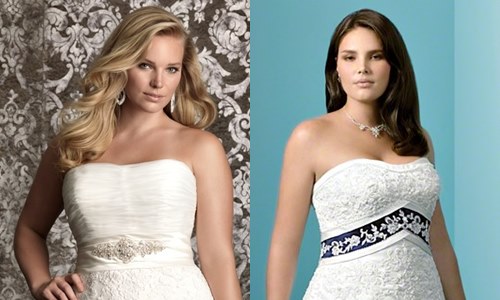 Strapless Gown: this is the most favorable choice for busty brides, and looks even more feminine when paired with either a sweetheart or straight-across square bodice. Wearing a jacket, shrug or wrap will provide coverage if you want to hide your back and upper arms, especially in cold days.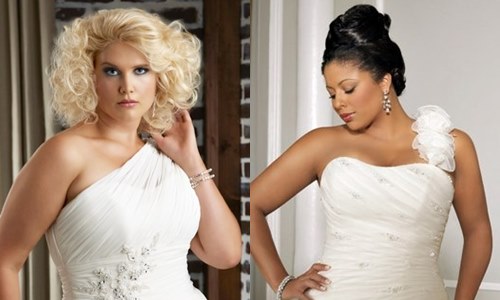 One Shoulder Neckline: it provides an edgy and modern asymmetrical cut, ideal for the busty bride for a more slimming effect around the chest, or for bride who wants to add dimension to her overall appearance.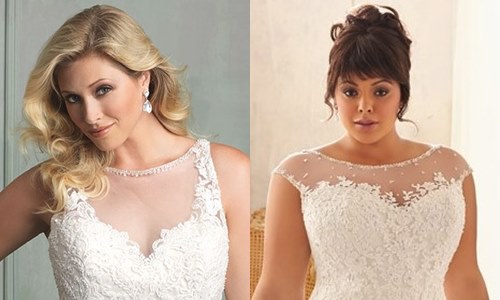 Illusion Neckline: it usually features sheer fabric or lace along the top part of the bodice to provide neckline shape like strapless, sweetheart, or V-neck but with more coverage so it doesn't completely conceal the décolletage.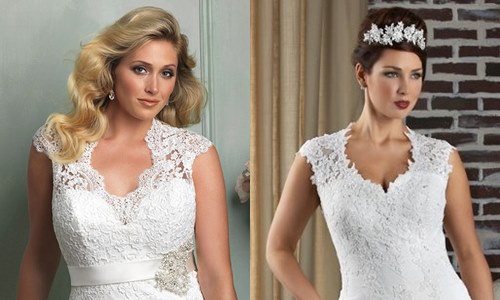 Queen Anne: it has high rising collar at the back of neckline that sculpts low across the chest. It's pretty and elegant for most plus size brides, especially those who want a neckline that will lengthen their necks, without revealing too much skin.
With so many possibilities, then again, it all depends on the cut of the gown, the neckline shape, the fabric, and each personality and body character of the bride. A bride who wants to narrow her options for choosing a wedding dress can look to her mirror for answers about which style is right for her. Take a look at this article "Knowing the Right Necklines for Your Face and Body Shape" for more general fashion tips
D. Pay attention to small details: while you have found your perfect dress, make sure you learn everything you need to know before you settle for one specific dress. Whether your dream dress is sweet, sophisticated or dramatic, you're sure to find a gown that flatters your figure and personality. For that reason, paying more attention to small details will also give the best result which won't make you regret for choosing the dress. Here are some tips to keep in mind:
Wear wedding dress in a bigger size: Nobody has the exactly same body type one to another, sometimes you will want part of the gown being altered. This means, that if you're bust is measuring a size 12, but your hips are measuring a size 18, then you should buy the dress in a size 18 and alter it down to accommodate the rest of your body. Not to mention, wedding gown sizes typically run one or two sizes smaller than street clothes. If you normally wear a size 14 or higher, then it would be a size 16 in bridal. So choose size perfectly fits to your figure. Do not fixate on the actual size but instead on how your measurements compare to the particular line on the specific designer's size chart. .
Focus and stick to the plan: As you have prepared everything on schedule, and you've also determined style of the dress you are going to wear, when you've found your dream dress perfect to your figure and personality, be consistent that the dress is the one for you and don't go for other dress that looks completely different from the first one. Sometimes, trying too many dresses will only make a bride never purchasing her gown when she finds it. You could become overwhelmed and forget what you originally set out to find.
Go with clear vision of your dress code: Even though you might already love one specific dress, make sure you don't look totally out of place. Are you going to have your wedding at the beach, at the garden, or a ballroom? In the morning, afternoon, or evening? Do you want to be romantic, classic, modern or glamorous? Different styles of wedding dress work for different venue. Wearing something that compliments the setting and the background of your venue will look stylish and timeless.
Choose the right place and scale of appliqués: Make sure all patterns and appliques on your dress such as lace motif, embroidery or attached accessories such as rosettes, are scaled to your size. If you go "too small" with all accessories, this may look to dainty for your figure, and if you go with "too heavily-beaded bodices" it can draw attention to areas you'd prefer to minimize. Place them accordingly at part of the body you want to highlight. Be careful any style that adds width such as ruffles and tiered skirts.
Choose the right colors of jewelries and accessories: color-block is obviously not for a wedding dress. Pick details, accessories, appliques, or wedding jewelries that match to the color of your dress. If you choose a white wedding dress, sparkling platinum, silver and diamond, or pearl are the best options, while if you opt for a more ivory-ish shade or barely off-white, colors of rose gold, gold and silver as well as pearl in matching color will work for the dress.
Opt for the right necklace for your neckline: Pairing your neckline style with the proper adornment can add character to your wedding gown, or even highlight a unique feature. On the other hand, make sure you get your wedding necklace suitable to the neckline. You will want to wear necklace if your neckline shows open your neck, while neckline that covers neck and shoulder area (including halter neck, Queen Anne, illusion, or one shoulder) may not need any jewelry.
Pair your earrings, necklace, and accessories elegantly: A pair of chandelier earrings with statement necklace is too much for your glamorous wedding dress. Take a look at this article for easy general tips on how to match jewelries on a party "How to Choose the Right Accessories for Prom Night". If you still have doubt with your wedding jewelries, stick to the basics, a pair of diamond drop-earrings with a sophisticated necklace, such as a strand of pearls or a diamond pendant choker has always been classic and timeless.