"What I wear?" or "How I wear?" have always been a classic question women are going to attend a prom. Of course, when it comes to prom preparations, the plethora of choices in dresses can easily be confusing as most of them are fashionable. Not to mention, finding the right dress is only half the battle, and it's only the beginning since there are still so many choices remain even after you find "the one." Not to mention shoes to worry about, the perfect hair style and all the overwhelming amount of choices to make in the jewelry department. So, what should you do?
Before everything turns to be extremely fatigue, follow some tips on how you dress to the prom, started from the very beginning you decided what to wear, till you finish made your mind about the jewelries and accessories. The first step is, of course, to have in mind what style and color of dress you plan to wear. Whether it's a long dress or mini dress, just pay attention for not choosing a very basic model, since, after all, this is your day to shine. From here you can start thinking about shoes, hairstyle, makeup and accessories.
To be shining and sparkling will be your main focus when preparing the entire prom-fashion outlook, so choose properly what kind of shine you wishes to appear. Depending on the dress you are going to wear, you may opt for the classic shines gold or silver, as both of them can be added with one or two colored rhinestones matched with the dress. Pay attention to the load of glitters and colors you carry and always think about balance. Remember that having an overwhelmed colorful sparks in your attire will only make people seeing you like a Christmas tree.
Learn some tips that can help you choose the most suitable accessories for the prom.
Knowing What Type of Prom Jewelries to Choose
When choosing clutches, heels, jewelries or accessories, make sure you cooperate the shine well with the color of your dress. If your dress is glitter-free, simply choose your sparks of choice. But if your dress has sparkling details or embellishments, always opt for jewelry of the same sheen – gold with gold, silver with silver, bronze with bronze, along with stones that have the same color tones –, notice that usually gold really makes colors of rhinestone and other earthy tones pop, while silver complements pastels of pearls.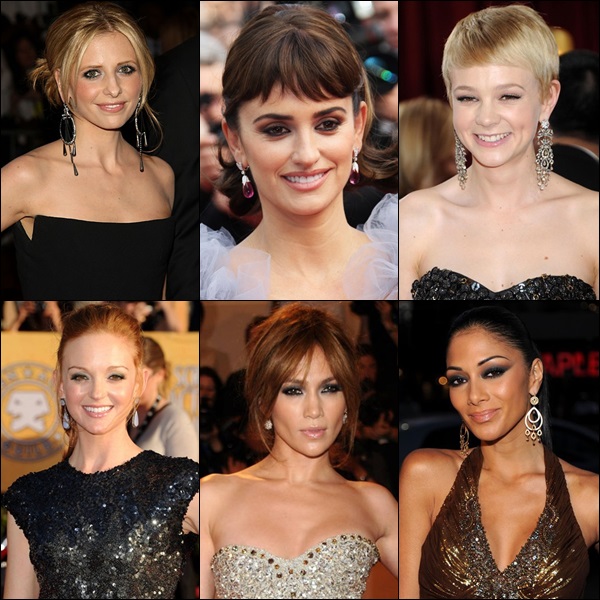 Prom Earrings
The choice of earrings pretty much depends on hairstyle and details around top of your gown. If the dress comes with heavy embroideries around shoulder and neck area, you need to choose earrings in smaller and more delicate side. On contrary, if the dress features a classic strapless design with smooth details on the top, opt for a larger, more sparkling earring design.
Moreover, not only that earrings are subject to details of the dress, these pieces of jewelry also complement each other with your hairstyle, so make sure they don't compete against each other. Think about it: if you're choosing to wear your hair down in thick curls, you're going to want to pick a pair of earrings that can stand out and hold their own. Meaning, if your earrings are fully glitz and glams, play up your hair simple with minimalist accessories, but if you already have your earring simple and clean, then you may do a more dramatic updo without distracting the entire look of the dress.
As for the choices of colors and textures, they all depend on the entire appearance of your look, for example, if your dress has neutral shade, it is worth investing in colorful earrings to brighten the look. Then again, if your dress is already colored and has details with a specific tone, opt for earrings of the same tone to ensure a balanced look.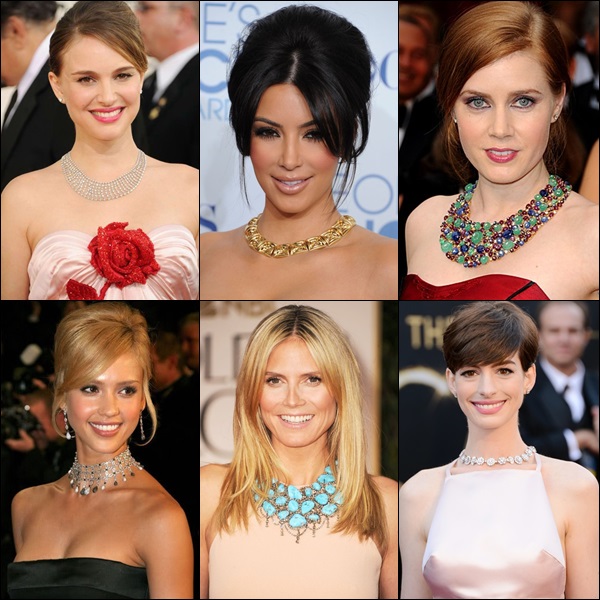 Necklaces for Prom
Usually, there are two types of necklaces to compose you prom glamour, the most delicate choker style or maxi collars with rhinestones and glitter. However, long, short, jeweled, pearled, gold or silver, it seems the options available to us are endless, thus we must know a few standards in place to help us figure out exactly what works best.
The rule is pretty simple: think balance of everything including size and length of your necklace. Strapless dress with straight neckline goes well with a glitzy necklace to enhance the glams of the look, but that's only if the earring is discrete. Dresses that sport a deeper neckline are suggested to go with a longer necklace to help enhance the natural lining of the gown, while the shorter-length necklaces should be reserved for those dresses that sport a straight or higher neckline.
One thing for sure when wearing necklace with a gown, is paying attention to the details of your dress. If your gown is highly decorated around the bust, leave it clear without any additional jewelry on the neck area, because you don't want to take away from the dress itself when it has the ability to shine on its own in the first place.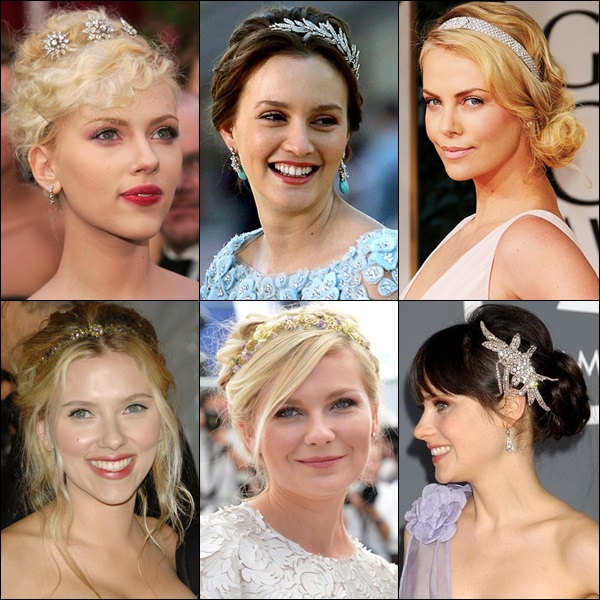 Tiaras and Headbands
To updo your hair with tiara doesn't mean you have to pull off a big, Princes Diana's crown. In fact a discrete, chic tiara can look very elegant and classy, amazingly beautiful even for those with short hairstyles. Just choose model that best matches with your dress, face, and hairstyle, as well as the rest of accessories to make your prom look romantic and sophisticated. And if you don't feel royal enough to pull off a tiara, consider a jeweled headband or sequined hairpiece. Notice that this shimmery addition demands understated earrings, meaning the simpler the better.
Earrings vs Necklaces vs Hairstyles
To achieve a perfect elegance and glam, just remember that even though a prom calls for a little more frosting than usual, having these three basic elements compete each other is definitely a suicide. Although your gown is the simplest among others, you can't, however, pull off shoulder-dusting chandeliers with a triple-strand rhinestone stunner and fully sparkling tiara updo.
Do be careful with every single detail of your earring, necklace, hairstyle, and dress. Balance them out nicely, and even sometimes you can pick a body part – do you want an iced-up neck or blingy ears? – and ease up on everything else. If you decide on earrings, leave your neck bare and if you choose the necklace, wear the smallest, sweetest post earrings you can find.
Bracelets
There are many models, colors and textures of bracelets to compose your prom appearance. Bet on sophisticated item with a good finish to ensure a sleek and balanced look. The rule is to always try to find harmony between elements that are closer – heavy necklace with delicate rings and bracelet – but if the intention is to use a heavy bracelet, avoid using too flashy rings and necklaces.
Furthermore, when wearing a bracelet you also have to consider sleeves of your dress, if you go to the prom with a long sleeve dress, leave your bracelet at home. And do pay attention to the ring you are wearing since these two jewelries are complementing each other – heavy bracelet can replace rings with ease. As for the dress, a more detailed dress means a simpler bracelet.
Rings
As long as it comes with a discrete design, rings are definitely the most allowed in a prom. The rule remains the same: balance and harmony between colors, sizes, and details. Opt for a delicate piece to enhance a romantic, feminine look, or more shining pieces, such as double rings with jewels and sparkles to complement other elements that come simple.
Clutches
This kind of handbags is exclusively designed to bring an extra feminine and elegant look on every glam night out, which of course will make a statement while holding all of your prom night essentials. They can be printed or plain, or with exquisite details like embroideries, jewels, sequins, laces, and others.
The choice of color varies depending on the gown and accessories, or you may opt for models in soft gold or silver to accentuate the metallic parts of your jewelries. If you have doubt whether to bring a clutch or wristlet, carry a clutch if you plan on wearing bracelets, because most wristlets have straps so pretty they should be considered jewelry. If you are going sans arm jewelry, by all means slide on that wristlet – not only is it a terribly stylish option, but there is no risk of leaving it behind.
Shoes for Proms
Although striking stilettos or heels used to be the only acceptable formal footwear, today flats are become more and more flattering that can also be styled for night-out events including prom night. Focusing on the rich details and embellishments can be a good starter to fashion with flats. Appliques like sequins, rhinestones, and bows take skimmers to the next level, while metallic colors and fancy buckles will make sandals red-carpet ready.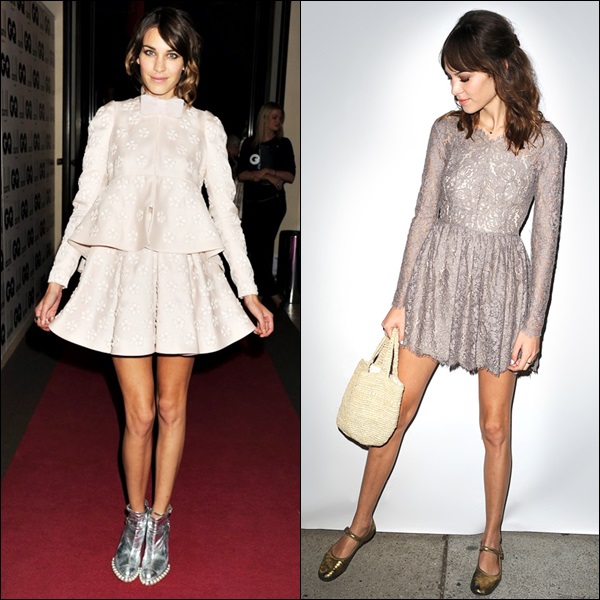 Take a look at your dress and take its design into account. If you think of a mini dress, or a chic, stylish LBD, ballerina flats can be a good option to boost your sweet, girly attitude. If you're dress is channeling bohemian gypsy, snag a pair of this season's shiny gladiators. Here are some celebrities inspirations for you to look gorgeous at the prom.