If you're looking for plus size wedding dresses then you have key-points to consider. Although this doesn't limit only for plus size brides-to-be, in general, women with curves should pay more attention to various factors when choosing their dream wedding dress, which include their own figure, fabrics of the dress, necklines, as well as waistline. Here are some tips to help get you one step closer to the wedding-day confection that will have you looking – and feeling – breathtakingly gorgeous.
In continuing previous article "Plus Size Wedding Dress Shopping Tips and Ideas from Five Bridal Stores (Part 1)", after you've done determining your dress-shopping budget, finding which style and color of the dress appropriate to your wedding venue (regarding to its location, decoration, colors, theme, etc.), and you have also chosen your salon for purchasing the dress, now it's time for you to get your wedding dress ready for your big day. Follow more guides and prepare to make the biggest entrance of your life.
4. Choose Wedding Dress that Flatters Your Figure
Every bride will want to find a dress that is best for their figure. Four key-points to consider when choosing a wedding dress – especially if you are curvy – include; (a) opt for a silhouette that defines you; (b) find the right fabrics; (c) pick the right neckline; and (d) pay attention to small details :
A. Opt for a silhouette that defines you: Whether you are bottom-heavy (pear shape), top-heavy (apple shape), round shape, or hourglass, all silhouettes that skim over hips are flattering to most plus size figures. Generally, a plus-size bride will love how a fit-and-flare gown makes her waist looks curvier. Find a dress that accentuates an hourglass figure that shrinks and defines waist. Look for a dress that has a fitted natural waist. A gown that has side draping and lightweight fabrics is also super slimming.
Wedding dresses that offer such fit-and-flare curvy silhouette include ball gowns, A-line dresses, and mermaid or trumpet dresses. Take a look at some ideas from five labels I mentioned at previous article (Part 1)
PLUS SIZE WEDDING BALL GOWN
This silhouette is one of the most popular wedding dresses loved by every bride. It offers such a glamorous 'fairy tale' aura with its elegantly feminine designs featuring fitted, structured bodice that flairs at the waist with a full skirt. Marked by its wide full skirt and small waist, this dramatic silhouette is ideal for most body types but especially looks great on pears, because it hides the lower body, camouflaging problem areas in the hips and thighs.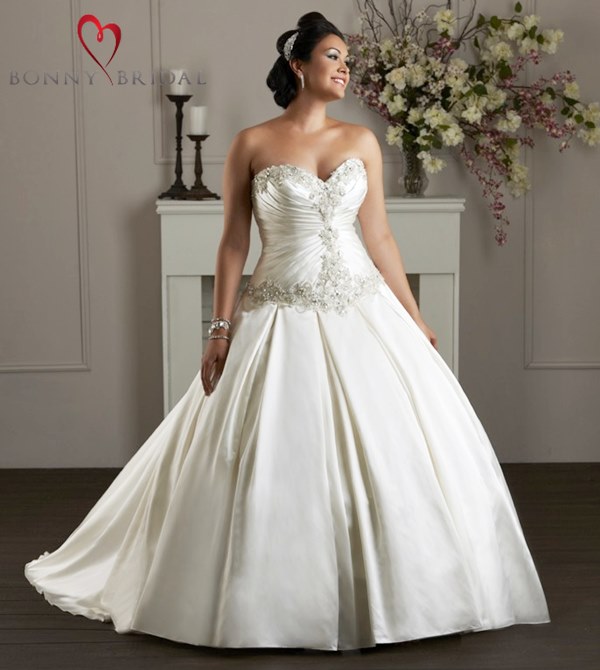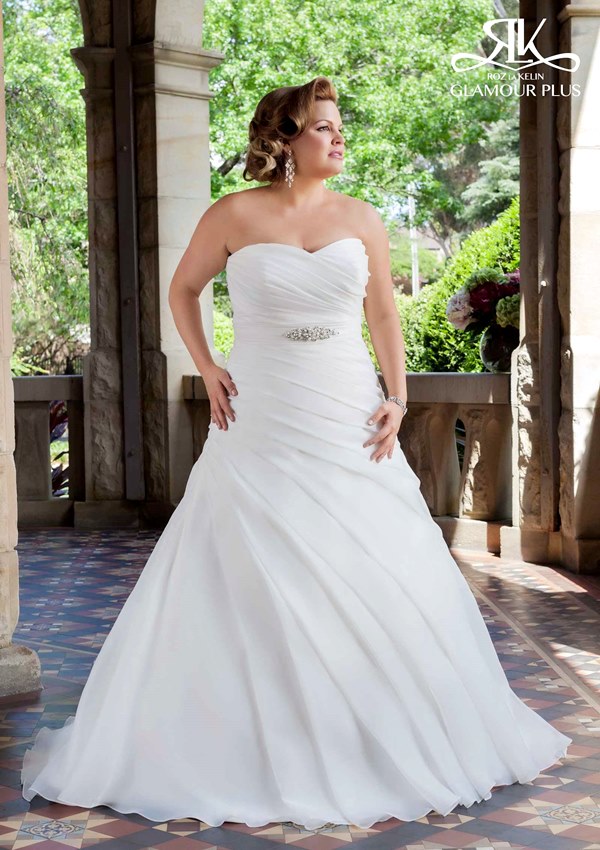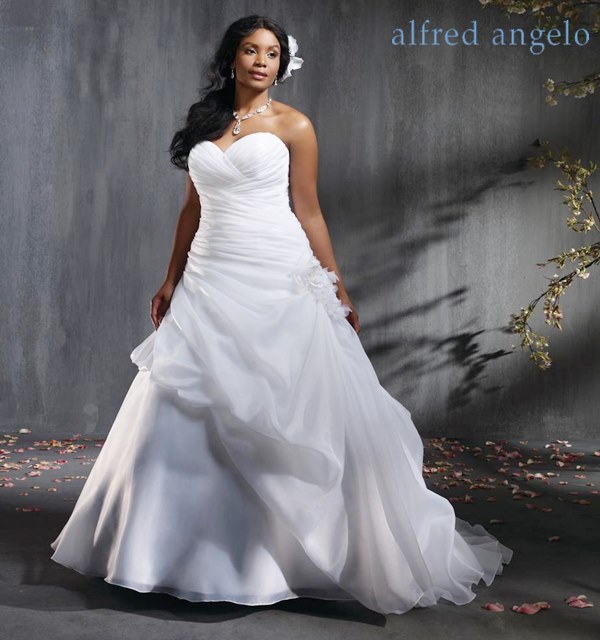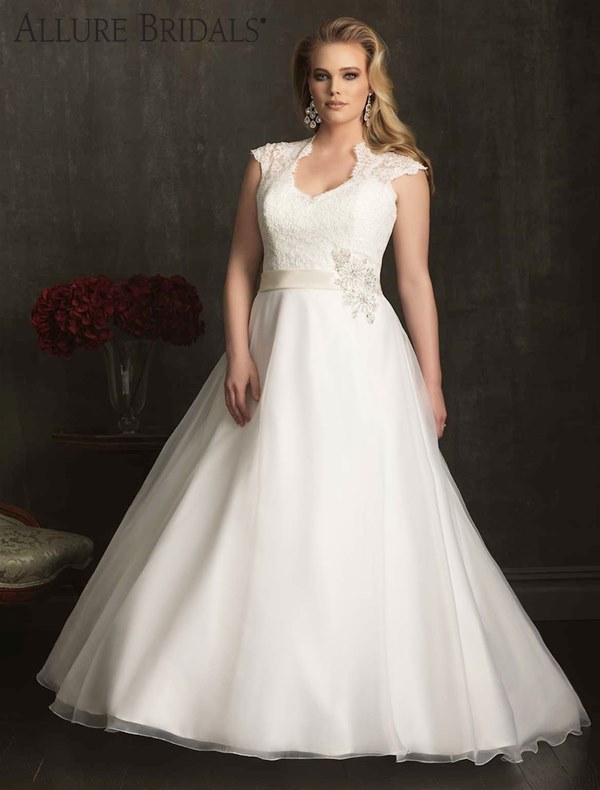 PLUS SIZE A LINE WEDDING DRESS
Almost similar to the ball gown silhouette, but simpler and lighter on the skirt design, A-line wedding dress creates an hourglass shape featuring fitted bodice through the waist and flows out to a graceful skirt, resembling the form of an "A" shape. In other words, A-line dress is a great way to wear a full skirt without the drama of a ball gown.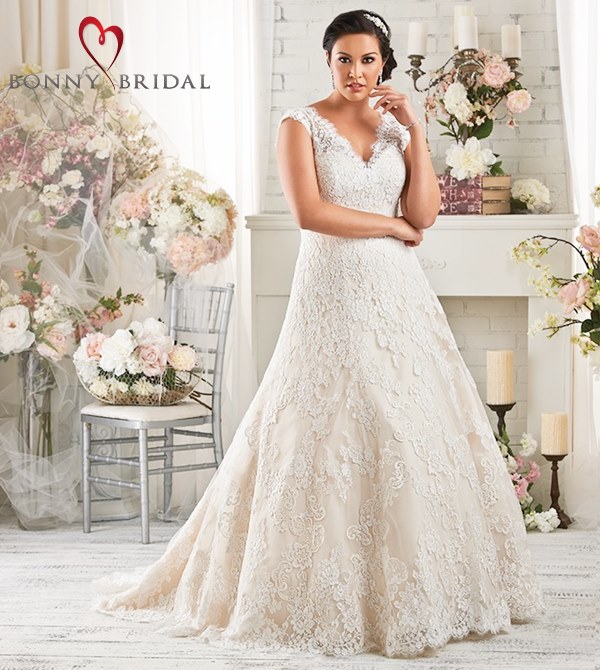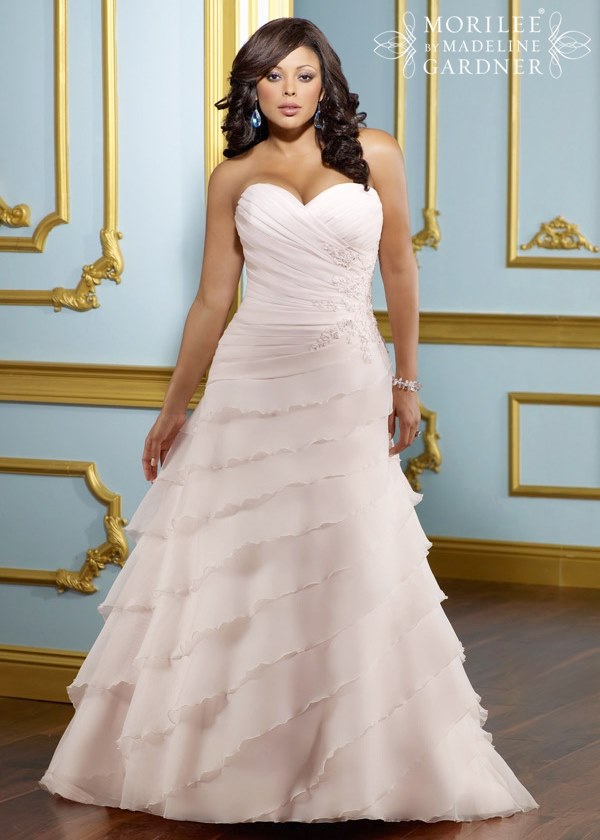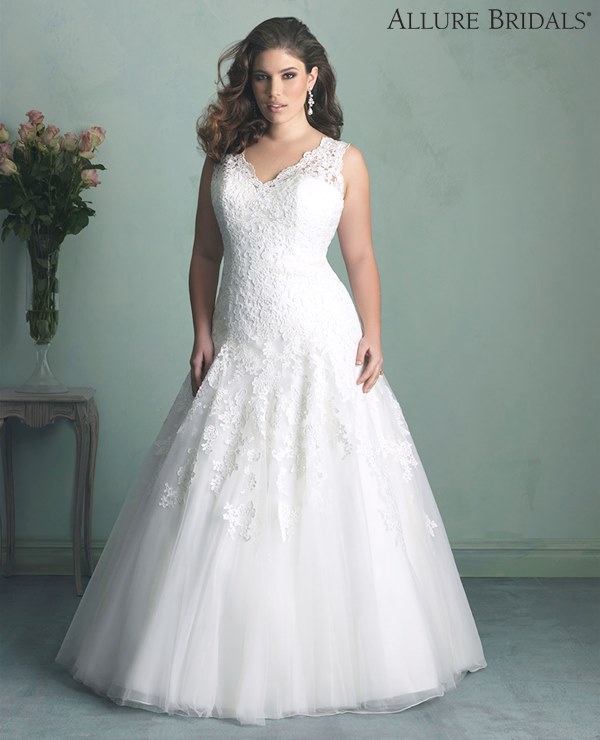 Some dresses also come with modified A-Line silhouette, which is fitted on the bodice and hips and gradually flares to the hem, forming an "A" shape – like the one above presented by Allure Brides. Basically, the skirt of a modified A-line dress fits closer to the body than a traditional A-line. Both A-line silhouettes are also ideal for all body types, because they flatteringly cinches the smallest part of your natural waist, camouflages hips, and balances wide shoulders.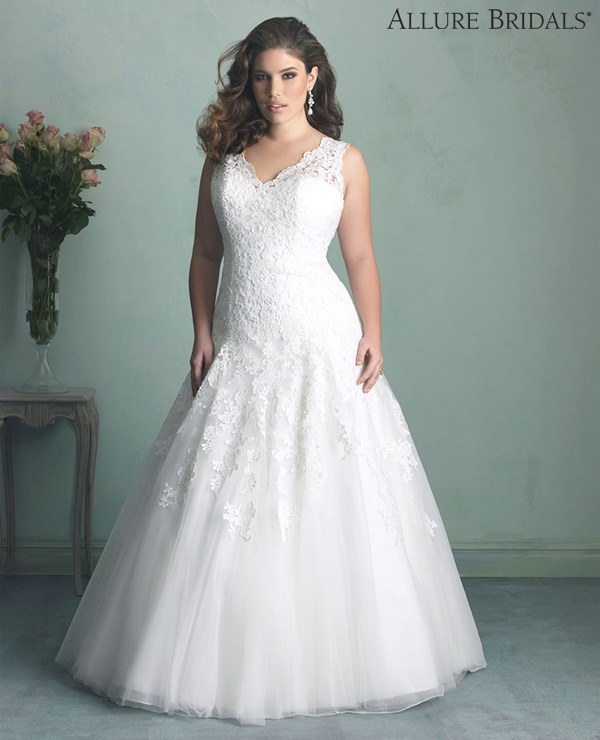 PLUS SIZE MERMAID WEDDING DRESS
Whether it's called trumpet or mermaid, both styles feature a curvy fit-and-flare silhouette that can play up your figure beautifully. However, since these styles accentuate stomach and hip area – as it hugs the body from the chest and through the hips – if you have rounded tummy, of course shapewear would be your number one choice to solve the problem, as well as Spanx shorts and knickers, or stomach-flattening tights which can support and pull in your tummy.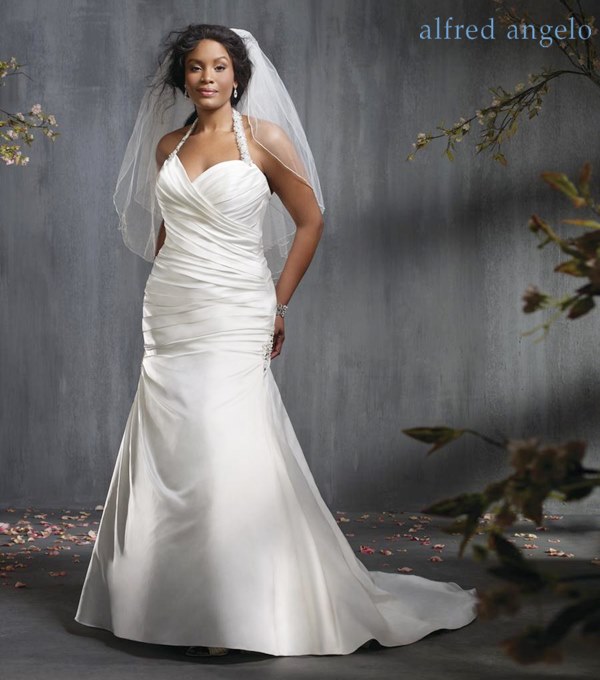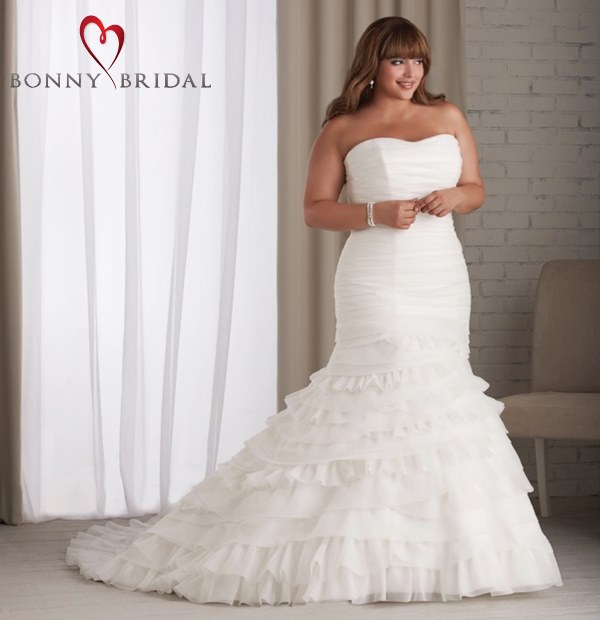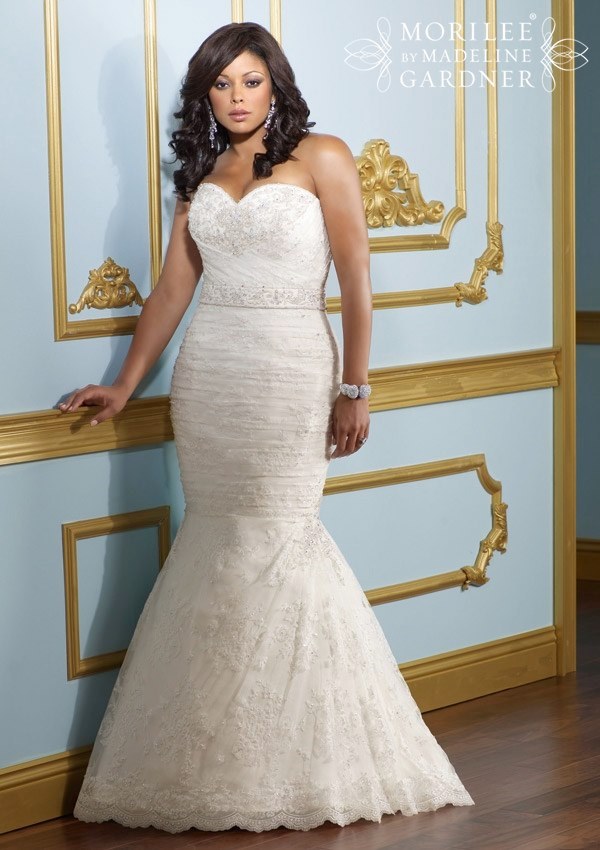 This description is probably not important since both styles are equally gorgeous, but there's a slightly difference between a mermaid and a trumpet style. The mermaid gown hugs your body all the way to the knees before it flairs out dramatically, while the trumpet styles are fitted through the hips to mid-thigh and then flare a bit less severely. Simply enough, the trumpet cut is between a modified A-line and a mermaid cut. See the difference between the two pictures above and below, between the one from Mori Lee (mermaid) and from Allure Bridals (trumpet).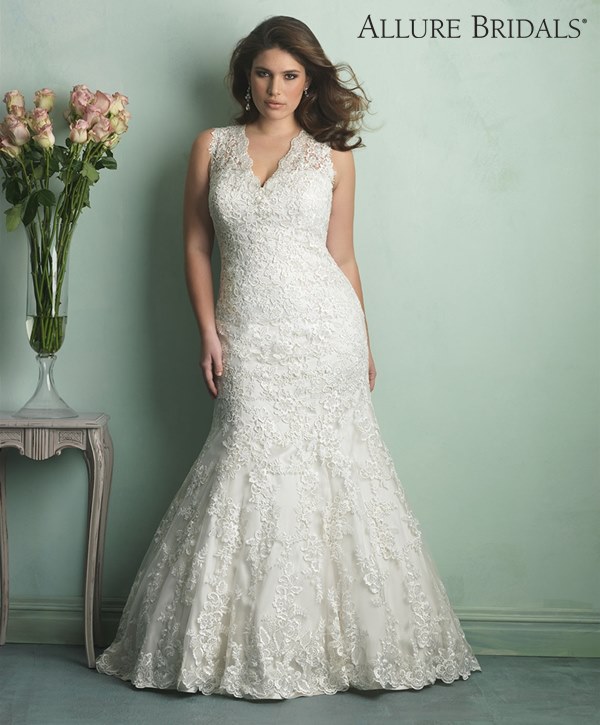 Sometimes you'll check out a wedding dress designer's website and see their gown descriptions and be confused – whether it's a ball gown or A-line gown, trumpet or mermaid gown. Even these days, many wedding dresses are designed in-between styles. They are sometimes called with different names but appear with the same silhouette. Or different silhouettes the same name. It's ok, no matter what the dress is called. Just go pick your wedding dress by fit and flatter, not by the name.
Lastly, although fit-and-flare silhouette flatters most curvaceous women, there are still factors to consider according to the character of your body shape, or if you have some specific body part you want to highlight or need to be disguised. Ask your consultant for suggestions but here are some easy general tips: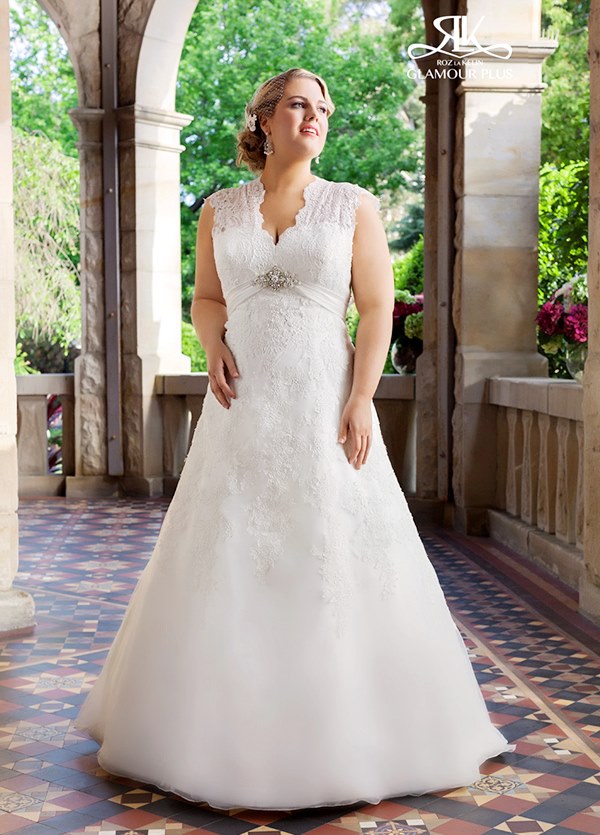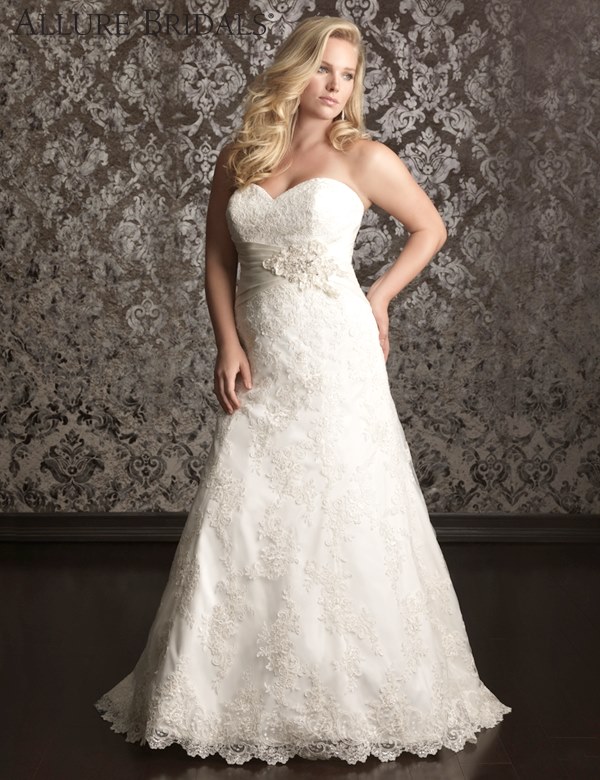 If you are petite (short): A form-fitting fit-and-flare wedding gown gives the illusion of height, but stay away from big ball gowns or anything with voluminous skirt, and go for a silhouette that skims your body. A trumpet/mermaid and modified A-line gowns are your best choice, or find a style with a waistline above your natural waist – for example an empire wedding dress – to make the lower half of the dress appears longer.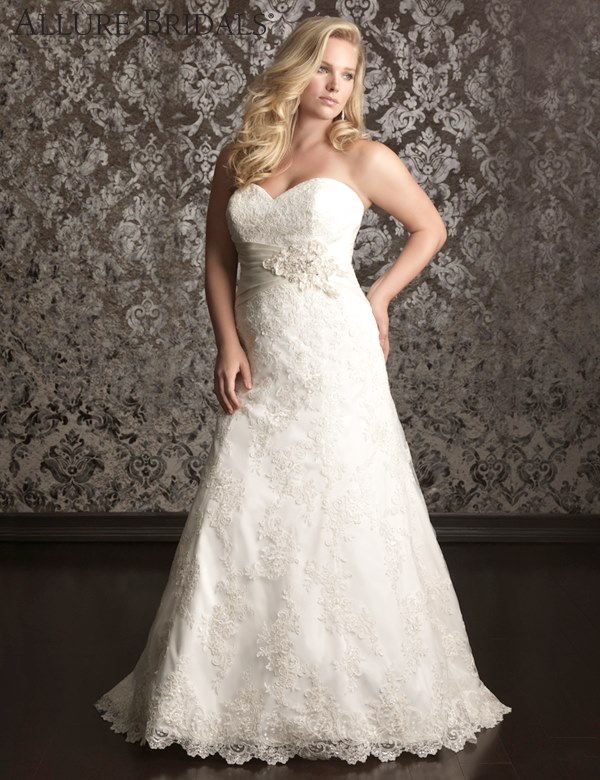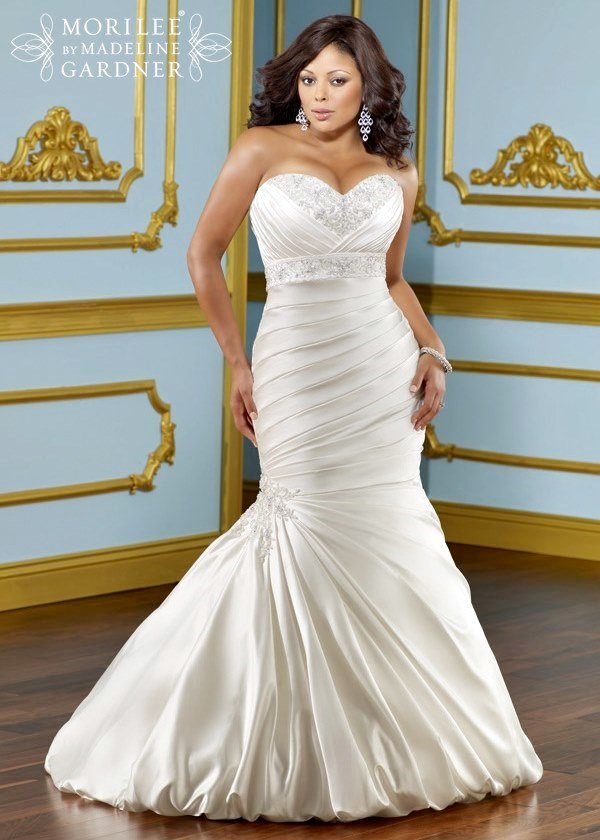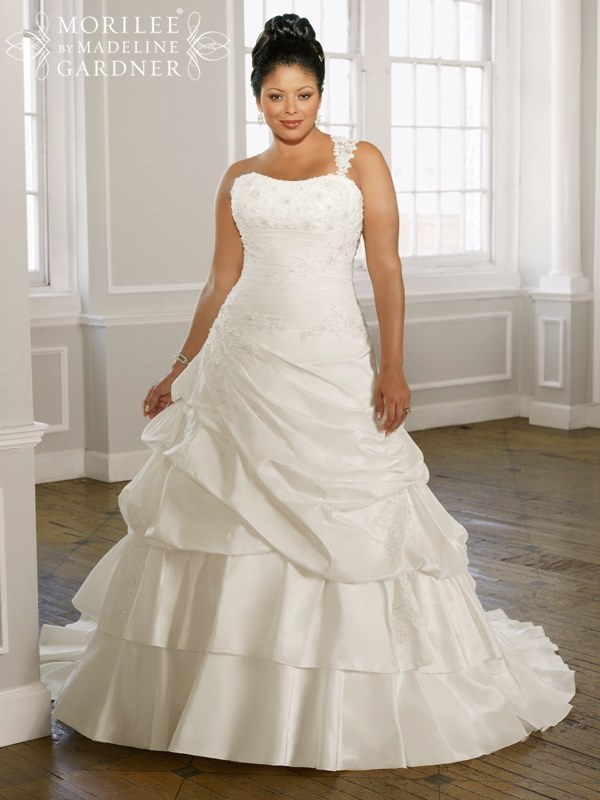 If you have larger-bust: Balance out your chest with a voluminous skirt or fully detailed (embellished, ruffled, ruched) skirt to draw the eye away from your upper body part. Make sure your bra fits perfectly, although some gowns are structured enough that they don't require support garments. Dresses with diagonal or criss-cross ruching on the bodice helps soften and minimize the bust-line, or visually shrink the bust. A drop waist is another style that will help to elongate your waist and define the area between our bustline and hips.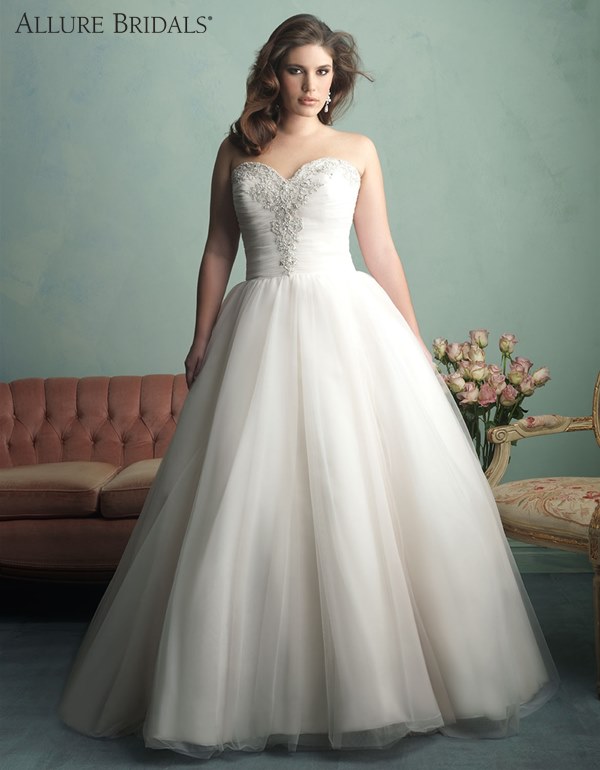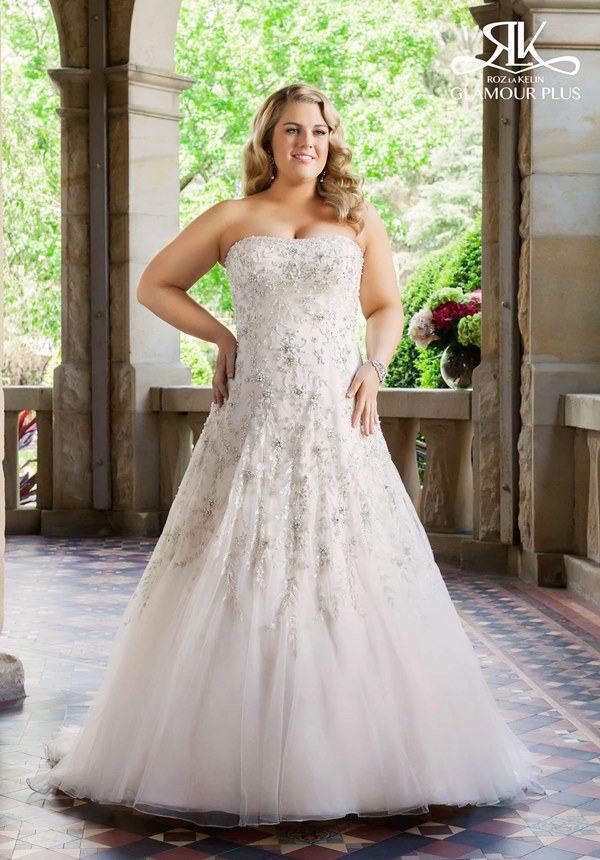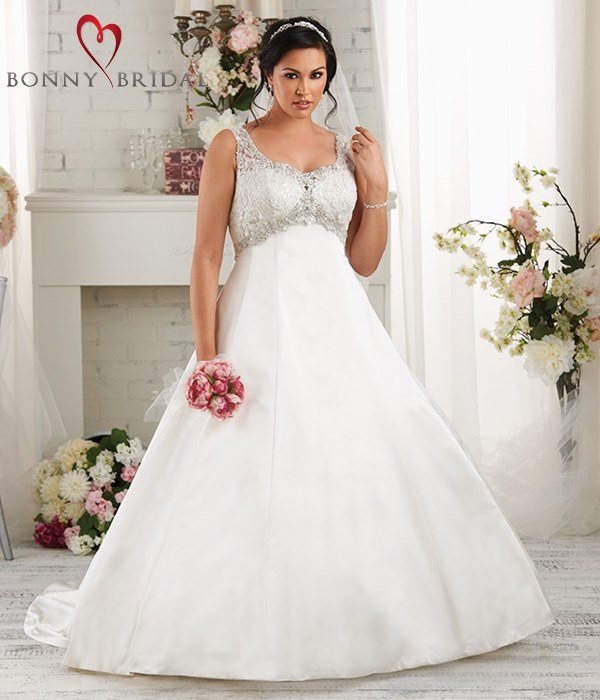 If you're small-chested: Go for a strapless look and play up the top area with embellishment. A ruched bodice with extra fabric up top will also help fill out your upper body and create the illusion of curves.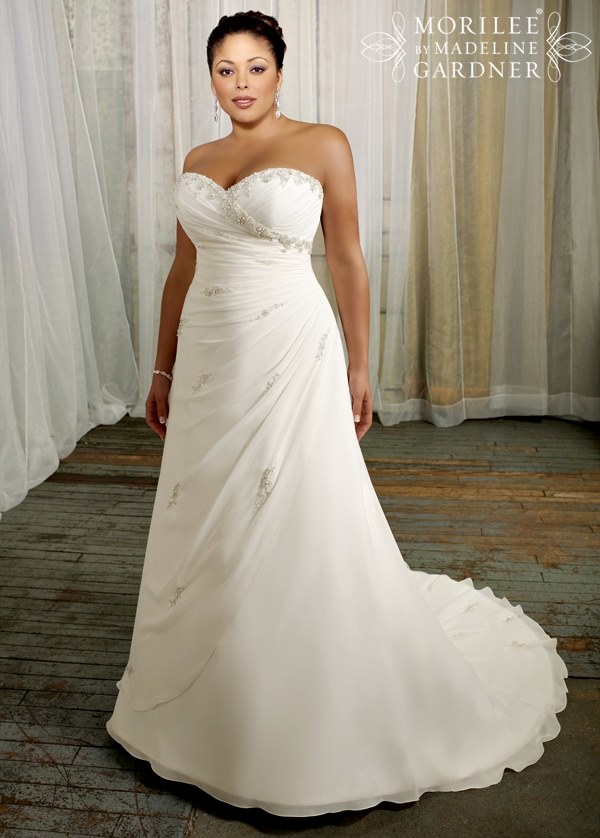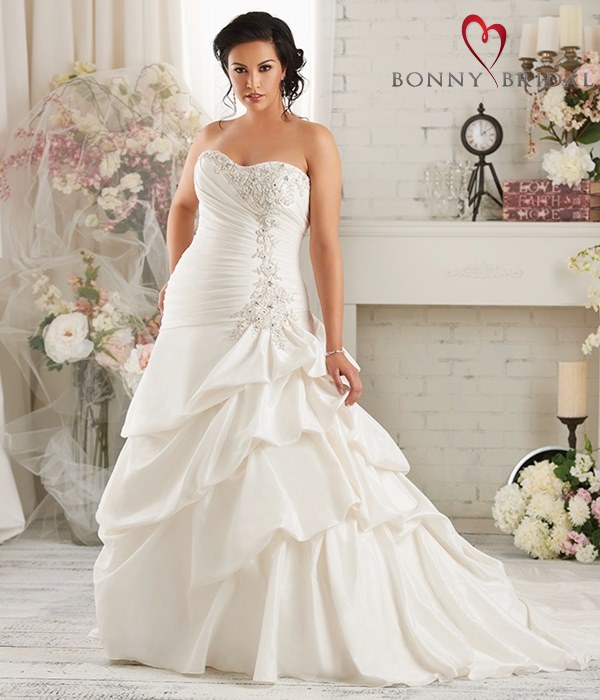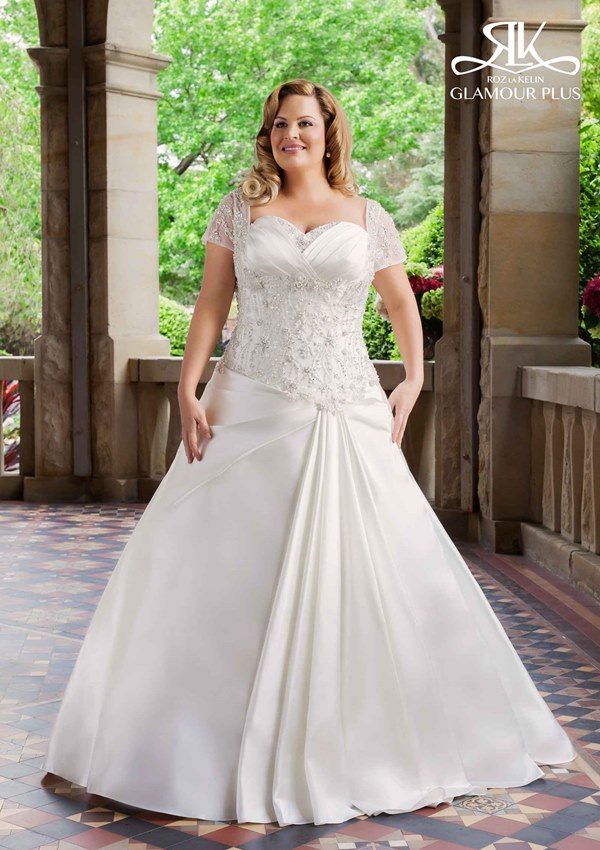 If you have rounded tummy: Dresses that drape across the stomach area or the one with figure-flattering ruching throughout the gown can help to visually disguise the larger tummy. It is also very important to choose the right underwear like Spanx (body slimmer's and waist cinchers) to help hold the tummy in and cinch the waist in.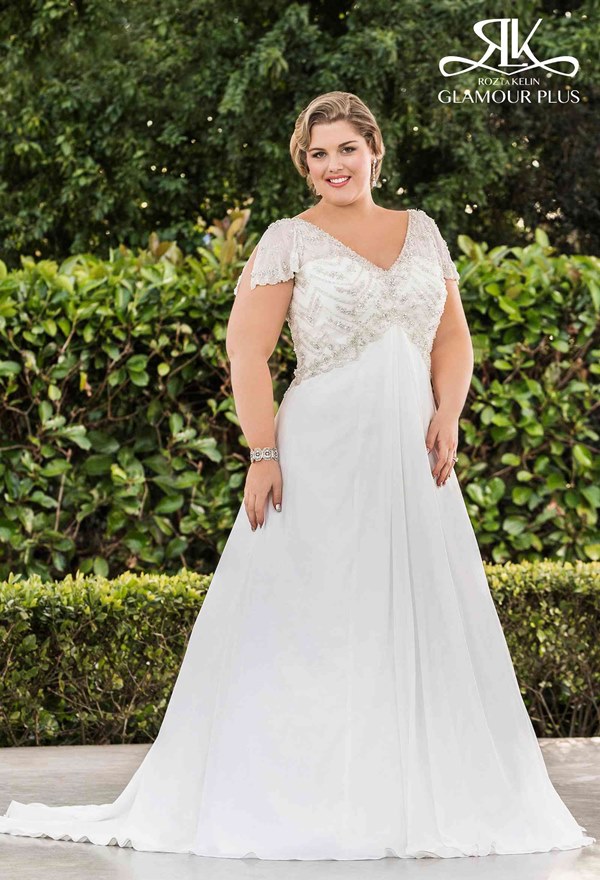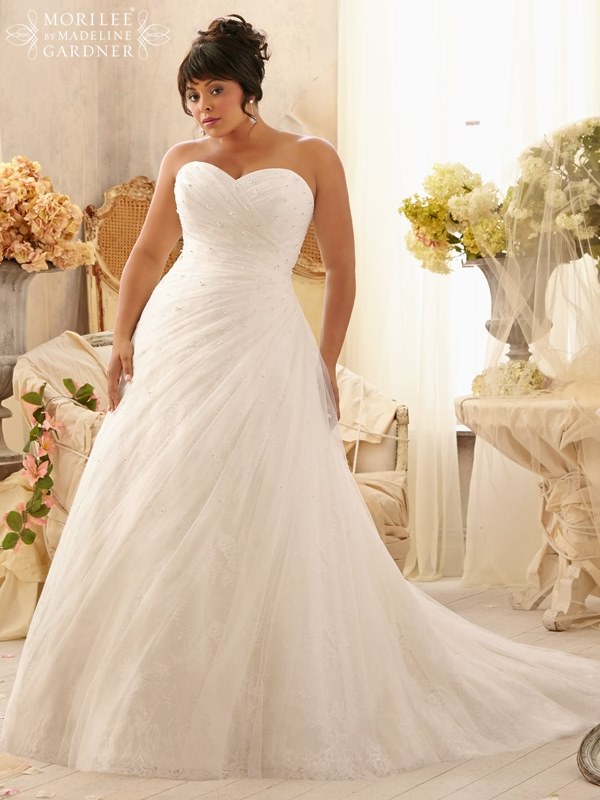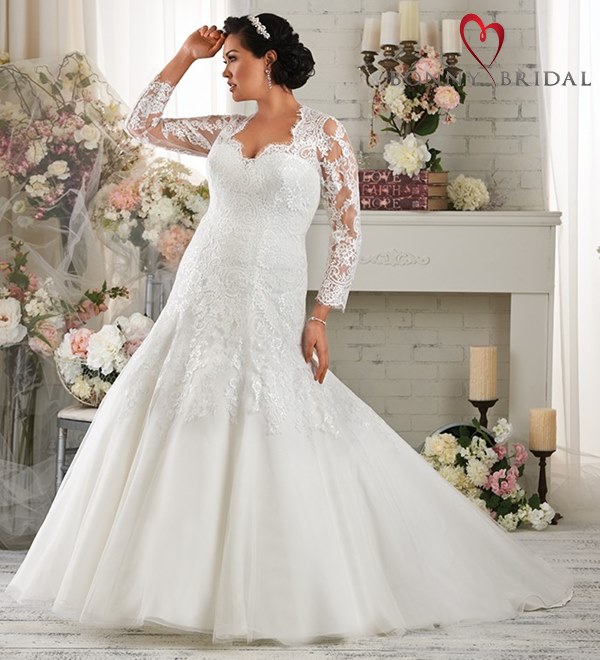 If you have thick upper arm: Sleeveless gown is great to embrace the arm which at the same time giving the illusion of smaller arm. A wedding gown with sleeves is one alternative if you don't want to go with sleeveless. Choose short or long sleeves (or even 3/4 sleeves) in sheer fabric like lace to cover and camouflage your arm. But if you are top heavy, better not to wear a bodice with tight short sleeves. If you want to go for short ones at least try cap sleeves.
If you want long sleeves, make sure they are not so tight that you can't dance. Getting a nice tan so your arms would have the illusion of being more firmed or wearing a shawl, arm-scarf, bolero jacket or cover up over the gown could also be another idea.
If you have broad shoulder:  To disguise broad shoulder will directly link to types of neckline you are going to wear. Take a look at point C at the next article (Part 3), or this article "Knowing the Right Necklines for Your Face and Body Shape" for more general fashion tips
B. Find the right fabrics: For a plus size bride, it's important to choose the right fabric as it can effect how the gown fits and flatters your body. Keep in mind, certain wedding dress fabrics fit differently than others. Heavy fabrics can sometimes make the person look even heavier, while thin fabrics can easily show your "problem areas". On the other hand, heavy fabrics are best suited to fall and winter weddings, while lightweight, thin fabrics are appropriate for the spring and summer
Ask your bridal consultant for opinions and suggestions, but in general these are the most popular fabrics used for plus size wedding dress:
Satin: this is a very comfortable fabric and is flattering on fuller figures. But keep in mind that the amount of elasticity in the fabric can vary significantly from dress to dress.
Lace: this is the most classic wedding dress fabric. There are many different types of lace, and fortunately, you can't really go wrong with any. It flatters most women's bodies as it can camouflage problem areas efficiently and attractively.
Taffeta: it tends to be a bit thicker in nature but it is easily ruched (ribbed, creased, folded, pleated or laced). It looks great on fuller frames because they conceal imperfections and disguise heavier areas
Organza: because it's not a very elastic fabric, this sheer fabric is often used as a secondary layer for a wedding dress. It is very flowy and forgiving for plus size ladies as it drapes over the body very delicately.
Chiffon: although it's light and airy that allows greatest movement, chiffon is also thin fabric that can magnify every wrinkle, bulge or imperfection. That is why It's often used over a layer of muslin, Lycra, or satin.
Continue to "Plus Size Wedding Dress Shopping Tips and Ideas from Five Bridal Stores (Part 3)" for the last tips and ideas of this plus size wedding dress shopping tip article.