From coats to jackets, these staples are a big part of every woman's daily wear especially when the weather gets cooler. However after pursuing your closet, you realize that your wardrobe is in dire need of a new, fun, updated, and functional toasty coat. So, when you are choosing or shopping for a new outerwear – the fabrication and style of coat or jacket – be mindful for the differences, and it's important to make sure you have outerwear fit perfectly to your body frame.
Continuing previous article "Plus Size 2014 Coats : Fabulous Ideas from Various Stores (Part 1)" take a look at various ideas of stylish outerwear – from bomber jackets to cape coats – featuring so many options, inspirations, and fashion perspectives to wear this chilly season. Not to forget, learn "How to Wear Plus Size Coats Fit and Fabulous", so you are ready for the perfect style of coat for your tastes, your body shape, and your personal needs.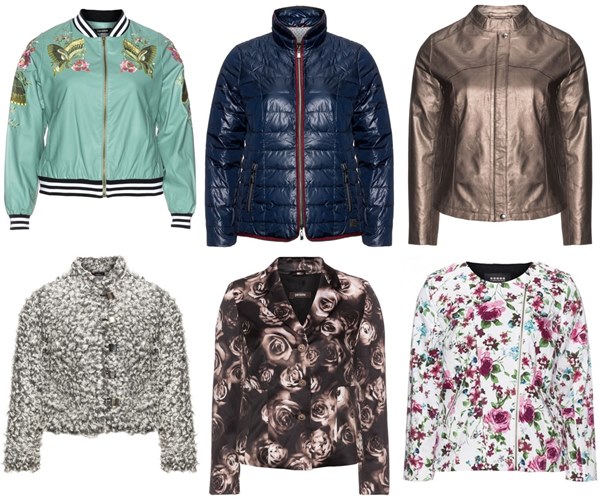 Plus Size Jacket Collection by Navabi
1st row : Anna Scholz Satin Embellished Bomber ($471) / Frapp Shiny Quilted Jacket ($216) / Studio Metallic Goatskin Jacket ($555)
2nd row : Chalona Cropped Fluffy Jacket ($247) / Persona Satin Blazer ($606) / Carmakoma Lined Floral Print Jacket ($233)
Stylish Plus Size Fashion Jackets
Other than coats, jackets are an essential outerwear for chilly or windy days. Whether you are going to stick to one favorite, or complement your clothing collection with several fashionable types, a piece of warm jacket will make great in-between outerwear for the fall or the spring, when a winter coat is too insulated and a summer jacket is too light. There are many different types of jackets for any occasion – from blazer to bomber to moto-jacket to windbreaker. Some are very tailored, whereas others are looser and more casual, some are striking with metallic details, fur embellishments, and busy prints, while others appear to be very classic.
BOMBER JACKET
Fall weather means fall jackets, and what better way to look "the bomb" this season than in your own modish bomber jacket? Street style fashions worldwide – including the curvaceous fashionistas – have embraced the piece, proving that it can be worn with a casual look or something a bit more formal. Check out "How and What to Wear A Bomber Jacket for Different Occasions" featuring general tips of bomber jackets for all body shapes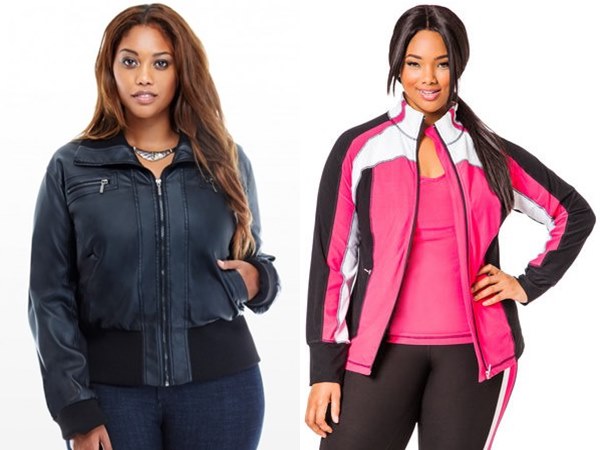 Incoming Faux Leather Bomber Jacket by Fashion to Figure ($35) / Pink Colorblock Sport Jacket by Ashley Stewart ($30)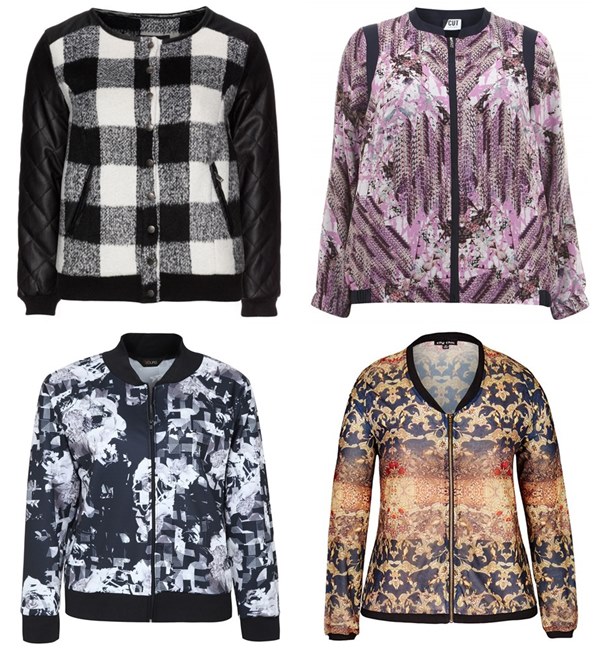 Carmakoma Faux Leather Sleeved Bomber Jacket at Navabi ($277) / Cut For Evans Purple Digital Print Bomber Jacket (£55) / City Chic Florentine Jacket ($80) / Black & White Floral Abstract Print Zip Up Bomber Jacket ($50) at Yours Clothing
BIKER JACKET
There's a reason why you always reach for your favorite biker jacket. The biker (motorcycle) jacket is the height of cool, yet iconic enough to never go out of style. It pairs well with just about everything in your closet. It's best friends with your denim pieces, and gets along just as well with your feminine lace and chiffon. Motorcycle jackets can be made from leather or from synthetic materials, even nowadays the jackets – including for plus size women – are showcased in various styles, colors, prints and details. Not sure how to wear it? Choose the right cut and style, and mix it up with softer basics to avoid looking too man-ly or too Harley.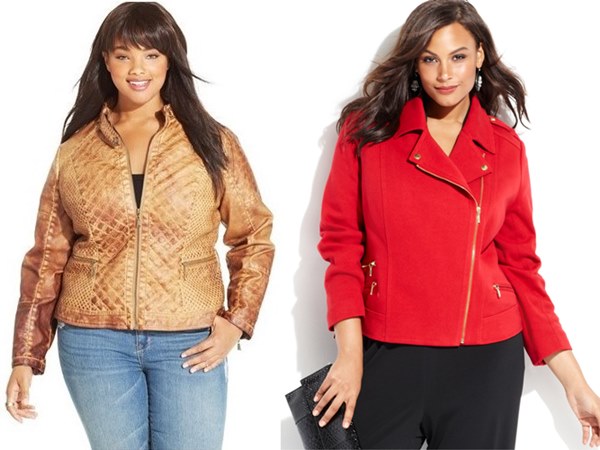 Macy's : Jou Jou Plus Size Faux-Leather Quilted Jacket ($54) / INC International Concepts Plus Size Asymmetrical Moto Jacket ($78)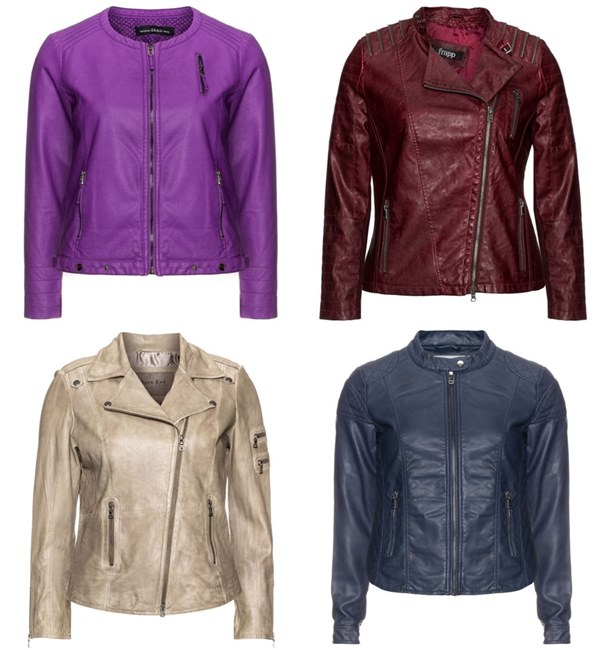 Navabi : Ciso Purple Faux Leather Jacket ($187) / Frapp Bordeaux-Red Faux Leather Jacket ($180) / Zizzi Dark Blue Quilted Faux Leather Jacket ($171) / Open End White Sand Lined Leather Jacket ($663)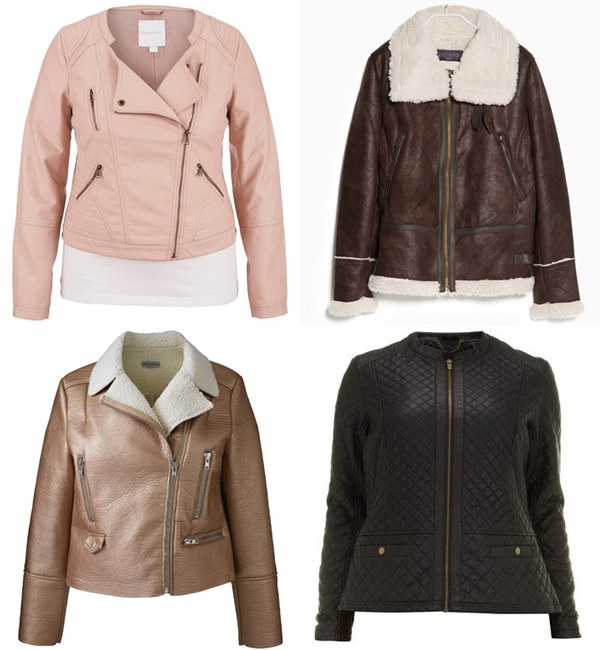 Blush Faux Leather Jacket by Maurices ($69) / Faux Shearling-lined Jacket by MANGO Violeta ($140) / Evans Black PU Quilted Collarless Jacket (£59.50) / Alice And You Rose Gold Biker Jacket by Simply Be ($130)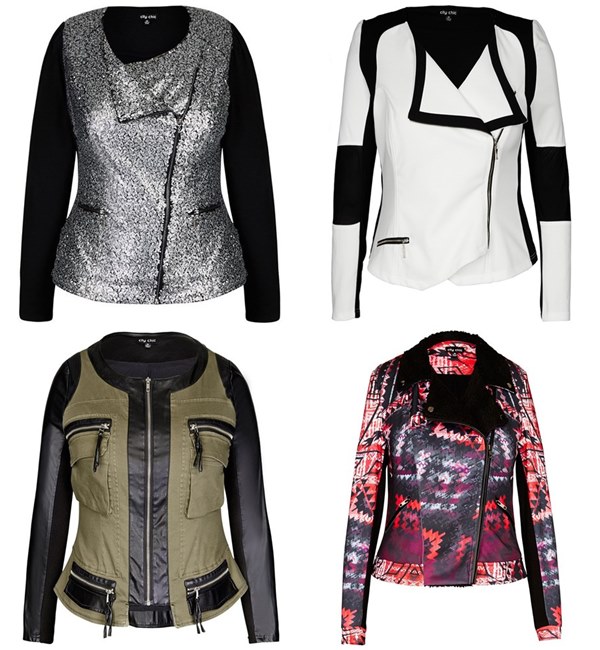 City Chic : Sequin Shimmer Jacket ($90) / Mono Biker Jacket ($120) / Aztec Mirage Jacket ($130) / Army Utility Jacket ($130)
FUR COAT
A common misconception is that plus size women shouldn't wear fur coats as they add too much bulk. But the fact is, nowadays fur coats have transformed itself into a variety of cuts which plus size women can wear without looking bulky. One trick to avoid looking too bulky is to find an option that has a hem which hits mid-thigh or above, has a snug fit, and does not have overly thick fur. You can also opt for long semi-fur coats that aren't too thick, but fuzzy, cuddly enough to bring a constant street style super star look on going-out nights in cold temps. Not only fur coats can transform any outfit looking super glamorous, these coats look great for any occasion, whether it be dressed down with a pair of boyfriend jeans and a plaid or thrown over a glitzy holiday dress.
Nordstrom : Michael Kors Collarless Faux Fur Coat ($310) / Kristen Blake Faux Chinchilla Fur Jacket ($198)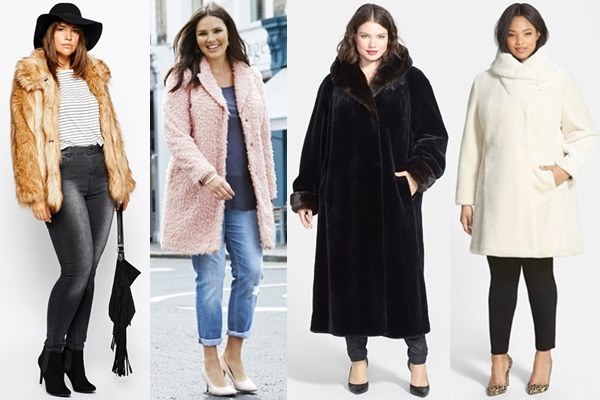 ASOS CURVE Vintage Look Faux Fur Coat ($124) / Teddy Fur Coat by Simply Be ($130) / Gallery Shawl Collar Long Faux Fur Coat at Nordstrom ($350) / Gallery Shawl Collar Faux Fur Coat at Nordstrom ($250)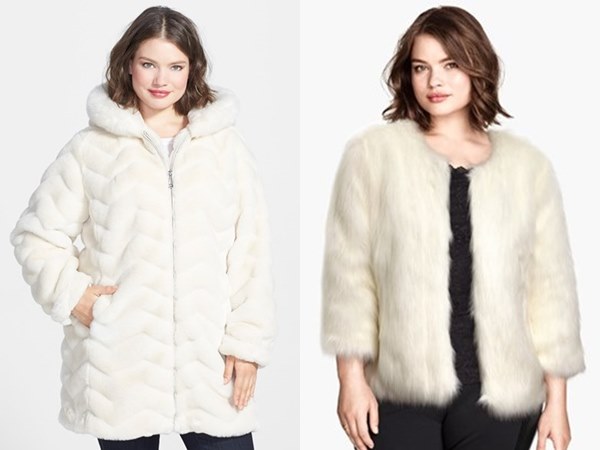 Gallery Chevron Faux Fur Hooded Coat at Nordstrom ($250) / H&M+ Faux Fur Jacket ($70)
PUFFER COAT
Not to mention with puffer coats, many plus size women shy away thinking a puffer coat might not look good on women with curves as the coat will add bulk, but with more and more plus size designers creating numerous comfortable and great styles for plus size women, puffer coats are no longer a nightmare for full figured ladies. Just look for the stitching making sure it creates a waistline and the spacing between the stitching lands at favorable places along your curves.
If you have a tummy, look for A-line shaped cut, which gives the illusion of an hourglass figure. Diagonal lines or smaller insets at the waist are also good to make slimming illusion to the area. If you have a large bust, opt for styles that are roomy enough to accommodate an ample chest yet narrow at the midsection, so your waist won't look thick. If you are petite, look for a coat that hits above the knee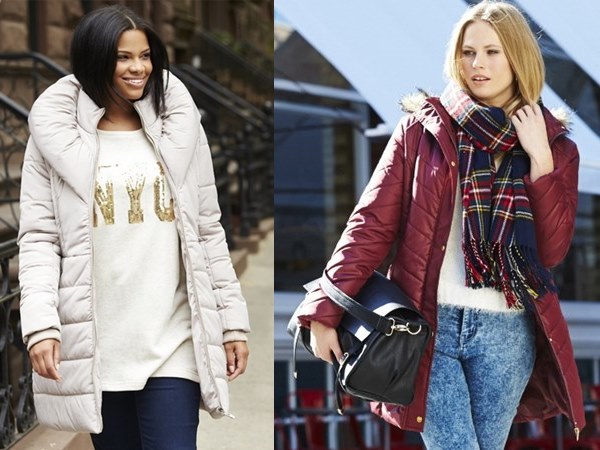 Simply Be : Lovedrobe Quilted Padded Collar Jacket ($145) / Fur Hooded Padded Jacket ($50)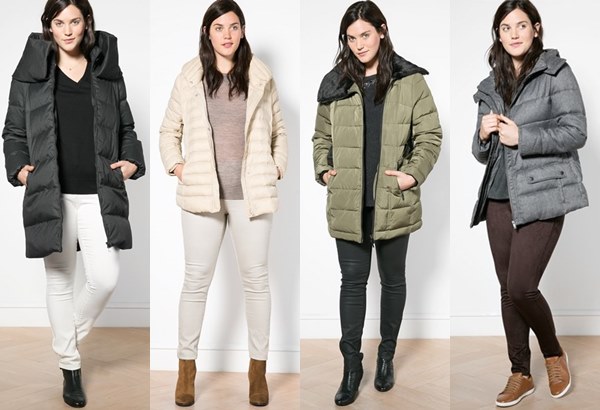 Violeta by MANGO : Feather down coat ($270) / Ultra-light feather-down coat ($110) / Faux-fur feather down coat ($230) / Herringbone-pattern hooded coat ($320)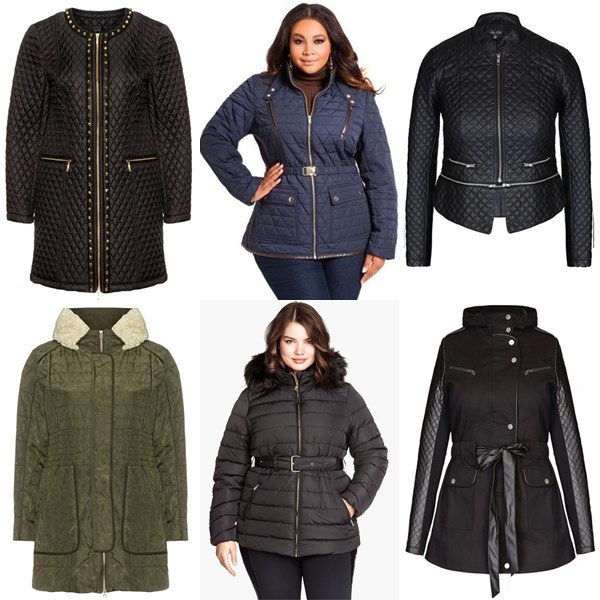 1st column : Navabi : Yoek Studded Stepped Coat ($310) / Loft Fashion Quilted Jacket ($447)
2nd column : Quilted Belted Jacket by Ashley Stewart ($60) / H&M+ Padded Jacket ($70)
3rd column : City Chic : Zip Puffa Jacket ($130) / Quilted Utility Jacket ($130)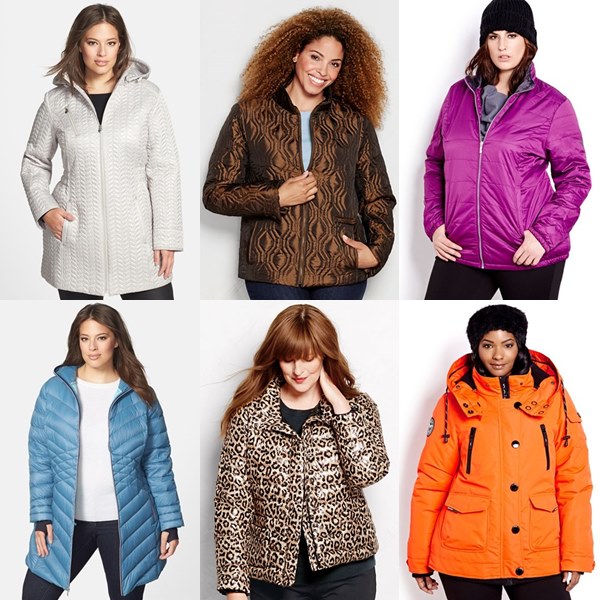 1st column : Nordstrom : Packable Hooded Puffer Coat ($168) / Hooded Goose Down Coat ($218)
2nd column : Lands'End : Shimmer Quilted PrimaLoft Jacket ($109) / Leopard Down Jacket ($105)
3rd column : Addition Elle : Purple Livik ZXP Ski Jacket ($275) / Orange Noize Ski Jacket ($275)
PARKA COAT
Whether it comes with a hood – with fur or faux fur lining – or comes without a hood, a parka is a great way to fight the winter elements. Waterproof, comfortable, and durable, these coats are more practical than some trendier ones you might find – even a neutral parka is both practical and stylish. If you're shopping for a new parka, look for a version that's more on the dressy side. Since it's a parka, you won't have to worry about it ever looking too dressy. Whether it's cropped or long parka, both are equally gorgeous as you can pair it with slim-fitting bottom to balance the bulkiness on top area. Find a version that is loose enough to layer underneath. This way, you can pile on shirts and sweaters and still have enough room for movement.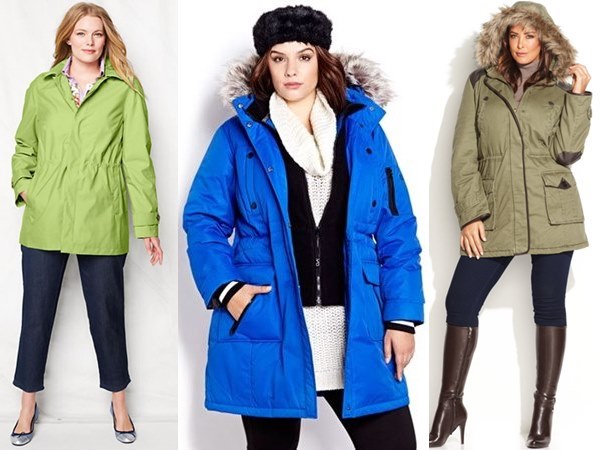 Lands'End Coastal Rain Parka ($99) / Livik Down Parka with Hood by Addition Elle ($275) / Style&co. Plus Size Twill Hooded Parka by Macy's ($80)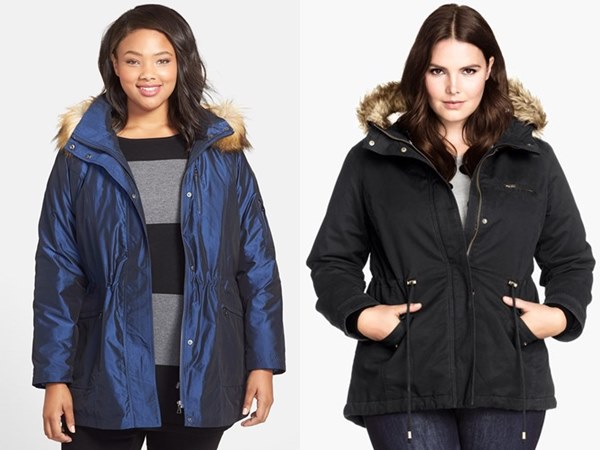 Kristen Blake Iridescent Anorak at Nordstrom ($180) / H&M+ Parka with Pile Lining ($80)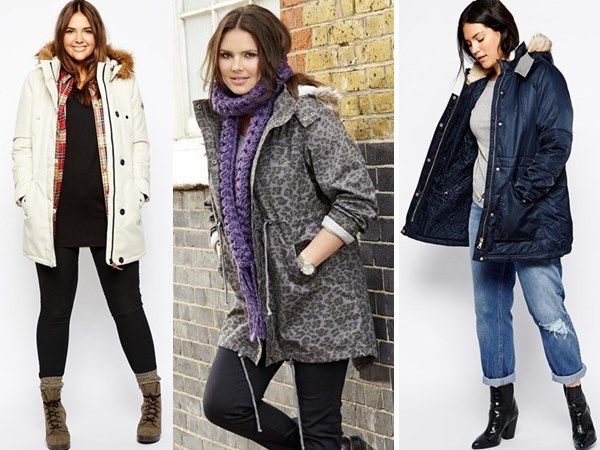 Junarose Hooded Padded Parka at ASOS ($142) / Simply Be Camo Print Fur Hooded Parka Coat ($75) / New Look Inspire Padded Parka at ASOS ($123)
CAPE COAT
Swapping blazers or tailored jackets for a cape is an easy entry point to the trend. Not to mention, a cape coat is also good for wrapping around yourself on chilly days. It has a nice, forgiving silhouette when you want is to be all buttoned up. Avoid the mushroom effect by pairing it with an slim-fitted bottom, like skinny jeans or a pencil skirt. Choose your coat slightly oversized so you have enough room for a sweater while looking like a trendsetter.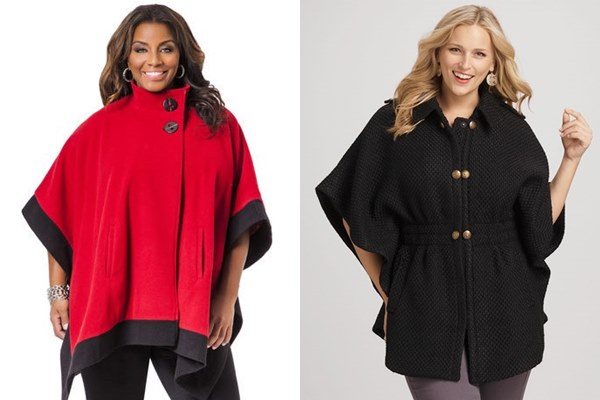 Ashley Stewart Contrast Trim Cape ($65) / roz & ALI™Textured Cape by dressbarn ($84)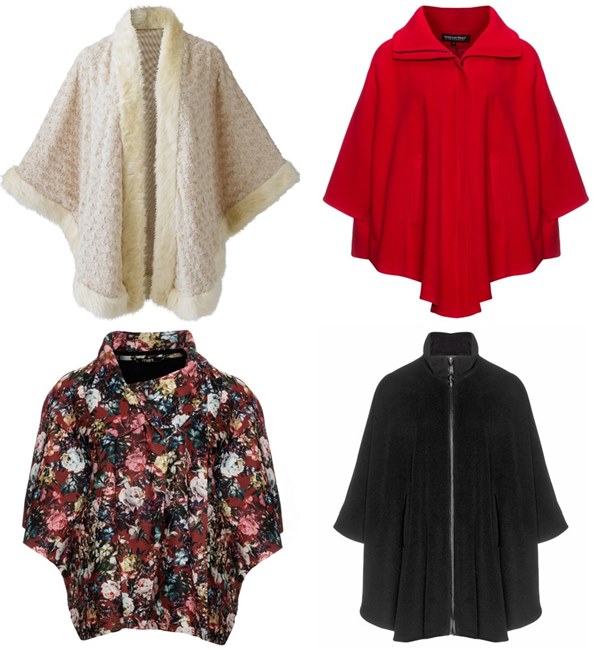 Simply Be Lovedrobe Faux Fur Cape Jacket ($100) / Navabi : Head Over Heels Red Turn-down Collar Cape ($309) / Samoon Fleece Cape ($202) / Mat Printed cape ($309)
Check out these stores to get their latest outerwear and jackets collection:
Addition Elle
Ashley Stewart
ASOS CURVE
City Chic
Evans
Fashion to Figure
H&M
Lands' End
Macy's
Navabi
Nordstrom
Simply Be
Violeta by MANGO