The temperature is dropping, the days are getting colder, and you've just realized that you need something fresh and cool for the season, something like fancy layers, knits, and boots and tights and all of that jazz. That you need to upgrade your winter coat and jacket essentials. From classy to dressy, with all the varieties of styles and designs – leather, fur, and wool- parkas, bombers, moto-jackets, trenches, and swing coats. You name it – Here's the list of shopping ideas for your most flattering outerwear.
Before you go shopping for a new coat, make sure you understand the must-know-tips on how to buy a Fall and Winter coat for plus size women. Learn "How to Wear Plus Size Coats Fit and Fabulous", so you can ready yourself for the perfect style of coat for your tastes, your body shape, and your personal needs.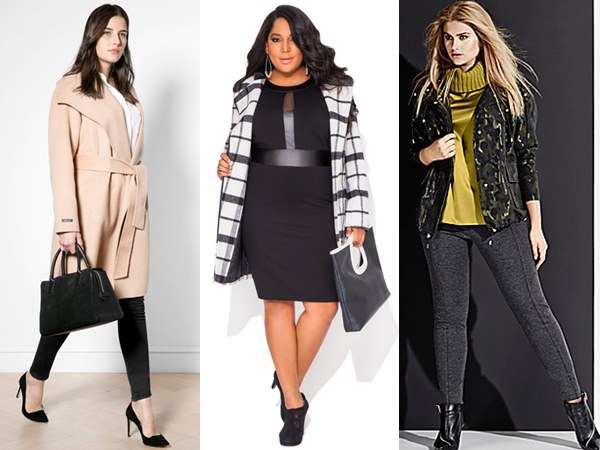 Wraparound wool-blend coat by MANGO Violeta ($430) / Collarless Plaid Coat by Ashley Stewart ($71) / 6th & Lane urban camo jacket by Lane Bryant ($149)
Styles that Flatter Your Figure
Depending on your lifestyle, budget, and tastes, finding a coat can be either hard or super-easy. You start by determining styles and cuts of the outerwear that fit you perfectly. Keep in mind that the proper fit is crucial when buying your winter outerwear. If you want to get the most out of your money, you first need to secure outerwear in neutral colors, classic designs, and without any super complicated details that cover your major daily activities and all occasions. Quality of the coat or jacket is also important to last you several years. Here's list of coat that can be considered as classic
PEACOATS
Since peacoat is considered a classic in the world of outerwear, wearing these double-breasted coats in simple and classic way will really let your coat shine. It typically hits just below the hip, it is double-breasted, and it's important to choose a pea cot that fits you well through the shoulders and bust to create a flattering shape. If you're looking for a bit more definition, choose a women's pea coat with a tailored waist. Wear your pea coat buttoned for the best fit. Keep your accessories simple and tailored to complement your peacoat for the best look. Check out some stylish looks of peacoat whether you want to go formal or casual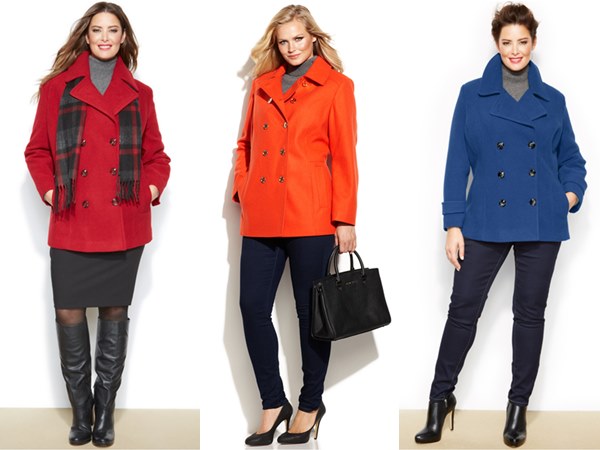 Macy's : London Fog Wool-Blend Pea Coat & Scarf ($144) / Michael Kors Double-Breasted Wool-Blend Peacoat ($228) / Jason Kole Double-Breasted Pea Coat ($120)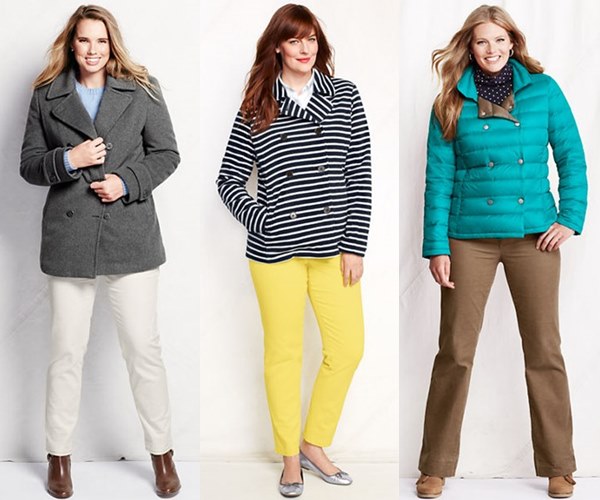 Lands' End : Luxe Wool Insulated Pea Coat ($219) / Pattern ThermaCheck®-200 Pea Coat ($70) / Lightweight Down Pea Coat ($65)
TRENCH COATS
Characterized with its belted waist, a trench coat is generally flattering on women of all shapes and sizes, and especially perfect for a rectangular or round body shape because the belted waist creates the illusion of curves and a defined waist. For a classic look opt for trenches that fall to the hip, while short trenches that hit at the hip create more modern style. As classic as a peacoat but executed in more casual way, a trench coat has a structured look to it. You can dress your pea coat up or down, whether wear it over a dress, jeans, or a t-shirt. A weekend look that might be sloppy with another jacket is suddenly very fashionable when you wear it with a trench.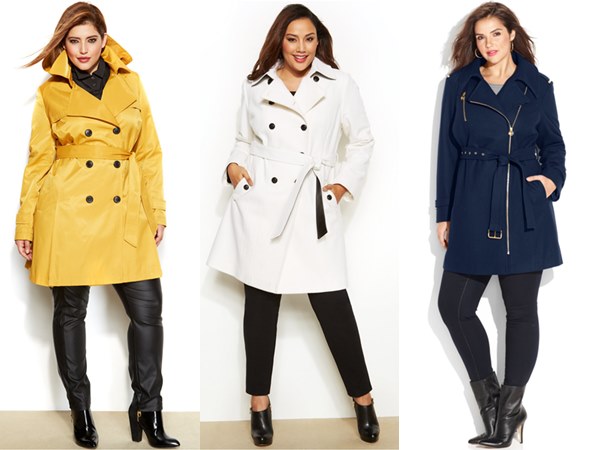 Macy's : DKNY Hooded Trench Raincoat ($144) / DKNY Double-Breasted Faux-Leather-Trim Trench Coat ($192) / Michael Kors Asymmetrical Belted Walker Coat ($228)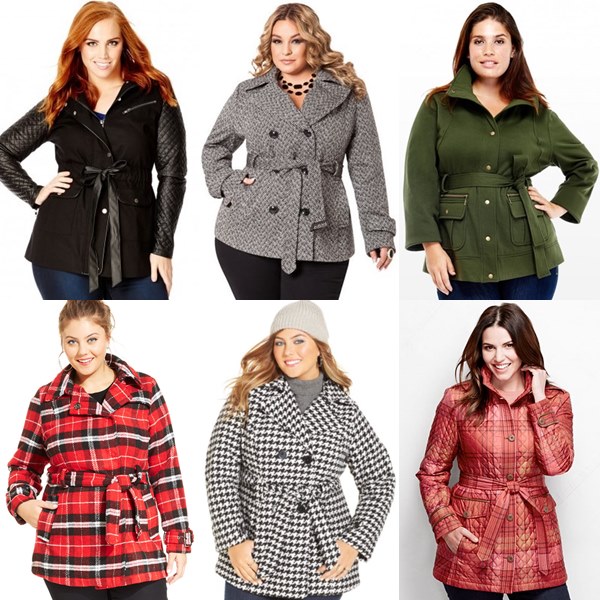 1st row : Quilted Utility Jacket by City Chic ($130) / Tweed Peacoat by Ashley Stewart ($120) / Fleece Belted Jacket by Fashion to Figure ($25)
2nd row : Macy's Jou Jou Plaid Belted Pea Coat ($65) / Macy's Jou Jou Houndstooth-Print Belted Pea Coat ($71) / Lands' End Quilted PrimaLoft Parka – Plaid ($100)
SWING (WALKER) COATS
Nicely designed form fitting around the shoulders and then flare out towards the bottom, swing coats look especially great both on women with bottom-heavy and top-heavy. For the top-heavy, the look of the coat that is skim past the waist and floats away from the hips is great to slim down the mid-section and draw away the eye from your shoulder/chest-area.
As for the bottom-heavy, the A-line silhouette featured by the coat is perfect to cover the bottom-area. Here, you can pick a coat with heavy details on top – such as fur collar or breast pocket – or add accessories – such as earrings or scarves – to help draw the eye upwards.
For a nice, balanced look, dress your swing coat with more form fitting pants or skirts to counter the broad, triangular shape of the outerwear.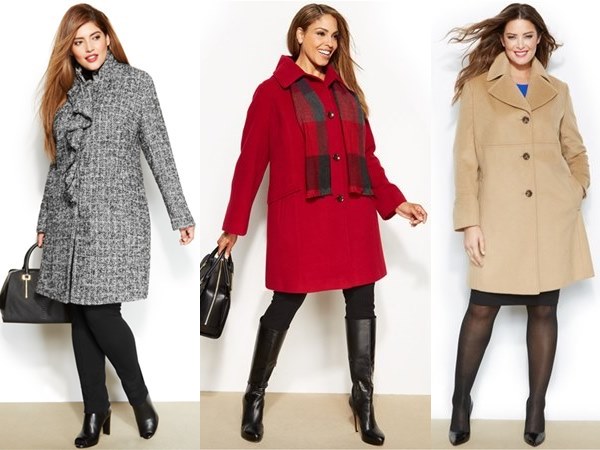 Macy's : DKNY Ruffle-Front Walker Coat ($240) / London Fog Single-Breasted Wool-Blend Peacoat with Plaid Scarf ($180) / Larry Levine Wool-Blend Notched-Collar Walker Coat ($216)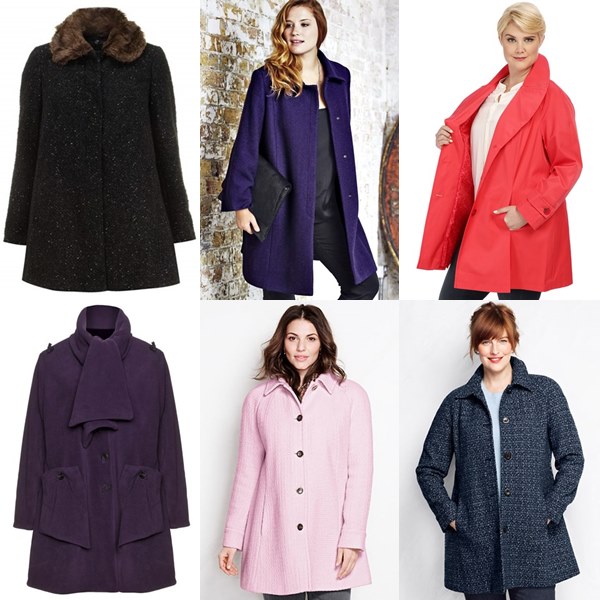 1st row : Black Metallic Woven Coat by Evans ($145) / Jeffrey & Paula Swing Coat at Simply Be ($120) / DKNY Plus Size Ruffle Walker at 6PM ($155)
2nd row : Boris Cosy fleece coat at Navabi ($200) / Lands' End Basketweave Swing Coat ($229) / Lands' End Tweed Wool Swing Coat ($229)
A-LINE (FIT AND FLARE) COATS
Slightly different from a walker (swing) coat, fit-and-flare or A-line coats are designed more fitted at the waist and flare out wider at the bottom. It usually has belted Basically, fit-and-flare coats mimicked the look of a dress with nipped waists and flouncy hems that managed to be functional, as well as fashionable.
However, whether you are going to look for a swing or A-line coat, even these days, many coats are designed in-between styles. They are sometimes called with different names but appear with the same silhouette. Or different silhouettes the same name. It's ok, no matter what the coat is called. Just go pick your coat by fit and flatter, not by the name.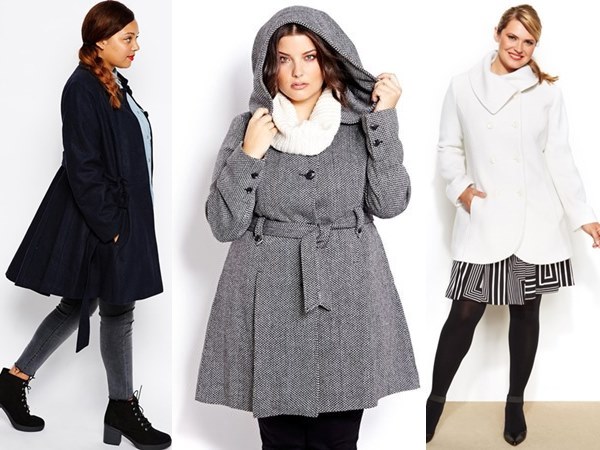 ASOS Curve Fit And Flare Coat ($123) / Fit and Flare Wool Coat by Addition Elle ($250) / Jessica Simpson Envelope-Collar Double-Breasted Coat at Macy's ($204)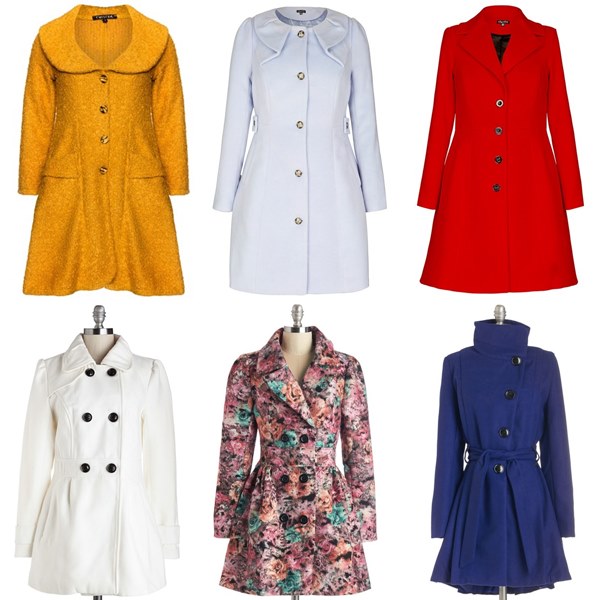 1st row : Twister A-line Bouclé Coat at Navabi ($340) / Clean Cut Coat by City Chic ($150) / Princess Coat by City Chic ($170)
2nd row : Modcloth : You Can Say Chat Again Coat ($75) / Lucid Up Coat ($170) / Winterberry Tart Coat ($150) 
LONG LINED (STRAIGHT-CUT) COATS
A long cozy coat has always been most favorites for the winter since it's roomy enough for at least 2-3 layers underneath. Make sure when shopping for this coat – or any other coat – you wear layers, a sweater, or knits to ensure that your jacket will be able to keep you warm and fit. Long straight-cut coats are not restricted to be worn with jeans and boots. There are various ways to style them – you can throw over a dress or top with trousers or skirts. Have fun with colors in your outfit and pull everything together with this coat. Keep everything in balance. Check out "How and What to Wear with Oversized Coat for Fall and Winter" featuring general tips of long lined coats for all body shapes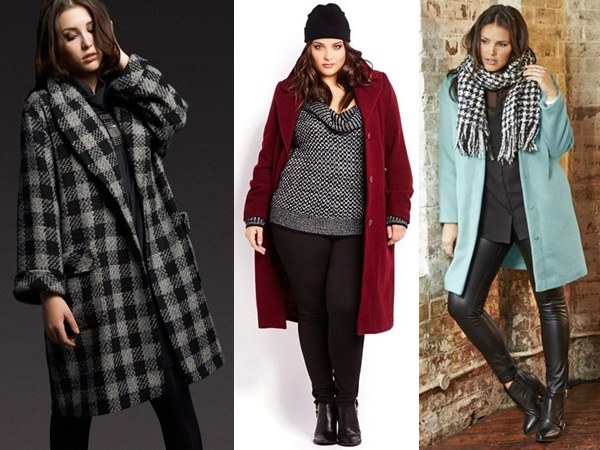 Verpass Plaid coat at Navabi ($540) / Love & Legend Wool Coat by Addition Elle ($180) / Brushed Textured Coat by Simply Be ($110)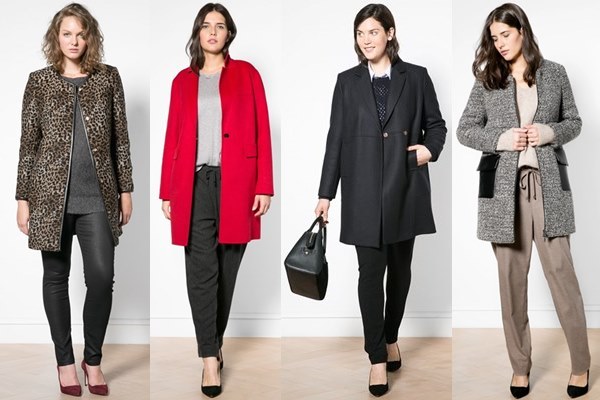 Violeta by MANGO : Leopard Wool-blend Coat ($290) / Shift Wool-blend Coat ($380) / Straight-cut Wool-blend Coat ($290) / Side-pocket Wool-blend Jacket ($270)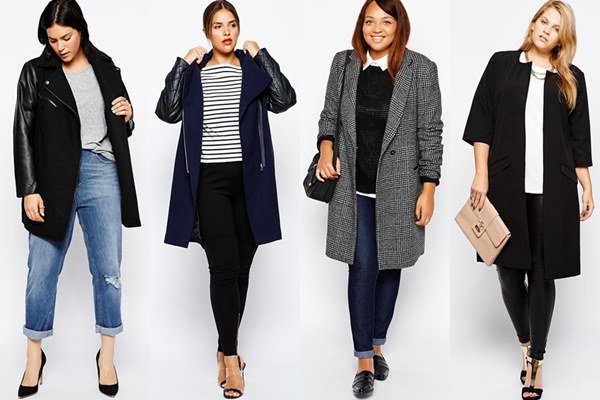 ASOS Curve : Exclusive Coat With Leather Look Sleeves ($142) / Carmakoma Funnel Neck Coat ($389) / New Look Inspire Check Coat ($114) / Junarose Collarless Jacket ($123)
Continue to "Plus Size 2014 Coats : Fabulous Ideas from Various Stores (Part 2)" for more plus size coats and jackets shopping ideas. And check out these stores to get their latest outerwear and jackets collection:
Addition Elle
Ashley Stewart
ASOS CURVE
City Chic
Evans
Fashion to Figure
H&M
Lands' End
Macy's
Navabi
Nordstrom
Simply Be
Violeta by MANGO