So, everyone is wearing a bomber jacket. The bomber jacket trend is pretty much a rare mix between trends that start on the runway and from the street style. Printed, classic, plain, neoprene or smooth-just-like-silk, from leather to quilting, or retro '70s to modern minimalist, different styles of bomber jacket can share different look to your fashion for every different occasion. Whether you are going to dress it up or down, this sportswear inspired staple is the must-own style to buy for the season.
Obviously, there's no specific rule on how to wear a bomber jacket. It basically depends on your personal preference, and how your fashion taste does all the mixing and matching with other fashion pieces. If you haven't already noticed, bomber jackets are having a bit of a fashion moment. They're perfect for almost different occasions – especially for events that don't require formal and conservative dress code. Let's see how to fashion and what to wear with a bomber jacket.
Prints, Colors, and Fabrics of Bomber Jacket
Different styles of your bomber jacket could lend different look to the outfit. The main difference is the fabric that has been used, the cut, the prints, the patterns and also embellishments. A classic baseball bomber will feel instantly casual and sporty, perfect for an easygoing vibe that would work for your day-to-day wear. This design also makes it easy to pair with any bottoms or your average denim skinny jeans. Pair the jacket with denim trousers and a white t-shirt for an effortlessly cool look, or with a crop top and leather skirt for an edgier style.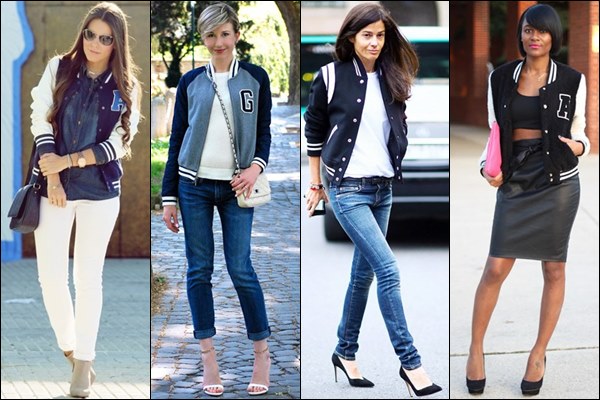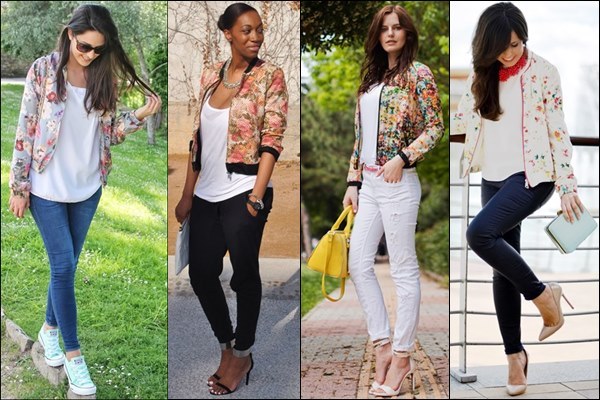 If you want to add more attitudes with bomber jacket, a jacket with prints is a great idea to add fashionable touch on any piece of clothing as it also helps to add a little color and style to even the most simple outfits. Go for florals to have that feminine sporty look, or choose jacket with animal print to add striking touch. Other prints like plaid or tribal can also be an option to jazz up a casual weekend outfit.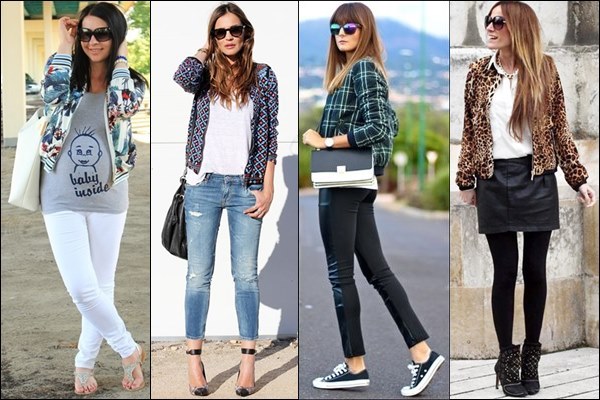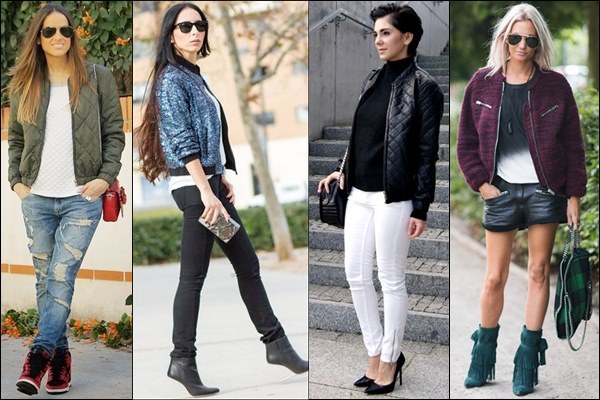 Characterized by fitted shoulders and banded waists, which are a great option for cool but not frigid temperatures, bomber jackets can come in so many different materials and styles. Depending on its materials, they can look either extremely casual or hip and polished.
Opt for the leather one to get that instant classic and polished look. Choose sequined bomber jacket to add sparks and vibrancy. Or you could just pick the simple quilted one paired with your average everyday ensemble for super-casual attire.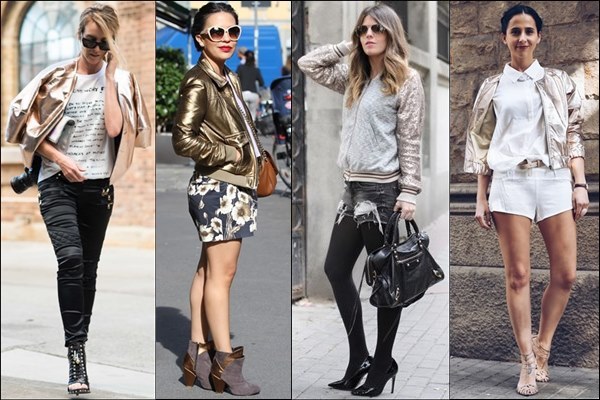 As for metallic bomber jacket, with this staple you can just give your outerwear a modern makeover, suits for both shy and adventurous in the world of fashion. The staple will actually make any piece of clothing chic and stylish. Try it on sporty bomber jacket and see for yourself, but keep everything in balance by wearing it with neutral colored outfit like black or white.
What to Wear with A Bomber Jacket
How to wear bomber jacket styles well will get you ahead of the fashion pack this season, and the good news is, this sporty piece can be super-versatile to be pulled off with almost any wardrobe pieces in your closet. Basically, a bomber jacket is an outerwear for you to easily create an instant boyish, athletic look. Opt for a bomber jacket if you want to look sporty. Pick one with prints, embellishments, or details to create stylish outfit ideas. And wear it with other fashion staples to achieve mixed style between sporty look and other styles – sporty mixed girly, sporty mixed edgy, etc. You can be feminine or masculine mixed with the sporty look.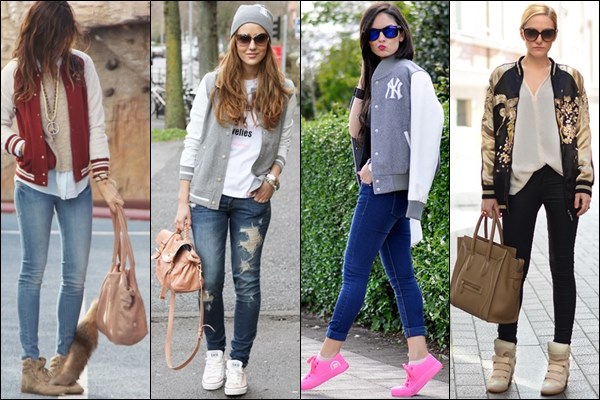 Pairing a bomber jacket with sneakers will sure make you look even sportier, but when it's paired with a pair of hot-pink sneakers, you'll get that girly, fun look, especially if paired with other chic ensemble such as skinnies and bright sunnies. Adding a pop of metallic can also be an amazing option for this sporty bomber-and-sneaker pairing that the metallic makes edgier and modern twist to the outfit – even more striking if you choose detailed jacket with embroidery.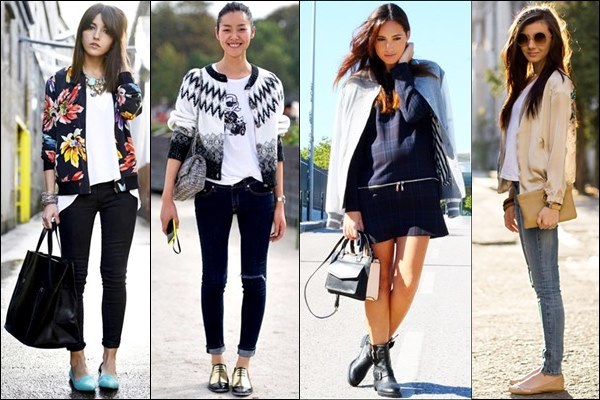 A little bit preppy, a little bit sporty. Flat shoes are cool and stylish with bomber jacket. Whether you go for ballerinas, flat Oxford, or boots, all work perfectly well with the sporty jacket. You can make the look even trendier by wearing stylish pieces such as metallic shoes, printed jacket, skater skirt, or cropped skinnies for that super-cute ensemble.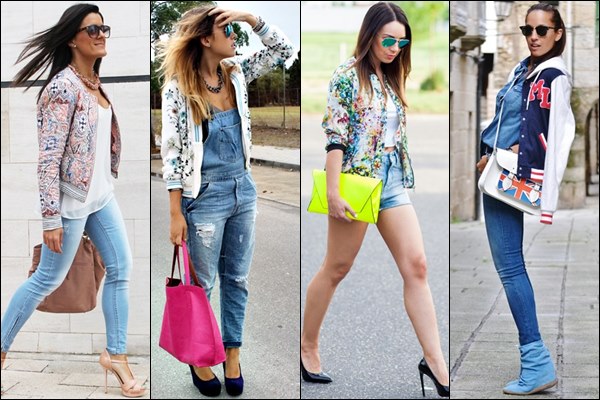 Looking casually chic and stylish, bomber jacket with denim staples is probably style idea in its most original form. It is no doubt that denim is considered one of the most versatile pieces for an effortless casual wearing. So of course when looking for a bomber jacket, there is an option to go for denim! Team the sporty vibe of bomber jacket with chic denim pieces – such as skinnies, boyfriend jeans, denim shorts, dungaree, jeggings, etc. – and you'll be perfect for a fun, easy-going look from day to night. Add pop of color for a more playful touch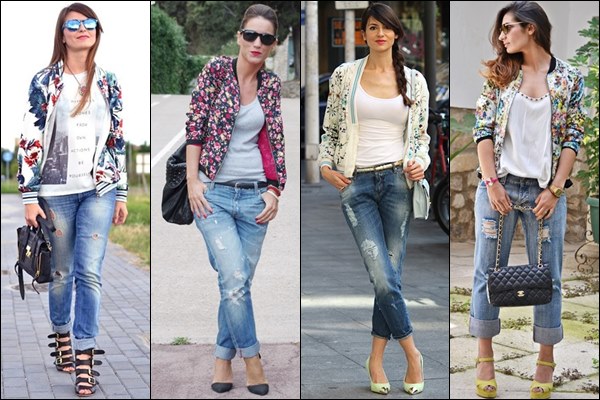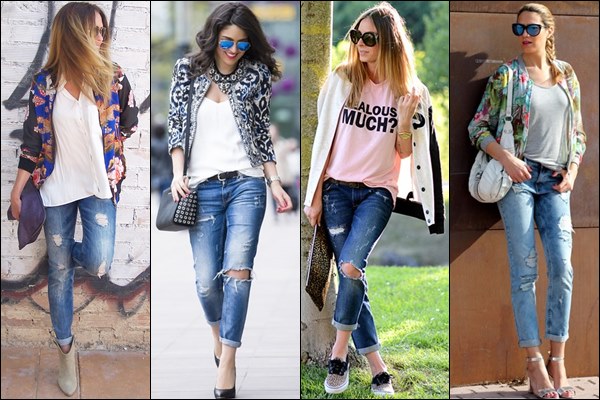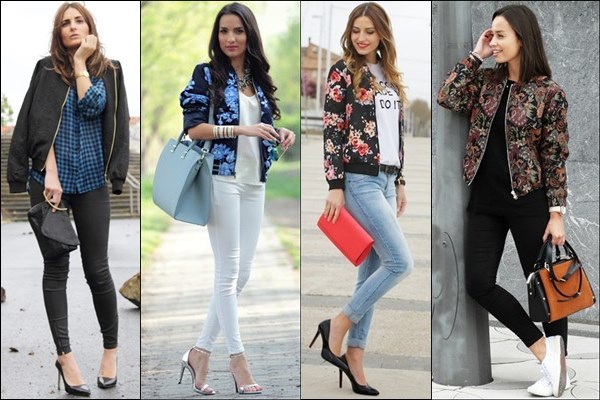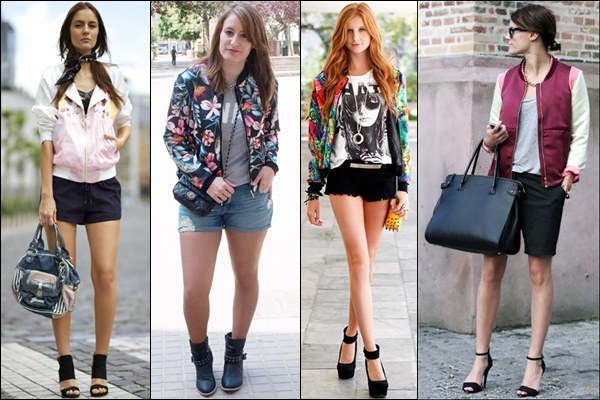 The sporty silhouette of bomber jacket suits perfectly with shorts – either denim or tailored shorts. Add heels if you want to create that chic and classy look. It gives a great mixture between feminine and influenced by mens fashion.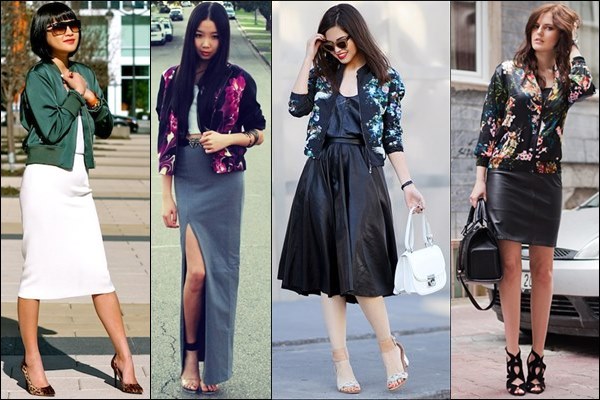 For adding a more feminine vibe to the look, since bomber jackets tend to be more relaxed and boxy, they can come across as slightly more masculine. So, minimize the boyish look by choosing a jacket that comes in light, pastel shades or those with floral, girly prints. Style them in a more feminine way either by wearing them over dresses and skirts. You can also reach for heels to dress the whole look up, or stick with a sleek sneaker to achieve a stylishly casual vibe.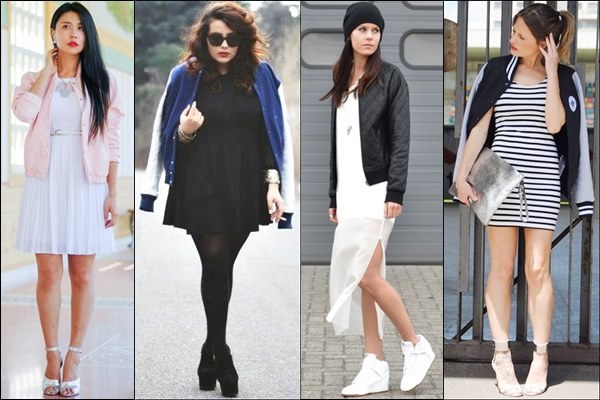 Bomber Jacket for Different Occasions
Tribal, vintage, influenced from film and animation, grunge, aquamarine – there are plenty of ways to wear a bomber jacket for so many different occasions, even for a semi-formal occasion. For cocktail party, you could just add some warmth to a feminine party look with a sporty zip-up, or wear your business casual office attire with this cool jacket for a trendier look. Opt for a sequined bomber jacket or pair your bomber jacket with bolder pieces for a night out. If you feel like wearing colorful prints and fun patterns then go for it. Mix them with more modest colors to balance the outfit.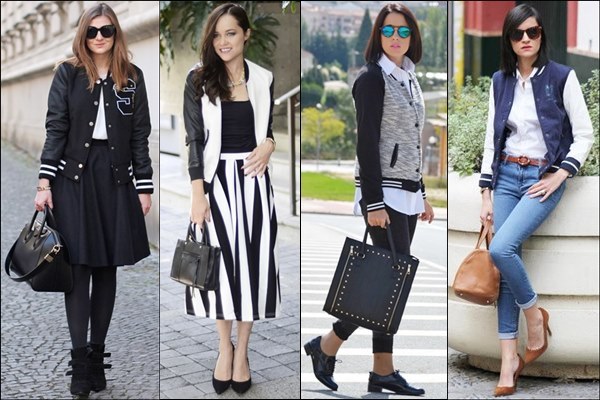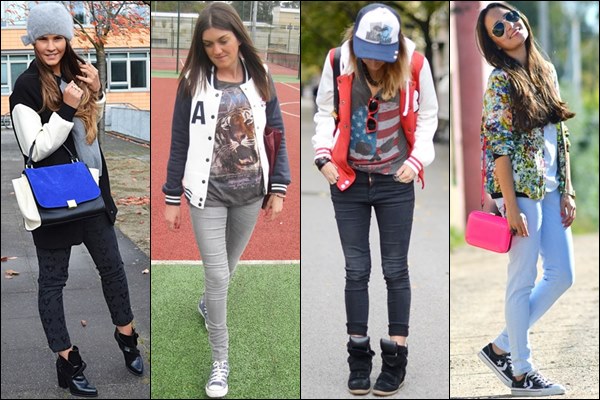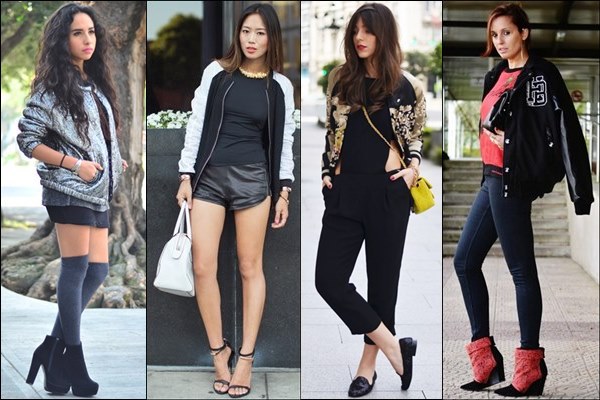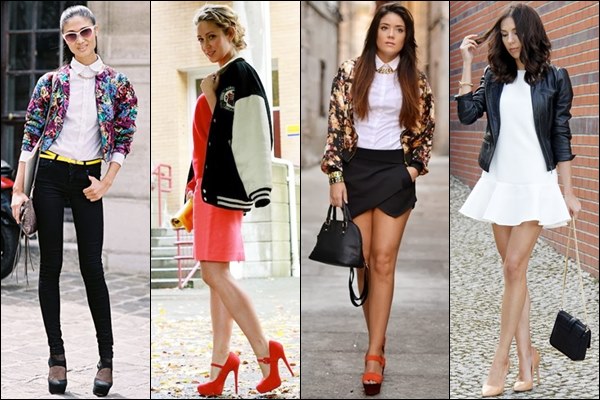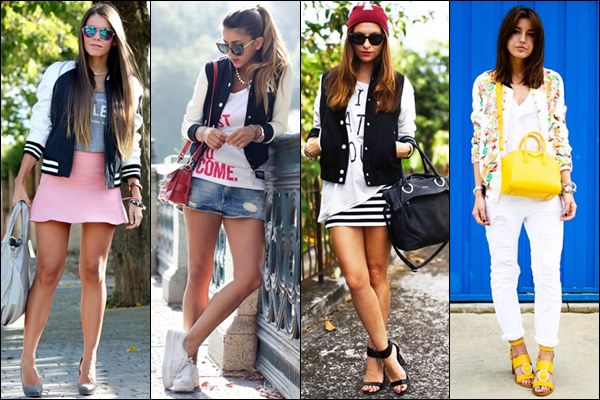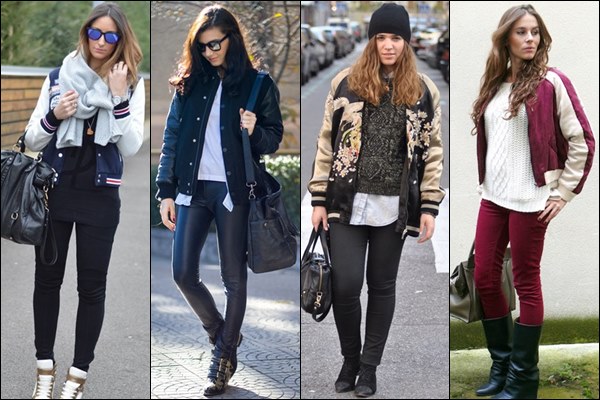 Bomber Jacket Street Style Fashion Ideas
Speaking of how to wear the bomber jacket trends this season, it certainly pays to be creative and tasteful to fashion this staple, as well as you still need to take the look as your personal fashion sense. Many of the styles available at the moment are fun and fresh, and perfect for updating your wardrobe. Just find yours and combine the rest of the outfit with the trend and your own style. Check out a few of them for refreshing style ideas with bomber jacket, along with the video below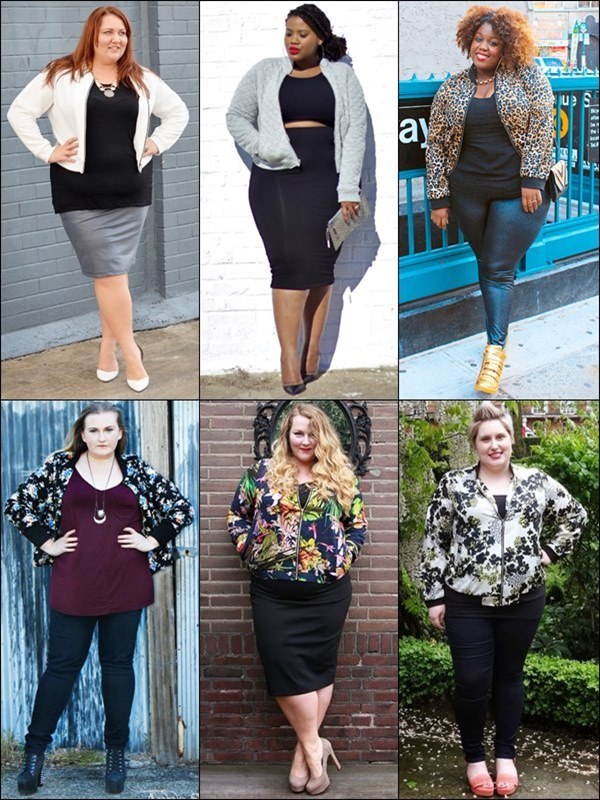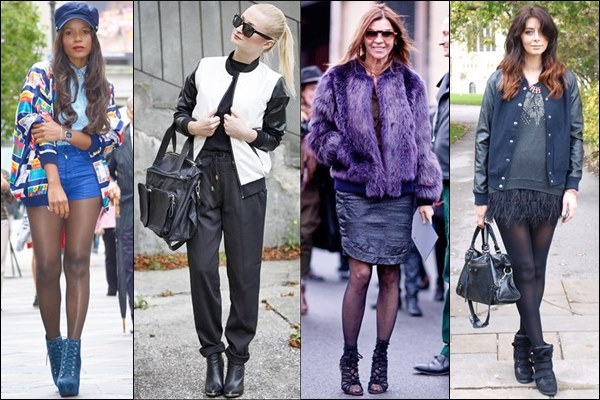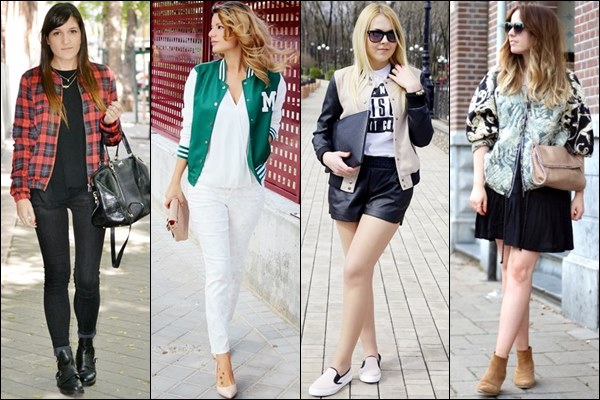 Picture source: chicisimo.com (Click each picture at chicisimo to get details of the outfit or to visit the blogger's site)