V-neck, sweetheart, boatneck, and many more, if you want to make the best of your outfits, you may want to give some consideration to the neckline you choose. So pay attention to what kind of neckline will be most flattering for your body. Think about how you want to be perceived and choose necklines that complement your existing wardrobe. And more importantly, jewelries such as necklaces also take part to make necklines more flattering. Different necklines look better with certain necklace styles.
When choosing the right necklines, first you should think about your body proportions and choose a neckline that flatters those proportions – generally any kind of necklines. Secondly, make sure the neckline has versatility. For example, a plunging neckline is not appropriate for day-to-day work wear. Suits pair well with V-neck button-down shirts, skirts pair nicely with draped or plunging necklines, and square necks or boatnecks complement jeans.
If you are considered plus size, check out plus size fashion tips and ideas "Plus Size Fashion Tips : How to Find the Best and Most Flattering Neckline"
Following previous article "Knowing the Right Necklines for Your Face and Body Shape (Part 1)". Here are other necklines to know
Halter Necklines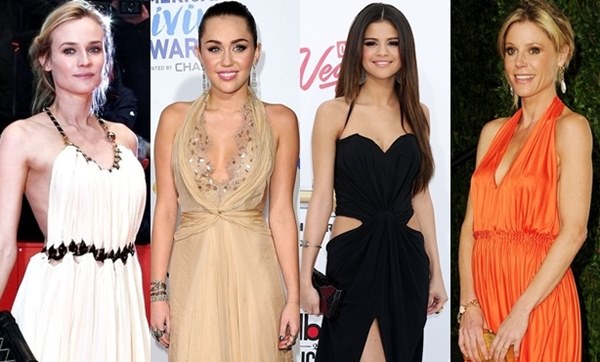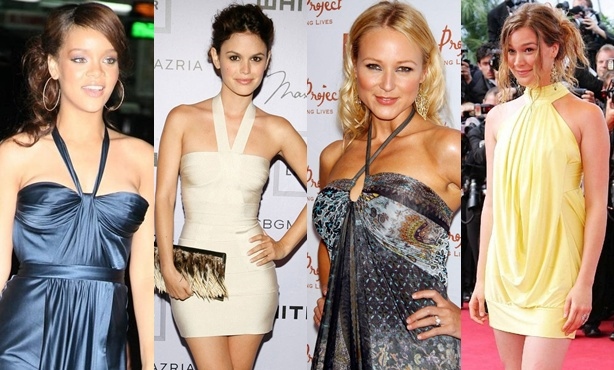 Because they attract attention to the center of the body, halters are perfect for women with tall and/or broad shoulders. They cut broad shoulder lines up and also add curves. This shape is incredibly flattering, and also very flexible that can be worn well by almost any kind of body shape, particularly for those with hourglass type. However, for the busted ladies, especially if they also have bulky arms, pay more attention since this neckline also creates the impression of greater volume, making you look wider than you actually are.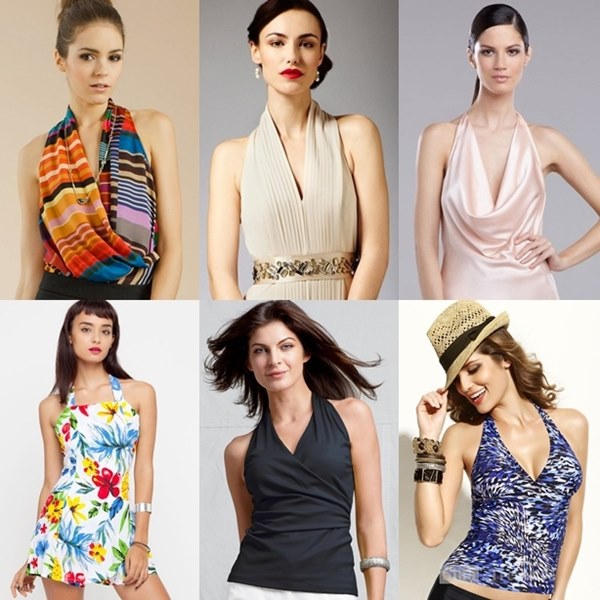 Suit for almost every body type and size, but best recommended for:
– Well-toned arms
– Good shoulders
– Average to small busted ladies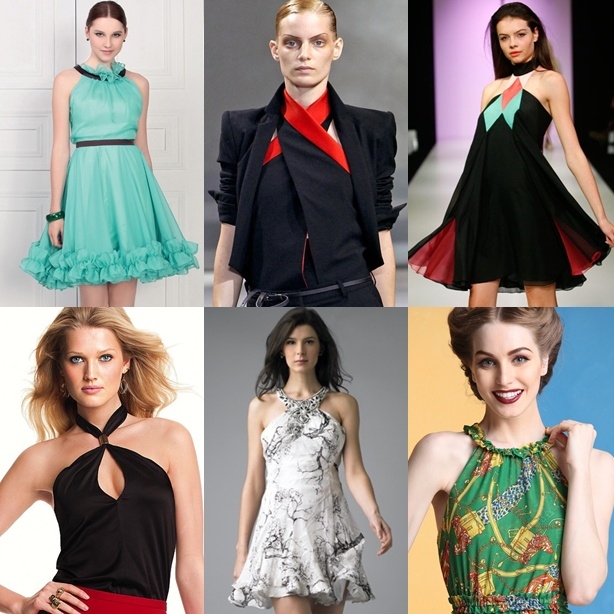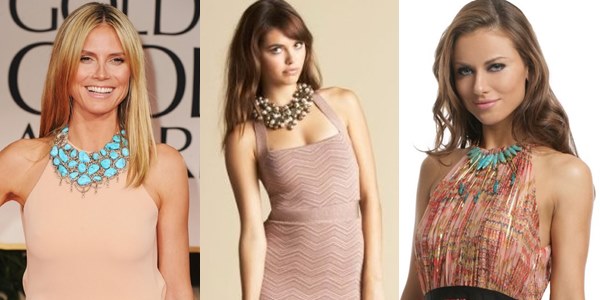 Necklace Suggestions:
They look best paired with business suits and on silky, handkerchief-type tops. Pairing a necklace with a halter neckline can be tough, these shapes create a narrow V neck, so look for a narrow pendant with a sharper end. If you're wearing a halter neckline with a keyhole at the bust or spacing in the fabric, you're better off not wearing a necklace at all. If you're wearing a halter with full frontal coverage, channel your inner Cleopatra and opt for an ornate collar necklace. Or try a simple or collar necklace if the halter shows an open.
Boatneck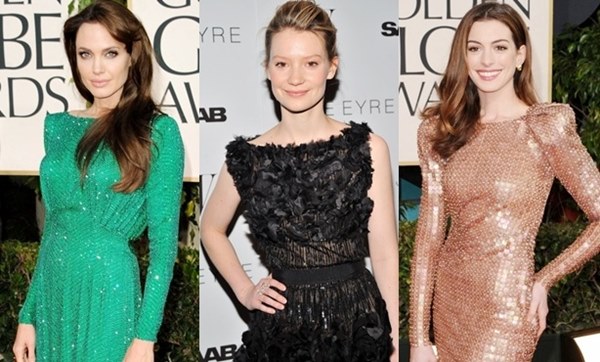 Also known as princess or bateau neckline, boatneck is great for offsetting wide hips since it softly follows curve of the collarbone and tends to make shoulders visually wider. Generally, these look best on women with long necks and smaller heads because the style can make both look wider. So, pay attention if you have broad shoulders because this can also make your shoulders look even broader.
It enhances chest area so it's great for ladies with small chest. These look best on hourglass figures, and because it covers the arms elegantly and comfortably, it's also best suited for women with bulky arms. But if you have a short, thick neck or double chin, be careful with this high necked style, as it will only call attention to these areas.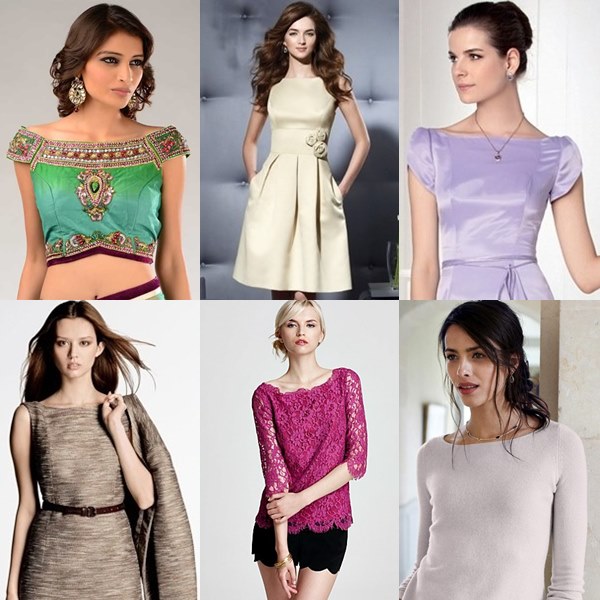 Best recommended for:
– Average to small busted ladies as it gives the illusion of larger breasts
– Narrow shoulders – particularly if reinforced with small shoulder pads
– Banana (Rectangle) body shape as it balances up the shoulders
– Long face as it cuts the length of the facial structure
– Long neck
– Beautiful collarbone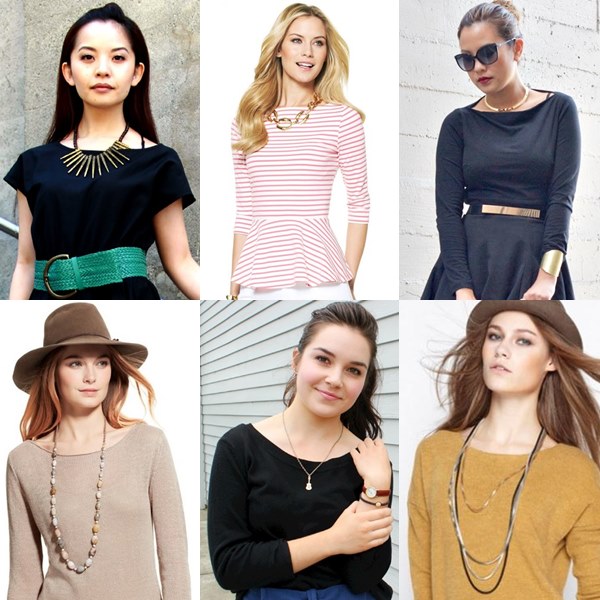 Necklace Suggestions:
Since this neckline is so wide, it's best to pair it with a longer pendant necklace. A long string or two of beads is ideal for this neckline. Depending on height of the neckline, you can also choose a collar necklace that kisses this neckline, but has some small charm or design element that hangs or dangles slightly lower than the neckline
Crew Neckline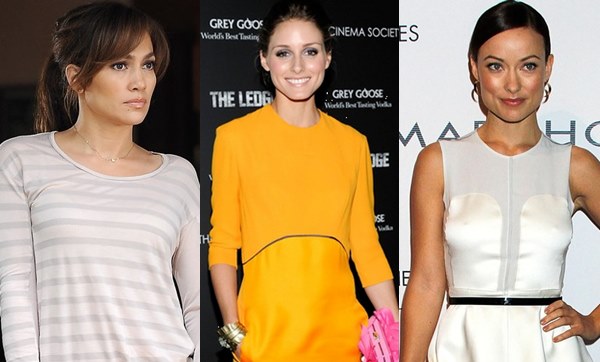 Also known as round neck, this neckline is classic, simple and super versatile. There are available in a wide range of styles, and there are many different ways to wear them. Because of the simplicity offered by this, at first glance, a crew neck shirt might not seem like the pinnacle of style, but if you pair it with other pieces, it takes on a whole new look.
It's basically a neckline that suits for all body type, but women with a large bust, a short neck, or a double chin should pay attention to its scoop, as it can emphasize those areas and make them look wider. Because it extends high up on the chest, it decreases the amount of exposed skin between the chin and chest making the neckline look shorter and thicker. This style can still be flattering if you have a short neck as long as you choose a style with a deeper scoop. If you have a round face or double chin, it's best to avoid this neckline style entirely.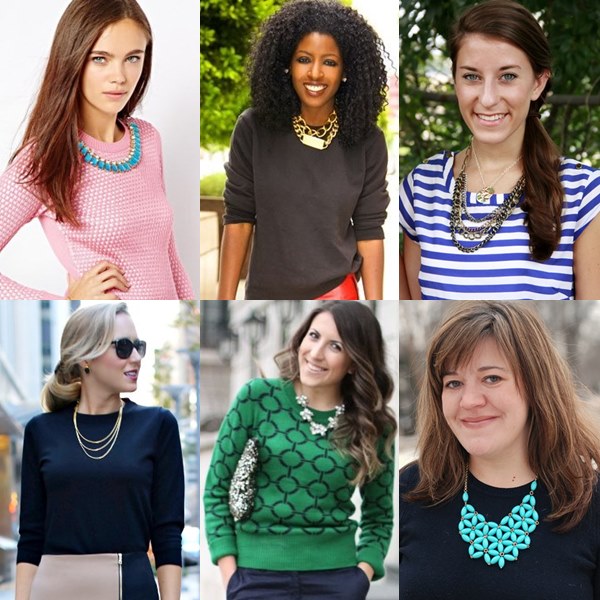 Suit for almost every body type and size, but best recommended for:
– Average to small busted ladies as it gives the illusion of larger breasts
– Long face as it cuts the length of the facial structure
– Long neck
Necklace Suggestions:
With this neckline, you can easily wear a bib necklace, a pendant necklace, a collar necklace or just about any style necklace that you'd like. But for a shorter neck, because a short necklace can compete with the neckline, you want to go the opposite with a long necklace. Opt for a long pendant necklace or one with charms or tassels dangling at the ends.
Cowl Neckline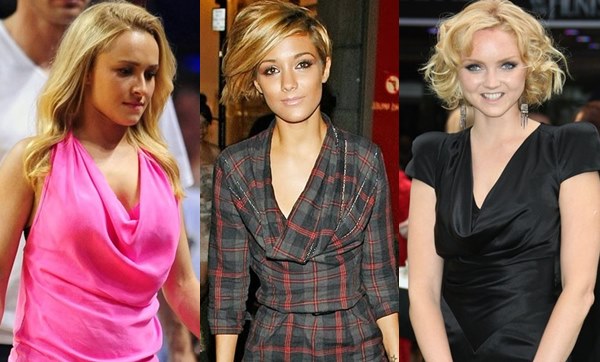 Basically, a cowl neck is a draped woman's neckline in rounded folds that hangs in a loosely fashionable way. It can be either high-necked or open to reveal more skin around the neck. Rather than opting for a simple and classic one, a cowl-neck style can definitely make your look more striking, as this style is all about highlighting the neckline for a unique yet subtle look. It adds dimension to a small chest yet can magically downplay the well-endowed, creating a leaner appearance.
The draped neckline can generally flatter a variety of body types, as it helps to minimize a large bust, or to add volume to a smaller chest. It's also best for those of you who have longer necks. However, because the neckline tends to stand out with volume, if you are petite, pay attention to the size and thickness of the cowl. Make sure it doesn't go too low, or that it has some structure on the main shirt area that keeps it from getting too droopy. You don't want to flash anyone.
Suit for almost every body type and size, but best recommended for:
– Both small and large busted
– Long neck since it adds volume, making the neck look shorter
– If your head is bigger than your upper body, as the cowl gives proportional balance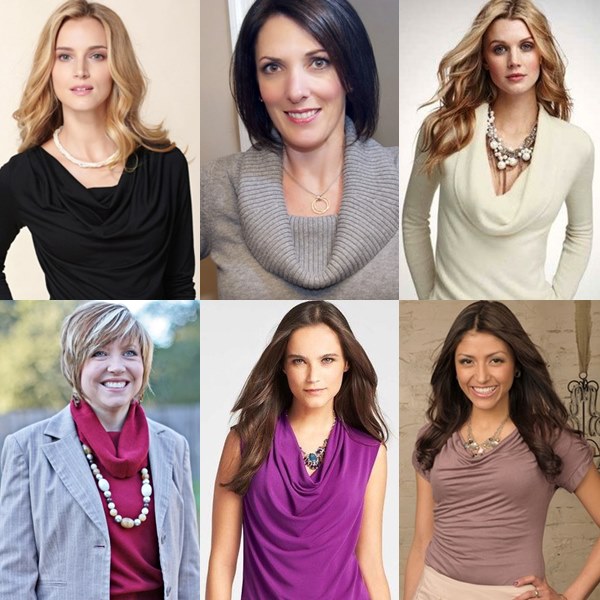 Necklace Suggestions:
Wearing a necklace with a cowl-neck can be tricky since the neckline has such a bold, distinctive look. So if you really have no confidence to pair it right, better off not wearing a necklace at all. Instead of wearing a necklace that competes with the cowl neck, choose other jewelry options that can spice up your look. But if you still want to wear a necklace, make sure the look doesn't compete each other. Do your own judgment, or opt for a simple necklace or a top with thin cowl-neck.
Off-shoulder (Sabrina)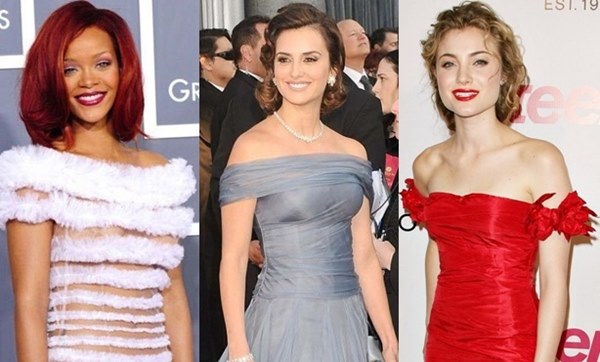 These necklines sit off the shoulder or below them and run along the collarbone. They are similar to boat necklines in that they generally cut across the figure nearly horizontally, but significantly lower, below the shoulders and collarbone. In various wedding dresses, they usually paired with sweetheart achieving an incredibly flattering appearance that also perfect to almost every body shape – especially for pear body shape.
Off-the-shoulders come in several different styles. Some expose both shoulders at once, while some expose only one shoulder. But generally, these are best for the well-endowed as it enhances flattering yet elegant effect around bust area. For pear shape or those with narrow shoulders, off-shoulders are can give shoulders a broader look.
If you are plus size, the main issues for plus-sized women when choosing the best neckline is that horizontal lines tend to be less flattering, and that some larger women may appreciate a roomier neck. Wider necks are sometimes more comfortable physically, and they are more flattering. Off-shoulder tops, of course, have very wide necklines, so they are a good choice for larger plus-sized women that way. However, tops that expose both shoulders tend to have horizontal necklines as well, which make shoulders look even wider. So opt for a one-shouldered top instead.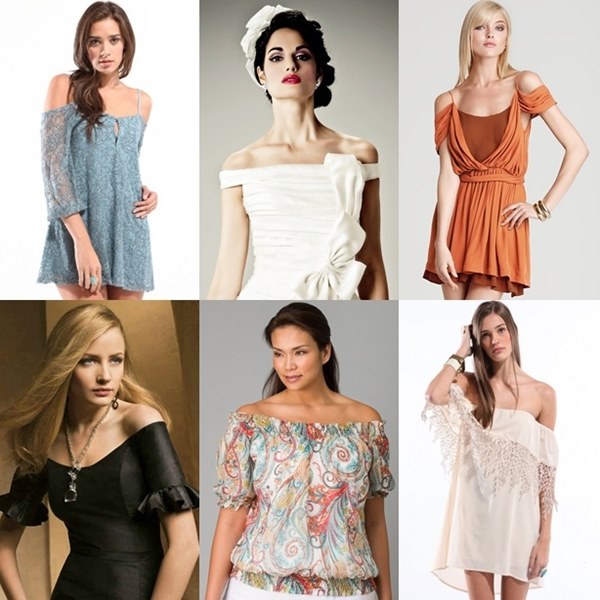 Suit for almost every body type and size, but best recommended for:
– Well-endowed ladies as it emphasizes the area elegantly.
– Pear shaped body type or those with narrow shoulders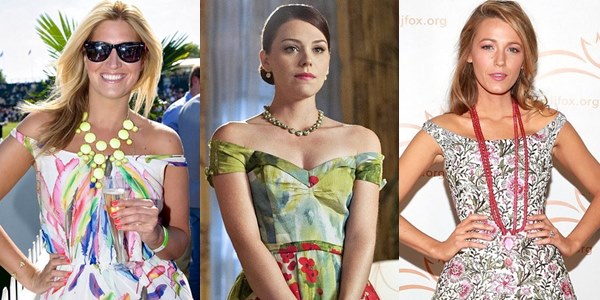 Necklace Suggestions:
Similar to the boatneck, this neckline is best to pair with a longer necklace. However, because this neckline sits below the collarbone, wearing it with a choker or collar necklace is also best option to choose.
Asymmetrical (One-shoulder)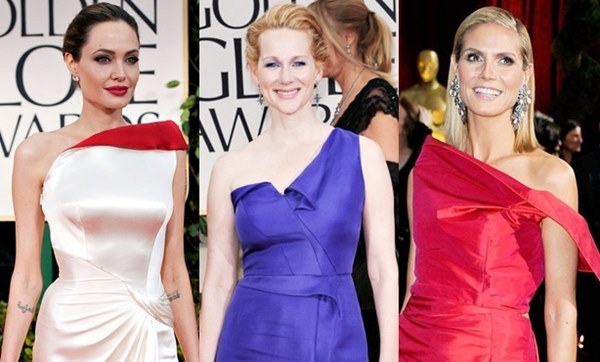 If you're looking for a different, dramatic look, you can't go wrong with a single shoulder or usually called one-shoulder or asymmetrical necklines. Depending on the material used, a one-shoulder can be elegant and formal, boho and casual, or sleek and modern. With these different styles you can mix and match from amongst tailored and more adventurous looks for the occasion. But once again, make sure you're wearing proper fitting foundation garments if you're going for this look – these shouldn't be worn to the office unless covered with a blazer.
Women with narrow shoulders and thin arms look great with this neckline, since it can give wider effect around the area. You can also choose one-shoulders with ruffles or accents to draw attention upwards and add fullness. Those with long neck and nice collarbone also get benefit of this neckline since it accentuate the collarbone, and disguise a thin, long neck.
As for women with large breasts, they should pay more attention when wearing these. Generally one-shoulders act like strapless and off-shoulder necklines, which add more volume and offer less support around the bust area. So think a strapless bra with great support, coverage, and comfort. Women with broad shoulders should also pay attention to these since they create the impression of greater volume around this area.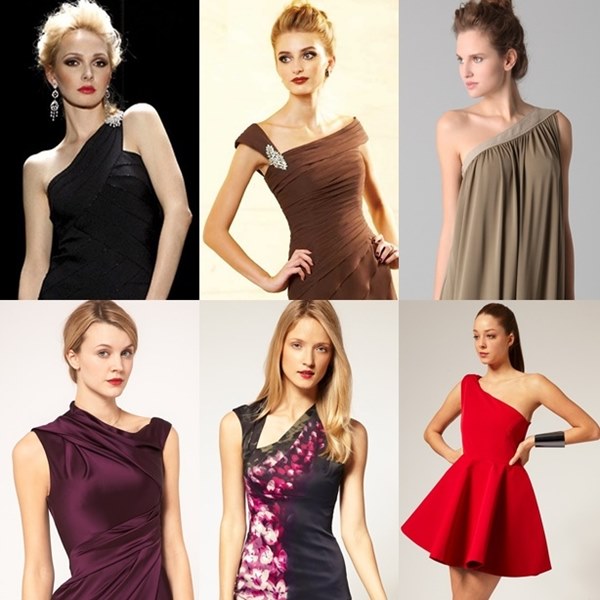 Suit for almost every body type and size, but best recommended for:
– Nice collarbone and long neck
– Narrow shoulders and thin arms
– Average to small bust area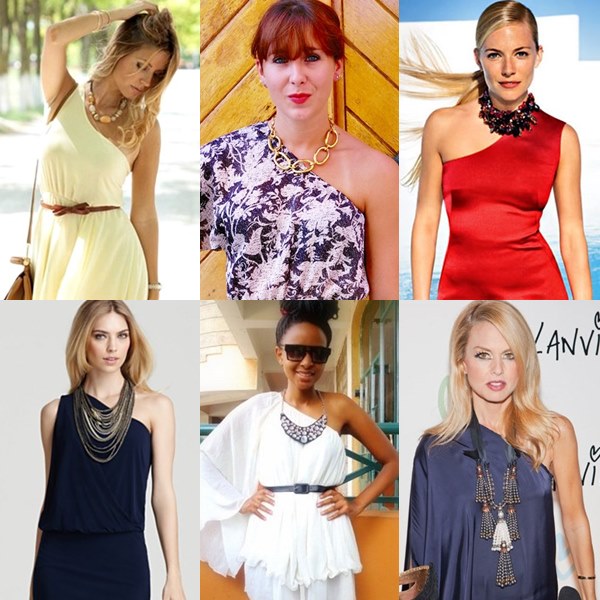 Necklace Suggestions:
This is another one of the trickier necklines to pair a necklace with, but it can be done. Look for necklaces that have playful proportions – because of the asymmetry of this neckline, it is smart to play with necklaces that have texture and geometric components. Alternatively, a long string of different sized and shaped beads can also work well. What's key is making sure the necklace is long enough to clear at least two inches above or below the neckline. See if the necklace competes the asymmetrical line, avoid this.
Backless Neckline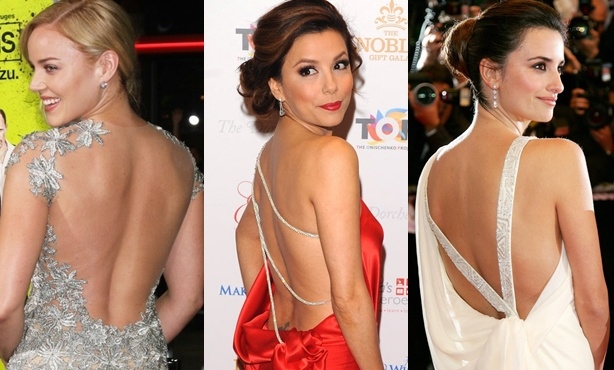 Lastly is the backless neckline which is obviously flattering and alluring, perfect for all body types. For thin women, these necklines work without major problems. However, if you are plus size, try to choose a model that is less open and avoid leaving the unwanted parts exposed, especially around the waist. Be confident, play safe and look for comfort first.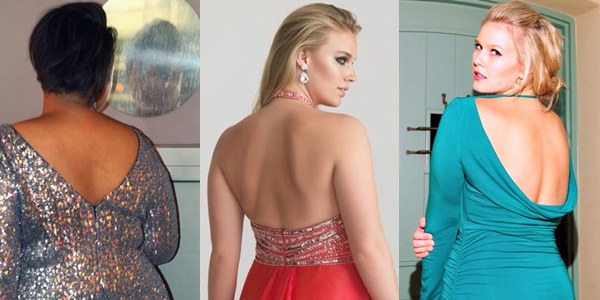 All in all, sometimes knowing particular neckline fits to your figure can really enhance more flattering effect to the entire look. Think carefully about the neckline you want to dress, and what jewelry you might wear. On the other hand, all suggestions aside, obviously it's only you who knows better what outfits that flatter you the most. Just be confident with outfits you want to pull off, and always look for comfort in most elegant way. Always!
PS : If you have specific "problem" at your upper body area, check out "How to Fashionably Hide Specific Body Parts (Upper Body)" and learn how you can compensate for areas that make you feel less confident by accentuating the features you are happy with.