Previous years, some people said that being fabulous means to avoid flared jeans, and boot-cuts, and boyfriend jeans, or pretty much anything besides skinny jeans. However, after several seasons of skintight pants, some designers expanded their offerings with trousers cut more generously at the hems. The runway shown at fall winter Fashion Week 2013 provided plenty of support that '70s styles are continuing to make a huge comeback, including the incredibly flattering wide legged or flare pants.
Nowadays, flare pants have moved quickly to near the top of the list of everybody's fashion favorites. They are ridiculously cool, feminine and chic, yet also look classy and elegant. They accentuate a curvy feminine shape perfectly and even make your legs appear longer and leaner.
Obviously, these pants are truly for everybody – and we mean for every body shape – So, to pull off this trendy look, here are some tips on wearing flare pants and what kind of pants you should wear perfect for your body shape.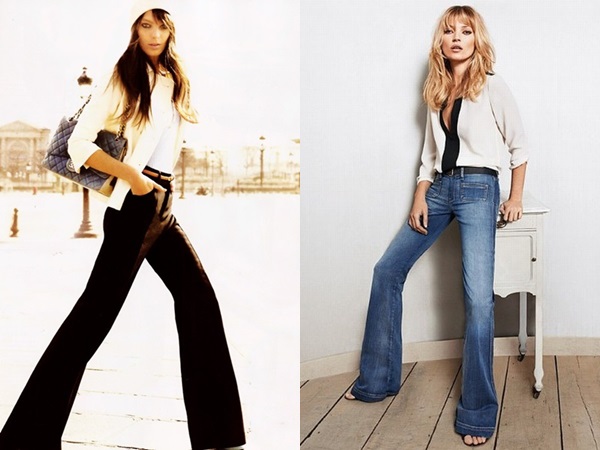 1. First of all, keep in mind that the biggest (and most common) mistake with this look is wearing flare pants that are too short or too long. The hem should skim the ground but not sweeping it, so make sure when you go shopping you take a pair of shoes with you. This way you can work out exactly the right length for your height.
2. Secondly, because flare pants are generally bulkier, you must pay attention to the width of the pants. Remember that the general rule for balancing an outfit is to have one flowing element and keep the rest of the outfit more fitted. So when wearing flared pants, even if the flare starts just above the knee, the flowing element of the outfit will be the pants while the top will need to be more closely fitted. The kinds of flowing and wide tops that are worn with skinny jeans will not look as good.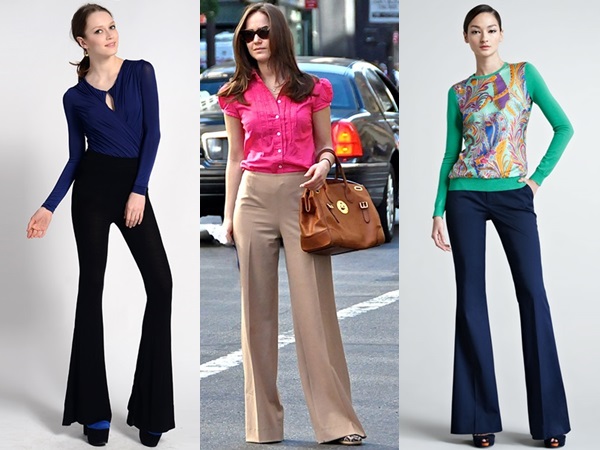 For some tips, a close-fitted and lightweight blouse made of silk or satin would make you look very sophisticated. If you go for a sexier look, you can opt for a tight tee or sweater tucked in your pants and smartly belted. As well you can define your waist with either a wide cinch belt or a cute thin belt.
3. Furthermore, noted that no one wants to go out looking like she's headed to a retro – themed Halloween party. So it's important to keep the look modern and style these 1970s inspired jeans in ways that are definitely 21st century. There's nothing wrong with a nod to the hippie vibe but make it contemporary with your styling, even you really want to go for the bohemian look.
4. Although it's not a must-follow rule, definitely flare pants need to be worn with high heels. They just do. These pants are designed to be worn with higher shoes that leave room for them to flow. The silhouette looks best with height and it allows them to hang correctly. Shoes go best with flare pants are heeled shoes and boots, platform shoes and boots, lug-soled boots and shoes, any shoes or boots with chunky heels, sneakers (especially simple, old-school styles), wedge heels
.5. Finally, find the perfect style of flare pants – including both high-waist and low-rise styles – best for your body shape. For the waist height, most cuts have a high waist but if you have curvy hips opt for a style that sits below the belly button, this will help balance the leg out. Based on the width of the hem of the flare and the position on the leg where the flare begins, flared pants come with different types such as Wide Leg, Palazzo, Bell Bottoms, Bootcut, and Trouser Pants. Here's a rundown of the main flared styles: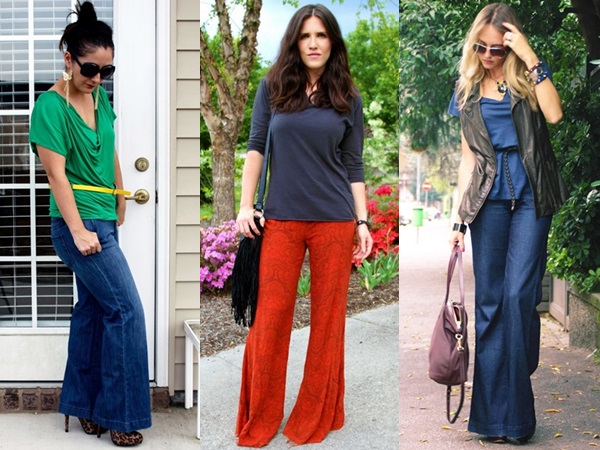 Wide Leg Pants: this type of pants is cut wide from the thighs down and do not taper in on the knee. The hem widths are normally also wide.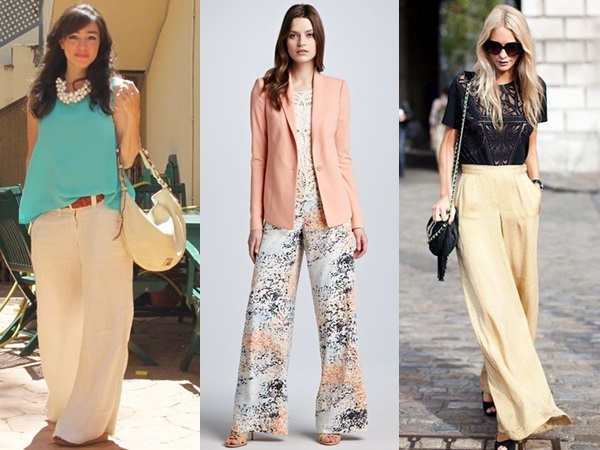 Palazzo Pants: almost similar to the wide legged ones, are also cut wide, but loose and extremely wide from thighs to the hem.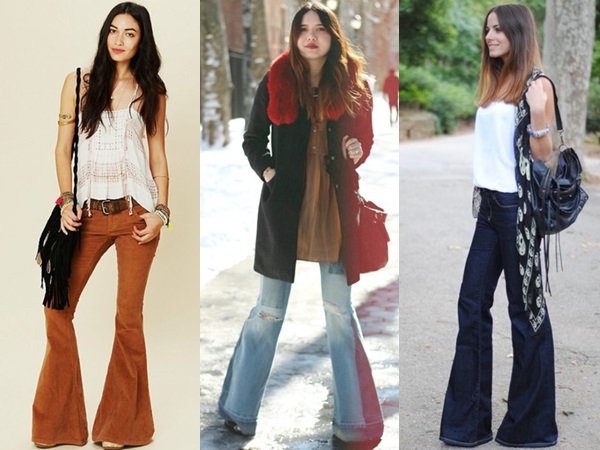 Bell Bottom Pants: resembling the shape of a bell on the lower part of the leg, this type of pants is cut narrow from hip to thigh and flare out from knee to hem. These pants were huge in the 70's.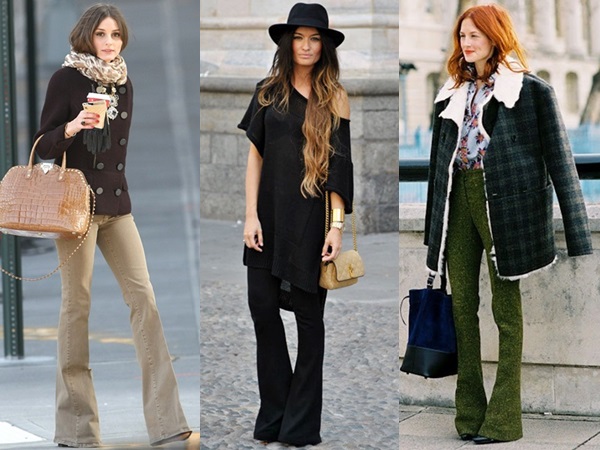 Bootcut Pants: as the name suggests this type of pants – mostly are jeans – are flared just enough to fit a pair of boots underneath the lower part of the leg. The pants taper in at the knee and are usually the least flared at the hem of all flared style pants. Some bootcuts are even barely flared at all, whereas other styles are more flared.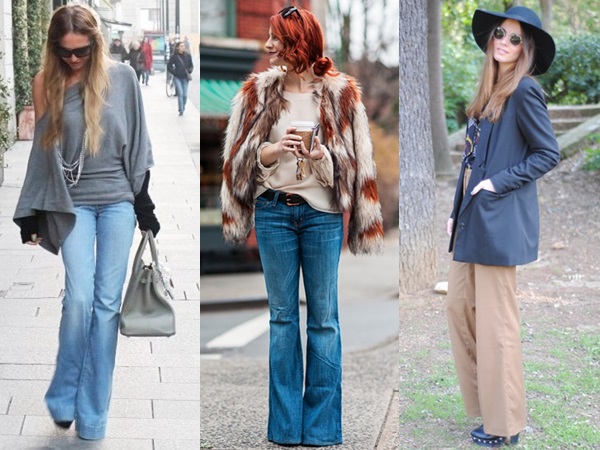 Trouser Pants: these pants are a combination of wide leg and bell bottom styles – fitted on top and flare out at the bottom – But the cut is subtler and simpler that does not too taper at the knee like bell bottoms, or too wide on the thigh like wide legs.
Here are some suggestions what styles of flare pants best for your body type: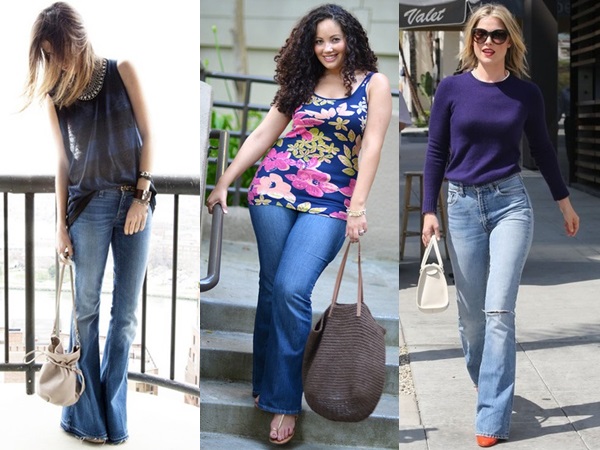 Pear Shapes: pants that have billowing legs give balance to hippy chic. Stay away from pants that pleat or gather at the waist and be careful of pocket placement – avoid flap pockets or pockets that have a lot of embellishment –. The idea of the flare pants for pear shapes is to slim the hips down and not the other way around, as well to bring balance between the upper and lower part of the body. So the trick is to wear flare pants that taper in at the knee and slightly flare out from knee to hem. Bootcut and trouser pants will offset any extra width you have near the hips, and bring a slimming effect to your legs.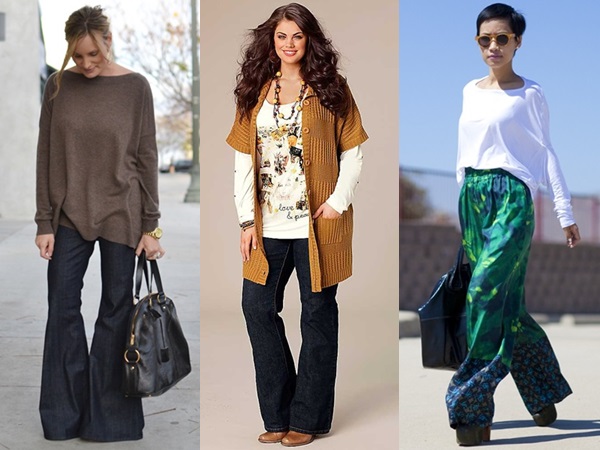 Apple Shapes: since this body type is "top heavy", your pants should create a more balanced look by filling out the lower half. Women with this shape normally have great legs and hips so they can pull off a hip-hugging jean that will emphasize their curves. Try wide leg, bell bottom, or palazzo pants to give a more proportional look. Opt for pants with front and back pockets to help disguise your rounder upper body while flattering your curves.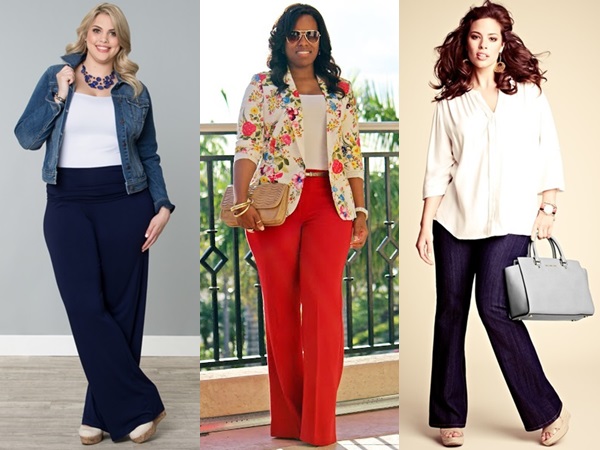 Round Shapes: because this body type has more weight around the tummy and will likely have large breasts. Pants with a straight classic cut suit the most, and just like those with pear shapes, women with round shapes should wear pants that balance the upper and lower part of the body. Bootcut and trouser pants are perfect for this shape. Look for pants that are mid-rise. You want the waist to hit across the belly – not below or above it – to make your upper torso look longer. Go up a size and you will look much slimmer.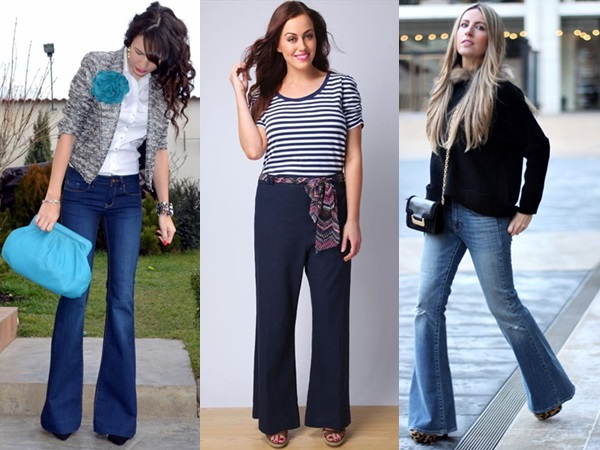 Rectangle Shapes: every designers love this slim shape because it shows off the attention they give to the details. Woman with this shape is free to wear any style of flare pants with details or the simple ones.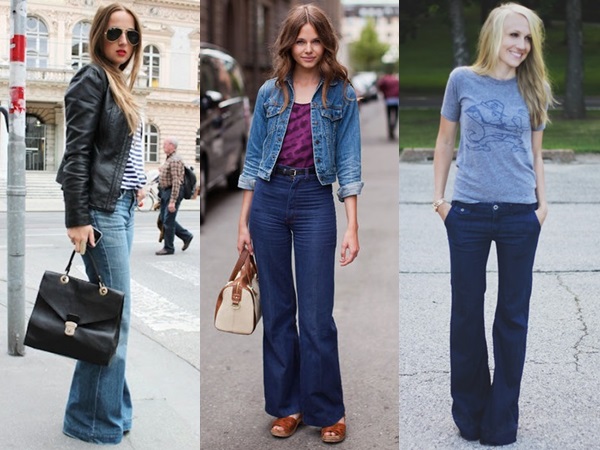 However, if you are small or petite frame, this figure will look better in well-fitted flare pants. Your pants shouldn't be baggy from the top down. Avoid cuffed pants as they will cut the length of your legs and make you look even smaller. Leave the hemline a little long and wear heels for a taller effect. Check out this general tips for petite figure "Fashion Tips and Style If You are a Petite Woman"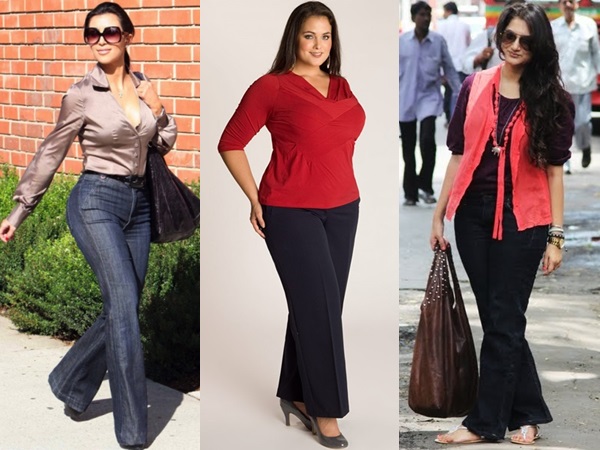 Hourglass Shapes: definitely flare pants are for the hourglass women because the styles showcase curves. Ring in the bell bottoms. Your figure was especially made for this cut, since you've got the curves on top to even out the flare on the bottom. Just make sure you choose a pair that cinches at the waist. A stand-out belt accentuates your narrow middle
If you are considered plus size, check out article "How to Fashion Flare Pants for Plus Size Women". As for other general ideas and tips when pulling off flare pants, take a look at this article "What to Wear with Flare Pants on Different Occasions"
Wearing Flare Pants with Flats
Depending on the occasion and your personal choice, obviously footwear that are flat – including sneakers, sandals, loafers, Oxfords, ballet flats, etc. – cannot go wrong with flare pants. Not only the looks are simple and extremely chic, but flare pants are actually very versatile that you can go with whatever shoes you're comfortable in. Here are some styles ideas for wearing flare pants with flats.
Flared Jeans with Boots