Flare leg jeans or pants never really went out of fashion. They are timelessly elegant, always be a hot trend, especially during fall and winter, and most importantly, they are also best for plus size women who are looking to create curves because they balance hips or thighs with the rest of the body, creating a great, taller and slimmer silhouette. Whether you go for seventies style flared jeans or fashionable kick flare jeans they will look fabulous day or night.
When it comes to choosing trousers for plus sizes, we could go as far as saying that this is an area for plus sizes that is not lacking. We know there are a number of plus size brands deliver plenty great jeans that hug curves, hide muffin tops, and makes your legs look miles long. However, when finding the right pants, it definitely requires some knowledge about the styles that are most flattering to your shape.
I personally think, plus sizes have no different rules when doing fashion, especially when it comes to colors, patterns, designs and styles. As long as the outfit fits well to your curvy shape, as long as you know how to fashion in balance and elegance, and as long as you feel confident with your appearance, then all styles are for you. Check this article "How to Wear Flare Pants best for Your Body Type" to see how can you flatter your shape with flare pants. And this article "What to Wear with Flare Pants on Different Occasions" for more inspirations
Here are some suggestions of the main flared styles for plus sizes:
Wide Leg Pants: because type of these pants is cut wide from the thighs to the hems, curvy women with rectangular or apple body shape – top heavy figure – look particularly well with this flared style. The streamline shape is good to give a more proportional look. Make sure your pants fit well to create elegant, clean lines and to give you that longer, leaner look.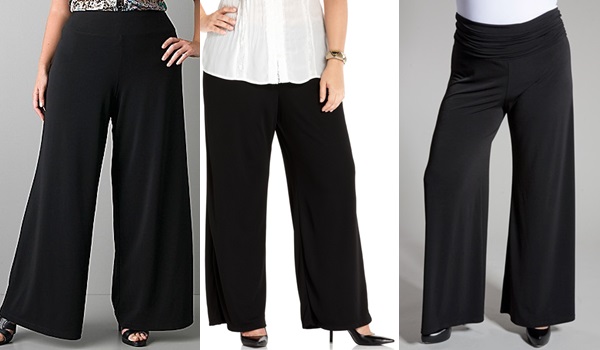 Palazzo Pants: these pants are the perfect balance between 1920s French Riviera and 1970s chic. There are simple rules to wearing them to ensure that you get the balance of fabric and patterns right. Opt for light weight fabrics for a more draping and flow. Consider balance of prints between upper and lower body part. Top heavy frames are best going for a plain top with printed palazzos, whilst pear shapes are better suited to one-tone palazzos, with a brighter top.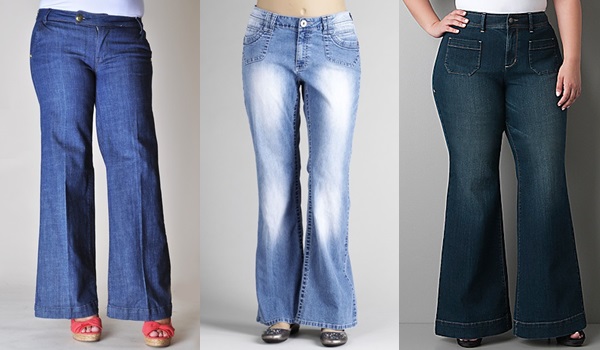 Bell Bottom Pants: obviously, these pants are not every plus size women' favorites. But whether you're going for a vintage look or you're all about modern style, bell bottom pants for plus size women can work if you pair them with the right tops and shoes. Because bell bottoms are wide at the bottom, wear a body-skimming top, you should stick to shirts that aren't as voluminous.
Bootcut Pants: besides straight leg and wide leg pants, bootcuts are probably most popular pants for women with curves. If you have a bottom wider figure, plus-size boot-cut jeans with a slightly flared bottom will help to balance out a larger midsection. These pants will also give your legs a long, lean look, especially when worn with pointy-toed heels or boots.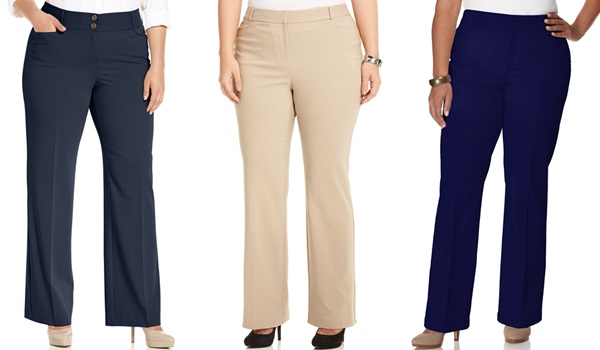 Trouser Pants: similar to bootcuts, these pants are best to balance out a larger midsection. For safety, a pair of black or khaki flared pants can slim and balance your figure and complement your business wardrobe.
Here are some additional tips on how to wear flared pants
1. Buy them with appropriate length – not too short nor too long – It's nice when your pants hide your high heels, and this style really elongates the legs and makes you appear taller and leaner.
2. Short people can also wear flared pants. Just make sure they are more fitted at the top and the pants don't flare too much.
3. A slim fitting top will also balance out the volume of the bottom half, create a beautiful silhouette, and achieve a very classical look.
4. Wear them with heels. Heels will work better than flats, as they elongate the leg.
5. For a sleek and cleaner look, wear flat front pants, as opposed to those with pockets or pleats.
For more inspirations on wearing plus size flare pants. Take a look at some styles after the jump.